11 Best Things to Do in Madrid
What is Madrid Most Famous For?
Our list of things to do in Madrid highlights the Spanish capital's extensive variety of history, art, food, fashion, and nightlife. The city has one of Europe's finest collections of Spanish and Latin American art, spread throughout its museums and galleries. Its many open-air squares host plenty of Beaux-Arts-style buildings, unique statues, and old-fashioned theatres dating back to the 18th century.

Madrid is also a great place to enjoy vibrant festivities such as Christmas, Madrid Pride, and Nochevieja (New Year's Eve). It's relatively easy to explore the city centre on foot, thanks to wide footpaths and lush gardens serving as rest stops in between. Check out our guide of activities, food, and places Madrid are most famous for, which caters to first-time visitors looking to enjoy the city's unique offerings.
What are the best things to do in Madrid?
1
Start the day at Plaza Mayor
Try Madrid's famous calamari sandwich after exploring the square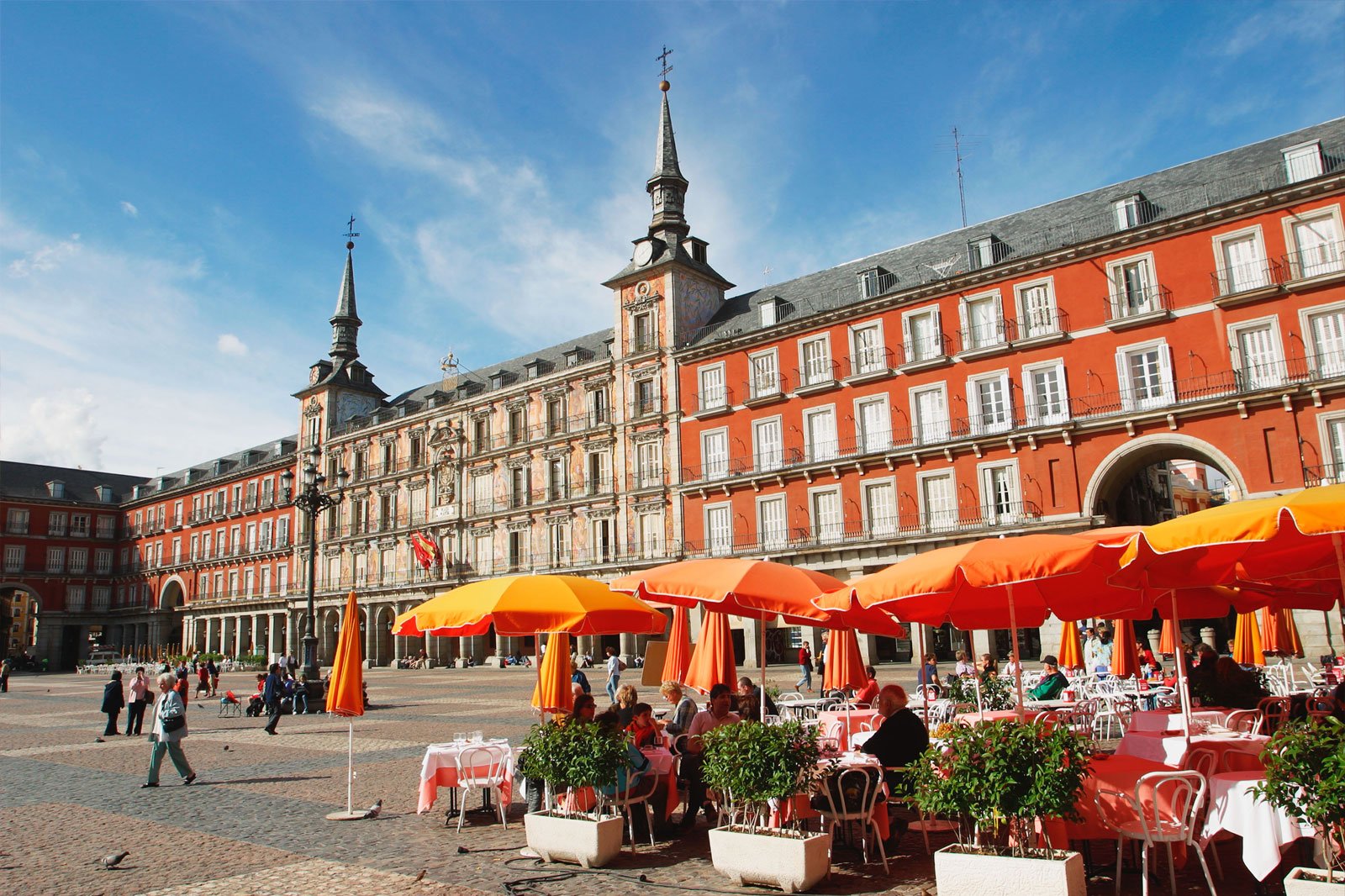 Couples
Families
History
Photo
Plaza Mayor is one of the grandest open squares in Madrid, featuring 9 entrance ways, 17th-century frescoes, and a bronze statue of King Philip III in the middle. This meeting place also offers lively events throughout the year – some of the most popular things to do in Madrid include exploring Plaze Mayor's vibrant Christmas market and celebrations for San Isidro, the patron saint of Madrid.
If you've worked up an appetite, there are plenty of cafés and sandwich joints serving coffee, beer, and Madrid's quintessential bocadillo de calamares (calamari sandwich).
Location: Plaza Mayor, 28012 Madrid, Spain
2
Explore Madrid's Art Triangle
Check out Picasso's world-famous Guernica at Reina Sofia Museum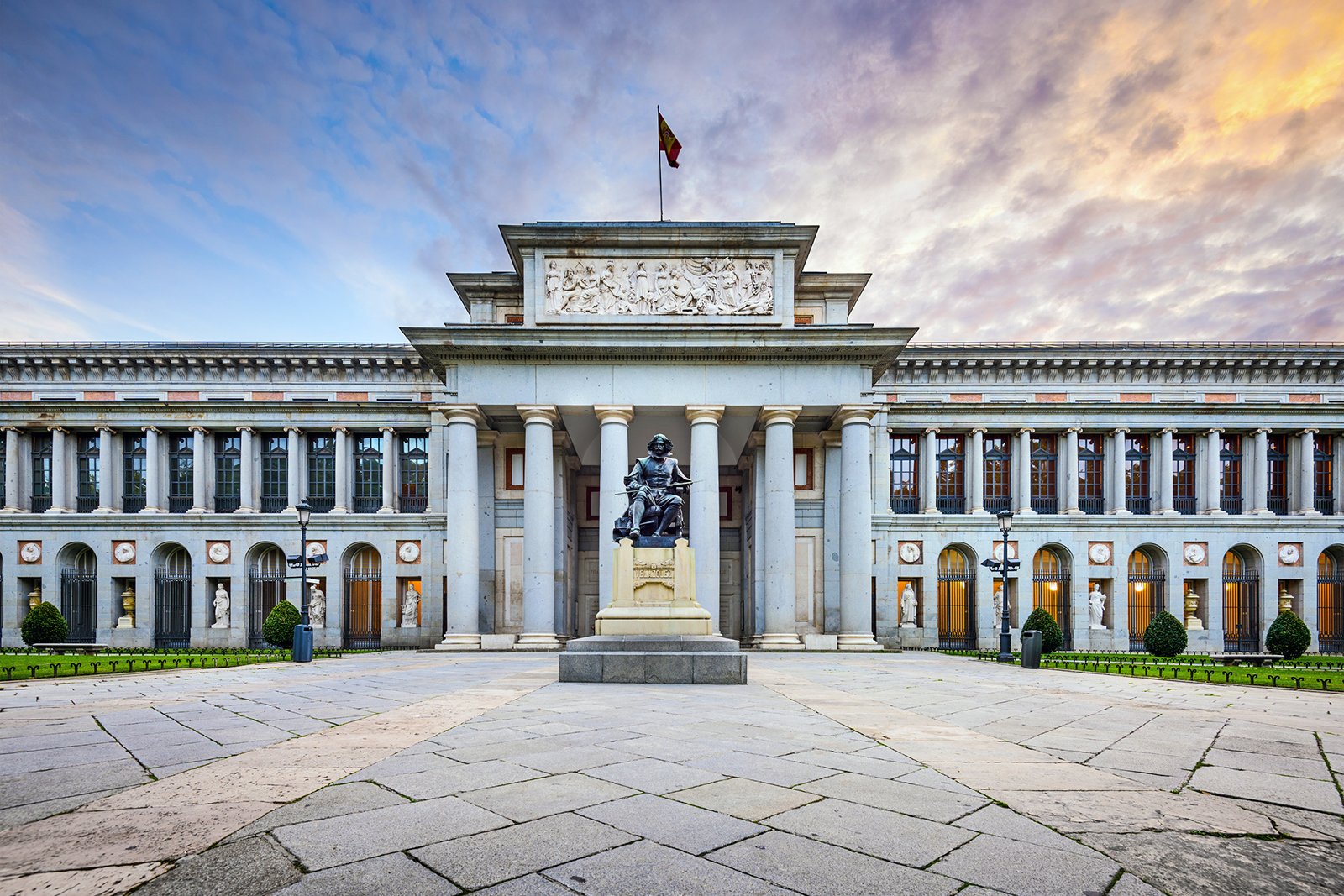 Museum-hopping at in Paseo del Prado's Art Triangle is one of the best things to do in Madrid. This leafy avenue comprises 3 notable museums, namely Museo del Prado, Thyssen-Bornemisza, and Reina Sofia. There are masterpieces by Picasso, Goya, Velazquez, and El Greco Bosch on display at these museums.
You can save time and money by getting the Paseo del Arte pass for about €40, which gives you a 20% discount on entrance fees to all 3 museums. In between visits, be sure to snap photos of notable landmarks such as the Astronomical Observatory, Fuente de Neptuno, Fuente de Cibeles, and the Royal Botanical Gardens.
Location: Paseo del Prado, s/n, 28014 Madrid, Spain
3
Must-See: The Royal Palace
See the changing of the guard ceremony every Wednesday and Saturday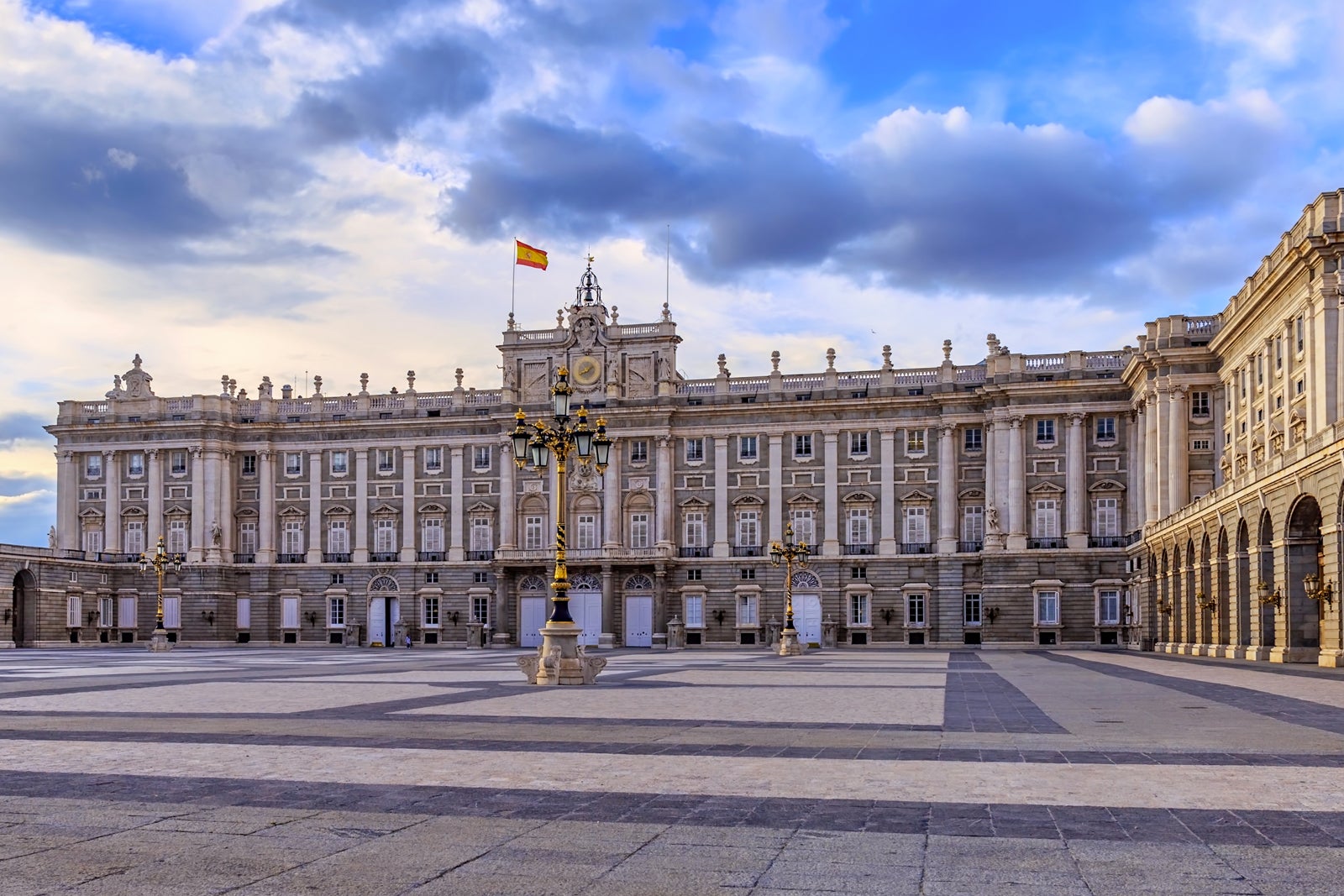 The Royal Palace of Madrid is the official home of the Spanish royalty, but you won't be bumping into a family member during your visit – though it would be a cool thing to do in Madrid. Commissioned by King Philip V during the 18th century, this grand structure is a mix of Neoclassical and Baroque architecture. There are 3,000 rooms in total, which includes a throne hall, an armoury, and a well-preserved royal kitchen.
Art lovers can find exquisite paintings by renowned artists such as Luis Morales, Goya, Juan de Flandes, Caravaggio, Velázquez, and Federico Madrazo.
Location: Calle de Bailén, s/n, 28071 Madrid, Spain
Open: October-March: daily from 10 am to 6 pm. April-September: daily from 10 am to 8 pm.
4
Shop in Gran Vía
Shop for fashionable clothing at Gran Via's high-street and luxury boutiques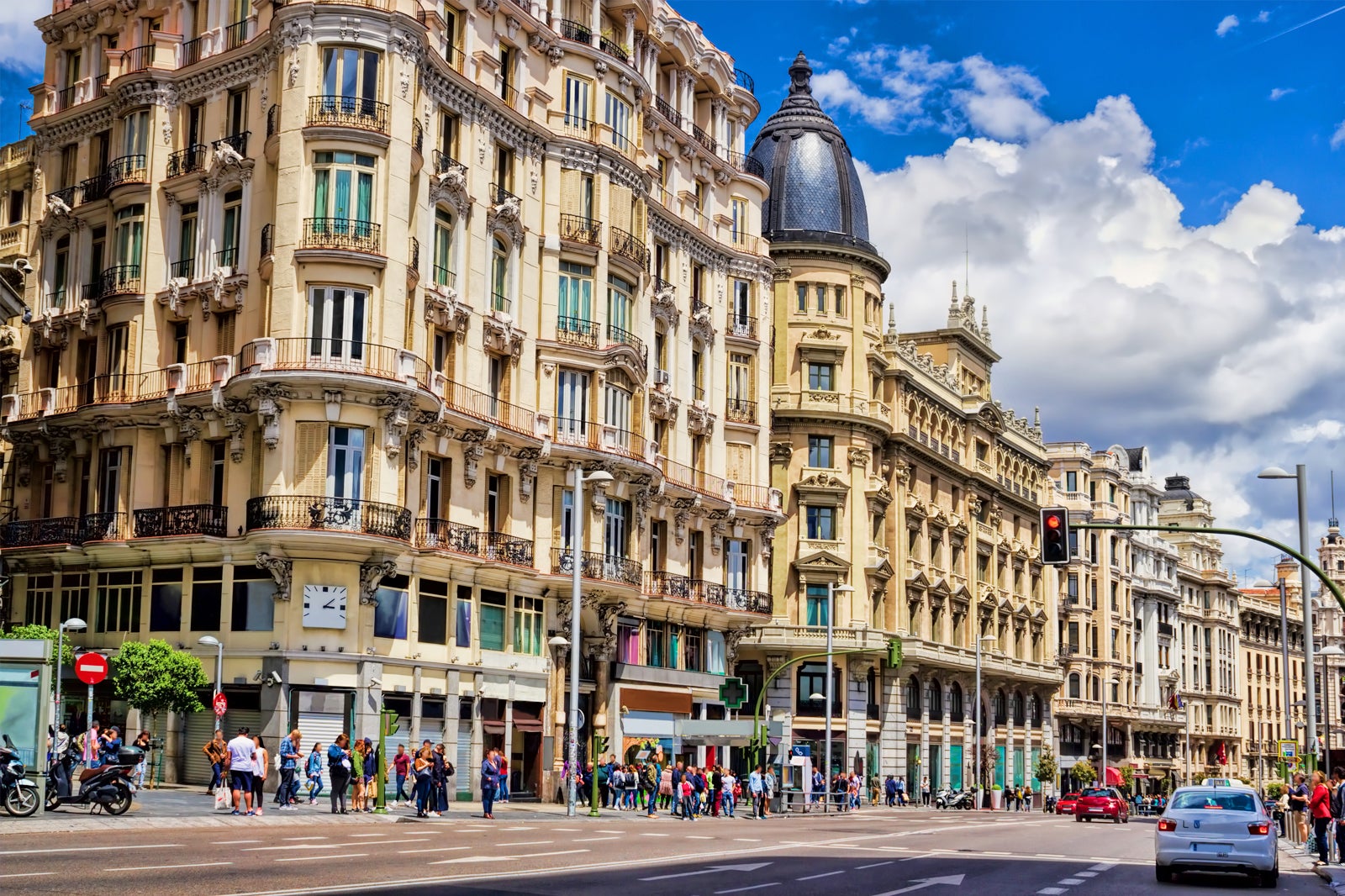 Gran Via is one of Madrid's upscale shopping streets, offering a mix of high street, luxury, and local designers. El Corte Inglés, Spain's largest department store, is located here, and you can find renowned brands such as Red Valentino, Hugo Boss, and Armani Exchange inside.
There are plenty of interesting things to do in Madrid's upmarket shopping avenue – Beaux-Arts-style buildings and old-fashioned theatres offers postcard-worthy cityscapes. Make sure to pay a visit to the iconic Edificio Metrópolis building, Madrid's prime example of elegant Beaux-Arts architecture.
Location: Calle Gran Vía, s/n 28013 Madrid, Spain
5
Snack at Mercado San Miguel
Shop like the locals at Mercado San Miguel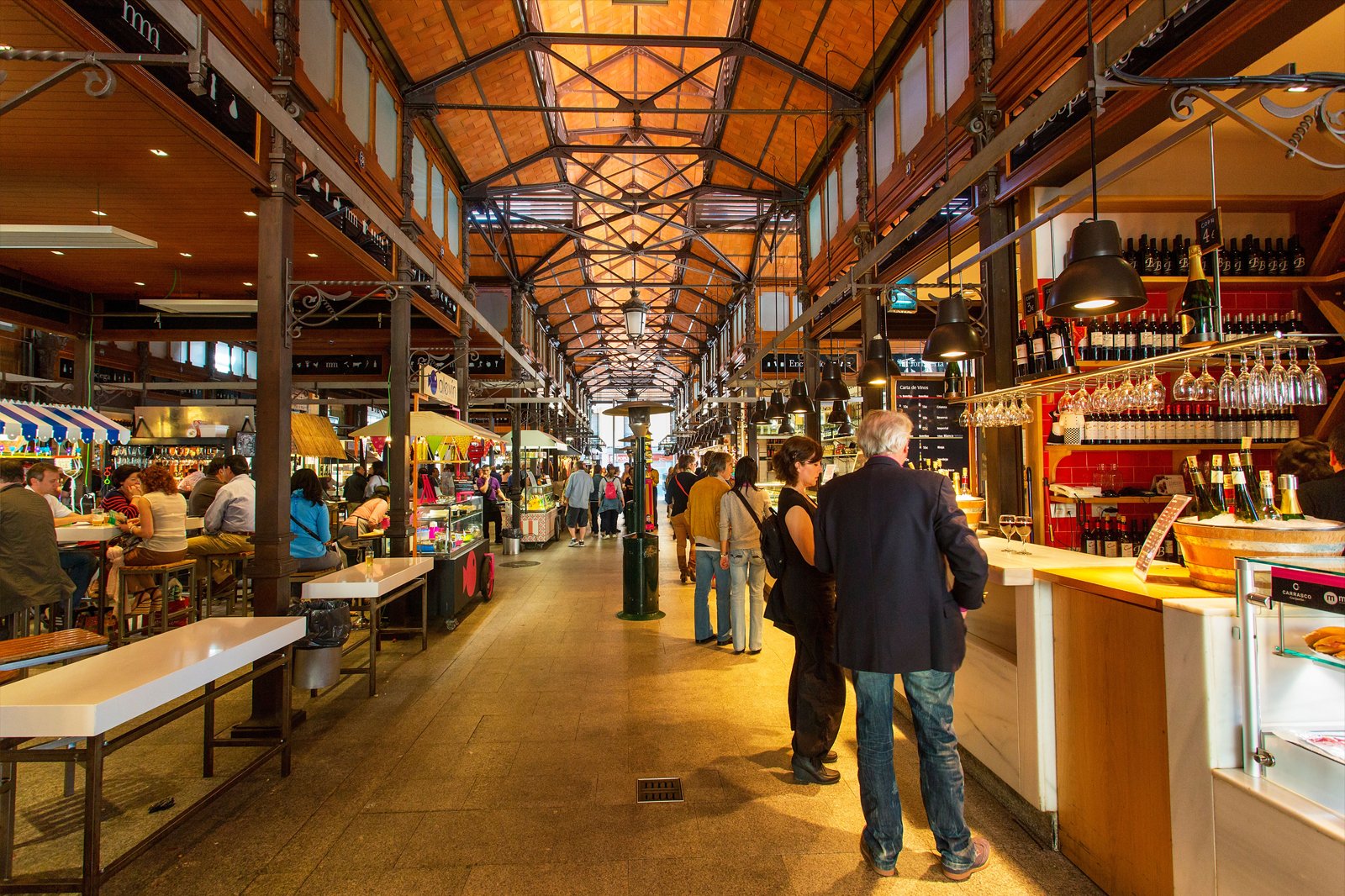 Mercado San Miguel is a historical market that's been attracting food lovers since 1916. Located just next to Plaza Mayor, there are over 30 stalls selling fresh seafood, cured meat, wines, beers, pastries, and chocolate. It opens every day from 10am until midnight (1am on Fridays and Saturdays).
A popular thing to do in Madrid is to enjoy delicious tapas, and Mercado San Miguel has several bars to choose from. Head to a tapas bar (or 5) within the market to indulge in some fresh oysters and classic Spanish delicacies such as patatas bravas (potato cubes in a spicy, tomato sauce) and gambas al ajillo (garlic shrimp).
Location: Plaza de San Miguel, s/n, 28005 Madrid, Spain
Open: Sunday – Thursday from 10 am to midnight, Friday - Saturday from 10 am to 1 am
Phone: +34 915 424 936
6
Must-See: El Oso y el Madroño
Take a photo of the famous bronze statue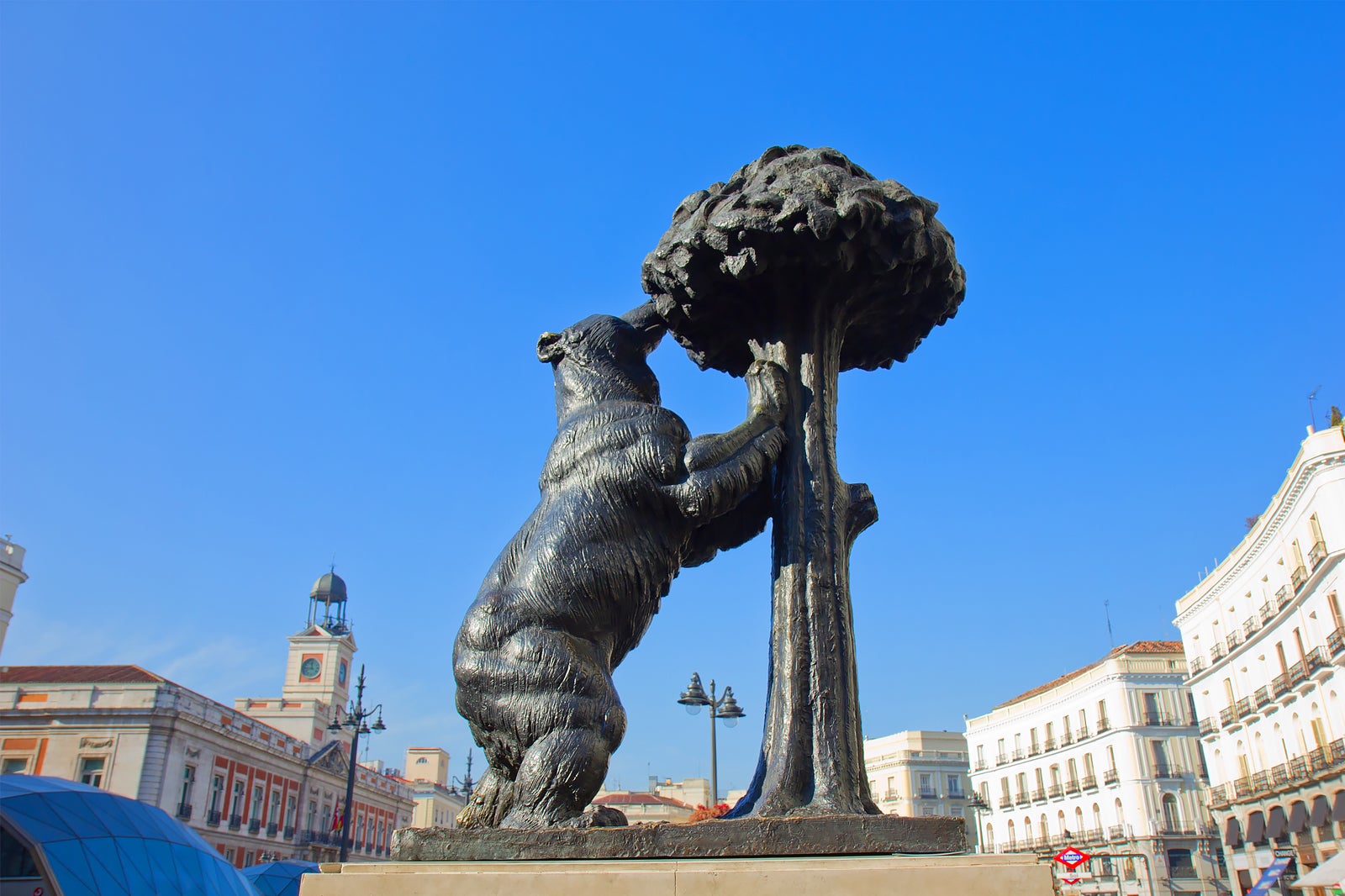 El Oso y el Madroño (The Bear and the Strawberry Tree) is a bronze statue in Madrid's central square, Puerta del Sol. Inaugurated in 1967, the sculpture is the work of Antonio Navarro Santafé, meant to represent the coat of arms of Madrid. Expect a crowd trying to take the perfect shot as it's one of the most popular things to do in Madrid.
El Oso y el Madroño is a popular meeting point for lost tourists in Madrid, thanks to its significance in the city and central location.
Location: Plaza Puerta del Sol, s/n, 28013 Madrid
7
Find great bargains at El Rastro Flea Market
Shop for vintage fashion and second-hand goods at El Rastro Flea Market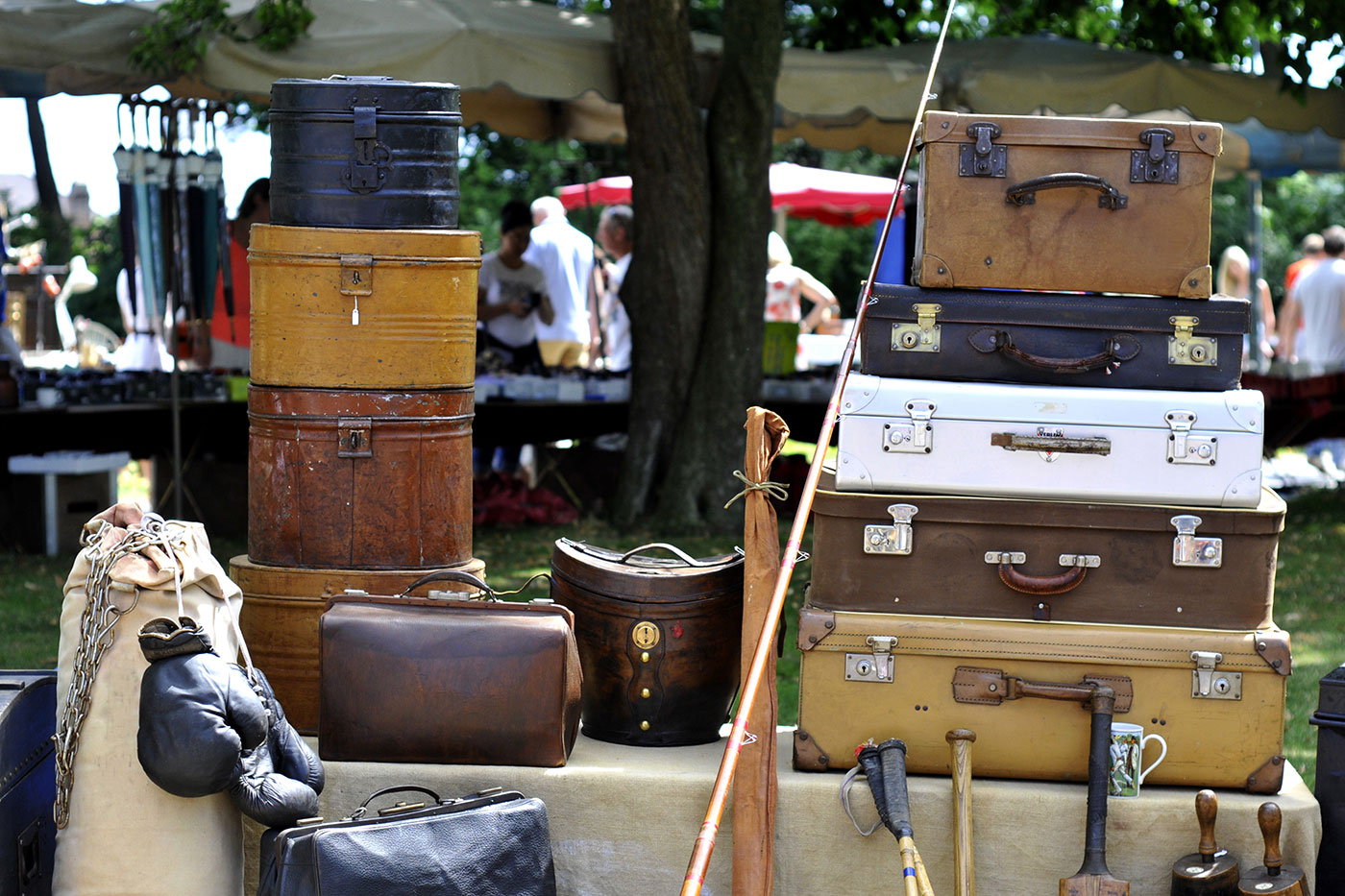 Shopping at El Rastro Flea Market is a popular things to do in Madrid for bargain hunters. Exploring the entirety of this open-air marketplace is no small feat as you'll be strolling past about 3,000 stalls. Attracting huge crowds every Sunday between 9am and 3pm, you can find just about everything here, from vinyl records, books, and clocks, to preloved clothes, handbags, and jewellery.
El Rastro Flea Market is surrounded by quaint cafés and bars, where you can enjoy a pre-lunch aperitivo of vermouth and tapas after you've done shopping.
Location: Calle de la Ribera de Curtidores, 28005 Madrid, Spain
Open: Sunday from 9 am to 3 pm
Phone: +34 915 298 210
8
Take a break at El Retiro Park
Wander down the Paseo de la Argentina in El Retiro Park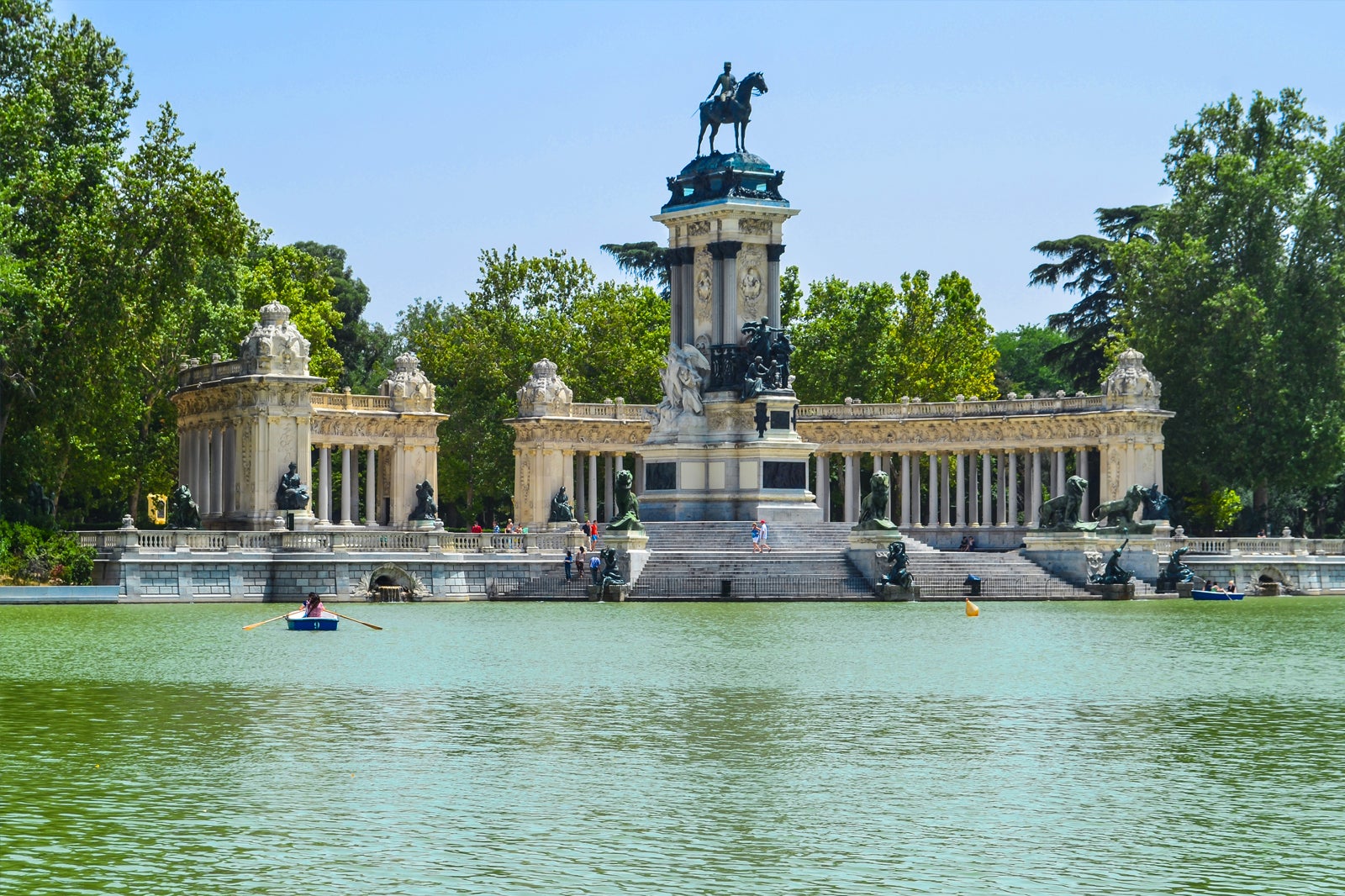 El Retiro Park is a vast garden by Plaza de la Independencia. One of its most popular attractions is the Statue Walk, a pathway that's lined with 18th century statues of Spanish royalty. Some of the best things to do in Madrid's beautiful park include picnicking, boating, and cycling with views of historical monuments within the grounds.
There's a manmade lake next to a monument of Alfonso XII, where you can rent a paddleboat for a few euros. Another must visit in El Retiro Park is the Palacio de Cristal, a greenhouse-like pavilion that was built in 1887.
Location: Plaza de la Independencia, 7, 28001 Madrid, Spain
9
Feast on churros
Enjoy freshly made churros with coffee at Chocolatería San Ginés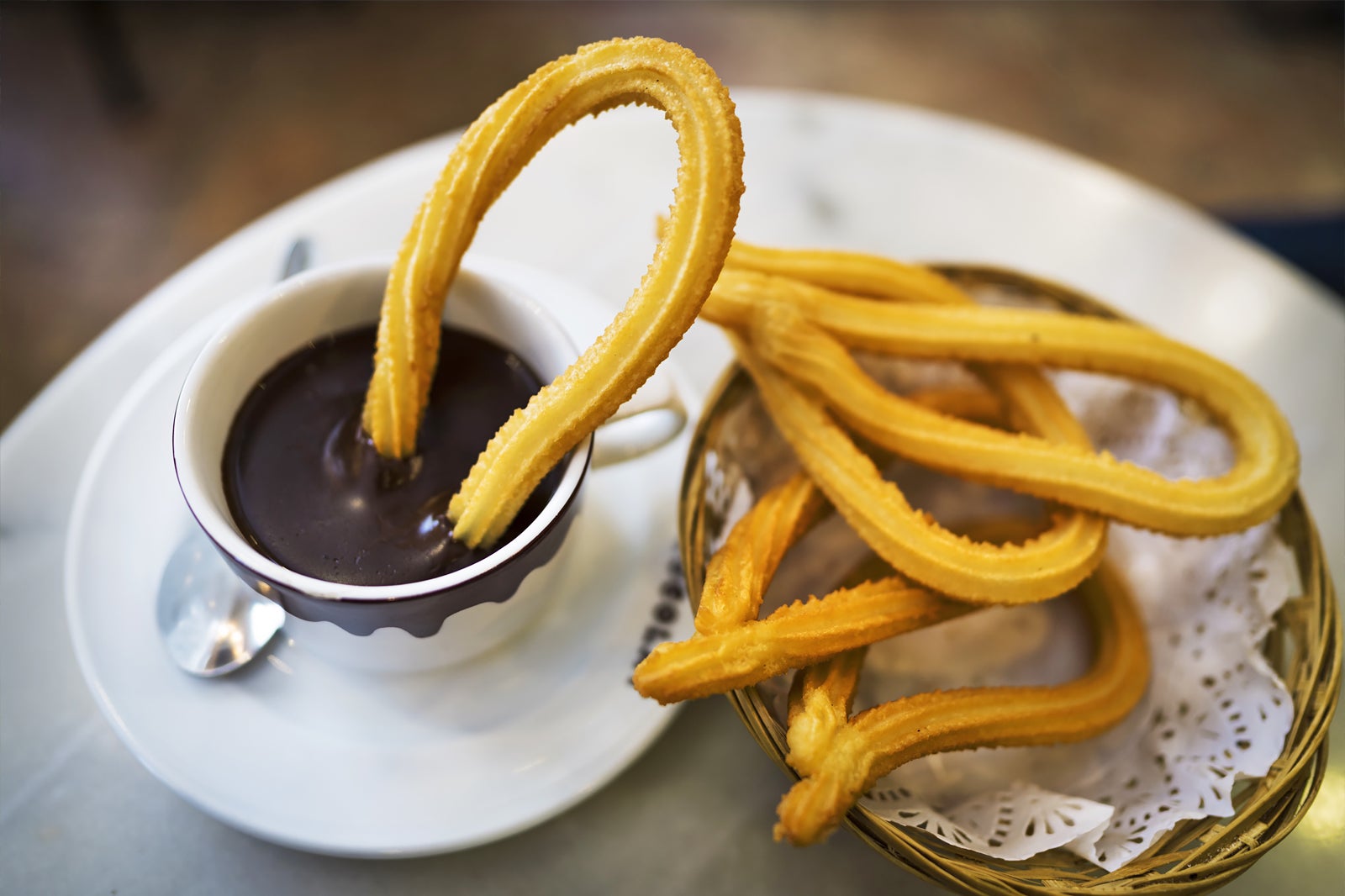 It's almost a crime to miss out on churros when visiting Madrid. These pastries are crispy on the outside, fluffy on the inside, and best eaten hot and dipped in thick chocolate sauce. Almost every café in Madrid serves churros – some are even filled with dulce de leche (a caramel-like sauce), chocolate, or cream.
Chocolatería San Ginés is widely known as the best place in the city for churros and hot chocolate. Located in an alleyway between Puerta del Sol and Plaza de Ópera, this iconic café has been using the same recipe since 1894. The dipping chocolate at Chocolatería San Ginés is made to order, and you can even add a shot of liqueur to if you fancy.
Location: Pasadizo de San Gines, 5, 28013 Madrid, Spain
Open: Open 24 hours
Phone: +34 913 656 546
10
Check out Chueca's nightlife
Enjoy the fabulous party atmosphere in this gay-friendly neighbourhood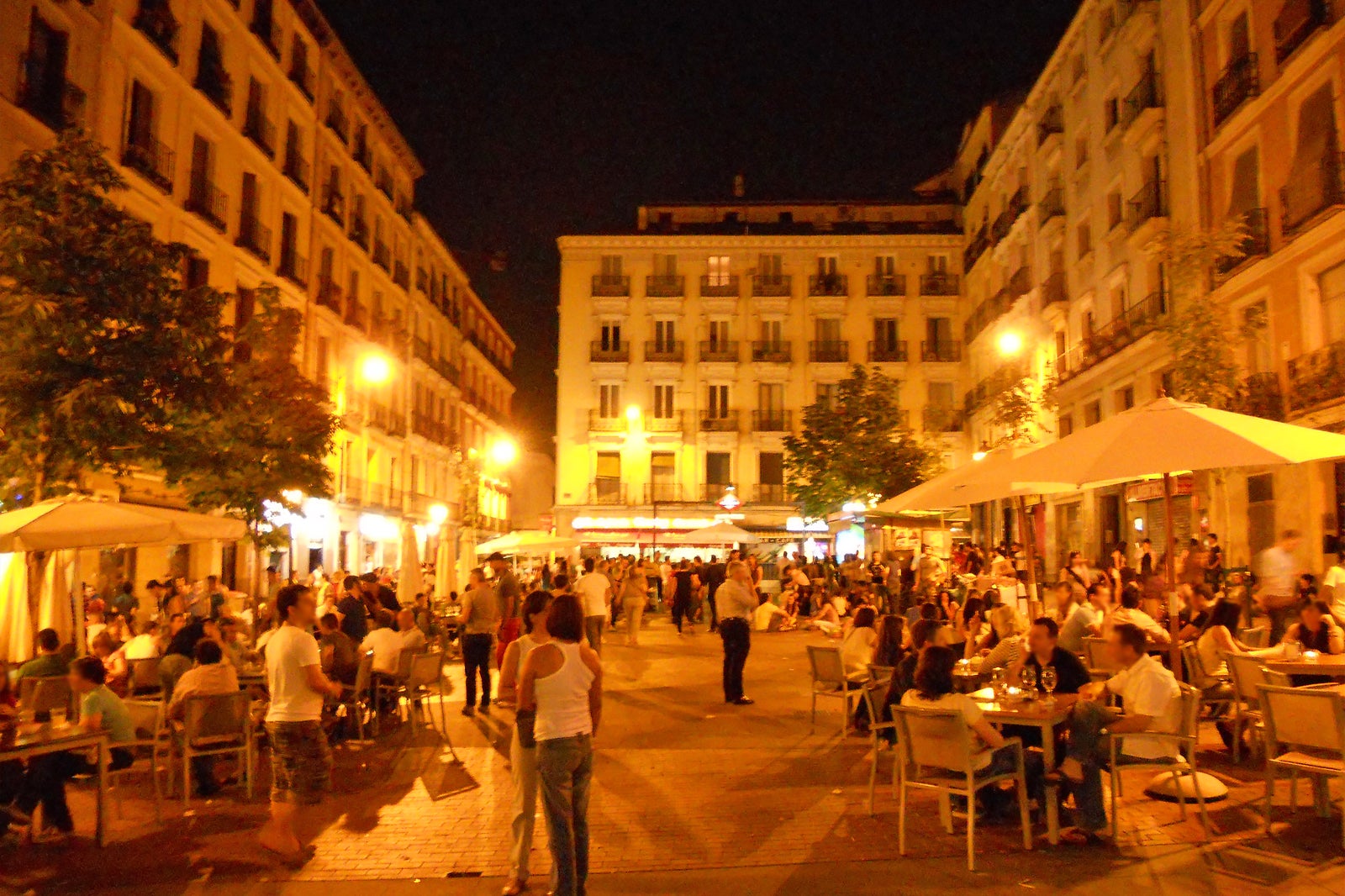 Chueca is a lively Madrid neighbourhood that is home to the city's gay community. It's home to some of the liveliest bars, bistros and nightclubs in the city, where you can enjoy cheeky drag shows until late.
If you're visiting Madrid between June and July, the annual Gay Pride Festival is a must see. Costume parades and live music can be enjoyed in popular areas throughout the city, but Chueca is arguably the best place to be during that time of the year.
Location: Plaza de Chueca, 33, 28004 Madrid
photo by JasonParis (CC BY 2.0) modified
11
End the day with a flamenco show
Visit a tablao to watch Spain's most famous dance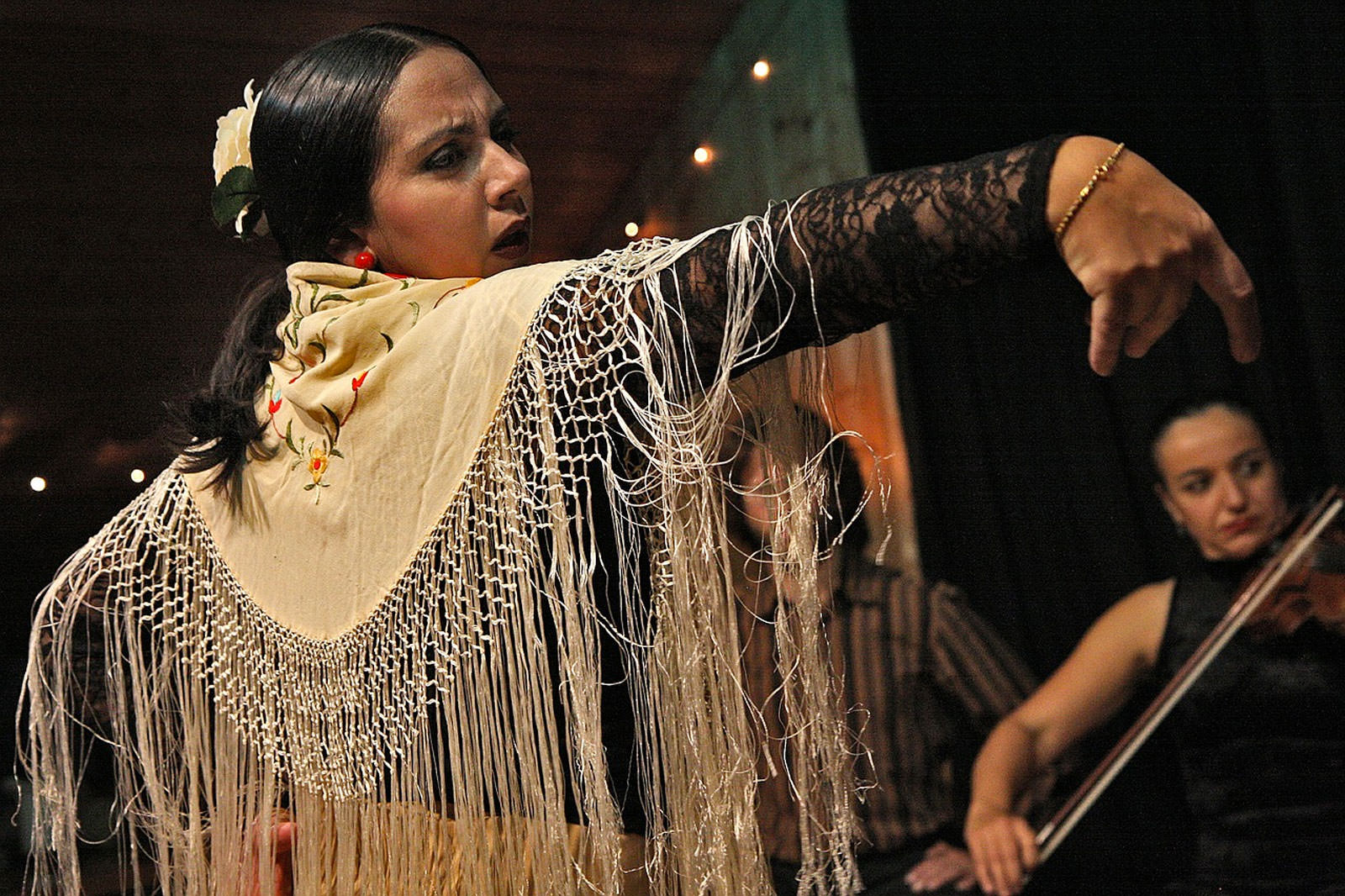 Flamenco is a vibrant dance style paired with singing and clapping of hands, as well as the use of guitars and castanets. Watching an authentic flamenco show is a common thing to do in Madrid, and theatres all over the city often hold grand performances throughout the week.
Tablaos (flamenco bars) offer a more laidback and intimate setting, as you can enjoy a filling meal while watching talented dancers performing Spain's most famous dance. A popular spot to enjoy flamenco is Corral de la Morería is Madrid's oldest tablao, where you get to enjoy a special degustation menu during the show.
Location: Corral de la Morería, Calle de la Morería 17, Madrid, Spain
Open: Daily from 5.30 pm to midnight
Phone: +34 913 61 137