10 Best Things to Do in Bilbao
What is Bilbao famous for?
Bilbao combines a stylish vintage district, an industrial heritage, and stunning modern architecture in one of the largest cities in northern Spain. Part of the Basque region, the city sits on the banks of the Nervión River that flows into the Bay of Biscay, and it offers a warm holiday destination that blends a Spanish way of life with a strong regional twist.
Stroll through Casco Viejo, the Old Town of Bilbao, to take in the history of the city; be impressed by the futuristic architecture of the Guggenheim Museum Bilbao; snack on pintxos (pronounced pinchos) the Basque version of Spanish tapas; take a river cruise to make a journey through the history of the city; Bilbao is full of surprises and it hosts plenty of cool things to see and do. Discover them below.
What are the best things to do in Bilbao?
1
Start the day at Plaza Nueva
Large public square accessible through 64 arches in the heart of Bilbao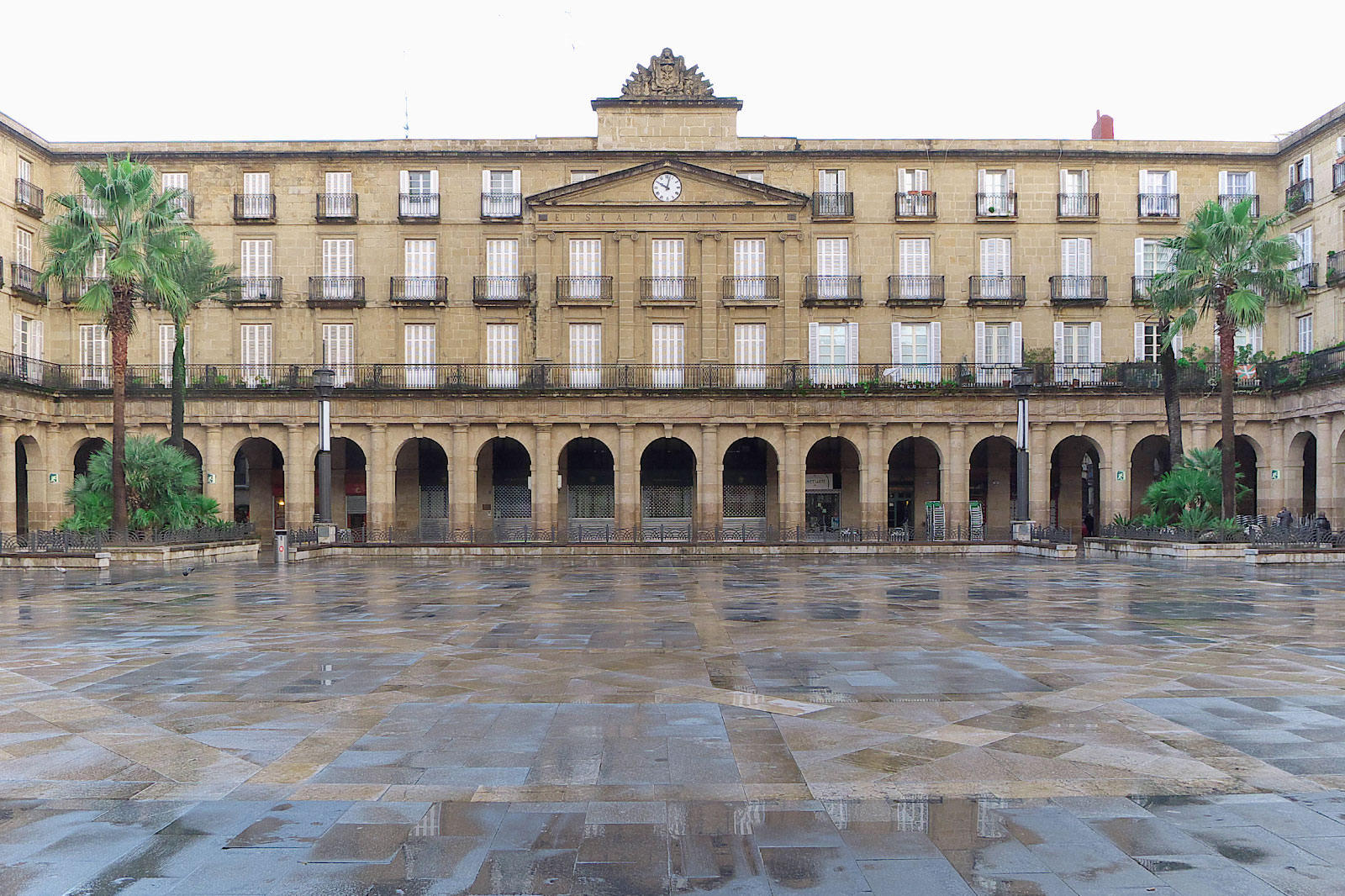 Couples
Families
History
Photo
Budget
Plaza Nueva (New Square) is a 3,600 sq m public square framed by bars of 4-storey buildings and accessible through 64 arcades. It's located just south of Etxebarria Park, in the heart of Casco Viejo. Pick a table on the terrace of Ereka Bar or Taberna Plaza Nueva and take in the warm atmosphere of Bilbao while sampling a glass of Sangria. On Sundays, Plaza Nueva is a bustling place as it holds a lively flea market. Free Wi-Fi is available throughout the plaza.
Location: South of Etxebarria Park in Casco Viejo, Bilbao Old Town, Spain
photo by Jose Luis Filpo Cabana (CC BY 3.0) modified
2
Stroll around Casco Viejo
Take a walk in the charming medieval district of Bilbao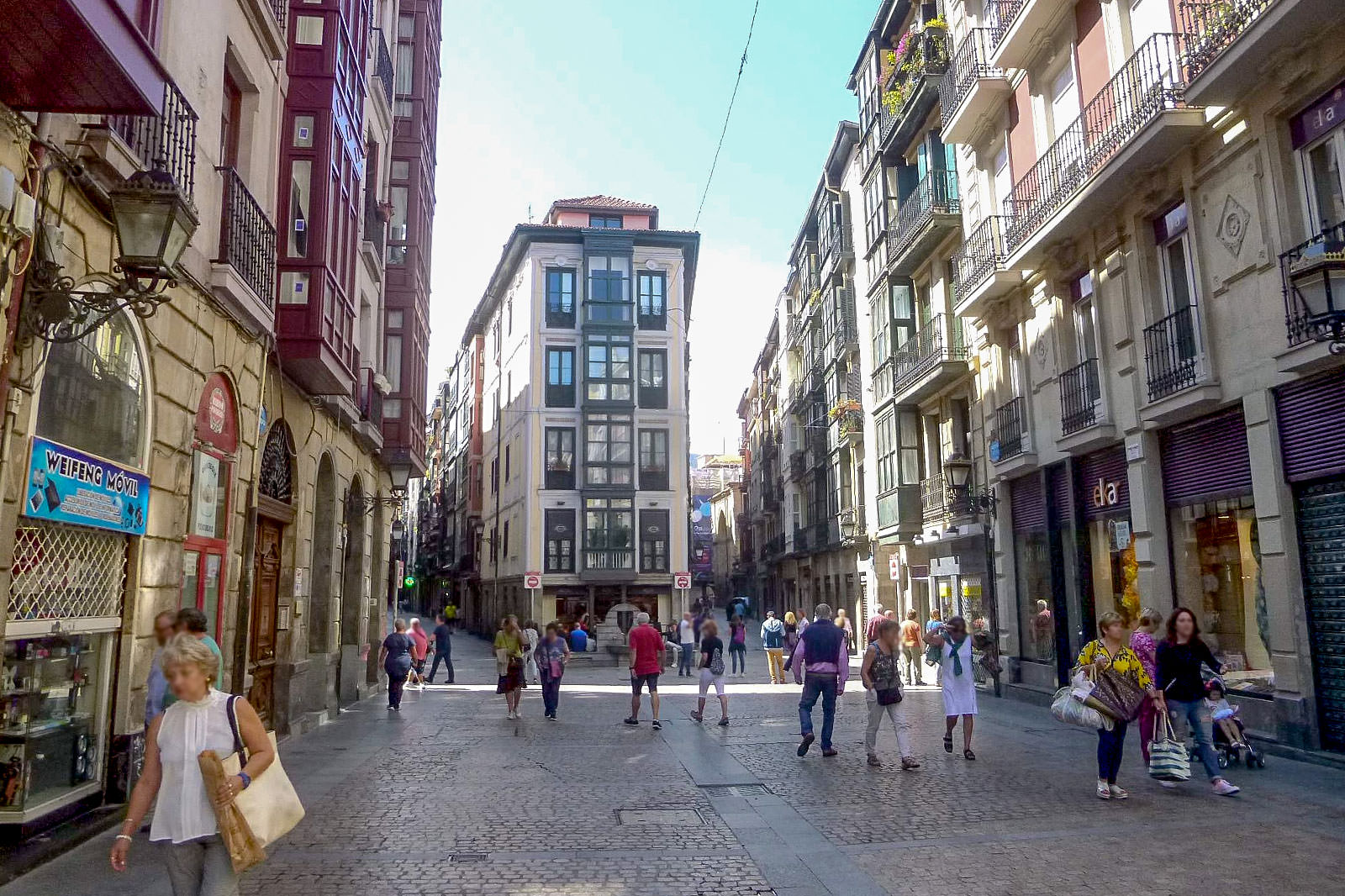 Couples
Families
History
Photo
Budget
Settled on the north bank of the Nervión River, right in the centre of the city, Casco Viejo is the historical district of Bilbao. Built around Las Siete Calles, Bilbao's original 7 streets dating back to the 15th century, it's one of the liveliest districts of the city, especially after 5pm. From the Bilbao Cathedral to the Bilboko Euskal Museoa (Basque history museum), Casco Viejo is filled with splendid historical and religious edifices. Bilbao Old Town also teems with quaint pintxo bars (Basque tapas bars), restaurants and boutiques.
Location: On the north bank of the Nervión River, in the centre of Bilbao, Spain
3
Must-See: Guggenheim Museum Bilbao
Contemporary art in an impressive modern building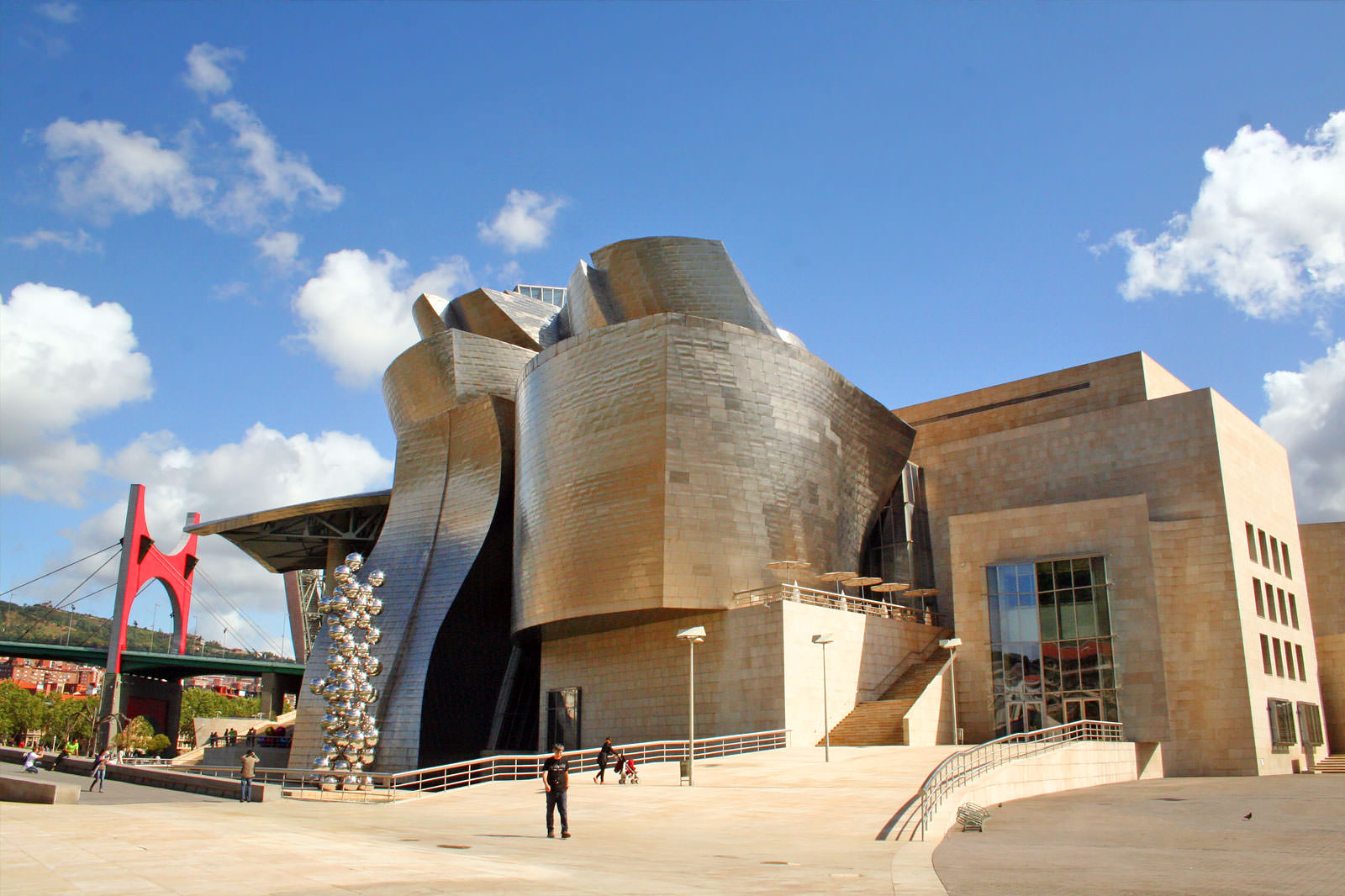 Guggenheim Museum Bilbao is a true architectural masterpiece in itself. Designed by Frank Gehry, the acclaimed Canadian-American architect, Guggenheim is a museum of modern and contemporary art. It's located alongside the Nervión River in the north of Bilbao. Here, you can see permanent and temporary exhibitions of artists such as Richard Serra, Anselm Kiefer and Jeff Koons, to name just a few. Audioguides in English are available at the ticket counter and 2 sophisticated restaurants, Nerua and Bistró Guggenheim Bilbao, are available in the museum.
Location: Abandoibarra Etorb., 2, 48009 Bilbo, Spain
Open: Tuesday–Sunday from 10 am to 8 pm (closed on Mondays)
Phone: +34 944 35 90 80
4
Go shopping in El Ensanche
Stroll in a district that looks like Paris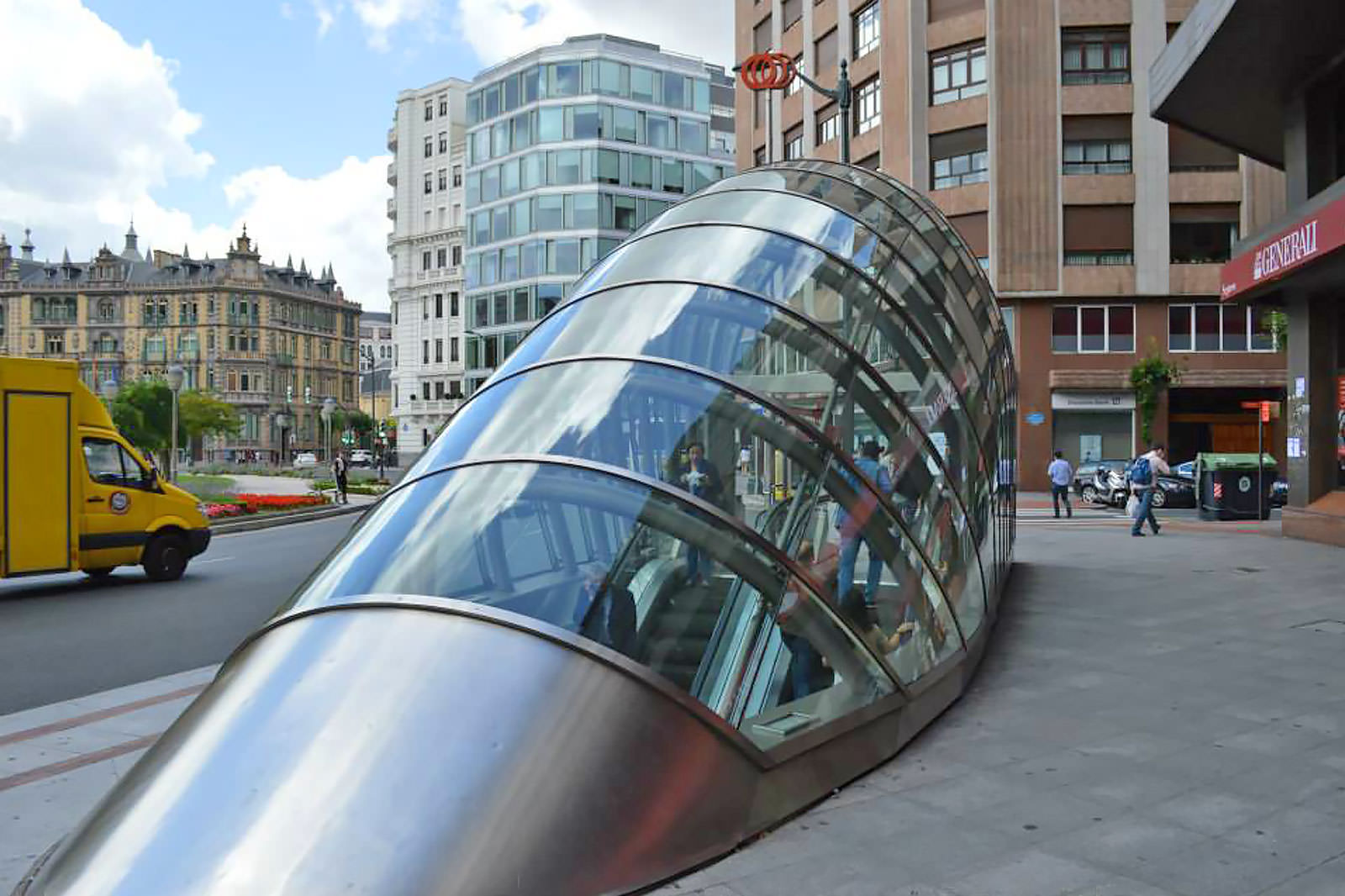 El Ensanche district was built from the late-19th century onwards to expand Bilbao Old Town. Facing Casco Viejo on the south bank of the Nervión River, El Ensanche spreads around the iconic Plaza Moyua (a.k.a. the Elliptic Square). The district has an architecture that reminds us of the Parisian Haussmann style, and it hosts a great choice of shopping opportunities, including department stores and large, brand-named stores such as H&M, Zara, and Bershka.
Location: Facing Casco Viejo on the south bank of the Nervión River, Bilbao, Spain
5
Take the Artxanda Funicular
See panoramic views of Bilbao from the top of Mount Artxanda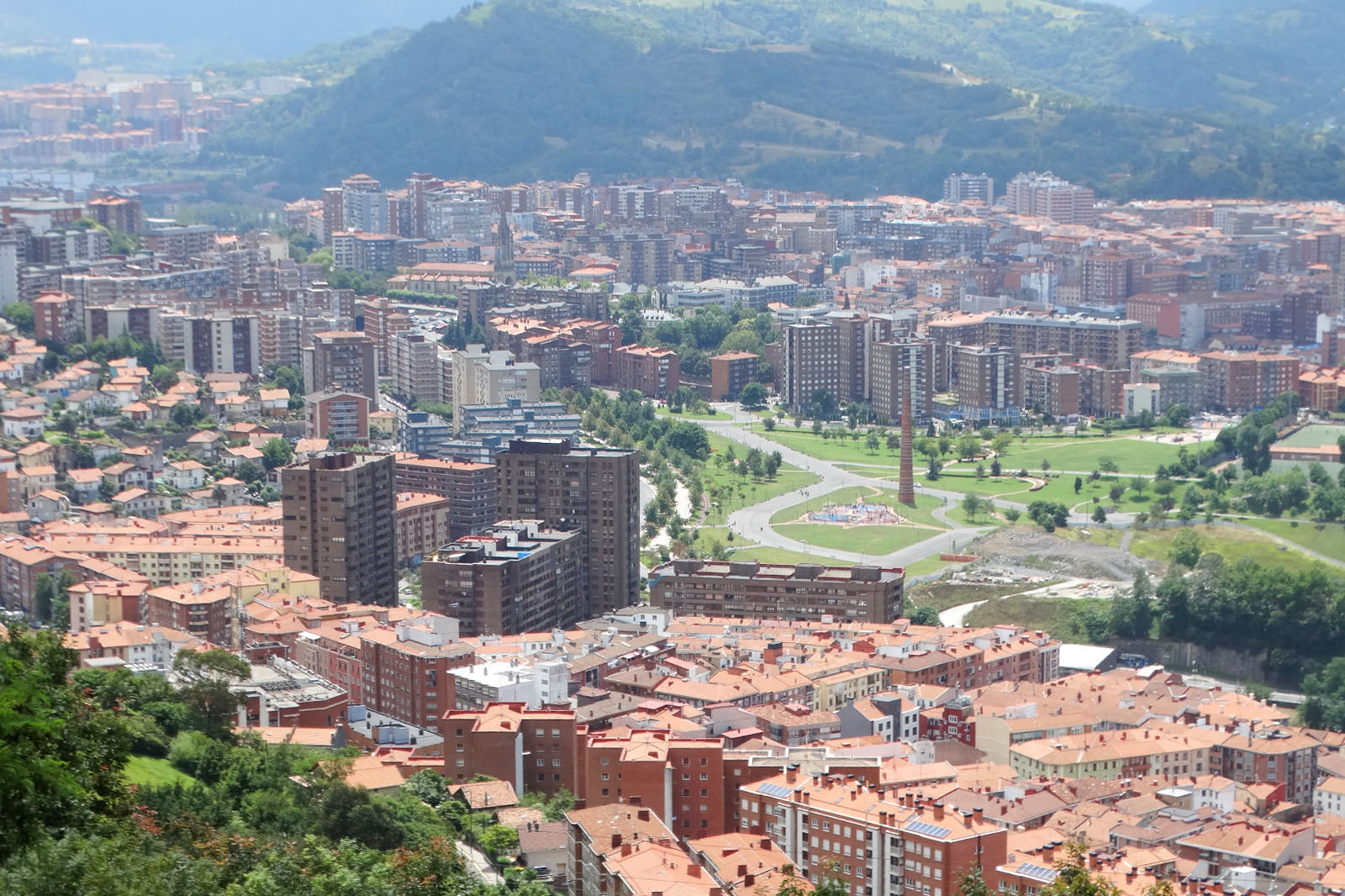 Go to Plaza Funikularreko (Funicular Square) just north of the Old Town to get on board the funicular that will transport you to the top of Mount Artxanda in 3 minutes. Opened since 1915, the Artxanda Funicular departs every 15 minutes. The summit of Mount Artxanda offers panoramic views of Bilbao and of the city airport. Here, you'll also find a kids' playground, a few restaurants, and a park. It's a great place to enjoy a breath of fresh air.
Location: 27, Carretera Artxanda-Santo Domingo Errepidea, 48015 Bilbao, Spain
Open: Daily from 7.15 am to 10 pm
photo by Adam Jones (CC BY-SA 2.0) modified
6
Snack on pintxos at La Ribera Market
Browse through the stalls of one of the largest covered markets in Europe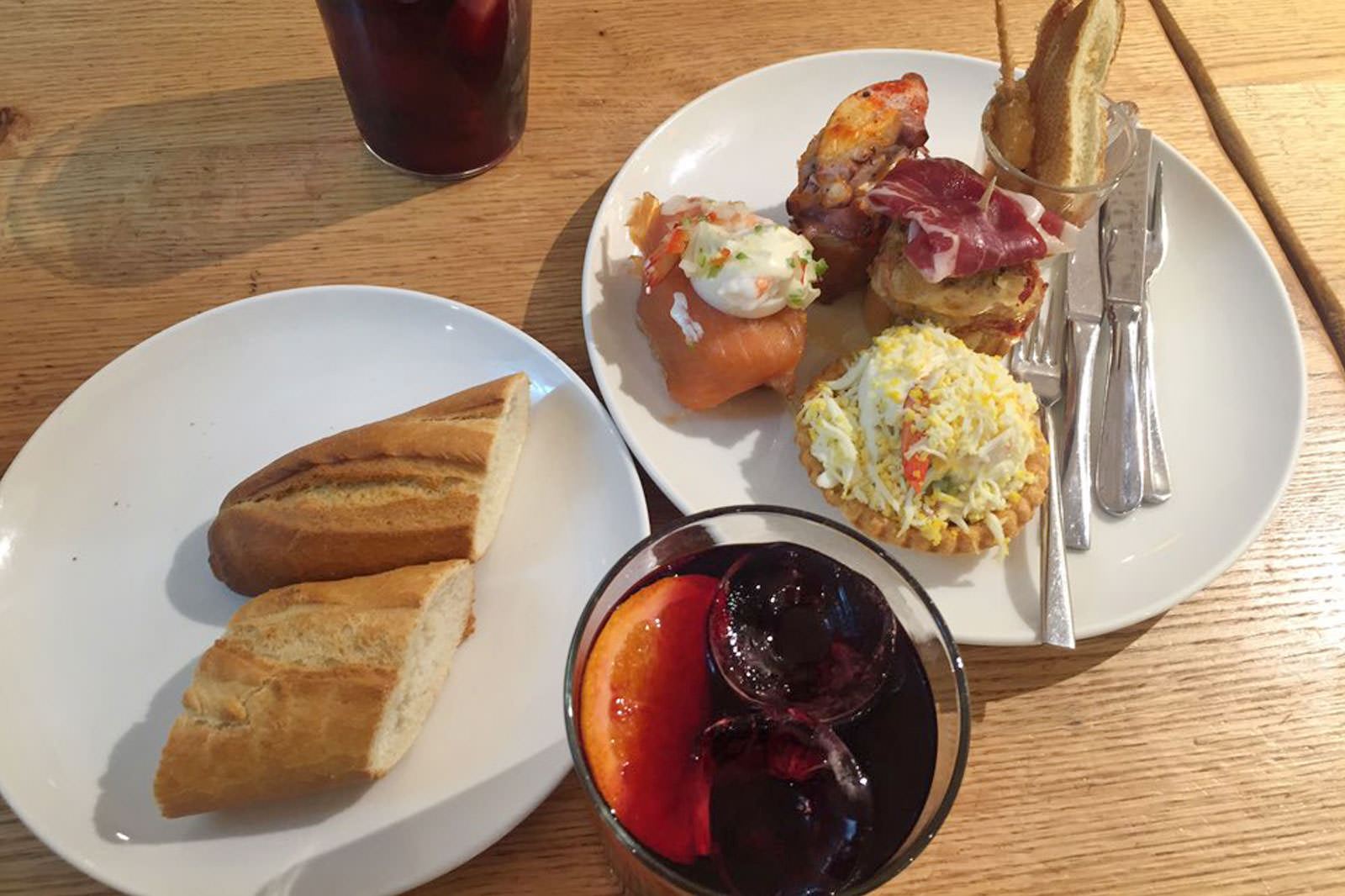 Mercado de la Ribera (the River Market) is one of the largest covered markets in Europe. Besides the fresh products and farmers' stalls, La Ribera Market houses about a dozen stalls at which you can discover and sample pintxos, the Basque version of Spanish tapas. Grab a plate of pintxos, a glass of red Tempranillo or white Txakoli, and head to the nearby bank of the Nervión River to sample these delicious specialities.
Location: In Casco Viejo, alongside the Nervión River, 450 m south of Plaza Nueva. Bilbao, Spain
Open: Tuesday–Friday from 8 am to 2.30 pm and from 5 pm to 8 pm, Saturday and Monday from 8 am to 3 pm (closed on Sundays)
7
Walk through Doña Casilda Park
Laze in one of the oldest parks in Bilbao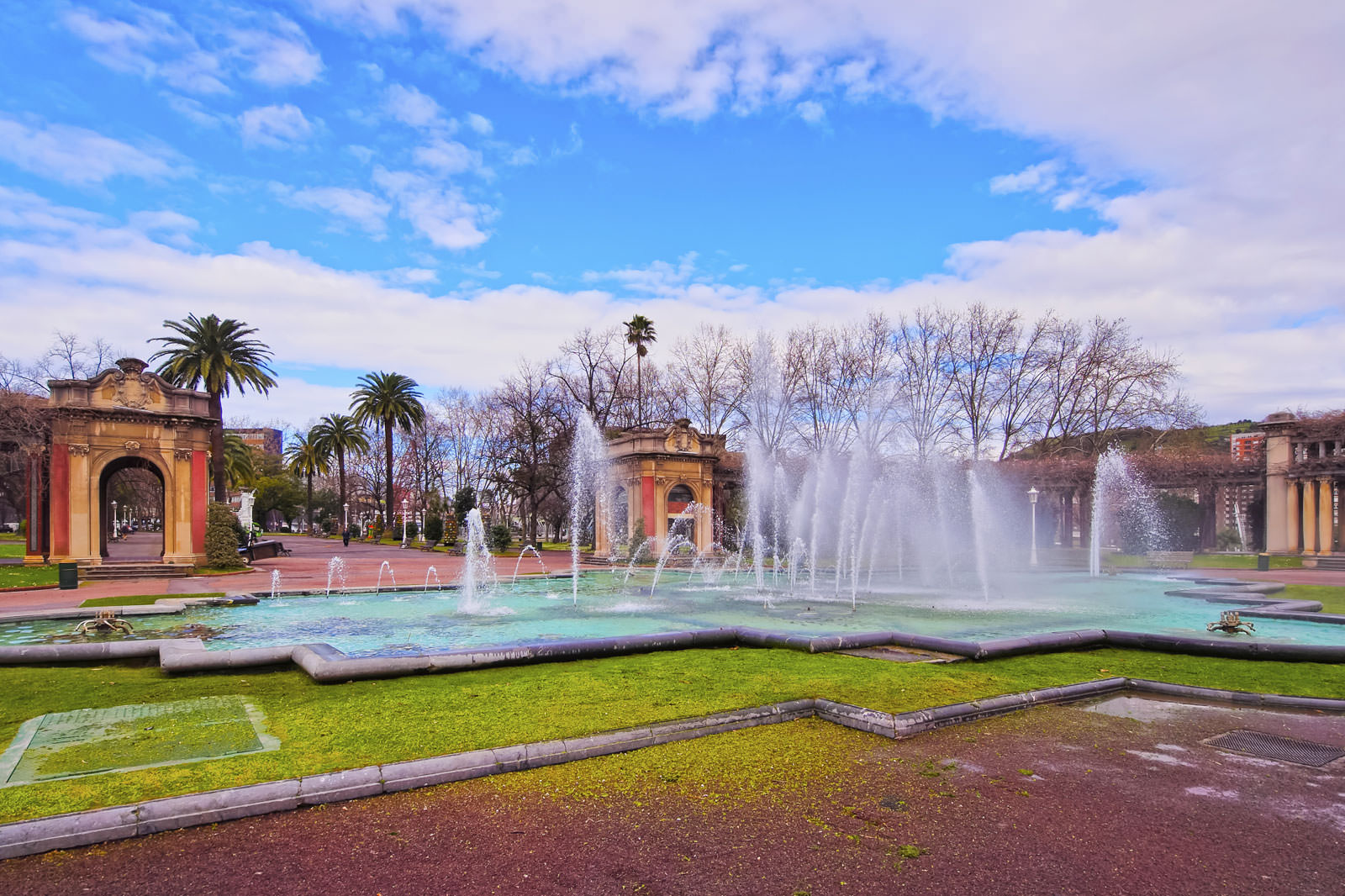 For a long time considered the lungs of Bilbao, Doña Casilda Iturrizar Park sits to the north of El Ensanche, nearby the Guggenheim Museum Bilbao. Named after the lady who donated the plot of land for the park to be built, it's a popular place to take a break from the city. Featuring a duck pond, a cybernetic fountain and a pergola, the park features centenary trees dotted in a pretty, English-style garden. Concerts and outdoor events are regularly held in Doña Casilda Park throughout the summer.
Location: Paseo Don Jose Anselmo Clave, Bilbao, Spain
8
Take a boat ride on the Nervión River
Rollin' on the Bilbao River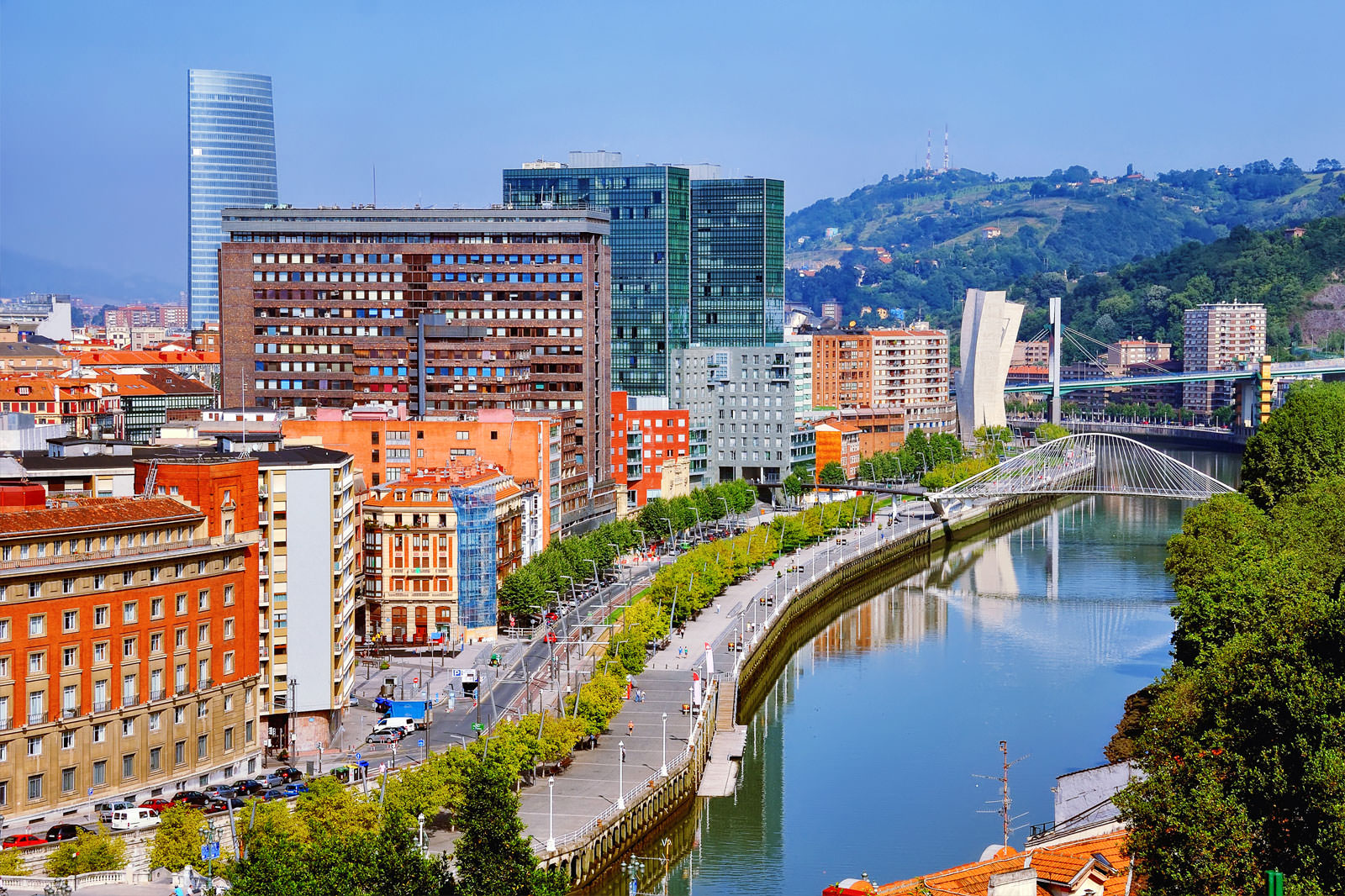 Take a boat ride on the Nervión River to discover Bilbao's landmarks from a different angle. The 2 most popular boat tours are run by Billboats and RiverCheer which offer 1 and 2 hour cruises from the City Hall to Deusto canal entrance, and further down to the sea. Multilingual audioguides are at hand to describe the sights you're cruising along, including Guggenheim Museum Bilbao, San Mamés Stadium, Vizcaya Bridge and vintage industrial sites. The boats are comfortable and feature an open-air deck and a bar.
Location: The embarking point is just before the bridge to the Old Town, near Bilbao City Hall, Bilbao, Spain
9
Dine on local specialities at Restaurante Mandoya
Sample Basque cuisine in a long-established restaurant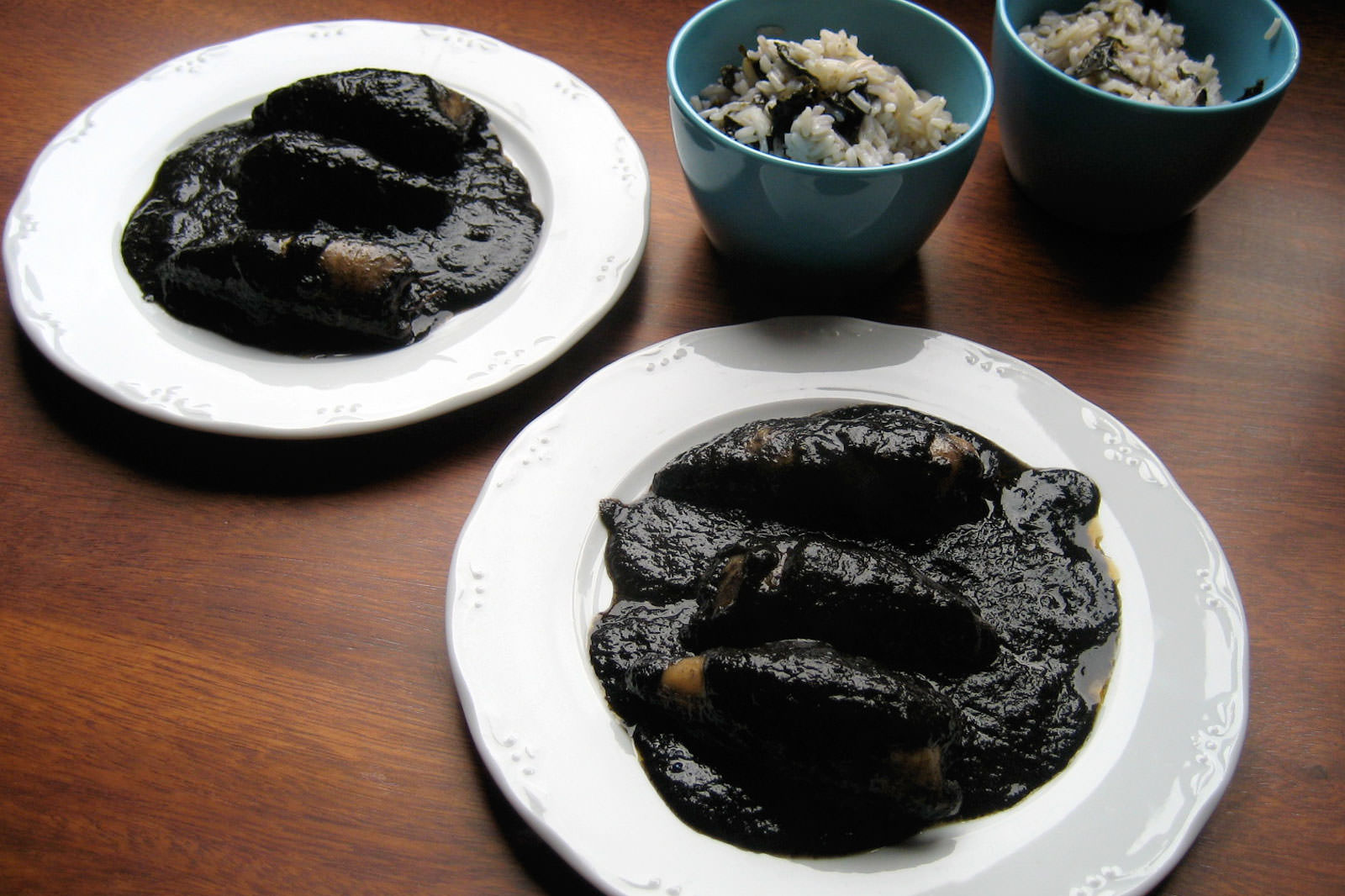 Get to Restaurante Mandoya to sample genuine Basque cuisine. Located in a narrow street of Casco Viejo, this local restaurant has been opened since the mid-20th century in stylish vintage settings. From Bacalao pil-pil (cod fish grilled with garlic and olive oil) to Txipirones (fresh squid in ink) to Merluza en salsa verde (stew of hake fish and clams in a green sauce made from white wine, garlic, fish broth, parsley and olive oil), you have the opportunity to taste a good range of traditional local dishes. Rates are affordable.
Location: On Txakur Kalea, a narrow cobblestoned lane in the Old Town, 250 m southwest of Plaza Nueva, Bilbao, Spain
Open: Friday and Saturday from 1.30 pm to 3.30 pm and from 9 pm to 11.30 pm, Tuesday–Thursday and Sunday from 1.30 pm to 3.30 pm (closed on Mondays)
Phone: +34 944 15 02 28
photo by Boca Dorada (CC BY-SA 2.0) modified
10
End the day in El Ensanche
Hop from bar to bar in Bilbao city centre
El Ensanche is filled with friendly pintxos bars and lively venues. It offers the perfect place to end the day in style. Among the many quaint bars at hand in the city centre, a few venues are especially recommendable. Head to La Casa del Bandido, a sophisticated funky pub on Alameda Urquij to sample world-class cocktails; visit Abadia del Gin&Tonic a tiny bar specialised in, guess what, gin and tonic on C/ Mº Diaz de Haro; or go to the classy Sir Winston Churchill Pub, a genuine and comfortable British pub located on Sabino Arana Etorbidea.
Location: El Ensanche, 48009 Bilbao, Spain