10 Things to Do with Your Family in Fuerteventura
Fun Places in Fuerteventura to Take Your Kids
Fuerteventura provides travelling families with a comfortable, Mediterranean-type climate year-round. As one of the beautiful Canary Islands, it's dotted with pristine coastlines, rocky cliffs and relaxed vibes. Photogenic landscapes help make it among the top family destinations in the Spanish archipelago.
A trip to Fuerteventura is ideal for active families who love spicing up their trips with lots of adventure. Wildlife encounters, tranquil beaches, boating trips and unspoiled terrain offer an abundance of ways to enjoy the outdoors as a family. Whether your tribe prefers to make a splash in the water or remain on land, you and your kids will likely have an unforgettable time in Fuerteventura.
1
Oasis Park
Interact with wildlife and catch a parrot or sea lion show
Oasis Park offers friendly encounters with numerous fascinating creatures, which help instil a greater appreciation of wildlife for the whole family. Have face-to-face interactions with sea lions, lemurs and even take a ride on a camel. The park also hosts numerous live shows that emphasise the importance of protecting the oceans and other habitats of wild animals.
Oasis Park is just north of the charming fishing village of La Lajita. It regularly puts on a magnificent spectacle featuring sea lions, reptiles, parrots and other birds of prey. Hawks, eagles and owls swoop around you, parrots flash their brilliant colours and sea lions dance to the rhythm of groovy music.
Location: Museo del Campo Majorero, Carr. Gral. Jandía, s/n, 35627 La Lajita, Las Palmas, Spain
Open: Daily from 9 am to 6 pm
Phone: +34 928 16 11 02
photo by Norbert Nagel (CC BY-SA 3.0) modified
2
Oceanarium Explorer
Ride an underwater boat or swim with sea lions
Nestled along the Caleta de Fuste Harbour, Oceanarium Explorer is a marine park filled with family-friendly shows and activities. Board a submarine and dive into the depths of the sea to catch a glimpse of sea creatures in their natural habitat. For a more personal introduction, your family can arrange a swimming session with adorable sea lions.
Other boat excursions offered at Oceanarium Explorer cruise to waters populated by whales and dolphins – with plenty of chances for sightings. Entertain the kids by taking them on a pirate ship or race along the water on jet skis. Pedal boats and kayaks can also be rented to spend an enjoyable day at sea.
Location: Urb. Barceló Club el Castillo, 35610 Castillo Caleta de Fuste, Las Palmas, Spain
Open: Daily from 8 am to 8 pm
Phone: +34 928 54 76 87
3
Acua Water Park
Family fun at Fuerteventura's only water park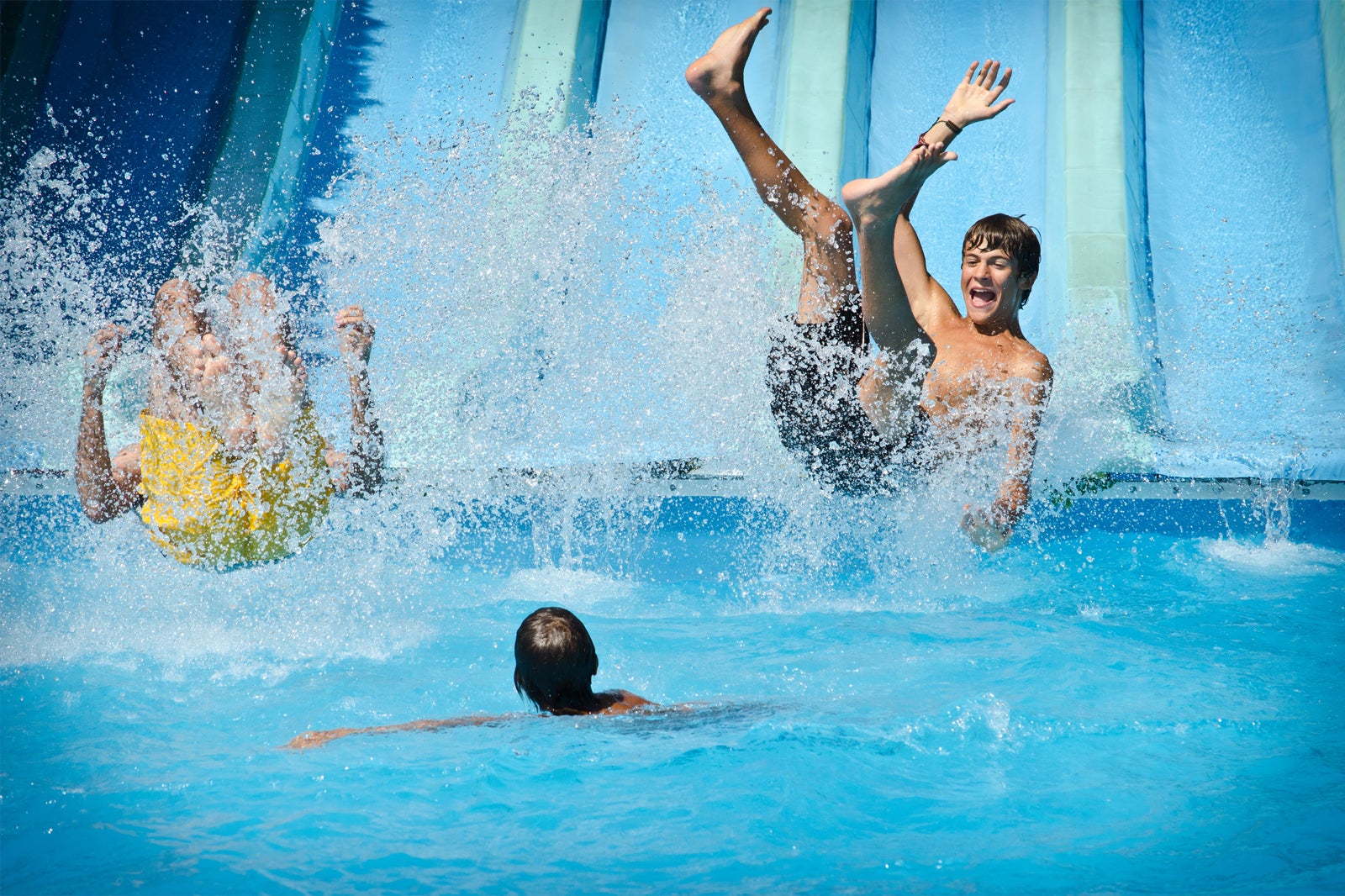 Acua Water Park is an exhilarating place for lots of family fun during the scorching summer months. This popular outing on the island's northern town of Corralejo provides over a dozen aquatic activities to cool off from the heat. Since the park closes during the winter months, plan your Fuerteventura trip during the summer to experience the water rides.
Plunge down the kamikaze or curved slides for a thrilling ride and make a splash in the big jacuzzi. Family members seeking relaxation can coast down the circular slow river which flows around the children area. The whole family can swim together in the wave pool and ride waves of varying intensities.
Location: Av. Ntra. Sra. del Carmen, 41, 35660 Corralejo, Las Palmas, Spain
Open: Daily from 10.30 am to 5.30 pm (April to May and September to November). Daily from 10 am to 6 pm (June to September)
Phone: +34 928 53 70 34
4
Boat to Isla de Lobos
Sail to a beautiful nature reserve and search for dolphins at sea
Reaching the pristine beauty of Isla de Lobos (Lobos Island) takes only a 15-minute ferry ride from Corralejo. This picturesque island offers majestic views of the Fuerteventura coastline and is home to diverse sea life. Keep your eyes peeled for dolphins during the ferry ride and once you make landfall. Don't be surprised to see barracudas or hammerhead sharks also swimming in these waters.
The island's unspoiled terrain is protected as a nature reserve and its radiant flora and volcanic geology are a paradise for nature lovers. Walking around the island does not present a strenuous challenge so the youngsters can easily tag along. Hiking trails that stretch across the island eventually lead to Montaña La Caldera which overlooks the landscape.
Location: Isla de Lobos, 35660 Las Palmas, Spain
5
Corralejo Dunes National Park
Roll down the scenic dunes for a sandy adventure
Let the kids burn some energy at the majestic sand dunes of Corralejo Dunes National Park. The beautiful national park is less than a 10-minute drive from Corralejo and is the perfect adventurous getaway for the whole family. Turquoise waters around the shore blend with the sparkling white sand dunes for a unique beach retreat.
Take the kids straight to the sand dunes where they can sprint all the way up and safely roll down along the soft sand. Watch the youngsters let their imagination run wild and simply enjoy the outdoors. Once everyone is exhausted and covered in sand, head over to the nearby coastline to rinse off in the water.
Location: Corralejo, La Oliva, Fuerteventura, Spain
Open: 24/7
6
Gran Karting Fuerteventura
Let the kids test their skills on the track
For family members who love racing, Gran Karting Fuerteventura is the place to be. Just a 10-minute drive from Fuerteventura Airport, this is an exciting activity to kickstart your family vacation. The circuit has a 1,000-metre track length, so everyone in the family can have a chance to take the wheel and showcase their driving talents. If the kids are not ready to drive, let them sit alongside you in the passenger seat.
The friendly staff provides a laid-back environment for everyone to have an enjoyable time. Have a delicious meal at the restaurant near the track and let the kids climb on the playground after experiencing a rush of adrenaline behind the wheel.
Location: Poligon Industrial risco Prieto, Calle Heneken, 35600 Puerto del Rosario, Las Palmas, Spain
Open: Daily from 11 am to 8 pm
Phone: +34 639 69 39 84
7
Tour Fuerteventura by Segway
See more of Fuerteventura's landscapes on this easy to drive 2-wheeler
Segway tours in Fuerteventura are an innovative way for the entire family to see more of the island's natural beauty. These easy-to-drive 2-wheelers provide a safe and relaxed ride through versatile terrain. A quick tutorial will provide all the important info needed to navigate these nifty vehicles. Go off-road on the beach or keep your Segway on smoother surfaces. You won't have to worry about causing damage to the environment – they're zero-emission vehicles.
You'll find multiple Segway tour companies on the island to see more of Fuerteventura. Segway Tours Fuerteventura and 2 Wheel Tours Corralejo can be found on the northern side of the island and Senda Ventura Segway Tours lets you explore the southern end of Fuerteventura.
8
Go on a dune buggy adventure
Go off-road and explore the rugged terrain of the island
For an exciting off-road excursion in Fuerteventura, going on a dune buggy adventure will transport you to spots on the island a car simply won't take you. There are numerous routes to choose from depending on which area of Fuerteventura you wish to explore. You can rent a buggy from Quad & Buggy Adventure Costa Calma or Fuerteventura Dune Buggy Tours Corralejo.
Whether you want to roam the landscapes near Costa Calma or Corralejo, your drive along bumpy, dusty paths and rolling sand dunes can be an unforgettable ride. Hire a 2-seater and let the kids come along for the journey through Fuerteventura's varied terrain.
9
Playa del Castillo
Have a picnic on the beach or let the kids use the playground
Families
Food
Budget
Adventure
Conveniently located along Caleta de Fuste Harbour, Playa del Castillo has all the facilities needed for the ultimate family beach day. The calm, picturesque waters are ideal for the kids to have a wonderful swim while the parents relax on the lounge chairs. You'll find plenty of shops and restaurants lining the promenade next to the golden shoreline.
Make sure to bring snorkelling gear since lots of fish can be spotted in the crystalline water. After the kids work up an appetite swimming in the shallow bay, have a family picnic on the gorgeous sands to spend quality time together.
Location: Paseo Maritimo Promenade, Caleta de Fuste, Antigua, Fuerteventura, Spain
photo by Frank Vincentz (CC BY-SA 3.0) modified
10
Fishing excursion from Puerto de Corralejo
Ride a catamaran and see who reels in the first catch
For families who love seafaring adventures, there is no better activity than a fishing excursion from Puerto de Corralejo. Board a fishing boat or catamaran to sail the open sea in search of a glorious catch. There's a multitude of companies offering fishing tours around Fuerteventura and choosing the right one could be crucial for locating the best spots to cast your line.
Whether you're a novice or a veteran angler, joining one of the local fishermen is a unique experience in Fuerteventura. You'll learn the secret tricks and be given helpful advice to snag a quality catch. When the kids reel in a fish on their own, it will easily be the most memorable part of your trip.
Location: S N, Lugar Corralejo, 0, 35660 Corralejo, Las Palmas, Spain
Back to top