9 Ways to Save Money in Seoul
How to Enjoy Seoul on a Budget
Seoul is home to some of the best public transport systems and facilities in the world, so you can enjoy a holiday without worrying too much about your budget. While the city is known for its massive shopping malls and high-end restaurants, there are plenty of places where you can slow down and relax in this bustling metropolis. Here are some great free and cheap things to do in Seoul that will help you unwind before returning to your busy life.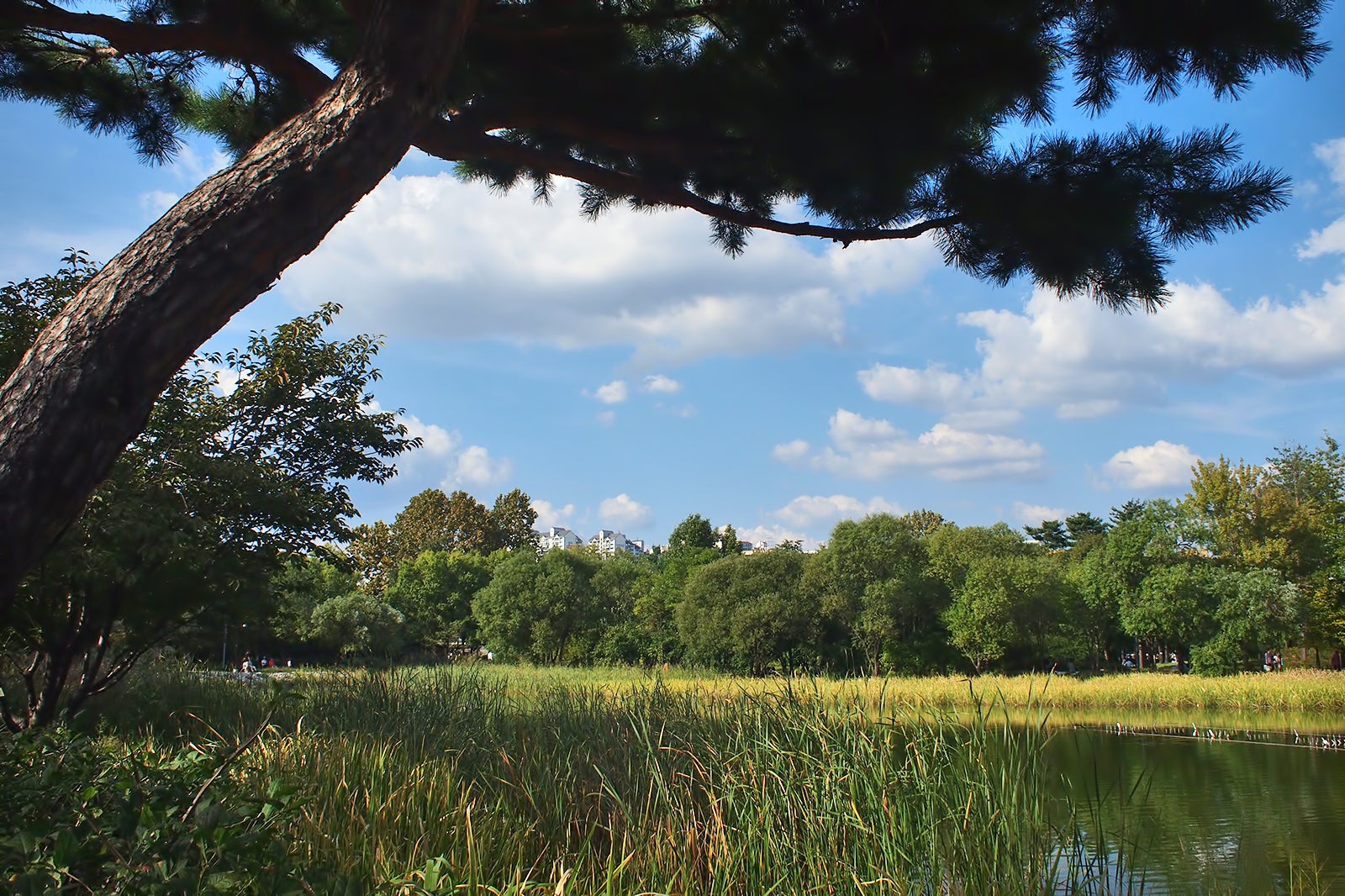 Couples
Families
Budget
Group
Seoul Forest is decorated in various themes, offering you and your loved ones a chance for a pleasant nature getaway in the middle of the city. You can either come prepared with a picnic basket and blanket or order food to be delivered to your spot. The Butterfly Gardens and Botanical Garden are free to the public, and they're excellent spots if you're travelling with children. It's also a convenient destination for tourists, thanks its proximity to Seoul Forest Station. Because it's in the middle of Seoul, there are plenty of well-known restaurants and cafés nearby for you to visit.
Location: 273 Ttukseom-ro, Seongdong-gu, Seoul, South Korea
Open: 24/7
Phone: +82 (0)2-460-2905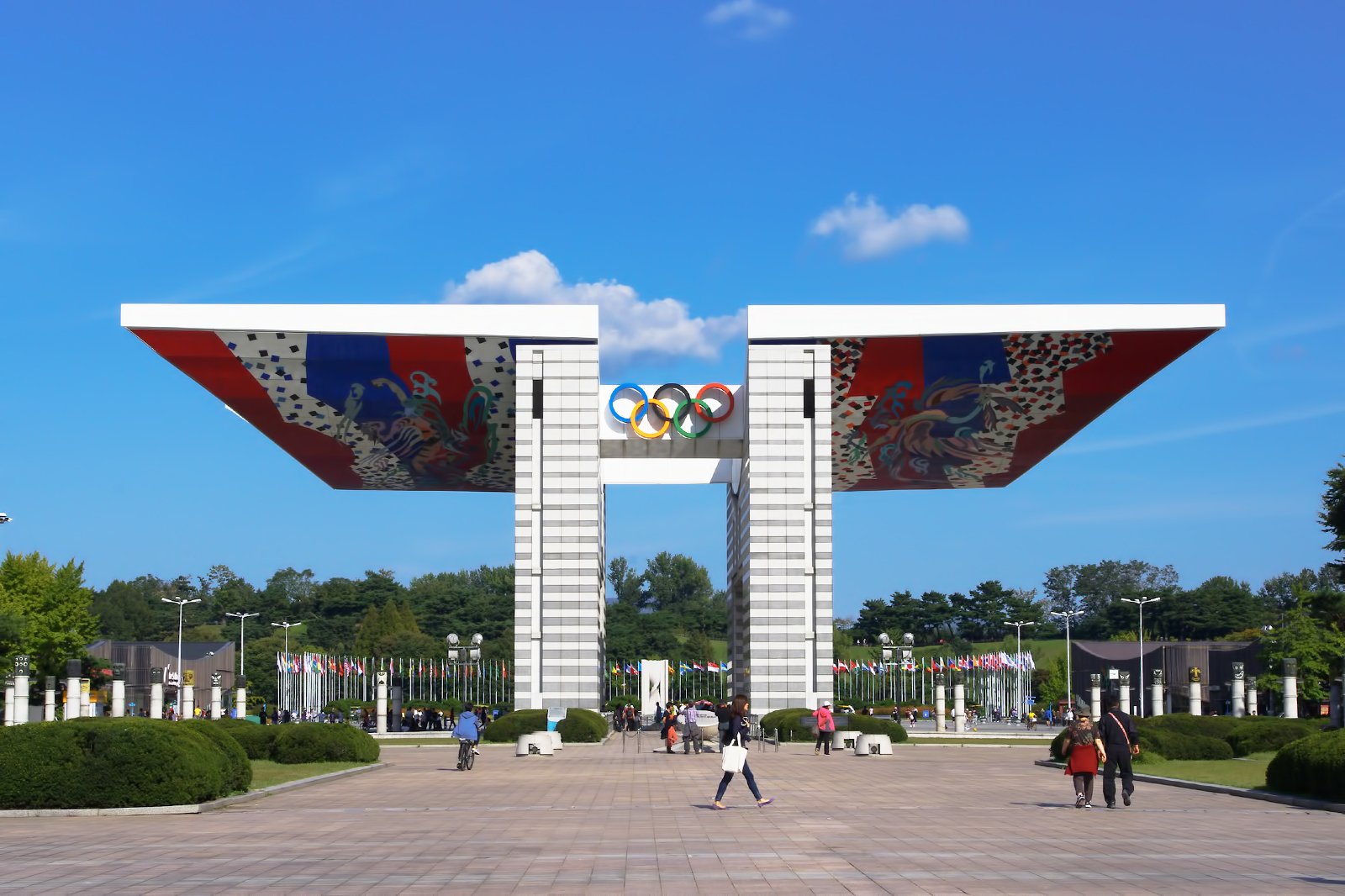 Couples
Families
Budget
Group
The Olympic Park and Stadium is a recreational centre for exercise-minded visitors in Seoul. It was built to host Seoul's Olympics games in 1988. Athletic competitions, concerts, and large-scale events take place at the stadium year-round. There's also an Olympic Museum, Mongchon Fortress and the World Peace Gate. The Olympic Park has paved pathways that lead to a sculpture park, where you can see around 200 art installations. The stadium's tennis courts, gymnasium, fencing court, and indoor Olympic pool are all open to the public.
Location: 424 Olympic-ro, Songpa-gu, Seoul, South Korea
Open: Daily from 5 am to 10 pm
Phone: +82 (0)2-410-1114
photo by Hhk1201 (CC BY-SA 4.0) modified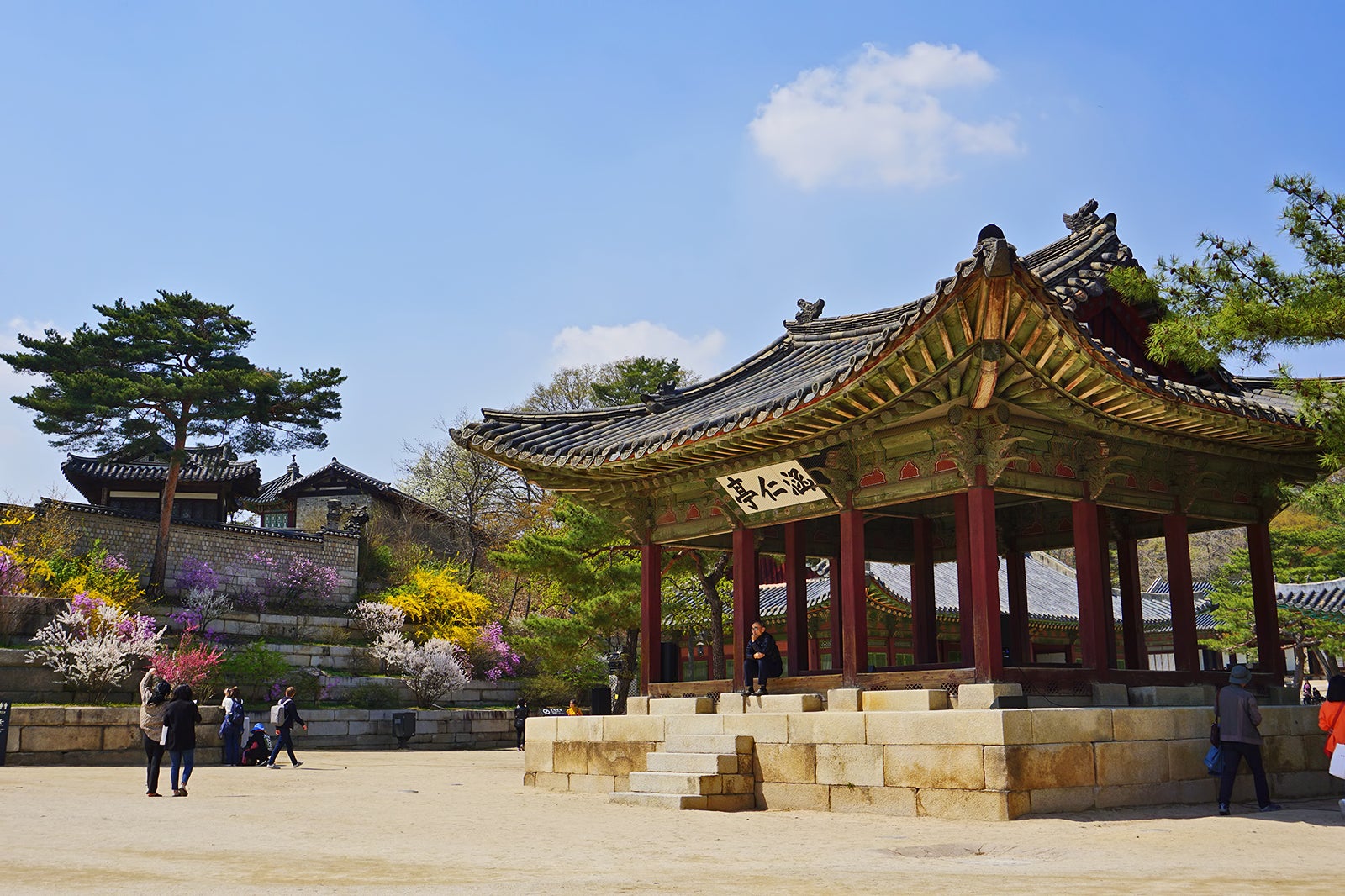 Changgyeonggung Palace, once served as a palace for queens, is known for its simple and colourful charm. It's especially popular when night tours are offered, as you can experience returning to the Joseon era while walking the grounds with cheongsa-chorong lanterns (traditional Korean lanterns). Plus, the onsite Grand Greenhouse creates an exotic contrasting atmosphere, can be entered without an additional admission fee.
Location: 185 Changgyeonggung-ro, Jongno-gu, Seoul, South Korea
Open: Tuesday–Sunday from 9 am to 9 pm (closed on Mondays)
Phone: +82 (0)2-762-4868
photo by Matt Kieffer (CC BY-SA 2.0) modified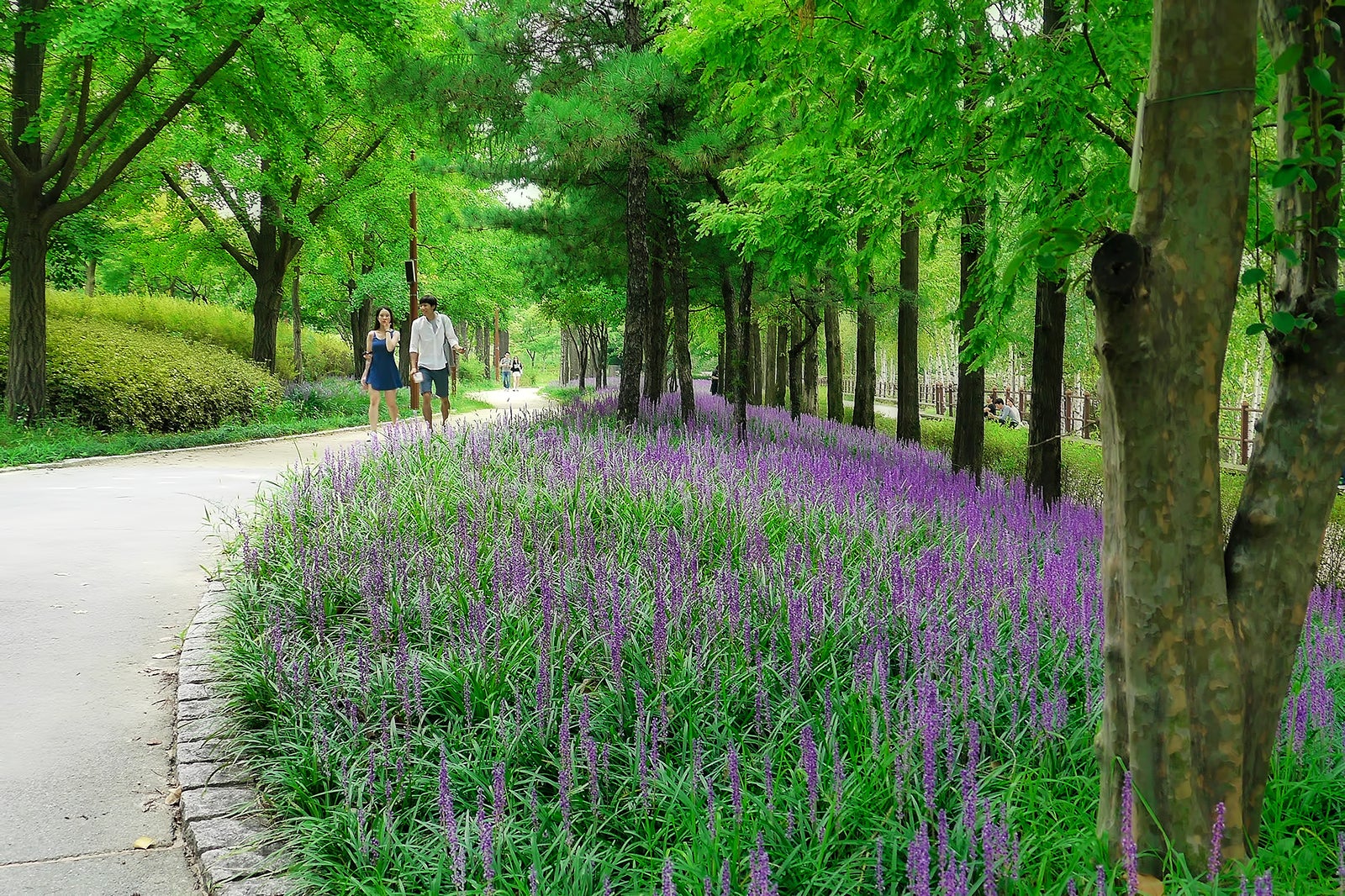 Couples
Families
Budget
Group
Seonyu Park, located on an island on the Han River, was the site of a water purification plant until 2000. This former plant was repurposed into Seonyudo Park and is now a place where you can enjoy the unique ambience of the contrast between industry and nature. The park is especially charming in the evening when you can enjoy a night-time view of the Han River, making it a popular destination for people looking to capture a striking photo. You cannot ride bicycles here, so wear comfortable shoes and get ready for a walk.
Location: 343 Seonyu-ro, Yeongdeungpo-gu, Seoul, South Korea
Open: Daily from 6 am to 1midnight
photo by travel oriented (CC BY-SA 2.0) modified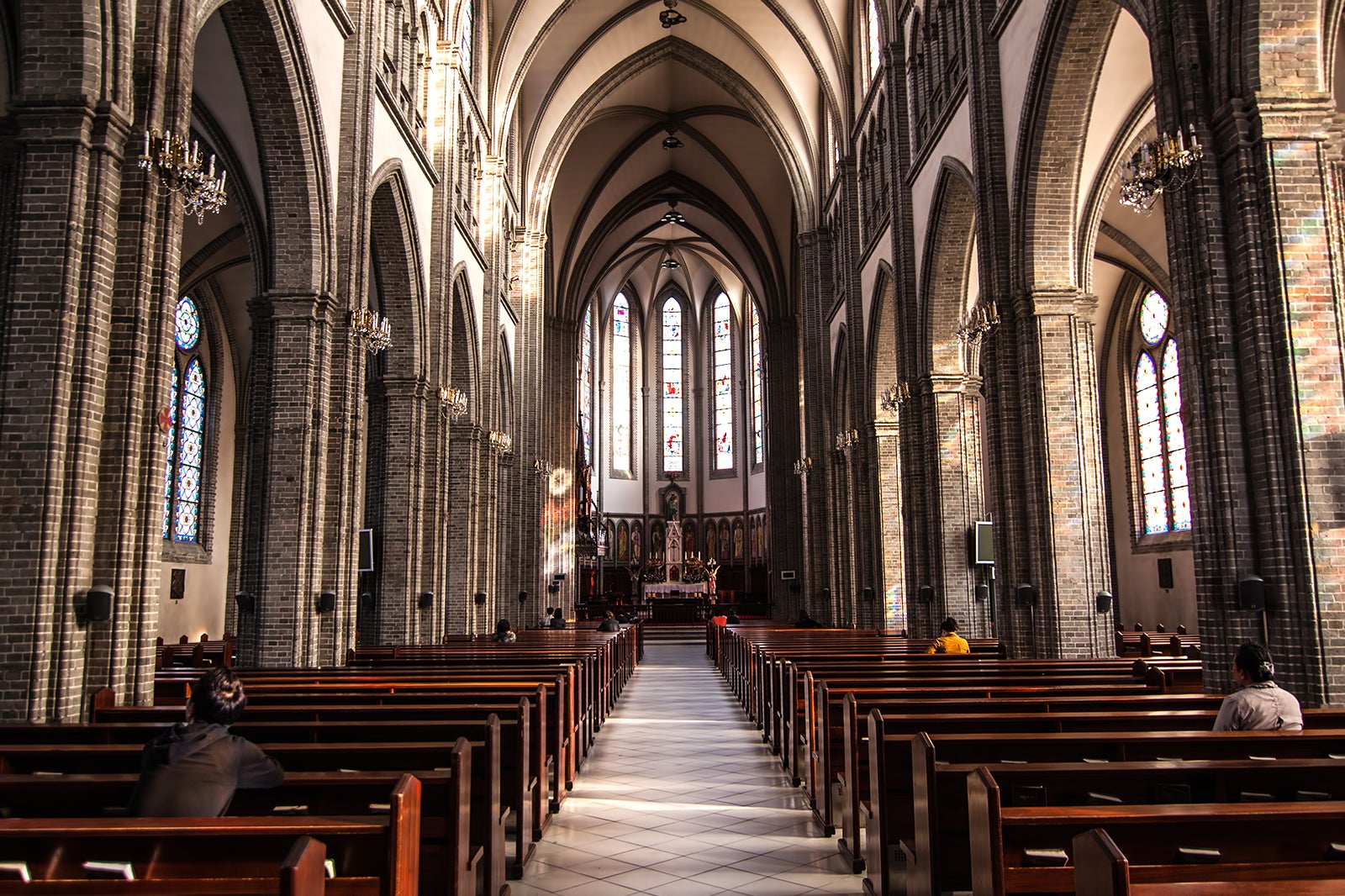 Couples
History
Photo
Budget
Group
Myeongdong Cathedral in central Seoul is one of South Korea's most noteworthy cathedrals. The Gothic Revival church dates back to 1898, and has been designated as Korea's Historic Site No. 258. There, you can find excellent brochures designed specifically for tourists. As it is a place of worship, the cathedral is quiet and not at all crowded. Be sure to visit if you're looking for a bit of quiet in Myeongdong.
Location: 74 Myeongdong-gil, Jung-gu, Seoul, South Korea
Phone: +82 (0)2-774-1784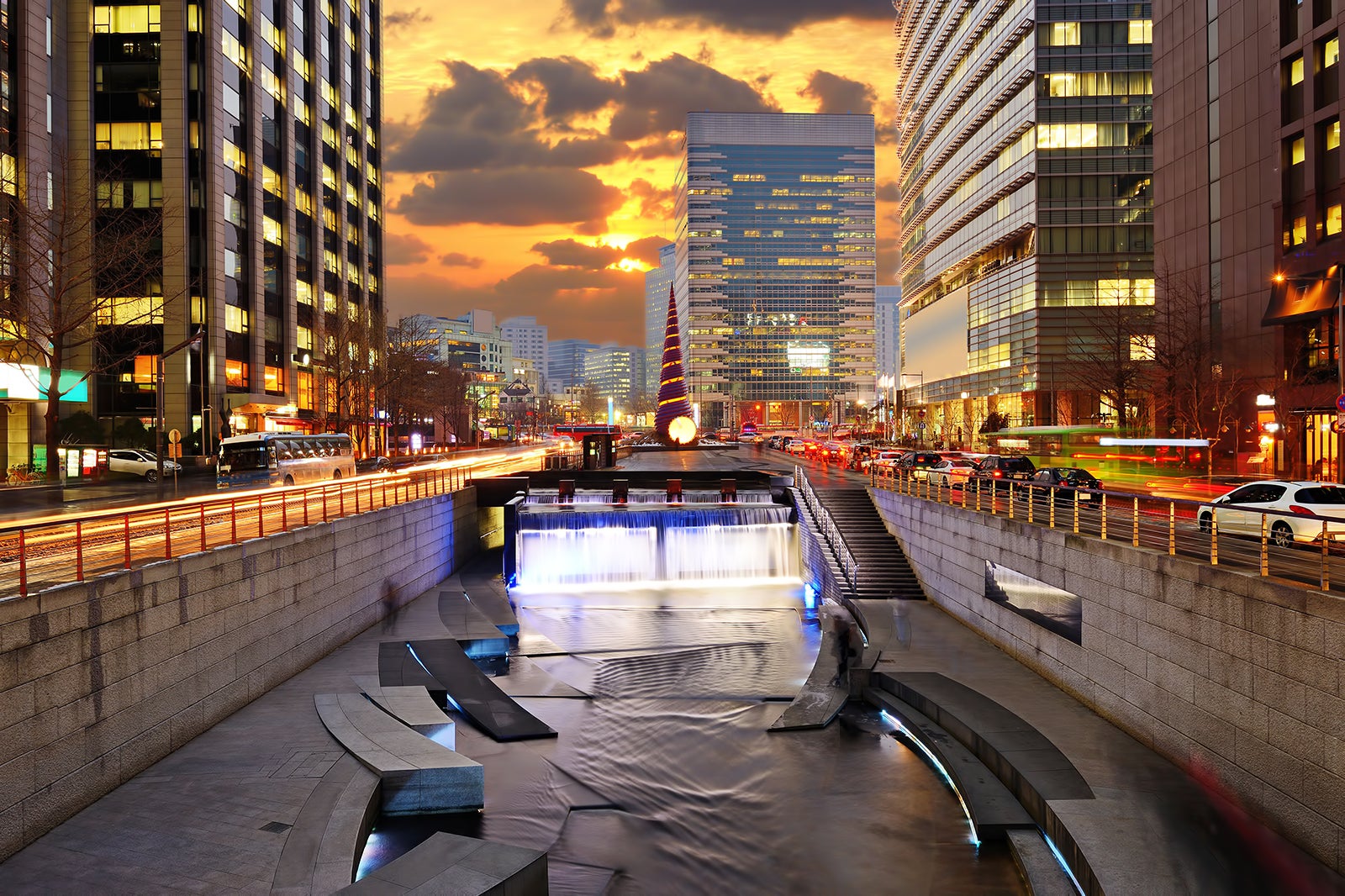 The Cheonggye Stream starts at Cheonggye Square near Gwanghwa Gate and flows to Wangsimni. The water is notably clean because it's purified water sourced from the Han River and nearby groundwater. The ecosystems around the stream have been restored over a 10-year period. In fact, you just might forget that you're in the middle of a busy city unless you look up. As it passes through the middle of the city centre, there are lots of convenient facilities nearby at your disposal. If you're lucky, you might be surprised by a night market that opens from time to time.
Location: Changsin-dong, Jongno-gu, Seoul, South Korea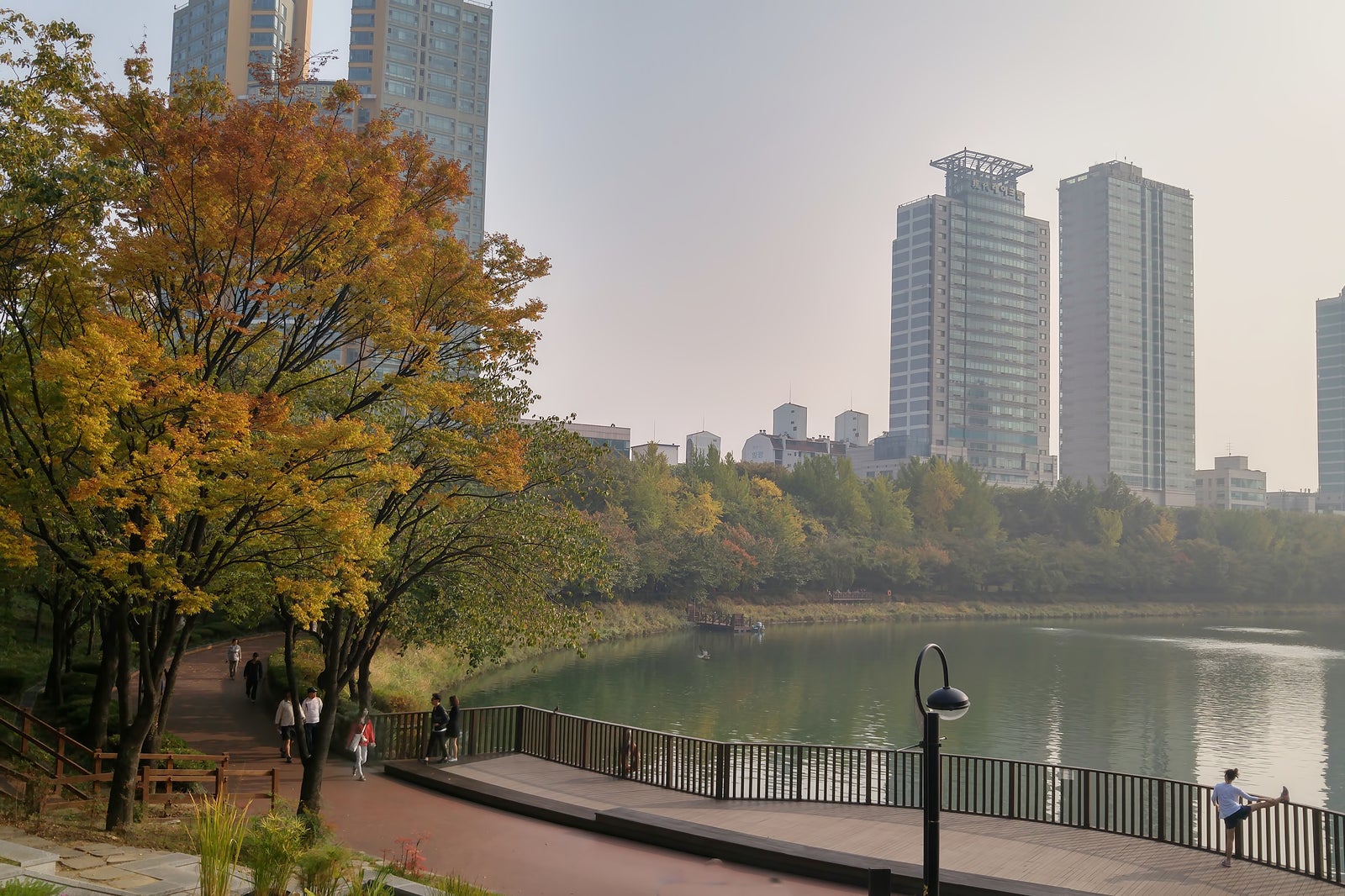 Couples
Families
Budget
Group
Seokchon Lake Park in Jamsil is well known as a place of respite for locals, but it's also famous for its beautiful cherry blossoms. Thanks to the surrounding skyscrapers and a nearby amusement park, you can be assured that you'll catch some wonderful night-time views of the scenery. Unique artworks are sometimes installed on the lake for added viewing pleasure. The lakeside trails are well laid out, so there's no worry of getting lost. There is a car park, but public transport is recommended because it can get a bit crowded.
Location: Jamsil-dong, Songpa-gu, Seoul, South Korea
Open: Open 24/7
photo by Jocelyndurrey (CC BY-SA 4.0) modified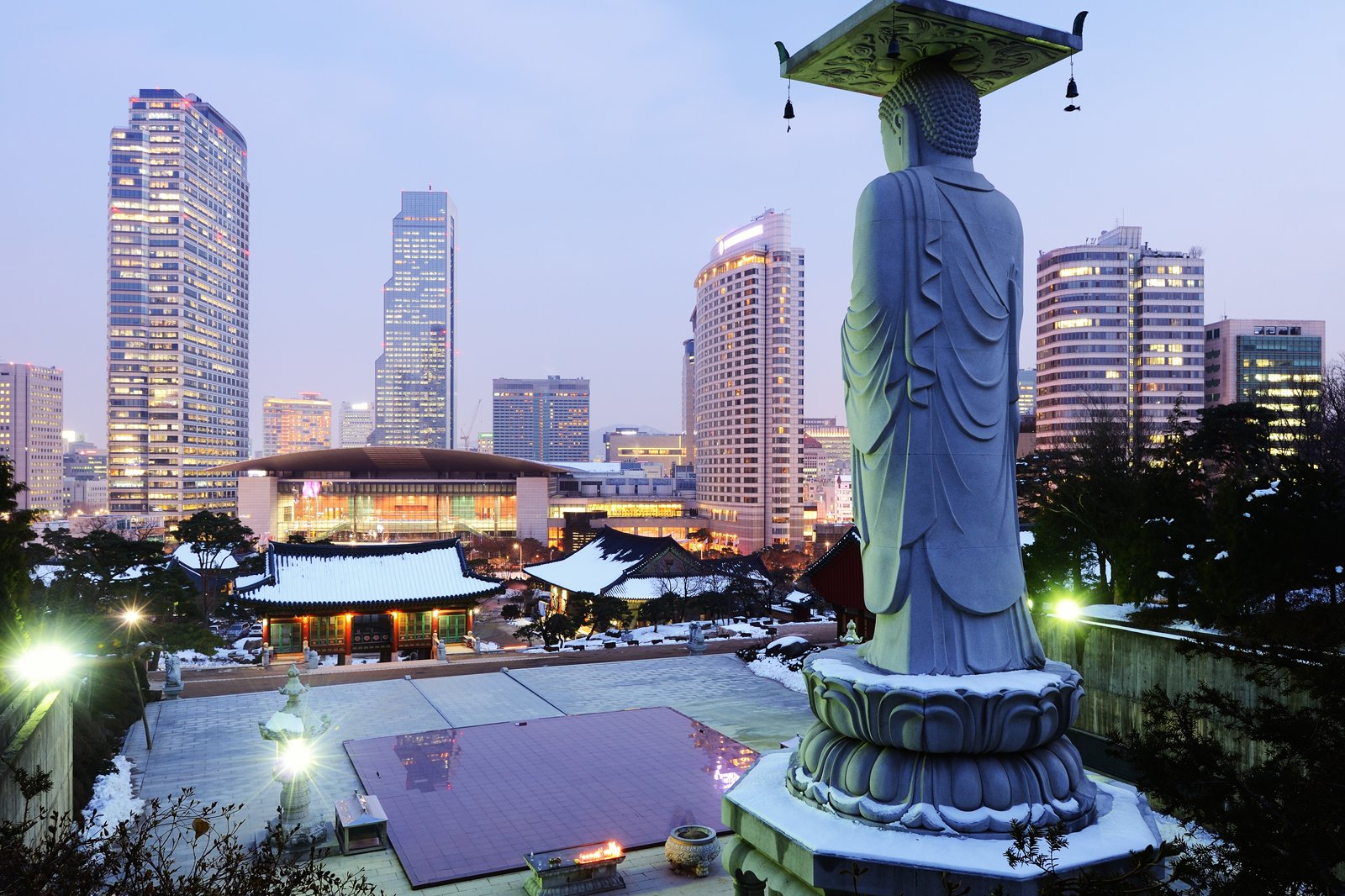 Couples
History
Photo
Budget
Bongeun Temple was built during the Silla era and has seen more than its fair share of destruction and restoration through various wars. Because it lies in a forest of tall buildings and not deep in the mountains, it's rather convenient to visit compared to other temples. The sanctums, sculptures, a large stone statue of Buddha, and the surrounding landscape are in full harmony, and each season brings a new look to the temple grounds. Try to time your visit with Buddha's birthday when colourful lanterns are illuminated for the occasion.
Location: 531 Bongeunsa-ro, Gangnam-gu, Seoul, South Korea
Phone: +82 (0)2-3218-4800
Gangpul Cartoon Alley is located near Exit 4 of Gang-dong Station. A guide map is available, and each mural is numbered, making sightseeing in this neighbourhood a smooth experience. Because it was created in a residential area, there are plenty of cafés and restaurants nearby. It's a great neighbourhood for a leisurely stroll without much needed in terms of preparation. You can create beautiful memories with a loved one simply by enjoying a quiet walk.
Location: Cheonho-daero 168 ga-gil, Seongnae-dong, Gangdong-gu, Seoul, South Korea