7 Best Nightlife Experiences in Busan
Where to Go at Night in Busan
Some of the best nightlife experiences in Busan are rooftop venues offering excellent views of the city, but the contrast between the bright splendour of the city's beaches and the calm waters of the sea must be seen from up close.
Haeundae Beach and Nurimaru Marine City, just opposite the beach, are renowned spots for stunning night-time views, while Mt. Hwangnyeong Smoke Signal Tower and Mt. Yongdu Park offer panoramic views of the whole city. Foodies can enjoy a wide range of street food and souvenirs at the lively Bupyeong Kkangtong Night Market. Check out our guide to places to go at night in Busan.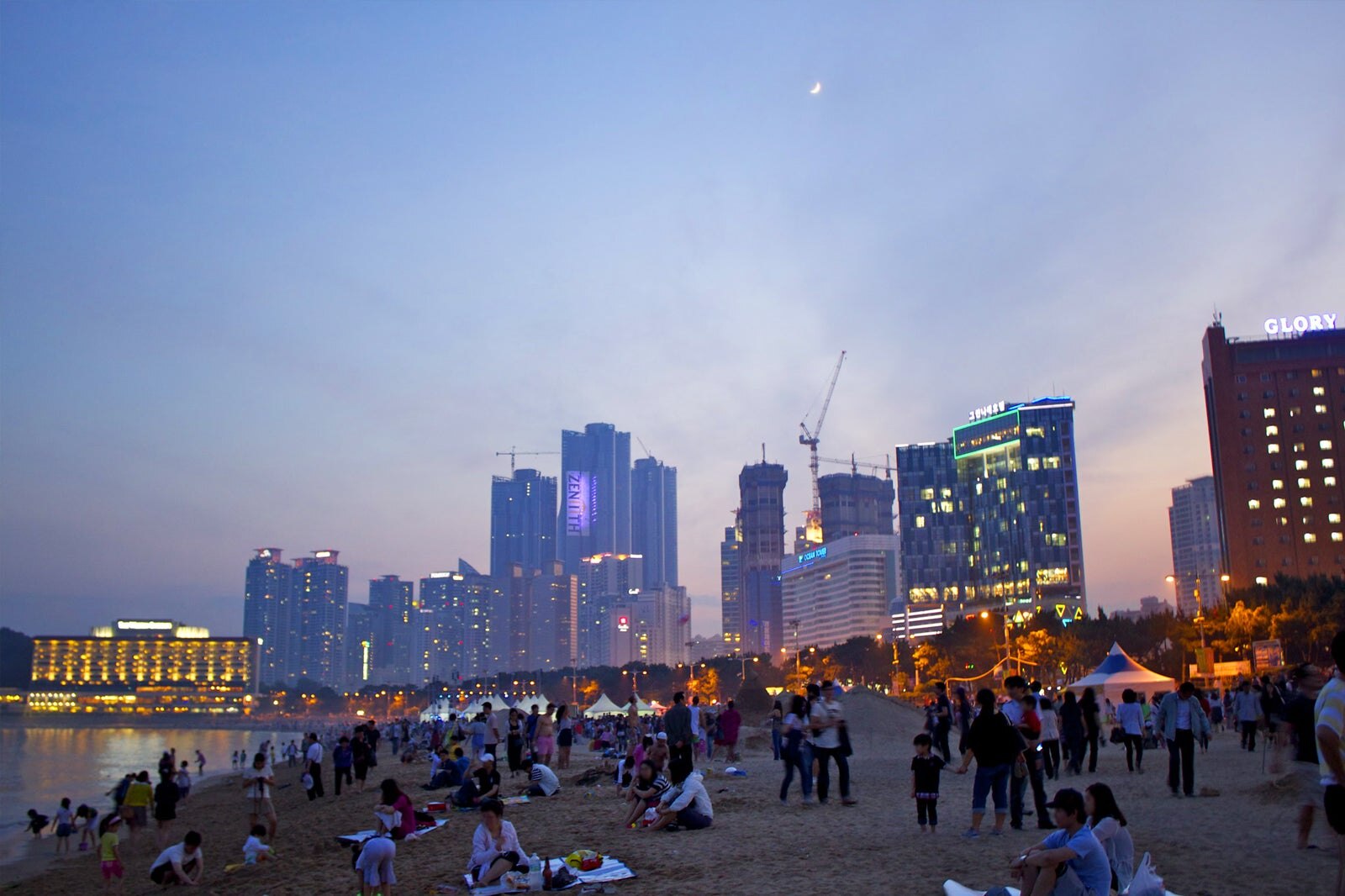 Haeundae Beach, which is surrounded by the tallest buildings in Busan, is great during the day, but its beauty really flourishes at night. The contrast between the quiet night sea and surrounding colourful skyscrapers creates a fantastic atmosphere. The lights reflecting on the water can only be described as dreamy. There's no shortage of cafés, restaurants, and hotels, which is why it's so popular with people who want to relax and take in the night scenery.
Location: 47 Dalyeong-gil 62 beon-gil, Haeundae-gu, Busan, South Korea
photo by Chelsea Marie Hicks (CC BY 2.0) modified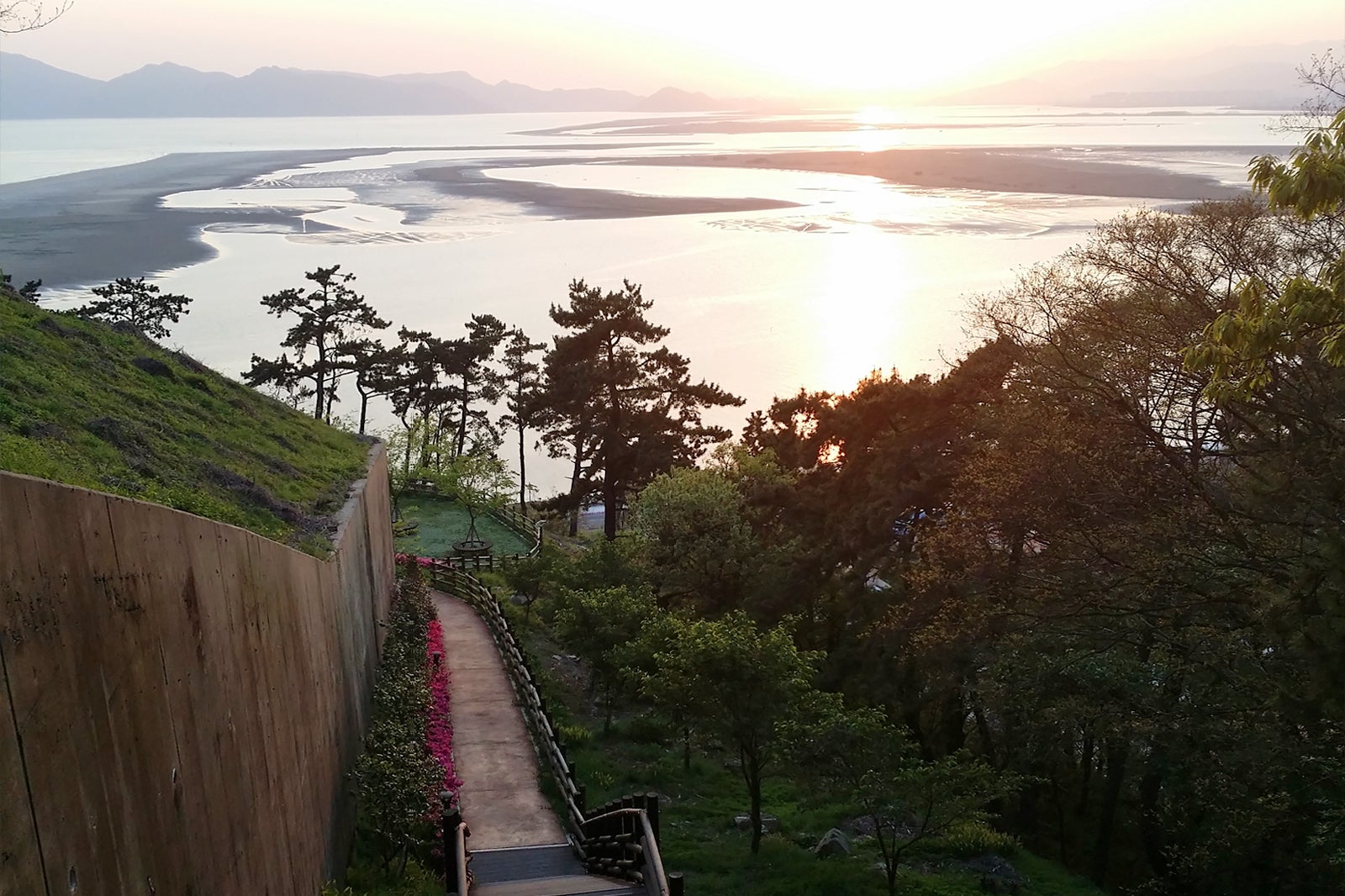 From Amisan Observatory at Mt. Ami, you can enjoy views of far-off islands and a sandbar formed by an estuary, where Nakdong River meets the sea. The best views are at dusk, when this lonesome landscape is soaked with the red light of the sunset. At night, you can check out musical fountains at the nearby beach.
Location: 77 Dadaenakjo 2-gil, Saha-gu, Busan, South Korea
Open: Daily from 9 am to 6 pm (closed on Mondays and New Year's Day)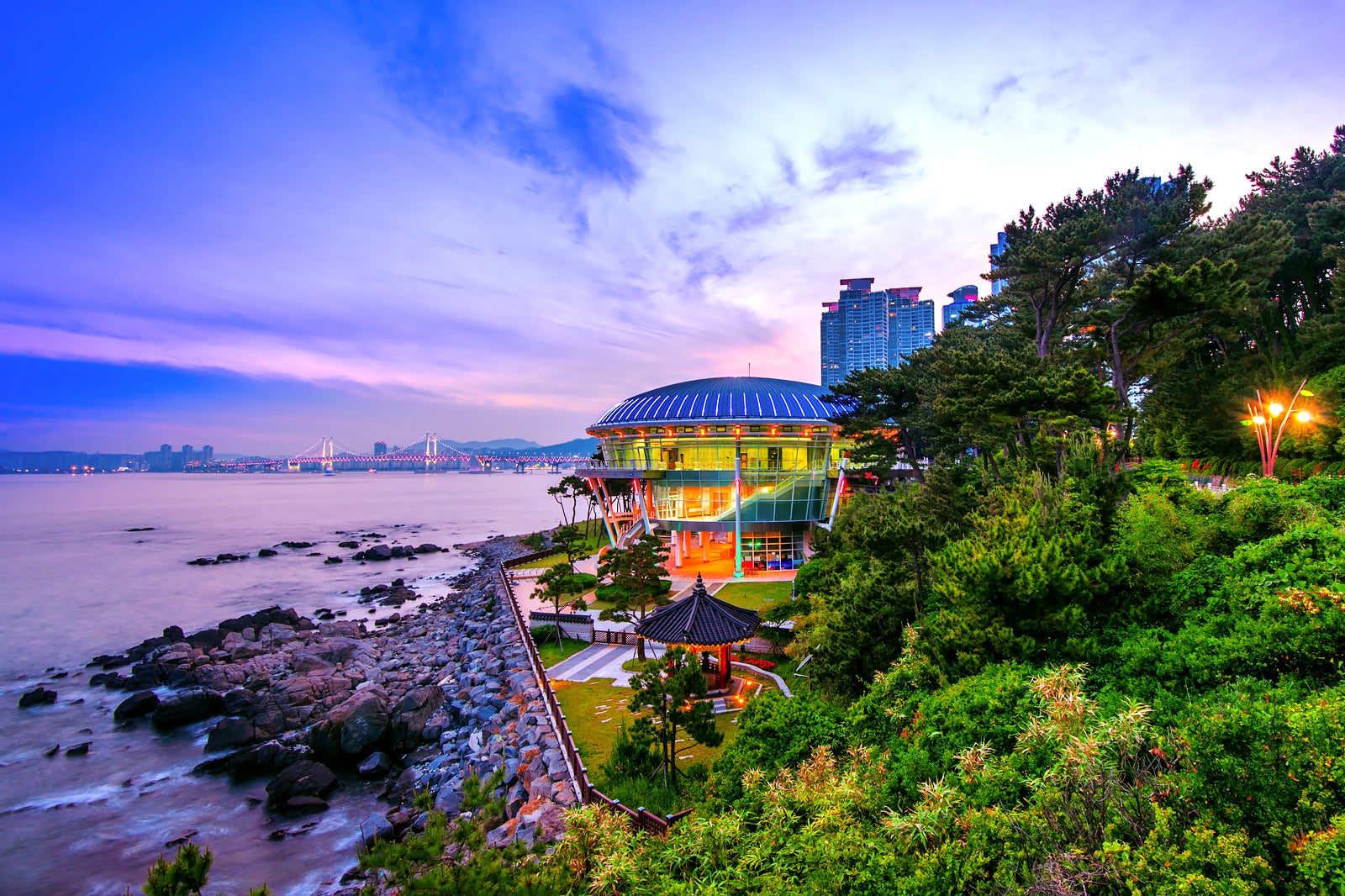 Couples
Families
Nightlife
Group
Nurimaru Marine City was built in conjunction with the 13th APEC summit, but still offers beautiful scenery throughout the years. When the wind is calm, lights are reflected on the waters of Haeundae Beach, which results in an especially colourful and brilliant night-time view. Gwangan Bridge, renowned throughout South Korea for its gorgeous night-time attraction, can be seen here, so make sure you don't miss it while you're in Busan.
Location: 116 Dongbaek-ro, Haeundae-gu, Busan, South Korea
4
Bupyeong Kkangtong Night Market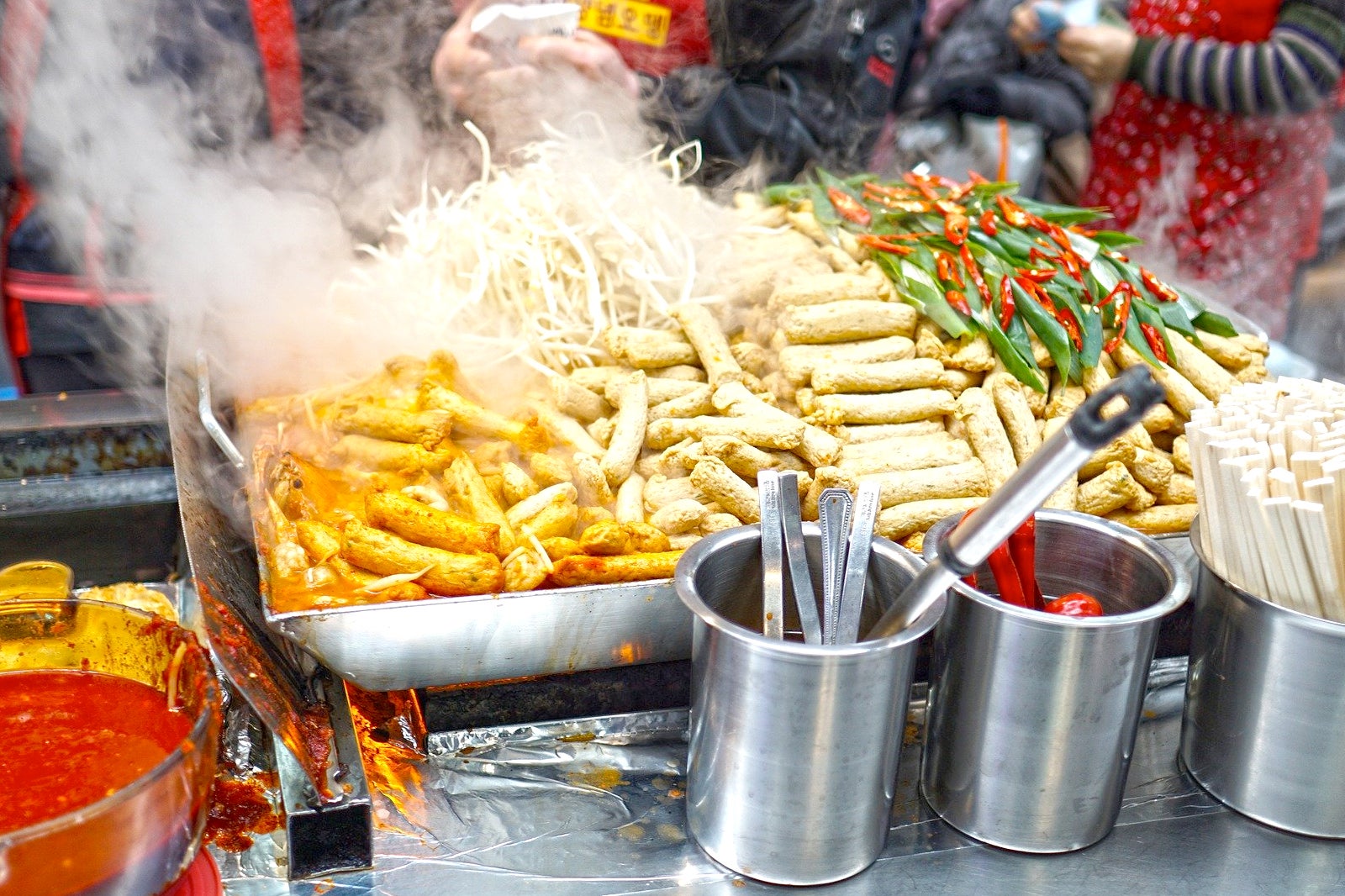 Bupyeong Kkangtong Night Market near Gukje Market turns into a foodie's paradise at 7:30 every evening. When the market's food stands start popping up, you better be ready to make quick decisions because long queues will build up while you're thinking about what to eat. The food prices are relatively inexpensive, but if you're not prudent, you could end up emptying your wallet while trying to eat every tasty treat.
Location: 48 Bupyeong 1-gil, Jung-gu, Busan, South Korea
Open: Daily from 9 am to 8 pm
Phone: +82 (0)51-243-1128
5
Mt. Hwangnyeong Smoke Signal Tower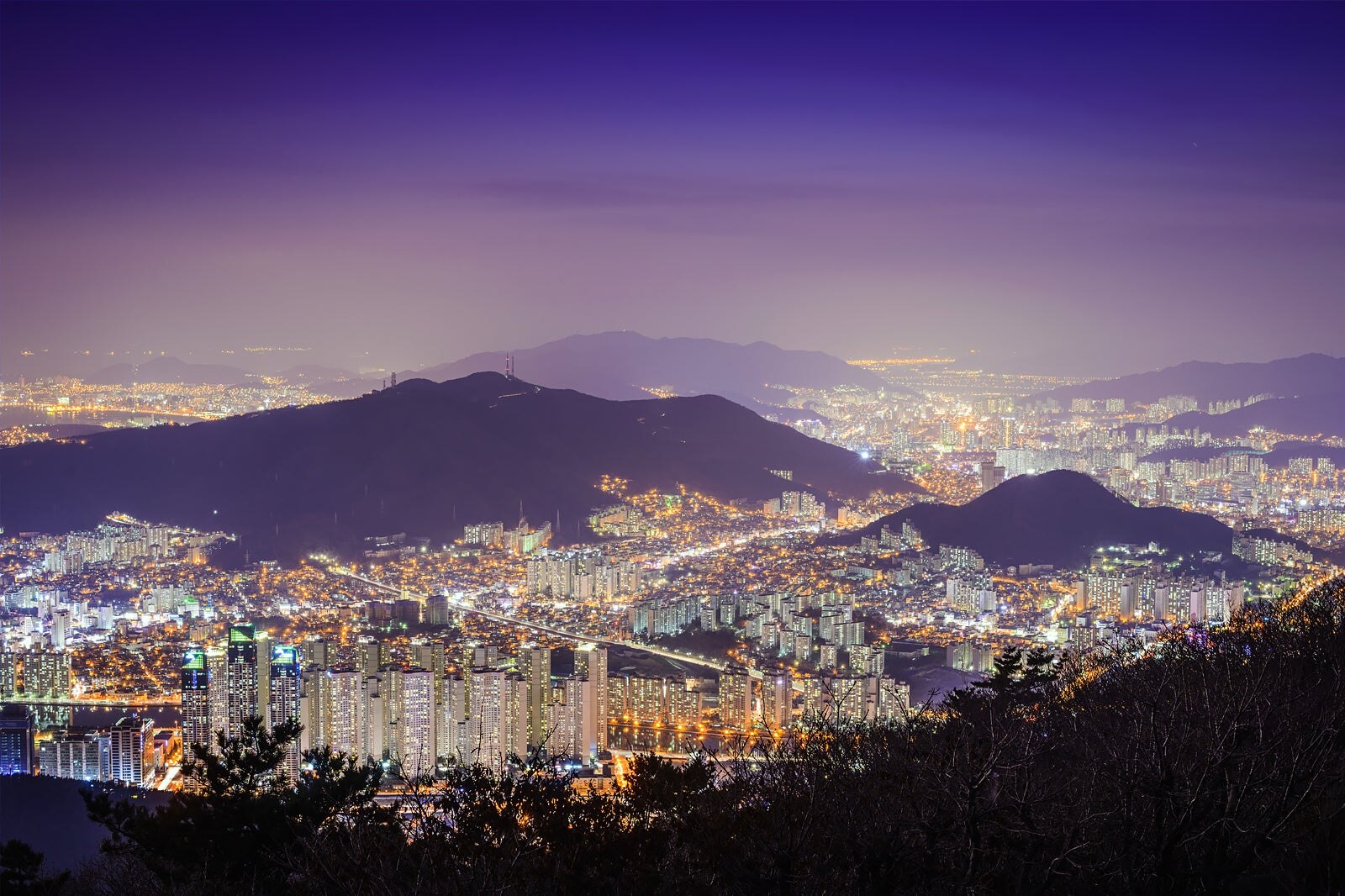 The signal tower on Mt. Hwangnyeong, visible from just about anywhere in Busan, is a place where smoke signals were used to deliver urgent news throughout the city in the past. Naturally, you can get a full view of Busan at night when you climb to the top of the tower. Prepare to be dazzled by the panoramic view of Busan sparkling in the night. The view of Busan at night from the top of the mountain offers a romantic atmosphere that's popular with couples.
Location: San 50-1, Jeonpo-dong, Busanjin-gu, Busan, South Korea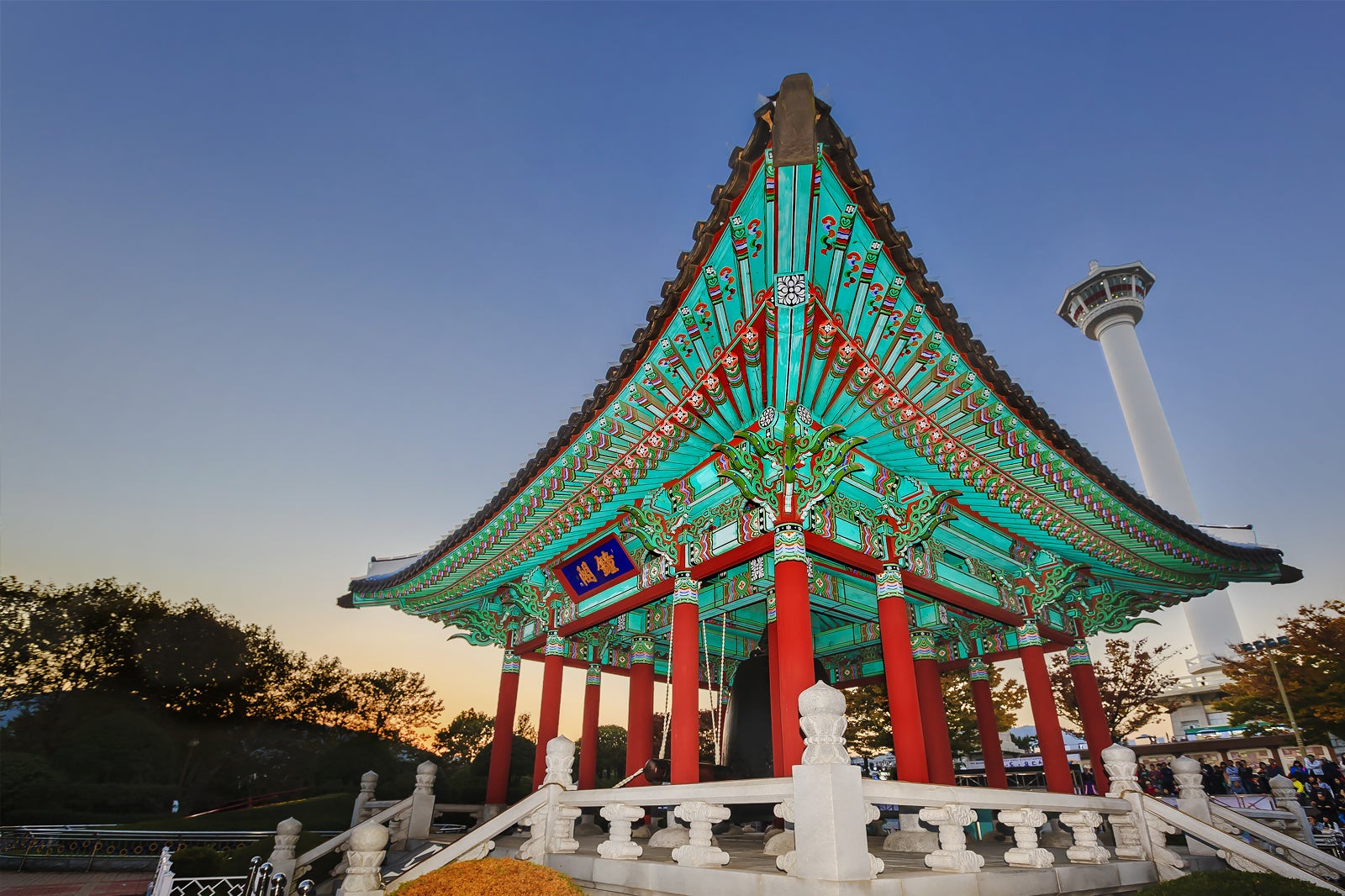 The nighttime views from the 120-metre-high Busan Tower at Yongdusan Park are not to be missed, though the illuminated park and tower are just as great from the ground. Need to check the time? Take a glance over at the giant illuminated flower clock. Then go through the tunnel of light to view Busan Harbor Bridge from the Busan Tower Observation Deck, before moving to the lower floor. A space that showcases the 4 seasons with light will be waiting for you.
Location: 37-55 Yongdusan-gil, Jung-gu, Busan, South Korea
Open: Daily from 10 am to 11 pm
Phone: +82 (0)51-860-7820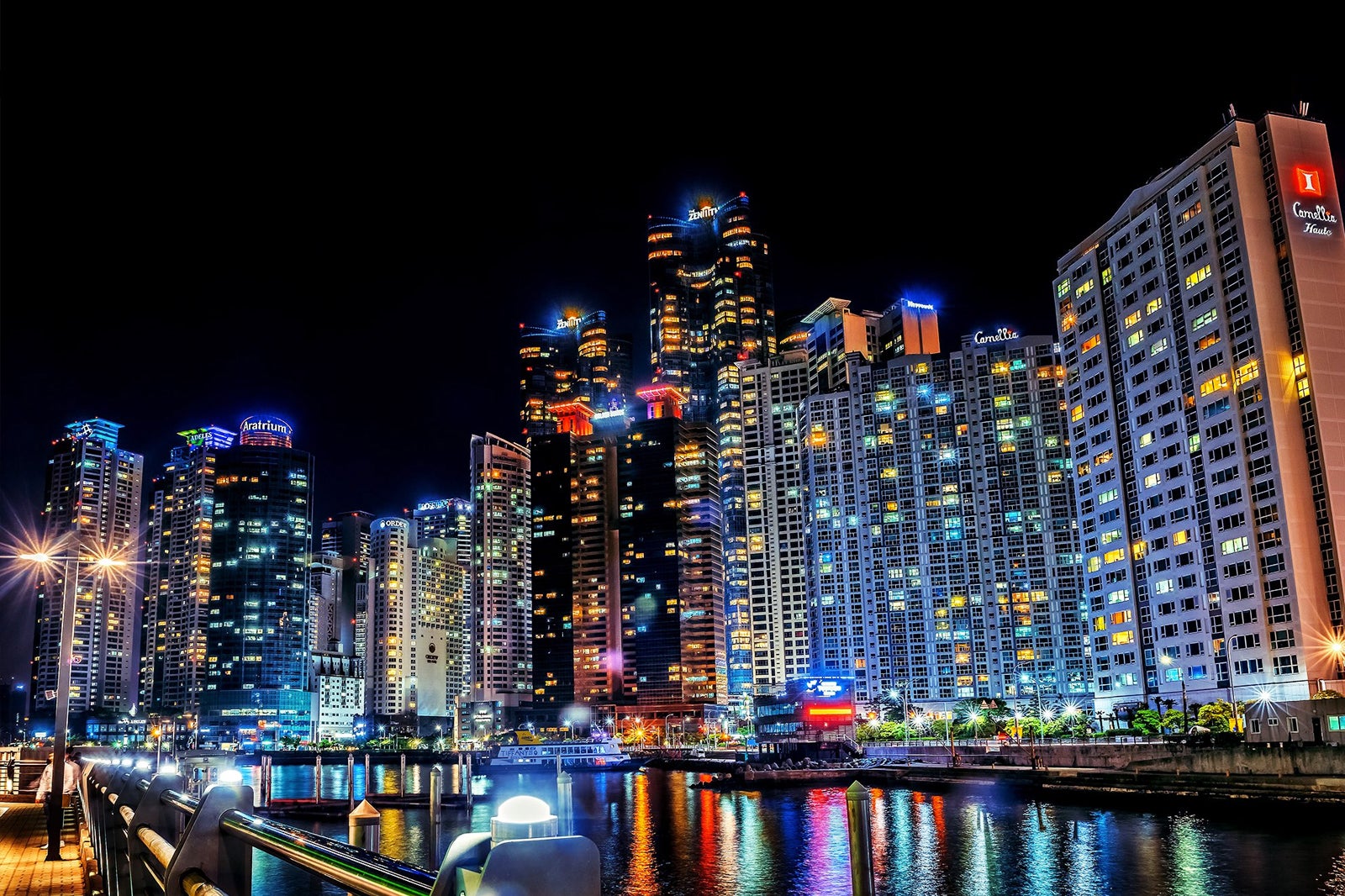 The Bay 101 is precisely what you seek if you're tired of climbing to high places for nighttime scenery in Busan. It's a yacht club with dozens of pubs, restaurants and cafes surrounded by the city's skyscrapers. As you'll be dining al fresco on its expansive deck, you might be overcome with an unexpected sense of relaxation despite being among these tall buildings.
Location: The Bay 101, 52 Dongbaek-ro, Haeundae-gu, Busan, South Korea
Open: Daily from 9 am to midnight
Phone: +82 (0)51-726-8888
photo by Photopmh (CC BY-SA 3.0) modified
Back to top