12 Best Things to Do in Busan
What is Busan Most Famous For?
The best things to do in Busan showcases the city's reputation as an important sea port in Asia. Frequently seen as the essence of South Korea, you'll experience a unique atmosphere in terms of ethnic and cultural diversity, as the city welcomes a cosmopolitan crowd year-round.
Busan has a rich cultural past and offers interesting cuisine, numerous temples, seaside activities, and a relatively warm and welcoming population. Best of all, Busan is relatively quiet compared to most South Korean cities, making it a good destination if you're in need of a peaceful getaway.
What are the best things to do in Busan?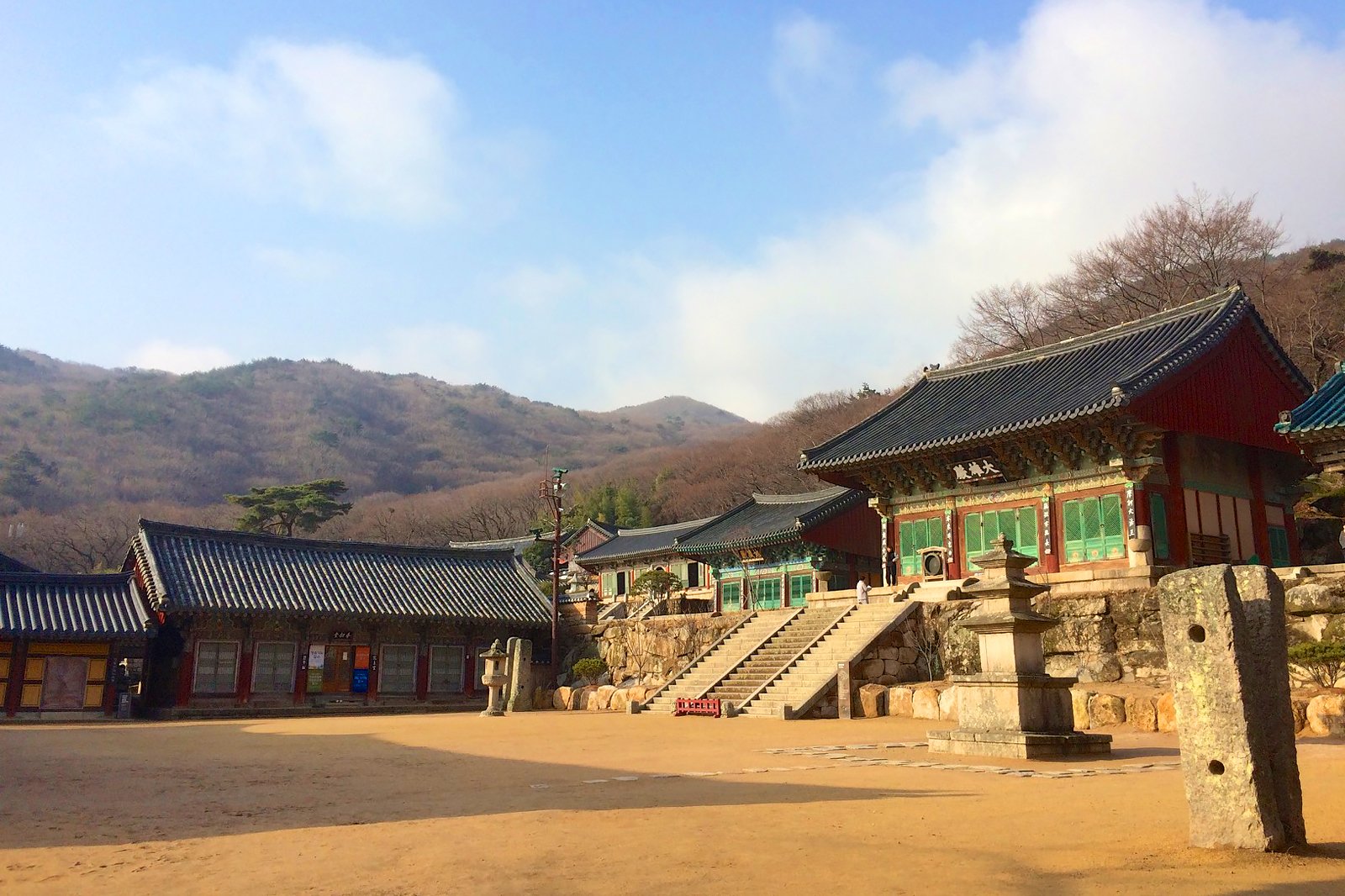 Beomeo-sa Temple is one of the greatest shrines in South Korea. It's located high up on the eastern edge of Geumjeongsa Mountain, and is aloof from the hustle and bustle of the city. The temple's Daeungjeon Hall is a well-preserved example of architecture from the Joseon Dynasty.
You can also visit Iljoomoon Gate, a 3-storey pagoda dating back to the 9th century. While Beomeo-sa Temple is not too far from the city in terms of distance, it has an aura of seclusion that attracts tourists looking for a city break.
Location: 250, Beomeosa-ro, Geumjeong-gu, Busan, South Korea
photo by Simon Desmarais (CC BY-SA 2.0) modified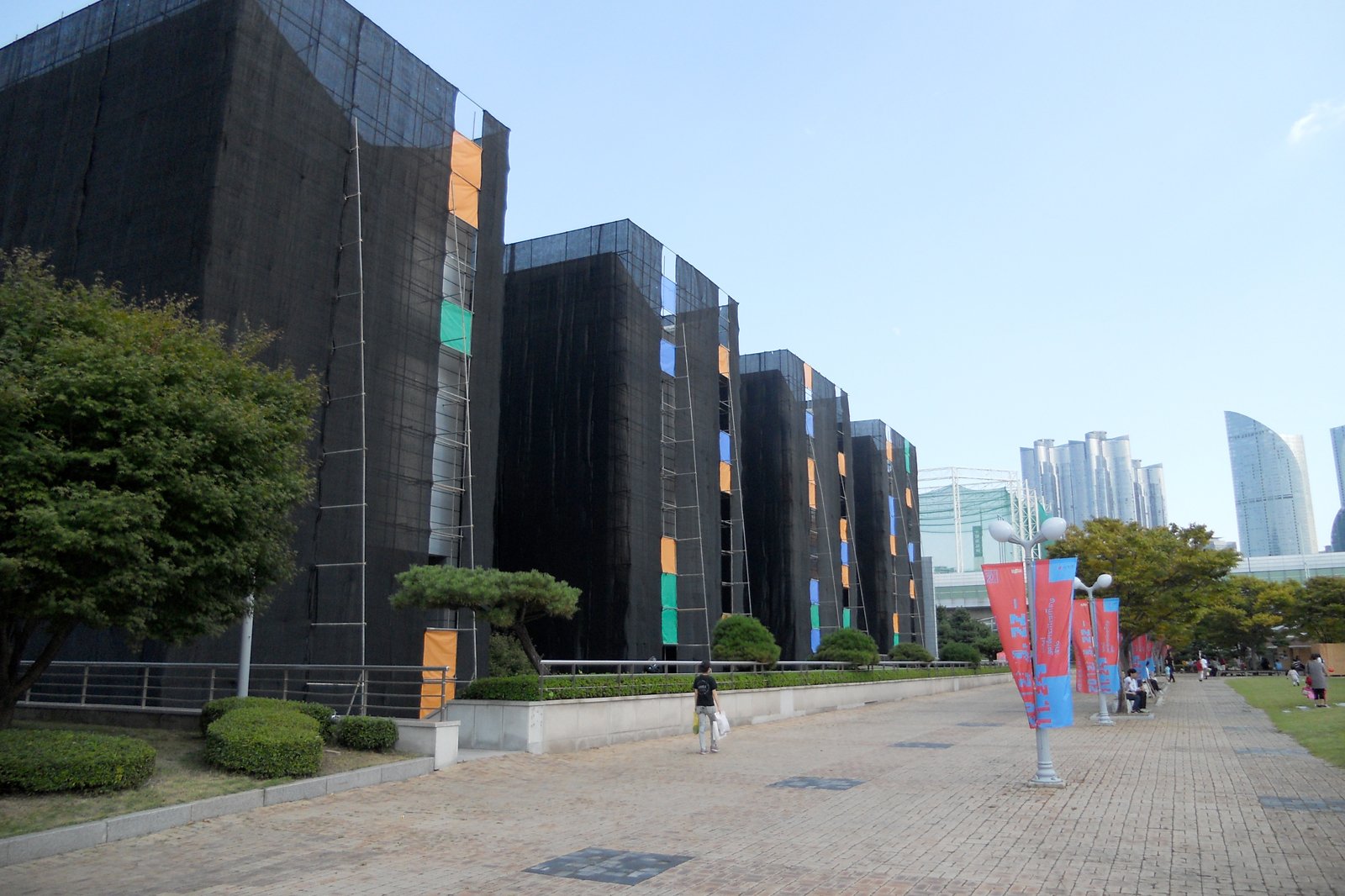 The Busan Museum of Art is must-visit for fans of contemporary art. The museum is divided into 5 floors, comprising exhibition halls, educational rooms and archives, while a sculpture park is located outside the building.
It takes about 2 to 3 hours of dedicated viewing if you want to have a look and feel of what Korean modern art is all about.
Location: 58, APEC-ro, Haeundae-gu, Busan, South Korea
Open: Tuesday–Friday and Sunday from 10am to 6pm, Saturday and last Wednesday of the month from 10am to 9pm (closed on Mondays)
Phone: +82 51-744-2602
photo by Yunji Kim (CC BY-SA 3.0) modified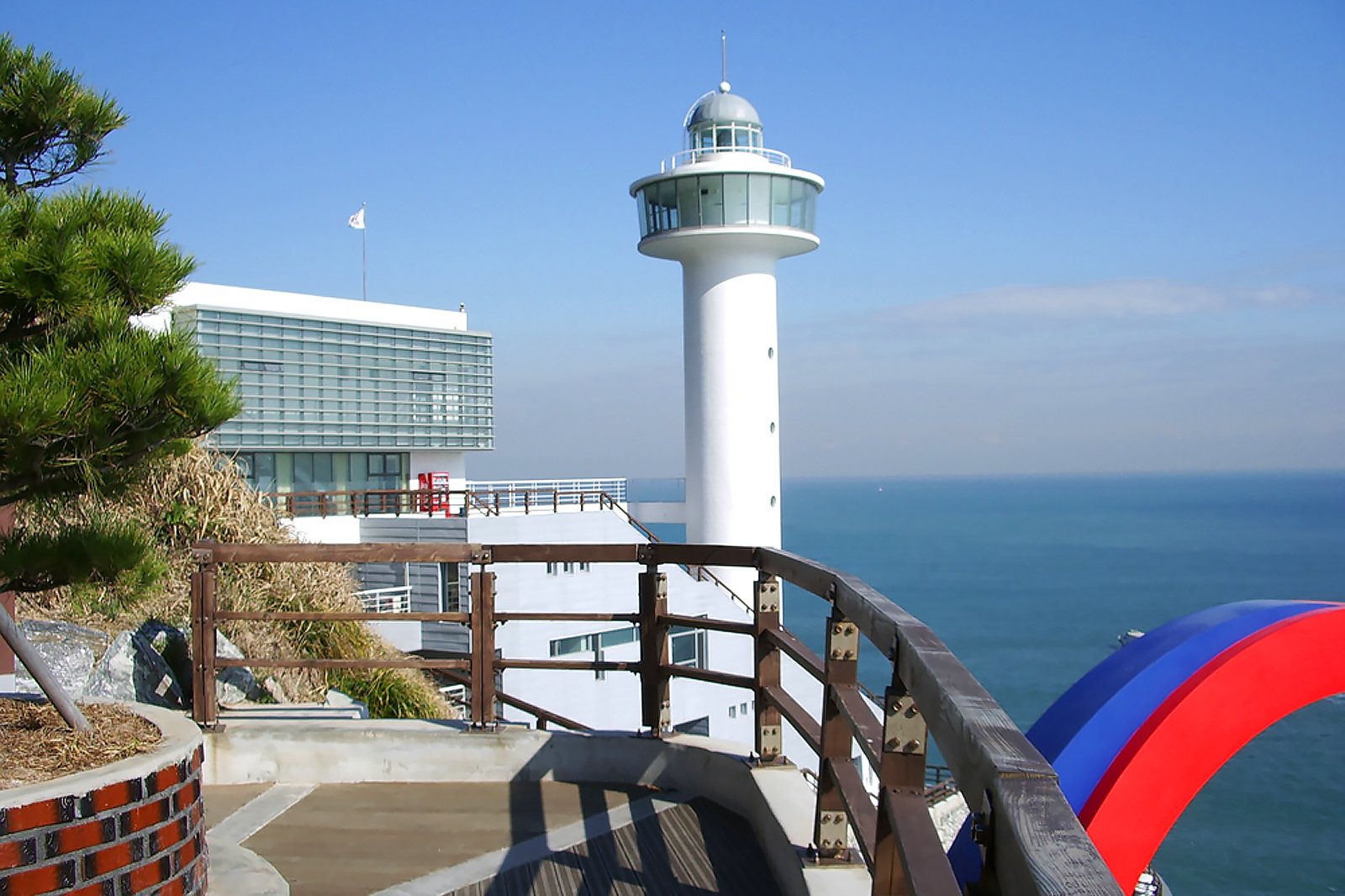 Taejongdae is one of the most popular recreational areas of the city. Named after King Taejong Muyul, this natural park was used by the King as a recreational area, where he practiced archery. Aside from its cultural significance, the park is also great spot for catching views of South Korea's distant islands.
Taejongdae has a walking trail set along rocky cliffs overlooking Busan city and Daema Island. Tables are set up on a flat rock surface at the base of Taejongdae Lighthouse, where you can enjoy fresh seafood with ocean views.
Location: 24 Jeonmang-ro, Dongsam-dong, Yeongdo-gu, Busan, South Korea
Open: Daily from 4am to 10pm
Phone: +82 51-405-2004
photo by InSapphoWeTrust (CC BY-SA 2.0) modified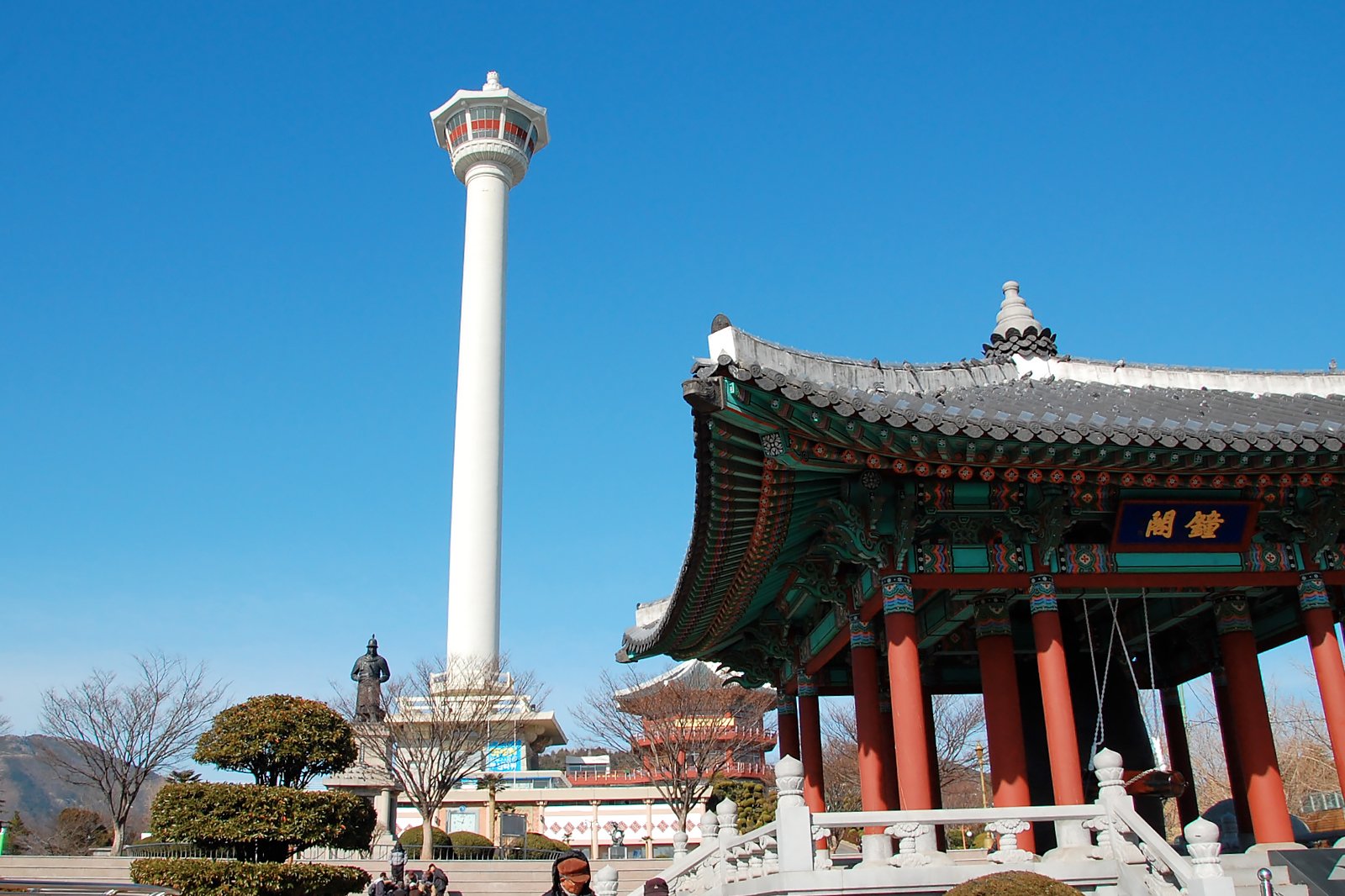 Yongdusan Park, located in downtown Busan, is home to some of city's most important monuments. You can see spectacular views from the top of the 120-metre-tall Busan Tower. The park has 2 museums – check out traditional musical instruments at the Museum of World Folk Instruments, and over 80 Korean sailboats at the Exhibition Hall of World Model Boats.
Yongdusan Park is also where locals enjoy outdoor activities, from jogging and cycling, to picnicking with views of lush trees, pavilions, and statues of Korean figures. From March through November, the park hosts traditional performance on Saturday afternoons.
Location: 37-55 Yongdusan-gil, Gwangbokdong 2(i)-ga, Jung-gu, Busan, South Korea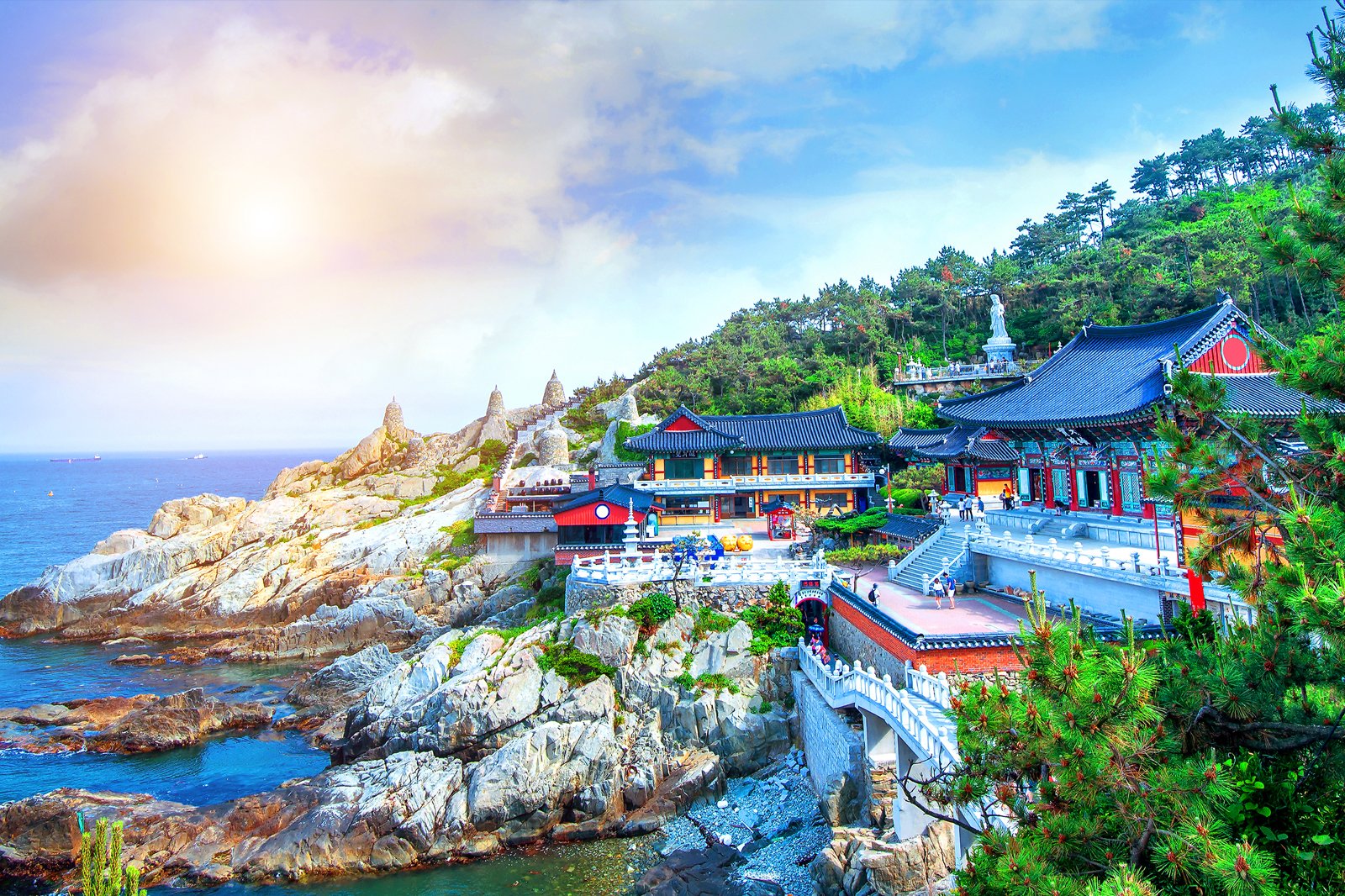 Haedong Yonggungsa Temple
Haedong Yonggungsa Temple is a Buddhist temple located on the north-eastern end of Busan. Built in 1376, it's one of few temples in Korea built on the seaside – you get to enjoy views of East Sea on 1 side and beautiful mountains on the other.
It has dozens of sculptures, statues and images with Hakeupbul and Deuknambul being two of the most famous images of Buddha. Visit Haedong Yonggungsa Temple during the Lunar New Year and Buddha's Birthday (4th month of the lunar calendar) celebrations, when the complex is illuminated with hundreds of paper lanterns.
Location: 86, Yonggung-gil, Gijang-eup, Gijang-gun, Busan, South Korea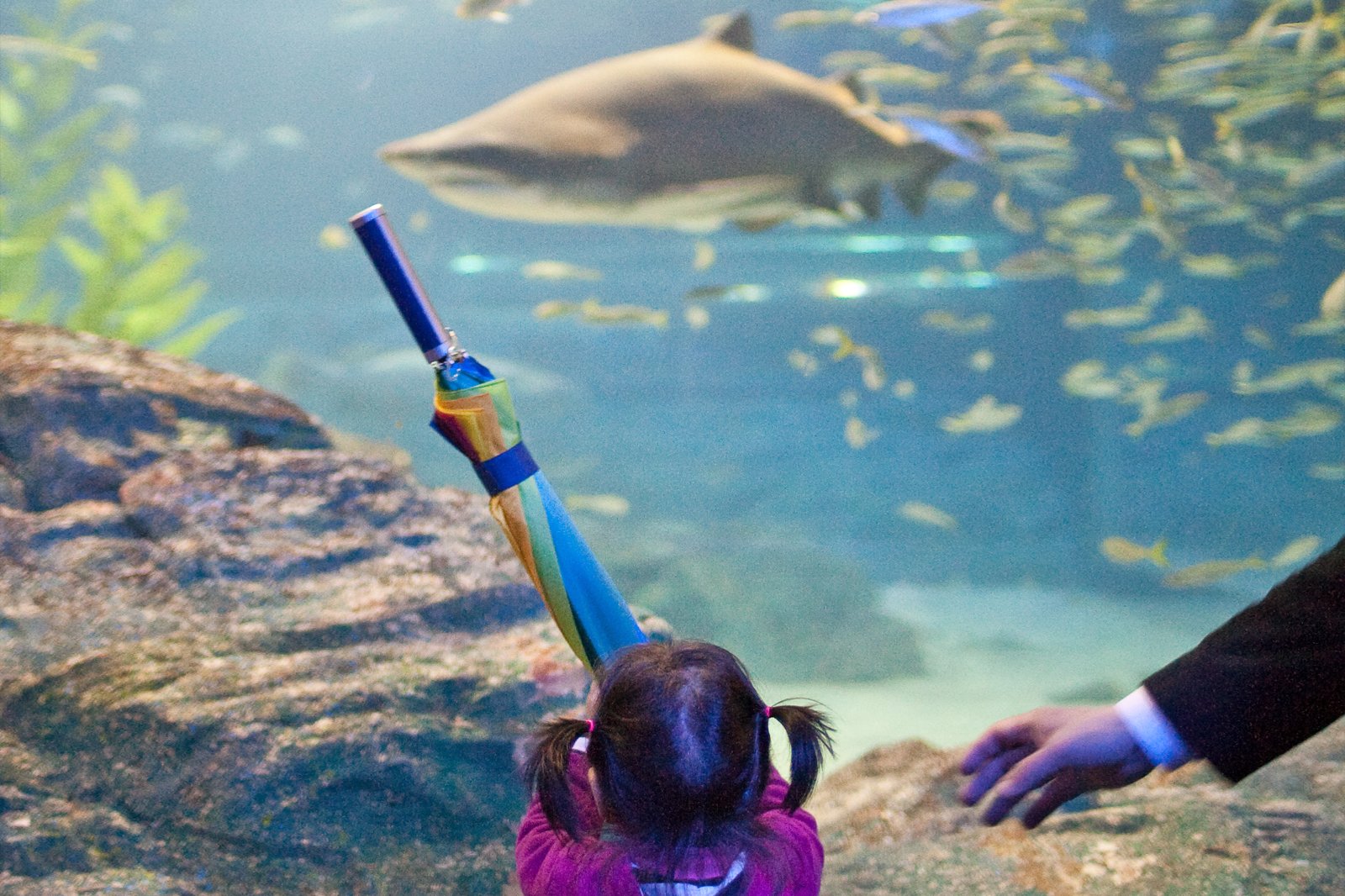 Busan Aquarium has more than 35,000 types of fish and marine creatures, including varieties of algae, reptiles and amphibians. Located in Heaundae Beach, it occupies a 3-storey building that's surrounded by a botanical garden.
The 2nd and 3rd floors are display areas, while the 1st level consists of recreational areas, restaurants, and souvenir shops. The basement floor is an underwater tunnel in which you can view the aquatic life all around – you'll feel as if you're walking on the ocean bed.
Location: 266 Haeundaehaebyeon-ro, Jung-dong, Haeundae, Busan, South Korea
Open: Monday–Thursday from 10am to 7pm, Friday–Sunday from 9am to 9pm
Phone: +82 51-740-1700
photo by Beyond Neon (CC BY 2.0) modified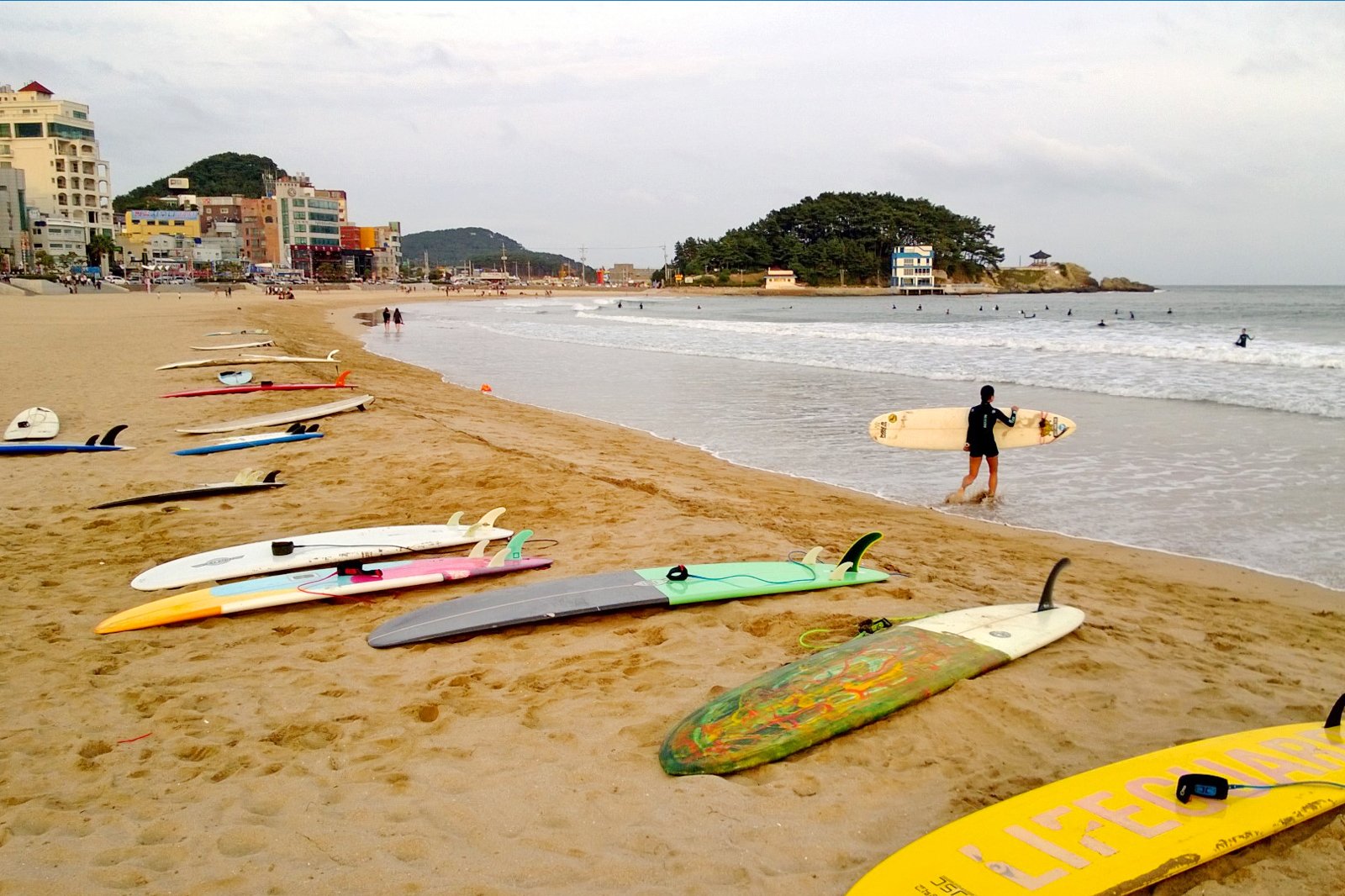 Songjeong is one of the smaller beaches of Busan, where families often visit thanks to its shallow waters and fine sand. The 1.2-km-long beach has a dock that rents out motorboats and offers cruises during the summer months.
A popular vantage point in Songjeong Beach is the Songiljeong Pavilion, where you get to enjoy sunset views in the evenings. It's also one of the few public places in South Korea that allows alcohol, so there are many vendors selling beer and snacks throughout the day.
Location: Songjeong-dong, Busan, South Korea
photo by Andrewssi2 (CC BY-SA 3.0) modified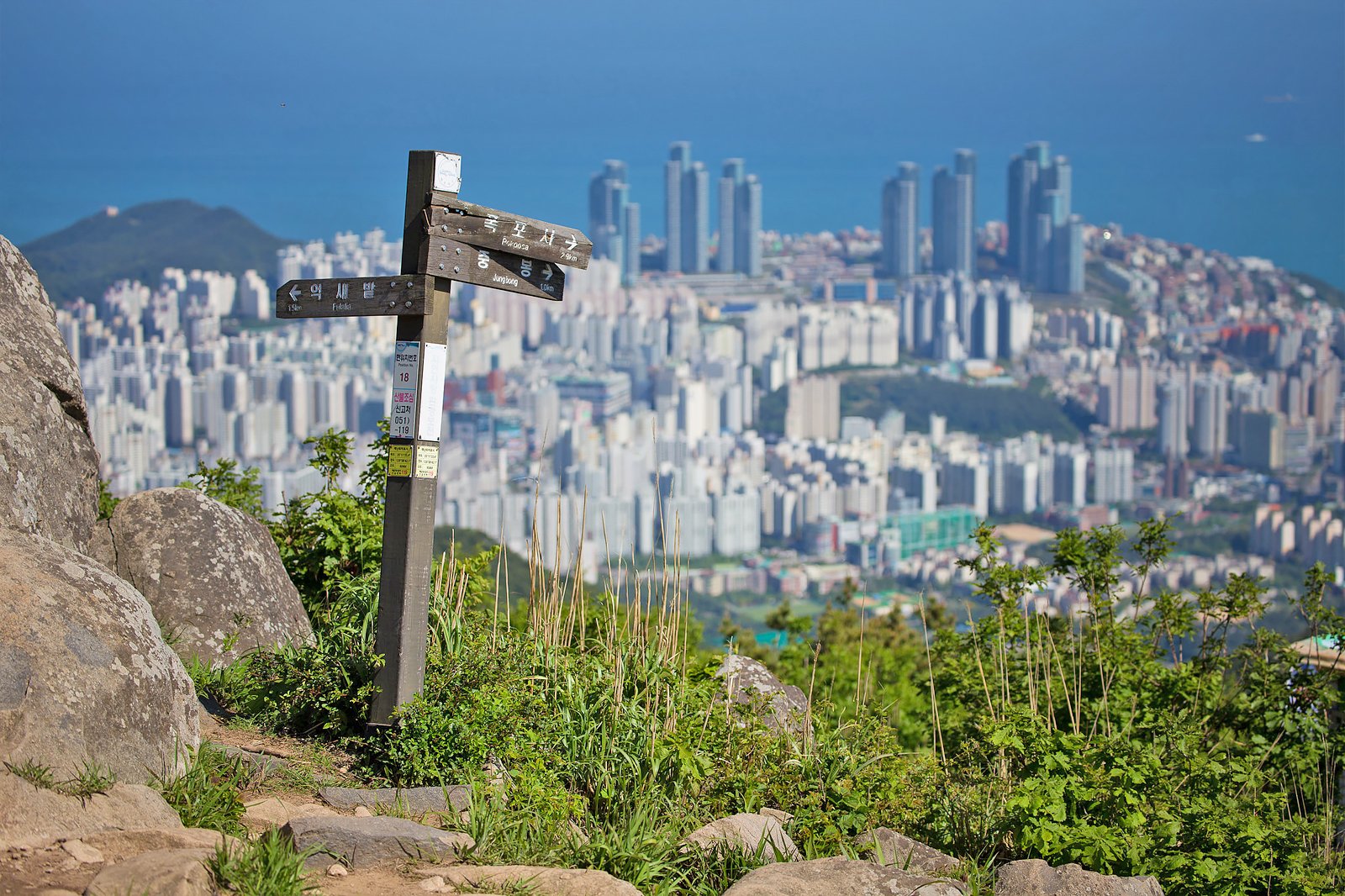 Busan is known for its numerous hiking trails. The best part about hiking in Busan is that even if the trail is relatively isolated, safety is not a problem thanks to the city's low crime rates. You'll come across some of the best trails in and around the mountains near the city.
The most popular hiking trail in Busan starts from the South Gate (reachable by cable car) through to the North Gate, and ends at Beomeosa Temple.
photo by Laurie Nevay (CC BY-SA 2.0) modified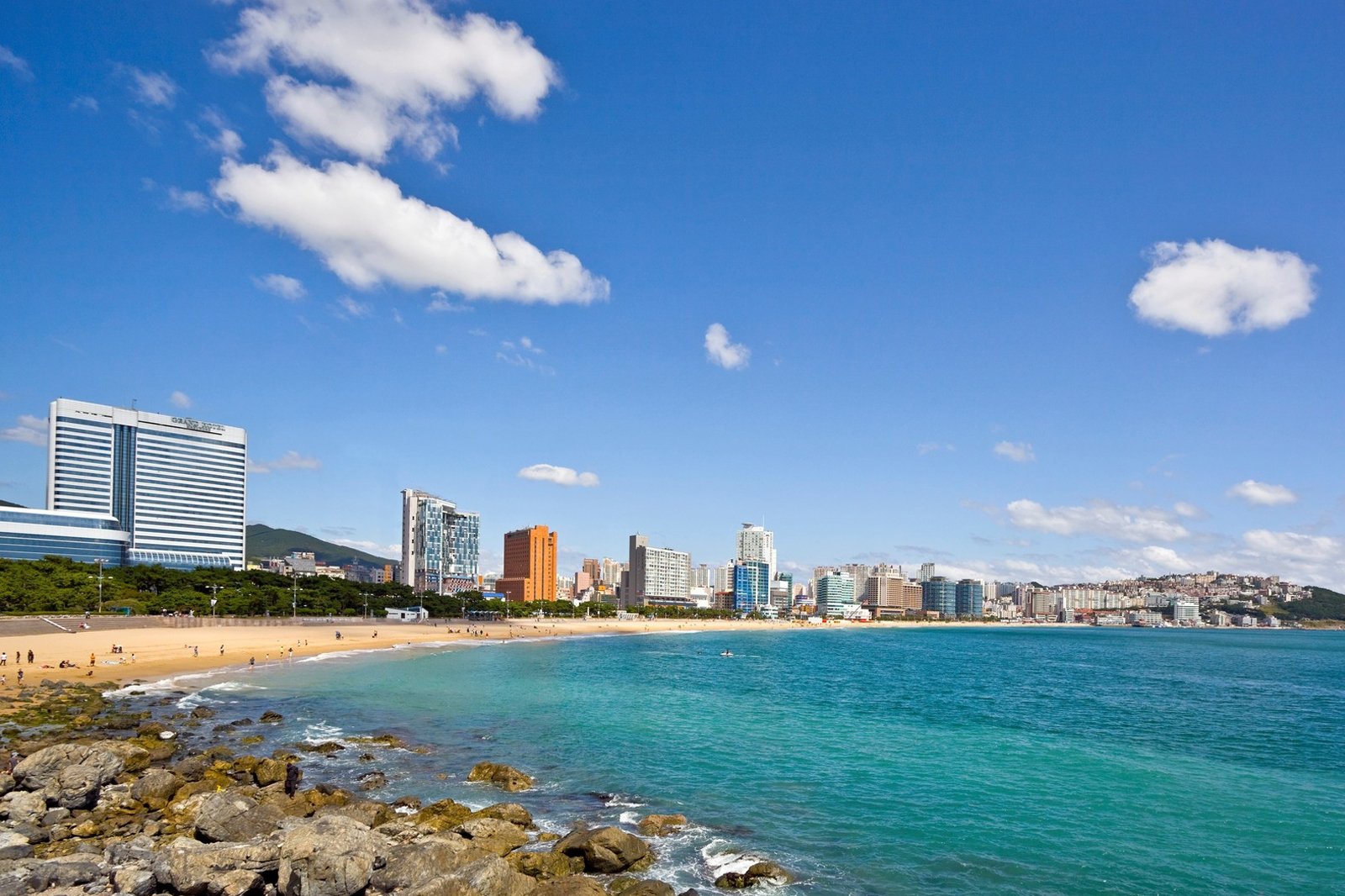 Haeundae Beach is home to the Busan Aquarium and a number of recreational areas. The beach tends to get rather crowded during the months of June and July, so plan your visit accordingly.
Along the shoreline, you'll find numerous shops, restaurants, and hotels ranging from luxurious to guesthouses. Sailing is a sought-after activity on Haeundae Beach, as it has one of the largest marinas in South Korea.
Location: 264, Haeundaehaebyeon-ro, Haeundae-gu, Busan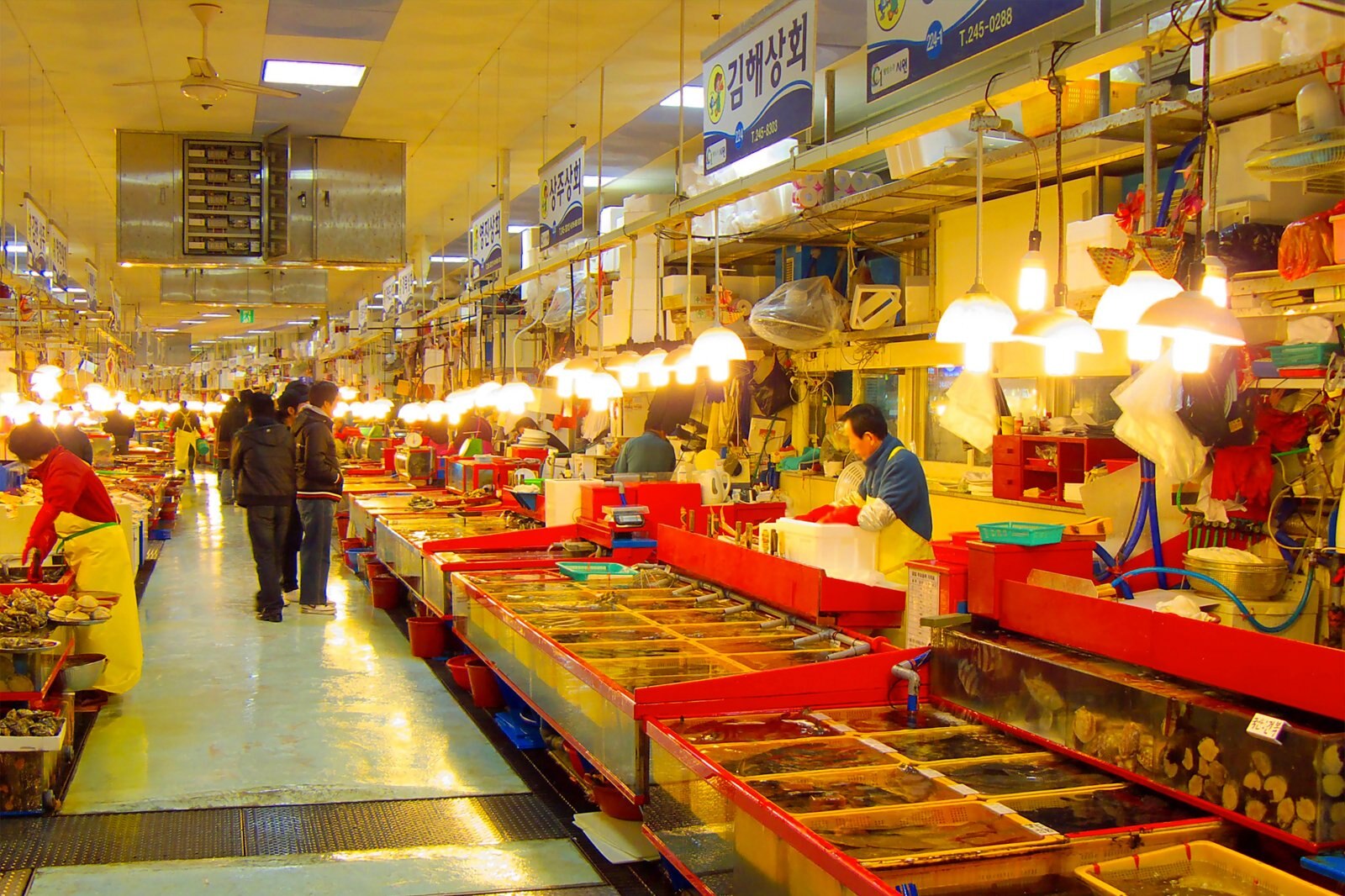 Jagalchi Market is one of South Korea's largest seafood market – you'll see a variety fresh and dried fish such as mackerel, ascidians, and crab displayed in wooden boxes along the road outside of the market.
The fish market at Busan is also where you can experience life in a busy seaport town – get along with the local people, get to know their culture, and try some really interesting seafood during your visit.
Location: 52, Jagalchihaean-ro, Jung-gu, Busan
Open: Daily from 5am to 10pm (closed every 1st and 3rd Tuesday of the month)
photo by Kok Leng Yeo (CC BY 2.0) modified
40-step Culture & Tourism Theme Street
40-step Culture & Tourism Theme Street commemorates the post Korean-War culture in Busan. A number of lamp posts, sculptures and bronze figures decorate the 450-metre-long street to highlight the hardship and the life led by peasants of old times.
Also known as the 40 Gyedan, the place is well connected to the rest of the city. Check out the Gate of Peace near the Jungang-dong Trade Center, where a small light (a symbol for peace) casts over the 40-step Culture & Tourism Theme Street.
Location: 40gyedan-gil, Jungang-gu, Jung-gu, Busan, South Korea
Nakdong Estuary Eco-Center
Nakdong Estuary Eco-Center attracts animal lovers with experience programs, educational talks, and exhibits dedicated to Nakdonggang River. The wetland area surrounding the centre serves as a habitat for migratory birds, and attracts those looking to learn about the estuary.
Nakdong Estuary Eco-Center also has plenty of family-friendly attractions, such as picnic grounds, hiking trails, and an observatory overlooking lush trees and tidal flats.
Location: Nakdong Estuary Eco-Center, 1207-2 Hadan-dong, Saha-gu, Busan, South Korea
Open: Tuesday–Sunday from 9am to 6pm
Phone: +82 51-209-2000