Qatar Travel Essentials
Useful Information to Help You Start Your Trip to Qatar
Our Qatar Travel Essentials provides you with the essential details you'll need when planning your trip to Qatar's vibrant and modern capital city. Even seasoned world travellers need answers to such questions as: When is the best time of year to go? How can I arrange an airport transfer to my hotel? What's the best way to get around the city? We have all these answers plus some handy info on currency, culture, and a few useful travel tips.
It's all compiled in this Qatar Travel Essentials. After reading this quick and easy-to-read guide, you will be a little more prepared to start your trip in Qatar.
1
When is the best time to travel Qatar?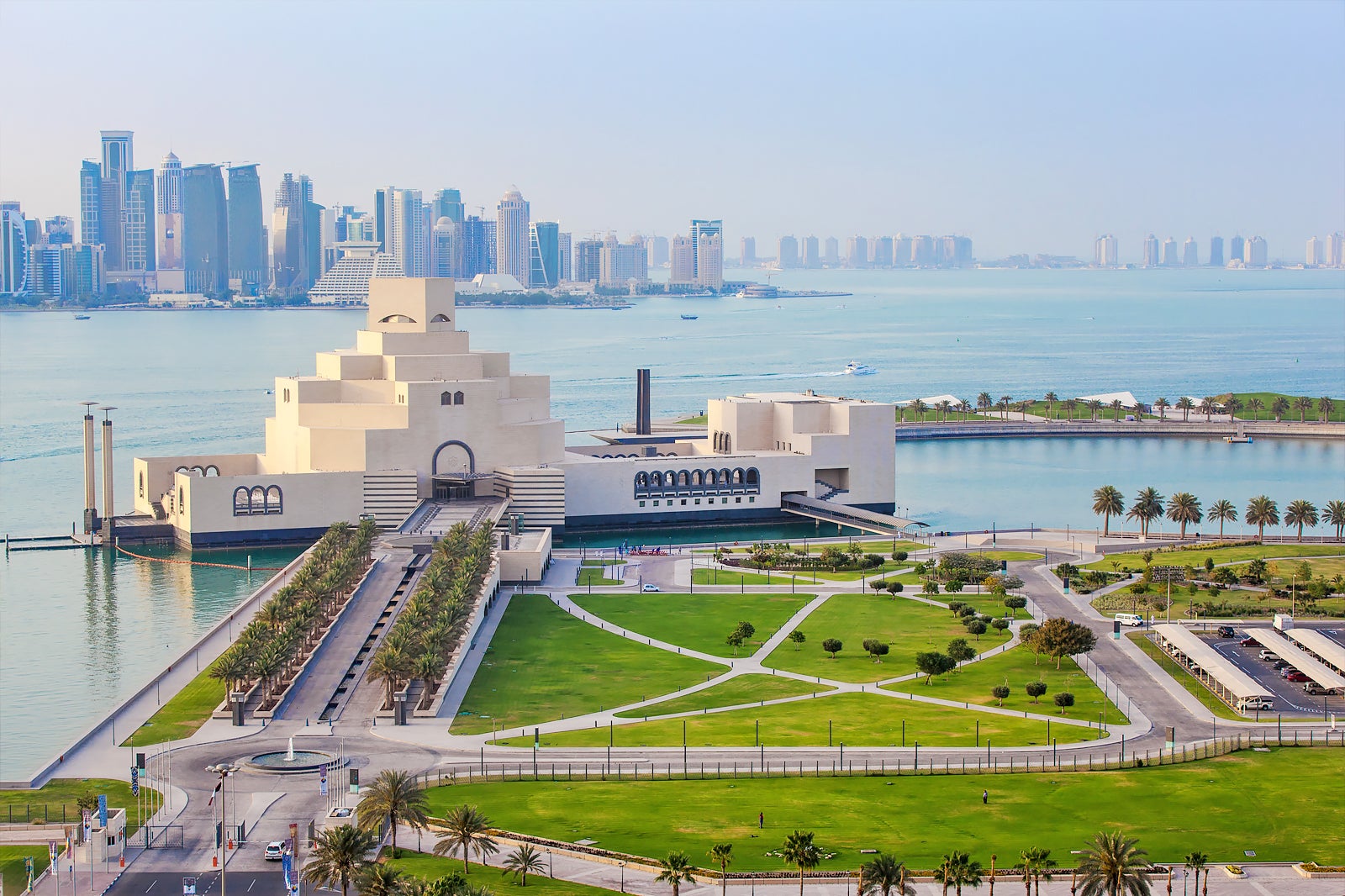 Qatar has a subtropical desert climate with extremely hot summers and very little rain throughout the year.
Average temperatures range from 17°C in January to 36°C in July, with highs of over 40°C not uncommon during the hottest months of May through September.
Visitors to Qatar can expect to enjoy abundant sunshine most days, with the "rainiest" month of February getting only 2.1 days of rain on average. The best time to visit Doha is during the cool season from November through March, when temperatures range from lows of 14°C to highs of 30°C.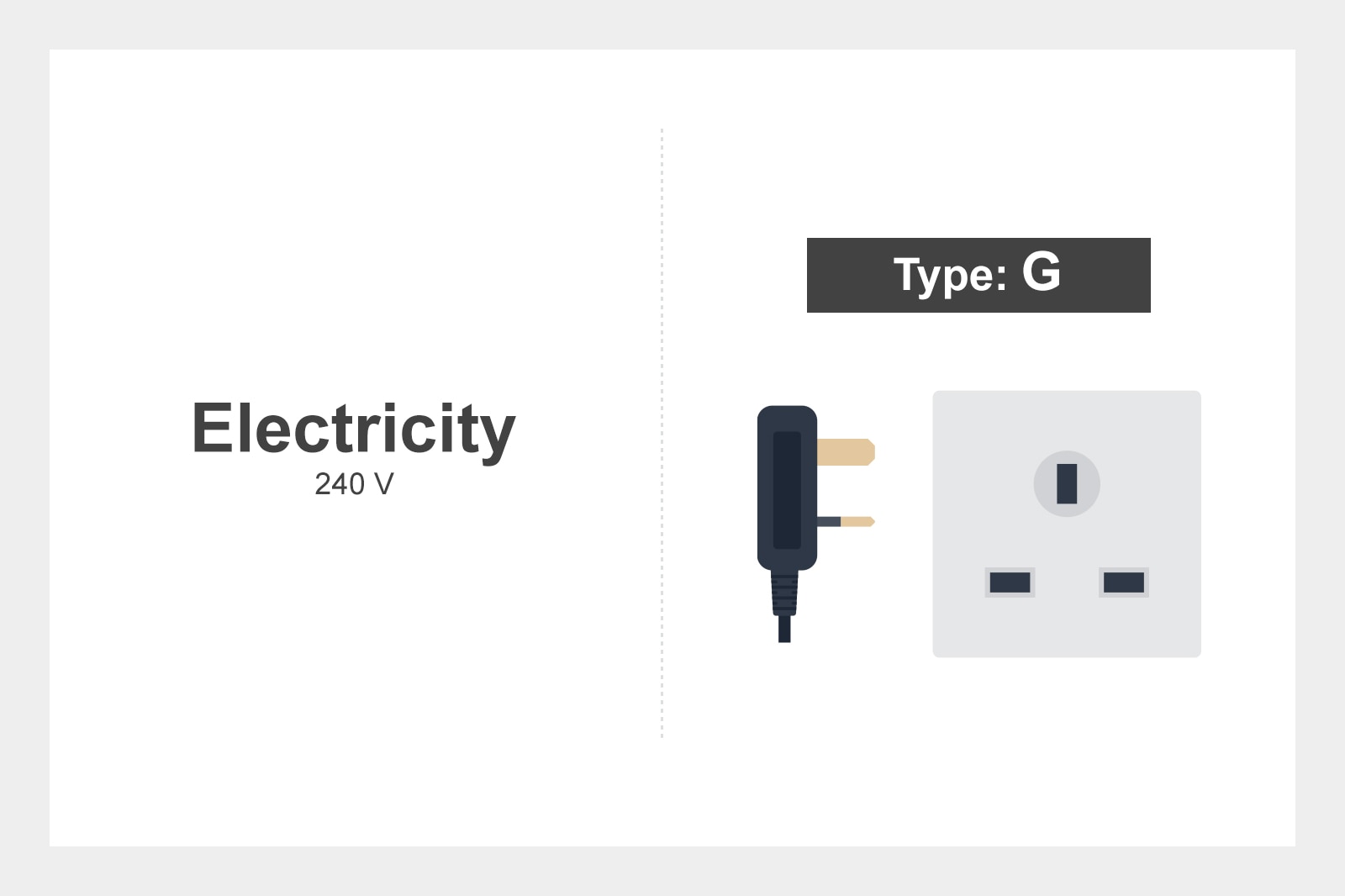 Primary languages: Arabic (official language), English widely spoken
Plug type: G (same as the UK)
Electricity: 240 V
Currency: Riyal (QR or QAR)
International dialling code: +974
Emergency telephone number: 999
3
Qatar laws and customs – things to know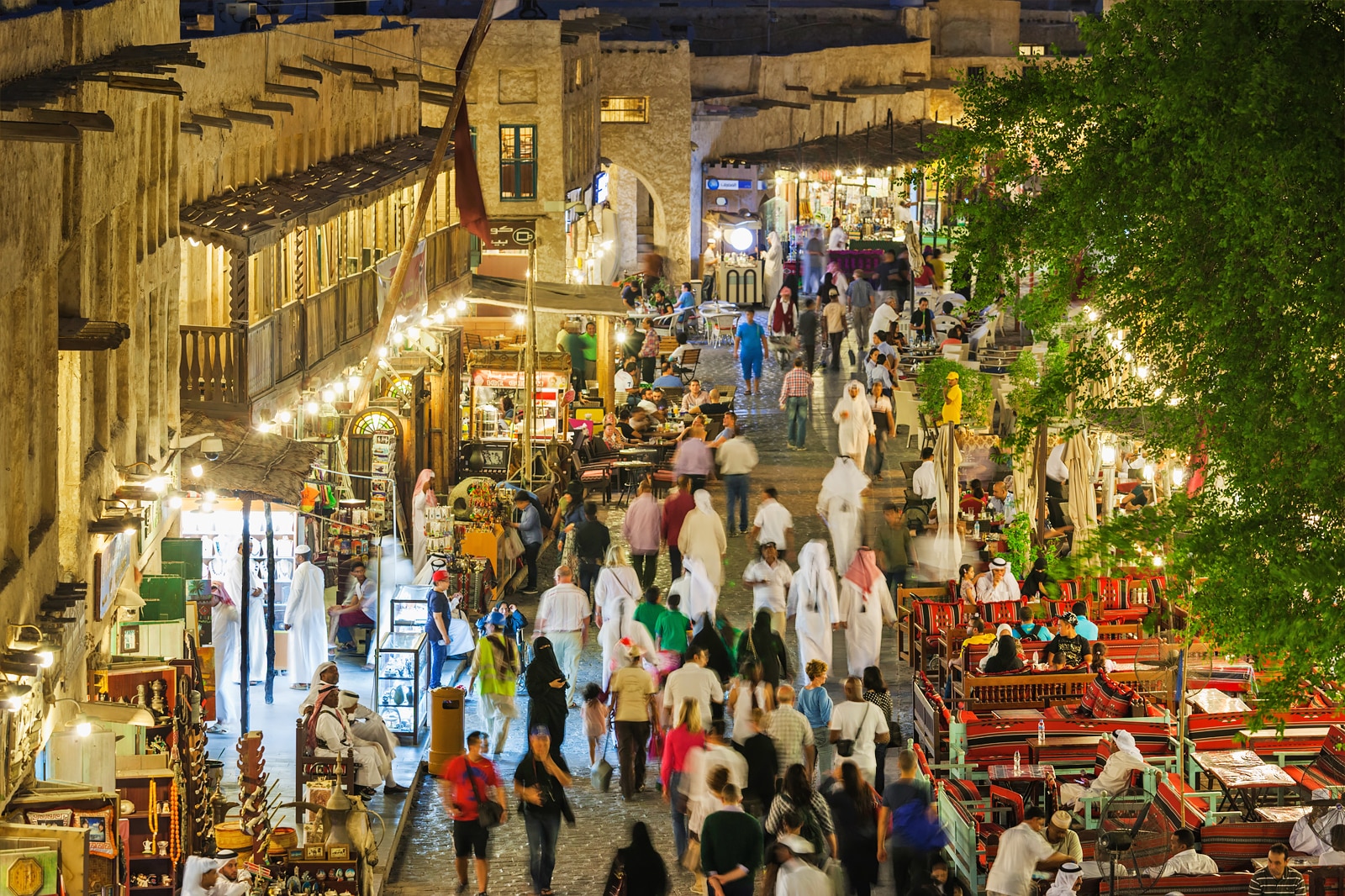 Qatar is a friendly and hospitable place, though visitors should be aware of the local religious beliefs and customs to ensure they don't cause offence or run afoul of the law.
Religion and laws
Qatar is an Islamic country with local laws and traditions that reflect this. Importing drugs, e-cigarettes, alcohol, pornography and pork is illegal, and it is an offence to be drunk or drink alcohol in public. Alcoholic drinks are available only at licensed hotel restaurants and bars for non-Muslim visitors. Don't drink or eat in public during Ramadan.
Culture and etiquette
Both women and men are expected to dress modestly and keep their shoulders and knees covered. Women are also advised not to wear leggings or tight clothing in public. Bathing suits and bikinis should only be worn at the hotel pool. Homosexual behaviour and public displays of intimacy between men and women like holding hands and kissing are not allowed in Qatar.
4
How to get to my hotel in Doha?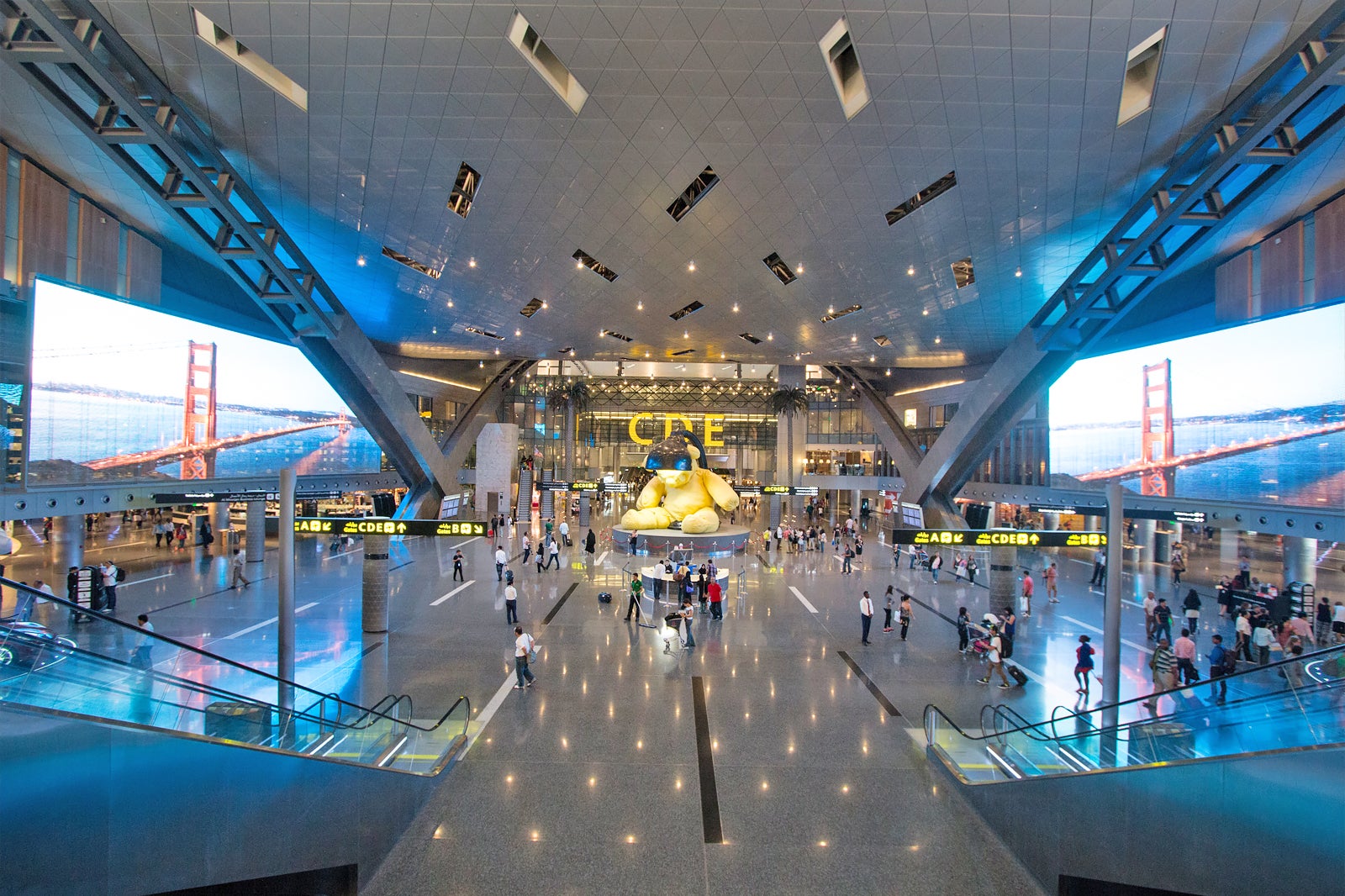 Hamad International Airport
Hamad International Airport (DOH) is located about 15 km southeast of downtown Doha. Opened in 2014, this modern airport is a busy transit hub linking Europe and Asia, handling some 35 million passengers annually and serving more than 50 airlines. There are a number of transfer options to reach Doha city:
A taxi to the city centre takes around 30 minutes. Airport taxis are operated by the state-owned Mowasalat company under the brand name Karwa. To hire an airport taxi, follow the signs to the Taxi Pavilion found to the left of the arrivals hall.
There are 3 bus routes serving the airport in Doha. Bus trips must be paid for by the Karwa smart card, which is available at ticket vending machines at the Bus Pavilion on the ground floor area of the arrivals hall.
Car hire is available from several local and international rental agencies. More than 20 agencies have counters on the ground floor of the airport arrivals area.
Doha Metro has a station at the airport with links to the city centre.
photo by Arne Müseler (CC BY-SA 3.0) modified
5
How to get around Doha?
Travel tips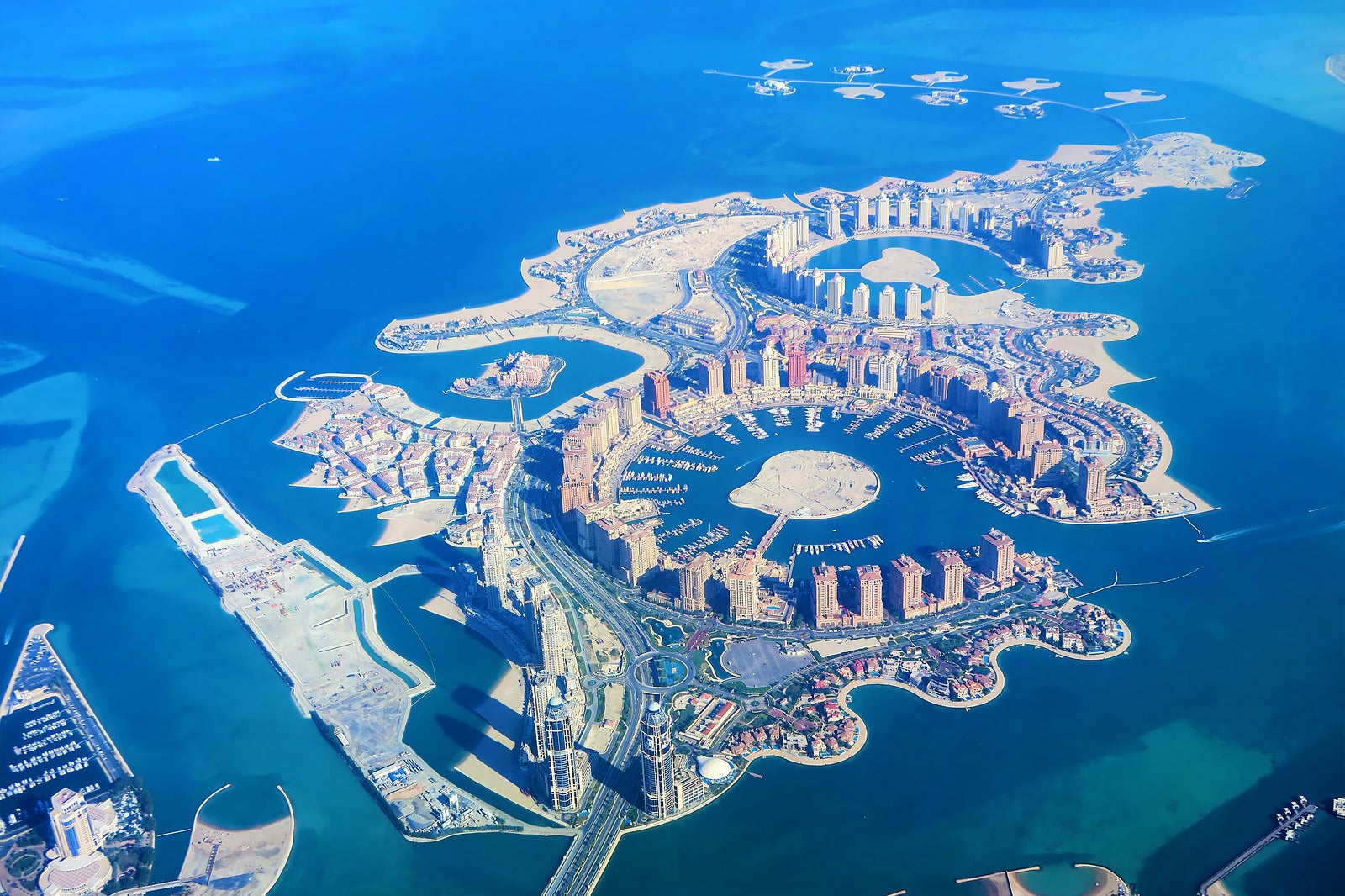 Doha is not a sprawling city, so it's easy to visit all the sights with short taxi rides. The desert heat makes walking or cycling long distances a real chore, though the 7-km Corniche promenade is a popular place for a stroll or bike ride. The bus service is not as developed as some cities but it's modern and reasonably priced, while Doha's new metro system started operating in May 2019 and is set to expand in the coming years.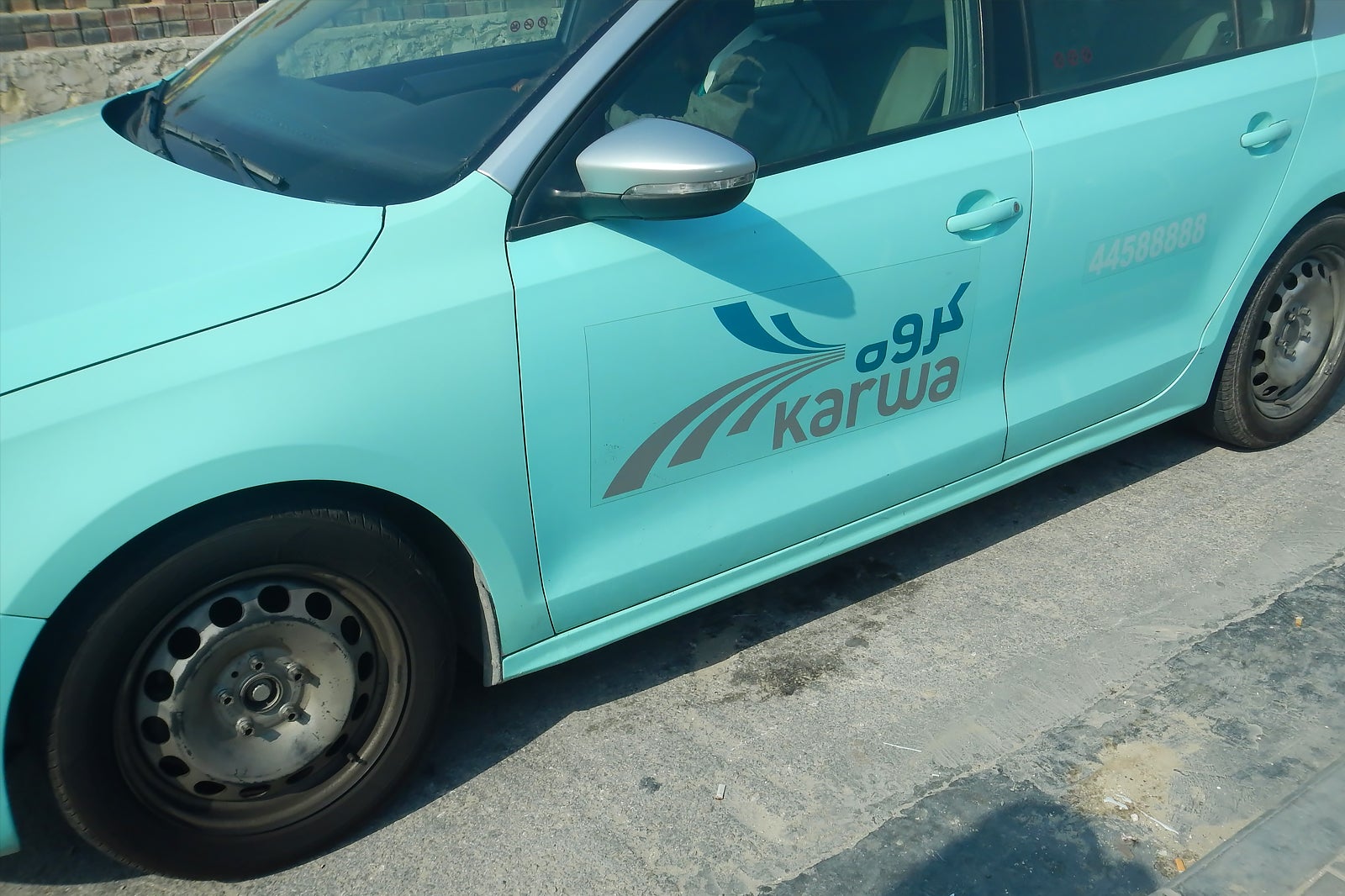 The state-run Mowasalat, under the Karwa brand, has the largest choice of taxis and is the only service to operate from the airport.
To book a taxi, ask your hotel to call one or look for one of the taxi ranks located around the city.
Taxis can also be booked by calling +974 4458 8888 (for an extra charge).
Payment is only by cash and only in riyals.
App-based taxi services by Uber and Careem are also available in Doha.
photo by errorval01 (CC BY 2.0) modified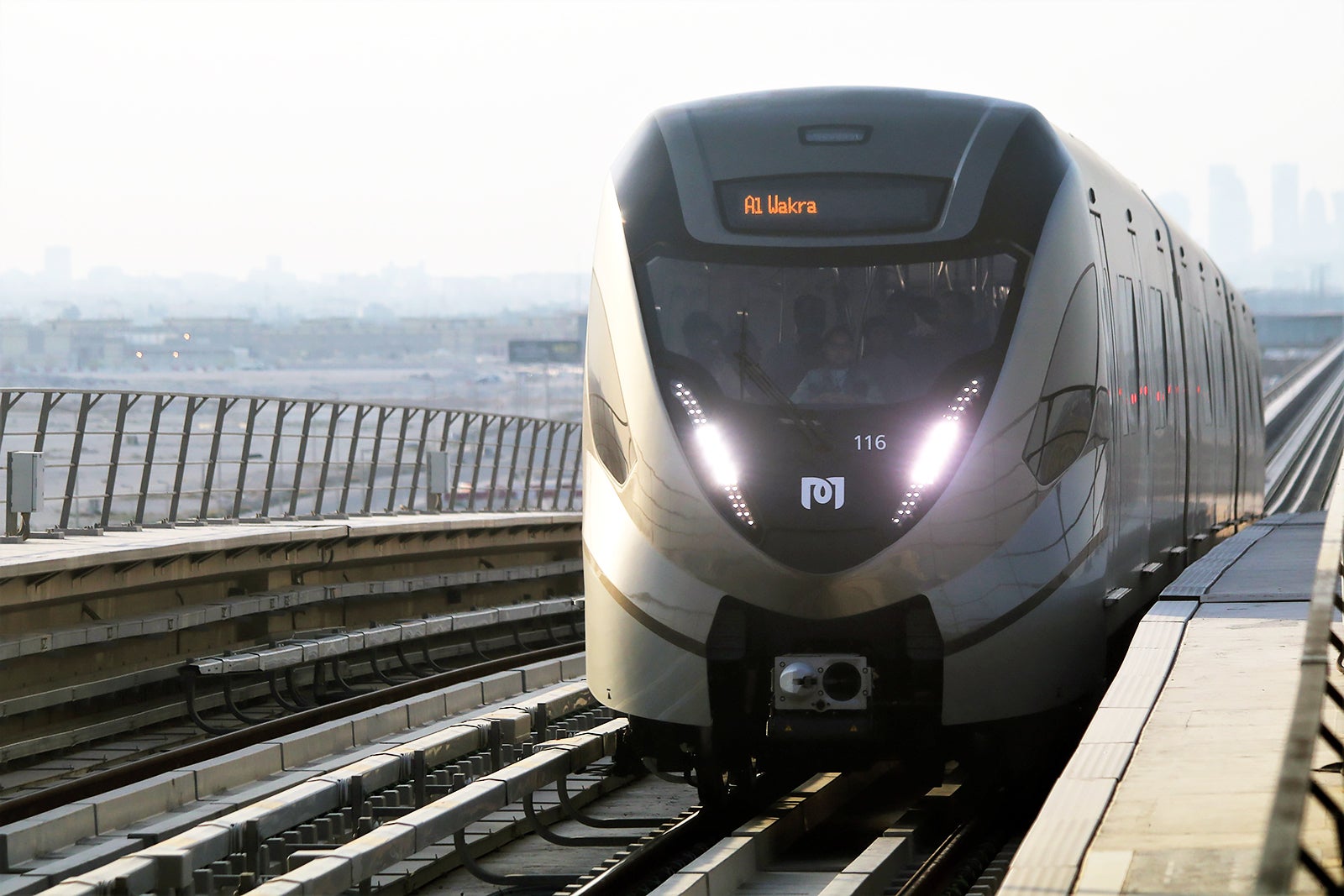 Doha Metro service launched a limited service in May 2019. Its trains are among the fastest driverless trains in the world, able to reach speeds of 100 km/h.
Before your arrival, check the news and relevant websites for updates on Doha's metro service, which is set to expand in phases in the years leading up to the 2022 FIFA World Cup hosted by Qatar.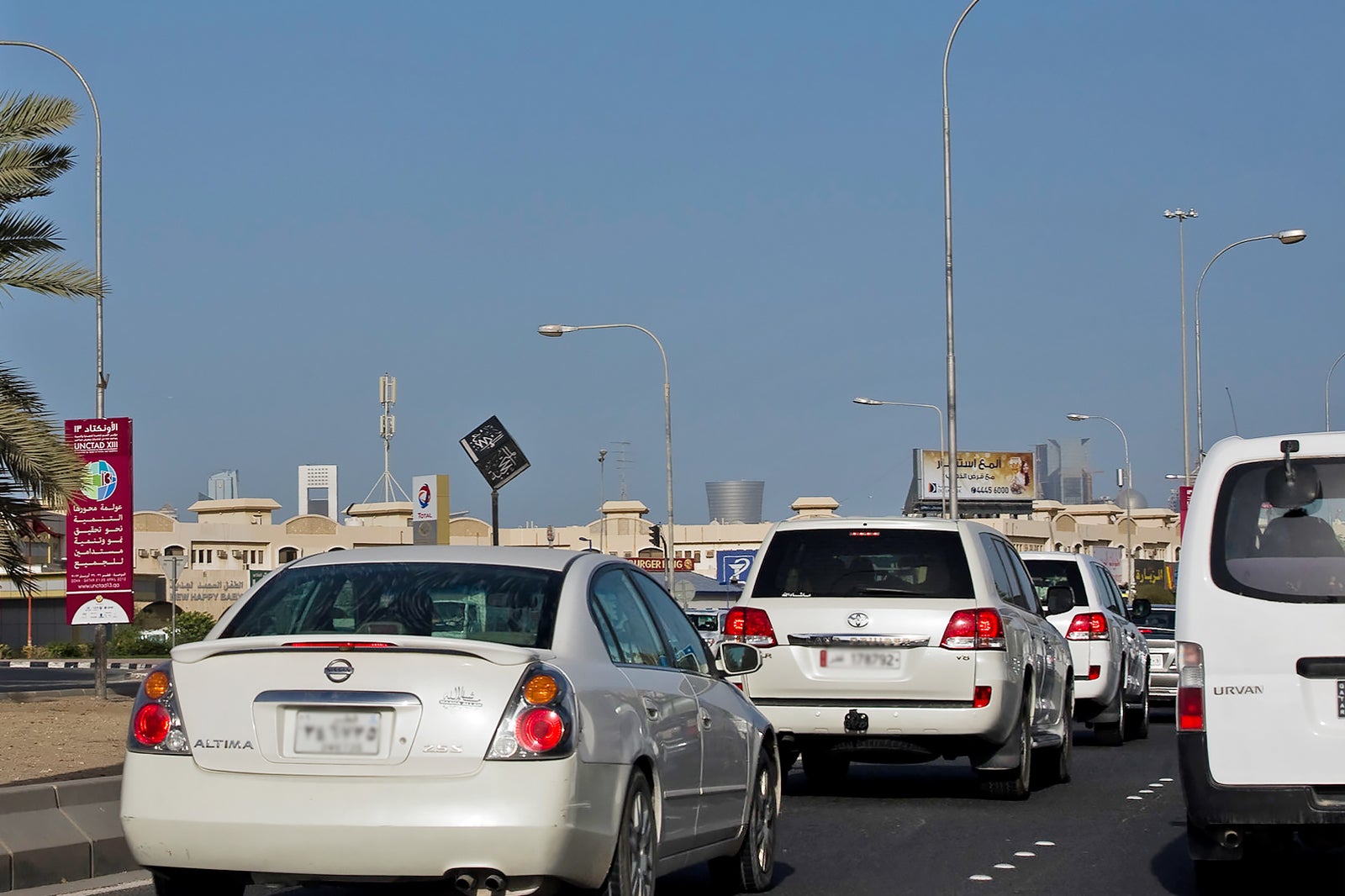 Self-drive car hire is available from several operators, both local and international brands.
For car rental, you'll need to pay by credit card and show your passport and a valid driving license.
Chauffeured limousine service is available and a popular choice for business travellers. A range of car and driver options are offered from standard limousines to VIP luxury services, and bookings can be made by the hour or by the day.
Limousine service may be booked through Mowasalat or with private operators. Call to book directly or ask for assistance at your hotel.
photo by UNCTAD (CC BY-SA 2.0) modified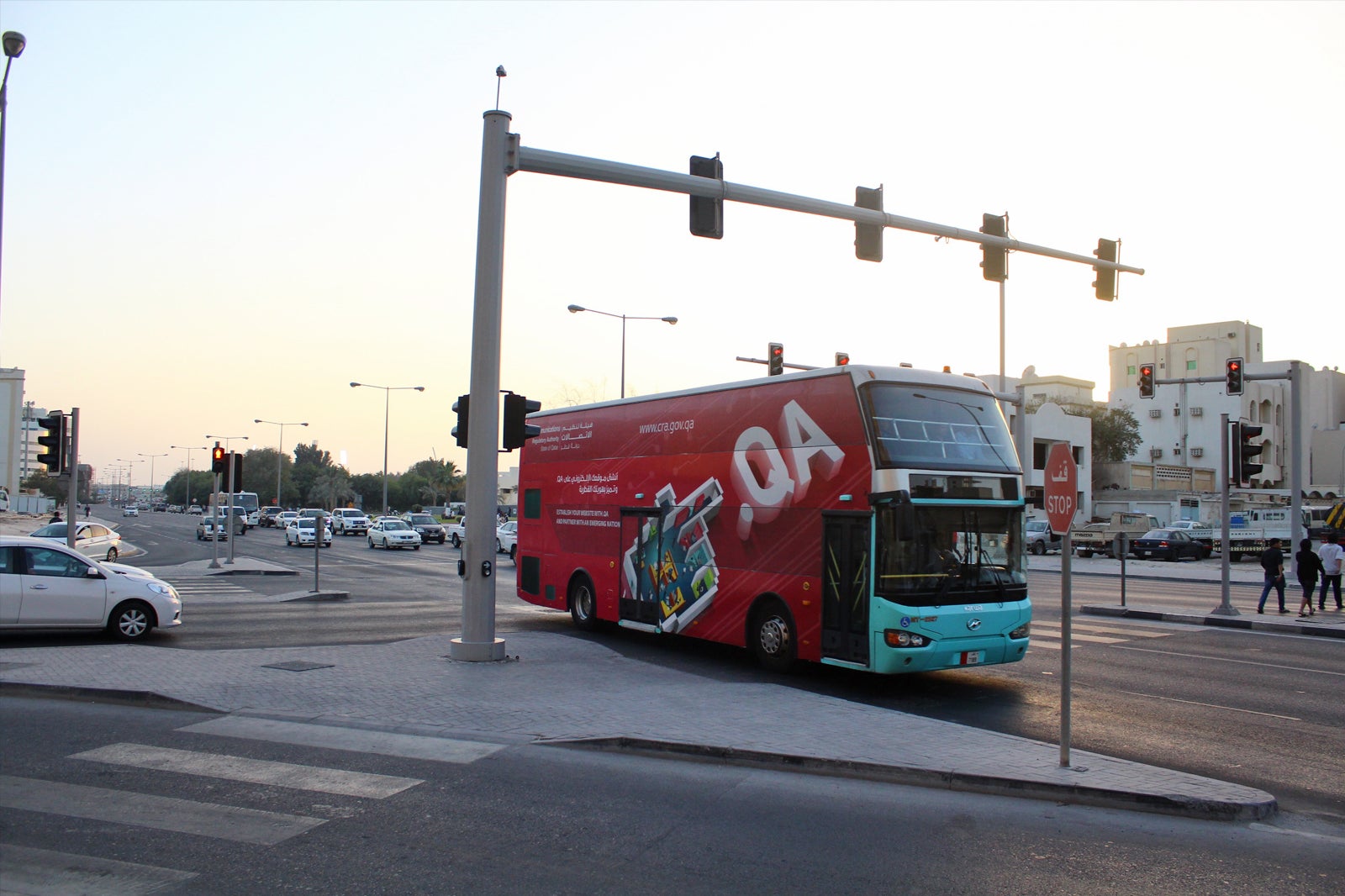 Mowasalat public bus service operates several routes around and beyond the city.
Passengers must pay with a Karwa smart card, which is available at vending machines at the airport, Doha Bus Station, Qatar Mall, the Pearl Qatar and at various merchant outlets.
There are 3 types of smart cards available: a rechargeable Classic Card, a Limited Card for up to 2 journeys within 24 hours of purchase, and an Unlimited Card for unlimited journeys within 24 hours of purchase.
For anyone who's been forgetful and boarded the bus without buying the smart card in advance, a "no card" fee is charged.
Insider tip: While there's no specific rule about this, the front seats of the buses are generally reserved for women and children.
10
What are the main annual events in Qatar?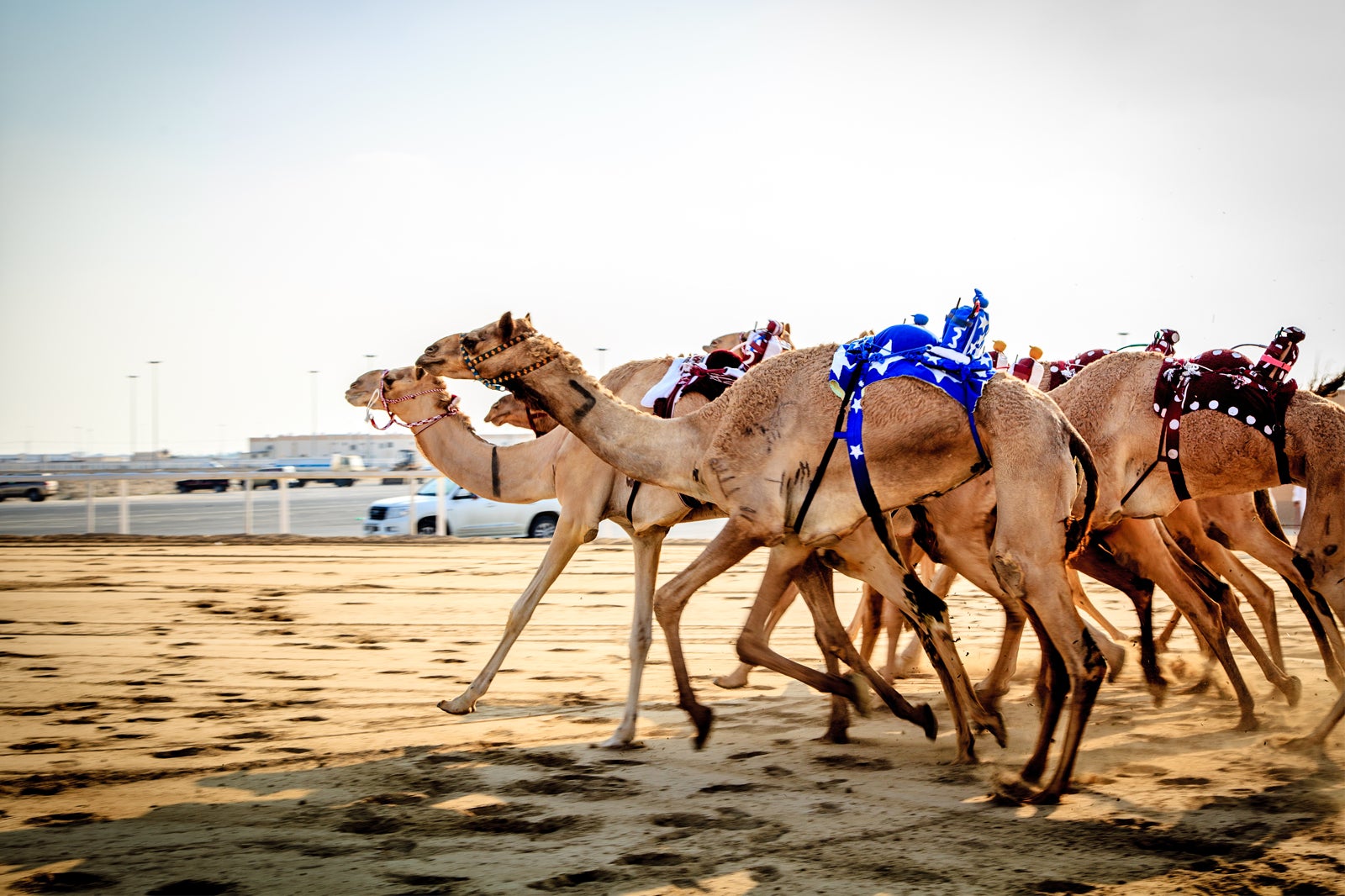 Aspire International Kite Festival
What: A colourful whirl of kite-flying, food, art and cultural activities.
When: Early March
Where: Aspire Park
Qatar International Art Festival
What: Art exhibitions and live painting symposium bringing together artists, art fans, collectors and investors.
When: Late October/early November
Where: Katara Cultural Village
Al-Shahaniya Camel Race
What: Fiercely competitive series of camel races with remote-controlled jockeys vying to win the sword of HH the Emir in the final event.
When: Every Friday from November through April
Where: Al-Shahaniya racing track, about an hour from downtown Doha
Back to top