10 Best Beaches in Algarve
Which Algarve Beach is Right for You?
The Algarve's beaches are surely among the best in all of Portugal. The southern coast ranges from the Spanish border all the way to the wild point at Sagres before jolting northwards along the ocean. As it goes, it passes remote wetlands, buzzing resort towns, and rugged lengths of cliffs. The result is a seriously diverse range of beaches.
You can expect to find everything from hidden coves to sweeping dashes of dune-backed sand, topped off with buzzy bays with deckchairs and cocktail bars. And that's not even mentioning the raw energy of the Atlantic side, where surf spots and dramatic inlets unfold, beckoning wave riders, cliff walkers and more.
1
Praia dos Pescadores
The piece de resistance of Albufeira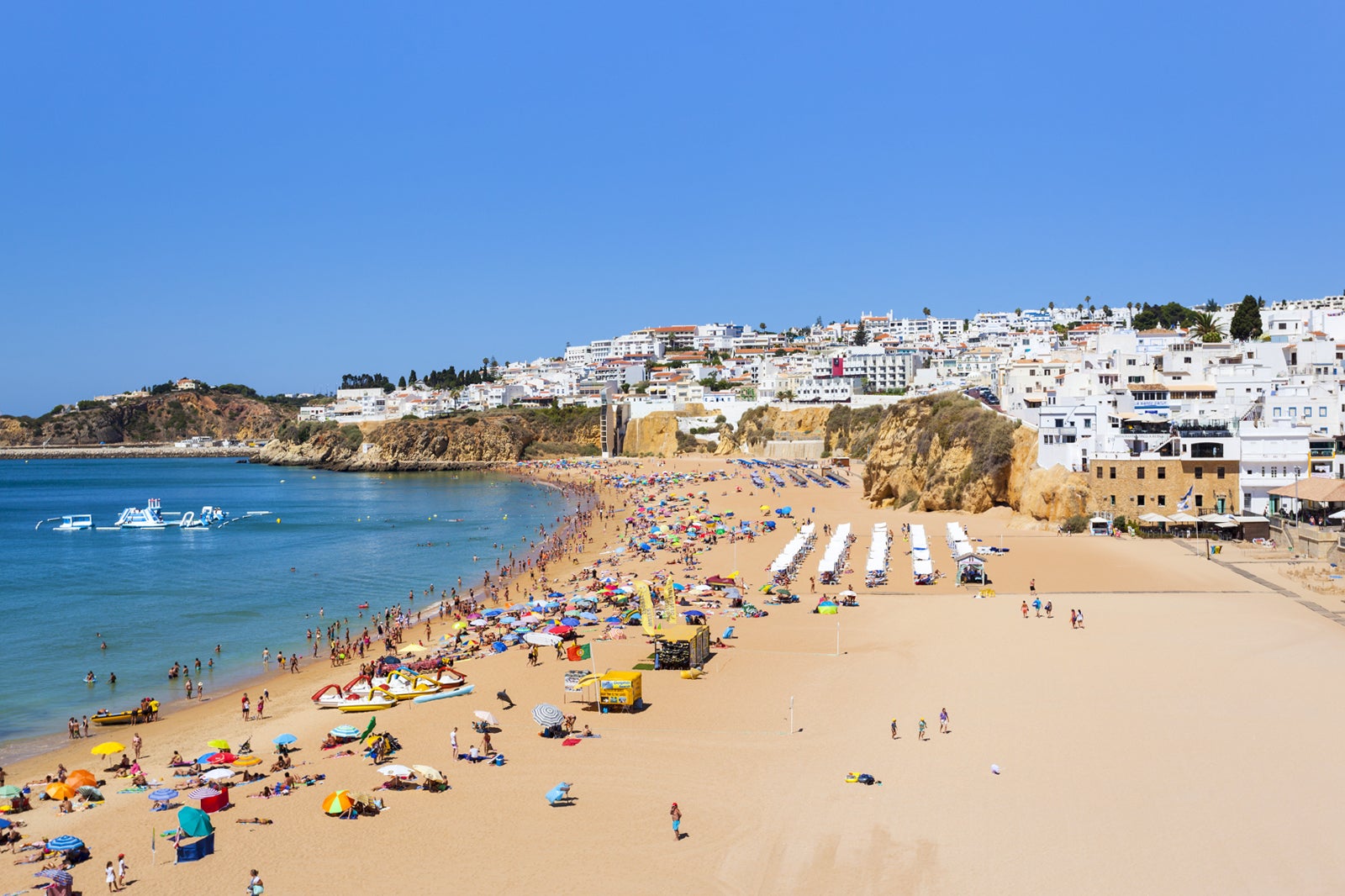 Praia dos Pescadores is known to those who love it – and there are lots of them – as Fisherman's Beach. This dash of shimmering sand on the edge of Albufeira is the place to be in May. It's a hubbub of sun-soaked bodies, sandcastle builders and swimmers throughout summer.
The proximity to the town is one of the main draws. You only need to walk a few roads behind to be inundated with eateries and bars, from sushi joints to tile-fronted tavernas that ooze Iberian charm. Back on Praia dos Pescadores itself, you'll also find convenient amenities like showers and sunbeds for rent.
Location: R. da Praia 11, 8365-131 Armação de Pêra, Portugal
2
Praia da Marinha
Snap photographs of one of the Algarve's most famous beaches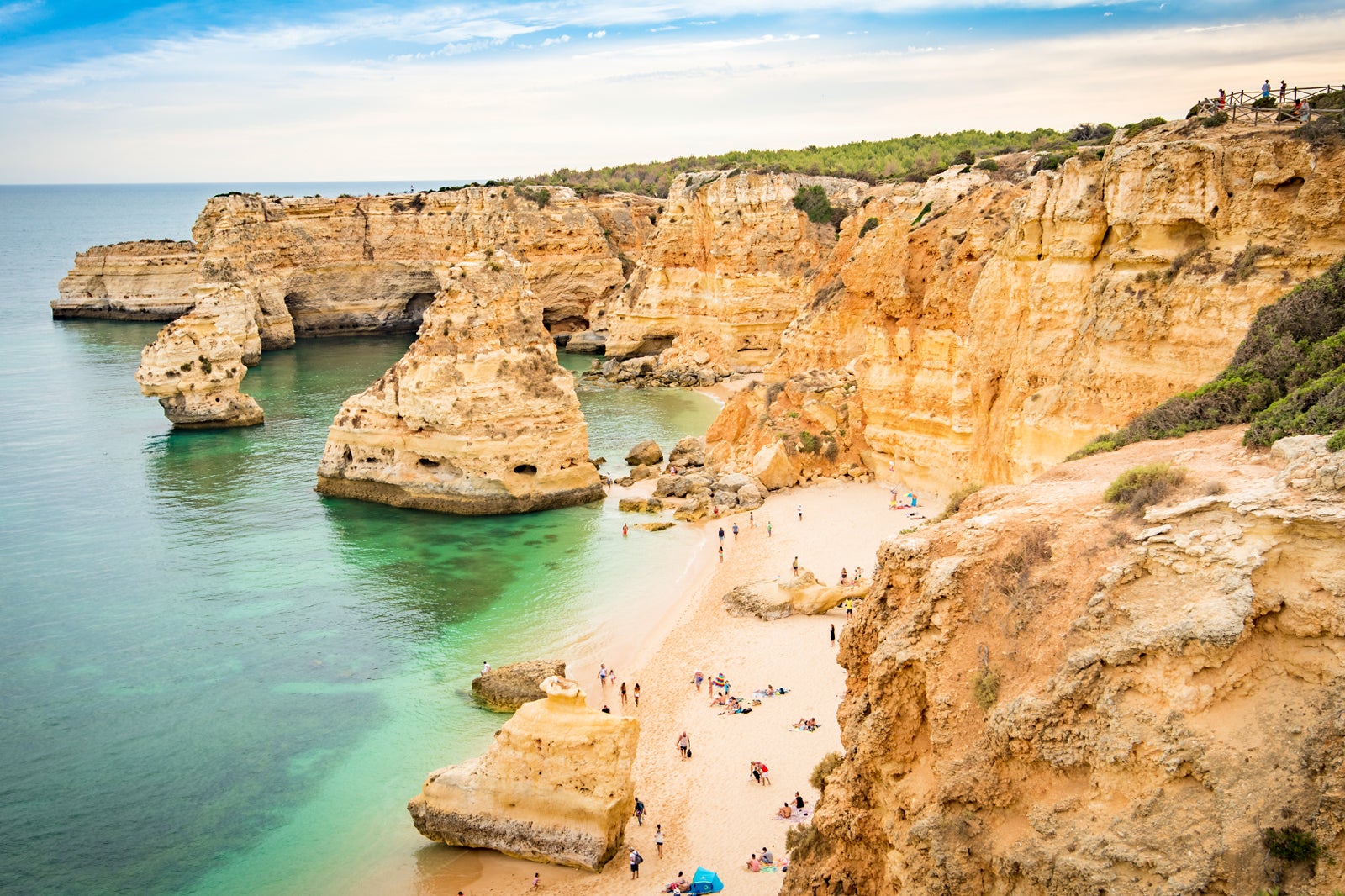 Have the camera lens clean and ready for the moment you arrive at Praia da Marinha. This is a real cover shoot for the travel brochures, sporting dramatic rock stacks and high amber cliffs. During the summer, it draws crowds of sightseers and sunbathers to its place on the coast of luxurious Caramujeira, roughly midway between Albufeira and Portimao.
The main way down to the sand is through a narrow gorge lined with umbrella pines and scrub bushes. Then you emerge into an amphitheatre of sandstone, with eye-catching rock arches and glistening green seas lapping against the coast. It's pretty awe-inspiring stuff.
Location: Praia da Marinha, Portugal
Phone: 1658180
3
Praia da Falesia
Loads of sunbathing space beneath red cliffs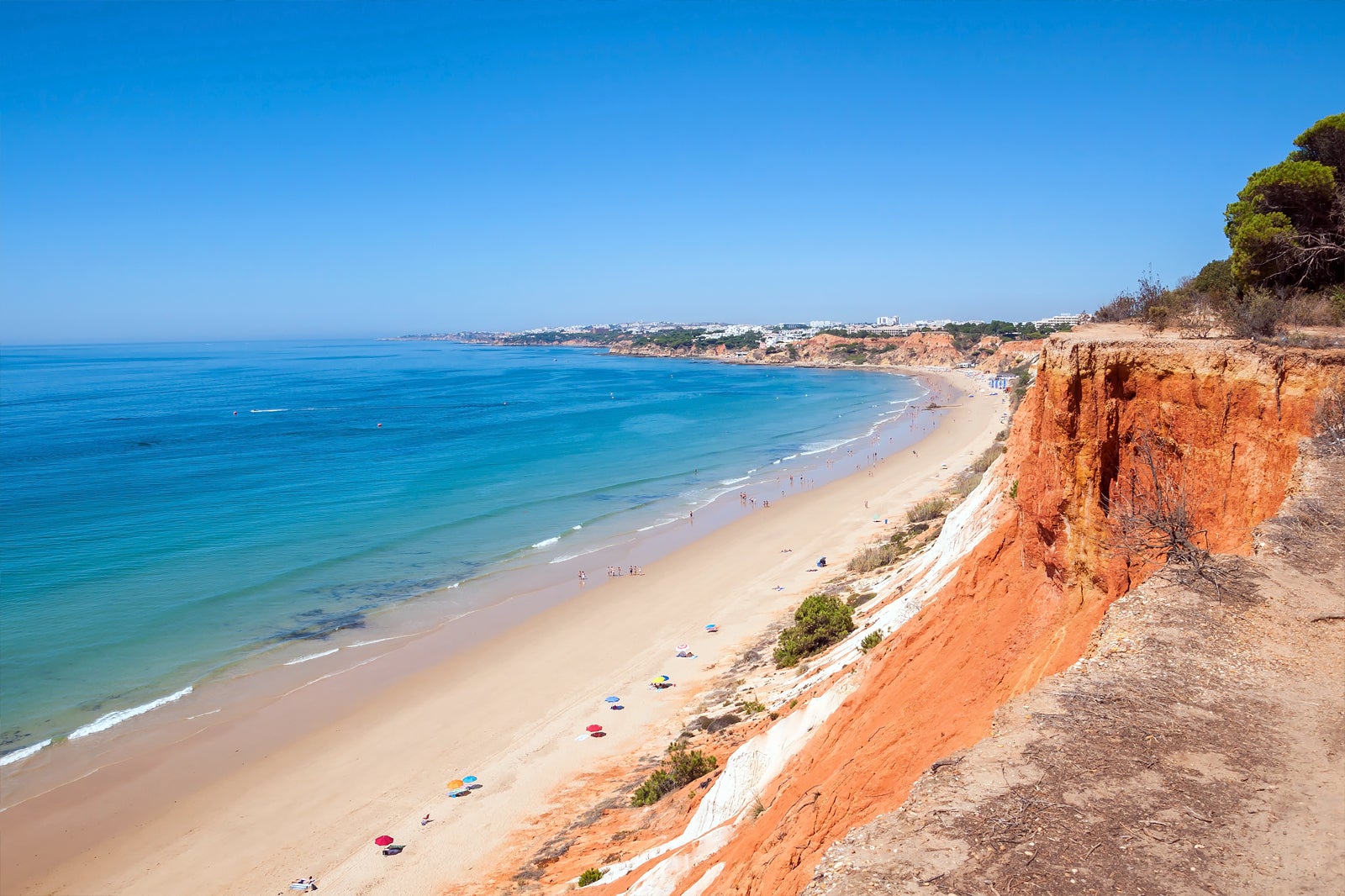 Praia da Falesia is an ideal spot to unfurl the towel and bathe in the European rays. The reason? It runs for nearly 6.5 km as it wiggles beneath the rocky shoreline south of stylish Vilamoura. It's so wide and long, there's rarely any competition for space. What's more, the high cliffs behind add plenty of privacy and seclusion.
Speaking of cliffs, they are renowned at Praia da Falesia for their rust-red tint. It's particularly vibrant at sundown when the evening light shimmers ochre and cinnamon across the whole bay. The wooded hiking trails above the sand are excellent for wintertime strolls.
Location: Rua da Falésia Mar, 8200-593 Olhos de Água, Portugal
4
Praia da Fuseta
Be alone between the marshlands and sandbanks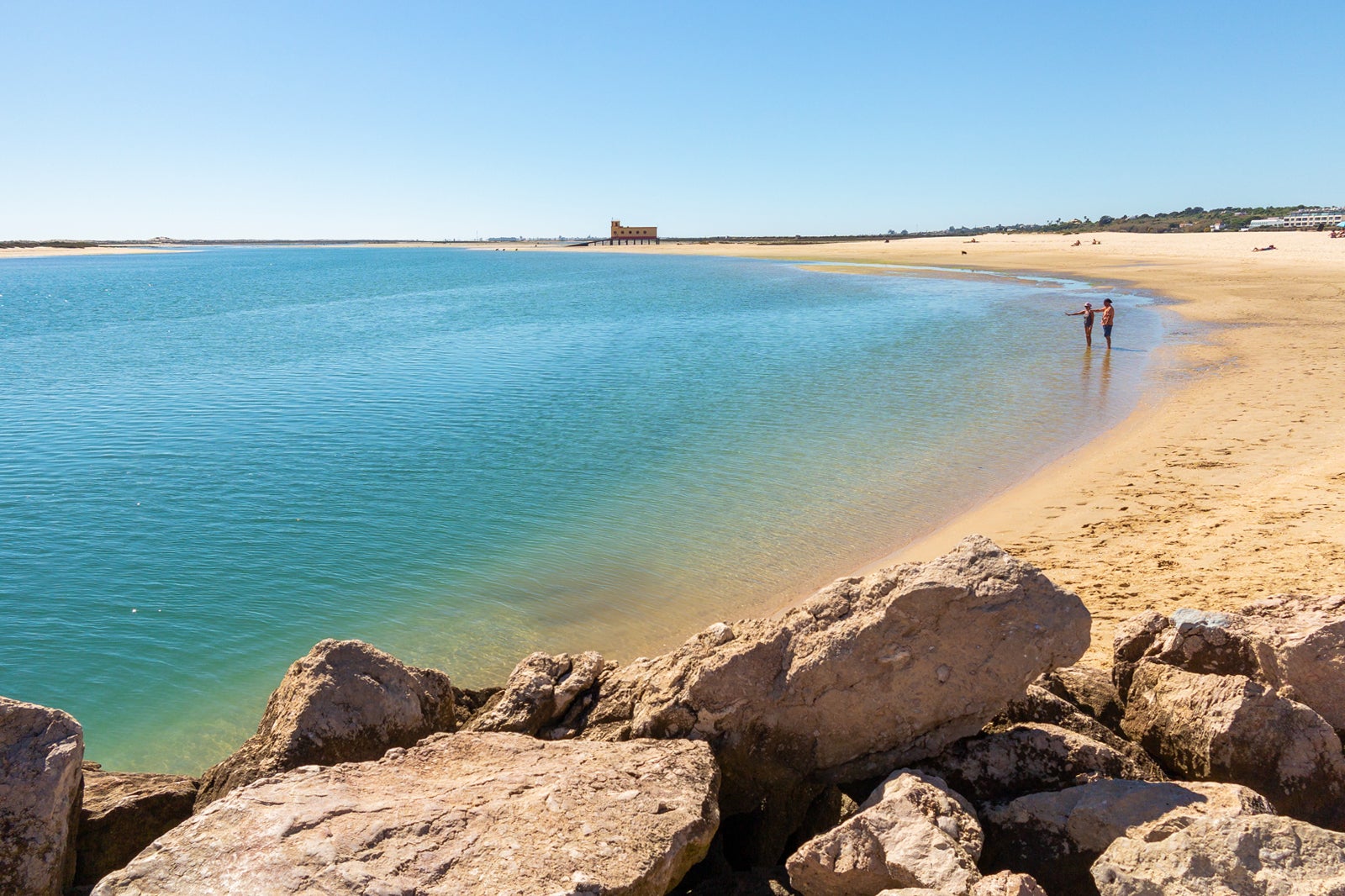 Praia da Fuseta offers a glimpse of the wild Algarve coast. Ditch the taverna-fringed sands of the resorts and head to the Ria Formosa Natural Park, where the beach is located. The sandbanks are undeveloped, and the waters are see-through clean and unpolluted.
Boardwalk trails conveniently link up the miles of Praia da Fuseta's beachfront. You can hike on those to spot rare seabirds and oat-topped dune landscapes. Or, you can use them to discover your own little slice of Portuguese shoreline on hotter days. The nearby town of Fuseta is a good place to retreat as you can find quaint cafes and old salt pans that often have visiting flamingos.
Location: Fuseta, Portugal
5
Praia de Albandeira
Wild seascapes that aren't on the tourist map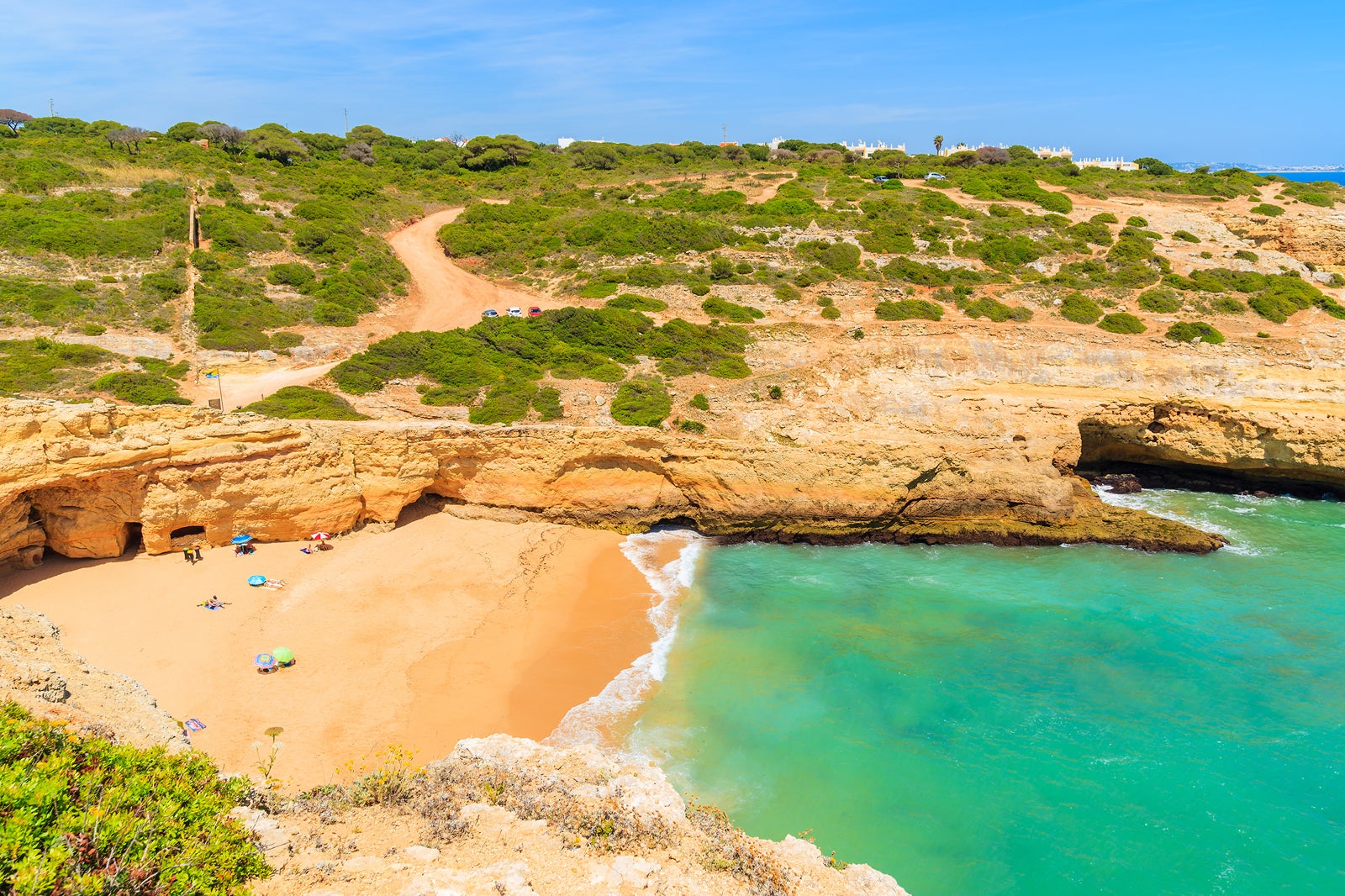 Praia de Albandeira is tucked inside a cove on the most rugged part of southern Algarve. It's backed by a huge, gaping cave, which opens its jaws across a thin sliver of beige sand. Above, clusters of stone pines and eucalyptus trees fringe the cliffs, while big rock arches poke straight into the Atlantic for added drama.
Praia de Albandeira is a great place to pull on the snorkelling gear. The rocky topography makes for crystal-clear water and plenty of submerged crevices to swim into. Hikers will also feel right at home on the headland trails above the beach. They are virtually empty in the winter, featuring blustery lookout points – great for blasting away the cobwebs.
Location: Estr. de Albandeira, 8400-403 Porches, Portugal
6
Praia de Vale de Lobo
Where golf courses and chic spas converge on the sand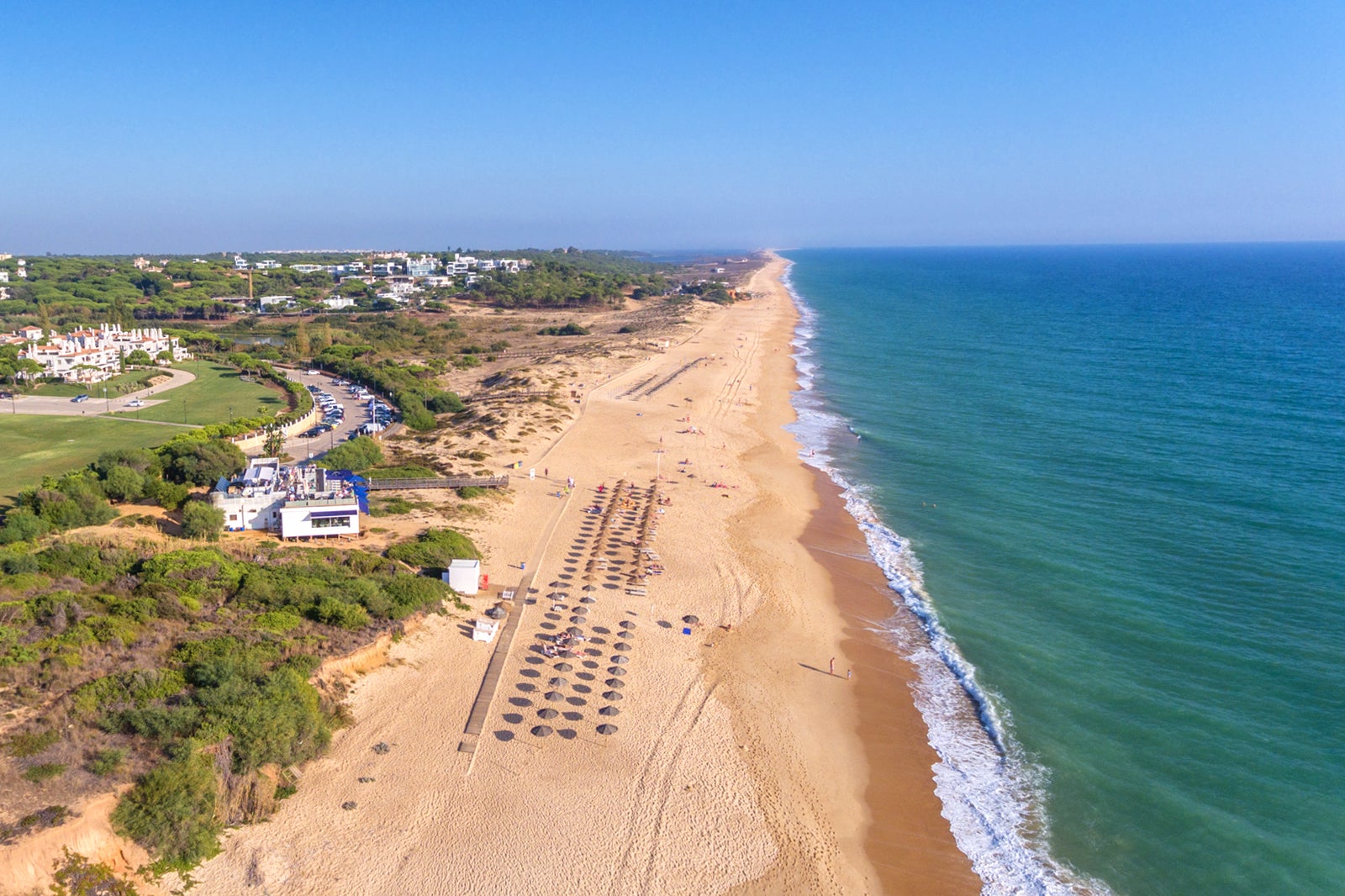 Praia de Vale de Lobo boasts some of the finest and most acclaimed golf courses in southern Europe. The beach is situated within a 25 minutes' drive from Faro. If you're not chasing holes in one from the clifftop greens, you can hit the sands for good old R&R.
The main resorts rent out sunbeds and thatched umbrellas in the summer months. The beachfront goes for miles, so you should never be short on space. Then, at sunset, a few bars gaze south-west to offer some of the best sunset views in the region.
Location: Estr. da Horta 423, 8135-107 Vale do Lobo, Portugal
7
Praia do Tonel
Wax up the surfboard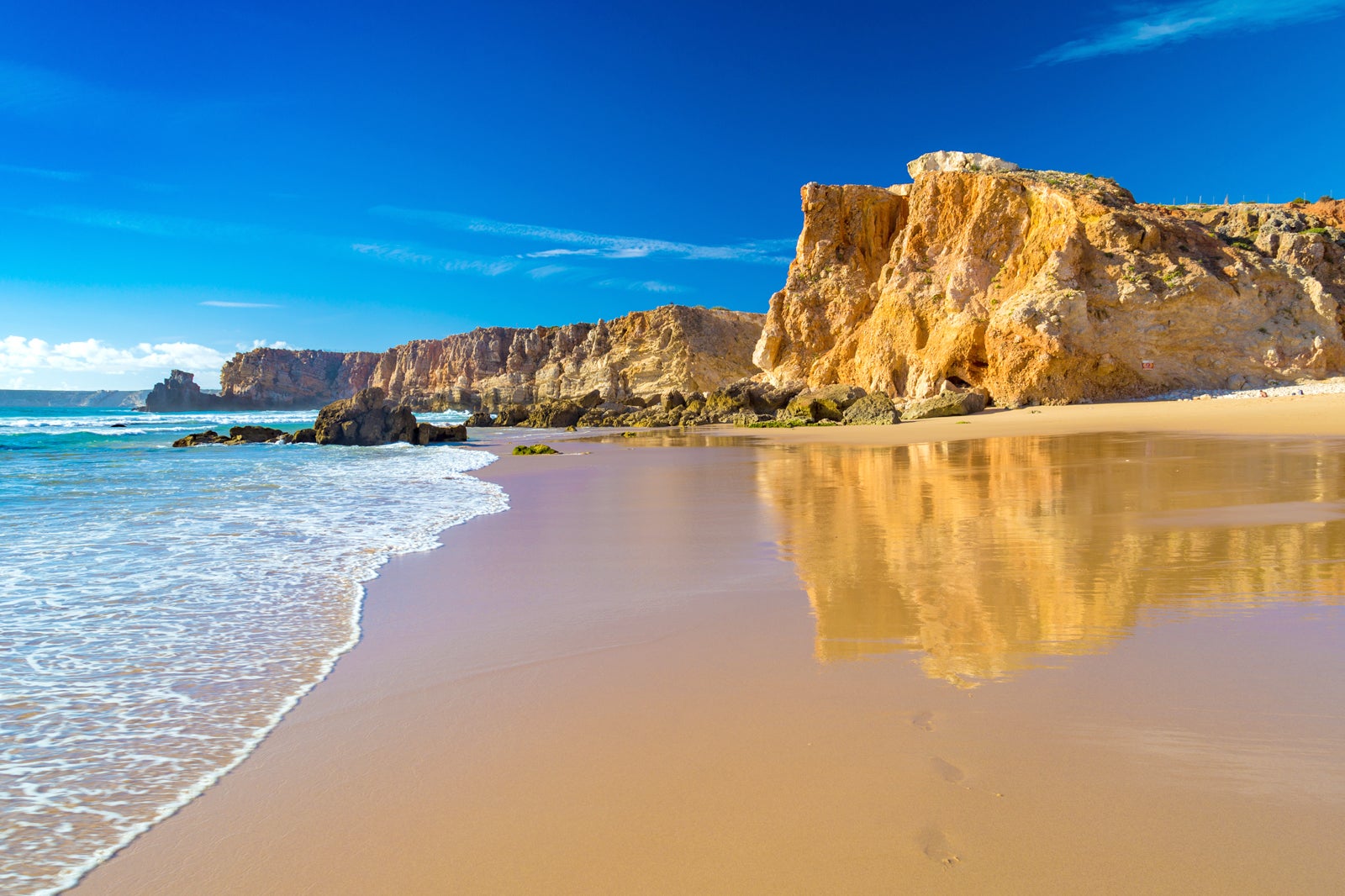 Praia do Tonel is sandwiched between 2 hulking headlands on the extreme south-western end of the Algarve – well, Portugal as a whole. There, it faces the force of the Atlantic Ocean, which rolls in between rock stacks and over sandbanks to create some of the best waves in Europe.
Loads of surf schools and surf camps dot the town of Sagres, located just above Praia do Tonel. It's a typically Portuguese affair, with sleepy cafés and beer bars on its cobbled corners. When the waves are too high and you just want to chill, consider heading for little Praia da Mareta. It's a tad more protected and suitable for families.
Location: Praia do Tonel, N268, Vila do Bispo, Portugal
8
Praia do Camilo
Step down to green-blue sea waters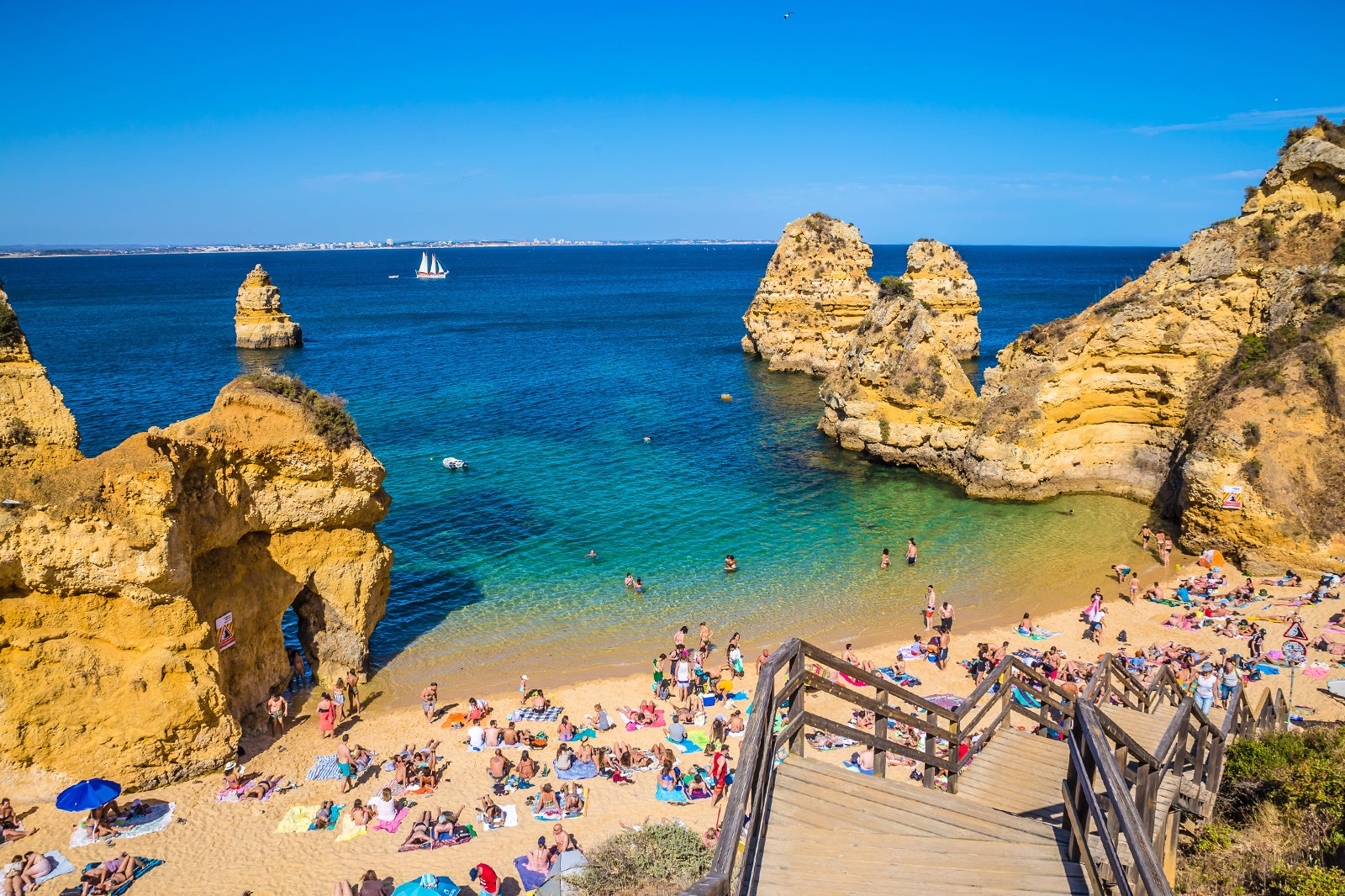 Getting to Praia do Camilo involves a high plinth above a blue-green ocean. Then you're onto the zigzagging stairs that lead to the beach, hopping from rock stacks to huge sandstone boulders before reaching the yellow-dusted cove that sits under 2 miles south of Lagos' centre.
Along with most of the other inlets that thread their way along the wild Ponta da Piedade, this beach has all the precipitous cliffs and jutting headlands you might've seen in the Algarve brochures. The geography means that Praia do Camilo rarely gets windy, making it excellent for getting lost in a book, sunbathing, and snorkelling.
Location: Praia do Camilo, Lagos, Portugal
9
Praia do Amado
Feel the force of the Atlantic in the western Algarve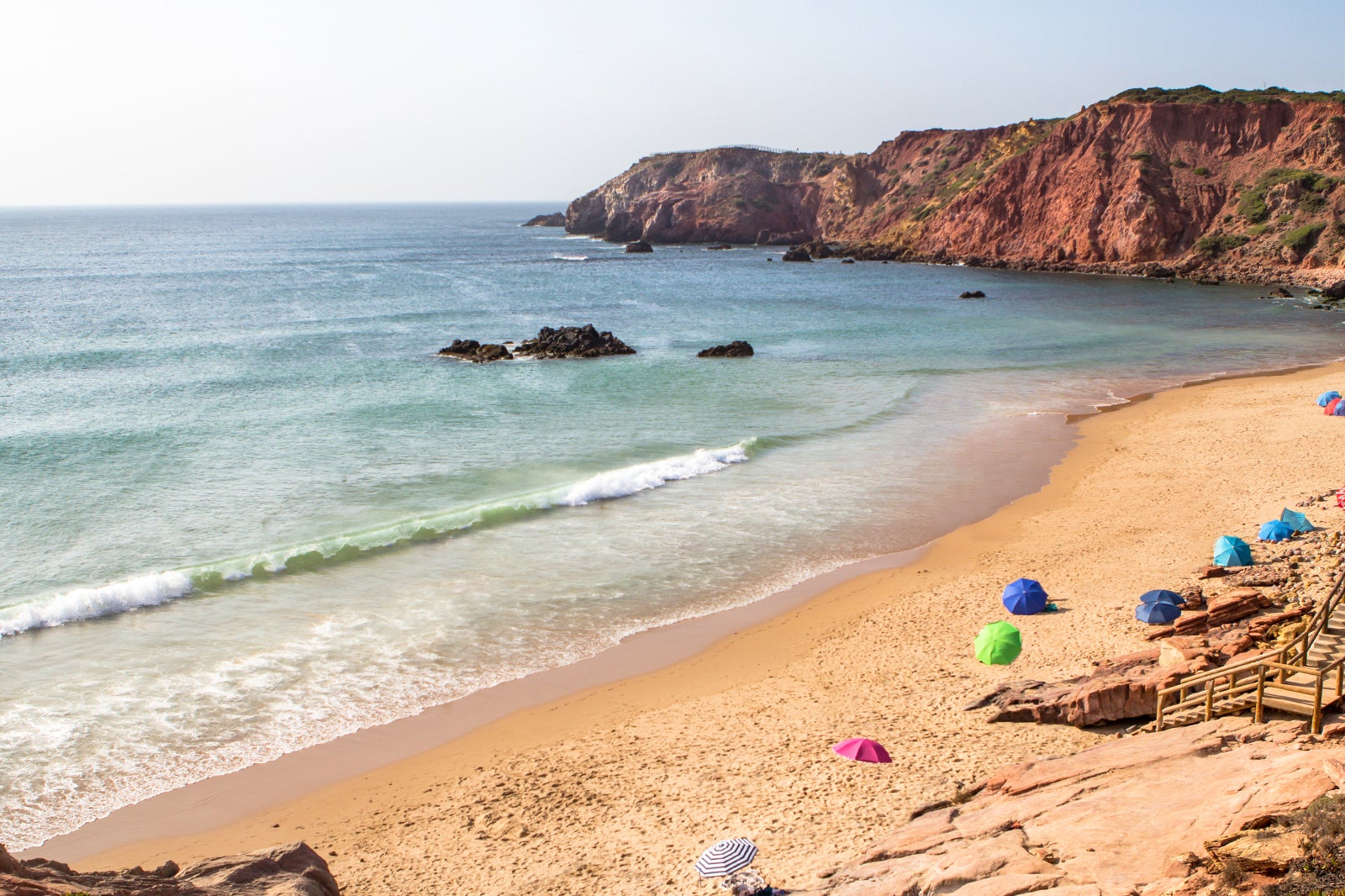 Praia do Amado is a wide and beautiful beach that's isolated up the west coast, some 15 miles from Sagres. Facing the brunt of the ocean swells, it's a real draw for wave hunters, but also something special for those who like their beaches a little more untamed.
High, red-tinged rock walls hem the beach from behind. The sands are dashed with hues of Algarve gold and coffee brown. The headlands have footpaths weaving between pockets of sea oats and coast meadow. Even if you don't bring the board, it's a fine spot for seeing the undeveloped side of Portugal.
Location: R. 8 37, Espinho, Portugal
10
Praia da Rocha
A glinting beach with natural limestone sculptures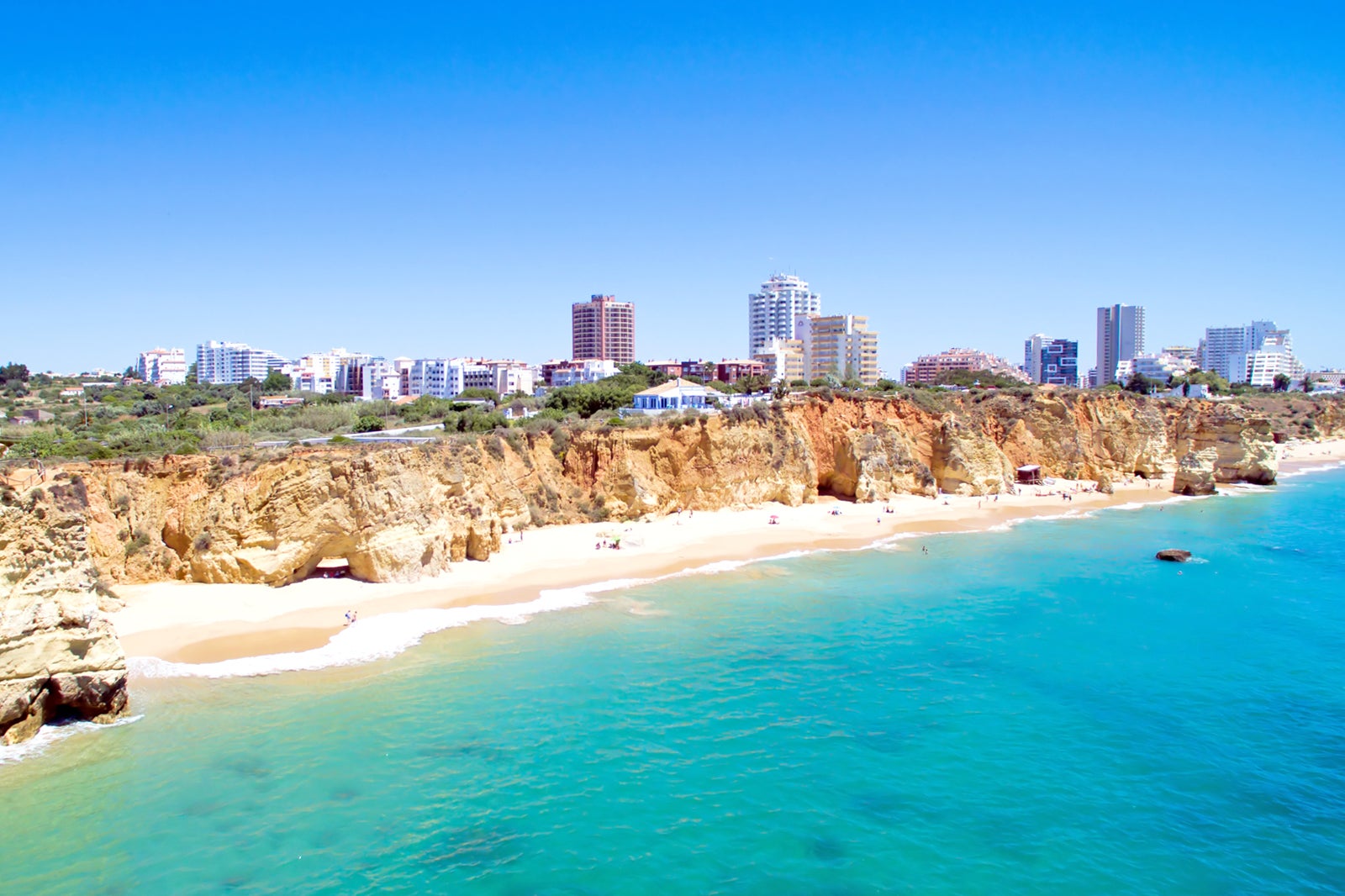 It's the carved topography of Praia da Rocha that really puts it on the map. Well, that, and the fact that it's abuzz with life thanks to the proximity of the vibrant resort town of Praia da Rocha itself, sat less than 1.5 miles to the south of the regional hub of Portimao.
The bulk of the eye-catching cliffs are to be found on close-by Praia dos Tres Castelos. There, yellow clumps of stone emerge like shark fins from the ground. Meanwhile, Praia da Rocha's main beach draws sunbathers, volleyball players, and surfers with its mix of soft sands, reliable sun, and light waves.
Location: Praia da Rocha, Portugal