6 Best Nightlife Experiences in Luang Prabang
Where to Go at Night in Luang Prabang
Nightlife in Luang Prabang can be rather enjoyable if you know where to go. While the town lacks in loud and packed nightclubs that would often stay open until 3am, there are decent bars and night-time activities you can enjoy during your stay in this town in northern Laos.
Laos also has a rather strict curfew, which means most places close down by midnight. That applies to Luang Prabang. If you're planning to stay out after hours, Luang Prabang has plenty of restaurants with outdoor patios where you can enjoy a beer with river views overlooking the Mekong or Nam Khan.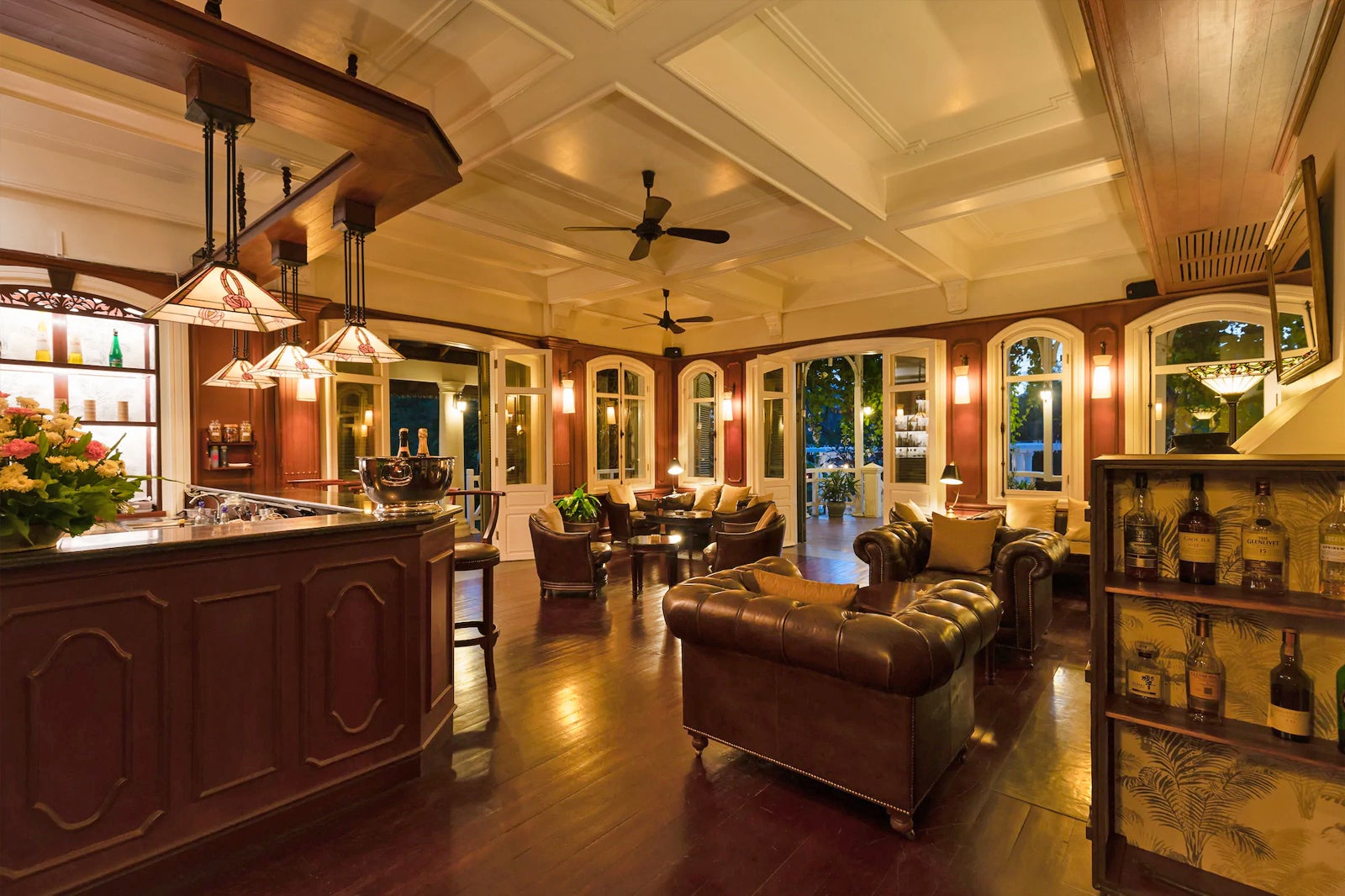 1861 Bar is a French colonial café and bar within The Luang Say Residence. Evoking a feel of old-school sophistication, it features studded leather sofas, marble tables, and traditional bistro chairs on the terrace.
There's a small library at the corner of the café, which attracts those looking to unwind with a book. A marble fireplace provides warmth during cooler months, while the bar offers imported wines, liquors, and cocktails year-round.
Location: The Luang Say Residence, 4–5 ban Phonepheng, Luang Prabang, Laos
Phone: +856 71 260 891
2
Luang Prabang Bowling Alley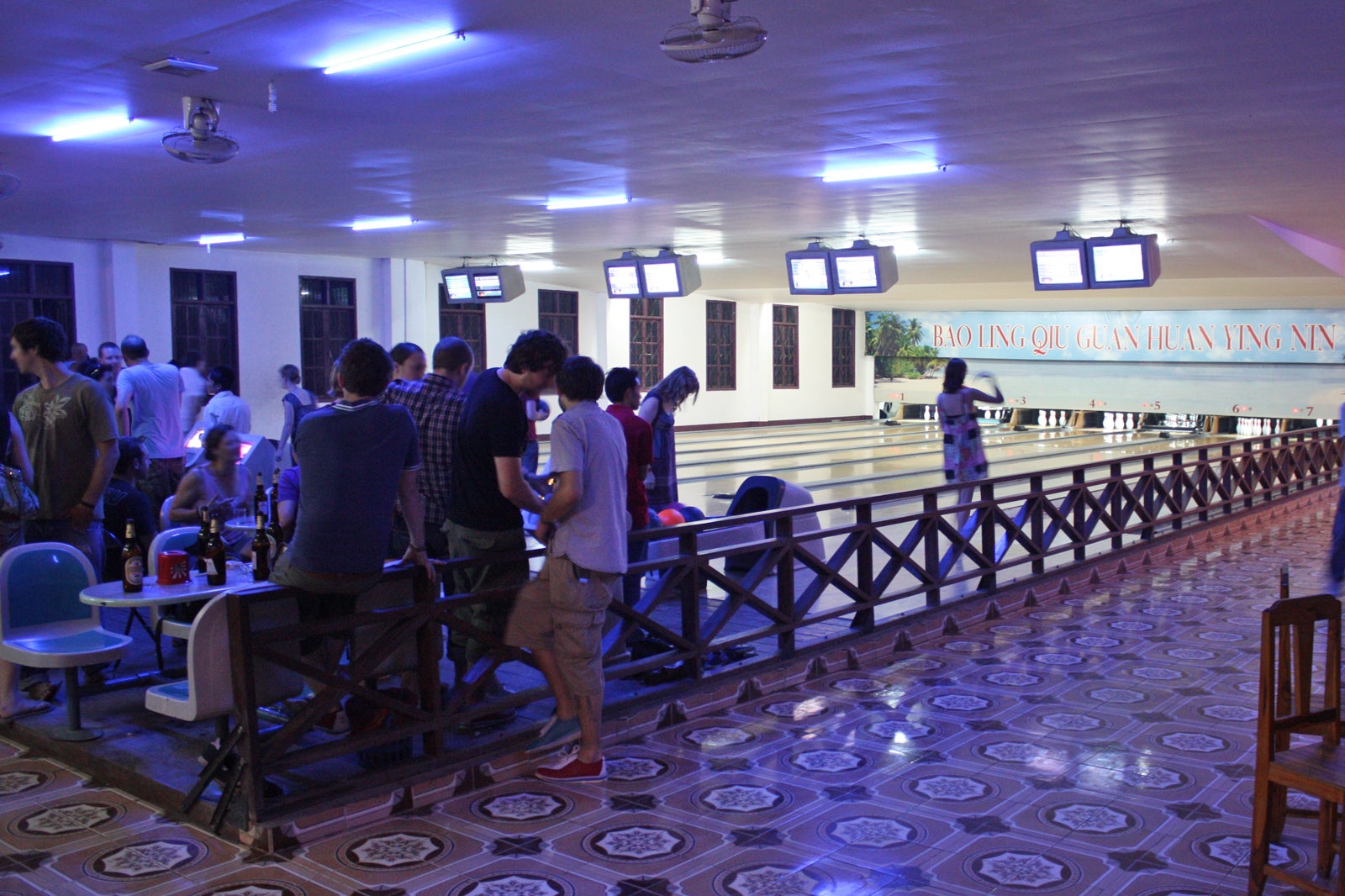 Luang Prabang Bowling Alley, located 3 km southwest of the town centre, is one of the few places that stay open until late. The venue caters mostly to a backpacker crowd by serving Beerlao and whisky well into the early hours of the morning – it usually gets crowded after 10pm.
Luang Prabang Bowling Alley is worth a visit if you're looking to enjoy a round of bowling in the evening. A game starts from 15,000 kip per person. After midnight, the rate goes up to 20,000 kip.
Location: Highway 13, east of junction with Potoupakmao Rd.
Open: Monday–Saturday from 11 am to 2.30 am, Sunday from 11 am to midnight
Phone: +856 20 58 300 457
photo by Nick Hewson (CC BY 2.0) modified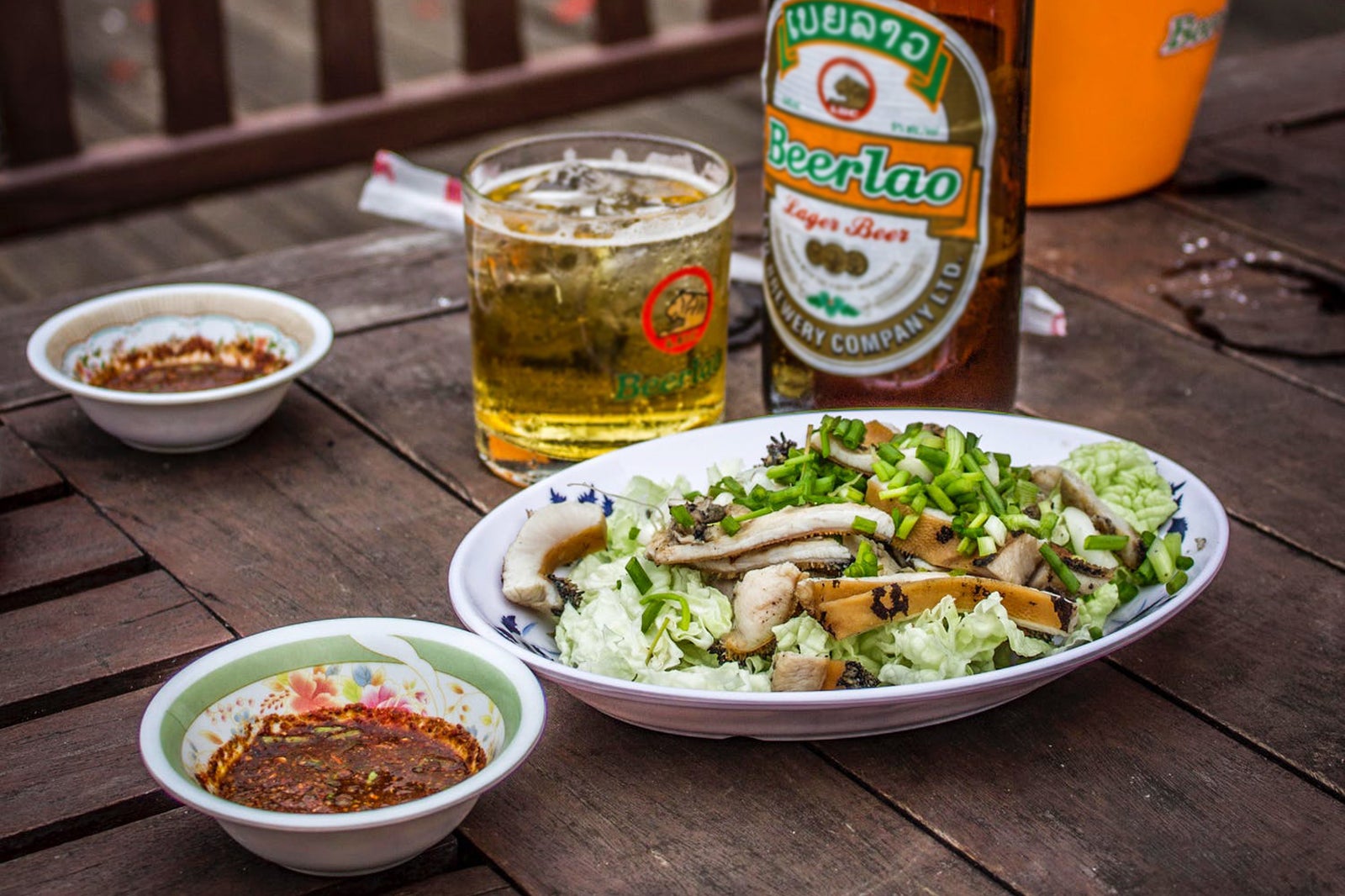 Lao Lao Beergarden is a long-time favourite among backpackers. This open-air beer garden has cosy setup – bonfire, candles, fairy lights, lots of open spaces and trees – that invites hours of lounging with Beerlao, cocktails, and imported wines.
Lao Lao Beergarden's all-day menu covers international and local cuisine, including burgers, salads, and Lao-style barbecue. Visit during happy hours to enjoy 2 cocktails for 20,000 kip.
Location: Phousi Road Ban Aphay, Luang Prabang 0600, Laos
Open: Daily from 8 am to 11.30 pm
Phone: +856 20 56 781 169
4
Luang Prabang Night Market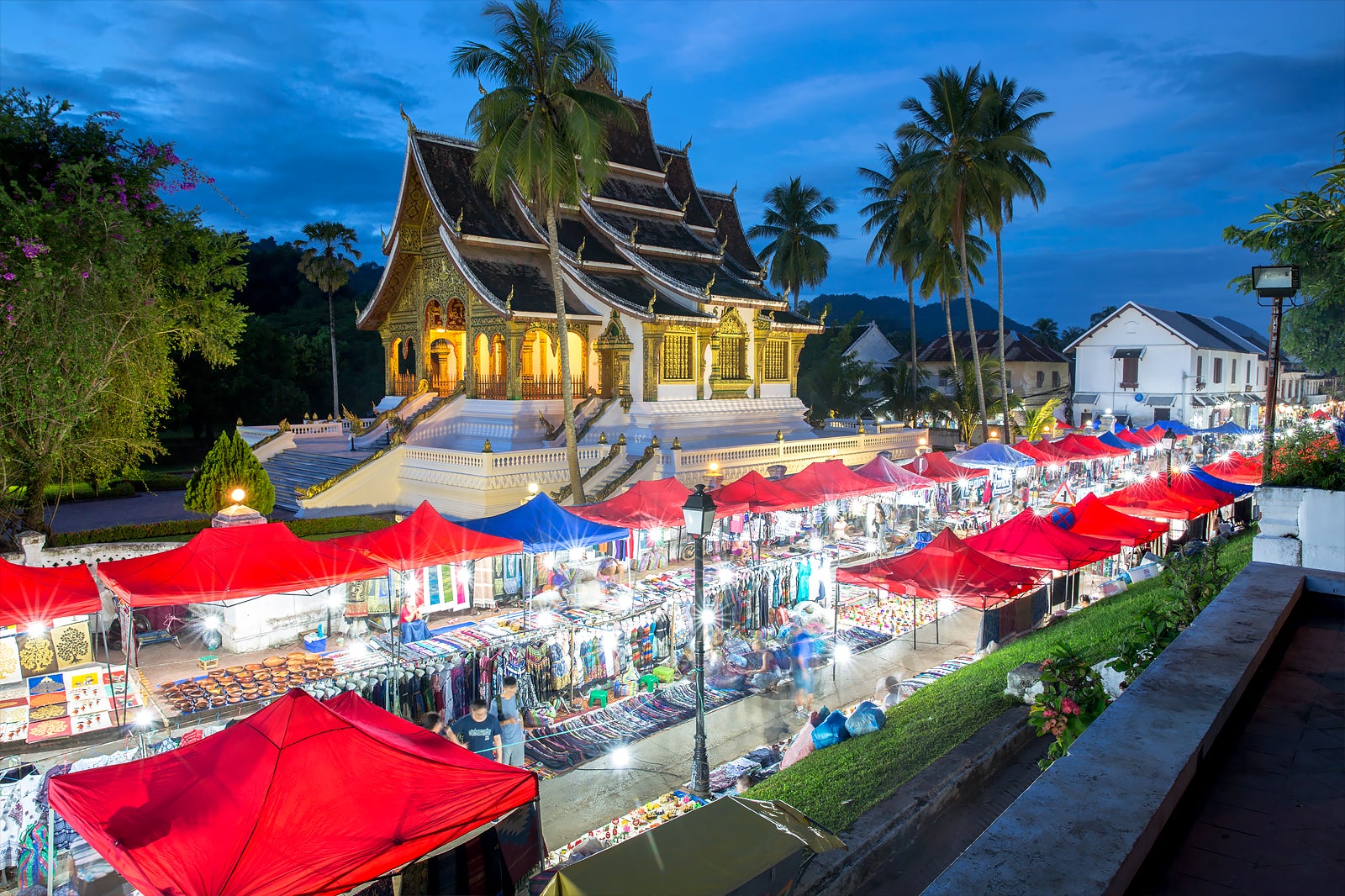 Luang Prabang Night Market takes place at the corner of Settathilat and Sisavangvong Roads in the town centre. From 5pm onwards, dozens of food vendors sell Laotian street food at affordable prices.
You'll find grilled meat, Lao noodle soup, pho, meat-filled baguette, and ready-to-eat meals for takeaways. Some of the bigger stalls have long wooden tables and benches, though these seats tend to fill up fast.
Location: Sisavangvong Road, Luang Prabang, Laos
Open: Daily from 5 pm to 11 pm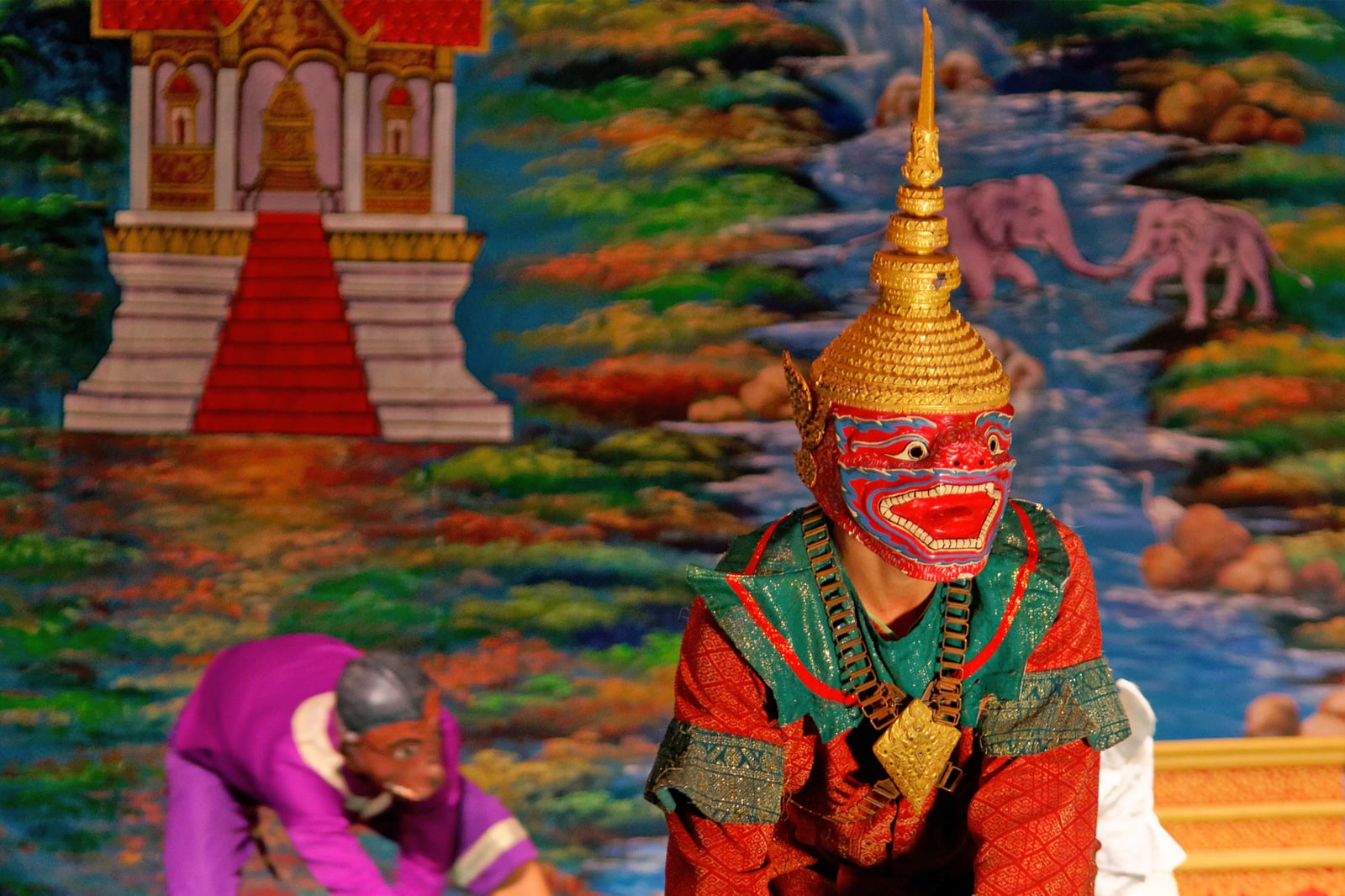 The Royal Ballet Theatre in Luang Prabang showcases traditional Lao culture and art, with live shows taking place on Mondays, Wednesdays, Fridays, and Saturdays. Its resident dance troupe performs Phralak Phralam, a khon (mask) and classical dance based on the Lao version of the Ramayana.
The 2-hour-long performances start at 6pm from October to March, and 6.30pm from late-March through September.
Location: 27 Ounheun Rd, Luang Prabang, Laos
Open: Mondays, Wednesdays and Friday–Saturday from 6 pm to 8.30 pm
photo by Jakub Hałun (CC BY-SA 4.0) modified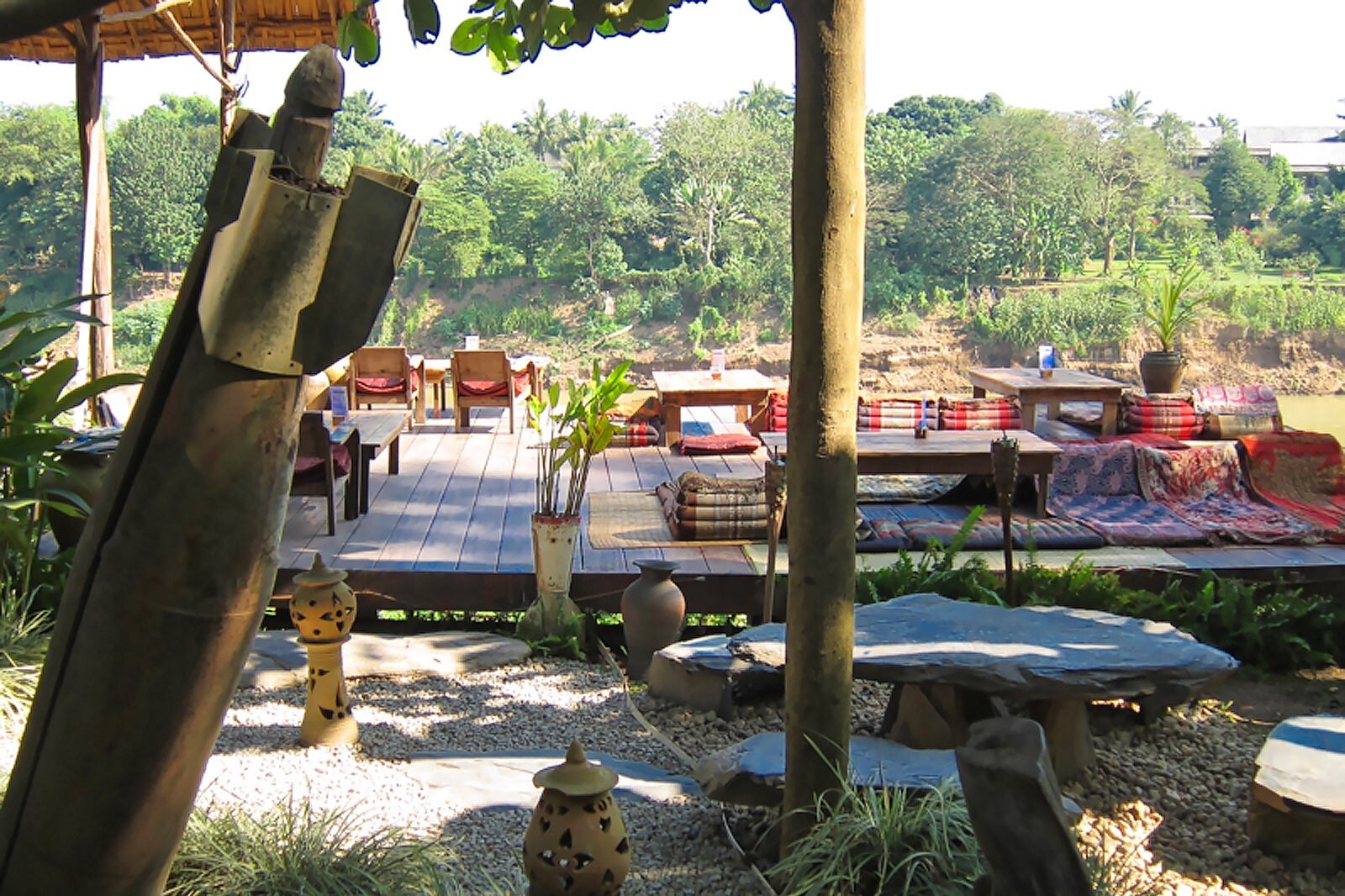 Utopia Bar and Restaurant is a rustic-style venue on the Nam Khan riverbank. You can relax in their tropical gardens or at the bamboo river decks, both of which offer views of the upcountry Utopia hosts beach volleyball and yoga during the day, and live music, board games, and movies in the evening.
Location: Ban Aphay, Luang Prabang, Laos
Open: Daily from 8 am to 11.30 pm