Shirahama Travel Essentials
Useful Information to Help You Start Your Trip to Shirahama
Our Shirahama travel essentials guide includes all the essential information you'll need to make your holiday in this Japanese city one to remember fondly for years to come. First, we will examine the best times to visit, including rainfall, climate and the hottest months of the year. Then we'll examine the basics of things like electrical outlets, emergency calls and currency. After that, we will look at transportation, and how to get to and around the city.
Finally, we'll detail a few of the most important festivals and most popular points of interest to be sure you visit while you're here. In the end, you'll have everything you need for a fantastic Shirahama holiday.
1
When is the best time to travel to Shirahama?
Shirahama's climate is classified as humid subtropical with warm summers and cool, dry winters.
The most rainfall can be seen in June through October, averaging around 244 mm of rain monthly during this period.
The warmest months of the year are July through September, averaging over 35° Celsius during this period.
The best time to visit is from May through August and October. During these months, the temperatures are warm and pleasant. May and October are peak months. The least crowded month is July when you'll likely find the best deals.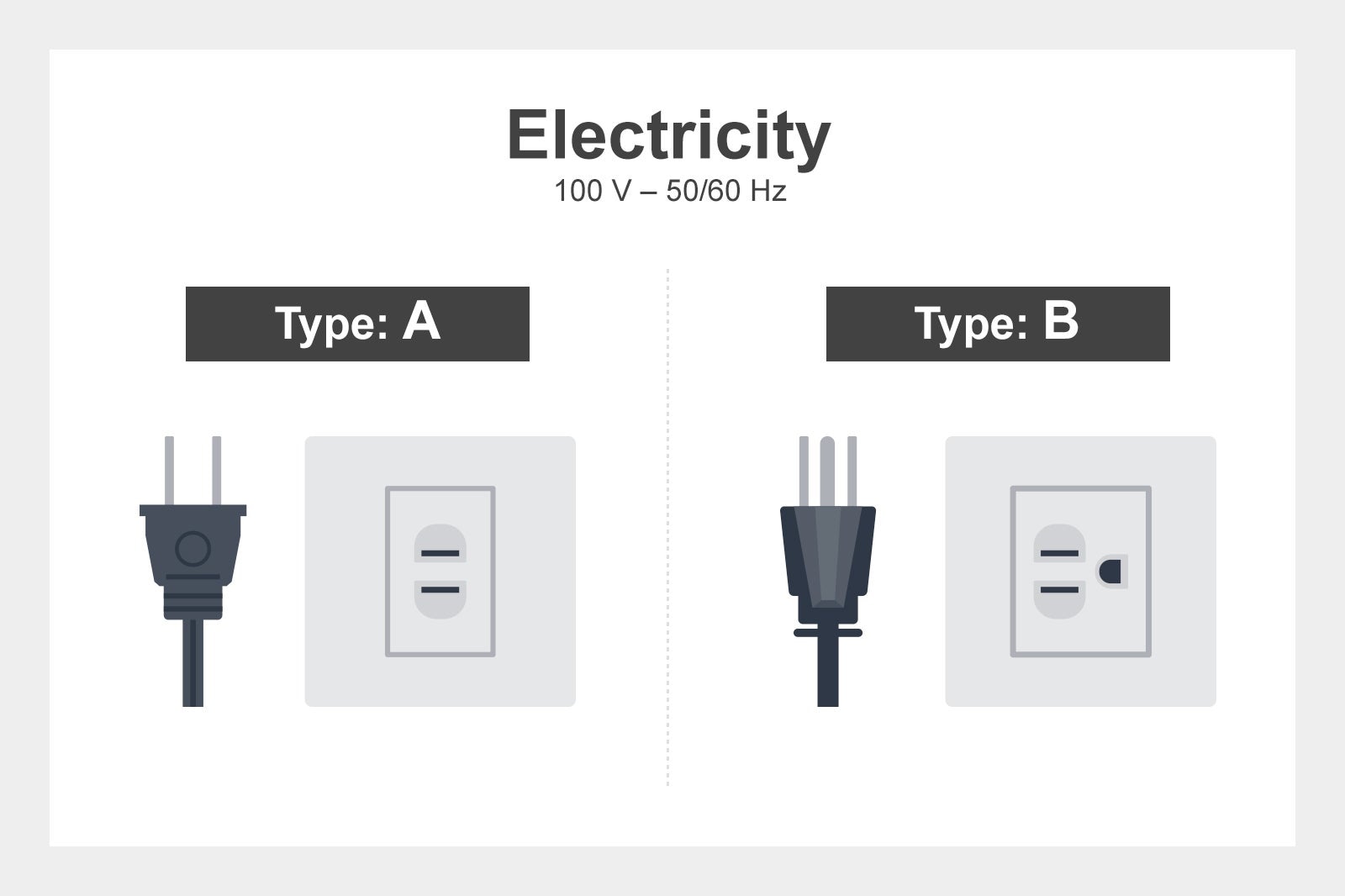 The plug type is the same as those used in the USA, Type A or B 2- or 3-pronged.
Electricity and current are 100 volts and 50/60 Hz.
The currency is the Japanese Yen
The International Dial Code is +81
For emergency telephone calls, 110 reaches the police, 118 calls the Coast Guard and 119 summons an ambulance or firefighters.
3
How to get to my hotel in Shirahama?
Shirahama is easy to reach from many other major destinations in Japan. Most visitors travel here from Osaka or Tokyo. The most popular ways to come into Shirahama include flying and catching the train.
Airports
Shirahama has its own airport, Nanki Shirahama Airport, which offers direct flights to and from Tokyo's Haneda Airport. The vast majority of flights that come into this city are connecting flights from Tokyo, so it's likely you will catch a plane to Tokyo, and then catch a direct flight here from there. After landing, buses run to the city centre; the trip takes only about 15 minutes.
Major train stations
Shirahama Station is a major station along the JR Kisei Line. It's connected to Osaka, and limited express trains run every hour. The station is a 10-minute bus ride outside of the city centre, and several buses run per hour straight to central Shirahama's beach, as well as directly to several points of interest.
Ports
Ports are not a common way to get to Shirahama. The closest are Hidaka Port and Shingu Port, and cruise ships come and go from both of these ports on a regular basis. Hidaka Port is about 45 minutes north of the city, while Shingu port is about an hour and 45 minutes east of the city centre.
4
How to get around Shirahama?
Travel tips
Shirahama has a well-developed public transportation system. You can easily get from place to place in this town without any trouble. While you're here, it's a good idea to pick up a day pass for unlimited bus rides, or the Kansai Thru Pass, which is good for railway, underground and bus trips throughout the entire Kansai Region. Transport in the region is safe and reliable. You shouldn't have any problems whatsoever getting around to wherever you wish to go, be it in the city centre or further afield.
Taxi and rideshare apps
Taxis and rideshares do operate in Shirahama. The most common taxi service is Sirahama Daiichi Taxi, which provides normal taxis and jumbo taxis if you're travelling with the family or larger groups. Taxis can be called to schedule a pickup just like anywhere. In addition, Uber, Lyft and other rideshares run in the town and can make for a convenient way to get anywhere you want to go, directly. They work the same as they do in the west; just fire up the app and schedule a pickup.
Bus network
The bus network in Shirahama is robust. Several bus companies serve the Wakayama prefecture and range from transport to and from airports to regional bus lines, as well as lines designed to provide express transport to certain points of interest. These buses offer a budget alternative to get around town once you learn which buses go where, and how often they run. Your day pass or Thru Pass will get you all over town and even to other areas like Shingu, Osaka, Tokyo, Nara and beyond.
Car Hire
If you really want the freedom to go where you want to go, when you want to go there, a car hire is the ticket. Car hire agencies are available as well in Shirahama, with most of the big name companies available, including Europcar, Nissan Rent-a-Car, ORIX, Sunnycars and many others. The best place to arrange a car hire in Shirahama is at the Nanki-Shirahama Airport. You'll find the best variety and service here when you land. Your hotel may also be able to point you to some local car hire services.
Bicycle Hire
Riding a bicycle can be a wonderful way to reconnect with nature, get in some exercise and go green while getting around wherever you like to go. Some of the attractions in the region may be a bit far to travel to using a bicycle hire, but many parks and areas also have bicycle trails to explore and a cycle hire can allow you to cycle around without having your personal bicycle in Japan. Bicycles can be rented at the Shirasuna tourist information centre near Shirahama Beach, including regular and electric cycles.
5
What are the main annual events in Shirahama?
Suna Matsuri (Sand Festival)
Held annually every year in late May
This festival is an art competition where competitors seek to build sandcastles and other 3D sculptures using only the white sand of the beach and the ocean water at the shore. The artworks are stunning and offer fantastic photo ops.
Where: Shirahama Beach
Shirahama Fireworks Festival
Held every year in Late July
The Shirahama Fireworks Festival showcases a massive show of thousands of fireworks, all exploded and perfectly synced to music. The show is centred around a specific theme, which varies from year to year.
Where: Shirahama Beach
Shirahama Ama Festival
Held annually in Mid-July
This festival is a swim event with female ama divers clad in white carrying torches to light up the summer night. The festival includes live entertainment, food, fun and even an ama contest. It's capped off with a fireworks display.
Where: Nojimazaki Lighthouse Park, Minamiboso City
6
What are the main landmarks in Shirahama?
Kumano Sansho Shrine
Kumano Sansho Shrine is at the base of Gongenzaki Cape, an area famed for its white sand beaches. The shrine honours several Shinto gods and is set against the dramatic background of a towering sacred cliff, a walking path along the coast and a nationally designated Natural Monument in the Shirahama Mudstone Dike.
Sandanbeki Rock Cliff
This secret pirate cave is hidden just next to a famous and iconic Wakayama Prefecture beach. Historically, it served as a lookout for fishermen on the search for the pirates that ravaged this stretch of coast. The clifftop view is stunning, but the real attraction is the secret pirate cave network 36 metres below.
Minakata Kumagusu Museum
The Minakata Kumagusu Museum is a UNESCO World Heritage Site and offers visitors a vast collection of artefacts, documents, photographs, education and ephemera honouring and related to the achievements of the great natural scholar of natural history and folkloric studies, Kumagusu Minakata, who also spearheaded the nation's nature conservation movement.
Engetsu Island
Engetsu Island is a space that shows the artistry of nature in all its forms, with untamed wilderness and breath-taking ocean views. At sunset, the sun can be seen through a moon-shaped circle at the centre of the island, which was eroded by the sea, forming an iconic photo opportunity.
Back to top