Kyoto Travel Essentials
Useful Information to Help You Start Your Trip to Kyoto
Our Kyoto Travel Essentials lays out the essential information you need to help you plan your trip to one of the most popular destinations in Japan. No matter how frequently you travel, some questions will always need answers: What's the weather like? How can I get from Kansai International Airport to my hotel? What currency and type of plug do I need?
We have all these answers plus other basic info about the best time to go, getting there, getting around, and a few useful travel tips. You'll also learn about the most popular landmarks in Kyoto such as the Gion geisha district, Kiyomizu Temple, and Nijo Castle. It's all compiled in this Kyoto Travel Essentials. After reading this short and easy-to-read guide, you will be a little more prepared to start your trip to Kyoto, Japan.
1
When is the best time to travel to Kyoto?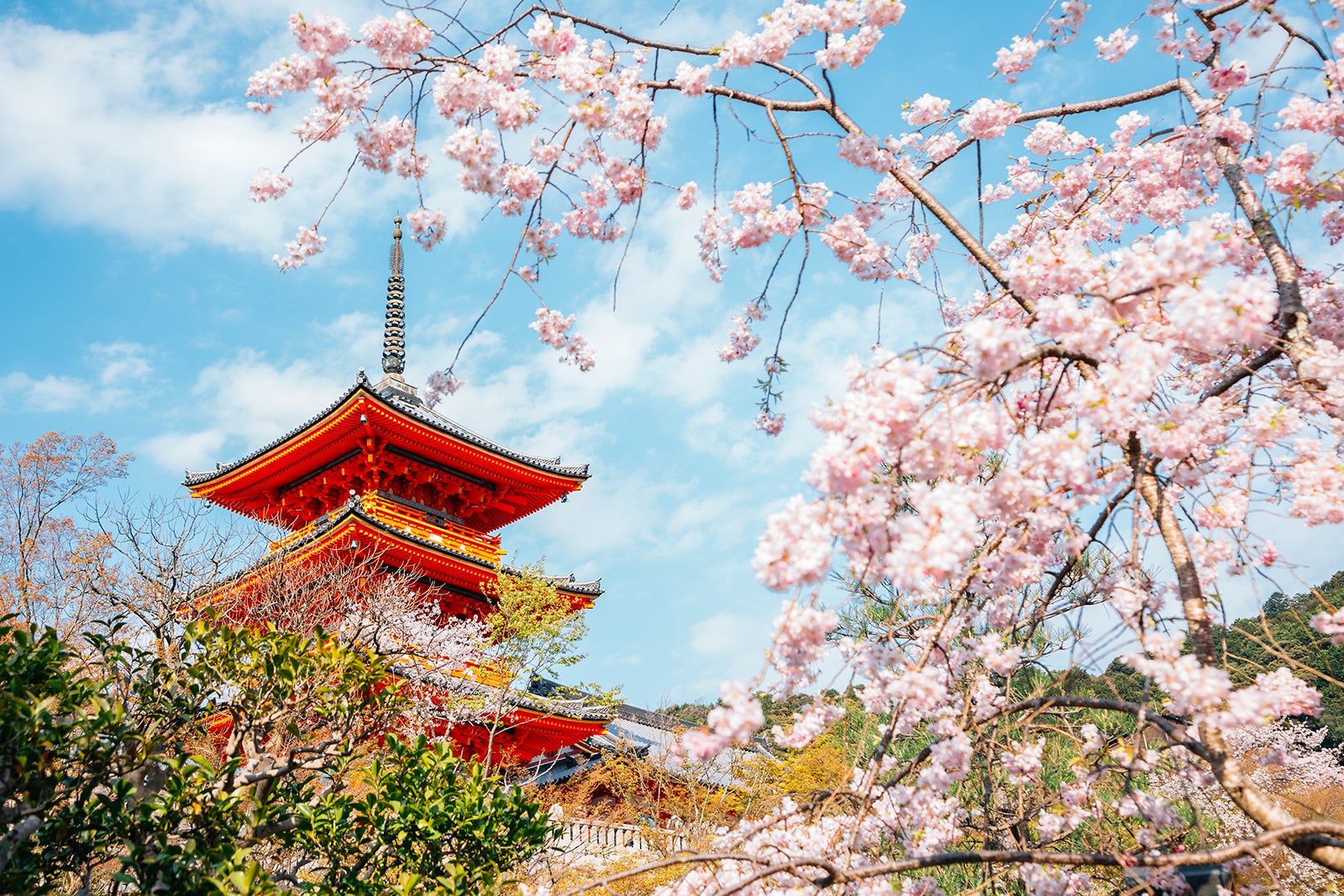 Kyoto has a subtropical climate with hot and humid summers and chilly winters. The average year-round temperature is 16°C.
The warmest time of the year in Kyoto is June–September, with average temperatures between 23°C and 29°C. December–March is the coldest period with a daily average of 6°C.
June–July is the wettest time of the year with an average of 13 rainy days per month. It rains about 9 days per month the rest of the year. Expect occasional snowfall in December–February.
Summer (June–August) and winter (December–February) are the low seasons in Kyoto. The heat and frequent downpours in summer, as well as the glacial temperatures in winter, don't draw many visitors to the city. The only upside during these quieter periods is the availability and affordability of hotels.
The best times to visit Kyoto are in spring and autumn. The March–May and September–November periods offer decent weather with comfortable temperatures. The highlights of these 2 seasons are the cherry blossoms in spring and the warm-coloured autumn foliage. Book your hotel a few months ahead as these 2 periods attract a significant number of visitors.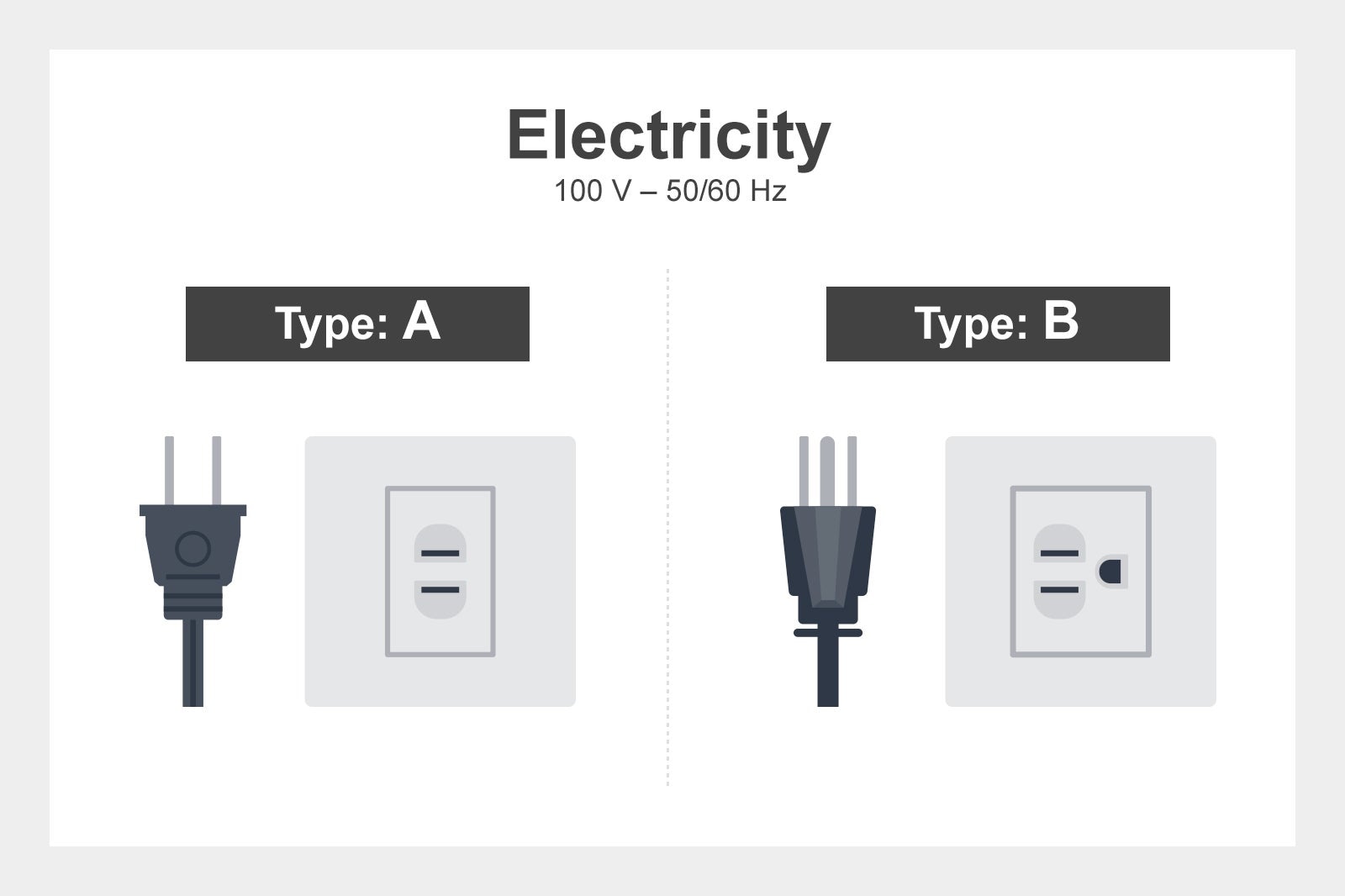 Plug type: A and B
Electricity: 100 V – 50/60 Hz
Currency: Japanese Yen (¥)
International dialling code: +81 75
Emergency telephone number: 119 (medical emergency), 110 (police)
3
How to get to my hotel in Kyoto?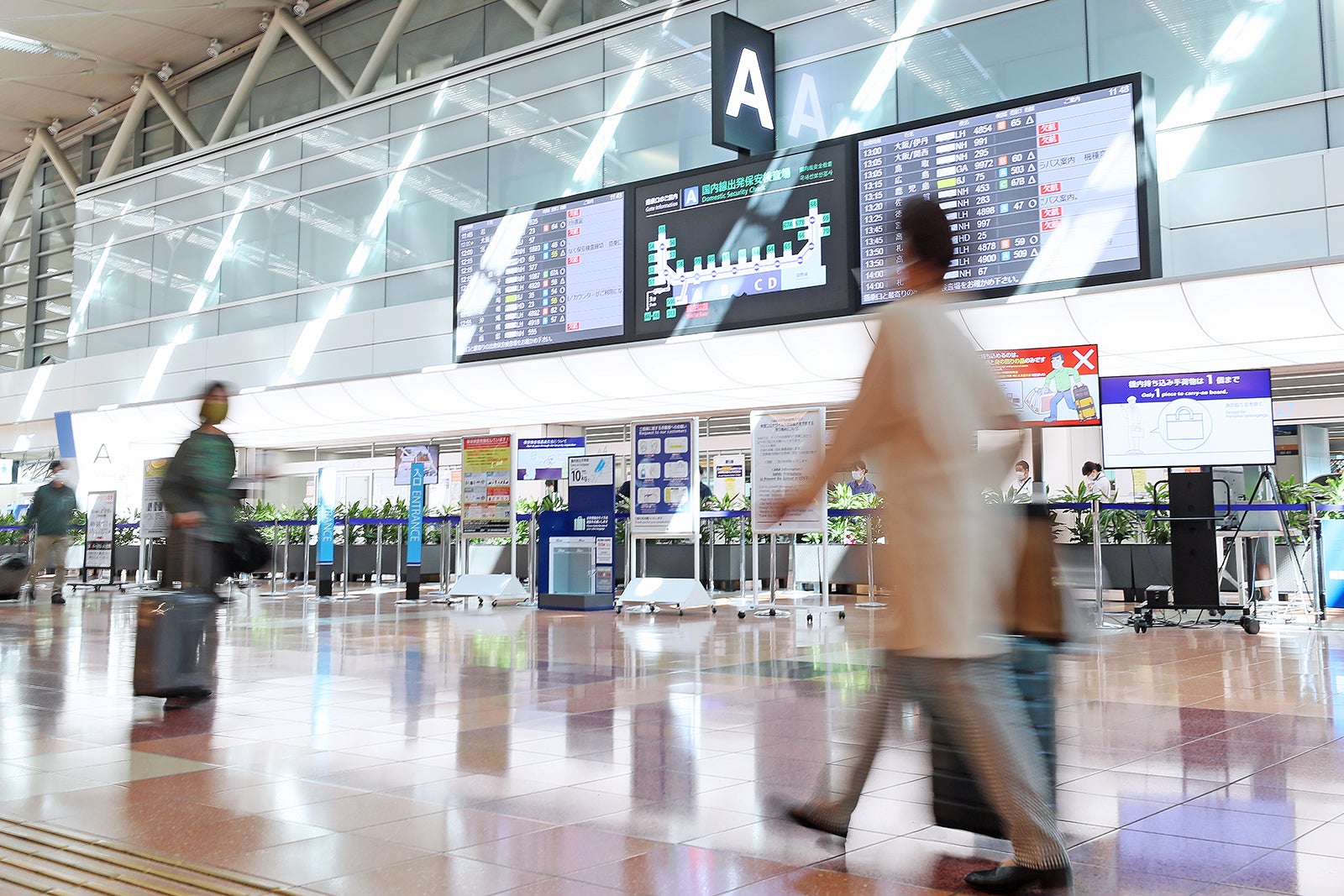 Kansai International Airport in Osaka Bay is the main travel hub for Kyoto, which is about a 1.5-hour drive to Kyoto city centre. If you're already in Japan, Osaka International Airport serves domestic flights and you also have a few other options for reaching Kyoto by land. The 4 main islands of Japan – Honshu, Hokkaido, Kyushu, and Shikoku – are connected by bridges, tunnels, and ferry lines. Most major cities in Japan are linked to Kyoto by the Shinkansen (bullet train). Intercity buses are also available at a more moderate price.
Kansai International Airport (KIX)
Kansai International Airport in Osaka Bay is the main travel hub for Kyoto, which is about 98 km southwest of Kyoto city centre. Terminal 1 is the main terminal at Kansai International, with international arrivals on the 1st floor, domestic flights on the 2nd floor, and international departures from the 4th floor. Terminal 2 is designated for low-cost airlines.
It's a 1.5-hour drive to the heart of the city via the Dainikeihan highway.
Taxi stands are in front of the Arrivals halls of both terminals.
Bus stops are outside the 1st floor of each terminal.
You can ride the Kanku Rapid Express train on the Kansaikuko Line to Osaka Station, before continuing on the Special Rapid Service along the Kosei Line to Kyoto Station – the whole trip from the airport to Kyoto by train takes just under 2 hours. Kansai Airport Station is just across the road from the Arrivals Hall.
Car rental agencies are in the Aeroplaza, a short ride by shuttle bus from the terminals.
Osaka International Airport (ITM)
Commonly referred to as Itami Airport, Osaka International Airport is the regional airport in the Kansai region of Japan that mainly serves domestic flights between Osaka, Kyoto, and Kobe. Travel time between Itami Airport and downtown Kyoto is around 50 minutes.
Free Wi-Fi is available throughout the airport. Ground transport options available are as follows:
The taxi stand is on the way to the monorail station. Take the walkway on the 2nd floor of the Arrivals lobby in the central terminal building and take the escalator to the 1st floor as indicated.
The monorail station is accessible through a walkway found on the 2nd floor of the Arrivals lobby. The distance to the station is about 290 metres.
The cheapest way to get to Kyoto from Itami is by bus. The airport runs an intercity bus service. The bus stop is on the left side when you exit from the central terminal building.
Slightly more expensive limousine bus services are available, with stops in front of the terminal. Note that most of the bus transfer services need to be pre-booked.
Car rental agencies are on the 1st floor of the north Terminal Office Building. If you're a motorcyclist, Osaka International Airport is the first airport in Japan that offers a motorcycle rental station.
Tokaido Shinkansen 'bullet train'
From Tokyo, the fastest, most comfortable, and perhaps most memorable way to get to Kyoto by land is aboard the high-speed Nozomi trains along the Tokaido Shinkansen Line. The ride takes just under 2.5 hours.
Other train services include the Hikari, which run along the Sanyo Shinkansen Line, connecting Kyoto to Shin-Osaka Station in Osaka and Hakata Station in Fukuoka. You can use the Japan Rail Pass (JR Pass) to ride the Hikari trains but not the Nozomi.
4
How to get around Kyoto?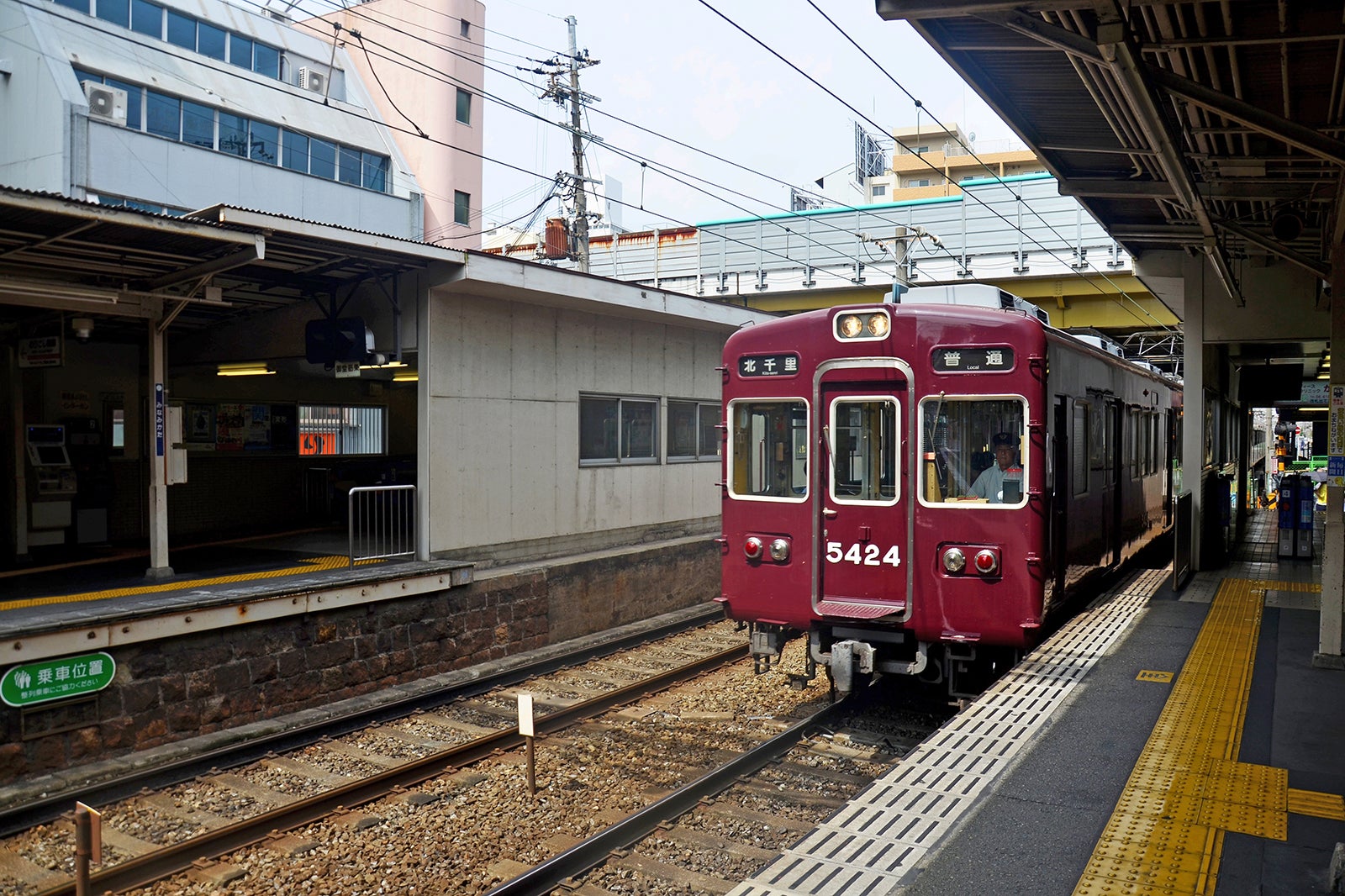 Travel tips
Kyoto is a compact city featuring first-class public and private transport systems that offer very convenient and affordable ways of getting around. Kyoto city centre, as well as Arashiyama and Higashiyama districts, is easy to cover on foot. Cycling is also a pleasant way for exploring the city. For longer distances, the subway, train, and bus are the most recommended ways of getting around in Kyoto. As each mode of transport has its ups and downs, the best way to travel around Kyoto is to combine the 3 of them to get to your destination.
The most appropriate way of using train, metro, and bus services in Kyoto is by purchasing a prepaid rechargeable transport pass or IC (Internal Chip) cards. Icoca, Suica, and Pasmo cards work on all city trains, metros, and buses. Icoca is the main IC card in Kyoto, while Suica and Pasmo cards are Tokyo's IC cards, which can also be used in Kyoto. You can purchase Icoca cards from vending machines at West JR (Japan Railway) stations in Kyoto and throughout the Kansai region.
Travelling on the West JR trains
Japan Railways is the public company that runs a rail network covering the entire country, including the famous Shinkansen (bullet train). Hence its name, West JR serves the west of Japan, including Kyoto, Osaka, and Kobe. Even though Japan Railway is more convenient as an intercity service, it can be useful for travelling to get to Arashiyama, Uji, and Tofuku-ji neighbourhoods within Kyoto.
Travelling on the subway in Kyoto
The Kyoto subway features only 2 lines: the north-south Karasuma Line (green) and the east-west Tozai Line (red). The 2 lines intersect at the centre of the city. Both lines give easy access to many of the city's landmarks such as Kyoto Imperial Palace and Daitoku Temple on the Karasuma Line, together with Nijo Castle and Nanzen Temple on the Tozai Line, among others.
Travelling by bus in Kyoto
Even though getting around Kyoto by bus is not as tourist-friendly as travelling by subway or train, Kyoto's bus network is dense and allows you to reach any destination in the city. Many bus companies serve the city. Get an English bus network map at the Kyoto Bus Information Center, just outside Kyoto Station, and be on your way. You enter the buses by the rear and the exit by the front. All bus stops have timetables both in Japanese and English.
Taking a taxi in Kyoto
Taking a taxi is a good way to travel around, there's plenty of them and they aren't too expensive. It makes sense to use a taxi in Kyoto for short distances if you're travelling as a group of 4 and when there's no subway/train station nearby. As most taxi drivers don't speak English, it can help to have your destination address written in Japanese on a piece of paper. Taxis can be hailed from the street. They accept payment by credit, Icoca, Suica, and Pasmo cards.
Renting a car in Kyoto
Heavy and congested traffic, narrow roads, as well as costly and scarce parking lots make renting a car a less recommended option for getting around Kyoto. Even so, you'll need an international driving licence if you do decide to drive in Kyoto.
Cycling in Kyoto
Kyoto is a great city to explore on a bicycle. It's flat, it has well-maintained roads, and weather conditions – outside of winter – are very pleasant. Cycling route maps are available online. Remember you ride with the traffic – on the left side of the road in Japan. It's legal to ride on assigned sidewalks when available. Bicycle parking lots are available at most attractions, and 2 large bike parking lots can be found in the city centre: Kyoto Eki-Mae Churin-jo (Kyoto Station Bicycle Parking Lot) and WINGS Bike Lot.
You can hire a bike at rental companies like Kyoto Cycling Tour Project (+81 (0)75-354-3636), Kyoto Eco Trip (+81 (0)75-691-0794), and Rent-a-Bike Kyoto Miyabiya (+81 (0)75-354-7060), just to name a few.
5
What are the main annual events in Kyoto?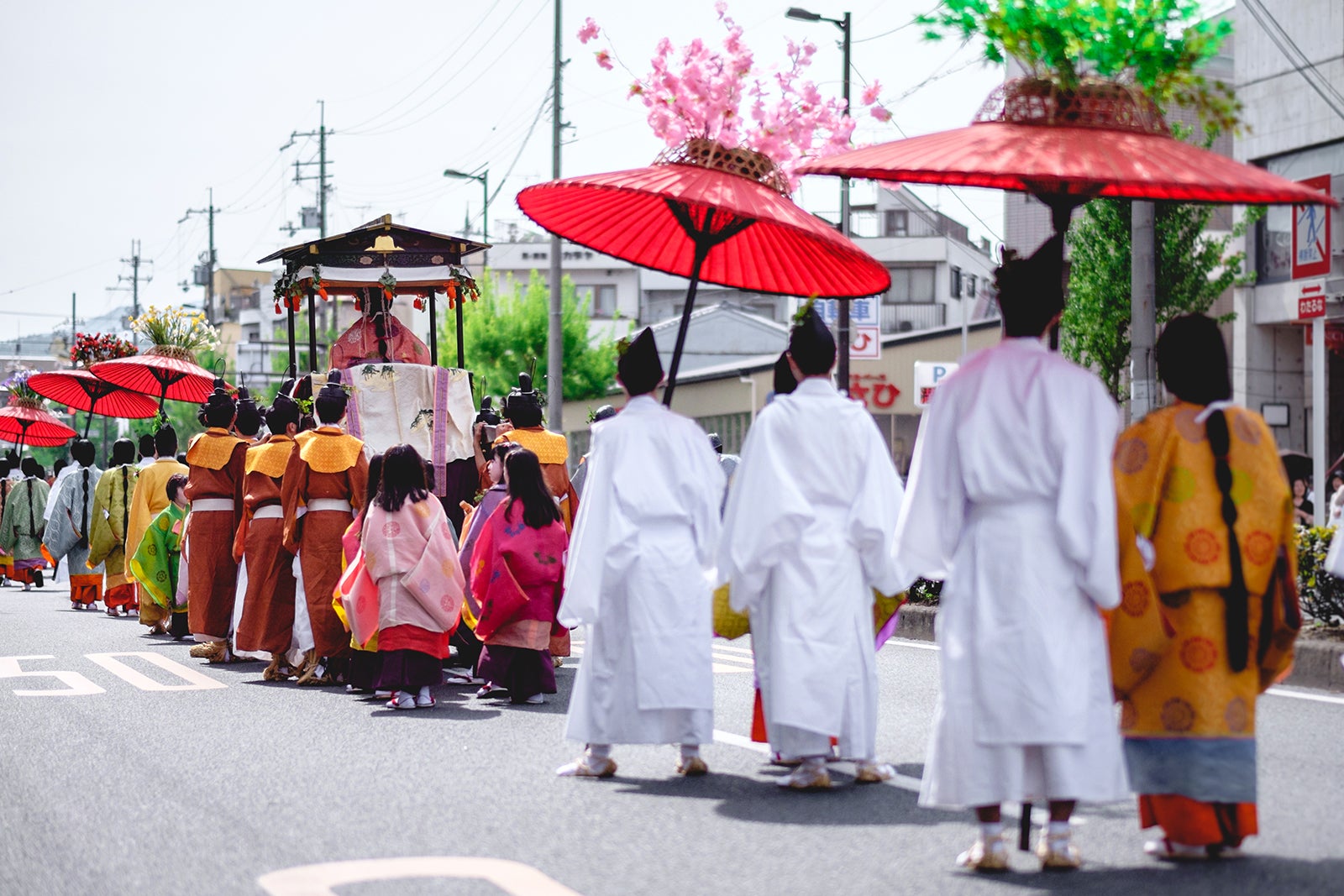 Aoi Matsuri
May 15th
Also known as the Kamo Festival, Aoi Matsuri celebrates Japan's Heian Period. The festival was held for the first time in the 7th century. It features an impressive costumed procession of over 500 people, including riders, departing from the Imperial Palace and ending at Kamigamo Temple.
Where: on the road between the Imperial Palace and Kamigamo Temple
Gion Festival
July
One of the largest festivals in Japan, Gion Festival is an event for purification and pacification based on Shintoism. It features many ceremonies and allows sampling a good choice of traditional dishes available in the numerous stalls installed throughout the city centre. Wear a kimono to blend with crowds.
Where: Gion and Nishijin districts as well as Kyoto city centre
Jidai Matsuri
October 22nd
Held since 1895, Jidai Matsuri commemorates both the foundation of Kyoto and the memory of Emperor Komei who unified the country. Jidai Matsuri features a parade even larger than Aoi Festival's as it features about 2,000 costumed participants processing in groups separated by historical periods.
Where: on the road between the Imperial Palace and Heian Temple
6
What are the main landmarks in Kyoto?
Gion geisha district
In Kyoto, geisha and maiko (apprentice geisha) frequent Gion, a traditional neighbourhood east of the Kamo River. Come early evening to see these beautiful women hurrying to work at the elite teahouses. They sing, dance, play traditional instruments, and entertain their guests. The cost of their company is not cheap.
Kiyomizu Temple
A UNESCO World Heritage Site and one of the most celebrated temples in Japan. It features a 13-metre high wooden platform affording visitors great views out over the numerous maple and cherry blossom trees below, which burst into a bright sea of colour in spring and autumn.
Nijo Castle
Built in 1603, this UNESCO World Heritage site is somewhat unique among Japanese cultural heritage sites as it's never been reconstructed. Everything about it is original, including the interiors. Get an English audio guide at a kiosk just inside the gate.
Kinkakiuji Temple
One of the most visited attractions of Kyoto, built in 1397. This Zen Buddhist shrine is a UNESCO World Heritage site and its name means, 'Temple of the Golden Pavilion'. It's a breathtaking piece of architecture that overlooks a lake and is surrounded by a Japanese style garden with a tea house.
Back to top