Top 12 Recommended Nightlife Spots in Tokyo
Locals' Guide to Tokyo Nightlife
Nightlife in Tokyo is diverse and entertaining, though it's easy to get lost in tourist traps and miss out on the city's local ambience. Blue Note Tokyo and COTON CLUB are just a couple of Tokyo's countless live music venues where you can enjoy performances by famous artists from Japan and overseas. After enjoying live music, you can move on to excellent bars like Hard Rock Cafe Tokyo and My Scotch.
If you find some places a bit daunting to enter on your own, try joining the Evening Hato Bus Tour for a deep dive into Tokyo's nightlife with likeminded travellers. Let's take a look some of the best nightlife spots in Tokyo, which include tourist-friendly venues such as Shinjuku Golden Gai and the Robot Restaurant.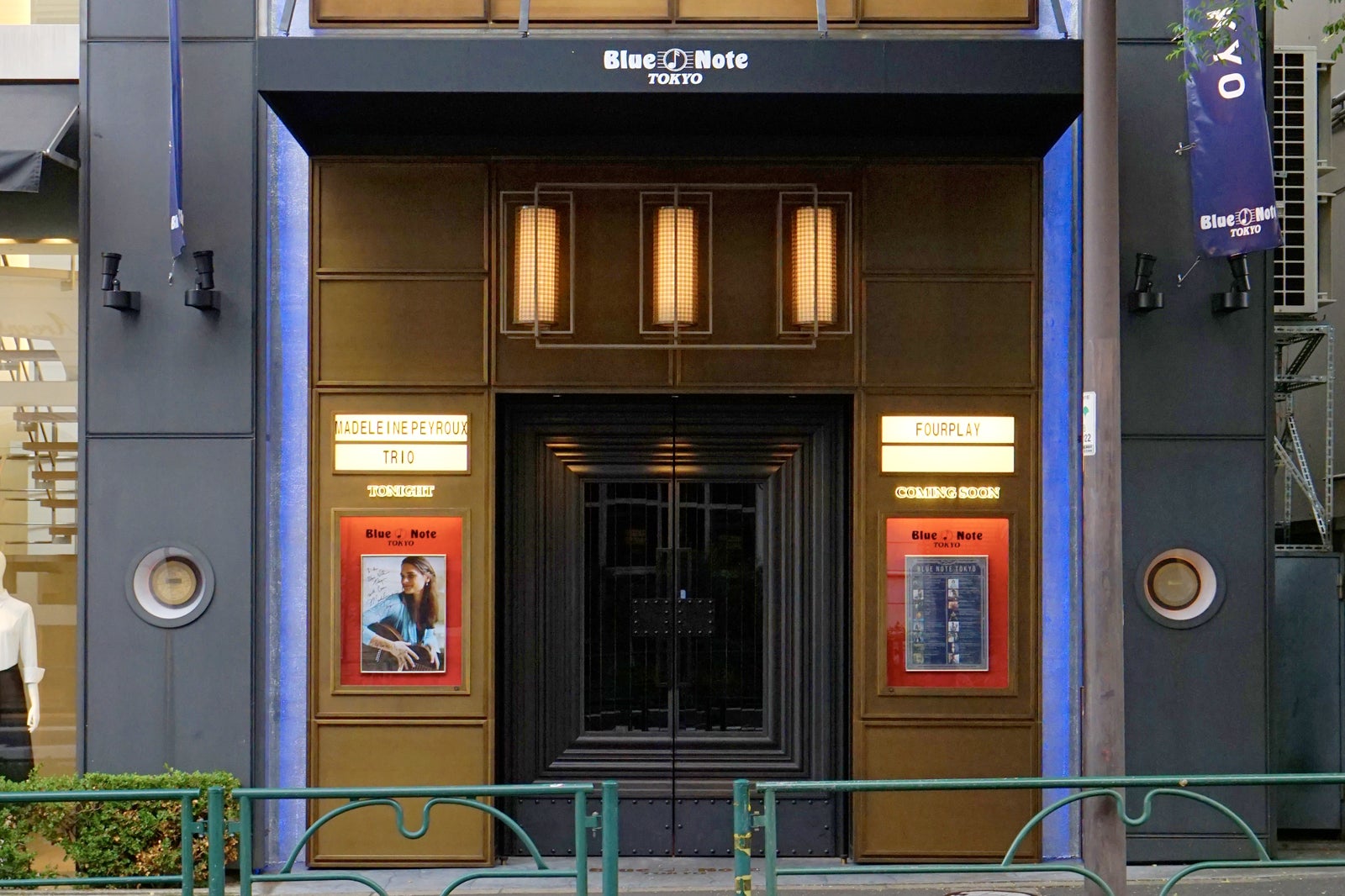 Blue Note Tokyo has been one of the capital's leading nightlife destinations since its opening in 1988. It's established a strong position as a sophisticated space for live jazz and high-quality food and drinks. The venue has limited capacity, so tickets for performances by popular musicians sell out fairly quickly.
Blue Note Tokyo hosts 2 performances per day. Numbered tickets are handed in the order of arrival. The audience enters in numerical order and can choose whichever seats they like. Blue Note Tokyo is about an 8-minute walk from Tokyo Metro Omotesando Station. It's a good idea to take a taxi from the station if you don't know the area.
Location: 6-3-16 Minamiaoyama, Minato Ward, Tokyo 107-0062, Japan
Open: Monday–Friday from 5 pm to midnight, Saturday–Sunday from 3.30 pm to 11 pm
Phone: +81 (0)3-5485-0088
photo by 663highland (CC BY-SA 3.0) modified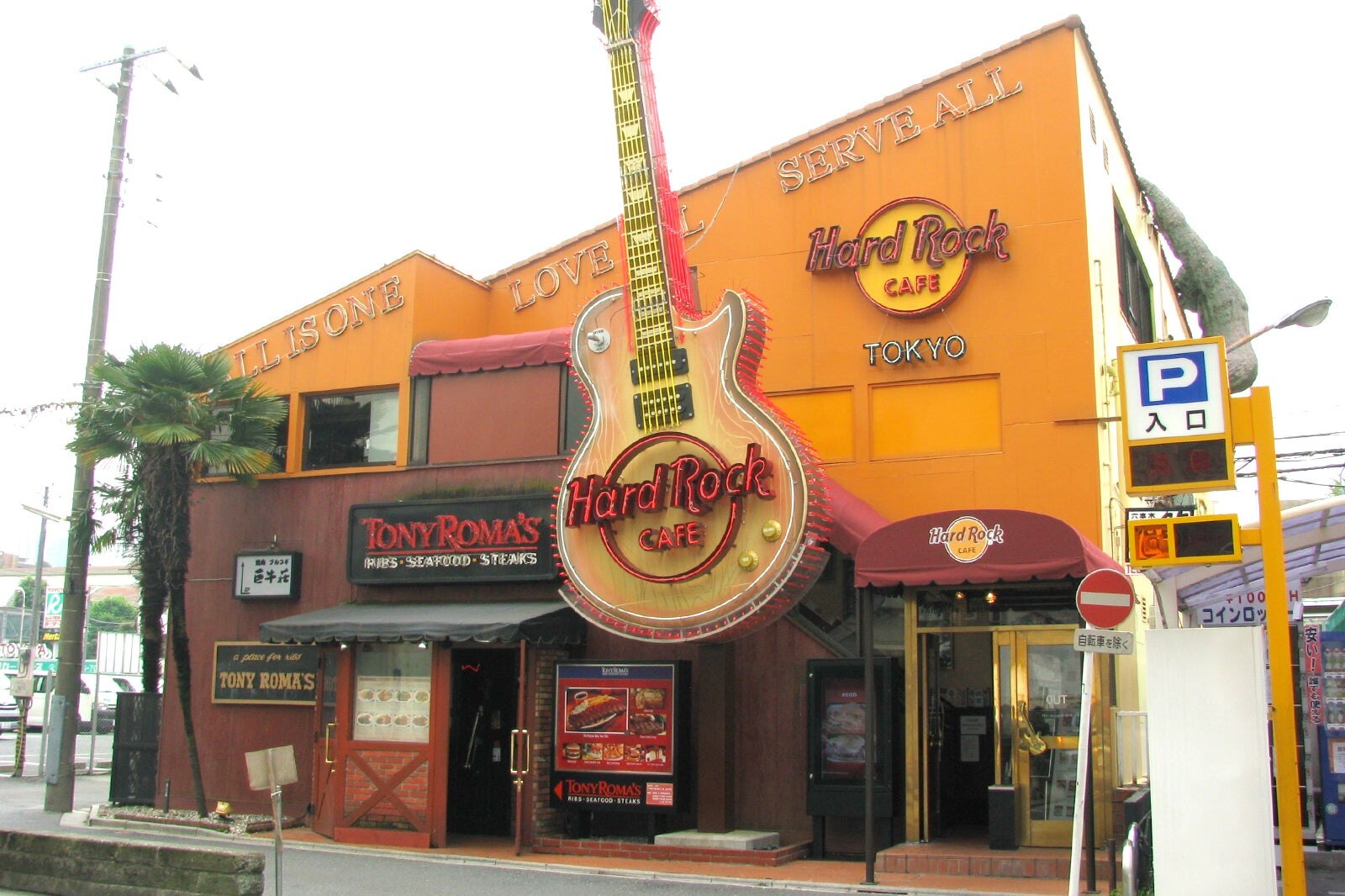 Hard Rock Cafe Tokyo was opened in Roppongi in 1983 as the first Hard Rock outlet in Asia. It's a restaurant and bar that serve hearty American food with loud rock music playing in the background. It's also a cool place if you want to celebrate a birthday or special occasion. Hard Rock Cafe Tokyo has an onsite Rock Store that sells limited-edition pins and t-shirts.
Location: 5-4-20 Roppongi, Minato Ward, Tokyo 106-0032, Japan
Open: Sunday–Thursday from 11.30 am to 2 am, Friday–Saturday from 11.30 am to 4 am
Phone: +81 (0)3-3408-7018
photo by Aimaimyi (CC BY-SA 3.0) modified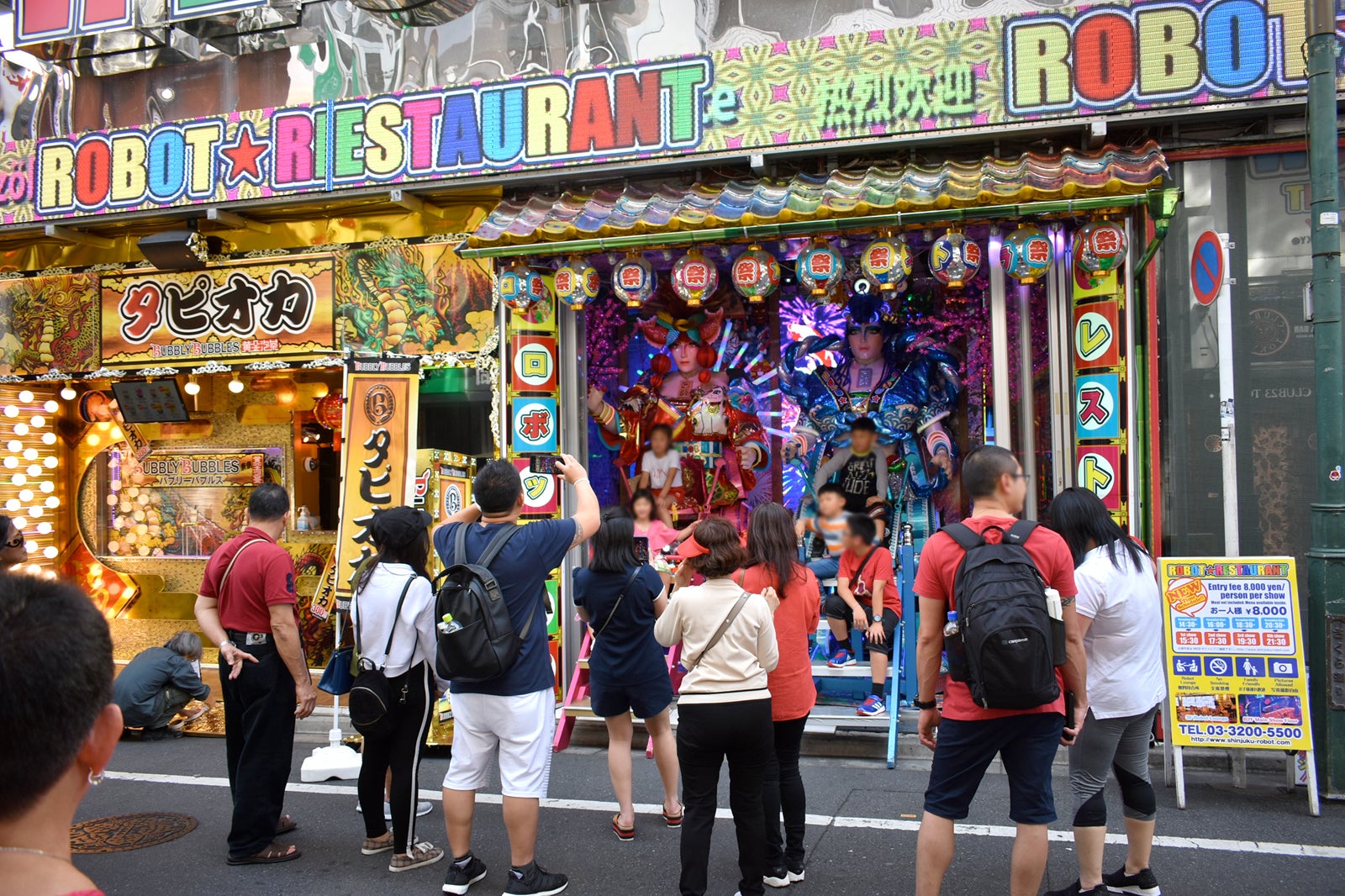 Robot Restaurant is a Japan-themed entertainment centre designed for visitors from abroad, but its surprising performances are also enjoyable for the locals. You'll be bowled over by the spectacular show of laser beams passing through while robots and dancers put on a beautiful dance. Even Hollywood stars have visited the Robot Restaurant, which increased its popularity among locals. You'll feel like you've visited another world without ever leaving Shinjuku. Robot Restaurant is a 5-minute walk from Shinjuku Station on the JR and Tokyo Metro Lines.
Location: B2F Shinjuku Robot Building, 1-7-7 Kabukicho, Shinjuku Ward, Tokyo 160-0021, Japan
Open: Daily from 2.30 pm to 11 pm
Phone: +81 (0)3-3200-5500
photo by 江戸村のとくぞう (CC BY-SA 4.0) modified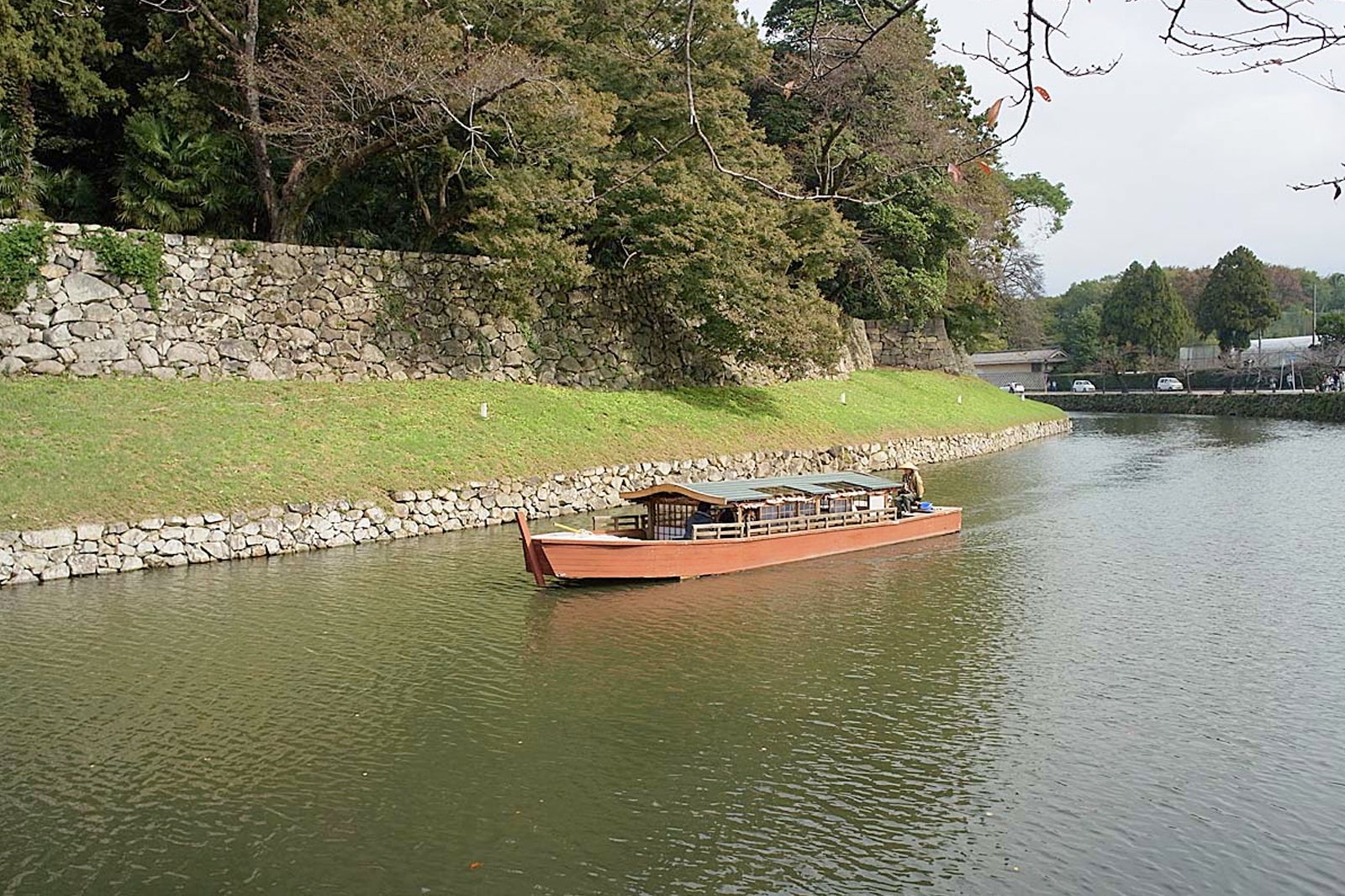 It was customary to dine on boats in Tokyo back when it was known as the city of Edo, thanks to the city's excellent water transportation network. Houseboats (yakatabune) brings this traditional concept to modern-day Japan. From the water, you can take in seasonal events like fireworks and cherry blossom viewing, or enjoy illuminated views of Tokyo Tower, Rainbow Bridge and Tokyo Skytree.
Freshly fried tempura is typically served on houseboats, but sashimi and Japanese hotpot are available on certain occasions. This is an excellent way for groups and couples to enjoy each other's company, with a view of Tokyo from the water.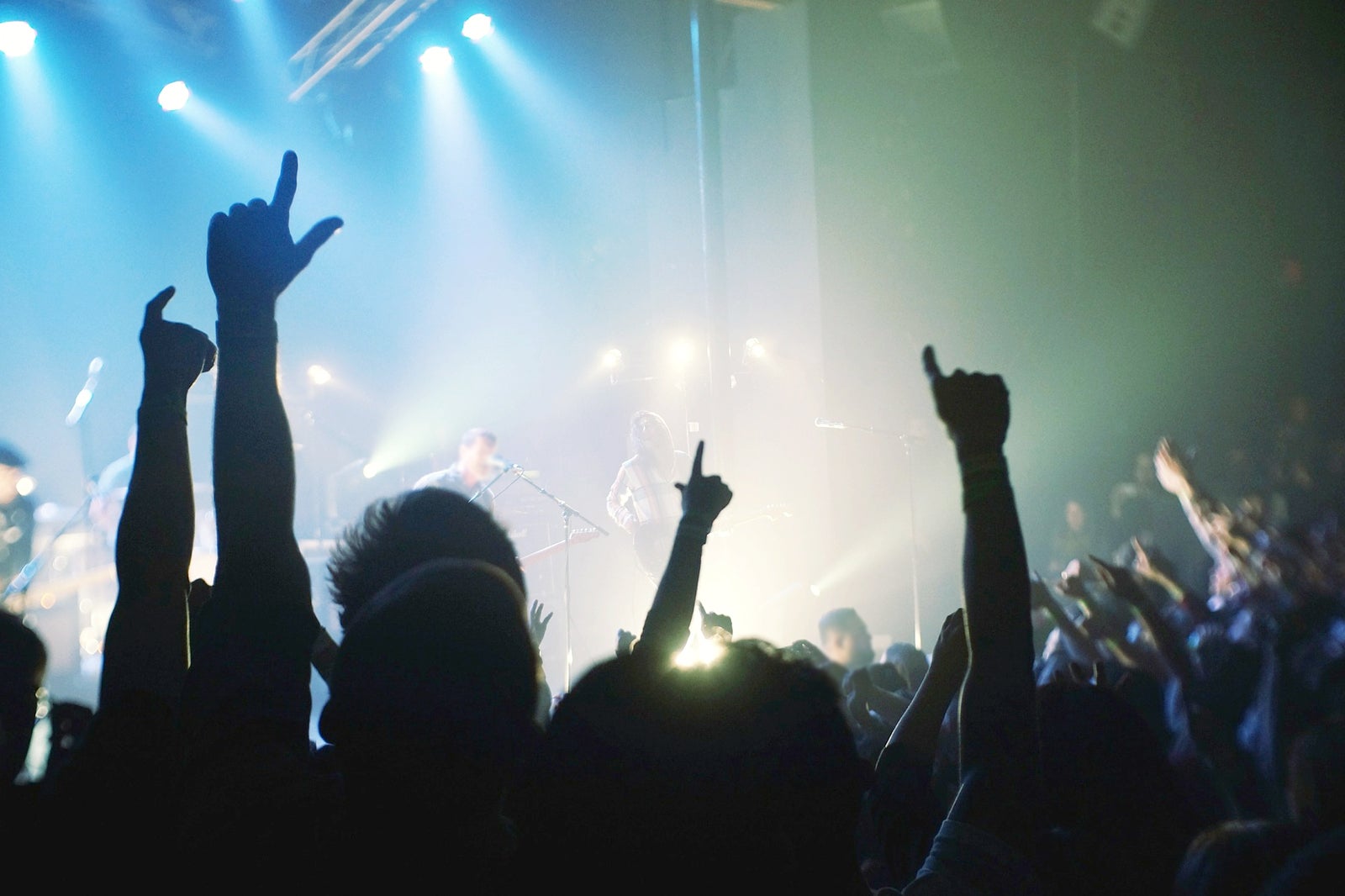 Established in 1996, Clubasia in Maruyamacho is a club with a long history. This nightclub covers an area of 120 square metres, with a spacious open-plan design and a 6-metre-high ceiling. With a capacity of around 600 people, it hosts a wide range of events, especially on weekends.
Resident DJs spin a range of music, from house, hip-hop and trance to EDM and reggae. Clubasia's huge logo indicates its red-coloured entrance, while its Asian-style interior is nice and cosy. While it attracts a mainly young crowd, there's a welcoming atmosphere even for those who aren't used to clubbing. Clubasia also hosts foam parties, which aren't common in Shibuya. It's about a 10-minute walk from Shibuya Station on the JR Line and takes 5 minutes from Shinsen Station on the Keio Inokashira Line.
Location: 1-8 Maruyamacho, Shibuya Ward, Tokyo 150-0044, Japan
Open: Daily from 11 pm to 5 am (vary by event)
Phone: +81 (0)3-5458-2551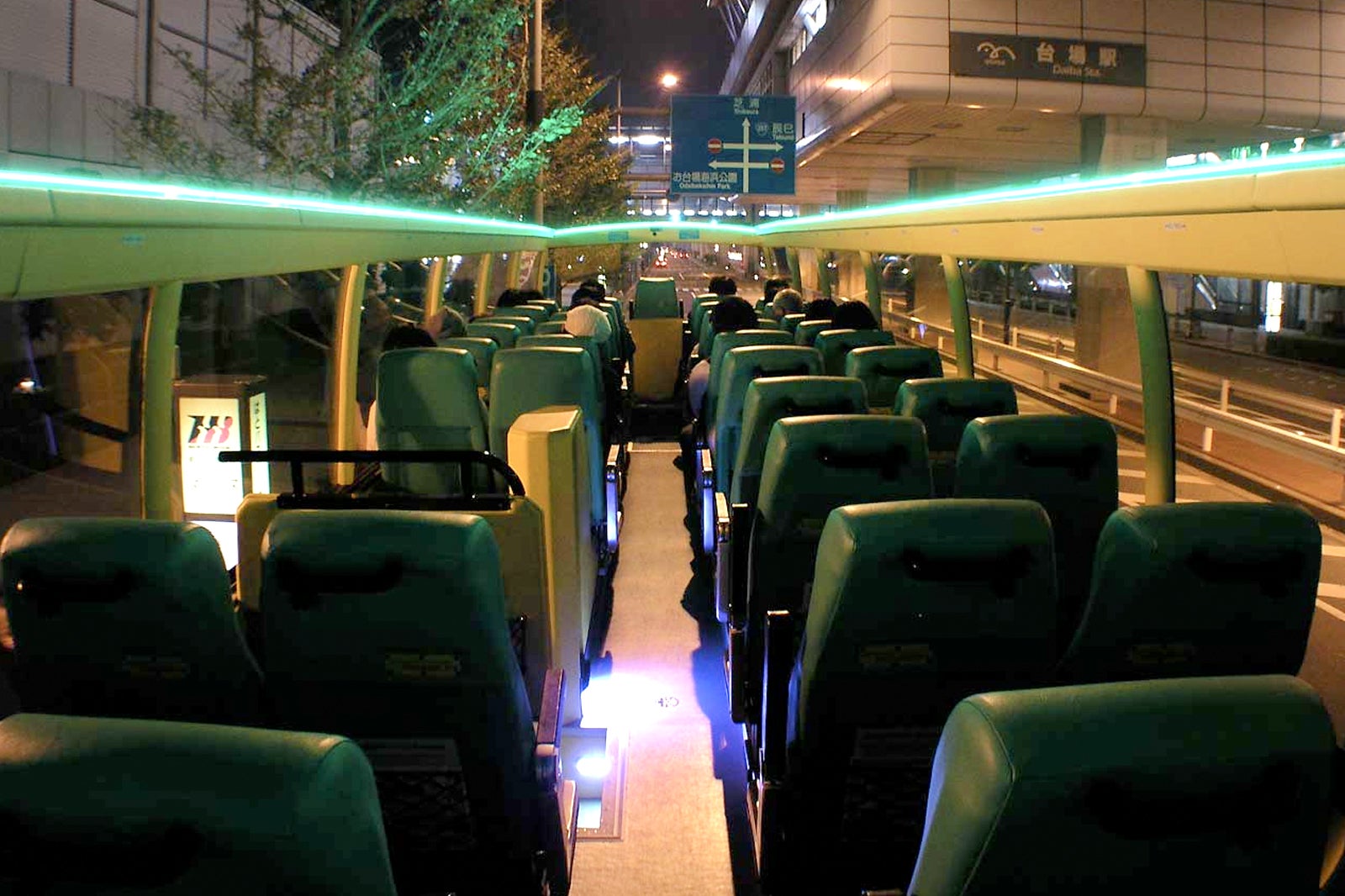 The Hato Bus Night Tour is great for those who are interested in the nightlife in Tokyo but prefer to be accompanied by a knowledgeable local. You can visit the types of places you may otherwise feel uncomfortable to go by yourself, such as cabaret clubs, Japanese host clubs, and Tokyo's geisha districts.
It also offers a tour where you can take pictures of the city at night. With Hato Bus Tours, you can comfortably get to places that are usually difficult to reach by public transport. As it offers many different kinds of tours, you're bound to find one that you'll enjoy.
photo by Comyu (CC BY-SA 3.0) modified
7
ageHa at Studio Coast Tokyo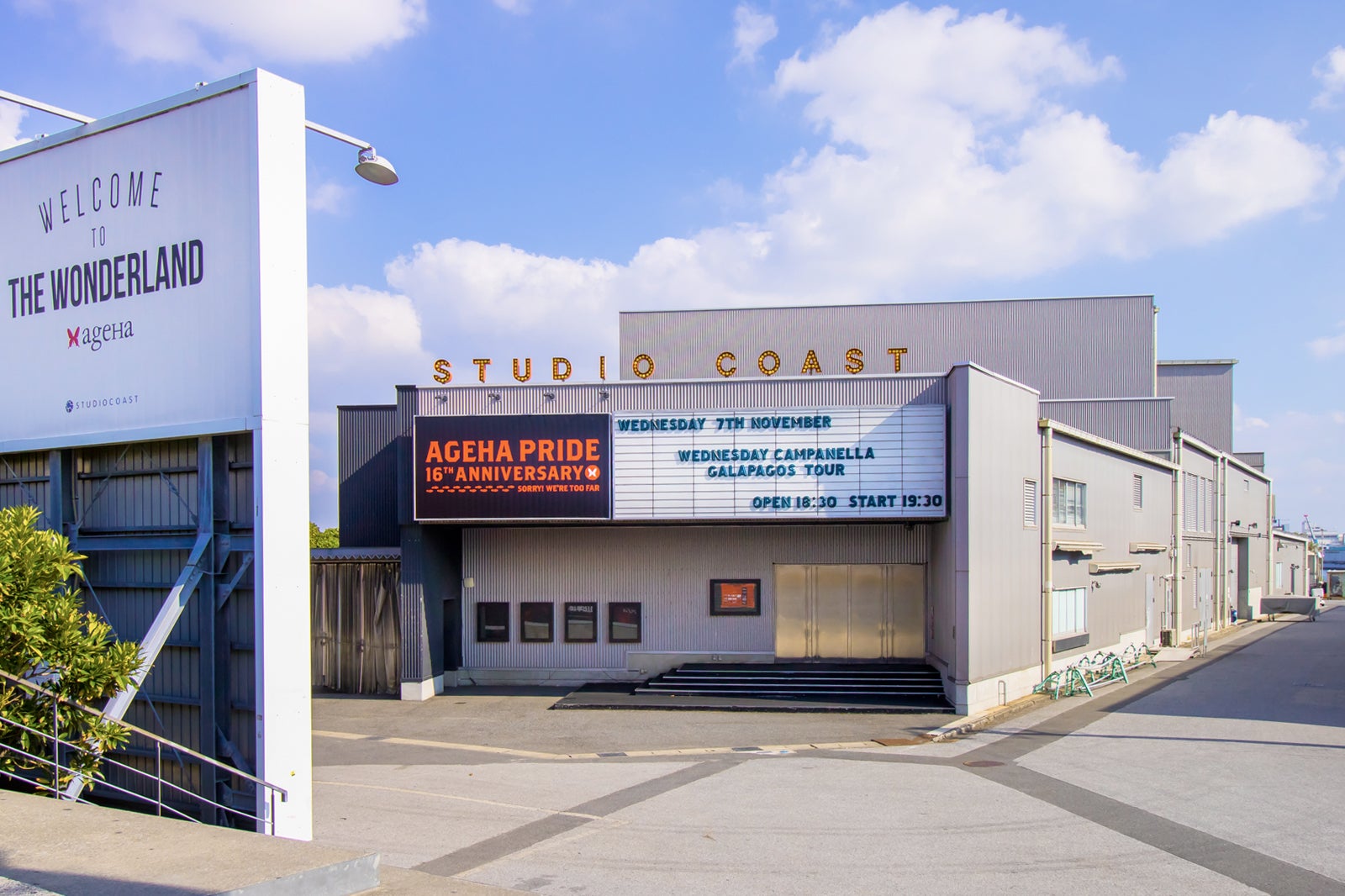 ageHa is a popular club event that takes place at Shinkiba Studio Coast on weekends. Fitted with excellent sound systems, the venue has several floors for you to enjoy different music. The largest floor – Arena – has a capacity of 2,400 people, while Water has an indoor pool.
The dress code is quite laidback, but ageHa has security checks and doesn't allow outside drinks and food. The club is about a 10-minute walk from Shin-Kiba Station on the JR Line, Rinkai Line and Tokyo Metro Yurakucho Line. There's also a shuttle bus to Shinkiba Studio Coast from Shibuya.
Location: 2-2-10 Shinkiba, Koto Ward, Tokyo 136-0082, Japan
Open: Daily from 11 pm to 6 am
Phone: +81 (0)3-5534-2525
photo by Kakidai (CC BY-SA 4.0) modified
Body and Soul Club has been Tokyo's prominent jazz venue since opening in 1974. The seating capacity is around 70 people, offering an intimate setting for you to fully immerse yourself in the music.
Musicians who have finished performing at the nearby Blue Note Tokyo occasionally drop by this club. This is a sophisticated place, great for those who want to spend some alone time in Tokyo. Body and Soul Club is about a 15-minute walk from Tokyo Metro Omotesando Station.
Location: B1F Anis building, 6-3-19 Minamiaoyama, Minato Ward, Tokyo 107-0062, Japan
Open: Monday–Friday from 7 pm to 10.30 pm, Saturday–Sunday from 6 pm to 9.30 pm
Phone: +81 (0)3-5466-3348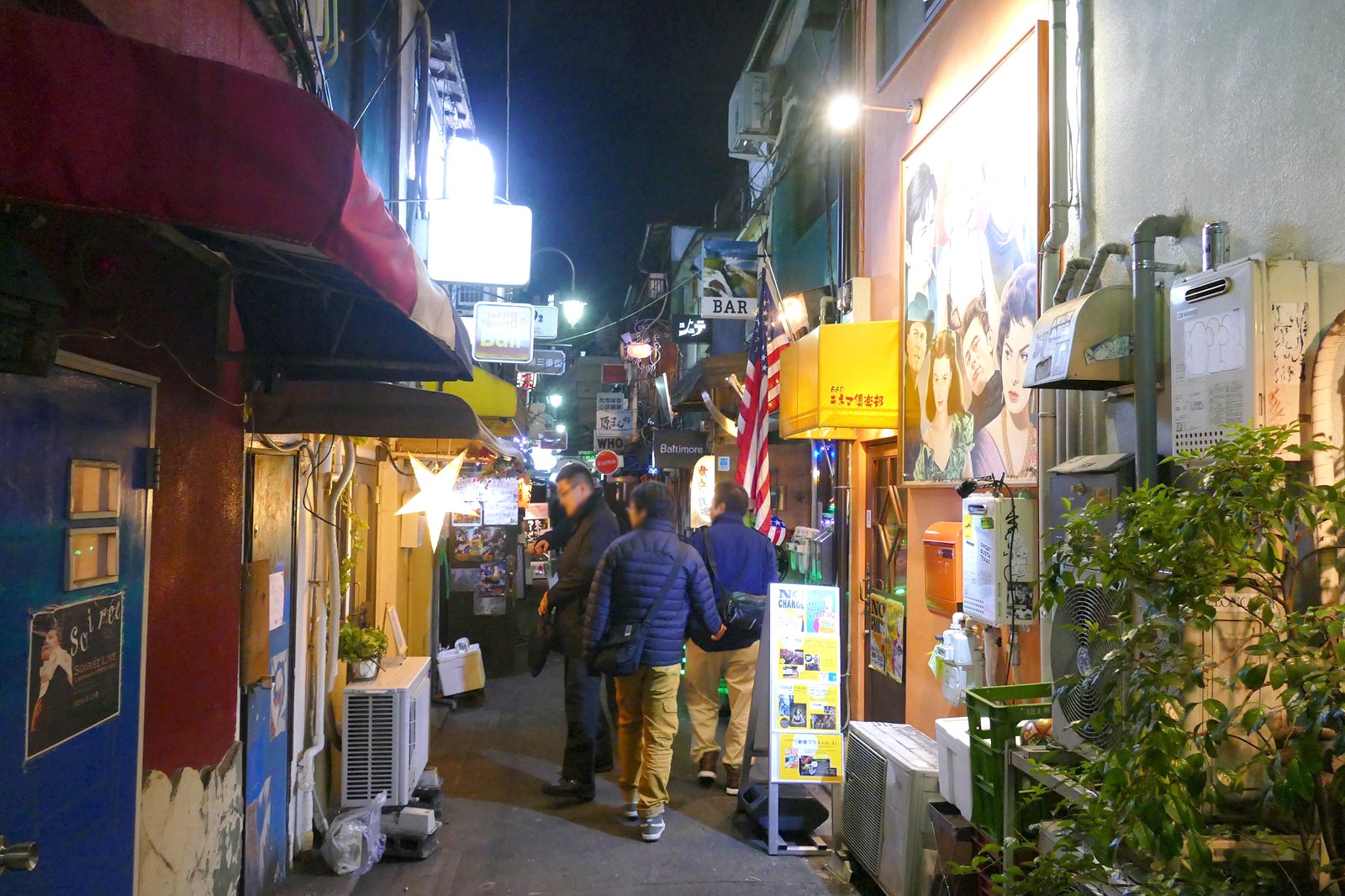 Shinjuku Golden Gai was an entertainment district where cultured people such as novelists and theatre actors used to gather in Tokyo. It's now a popular sightseeing spot for international tourists. The unique atmosphere, with nearly 300 bars crowded into a small area of less than 100 square metres, was a key part of its rating as a must-see in the Michelin Green Guide.
Shinjuku Golden Gai used to have something of an underground atmosphere, but these days it's usually packed with tourists. Most of the bars in Golden Gai have a cover charge that's separate from the drinks charge, so you may want to ask the price before stepping inside.
Location: 1-chome Kabukicho, Shinjuku Ward, Tokyo 160-0021, Japan
10
Oi Racecourse (Tokyo City Keiba)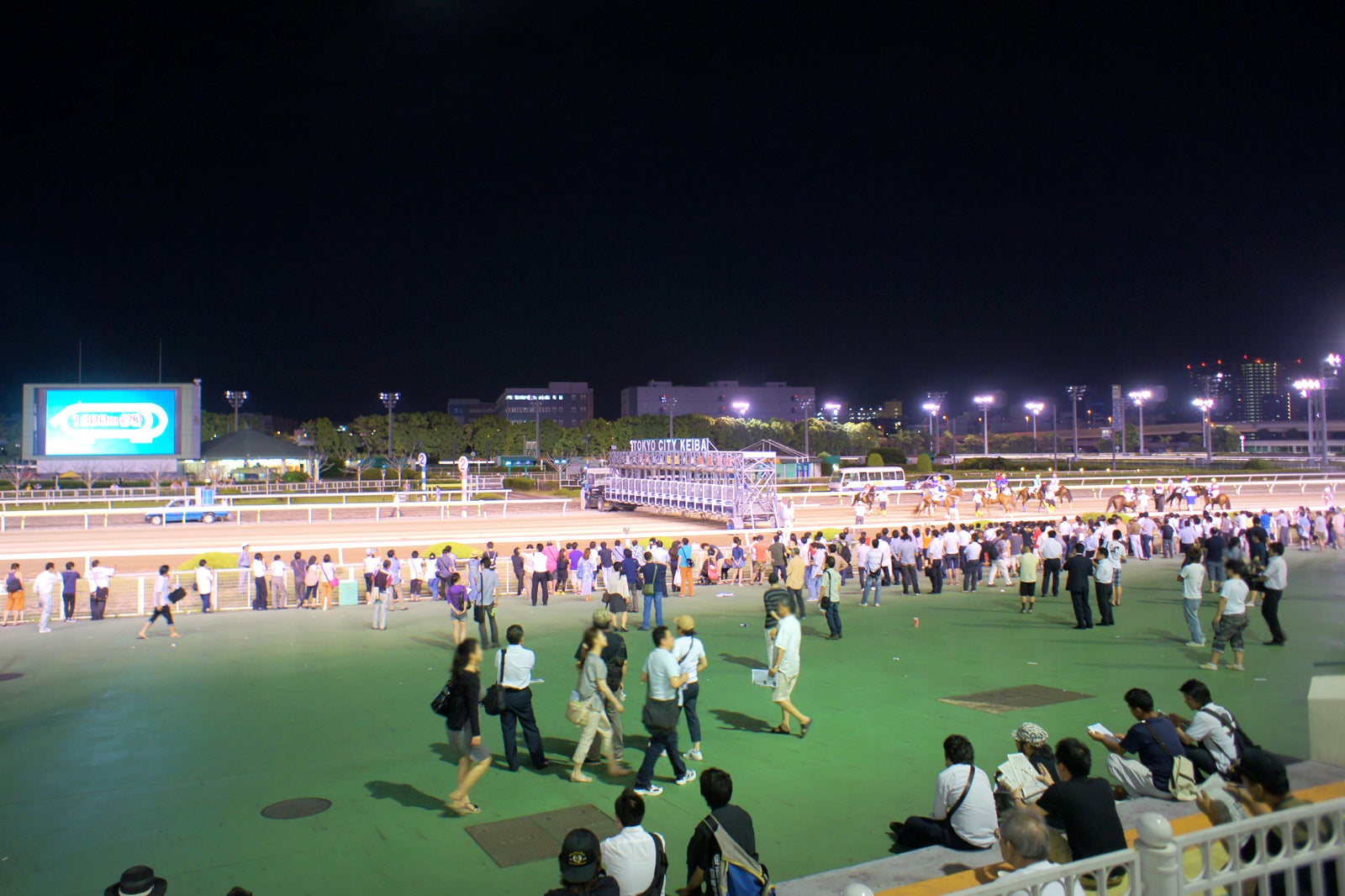 Oi Racecourse (or Tokyo City Keiba) is a racetrack that's easily accessible from the centre of Tokyo. It's popular for hosting the Twinkle Race, which takes place from April to December. The event not only attracts those who like horse racing, but also groups of friends and couples as an after-work entertainment.
Since 2018, Oi Racecourse has also hosted the Tokyo Mega Illumination, one of the largest light shows in the Kanto region. 3D projection mapping is linked to the illuminations, producing a surrealistic experience. Tokyo City Keiba also has an extensive restaurant area, where you can enjoy a wide range of local and international dishes. Oi Racecourse is 8 minutes by Tokyo Monorail from JR Hamamatsucho Station and 2 minutes from Oi Keibajo Mae Station.
Location: 2-1-1 Katsushima, Shinagawa Ward, Tokyo 140-0012, Japan
photo by Banku (CC BY-SA 3.0) modified
Cotton Club Tokyo is an elegant concert venue where you can enjoy performances from famous artists from Japan and overseas. It belongs to the same company as Blue Note Tokyo in Aoyama. Since its opening in 2005 as a luxurious place of social gatherings, the venue has been hosting a wide range of concerts, including jazz, R&B and rock.
There are spacious booths (assigned seats) and non-assigned seats. Plans including a French cuisine-based dinner course and performances for special occasions like anniversaries. Cotton Club Tokyo is a 2-minute walk from JR Tokyo Station, Marunouchi Exit.
Location: 2F Tokyo Building TOKIA, 2-7-3 Marunouchi, Chiyoda Ward, Tokyo 100-0005, Japan
Open: Monday–Friday from 5 pm to 11 pm, Saturday–Sunday from 4 pm to 10.30 pm
Phone: +81 (0)3-3215-1555
photo by Gotanero (CC BY-SA 3.0) modified
My Scotch is a bar conveniently located a few minutes away from Tokyo Metro Roppongi Station. This is something of a secret hideaway where you can enjoy night views of Roppongi while listening to live piano. As the name suggests, there's a great selection of Scotch whiskey, along with popular Japanese whiskeys and cocktails to try.
You can enjoy excellent views of Roppongi while enjoying a glass of whiskey. Reserve the sofa seating if you're with a group of friends. Happy hour typically lasts until 8pm. A variety of food is available at My Scotch – the pizza with housemade dough is especially popular.
Location: 8F DM Building, 7-18-11 Roppongi, Minato Ward, Tokyo 106-0032, Japan
Open: Monday–Saturday from 6 pm to 2 am, Sunday from 6 pm to midnight
Phone: +81 (0)3-3402-6649