10 Best Local Dishes from Sapporo
Try Some Famous Food Locals Love to Eat in Sapporo
Hokkaido is arguably the best fishing zone in the world. Surrounded on 3 sides by the Sea of Japan, the Pacific Ocean and the Sea of Okhotsk, the city is right at the crossroads between 4 ocean currents. And if you want to find all of the local seafood specialities from each part of Hokkaido in 1 place, there's nowhere better than Sapporo.
But Hokkaido is not just about seafood – the prefecture also boasts about a quarter of all Japan's farmland, which means its agricultural produce is second to none. It leads Japan in terms of production output of wheat flour, soya beans, potatoes, onions, asparagus, and raw milk. Let's dive into Sapporo as a foodie destination where you can enjoy both surf and turf without limit.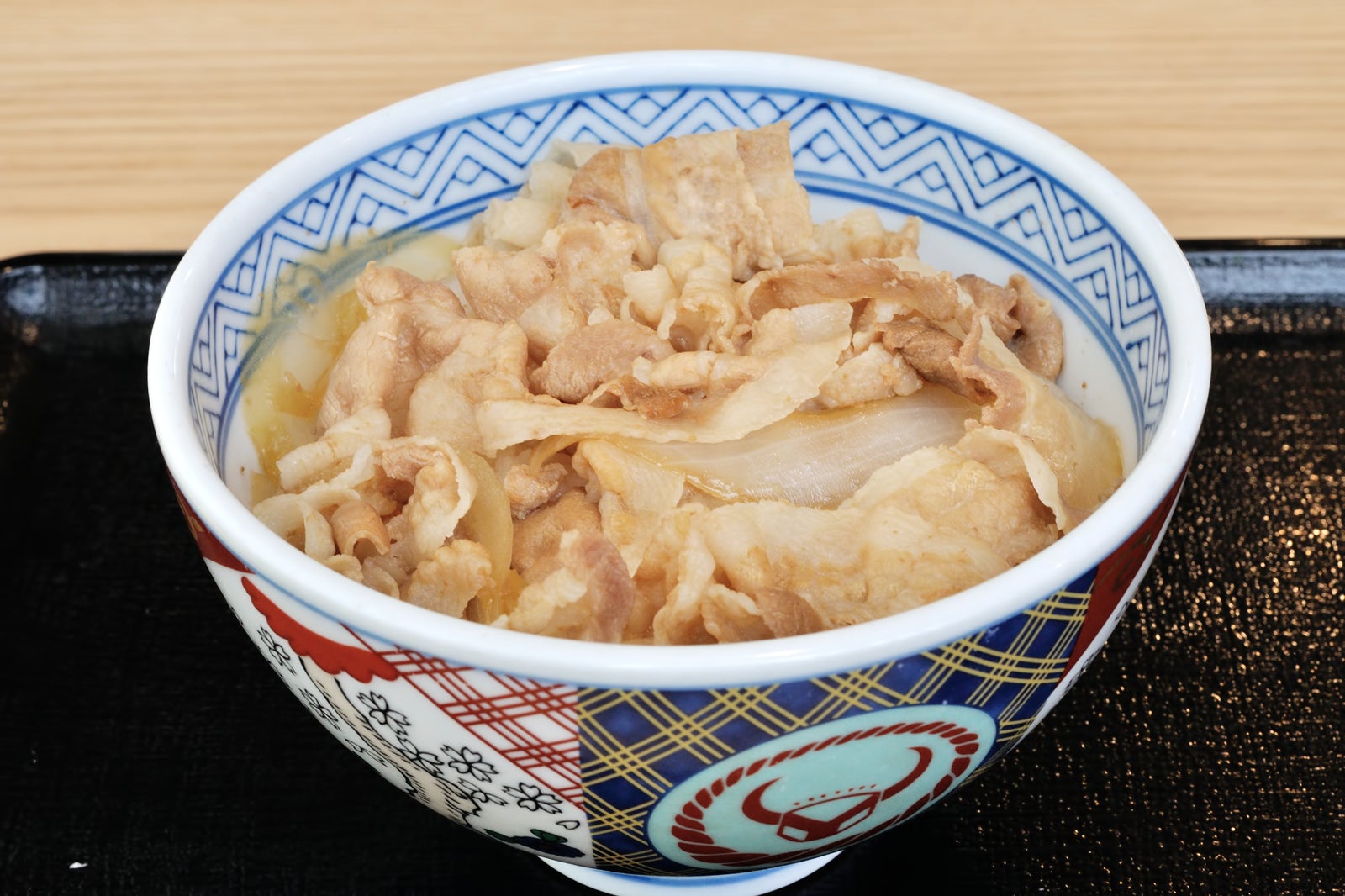 Pork is the most common meat in Hokkaido and it's said that pork rice bowl (butadon) originated at the start of the Showa period, when a restaurant in Tokachi started serving charcoal-grilled pork with a salty-sweet sauce that's similar to kabayaki sauce, which is used for grilled eel on rice. Butadon with garlic and ginger sauce is an energy-boosting dish that kind of takes the place of eel rice bowls (unadon) in Hokkaido. This dish is said to have contributed to the recovery of early pioneers in Hokkaido, who worked hard to develop the land. Rice is, of course, essential for a delicious rice bowl.
With its cool climate and low humidity, Hokkaido is one of Japan's best rice-producing areas. Nanatsuboshi, Yumepirika and Fukkurinko are just some of the popular high-quality rice brands from Hokkaido. Famous restaurants in Tokachi Obihiro, the birthplace of the pork rice bowl, also have outlets in Sapporo where you can try it in its most authentic taste.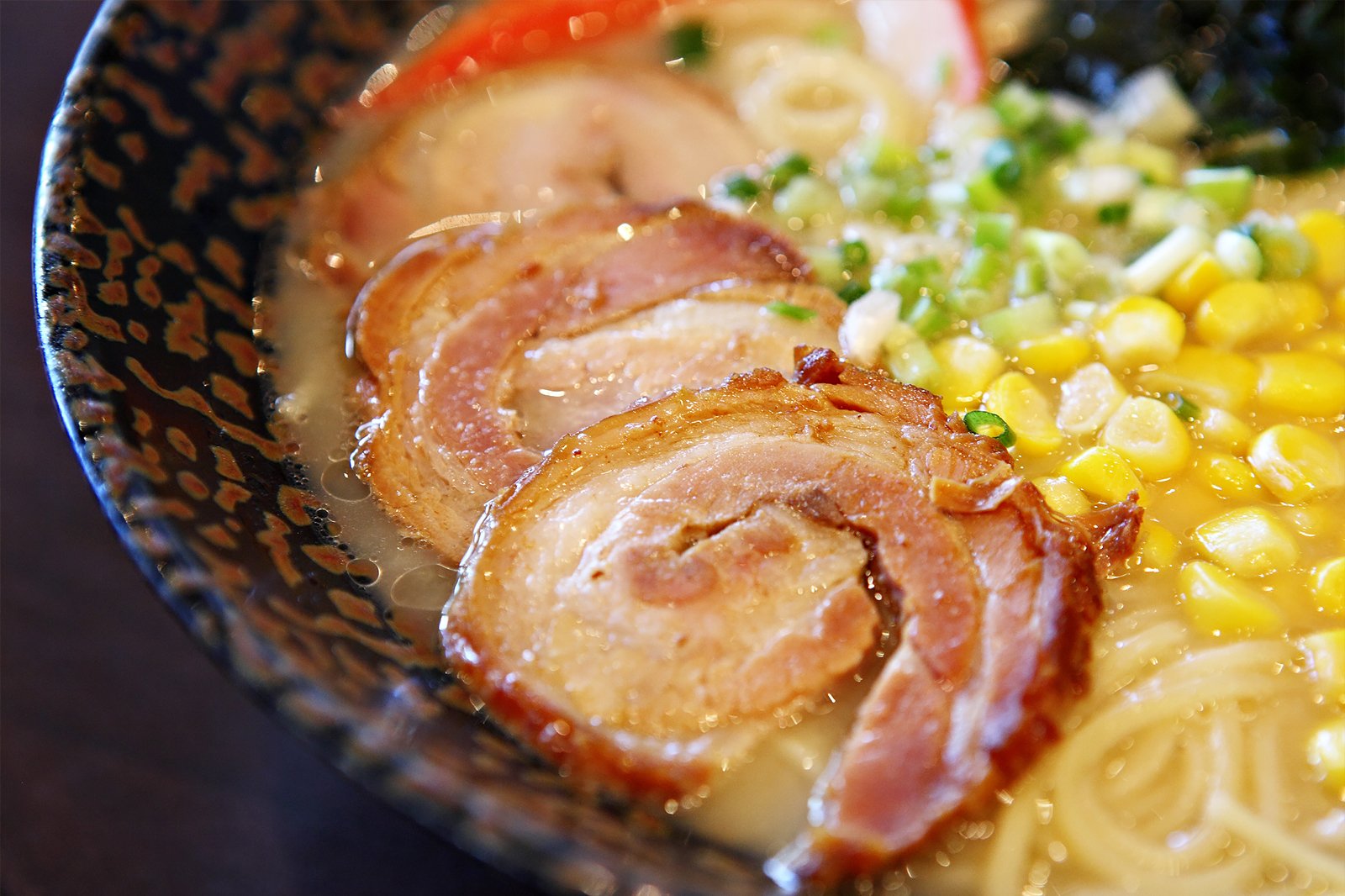 A popular flavour of Sapporo ramen is soybean paste, but there are also soy sauce and salt styles as well. The broth is generally made with pork bones or chicken carcasses, though some restaurants also use dried sardines or kelp.
Ramen shops established in the Showa period still serve classic bowls of ramen with thick, wavy noodles in rich soybean paste-flavoured soup, and topped with green onion, roasted pork (chashu) and seasoned boiled eggs. You can also enjoy ramen in a light chicken or seafood broth with a salty flavour, topped with seaweed. Hokkaido-style toppings such as corn and butter are particularly popular with tourists and children.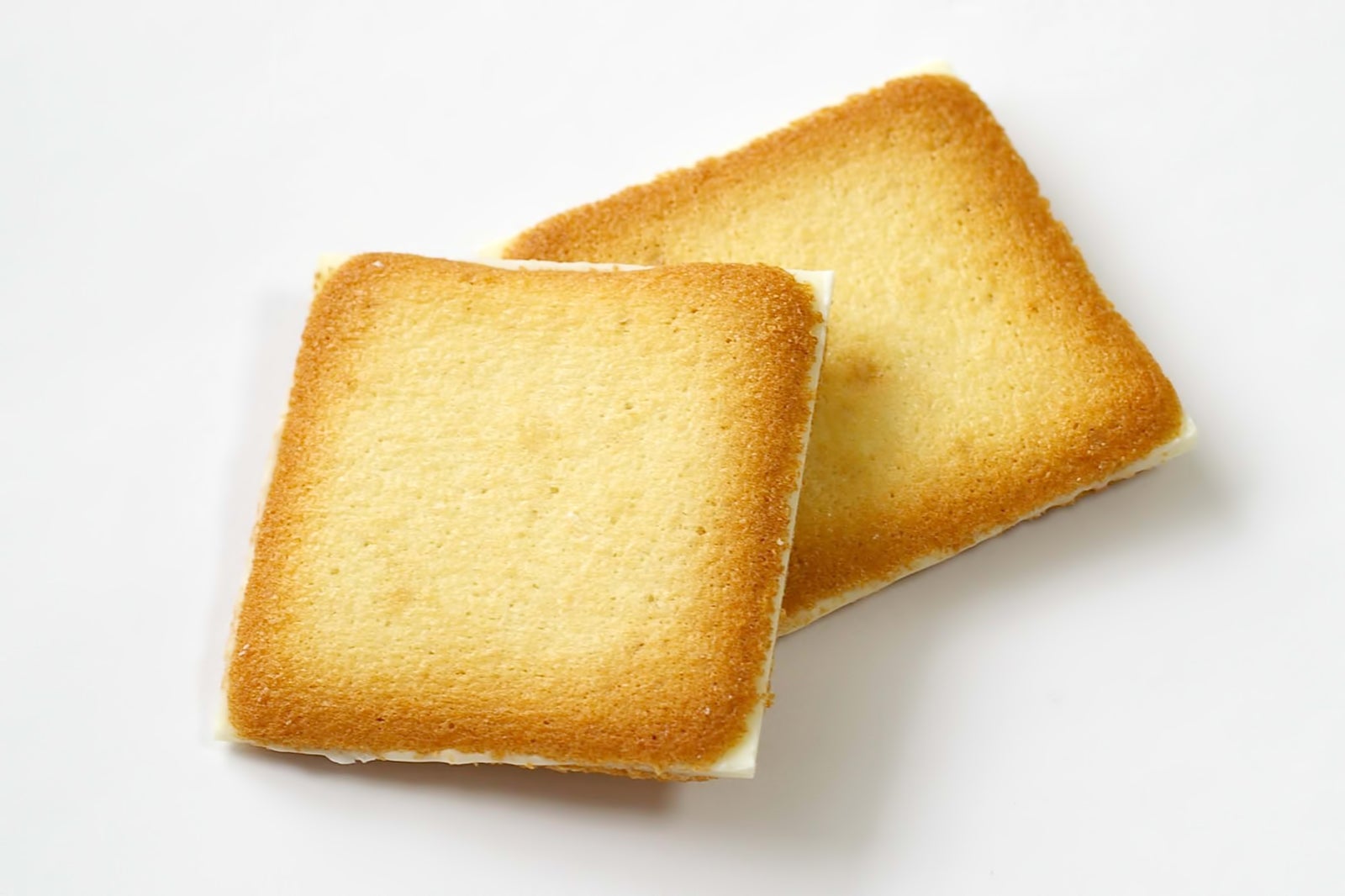 Shiroi Koibito by Sapporo's Ishiya Co., Ltd. is a classic Hokkaido souvenir. This famous confectionery was launched in 1976. The name of the product literally means 'white lover' – the company's founder used to say, "It's snowing white lovers" when he saw snowfall in Hokkaido. The city's snow-capped Mount Rishiri is depicted on the packaging.
Shiroi Koibito is made with white chocolate sandwiched between crispy langue de chat (cat tongue) cookies. Most of its ingredients, besides cacao butter, are from Hokkaido. It's an excellent souvenir, too, because the cookies are wrapped individually and can be stored at room temperature. You can find it at airports and souvenir shops throughout Hokkaido.
photo by Fk (CC BY-SA 3.0) modified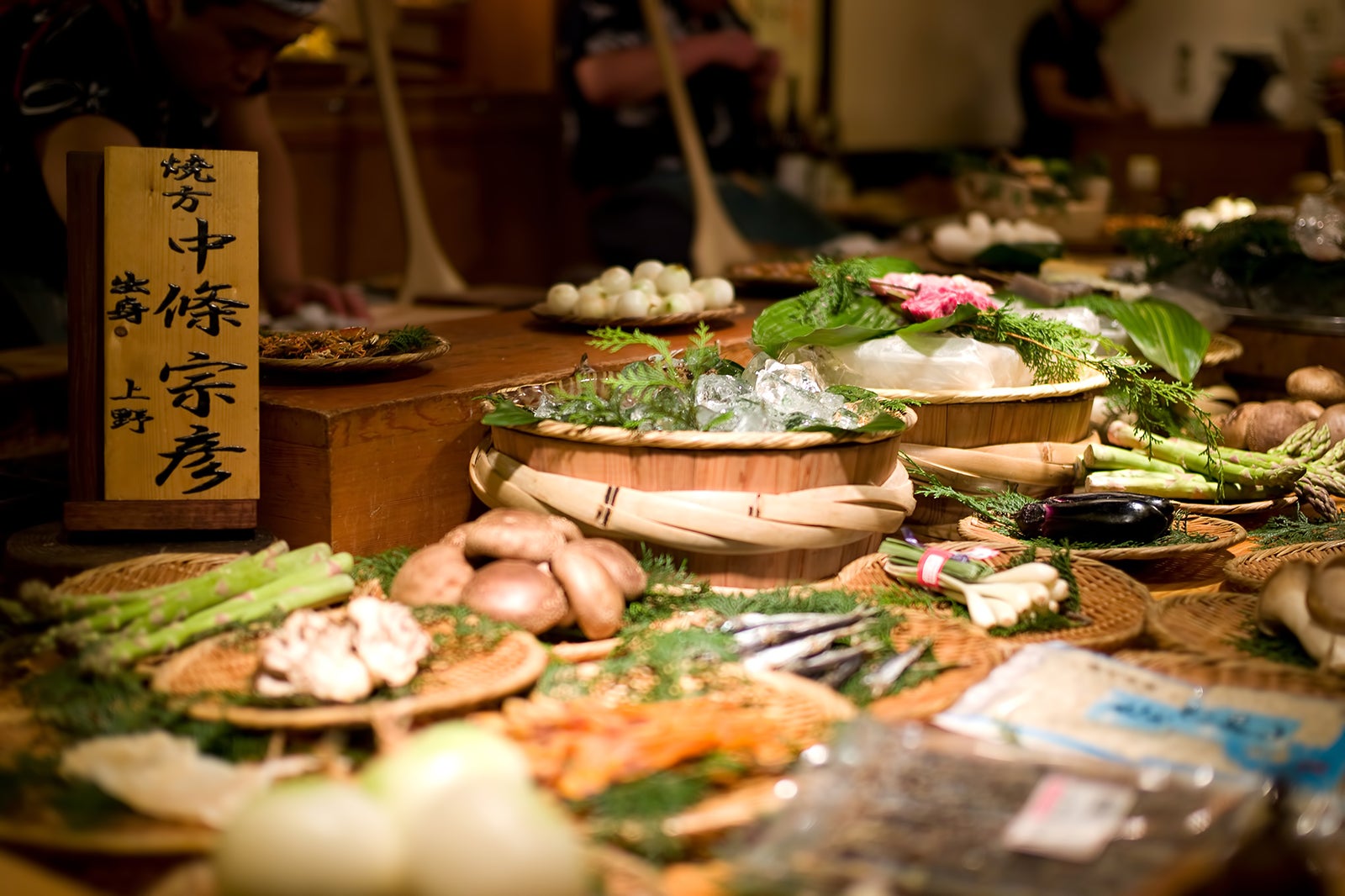 Robatayaki is a style of cuisine in which seafood, meat and vegetables are grilled over charcoal. It originated in Sendai City of Miyagi Prefecture, but locals claimed it was exported to Hokkaido and later became one of the local dishes of Kushiro. Various ingredients are grilled, but shishamo, a kind of fish unique to Japan that is caught only in certain areas like Mukawa along the Pacific Ocean coast in Hokkaido, is a must-try. Dried hokke (Okhotsk atka mackerel) and salmon are also common ingredients, along with Hokkaido speciality vegetables such as potato, asparagus and corn.
The original style of eating robatayaki is for the chef to grill the ingredients on a wire net above a charcoal fire, before serving you with a long spatula called horikaeshi-bera. It's fun to grill the ingredients by yourself, too.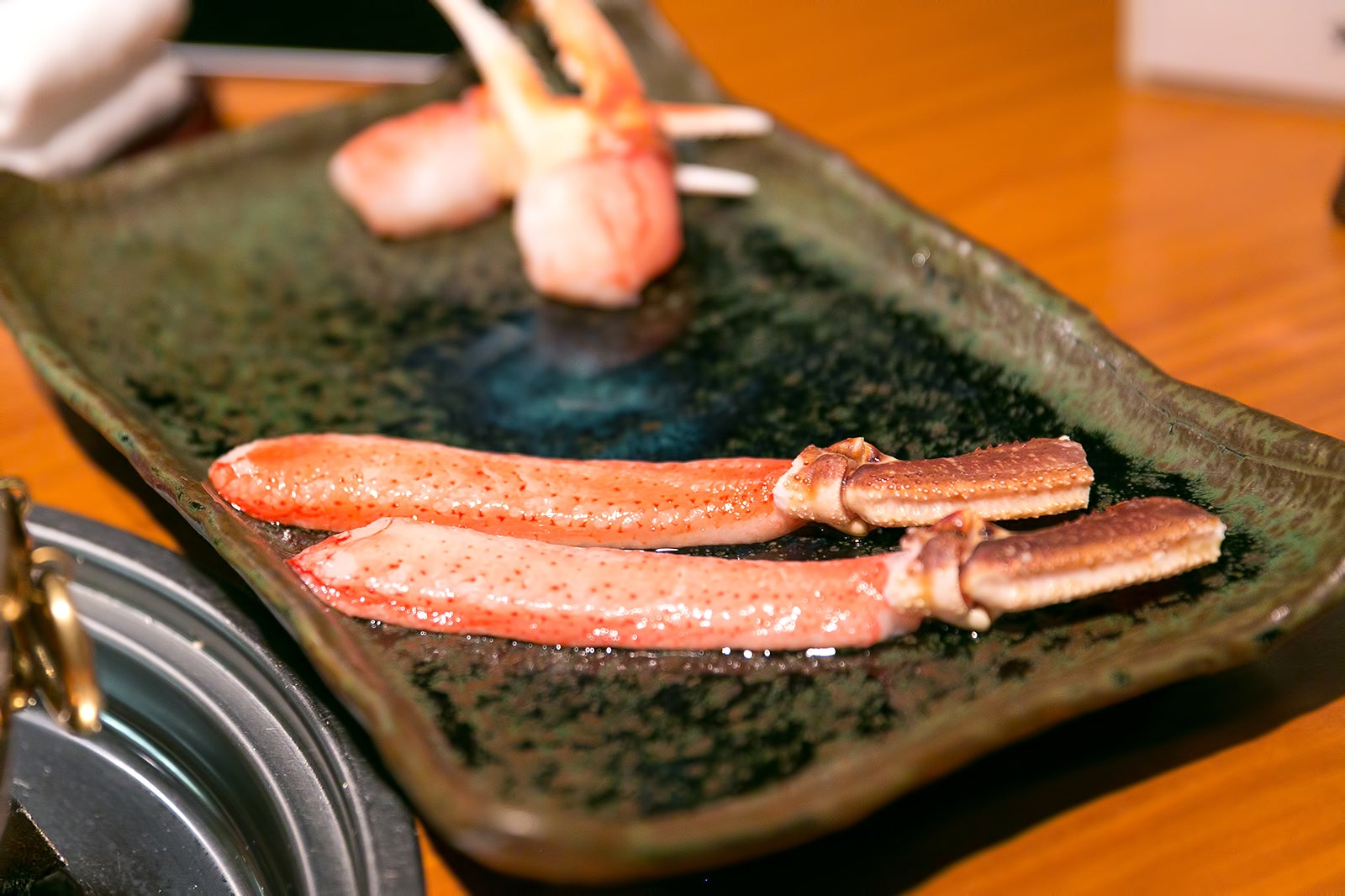 Crab is a typical example of seafood from Hokkaido, with standout varieties such as red king crab, horsehair crab and blue king crab. You can enjoy it in many ways – grilled, steamed, or fresh like sashimi. Snow crab, characterised by its long thin legs, is best eaten as crab shabu-shabu (kani-shabu). It has a sweet and umami flavour, with a soft, delicate texture.
Just lightly swish the crab legs with the shell removed through the hot broth, and it's ready to enjoy. After having crab shabu-shabu, you can add vegetables to the pot to enjoy a traditional Japanese hotpot (nabemono). Make sure to finish off the meal with rice soup (zosui or ojiya) to appreciate every last drop of the crab flavour and kelp stock.
photo by City Foodsters (CC BY 2.0) modified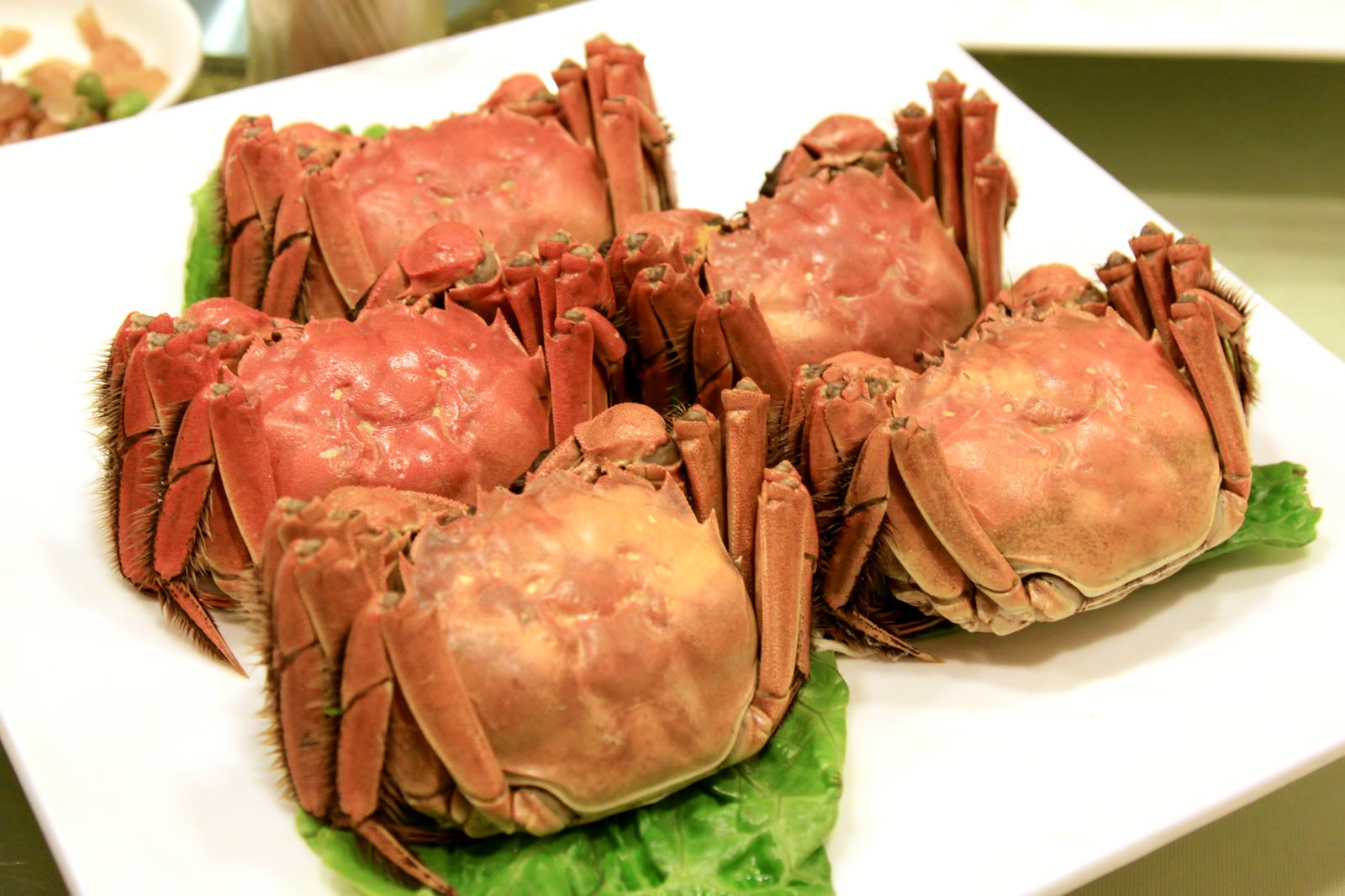 As the name suggests, horsehair crab is covered with bristling hairs – this variety is found around the Hokkaido coast. It's caught throughout the year – in the Sea of Okhotsk from winter to early summer, in Iburi and eastern Hokkaido in summer, andfrom winter to early spring in Hidaka. It's often served boiled in salt water, which is the best way to eat it because you can enjoy its plump texture and sweetness with just the right amount of saltiness.
Horsehair crab is well known for its rich and creamy tomalley (kanimiso). Sapporo is a great place to explore different crab dishes, as it has many restaurants specialising in crab. When fresh, it can be eaten raw. But it's also delicious when served grilled in the shell. Live crab in iced water (kegani no arai) and freshly caught and juicy sashimi are also amazing. Don't forget to finish off your meal by eating crab flakes and tomalley with sake in the shell (koura-zake).
photo by Kentaro Iemoto (CC BY-SA 2.0) modified
7
Grilled scallop (hotate yaki)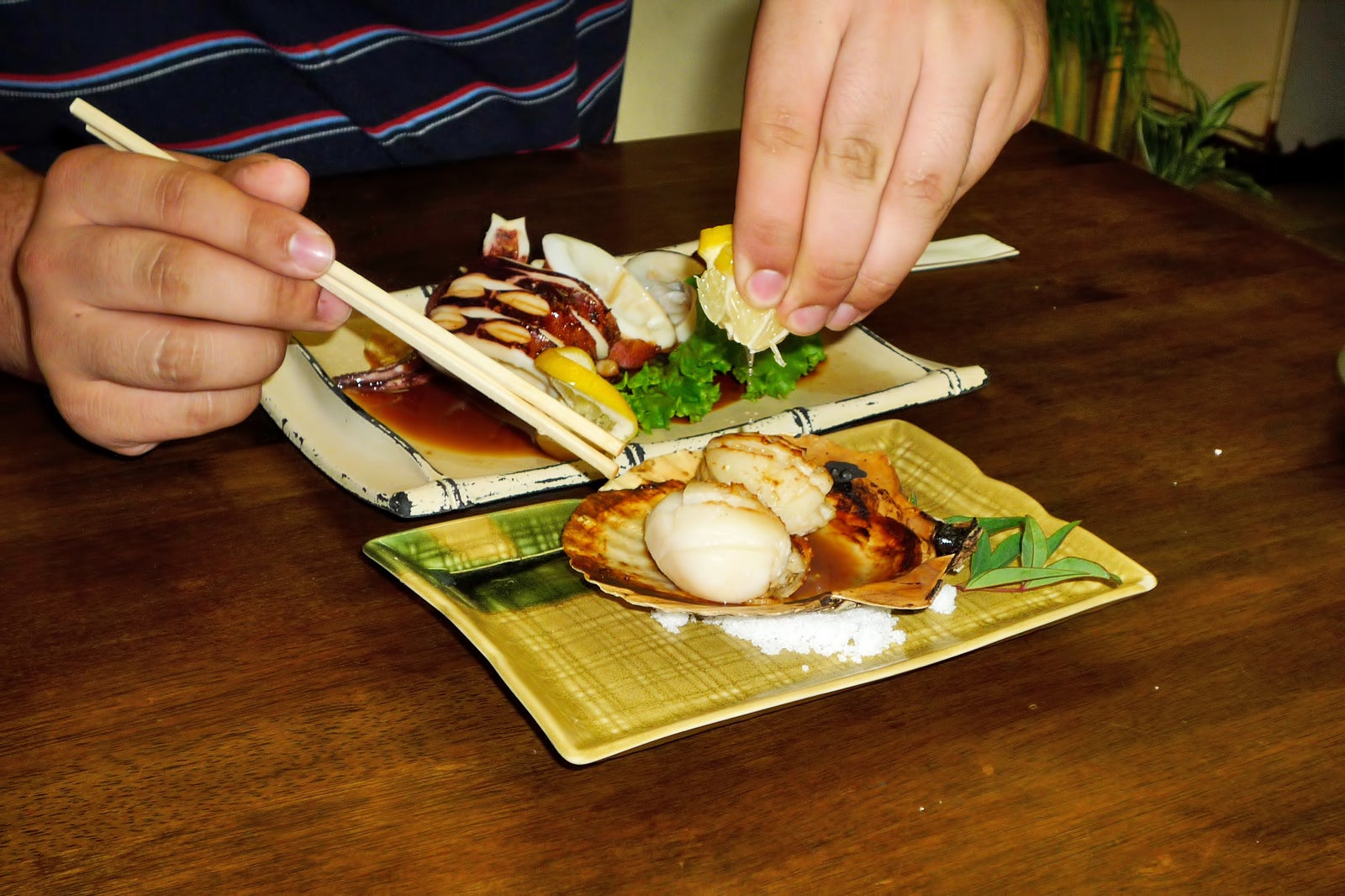 Scallops from Hokkaido are rich and sweet, with a firm texture. They are mainly found in Funka Bay, the Sea of Okhotsk, Shibetsu, and Notsuke. The great thing is that you can enjoy scallops year-round in Hokkaido. They are an excellent source of taurine and zinc, which help increase your metabolism and improve your overall health.
In Hokkaido, you can enjoy scallops in a variety of ways, including sashimi, fried, or in Japanese mixed rice (takikomi gohan). If you want to appreciate the full flavour, grilled scallop (hotate yaki) is the best way to go. To prepare it, a fresh scallop is grilled at high heat over charcoal. Keep the seasoning light or try it with a few drops of soy sauce. Or if you like, add a dash of butter – grilled scallop with butter is one of Hokkaido's finest seafood treats.
photo by Dr. Koto (CC BY-SA 3.0) modified
8
Lamb/mutton and vegetable barbecue (jingisukan)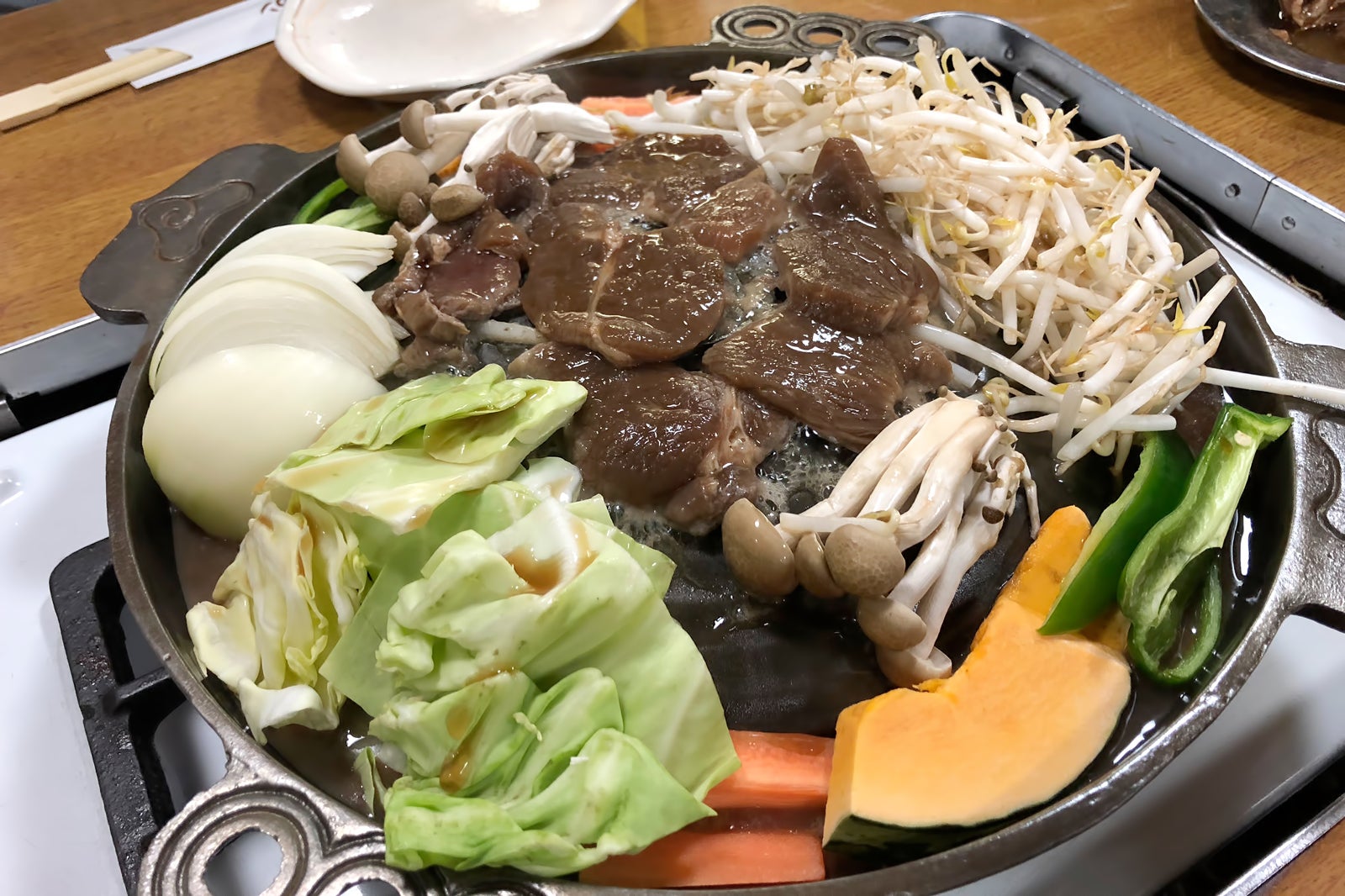 Jingisukan is a combination of lamb or mutton and vegetables barbecued on a special dome-shaped skillet. One of Hokkaido's soul foods, it's hugely popular with the locals, who enjoy it at speciality restaurants with a cold beer or when camping with family and friends.
Jingisukan's history goes back to the Taisho era, when sheep farms were established mainly in Hokkaido to produce wool as a material for military uniforms. The dish was created to make the most of the meat from these sheep. You can choose from tender, mild-flavoured lamb or the deeper taste of mutton. This is served with a salty-sweet dipping sauce made with vegetables and fruits – apparently the concept of dipping grilled meat into the sauce originated in Sapporo, while grilling meat marinated in the sauce came from Takikawa.
photo by Totti (CC BY-SA 4.0) modified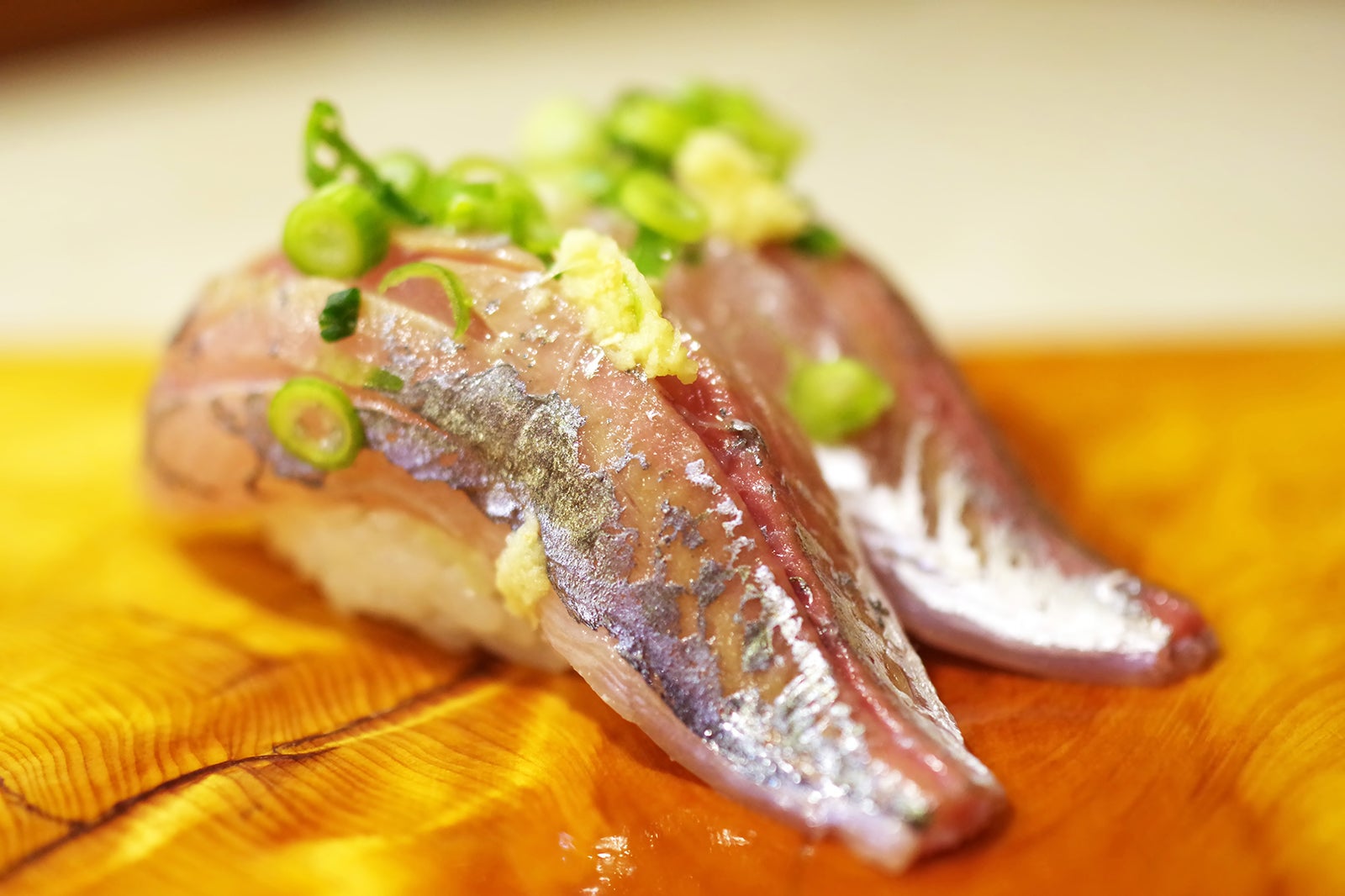 Hokkaido is most famous for its fresh seafood dishes. In Sapporo, where you can find exquisite seafood from all over Hokkaido, you'll probably have a hard time deciding what to eat. But anyway, you really must try sea urchin from Rishiri, either in a rice bowl (uni don) or broiled (hamayaki). Oyster from Akkeshi is big and plump and doesn't have a strong smell at all. It's popular to eat it fresh, fried, in a Japanese hotpot (nabemono), or on rice (kaki meshi).
People in Hokkaido have been eating salmon for thousands of years. Steam-fried salmon and vegetables (chan chan yaki) is a traditional Hokkaido dish made by steam-frying a lot of vegetables and salmon, before seasoning them with soybean paste and butter. Salmon roe (ikura) is just as popular as salmon. You can enjoy salmon roe throughout the year, as it's preserved in soy sauce at the start of salmon-fishing season in September. And if you still can't decide and just want to try a bit of everything, then go for a seafood rice bowl (kaisen don) or sushi to taste a little of each of Hokkaido's seafood offerings.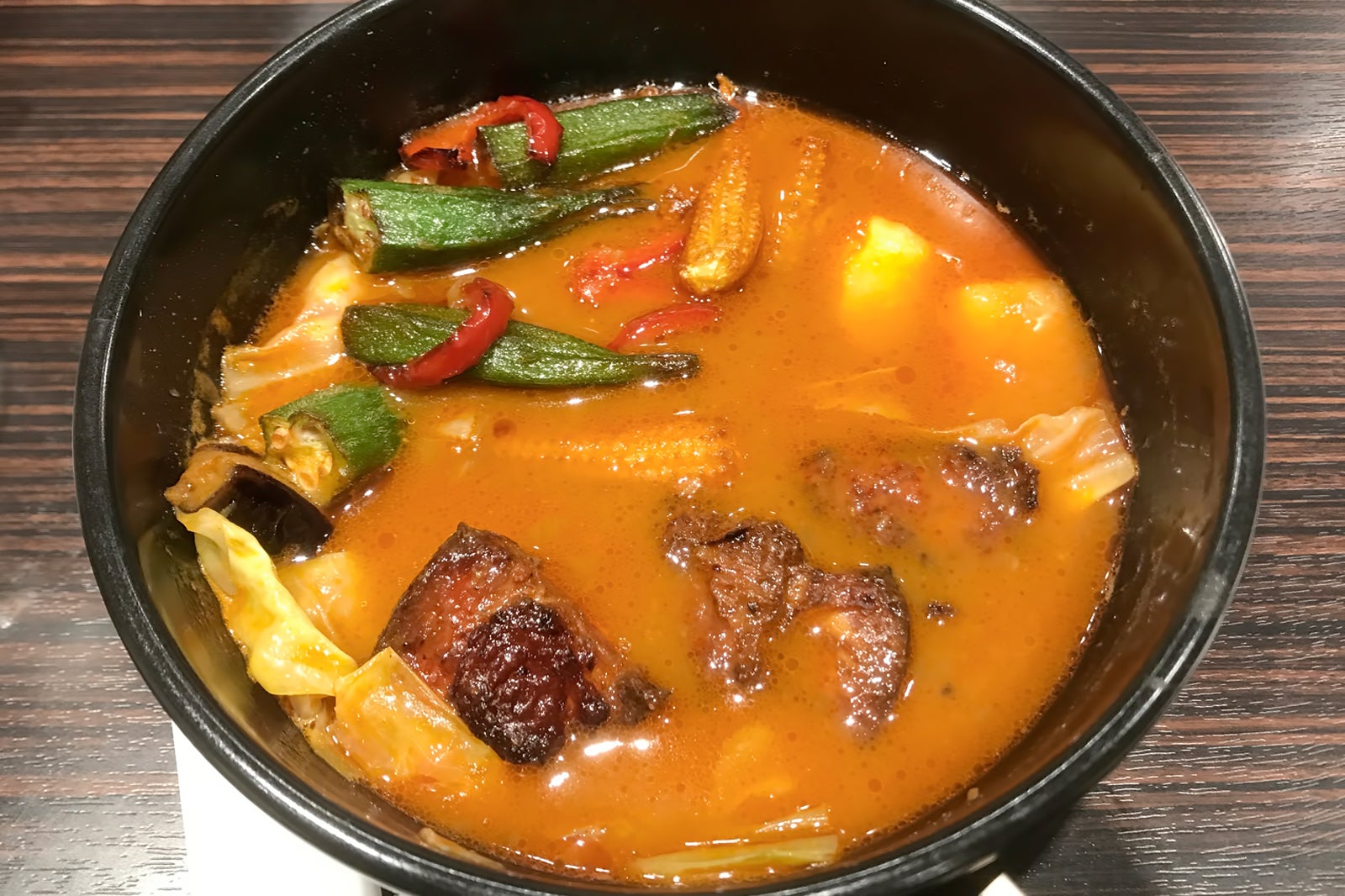 Soup curry was created as a medicinal herbal soup back in the 1970s. It started to be known all over Japan during the 1990s and has since become something of a classic Sapporo dish. It tends to be quite a thin soup with richly flavoured spices and broth, topped with chunky ingredients.
Chicken leg is a classic ingredient for soup curries, but it can be anything from meat such as bacon, lamb, beef tendon or Salisbury steak, to fresh seafood like scallops and shrimp. A good thing about this dish is that you can add big chunks of vegetables from Hokkaido such as potato, green pepper, squash, and aubergine. You can customise it to your liking by choosing how spicy and which toppings you prefer.aws
photo by そらみみ (CC BY-SA 4.0) modified
Back to top