10 Best Festivals in Japan
A Guide to Traditional Local Japanese Festivals
Japan hosts more than 200,000 local festivals throughout the year. Many visitors from all over Japan and abroad often come to see the Kyoto Gozan no Okuribi, where flaming kanji characters appear on the mountains of Kyoto, as well as Tohoku's impressive Aomori Nebuta Festival. Gorgeous floats are the highlights of Chichibu Night Festival in Saitama and Takayama Festival in Gifu.
If you want to enjoy some perfectly coordinated dancing, make sure you check out the Tokyo Koenji Awa Odori and Okinawa Zento Eisa Matsuri events. You can also enjoy browsing the stalls at Tori no Ichi in Yokohama or immerse yourself in the otherworldly atmosphere at the Nagasaki Lantern Festival. There are fascinating seasonal festivals taking place all over Japan, so you'll be able to find something to celebrate no matter which part of the country you're visiting.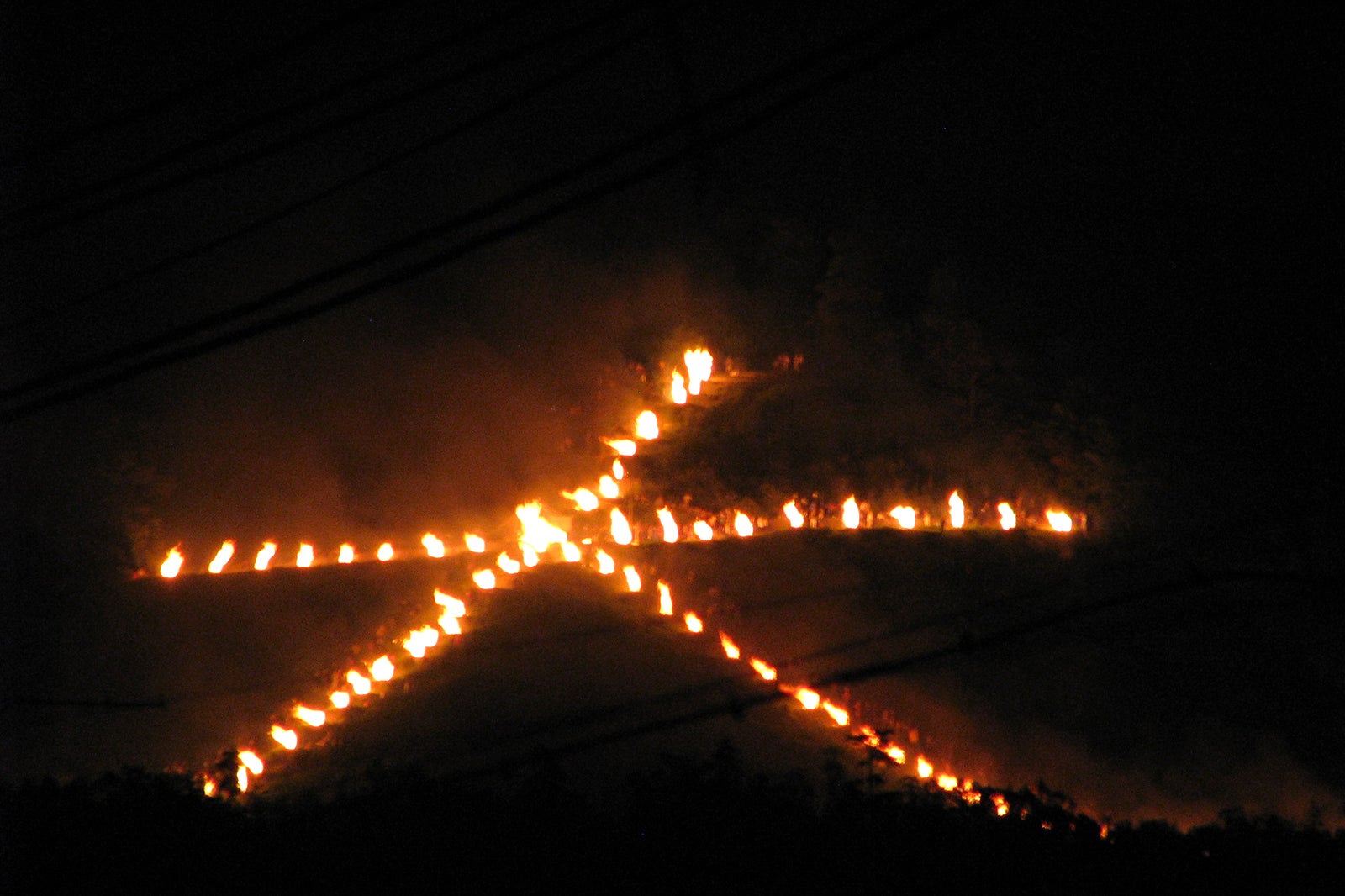 Gozan no Okuribi is a traditional Buddhist event that sends off the spirits of the deceased that had returned during Bon Festival. It's one of Kyoto's 4 major events of the year, Every August 16, the mountains of Kyoto are lit with fires spelling out huge Japanese characters. One by one, 5 send-off fires (okuribi) are lit, with each burning for about 30 minutes.
People burn sticks on which prayers are written (gomagi) and dedicate them in advance to send off the spirits of ancestors and pray for a healthy long life for the living. You can find many viewpoints overlooking the send-off fires throughout the city of Kyoto. If you want to see all 5, the rooftops or upper floors of hotels around Kyoto Station are your best bet.
Location: Kyoto Station, Higashishiokoji Kamadonocho, Shimogyo Ward, Kyoto, Japan
Open: 16 August from 8 pm to 8.50 pm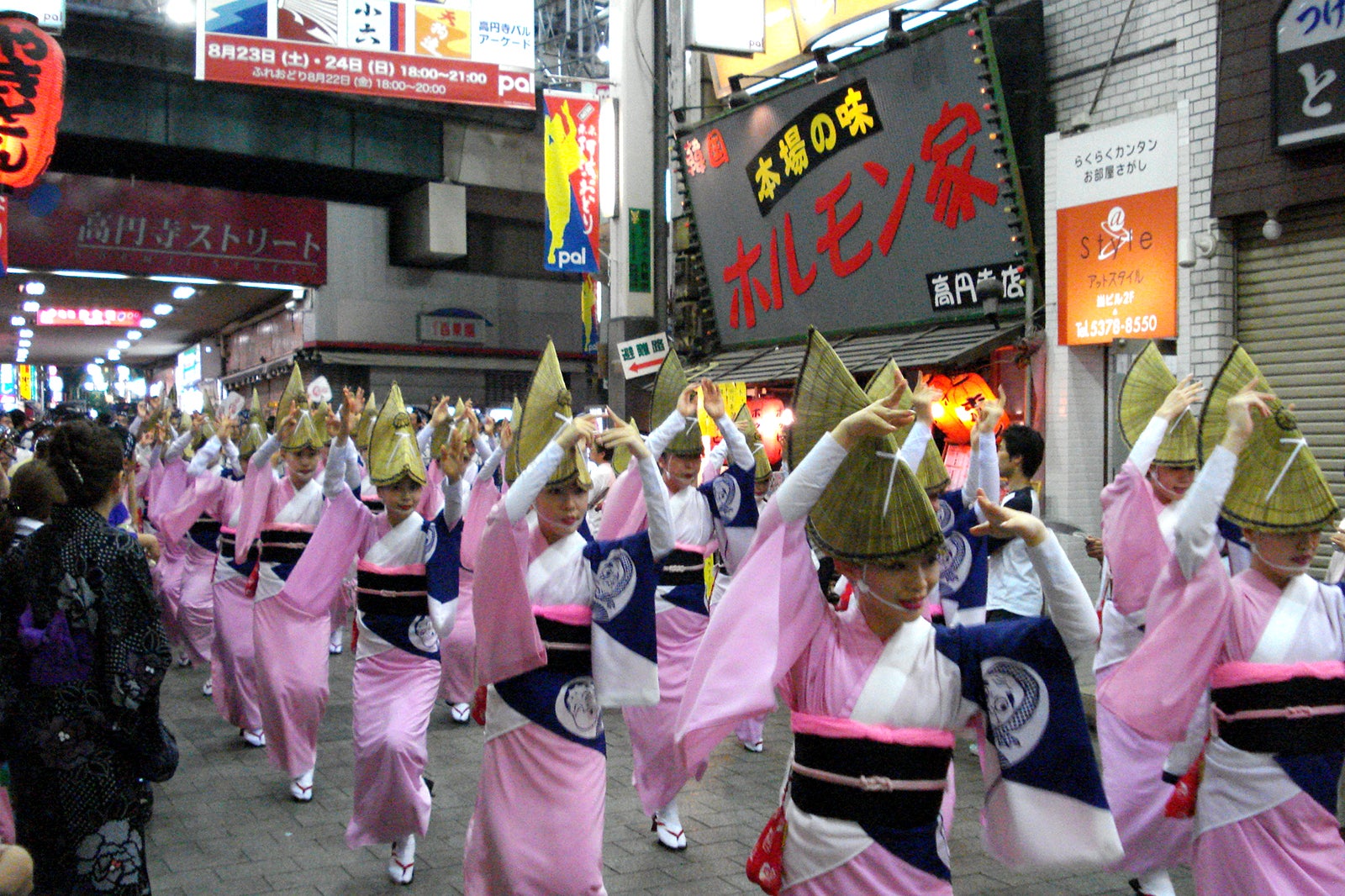 Koenji Awa Odori is a summer tradition of Tokyo where 10,000 dancers perform Awa, a traditional form of folk entertainment that dates back to the Kamakura period. You'll see men wearing happi (Japanese straight-sleeved coats) and performing impressive dances, accompanied with the kane bell, shinobue flute, shamisen lute, and taiko drum. The female dancers are often dressed in yukata (a light cotton kimono), straw hats and sandals.
Koenji Awa Odori is one of the largest Awa dance festivals in East Japan, with more than 100 teams from all over Japan and local Koenji teams taking part. The festival lasts for 2 days, creating a great buzz in the shopping streets and roads around JR Koenji Station and Tokyo Metro Shin-koenji Station.
Location: JR Kōenji Station: 4-chome Koenjiminami, Suginami Ward, Tokyo, Japan
Open: Last Saturday and Sunday of August
photo by awaodori (CC BY-SA 3.0) modified
3
Aomori Nebuta Festival
Aomori Prefecture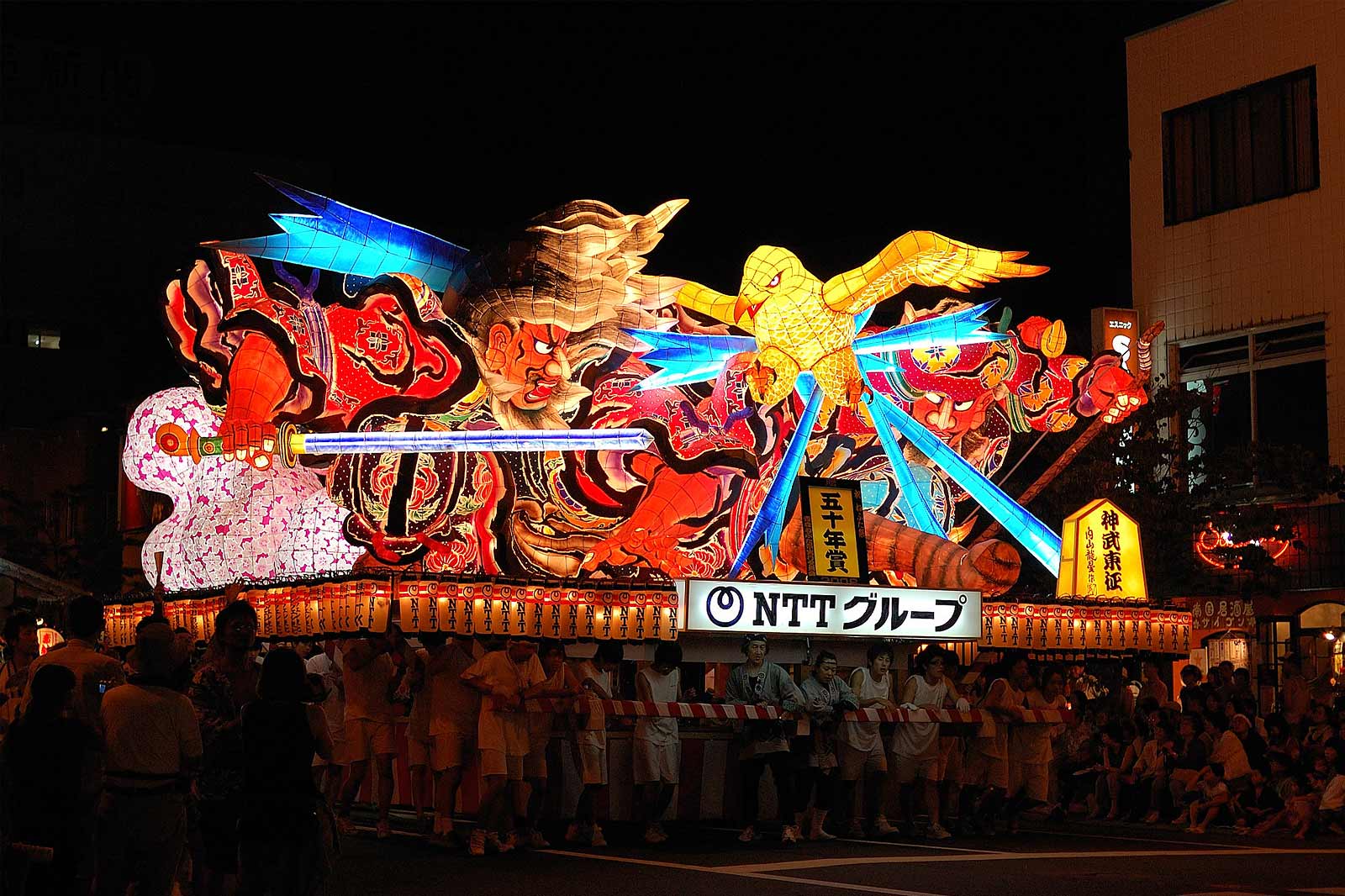 Aomori Nebuta Festival is one of the most famous summer festivals in Tohoku. The highlights of this event are the vibrant warrior-shaped lantern floats (nebuta). The festival began by releasing lanterns into the rivers or ocean as a way to wash away sins and pray for a healthy long life during Tanabata (Star Festival). The floats became larger after the Meiji period – some can reach up to 5 metres high, 9 metres wide and 7 metres deep. It takes a team of 300 people and around 3 months to build a float.
From 2 to 7 August, about 15 children's nebuta and 20 large nebuta parade around Aomori Station to chants of "Rassera!" You can enjoy this event just by looking at the dynamic nebuta, but you can also take part by wearing a costume and becoming a haneto dancer. The 6 prize-winning floats parading in the sea against a backdrop of about 11,000 fireworks on the last day is a must-see.
Location: Area around JR Aomori Station, Yanakawa, Aomori, 038-0012, Japan
Open: 2–7 August
photo by Rosino (CC BY-SA 2.0) modified
4
Tori no Ichi at Kotohira Otori Shrine
Yokohama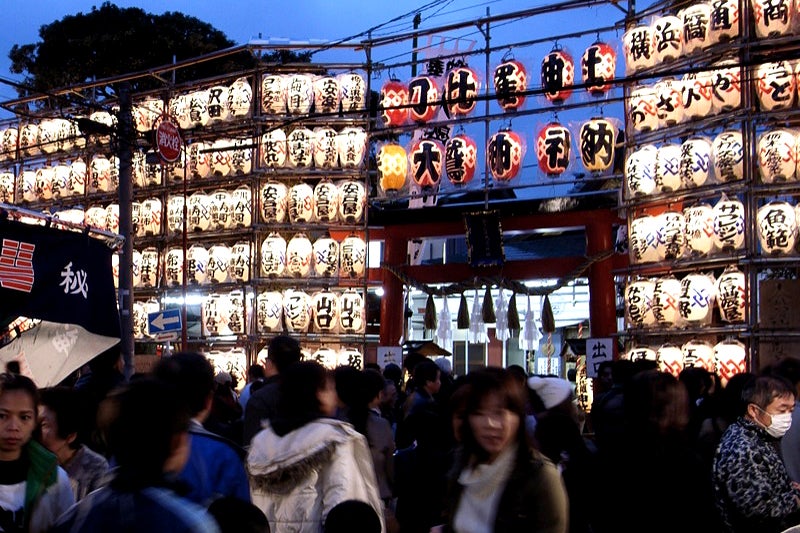 Tori no Ichi is an annual event held at Kotohira Otori Shrine, marking the beginning of winter in Yokohama. Residents and companies dedicate and display hundreds of lanterns in the shrine's premise. The surrounding streetsas and Yokohamabashi Shopping District are lined with hundreds of stalls selling lucky bamboo rakes (engi kumade) that are colourfully decorated with the Seven Lucky Gods, straw rice bags, sea bream, and small gold coins.
You can also enjoy the festival mood by playing games like goldfish scooping or target shooting, as well as enjoying Japanese street food like candied apples, octopus balls (takoyaki), and deep-fried yam dumplings wrapped with seaweed.
Location: Kotohira Otori Shrine, 1-3 Maganecho, Minami Ward, Yokohama, Kanagawa 232-0021, Japan
photo by 8-Forestmarahami (CC BY 2.0) modified
5
Chichibu Night Festival
Saitama Prefecture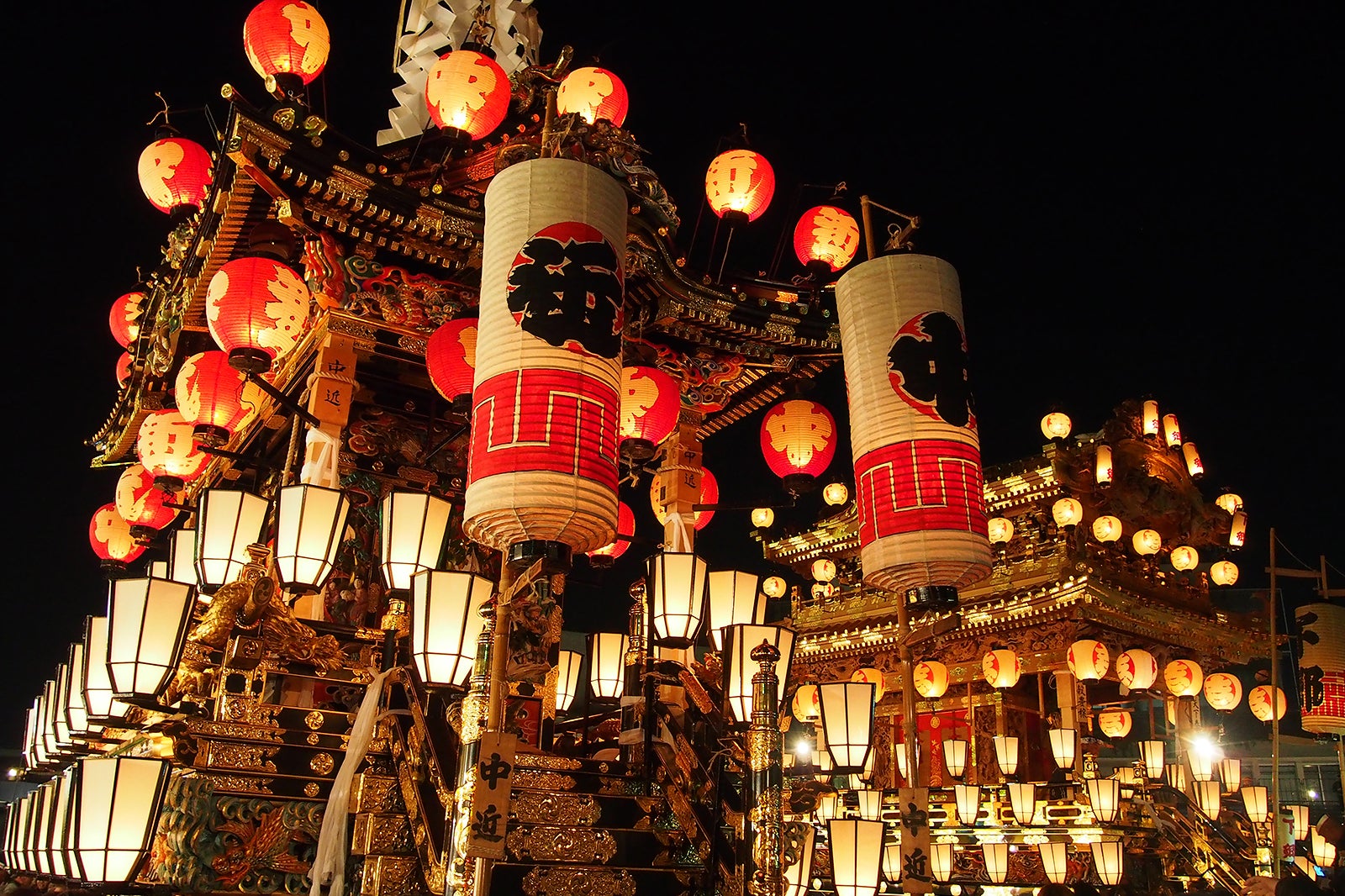 The Chichibu Night Festival takes place at Chichibu Shrine, which was registered as a UNESCO Intangible Cultural Heritage in 2016. This traditional event has been held every December for over 300 years. Four gorgeous Yatai floats and 2 Yasaboko floats are paraded around the city, backed by the lilting rhythm of taiko drums, flutes and bells, and chants of "Horyai, horyai!"
These 6 floats (dashi) are decorated with gold ornaments and elaborate, richly coloured carvings, and curtains embroidered with cranes and lions. The floats are also referred to as moving Yomeimon gates. During the day, you can enjoy a kabuki performance within the premises of the shrine. Lanterns are lit on the floats when night falls, and thousands of fireworks are launched into the clear winter night sky.
Location: Chichibu Shrine, 1-3 Banbamachi, Chichibu, Saitama 368-0041, Japan
Open: 2–3 December
photo by ちちびあん (CC BY-SA 4.0) modified
6
Hakata Gion Yamakasa
Fukuoka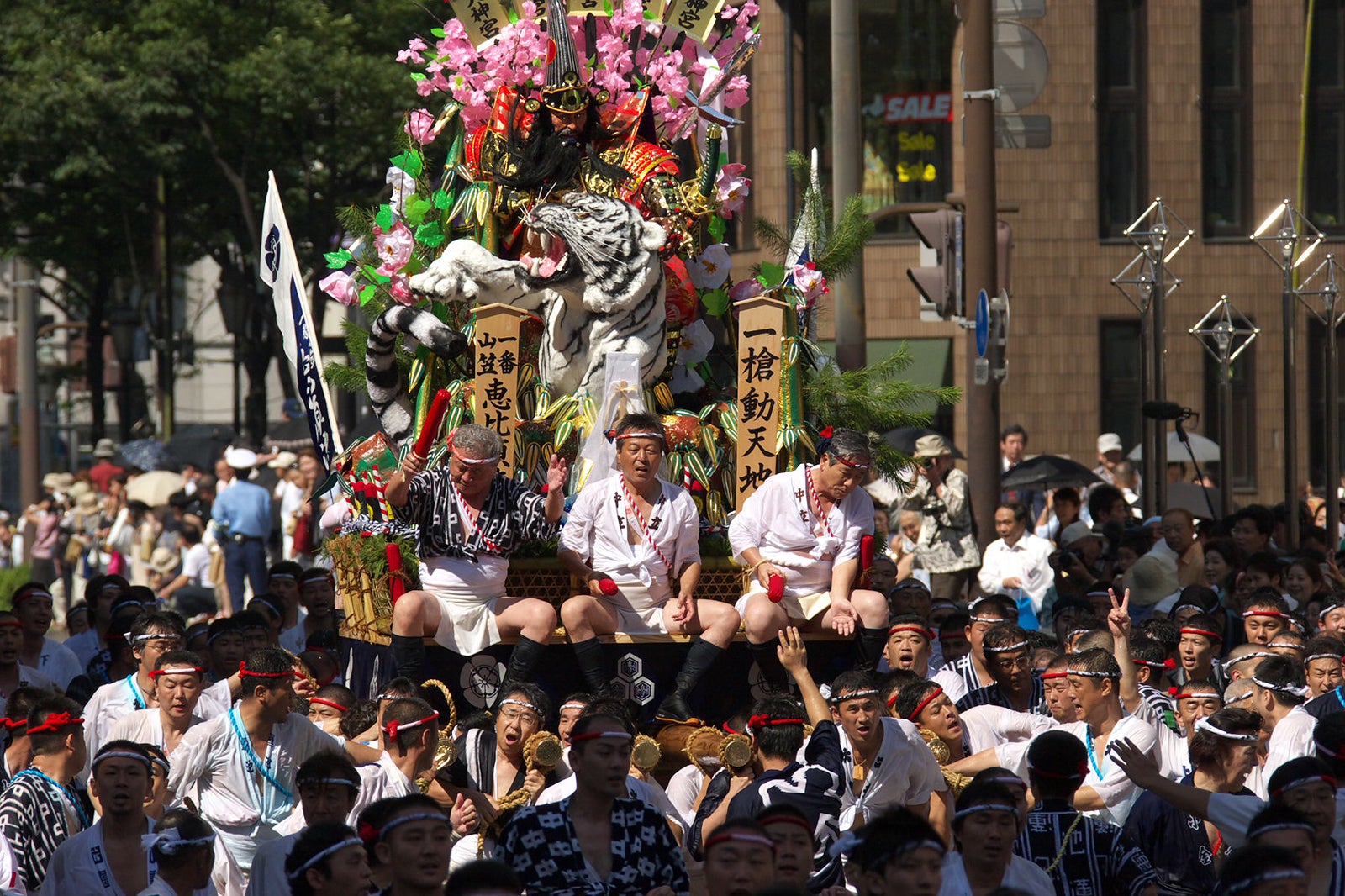 The highlight of Hakata Gion Yamakasa is the Oiyama event, in which men race against each other while carrying a 1-tonne float (yamakasa). This is one of the most famous festivals in Fukuoka, along with Hakata Dontaku. It's been going for more than 700 years at the Kushida Shrine.
During the festival period (1–15 July), the city of Hakata buzzes with a vibrant festival atmosphere. On the first day, you'll see 14 decorated yamakasa (10 to 15 metres high)in various places throughout the city. If you want to see the yamakasa float races, check out Oiyamanarashi on the 12th, Shudan-yamamise on the 13th, and Oiyama on the 15th.
Location: Kushida Shrine, 1-41 Kamikawabatamachi, Hakata Ward, Fukuoka 812-0026, Japan
Open: 1–15 July
7
Takayama Festival
Gifu Prefecture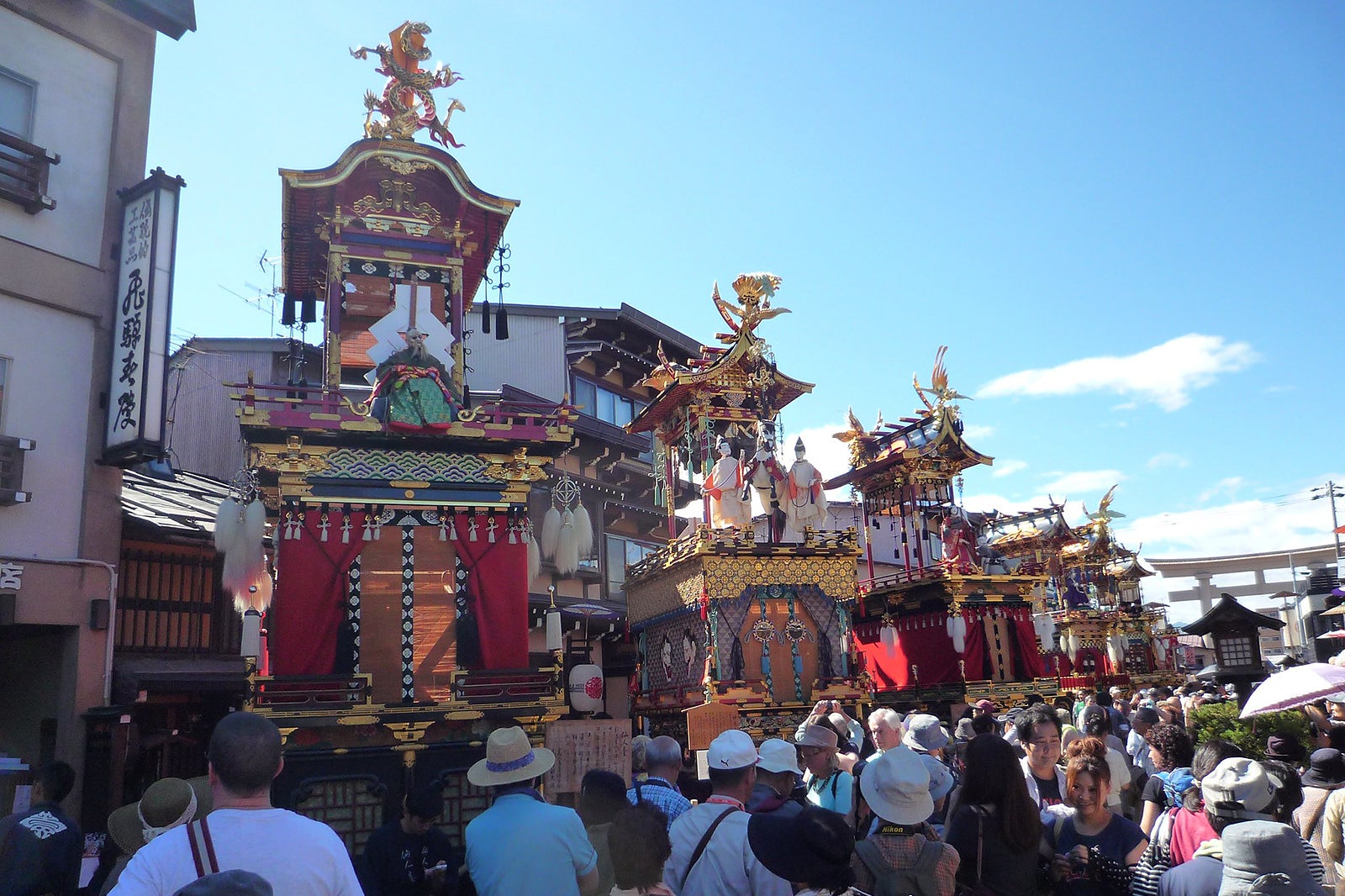 Takayama Festival in Gifu is one of Japan's 3 most beautiful festivals, but it actually incorporates 2 festivals in spring and autumn. The springtime Sanno Festival is an excellent opportunity to enjoy cherry blossom in full bloom and check out gorgeous floats called yatai. Hachiman Festival in autumn is known for its yatai-hikimawashi event, where 4 floats are paraded around the city.
Make sure you don't miss the parade of hundreds of people dressed in traditional costumes of flat straw hats and hakama (Japanese divided skirts or trousers). You can also check out karakuri (mechanized puppet) performances. Yatai floats illuminated by 100 lanterns move through Gifu's pitch-black streets, which are lined with buildings from the Edo period.
Location: Takayama, Gifu 506-0822, Japan
Open: 14–14 April and 9–10 October
photo by Sjaak Kempe (CC BY 2.0) modified
8
Kishiwada Danjiri Festival
Osaka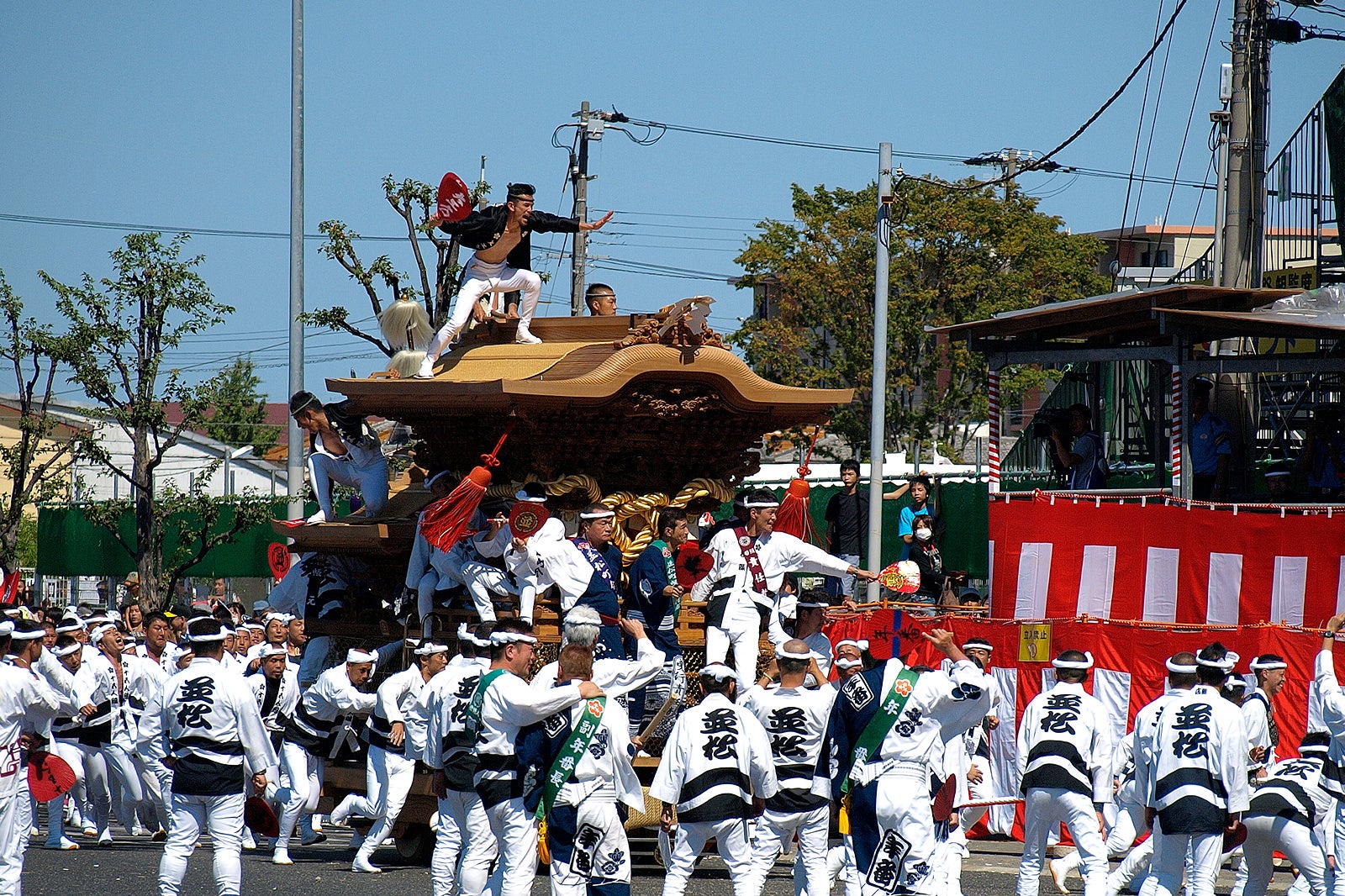 You'll know you've arrived at Kishiwada Danjiri Festival when you see a 4-tonne danjiri ( wooden cart) speeding around sharp corners at full speed in the Yarimawashi event. The community spirit of each town involved is what makes the event such an impressively bold, beautiful and harmonious sight.
Daiku-gata (carpenter) characters who dance on the carts are the stars of the festival. The mae-teko (front lever) on the left and right need to have a lot of skill, and the ushiro-teko (rear lever) is in charge of steering. The people pulling the carts (hikite) are dressed in a twisted headband, stomach band, apron, close-fitting trousers, tabi (work boots), and happi coat. A cheerful chant of "Sorya, sorya!" echoes throughout the city. During the parade, you can also look at carvings of famous scenes from war stories and mythological stories on the danjiri carts – these are spectacularly beautiful, so make sure you get a good close-up look.
Location: Kishiwada, Osaka, 96-8510 Japan
Open: 9–10 September
photo by Kounosu (CC BY-SA 3.0) modified
9
Nagasaki Lantern Festival
Nagasaki Prefecture
During the wintertime Nagasaki Lantern Festival, the city of Nagasaki is filled with 15,000 colourful Chinese lanterns, taking you into a fantastic and exotic world. Highlights include the large lantern ornaments, which are shaped like dragons, serpent, giraffes and characters from the Journey to the West or Records of the Three Kingdom.
There are countless events where you can enjoy the charms of Chinese culture, including traditional lion and dragon dances, erhu performances, and Chinese acrobatics. There are also great spots to visit as a couple, such as Doza River with its pink lanterns reflecting on the water's surface, and Nagasaki Love Lantern – you can offer a lantern to pray for fulfilling love at the Confucian shrine.
Location: Nagasaki Shinchi Chinatown, 10-13 Shinchimachi, Nagasaki, 850-0842, Japan
10
Okinawa Zento Eisa Matsuri
Okinawa
Okinawa Zento Eisa Matsuri is a tradition that takes place during the Bon Festival. This major event is held for 3 days in Okinawa City, in the centre of the main island of Okinawa. Eisa is a traditional dance, which is performed to the sound of large o-daiko drums or small high-pitched shimedaiko drums, together with chondara jesters to spice up the show.
On the first day of the festival, you can see Michi-junee, a city-wide dancing parade. On the 2nd and 3rd day, you can enjoy original Eisa performances by youth groups from Okinawa City and organisations selected from all over the prefecture. The festival ends with a laser show and fireworks.
Location: Koza Sports Park, 2-1-1 Moromizato, Okinawa 904-0032, Japan