Top 10 Dishes Locals Love in Chiba
A Guide to Local Specialities You Should Try in Chiba
You'll definitely want to check out the local dining scene in Chiba Prefecture, where you can enjoy dishes that are creatively prepared using the rich harvest of the sea and mountains. Around the coastal area of Boso Peninsula, fish tartare (namerō) and grilled fish cake (sanga-yaki) are some of the famous local cuisines that make abundant use of fresh seafood from the Pacific Ocean.
You can also enjoy spicy Chinese-Sichuan dandan noodles with soy sauce (katsuura tantanmen), which won 1st prize in the B-1 Grand Prix awards (B-Class Good Cheap Eats Grand Prix category). Speaking of locals' favourite cheap eats, gyoza dumplings are another not-to-be-missed dish. Chiba's gourmet foods are just waiting to be discovered, including grilled wild eel from Tone River and game meat from Boso.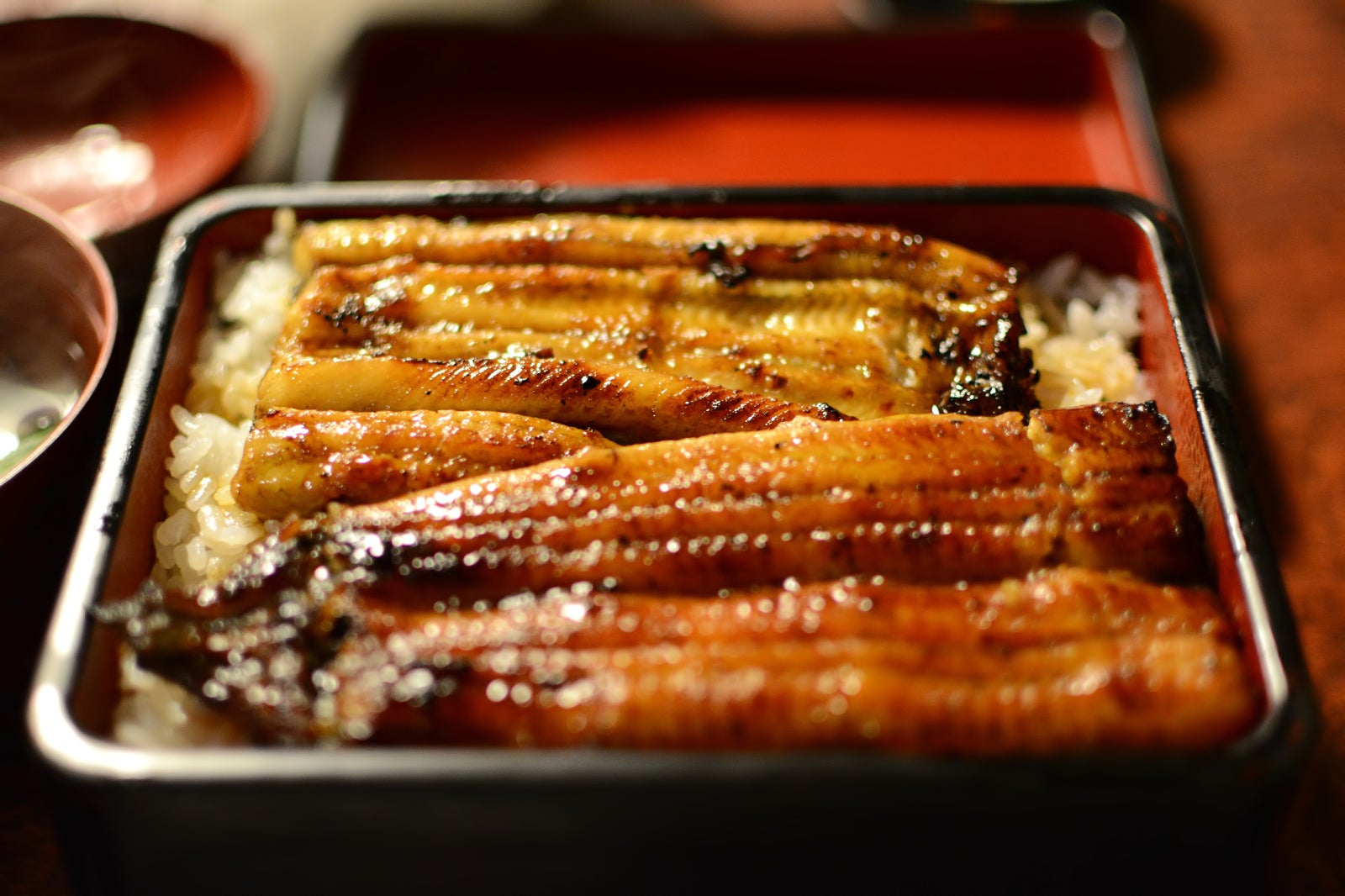 Narita is synonymous with Narita Airport, but the town's eel-based cuisine is highly regarded by those in the know. On the way to Narita Sanshinshoji Temple, you'll pick up on the old Edo era vibes as you navigate the rows of long-established eel restaurants.
It's said that Narita's eel cuisine was developed in the Genroku era to reward and empower pilgrims who had travelled to the city from far and wide. At that time, eels could be caught plentifully in the nearby Tone River and Inbanuma wetlands. As you enjoy charcoal-grilled eel with sauces that are strictly based on secret recipes, you can reflect on what this place must have been like at the peak of its prosperity in the Edo period. Narita Eel Festival is held every year on the Midsummer Day of the Ox, usually between July and August.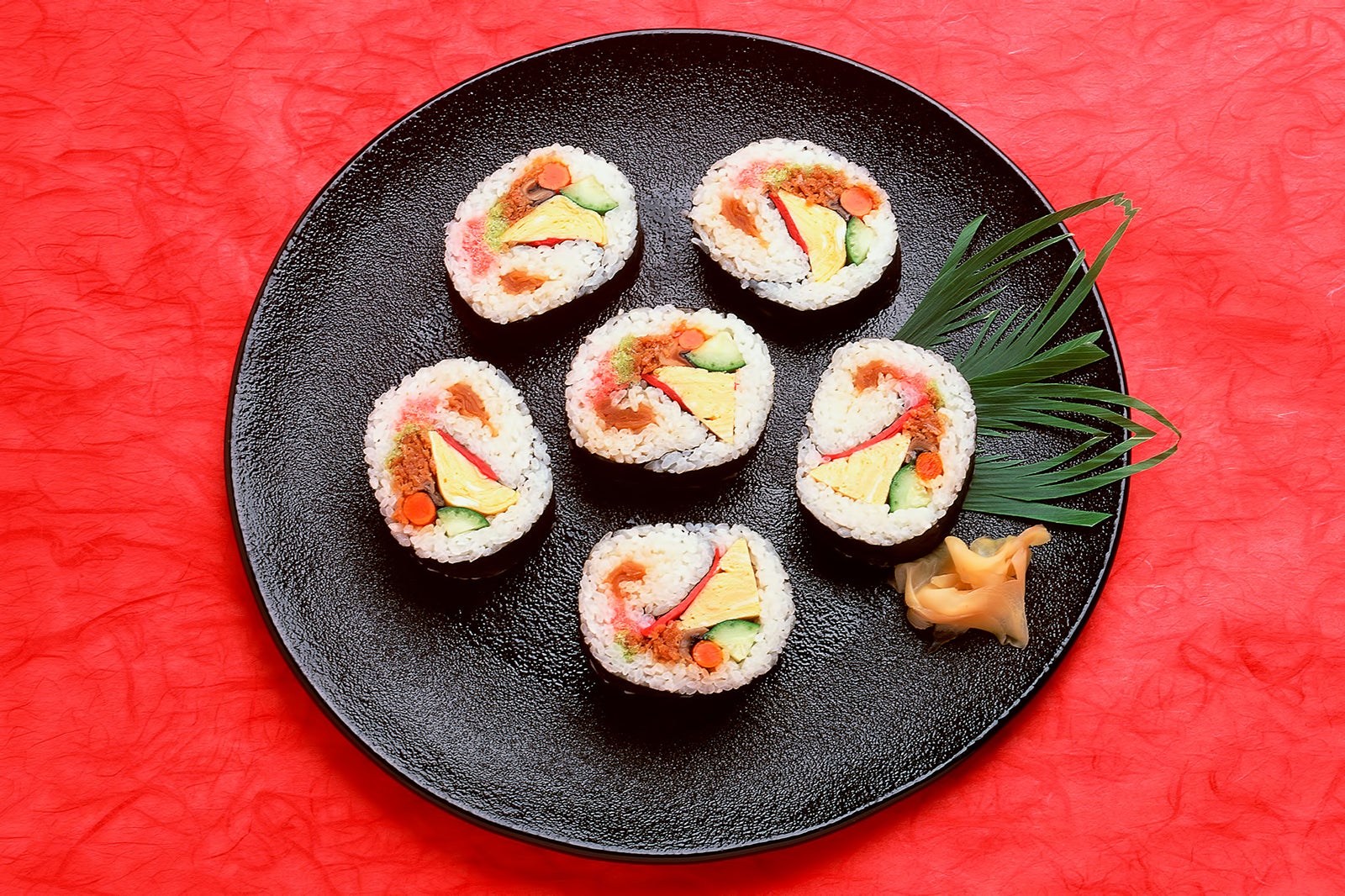 Chiba's local speciality is thick-rolled sushi (futomaki), which is not only delicious but also a visual treat. Also known as matsurizushi and hanazushi, it's often enjoyed as a delicacy during ceremonial occasions. This traditional cuisine is highly valued, having been selected as one of the "Top 100 Local Cuisines in Rural Areas" by Japan's Ministry of Agriculture, Forestry and Fisheries.
Chefs show off their skills with elaborate designs on the cut side of the rolled sushi. Classic designs include flower patterns like cherry blossom, tulips and roses. For children, the most popular types of futomaki feature animals such as rabbits and cranes or cartoon characters like Doraemon.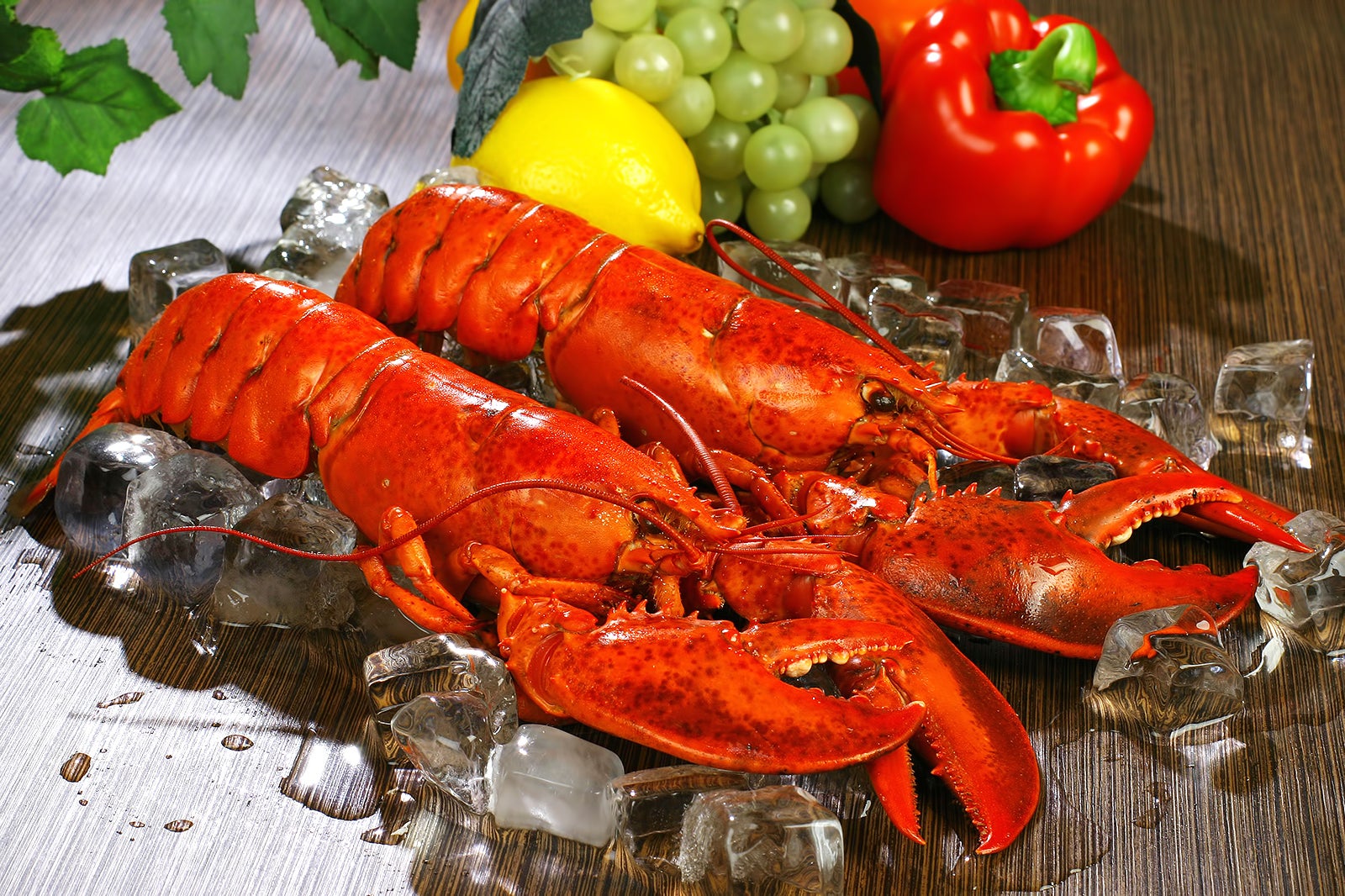 The Sotobo area – where the warm, north-flowing Kuroshio current and the cold, south-flowing Oyashio current come together – is one of Japan's leading fishing centres for Japanese spiny lobster (ise ebi). Spiny lobsters from the Oharamachi and Taito areas of Isumi City, Katsuura, and Onjuku Iwawada are collectively sold under the highly regarded Sotobo Ise Ebi brand.
The spiny lobster fishing period runs from April to May and August to December, with a break during the spawning period from June to July. Onjuku Ise Ebi Festival takes place in Onjukumachi from September to October, while Ise City celebrates the festival from August to September. If you want to get your fill of amazingly fresh lobsters, these are the best times to visit!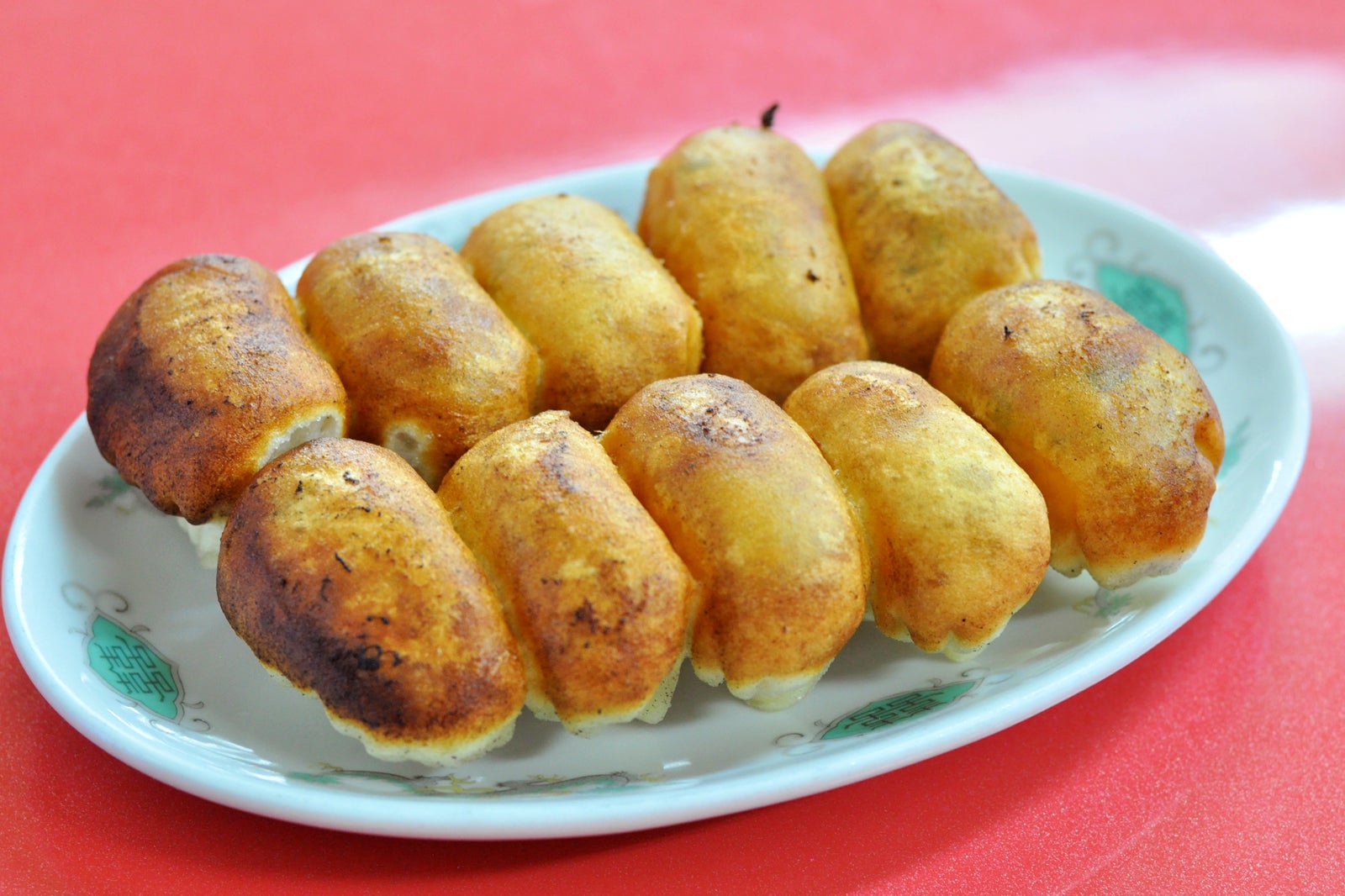 White gyoza dumplings consist of a thin dough that's generously filled with meat and vegetables. This local dish hails from Noda City in Chiba Prefecture. You can tell from the constant queues outside gyoza joints that this is Noda's real soul food.
The giant pan-fried gyoza has a great aroma and a lovely golden brown colour. It looks a bit like sushi wrapped in tofu (inarizushi). This dumpling is best enjoyed while it's still steaming hot. The so-called white gyoza is not actually white in colour, so what's the deal? Well, it got its name because the founder acquired the recipe from a Chinese person named Pai ('white' in Chinese).
5
Boar meat hotpot (Botannabe)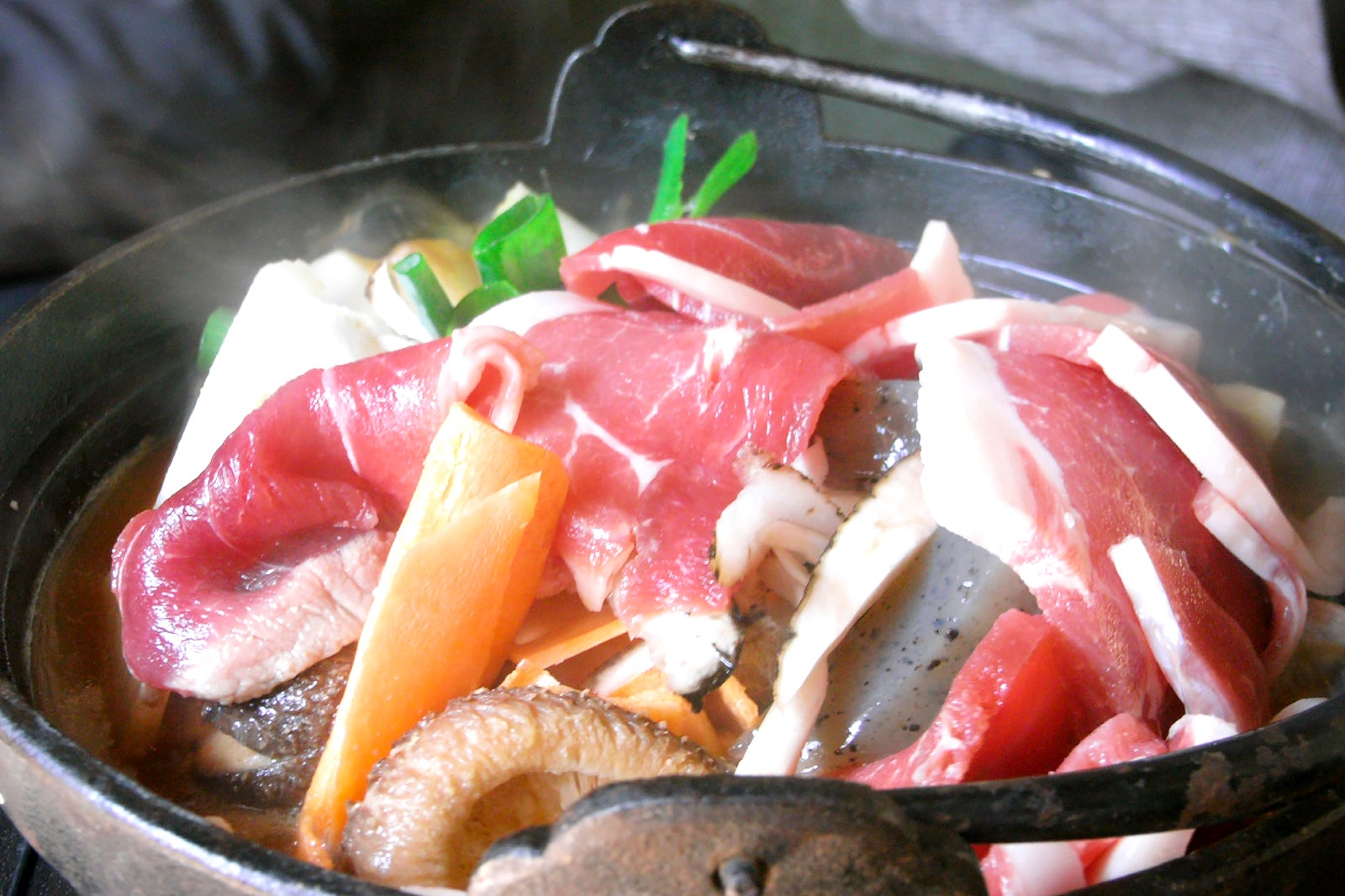 Botannabe is a hotpot made with boar meat. It's named as such because the meat is decorated in a way that looks like a large peony flower. Generally popular in mountainous areas all over Japan, you can also find this dish in the Boso area of Chiba Prefecture.
Cuisines featuring wild boar and deer meat are called boso gibier (from the French term for 'wild game'). A Boso Gibier Fair is held every winter to promote these dishes. Winter is also the boar-hunting season in Chiba, so it's an excellent time to try botannabe. This dish is nutritious and high in protein – the ideal healthy dish to help locals withstand the harsh winter months.
photo by Yamaguchi Yoshiaki (CC BY-SA 2.0) modified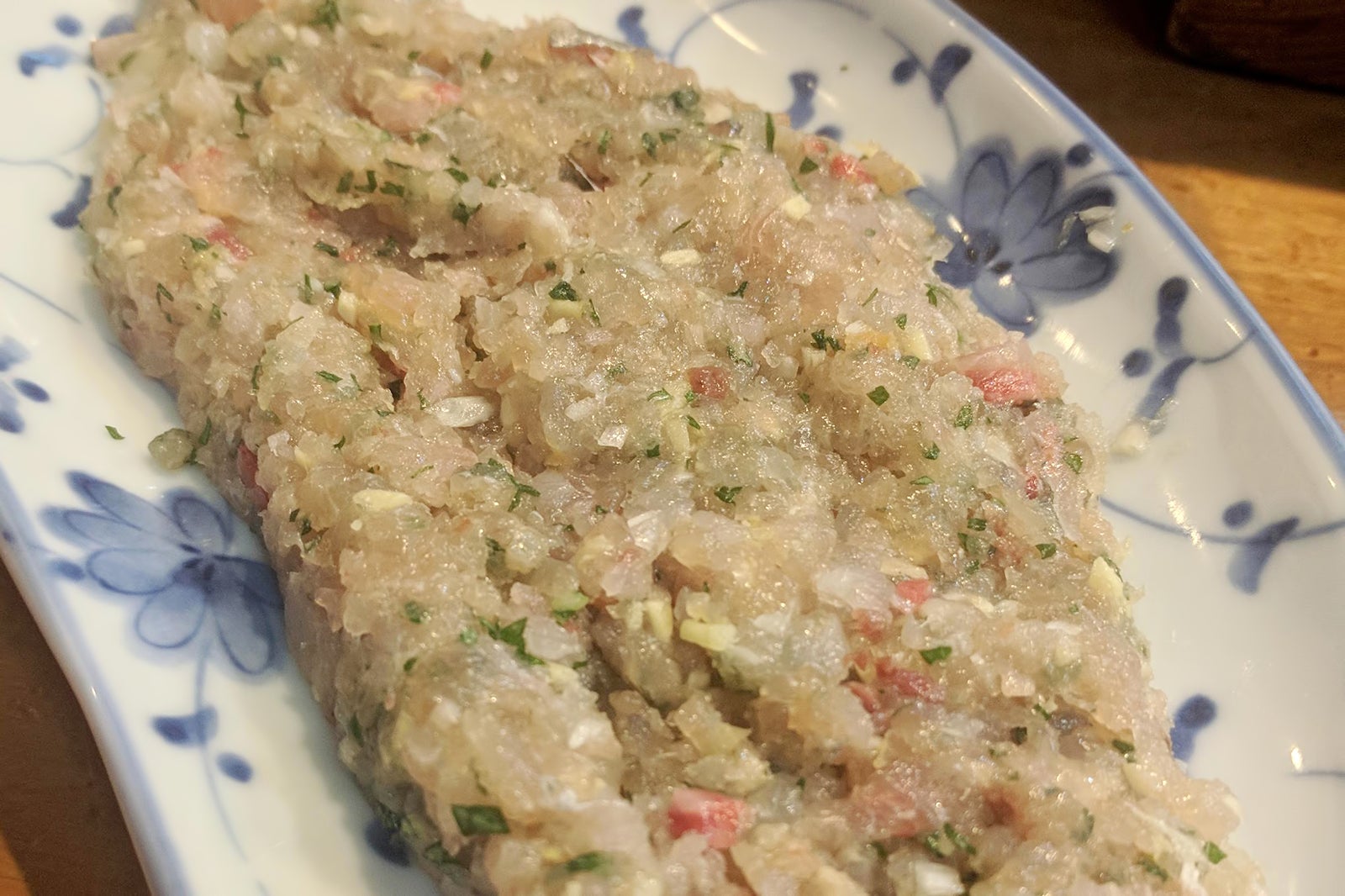 Namerō is found in the coastal area of the Boso Peninsula. This local cuisine was invented by fishermen who would mince fresh blue-backed fish – horse mackerel or sardine – until it became a little sticky, before seasoning it with miso paste and condiments on their boats. The reason why miso paste is used for seasoning rather than soy sauce is, as you can imagine, that miso paste was easier to use when cooking on a swaying boat.
Locals believe that the dish's unusual name comes from the action of licking ('nameru' in Japanese) the plate or perhaps from its smooth ('nameraka' in Japanese) texture on the palate. Namerō, accompanied by the refreshing smell of ginger and shiso is excellent for ochazuke, a Japanese dish of rice in soup, or as snacks with sake.
photo by Lordgilman (CC BY-SA 4.0) modified
7
Grilled fish cake (sangayaki)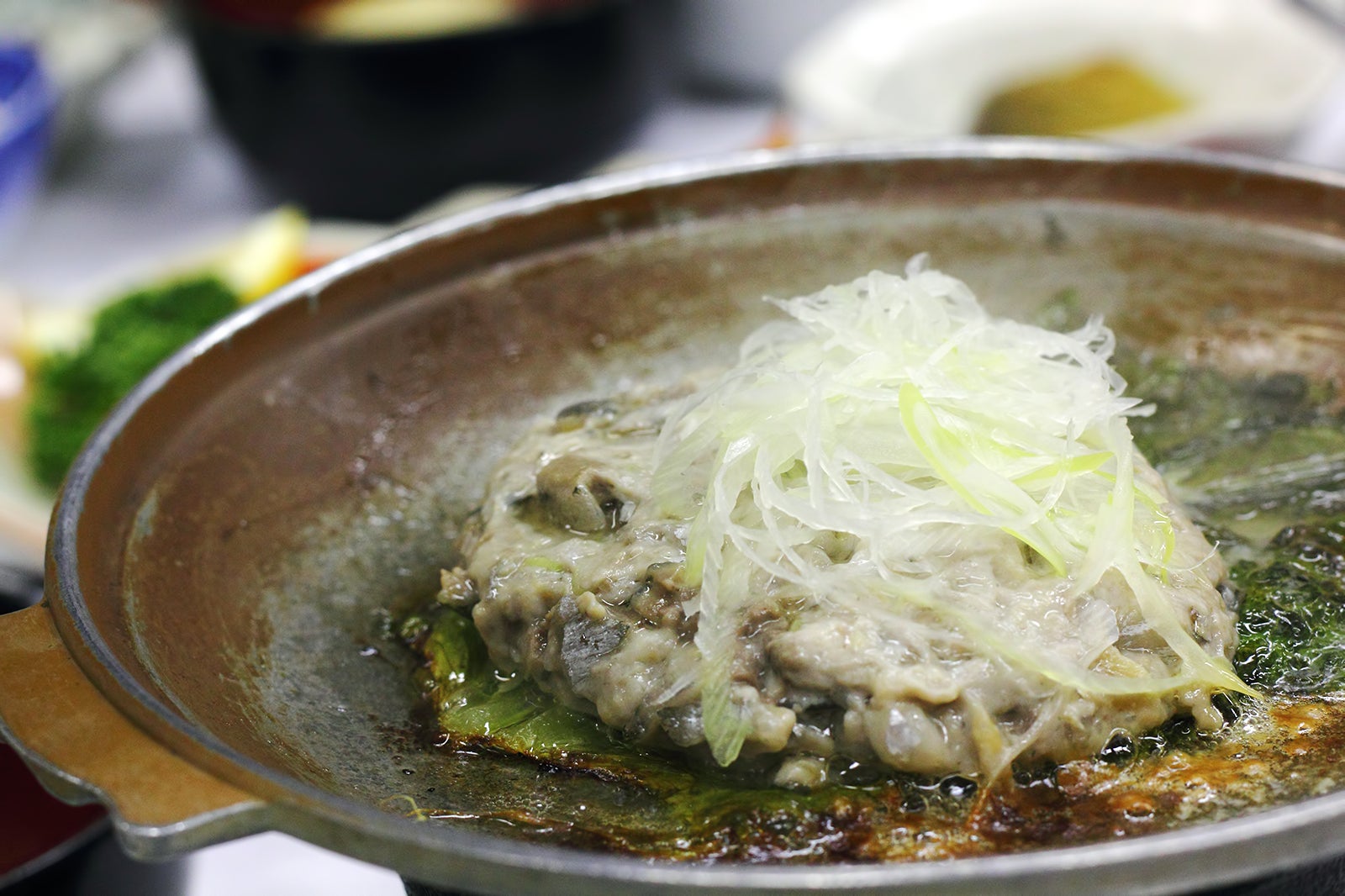 Sangayaki is the grilled version of namerō (minced fresh blue-backed fish), which can be kept for a longer time thanks to the cooking process. According to 1 theory, its name is derived from the mountain retreats ('sanga' in Japanese) where fishermen ate this dish. It's said that fishermen had namerō stuffed and steamed in abalone shells and take it to the mountains for work.
There are many variations of sangayaki, including a round and grilled version that resembles a hamburger, 1 which uses shiso leaf as a cover to preserve it for even longer periods, and a type that's coated with breadcrumbs.
8
Dandan noodles with soy sauce (Katsuura Tantan Men)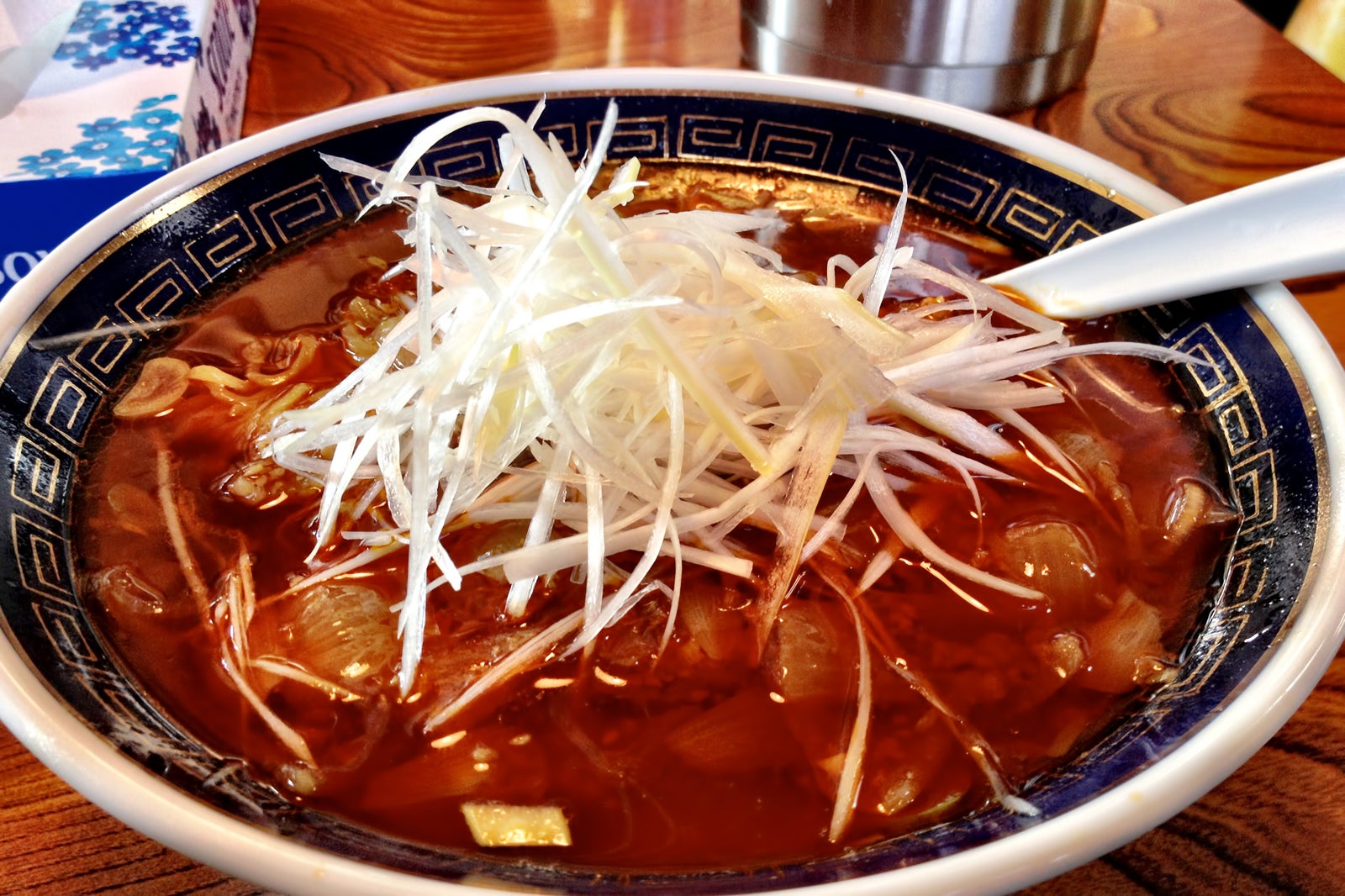 Katsuura Tantan Men was invented to be served as a breakfast that would warm up freezing cold workers (such as female divers and fishermen) after they finished their morning's work. Dandan noodles are typically flavoured with rich sesame, but this dish is comparatively light with a soy sauce base with chili oil and accompanied by sautéed onion and minced meat with chili peppers. This local delicacy has been designated as one of Chiba's Cultural Assets and is well-known both inside and outside the prefecture. Katsuura Tantan Men made by Katsutan Sendan won the first prize in the B-1 Gourmet Grand Prix. There are more than 30 accredited restaurants in Katsuura serving Katsuura Tantan Men, and at each restaurant you'll find a unique take on the dish. If you're feeling hungry, take a stroll as you search for your favourite version.
9
Flower cuisine (hana ryori)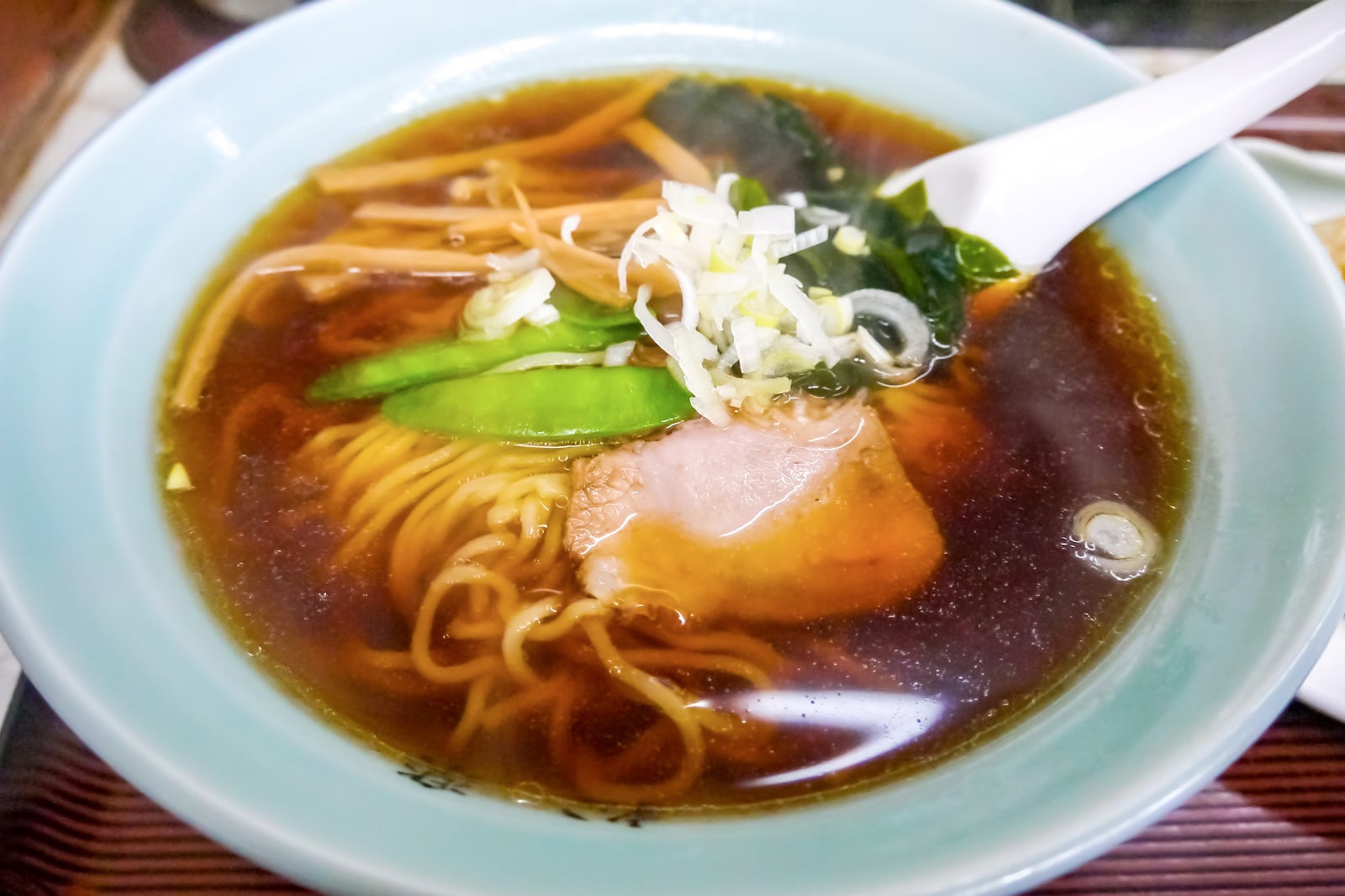 Chikura, located in the southern part of Boso, is renowned as a village of flowers where you can enjoy flower-based cuisine (hana ryori). Delicious edible flowers are cultivated by the local flower farmers from January to March. This is a unique food experience that really hits all 5 senses.
Taste various flowers that bloom in early springtime – field mustard, calendula, stock, snapdragon and cornflower – in a wide range of dishes including tempura, sushi rice with topped with flowers (chirashizushi), soups, salads and desserts. You can also buy flowers as souvenirs, but if you're planning to eat them, just make sure you choose the ones that are marked 'edible'.
photo by くろふね (CC BY-SA 4.0) modified
10
Seashore oysters (isogaki)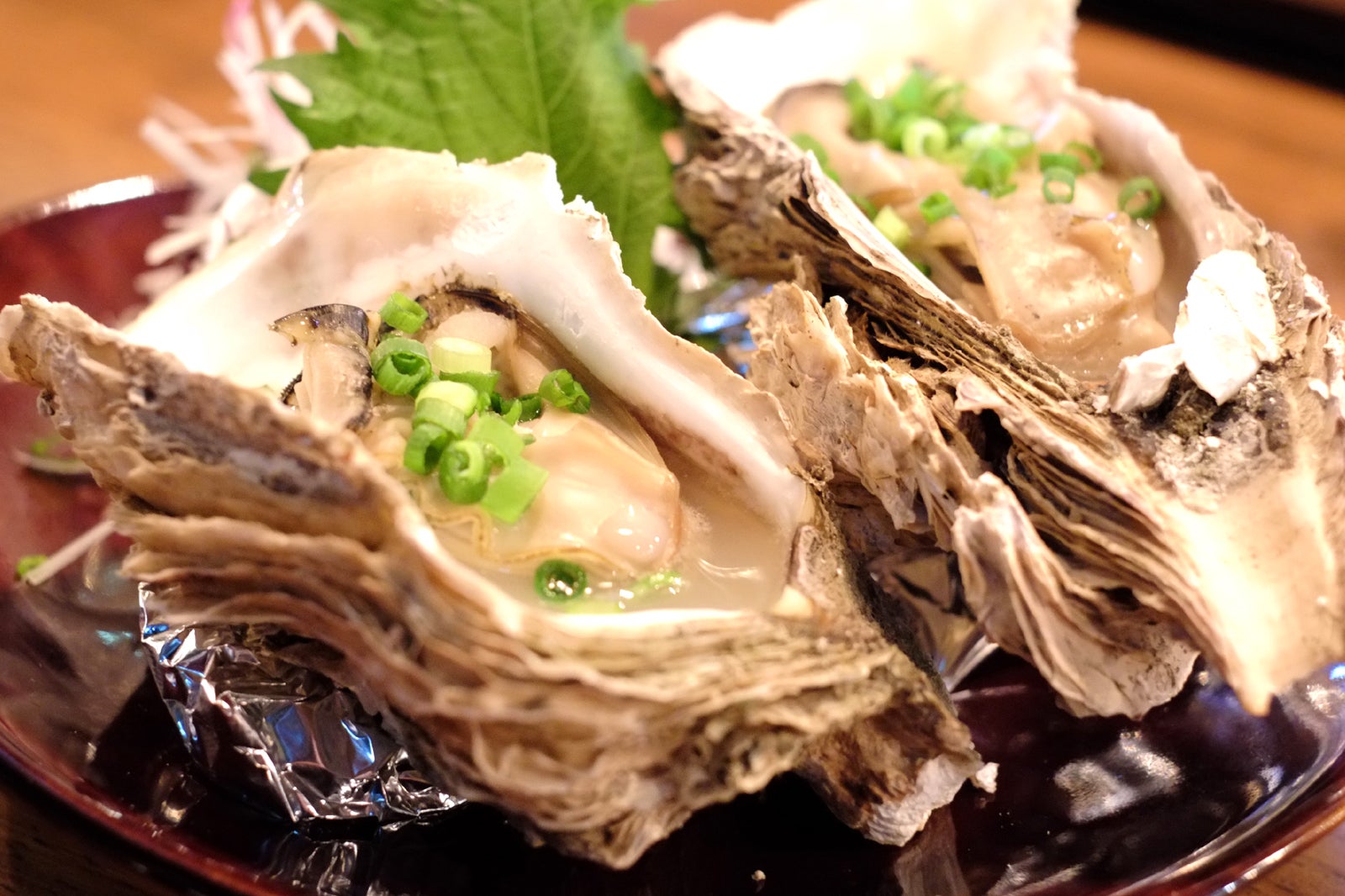 The Pacific oyster (magaki) is quite well known as a winter delicacy. However, the wild Iwagaki oysters (Crassostrea Nippona) of Iioka, Asahi City steal the show from June to August. Seashore oysters are pretty big: about the size of the palm of your hand.
Called isogaki by the locals, these oysters have a wonderfully rich taste. The young shells of the isogaki oysters become attached to wave-dissipating concrete blocks installed on the seashore, gradually growing in the warm water and feeding on the plentiful plankton for 6-7 years. Iioka Isogaki Festival, which takes place every summer, lets you taste a wide variety of oyster dishes – fresh oysters, grilled oysters, rice and oyster steamed in pots (kamameshi)... the list goes on.
Back to top