10 Best Things to Do in Cesenatico
What is Cesenatico Most Famous For?
This guide to the best things to do in Cesenatico is a combination of history, sightseeing and modern pleasures. Set on the Adriatic coast of Italy, the seaside town is often outshined by the other more popular summertime Italian cities. You can reach this small and quaint canal port town within a 90-minute drive southeast of Bologna.
The canal that Leonardo da Vinci designed is stunning, adorned with the colourful sails of traditional boats. Walking streets between charming piazzas easily lead you to the beach, while some transform into pedestrian-only routes with plenty of shopping and entertainment on offer.
What are the best things to do in Cesenatico?
1
Porto Canale Leonardesco
Cesenatico's iconic "mini Venice"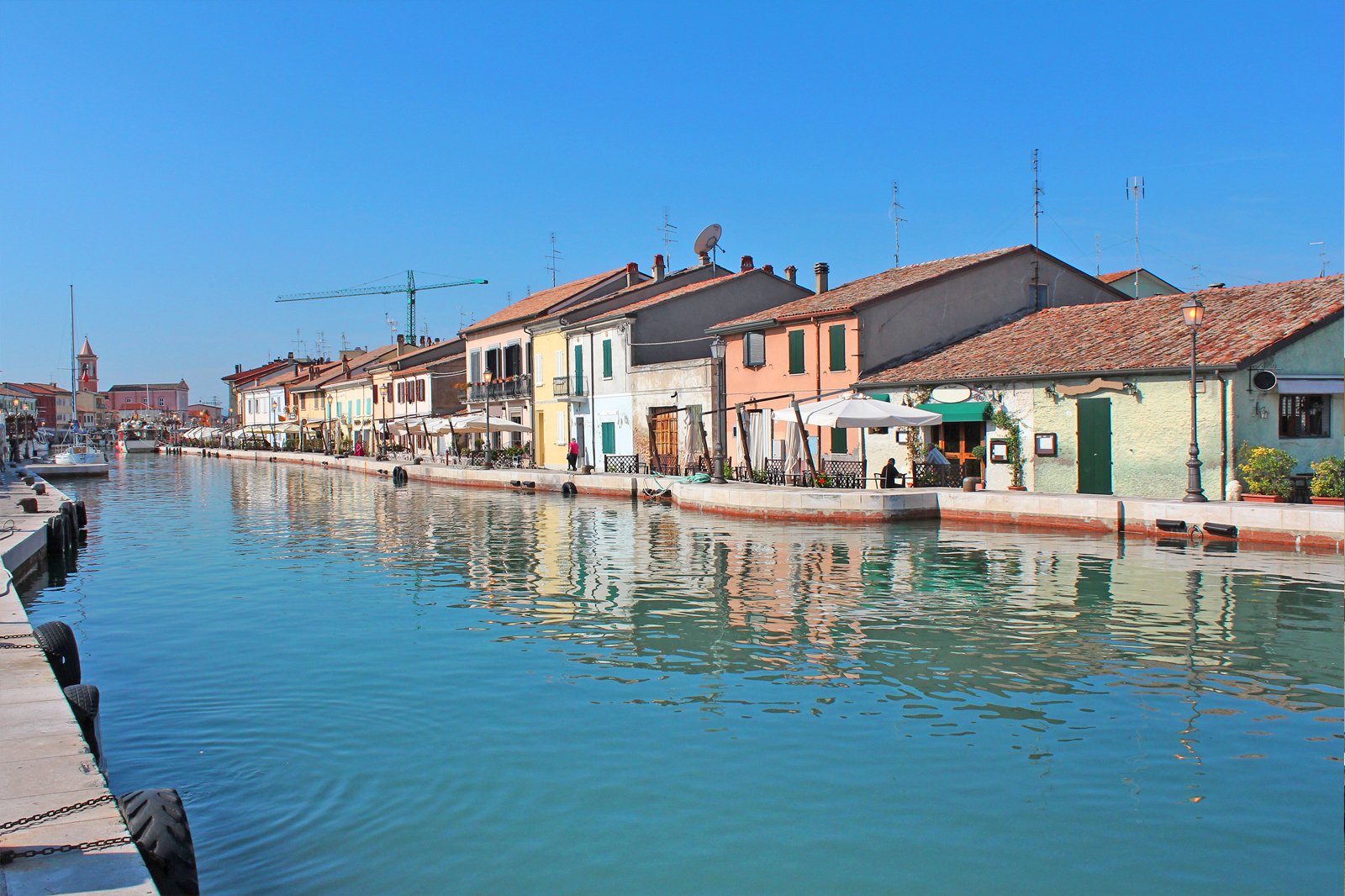 Porto Canale Leonardesco is Cesenatico's main icon, dug out in the early years of the 14th century as part of plans to fortify the town. As the name suggests, the task of designing and planning was given to none other than the Renaissance great, Leonardo da Vinci. Big and small traditional fishing boats called bragozzi crowd both sides of the canal, where you can find bars and restaurants for picturesque breaks along your walks. Besides the centrepiece Maritime Museum, other landmarks include the Marino Moretti House Museum and several small piazzas with old fish markets.
Location: Viale Cecchini, Cesenatico, Italy
2
Cesenatico beaches
There are plenty of beach clubs by the Adriatic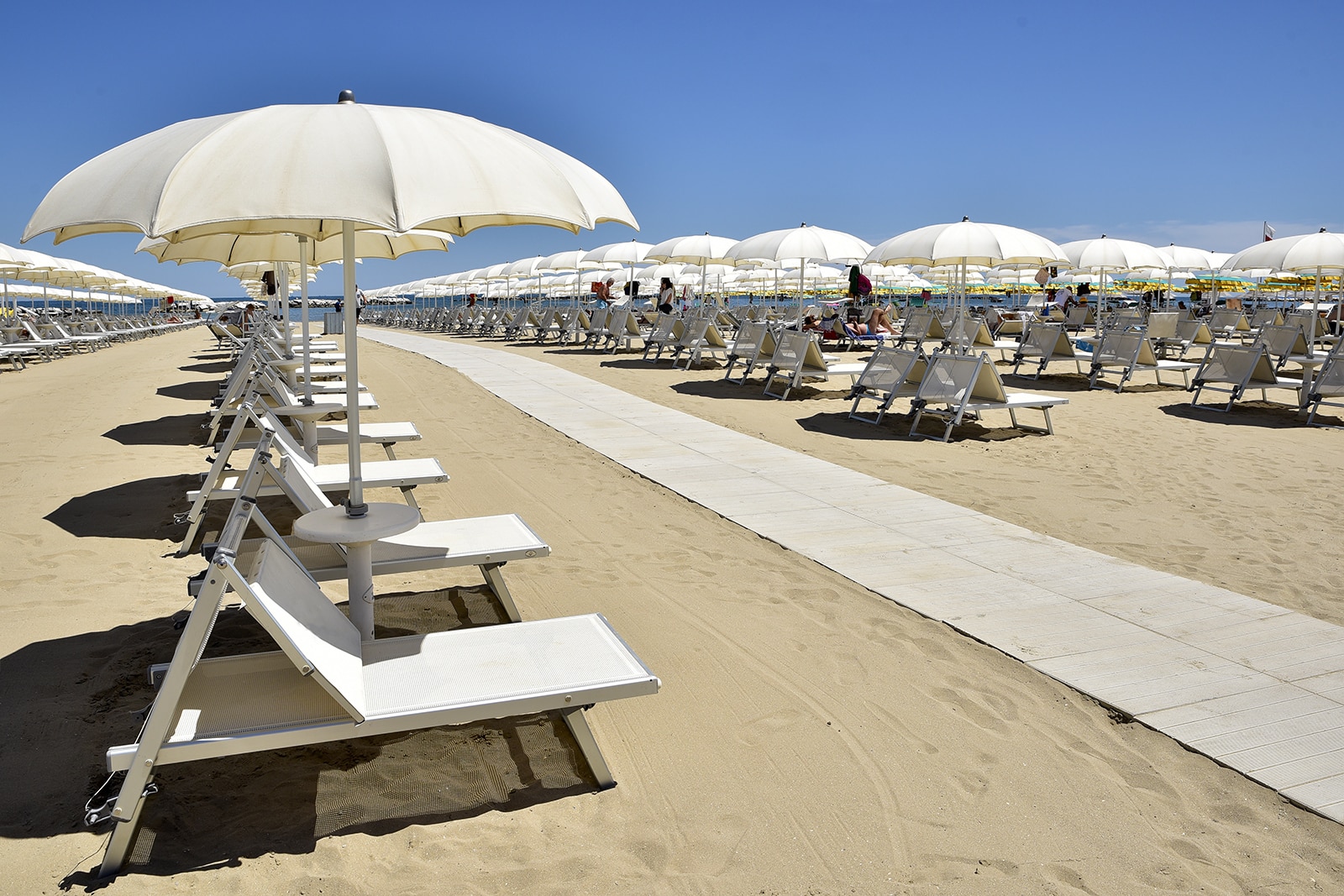 Cesenatico's seaboard stretches for around 7 km, with a series of exclusive beach clubs and free beaches to choose from along its length. You can choose from the many great serviced beach spots, referred to as bagno, which come with neatly arranged parasols and sun loungers on the sand, as well as friendly dining and recreational services. These include Zara Beach, Bagno Internazionale and Bagno Marconi, to name a few. Offering a seaside with purposefully planted tamarisks in place of parasols, the Tamerici public beach is a great alternative.
3
Museo della Marineria
Marvel at floating ancient sailboats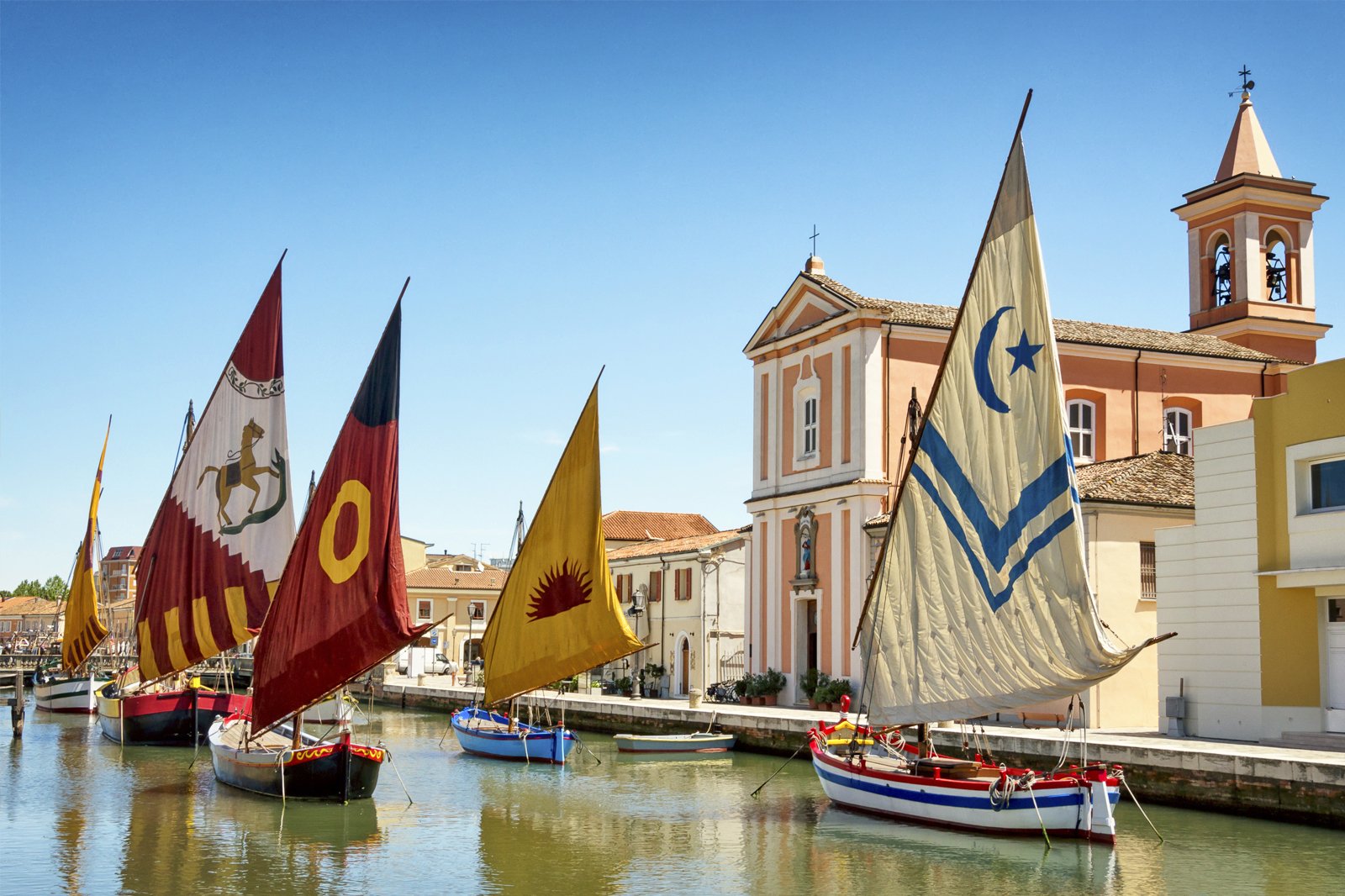 A short stroll south from Piazza delle Conserve, the Museo delle Marineria (Maritime Museum) has its own dedicated section of the canal. It's filled with replicas of around 8 ancient fishing and naval vessels in different sizes, some with colourfully decorated sails. Two of them are accessible via ramps, offering a great way to immerse yourself in the town's seafaring history. To help deepen your knowledge, look inside the museum's gallery that houses exhibits with descriptions that are also in English. Tickets are around €2.
Location: Via Carlo Armellini, 18, Cesenatico, Italy
Open: Hours vary by season
Phone: +39 (0)547 79205
4
Piazza delle Conserve
Take a walk back in time through Cesenatico's old town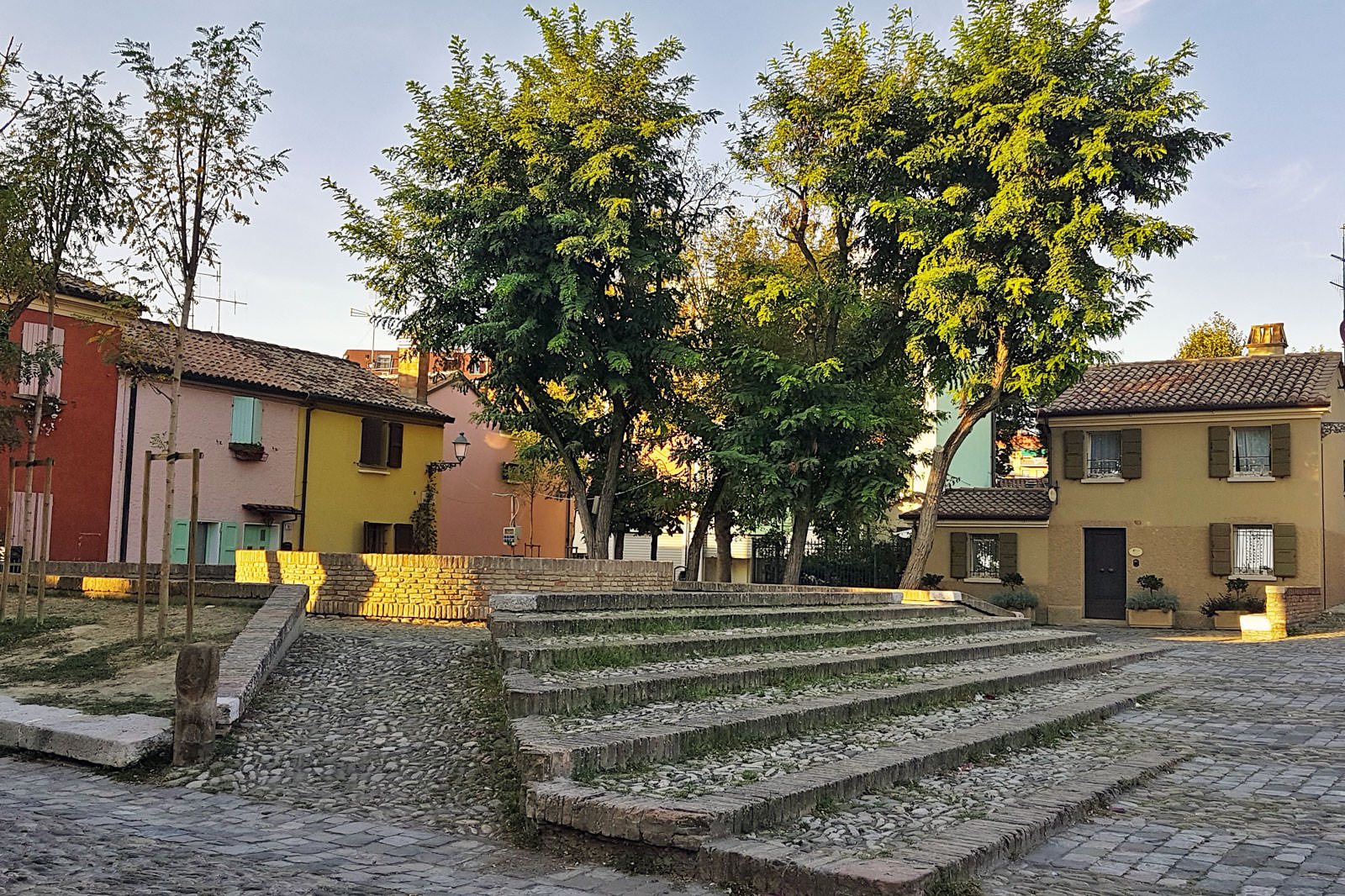 Take in the historical charms of Cesenatico through this cobblestoned piazza, which overlooks the canal that Leonardo da Vinci designed. The small square is on the eastern side of the Fosso Venarella canal and a short walk from Leonardo's Port. You'll have to park your car at Piazza del Monte, as the rest of the piazza and its streets are pedestrian-only. Well-preserved landmarks include the large centrepiece stone well, which was used in the 16th through 19th centuries for keeping fish fresh. Check out the houses in pastel colours and a mini marketplace selling fruits and local goods nearby.
Location: Piazza delle Conserve, Viale delle Repubblica, Cesenatico, Italy
photo by Benedetta78 (CC BY-SA 4.0) modified
5
Cesenatico waterparks
For splashing fun with pools and slides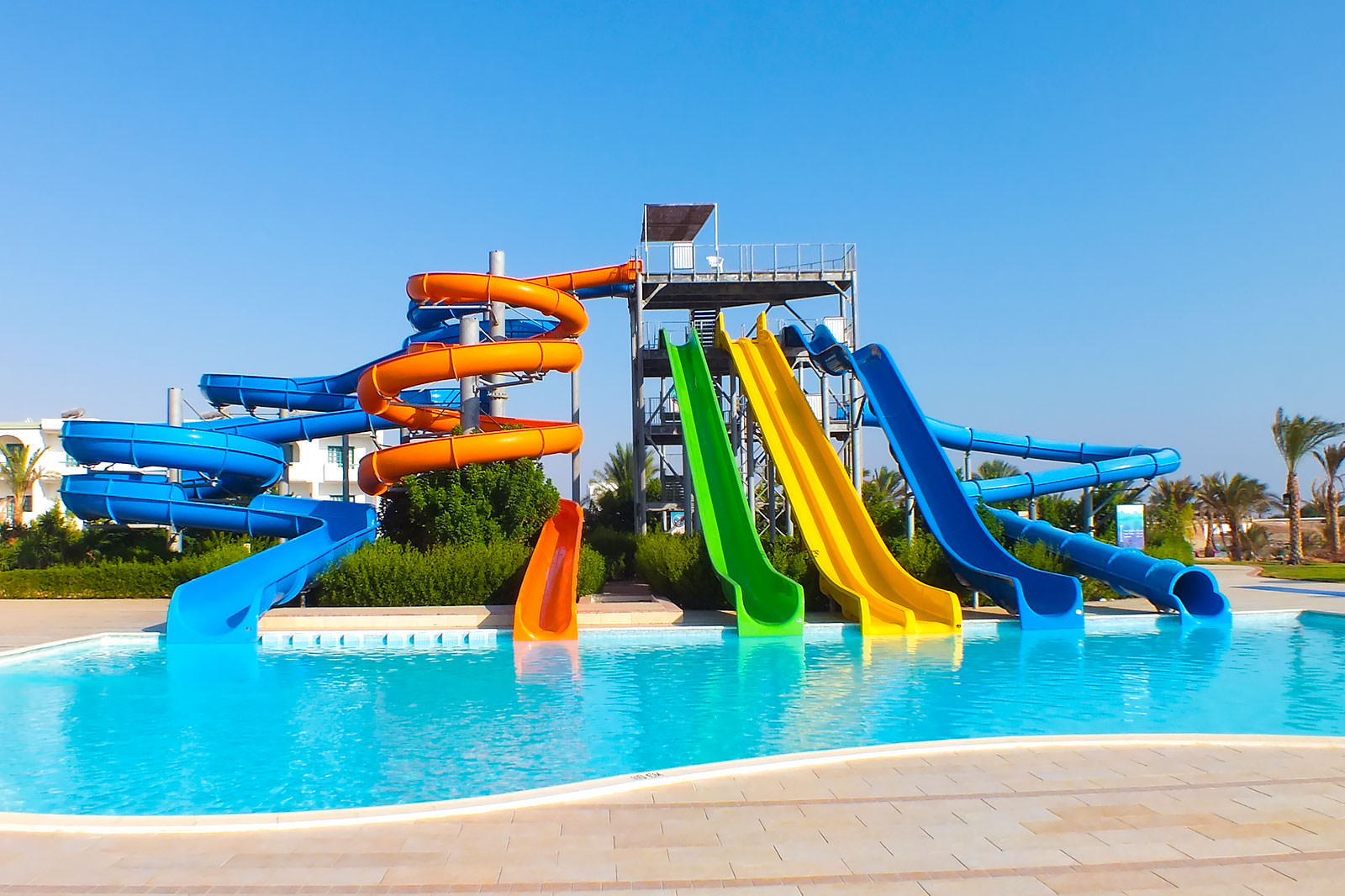 Take the kids for a fun day out at one of Cesenatico's waterparks. The Atlantica on Piazza Marco Polo, being the largest, has a total of 6 pools and well over 1,000 metres of swirling slides. These include a lazy river that's good for all ages, a 400-metre-long Anaconda slide with 3 different starting levels for different ages, and the steep Mad Kamikaze that's strictly for adrenaline seekers.. Another park worth checking out is the seaside Diamanti Beach Village, with spiralling double slides that plunge into a 25-metre pool, and an inflatable playground on the sand.
6
Maré
One of Cesenatico's best spiaggia with a view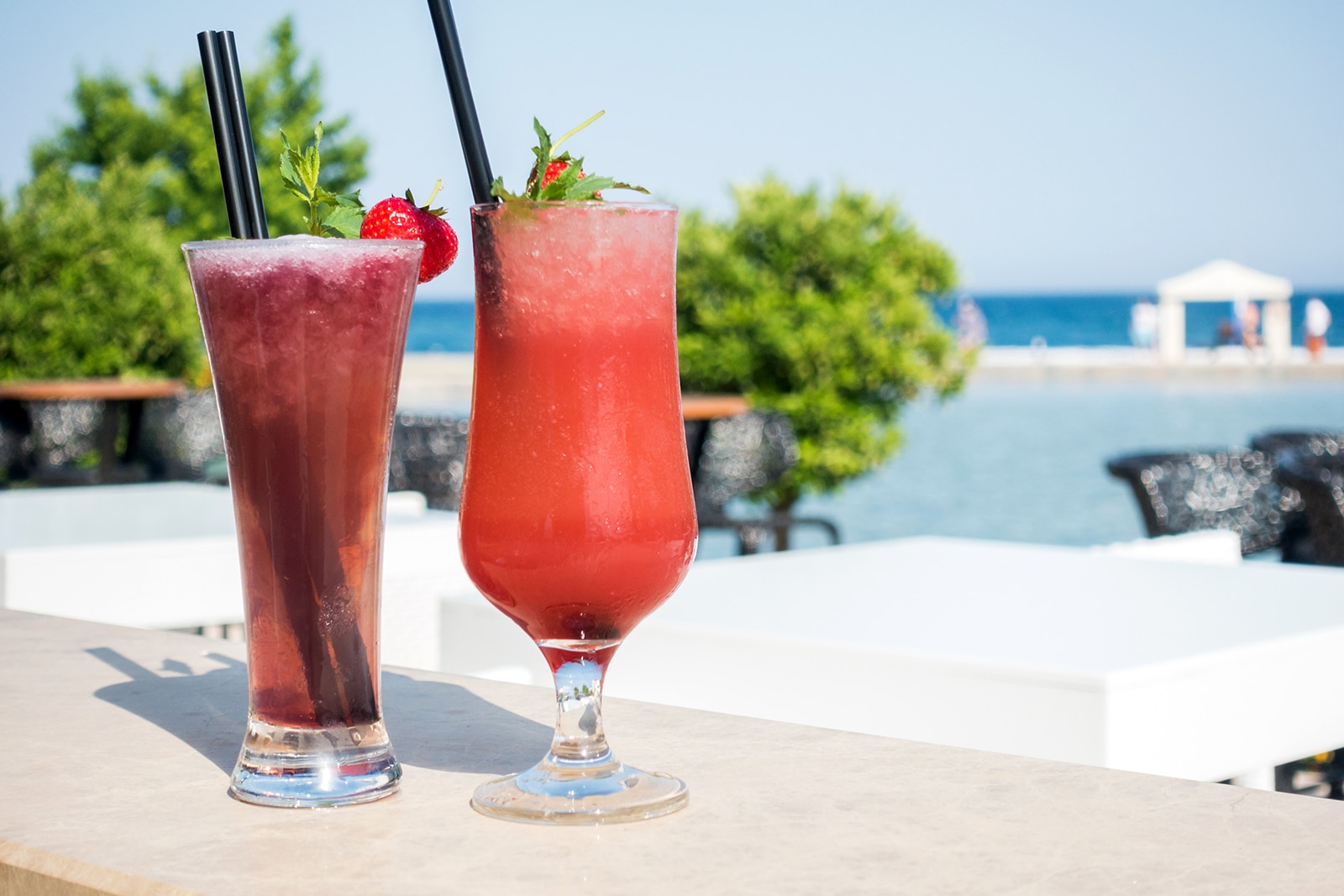 Right by the canal port and the Adriatic Sea, Maré offers a great seaside chillout spot with a restaurant, café, beach club and lounge. Being at the northernmost end of the coastline means it's slightly exclusive and out of the way, compared to the other spots along the beach. You can choose to bask at any of the many parasol-shaded loungers under the sun, or seek shelter around the bar with a cocktail and the seascape in view. Head up to the raised terrace for one of the best ambiances, which you can enjoy with pintxos (tapas) and a glass of wine (Italian reds from around €18).
Location: Molo di Levante, 74, Cesenatico, Italy
Open: Daily from 7 am to 12 am
Phone: +39 (0)331 147 6563
7
Stamperia Braghittoni
Handmade linens in centuries-old motifs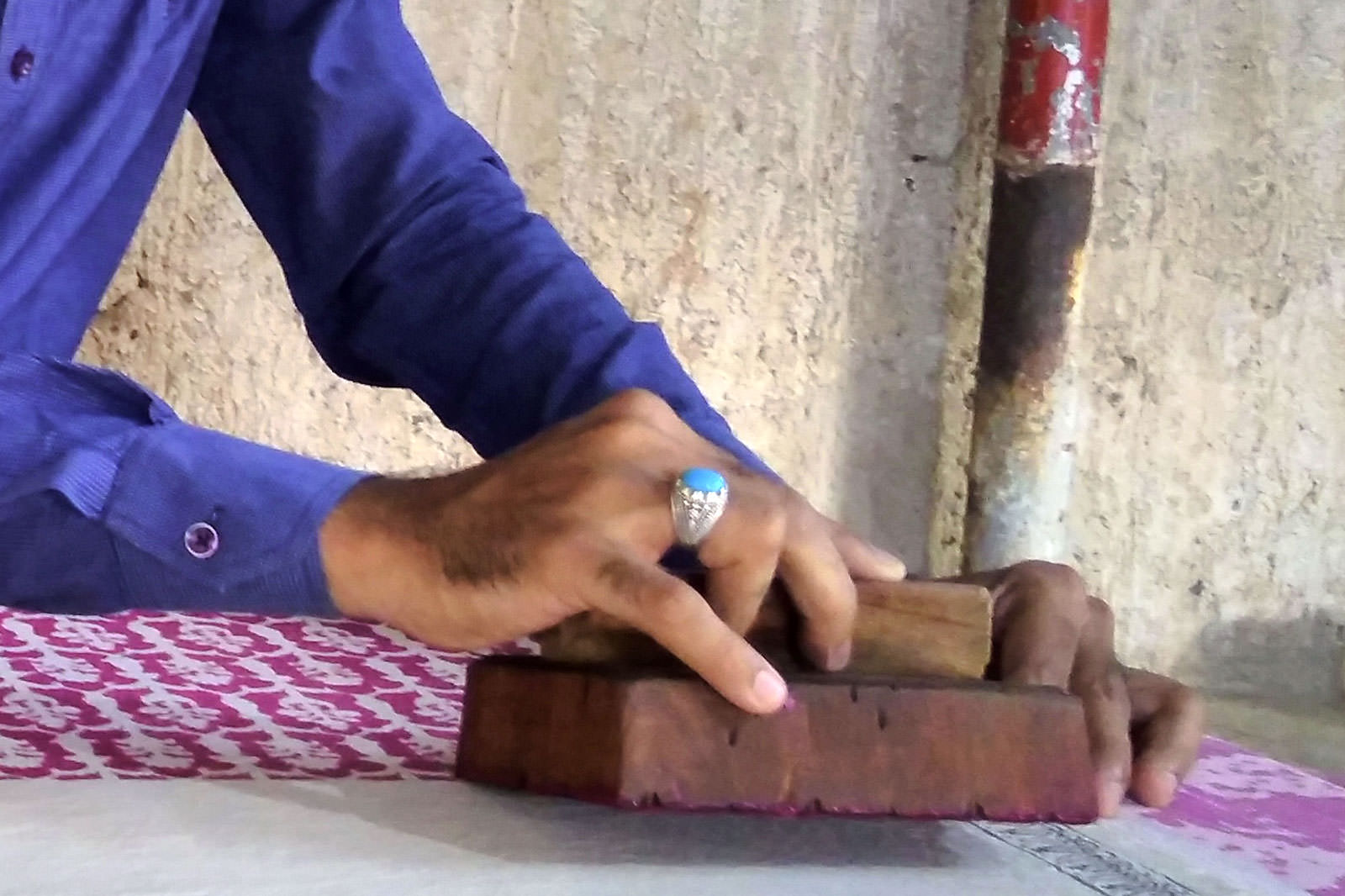 You can print your own one-off keepsake from Cesenatico at the old printing house on Via Fiorentini. Stamperia Braghittoni features a wide range of handmade linens such as tablecloths, bathrobes and bedspreads. Although they come in a variety of traditional in-house Adriatic-themed prints (fish, whales, etc), you can have yours made to order, and even have a go with the wooden printing blocks yourself. You can reach the house in the old town behind Piazza Ceceruacchio, a short stroll from Leonardo's canal port.
Location: Via Fiorentini, 55, Cesenatico, Italy
Open: Daily from 8.30 am to 6.30 pm
Phone: +39 0547 80377
photo by Eric2753 (CC BY-SA 4.0) modified
8
Topolino Park
Have a blast until late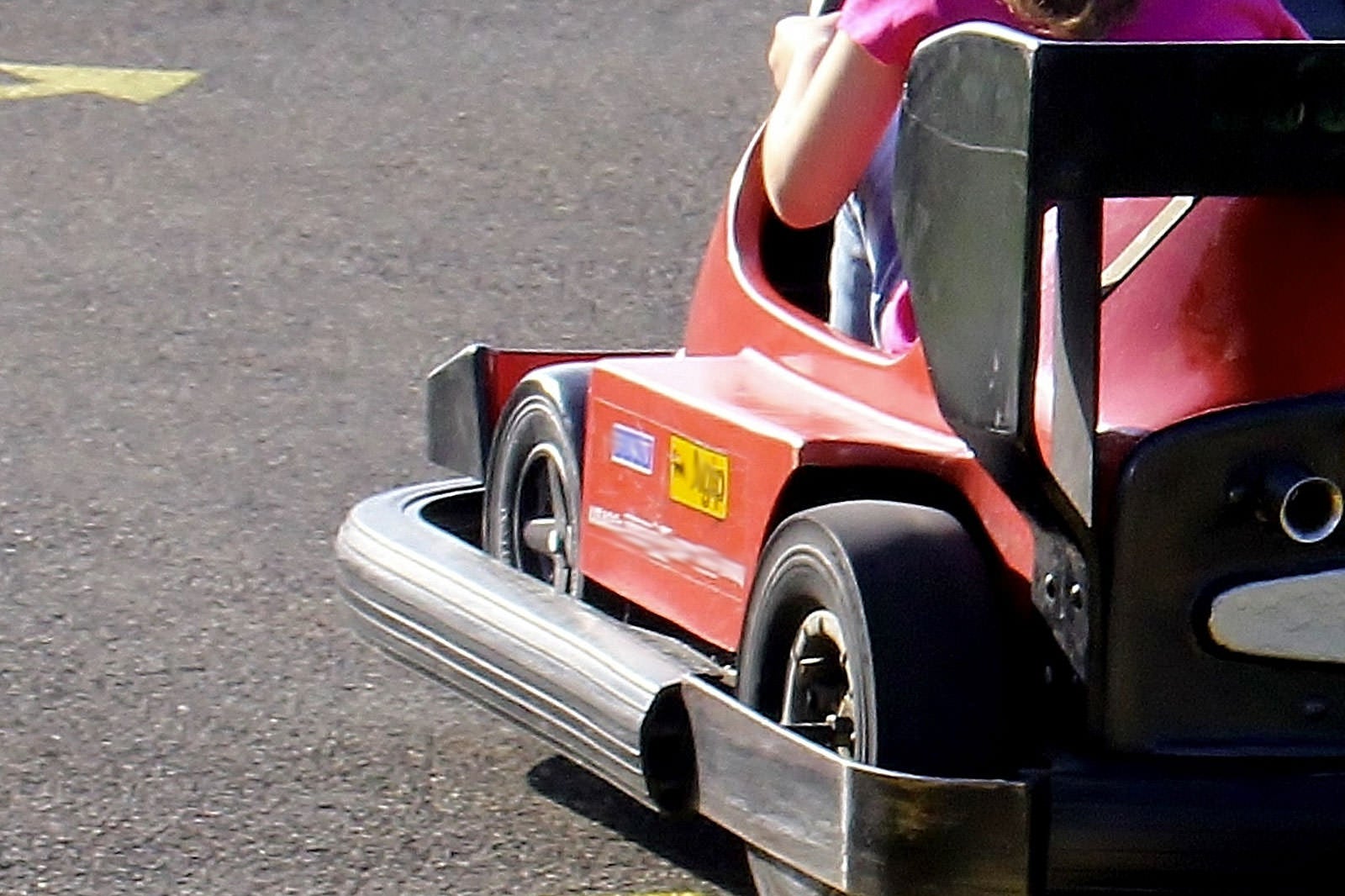 Although technically in the seaside town of Gatteo Mare, which is around an hour's drive from Cesenatico's main historical hub, this recreational park near the south-westernmost end of the seaboard is a great place to entertain young kids with plenty of games and fun activities. Topolino (meaning "little mouse" in Italian, and which is the name of Italy's own version of Disney's Mickey Mouse) has a well-equipped playground and small amusement rides. There's also a games room stocked with video games and a go-kart circuit. Rides and features are chip-based, and you can purchase 10 chips for a few euros.
Location: Via delle Nazioni, 92, Gatteo A Mare, Italy
Open: Daily from 9 am to 1 am (playground open from 5 pm to midnight)
Phone: +39 0547 87888
9
Viale Carducci
Enjoy cool summertime evening walks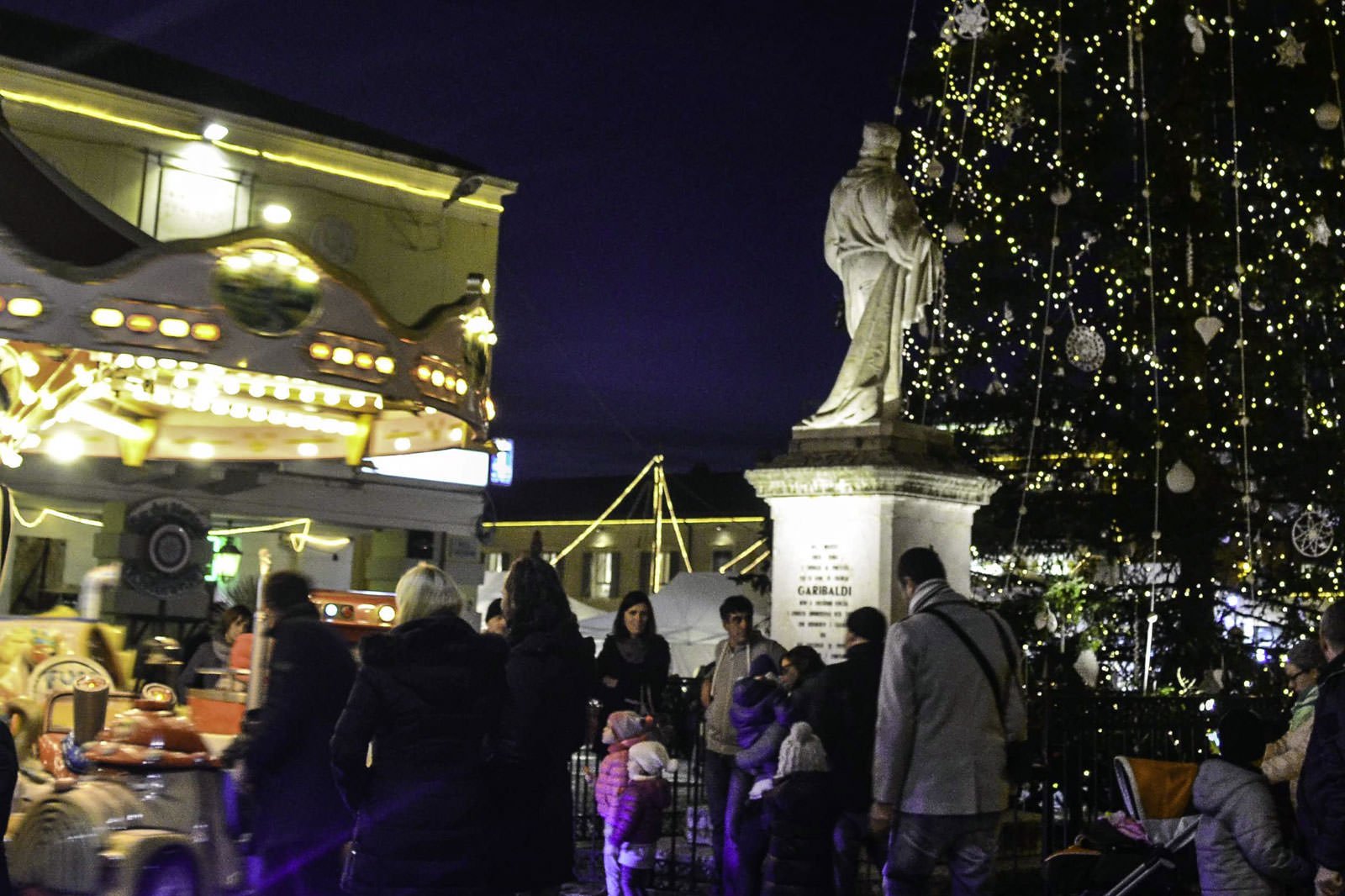 This downtown street in Cesenatico offers a hip shopping scene, especially in the summer evenings (between June and August). That's when this section of the usually busy Viale Carducci transforms into an exclusive pedestrian zone, with a flea market, and arts and craft exhibits popped up along the route. Street artists often liven it up with their performances, too. At any time of the year, day and night, you can enjoy a great shopping walk between Piazza Costa and Piazza Cavallotti, with rows of Italian fashion boutiques, cafés and gelaterias lining both sides.
Location: Viale Carducci, Cesenatico, Italy
Open: Hours vary by season
photo by STFMIC (CC BY-SA 4.0) modified
10
Cesenatico Municipal Theater
19th-century performance arts venue near Porto Canale Leonardesco
Couples
Families
History
Nightlife
The Cesenatico Municipal Theater is a neoclassical performing arts centre dating back to the 19th century. Located in the city centre, it's just a short walk from the picturesque Porto Canale Leonardesco.
The theatre has a central hall with a 2-tiered semi-circular seating space with 15 boxes on each level. Each year, its theatre season (November–March) features a wide range of performances, including musicals, comedies, orchestras, and children's plays. Tickets are available at the box office on the day of the show, but you have a better chance of getting great seats through online bookings.
Location: Viale Giuseppe Mazzini, 10, 47042 Cesenatico, Italy
Phone: +39 0547 79274
Back to top