10 Best Things to Do in Siena
What is Siena Most Famous For?
Siena is an eminent medieval city with a UNESCO-listed historic centre. Surrounded by a well-preserved 1,000-year-old wall, it's best known for hosting the Palio horserace, which takes place twice yearly, as well as plenty of medieval masterpieces.
Piazza del Campo is the central meeting point of Siena, from which you can easily reach landmarks such as the Siena Cathedral, the bastions of the Fortezza Medicea, and various museums. There's more to the city than the historic square – venture to the wall confines to discover the city's most intriguing secrets. Check out our guide to the best things to do in Siena for great ideas for your holiday.
What are the best things to do in Siena?
1
Piazza del Campo
A 13th-century square known for hosting the Palio horserace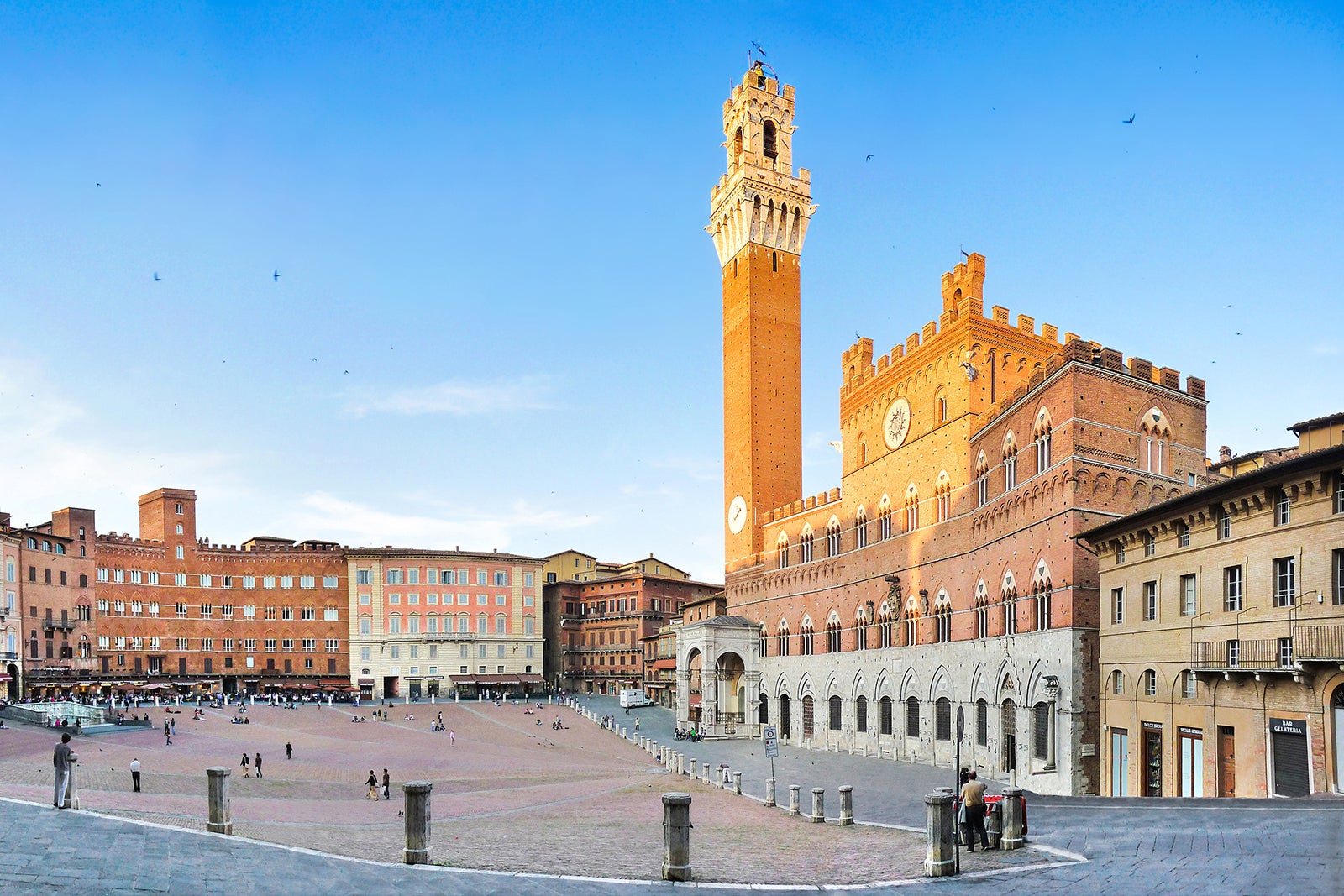 Piazza del Campo is a 13th-century square in central Siena that's famous for hosting the annual Palio horserace. It has an iconic shell shape that's split into 9 sections that slope downwards and meet in a central point known as gavinone (water drain). The unique downward slope ensures a great view of Siena from any angle.
Look closely at one of the alleys leading to Piazza del Campo, and you'll see a plaque with a verse from Dante's Divine Comedy. There are 5 more of these plagues throughout the city, which makes for a fun outing. It's no coincidence that the Sienese are told from a young age to "walk with their head high!", reminding them that the city's beauty stretches up towards the sky.
Location: Piazza del Campo, 53100 Siena SI, Italy
2
Pubblico Palace
Climb a 400-step tower for panoramic views of Siena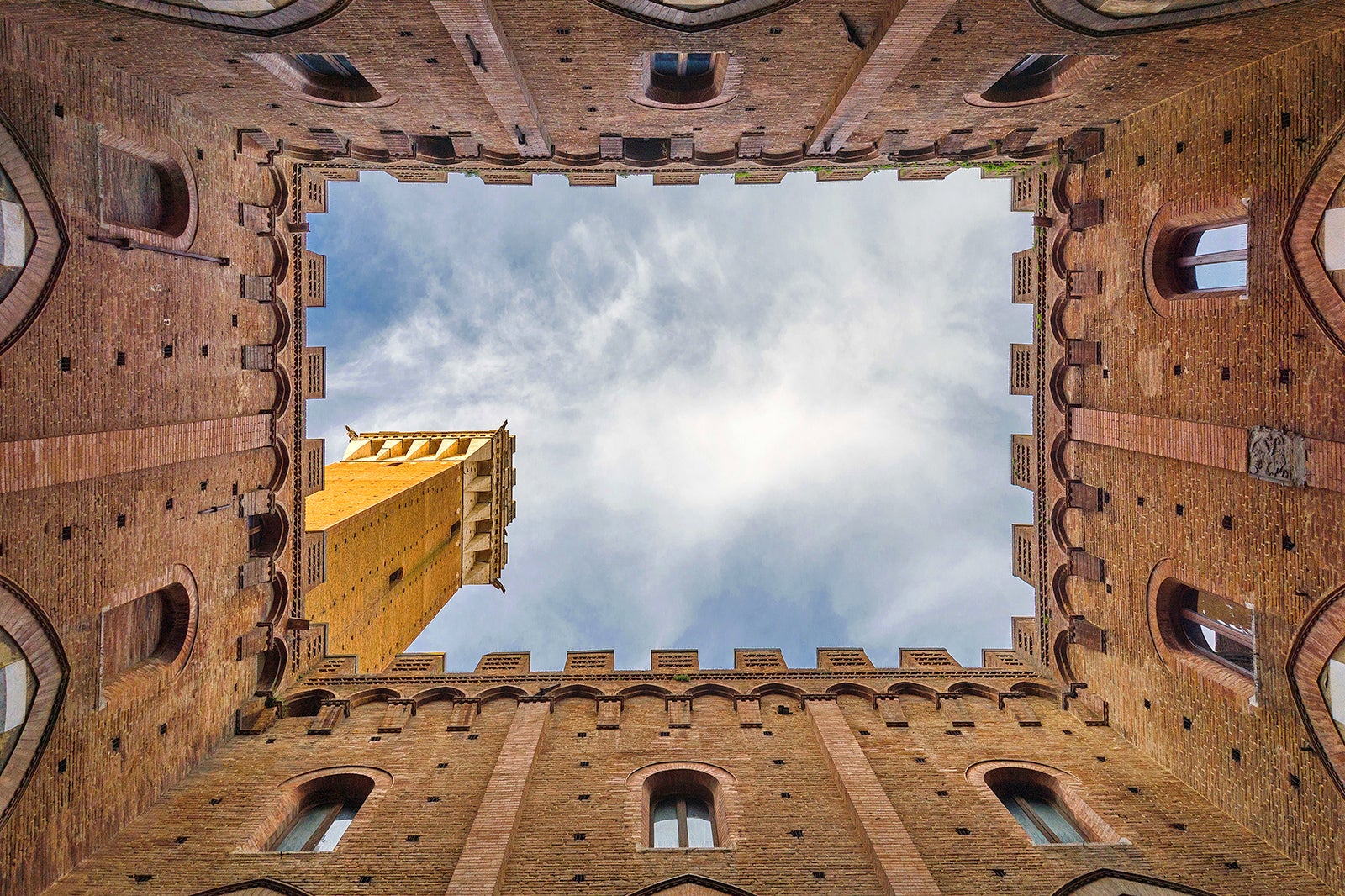 Pubblico Palace is one of the most important museums in Siena. The 13th-century brick town hall houses the city's civic museum, where you can admire spectacular works of art. A must-see is Ambrogio Lorenzetti's Allegoria ed effetti del Buono e del Cattivo Governo (The Allegory of Good and Bad Government), arguably the best artistic depiction of life in a medieval town.
If you have the energy to climb over 400 steps, Torre del Mangia (Tower of the Eater) rewards you with breathtaking views of the entire city and surrounding countryside. The tower was named after a spendthrift bell ringer nicknamed Mangiaguadagni (eat-the-profits). It has a large bell that rings during Siena's famous Palio season and annual events.
Location: Piazza del Campo 1, 53100 Siena SI, Italy
Phone: +39 0577 292615
3
Piazza del Duomo
Enjoy a scenic walk to Siena Cathedral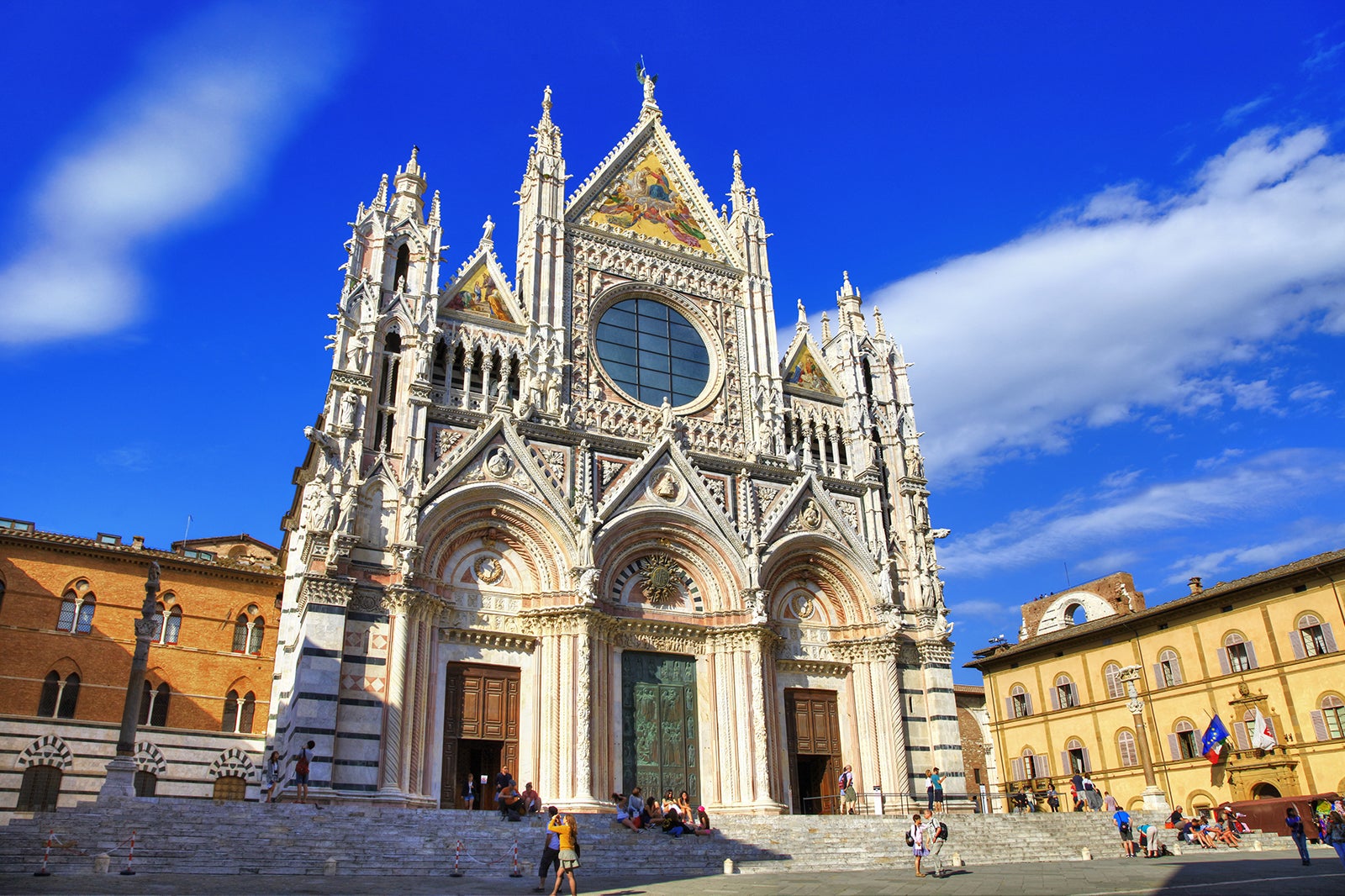 Piazza del Duomo is a city square that's easily accessible from just about anywhere in Siena. You can walk from Via di Città, which takes you past several historic buildings, including Accademia Chigiana (Chigiana Musical Academy). If you're in Piazza del Campo, stroll through Via dei Pellegrini until you get to Piazza San Giovanni, where you can take a break at the battistero (baptistery) and see notable artwork, including a statue by Donatello. From the baptistery, there's also a long, white staircase that leads right to the Duomo di Siena (Siena Cathedral).
Along the way, check out traditional shops and bakeries specialising in local treats such as ricciarelli (almond biscuit), cavallucci (Christmas pastry), panpepato (sweet round cake), schiacciata all'anice pasquale (Easter bread) and pan co' santi (sweet bread).
4
Duomo di Siena
A medieval church dating back to 1196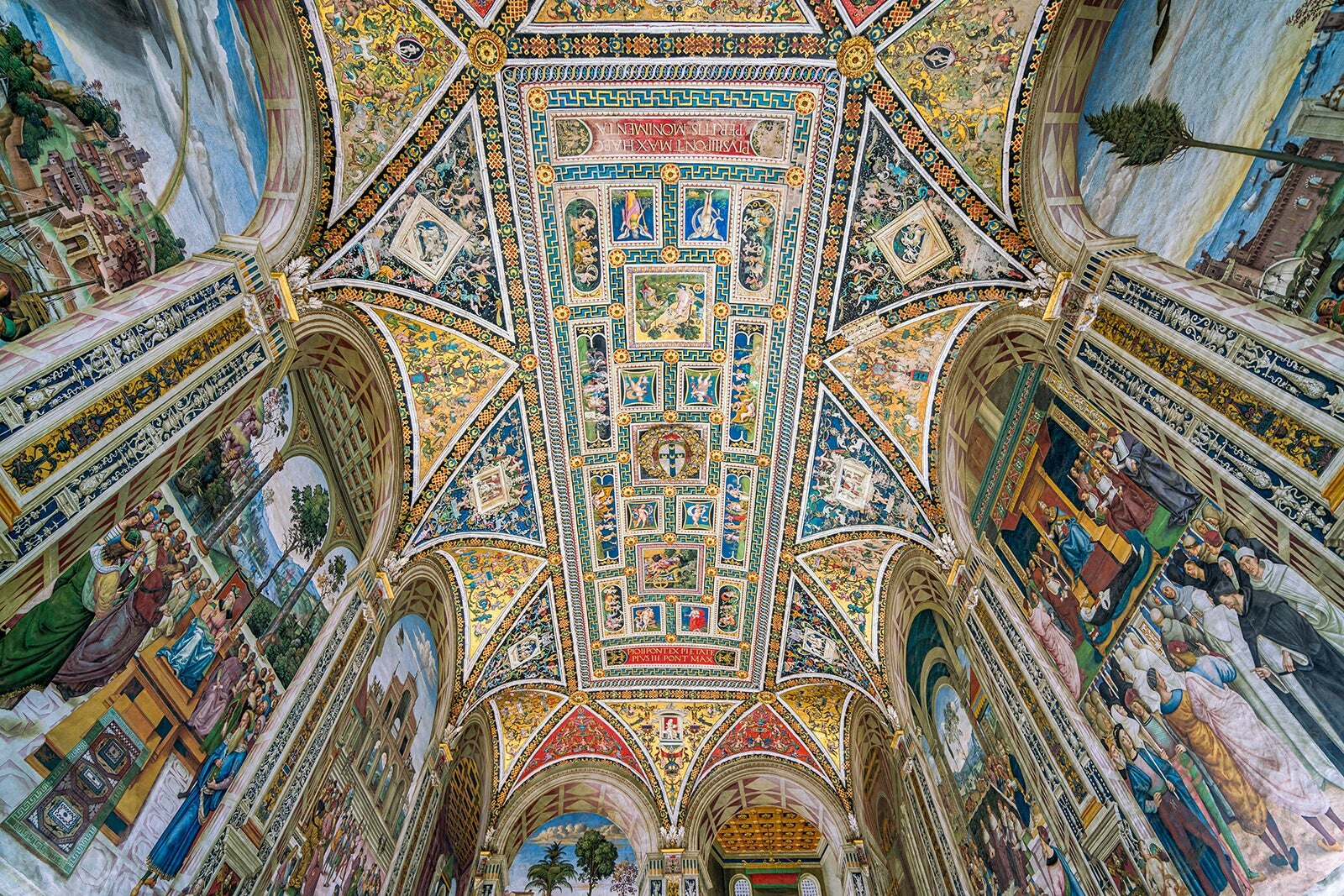 Duomo di Siena is a medieval cathedral with an evocative, black and white marble facade. Its interior is even more majestic, with its floor entirely inlaid with Old and New Testament scenes. It's best to allocate a few hours to fully appreciate its structure and artwork, as well as the onsite Piccolomini Library, which has vibrant Pinturicchio frescoes.
Step out of Duomo di Siena and you'll find yourself in Piazza Jacopo della Quercia. You can see columns and walls resembling the cathedral's interior – they're supposed to be part of Europe's largest church but construction was halted due to a plague during the 14th century. Climb the Facciatone (a facade meant for the unfinished cathedral) for uninterrupted views of Piazza del Campo and Siena.
Location: Piazza del Duomo, 853100 Siena SI, Italy
Phone: +39 0577 286300
5
Santa Maria della Scala
An art museum inside a former hospital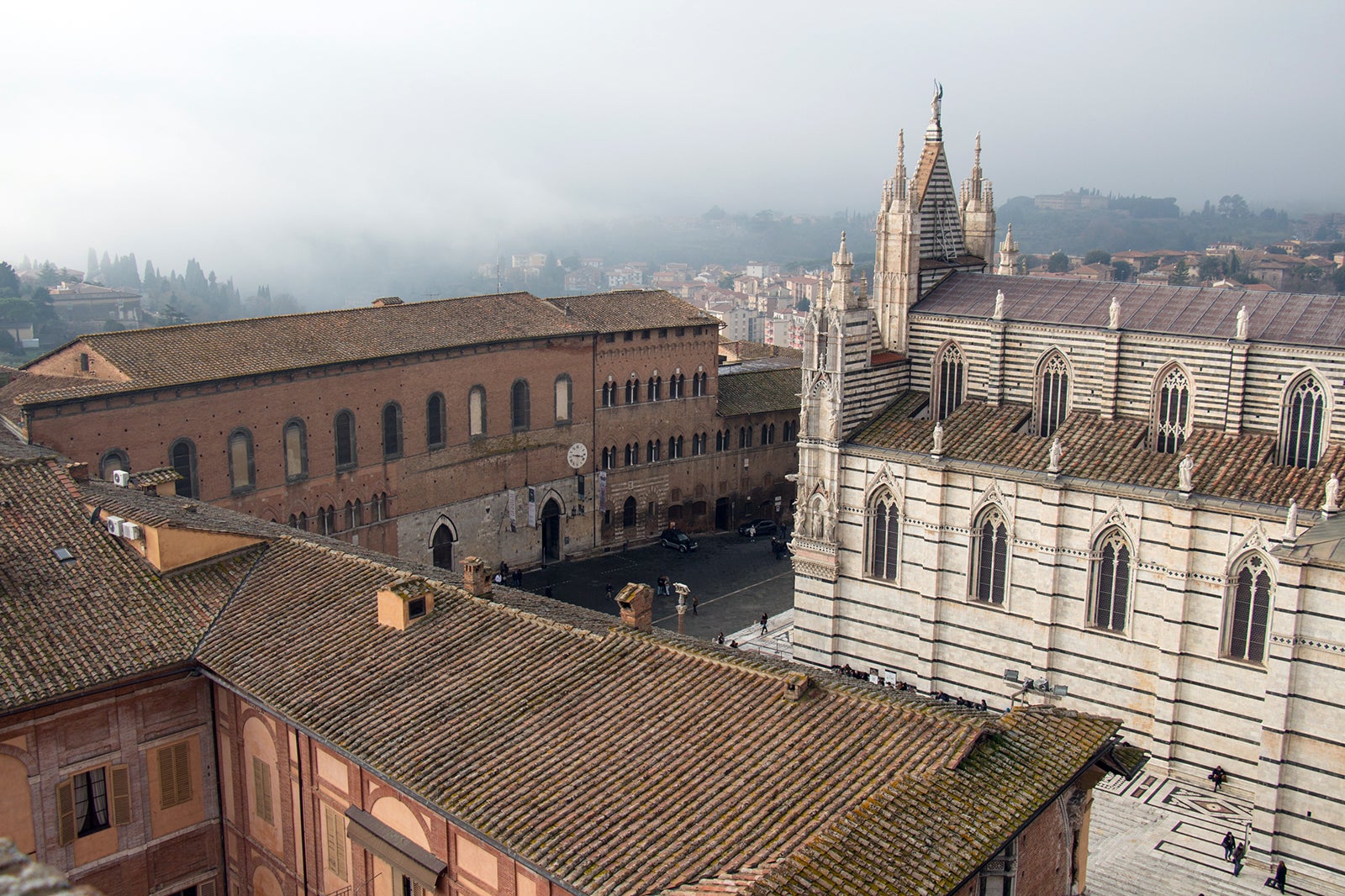 Santa Maria della Scala is a remarkable museum occupying a former hospital and lodging for the city's pilgrims. It has a diverse collection of artefacts, ranging from archaeological digs to works by the best-known Sienese artists. One of its most important rooms is the Pilgrim's Hall (Pellegrinaio), which provides unique evidence on medieval medical practices in Italy.
The Chiesa della Santissima Annunziata (Basilica of the Most Holy Annunciation), the former hospital chapel, and Palazzo Squarcialupi (which hosts temporary exhibits) are also some of Santa Maria della Scala most popular features.
Location: Piazza del Duomo 8, 53100 Siena SI, Italy
Open: Thursday from 10 am to 10 pm, Friday–Wednesday from 10 am to 7 pm
Phone: +39 0577 534571
6
Visit Siena's 17 districts
Each has a unique community that's distinctively Siennese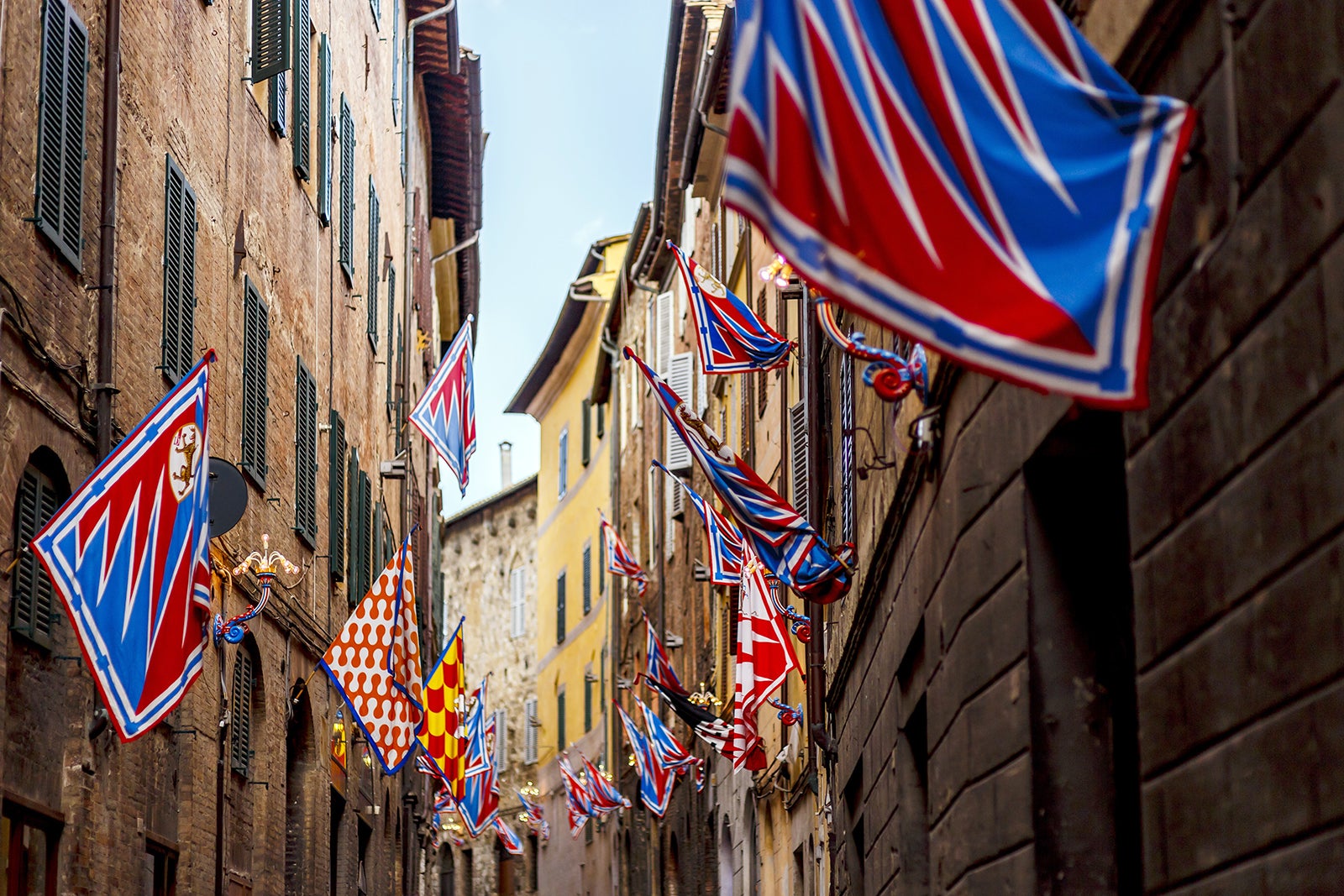 The city of Siena has 17 districts, each of which has very distinctive communities. These areas are often buzzing with life, not just during the annual Palio horserace, but throughout the year with fun events.
It's a good idea to read about the districts' museums and churches on their official websites. Find exquisite art, evidence of Palios won in years gone by, and banners hailing the winners of each circuit.
7
Siena aqueducts and springs
The city has an underground labyrinth stretching over 25 km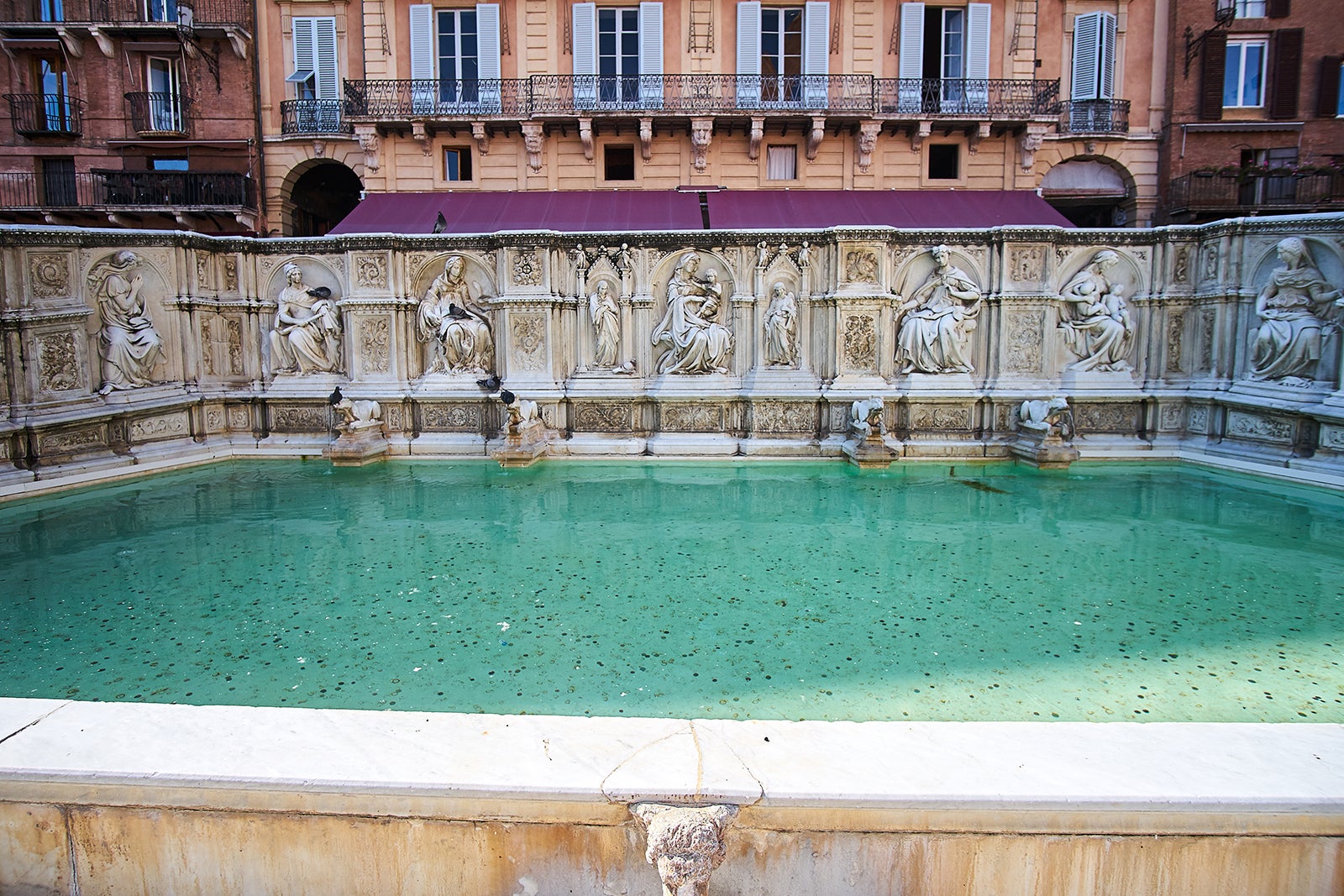 Until 1914, Siena's water system was supplied by ancient wells and bottini or underground aqueducts that were a feat of engineering of the era. The city has many medieval springs supplied by the wells.
It's a good idea to grab a map from a tourist office and look for Siena's springs and fountains, including the Fonti di Follonica (Follonica springs), Fonte Gaia (Fountain of Joy) in Piazza del Campo, and the Fonti di Pescaia (Pescaia springs).
8
Siena city walls
It has protected the historic city since the 12th century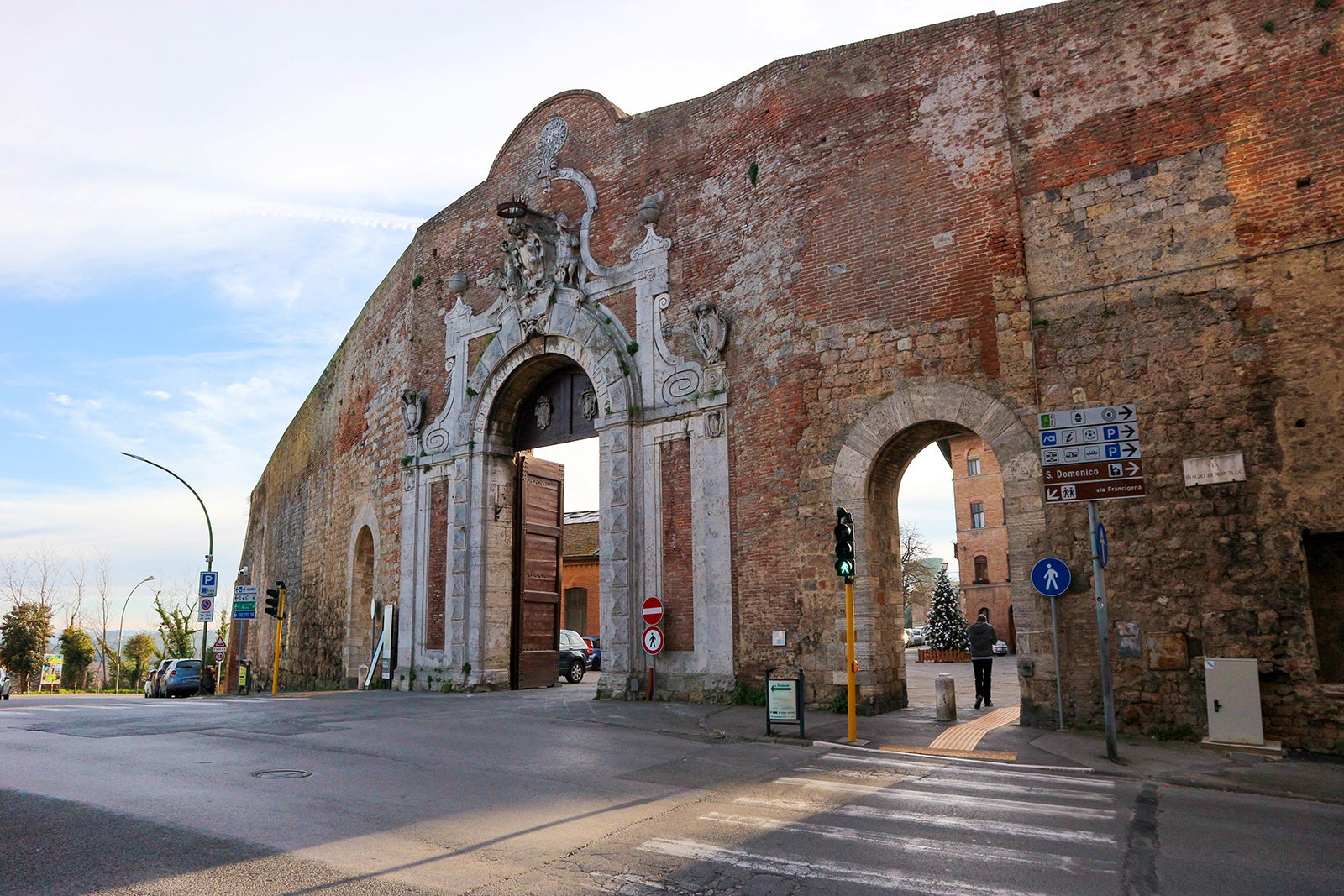 Siena is one of the few cities in the world that's surrounded by a completely intact medieval wall. The fortified city wall spans 7 km in length, interspersing with the city's ancient entrance gates.
A must-see is Porta Camollia (Camollia Gate), which is used by residents in the north of the city. At the top of the gate is the phrase, COR MAGIS TIBI SENA PANDIT, which translates to 'Siena opens her heart to you, which is bigger than this gate'.
9
Palazzo Salimbeni
Check out the world's oldest bank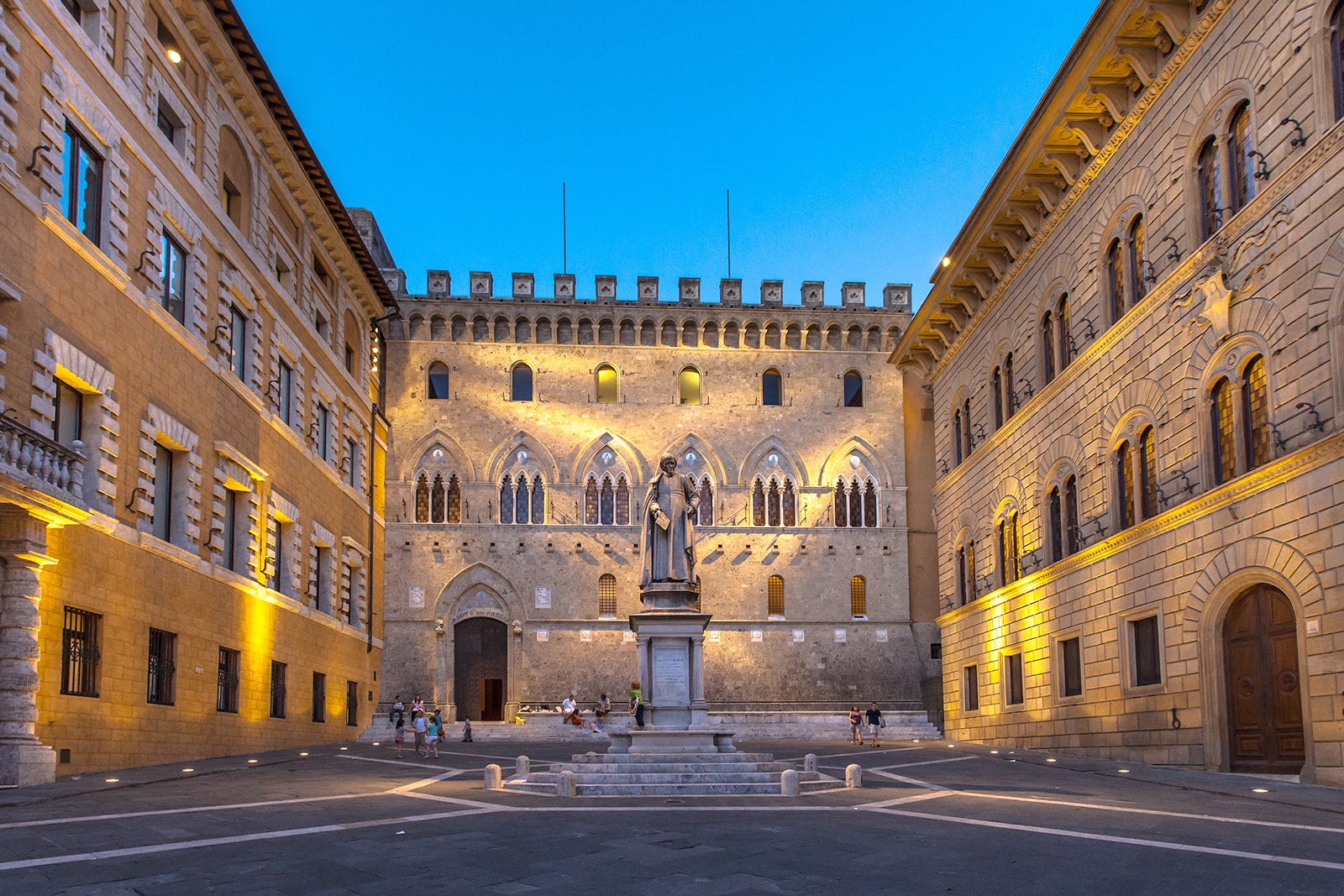 Palazzo Salimbeni is a Gothic-style palace that houses the 15th-century Monte dei Paschi di Siena – the oldest bank in the world. The building overlooks a square that was specially designed by architect Partini, who wanted to revisit medieval and renaissance architectural standards.
The square is especially alluring at night, when hundreds of lights create a rather romantic atmosphere. The palace's interior displays the bank's historic archive and collection, including works by famous Sienese artists.
Location: Piazza Salimbeni, 1, 53100 Siena SI, Italy
10
Explore Siena on foot
It's one of the most walkable cities in Italy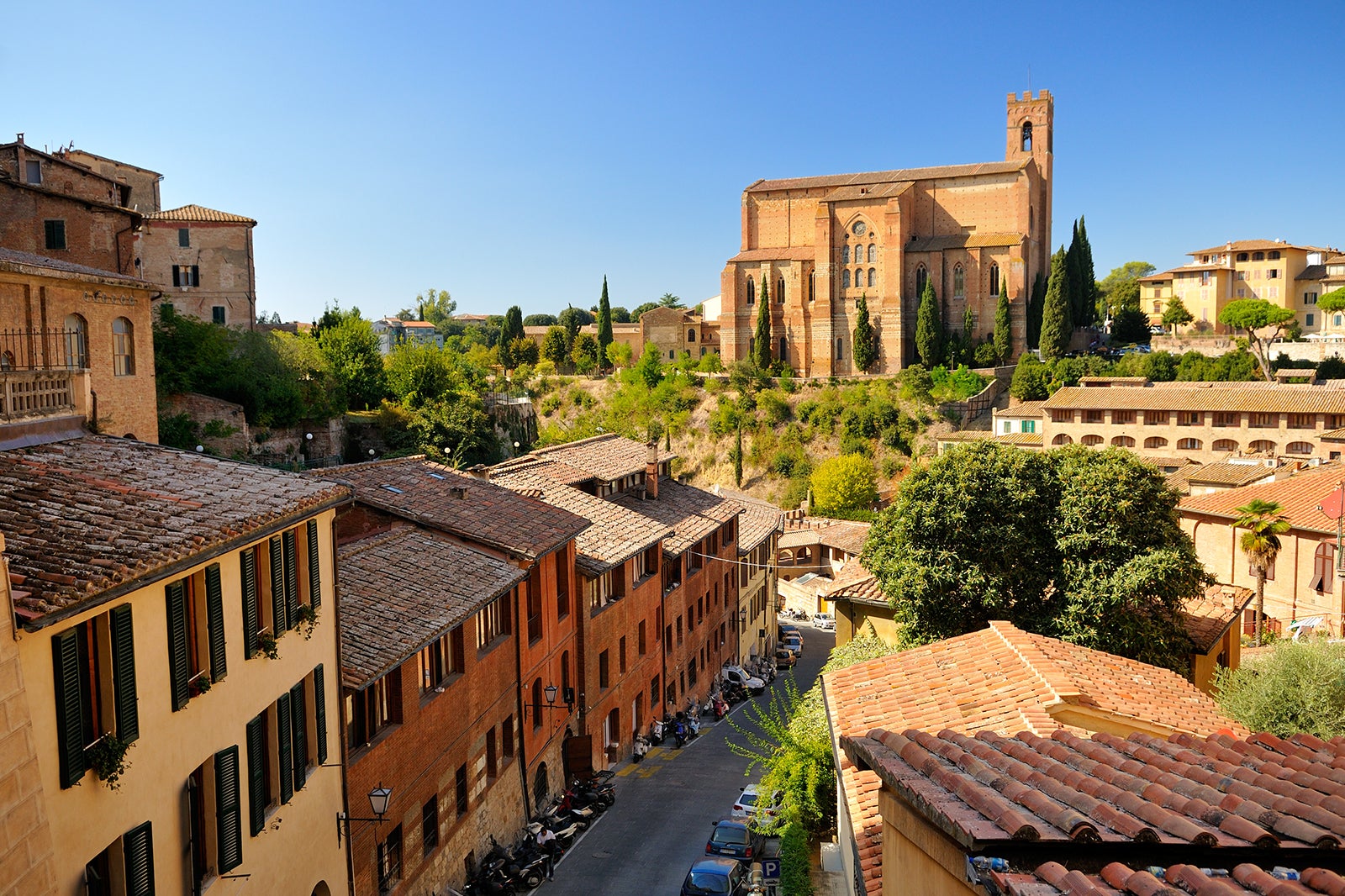 One of the best ways to fully experience Siena's beauty is on foot. The city has many sloped alleys that open up to inviting little squares and majestic cathedrals, including Basilica di San Domenico (Basilica of Saint Dominic) and Santa Maria dei Servi (Basilica of the Servants of Mary).
Walking the hills that underpin Siena results in incredible views of the city's many historic landmarks. After a few hours of walking through the city, unwind in a traditional osteria with local specialities such as scottiglia (slow-cooked meat in tomato sauce), crostini neri (toasted bread with liver), paired with Chianti or Vernaccia.
Back to top