10 Free Things to Do in Rome
Rome for Budget Travellers
A trip to Rome can be as extravagant or as wallet-friendly, as you please. We've rounded up some ideas that can help budget-conscious travellers make the most of the Eternal City. There are great things to do that will hardly break the bank. With some workarounds, you can even enjoy major sites for free where tickets usually apply.
There's plenty on offer in Rome for budget travellers. This includes the city's rich collection of civic museums where you can admire historical architecture and Renaissance masterpieces, as well as green oases in the city centre where you can escape the bustle altogether. Make your trip on a budget possible with these free things to do in Rome.
1
Rome's civic museums (at specified times)
Admire Roman art and history for free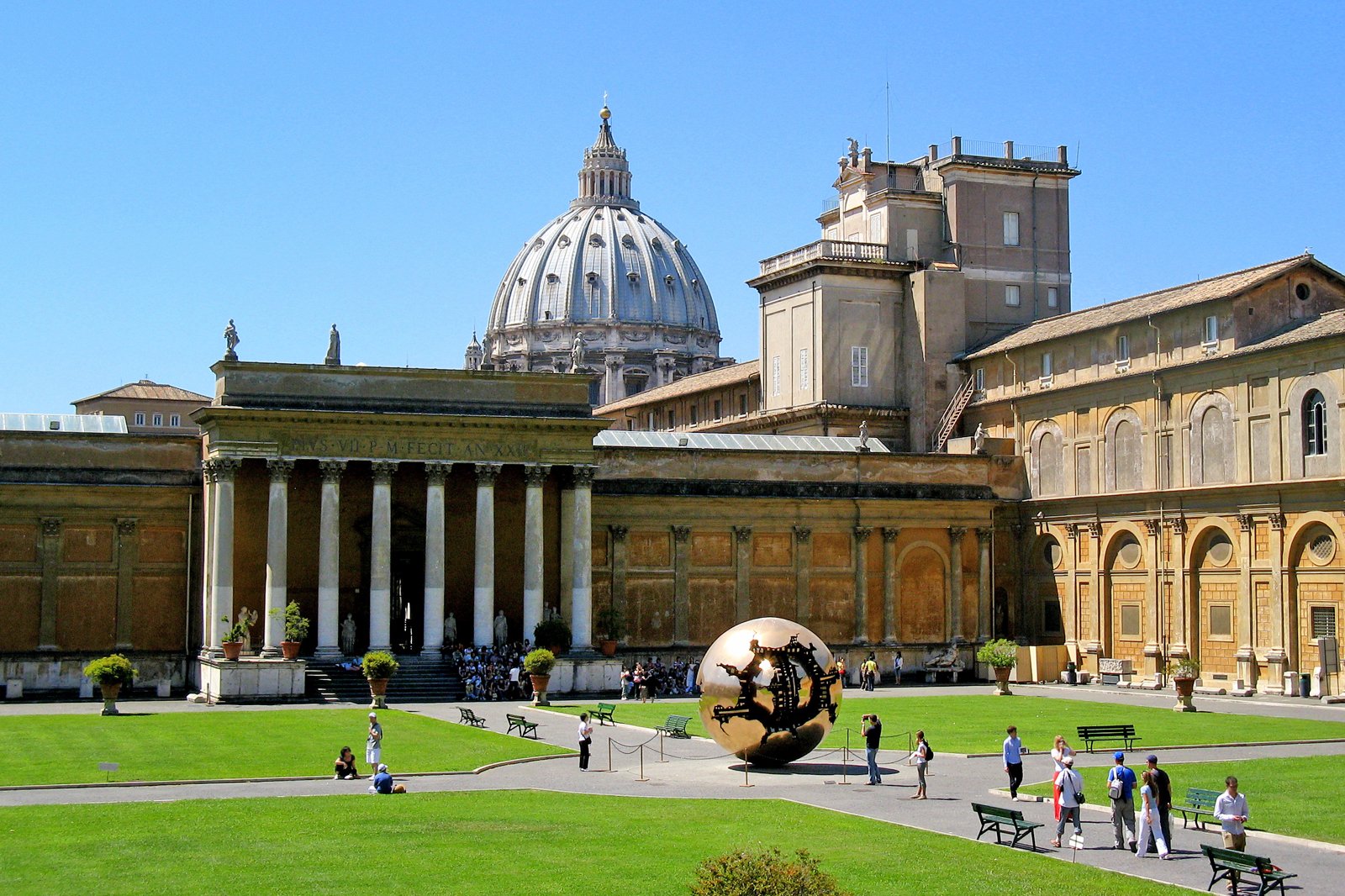 Enjoy free entry into Rome's impressive collection of civic museums and several historical sites at certain times. On Rome's birthday (21st April) the city's government grants public access to over a dozen state museums throughout the city. These range from the Napoleon Museum to Rome's Museum of Modern and Contemporary Art. Significant sites such as the Colosseum, Palatine Hill and the Roman Forum are usually free to visit on the first Sunday of the month. The Vatican Museums provide free access on the last Sunday of each month.
photo by HarshLight (CC BY 2.0) modified
2
The Pantheon
A well-preserved ancient landmark that's open to the public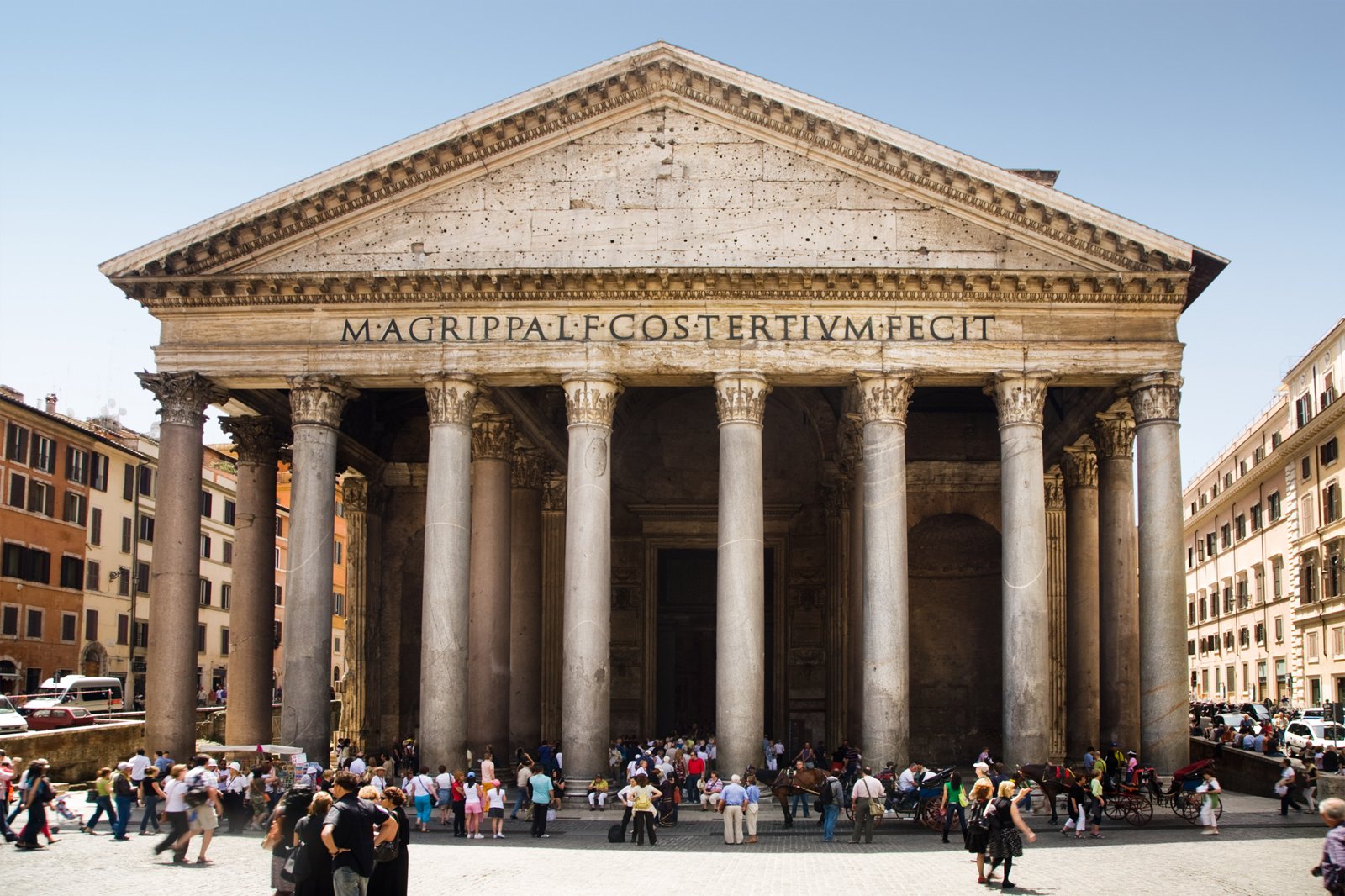 It's known as the only ancient building that's intact, well-preserved, and still functions as a place of worship to this day. After admiring its impressive architecture and interior features, the centrepiece dome with the oculus in its centre serves as its highlight. The oculus serves as the primary source of natural lighting, but you can expect the best lightshow on Rome's birthday on 21st April. This is when the midday sun is perfectly vertical, and the sunlight beams straight down onto the chequered marble floor.
Location: Piazza della Rotonda, 00186 Rome, Italy
Open: Monday – Saturday from 9 am to 7.15 pm, Sundays from 9 am to 5.45 pm (public holidays until 12.45 pm)
Phone: +39 06 6830 0230
3
St. Peter's Basilica
Stand your chance to see the Pope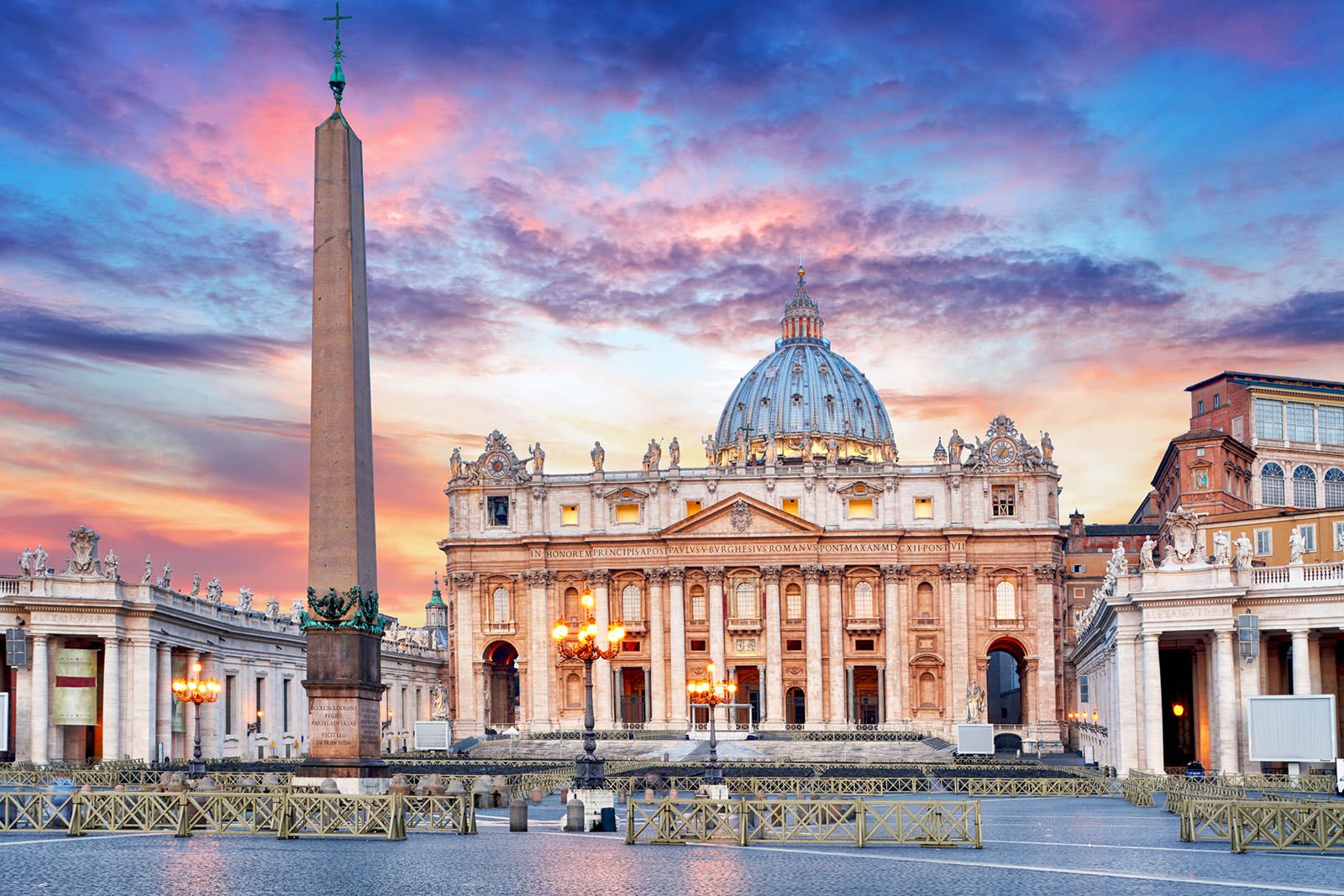 Right next door to the Vatican Museums is St. Peter's Basilica, with its imposing dome and towering columns that are topped by 13 statues of Jesus and the apostles. You'll need to get a ticket to enter the basilica, but which is interestingly at no cost. Lines can get rather long, though, so better come early. Extra costs apply for audio guides, which can be quite fun and helpful, as well as the climb up to the impressive cupola. For the Papal Audiences, you can try visiting on a Wednesday, when a similar ticketing procedure applies.
Location: Citta del Vaticano 1, 00120 Vatican City, Italy
Open: Monday–Saturday from 9 am to 6 pm, every last Sunday of the month from 9 am to 2 pm
Phone: +39 06 6988 4676
4
Piazza Navona
Probably Rome's most beautiful square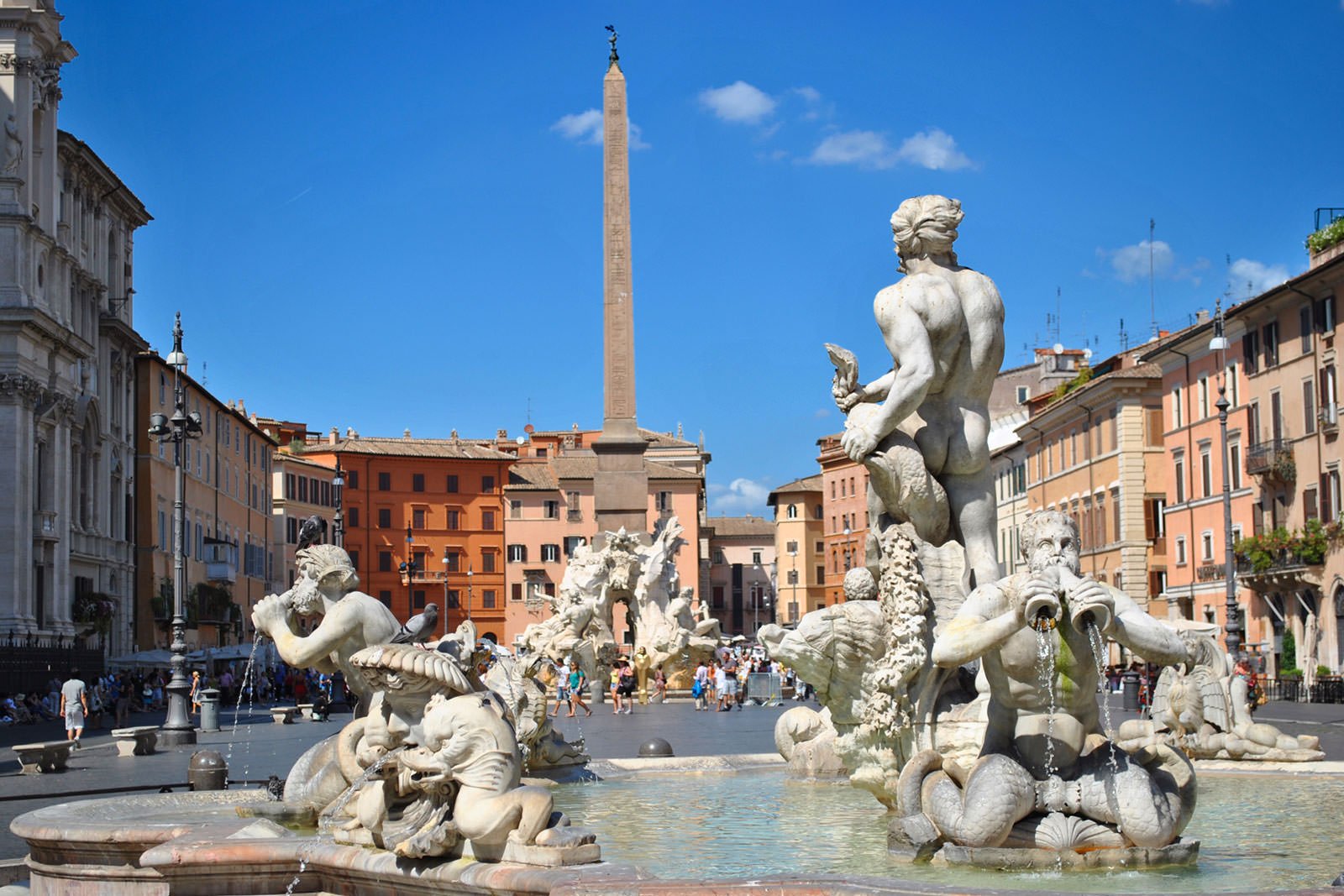 This buzzing public space in the heart of Rome can be one of the most charming scenes you'll enjoy in the city. There's people watching to enjoy day and night, where you're actively part of the crowd. Gather around the Piazza Navona's beautiful Baroque centrepiece, the Fountain of the Four Rivers, with buskers and street magicians performing before you. The Church of Sant'Agnese serves as the piazza's majestic backdrop for your pics. Cafés with terraces around the piazza can provide wonderful views, but they tend to be pricey.
Location: Piazza Navona, 00186 Rome, Italy
5
The Spanish Steps
A vibrant public gathering space in Rome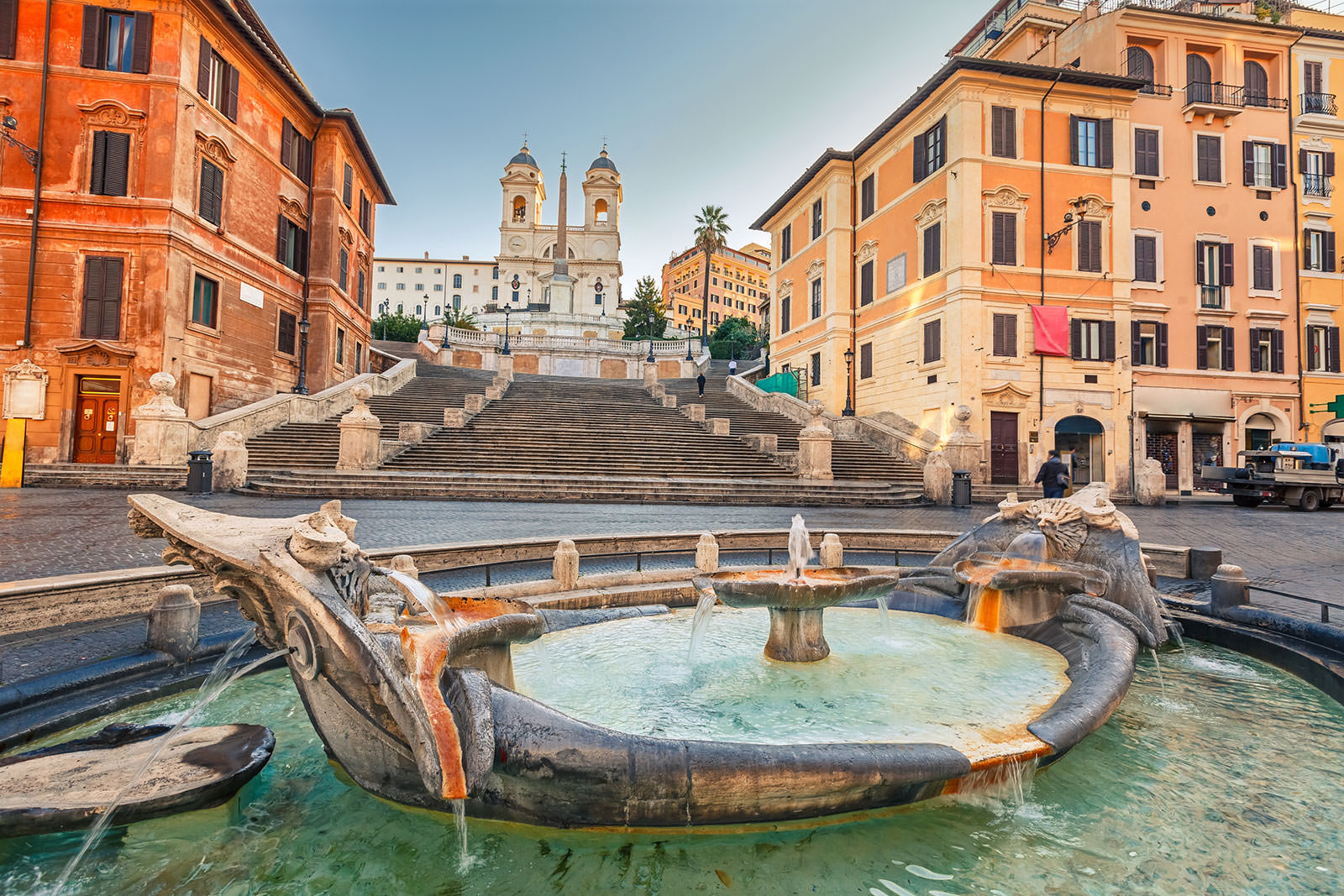 This Baroque 18th-century staircase bordered by classical lampposts flows down from the Trinità dei Monti church, just a short walk north from the Trevi Fountain. At the foot of this wide staircase you can find the small sculpted fountain called the Fontana della Barcaccia (Fountain of the Boat). Many visitors like to gather around the steps and the fountain for some good views and vibes of the city. Why is it called the Spanish Steps, you may ask? The piazza that the steps lead down to was named after the adjacent Spanish Embassy to the Holy See.
Location: Piazza di Spagna, 00187 Rome, Italy
6
Trevi Fountain
The world's most gorgeous fountain is free to visit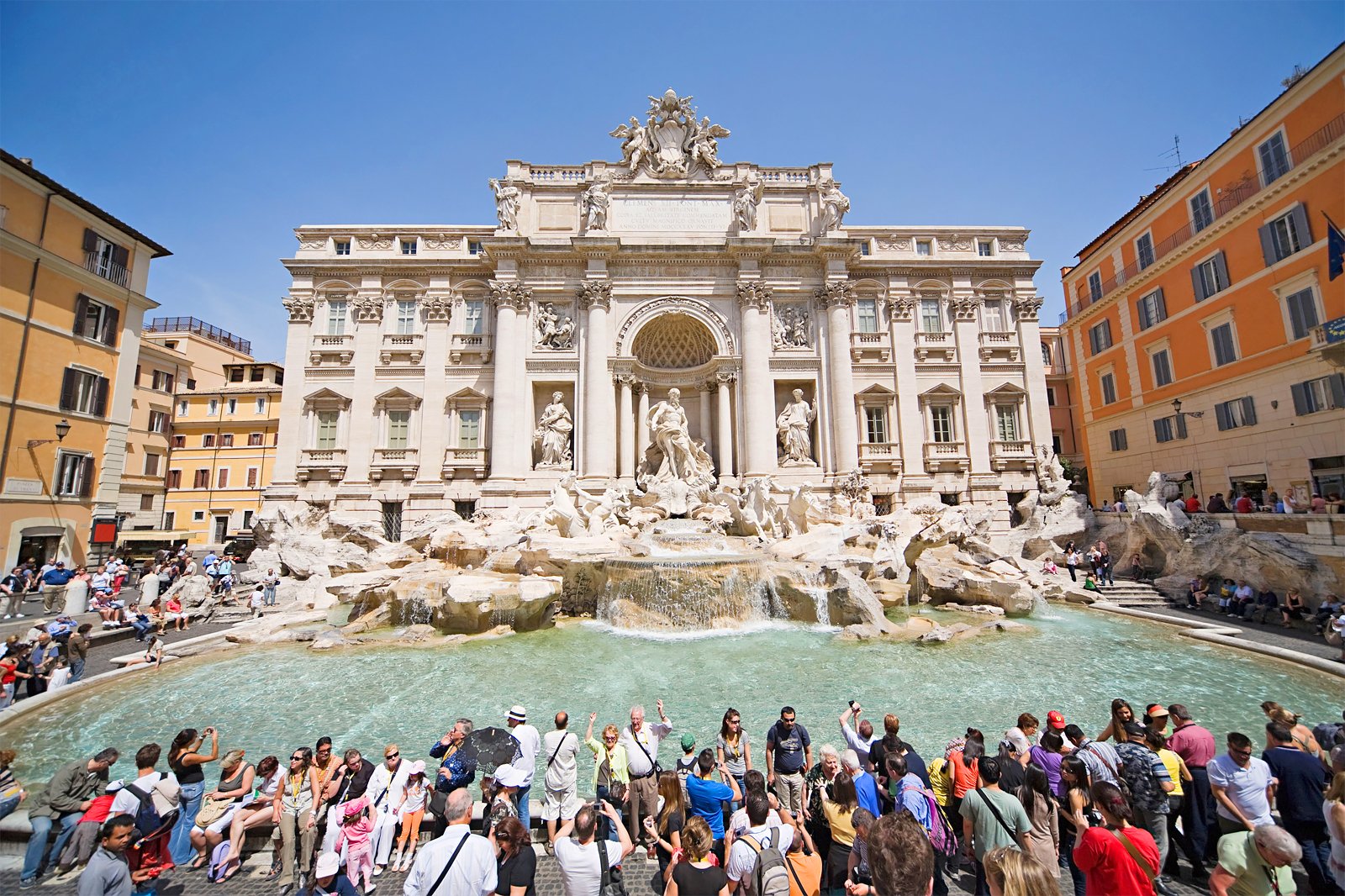 Spanning around 50 metres across and heavily adorned with elaborate sculptures of Roman gods, tritons and horses, the Trevi Fountain is one of a kind. The Palazzo Poli palace stands magnificently in the background. Visiting the fountain is free, unless you're joining in on the fun tradition. Toss 3 coins (either cents or euros) into the fountain over your shoulder. They say it grants you good luck, love, or promises you another trip to Rome, assuming you don't miss.
Location: Piazza di Trevi, 00187 Rome, Italy
7
Villa Borghese
Rome's largest public park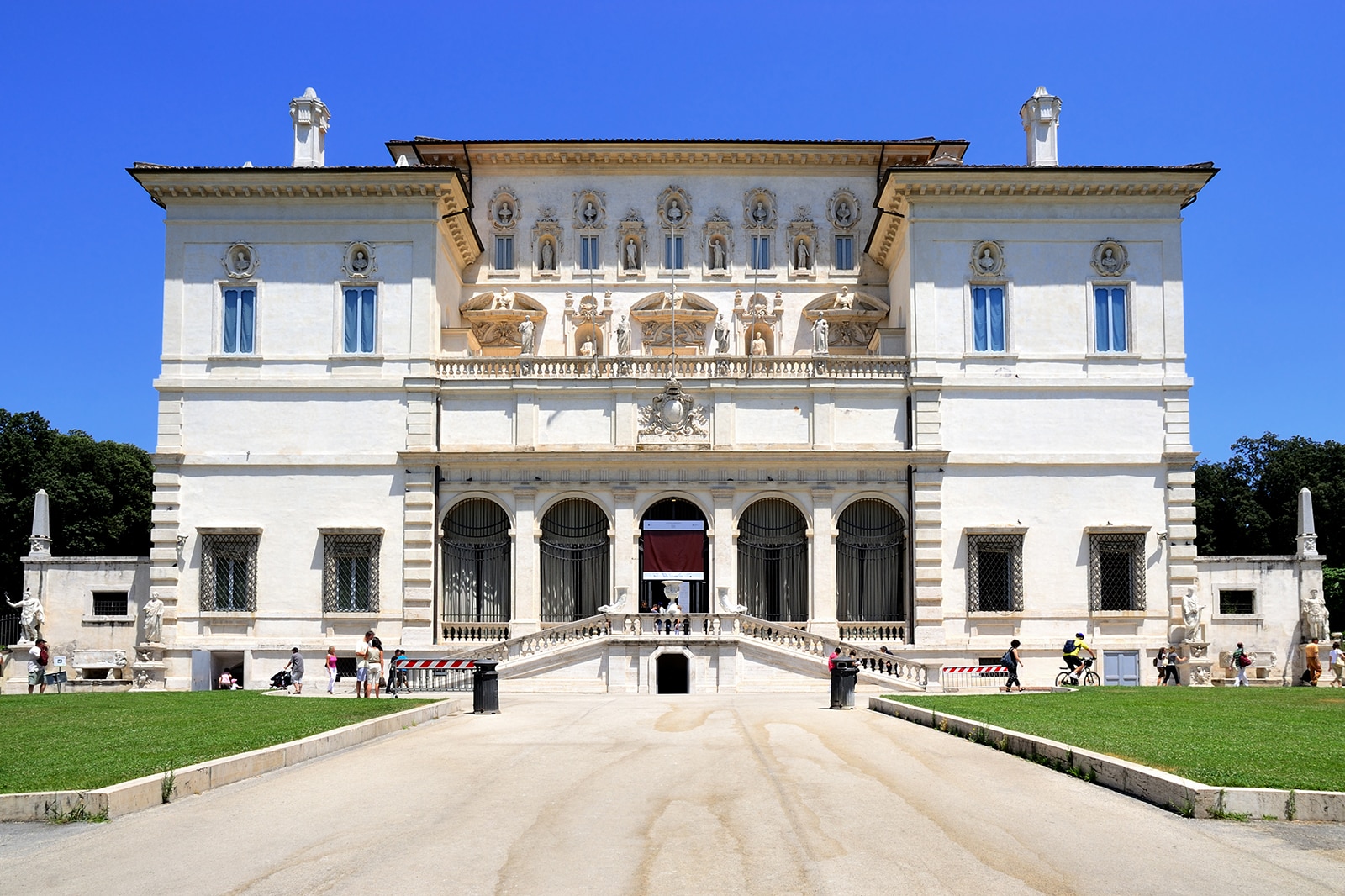 Whenever you're looking for a green space to escape from Rome's bustling city scenes, consider a relaxing walk through Villa Borghese. There are walking routes that wind through the verdant park, with spots where you can simply chill for an hour or more. The centrepiece of the park is the Borghese Gallery, which houses some important works of Renaissance art. The gallery's free to visit every first Sunday of the month (though €2 bookings are often required).
Location: Piazzale Napoleone I, 00197 Rome, Italy
Open: Tuesday–Sunday from 9 am to 7 pm (closed on Mondays), Thursdays also from 7 pm to 9 pm
8
Stroll the Appian Way
Scenic walks through the Roman countryside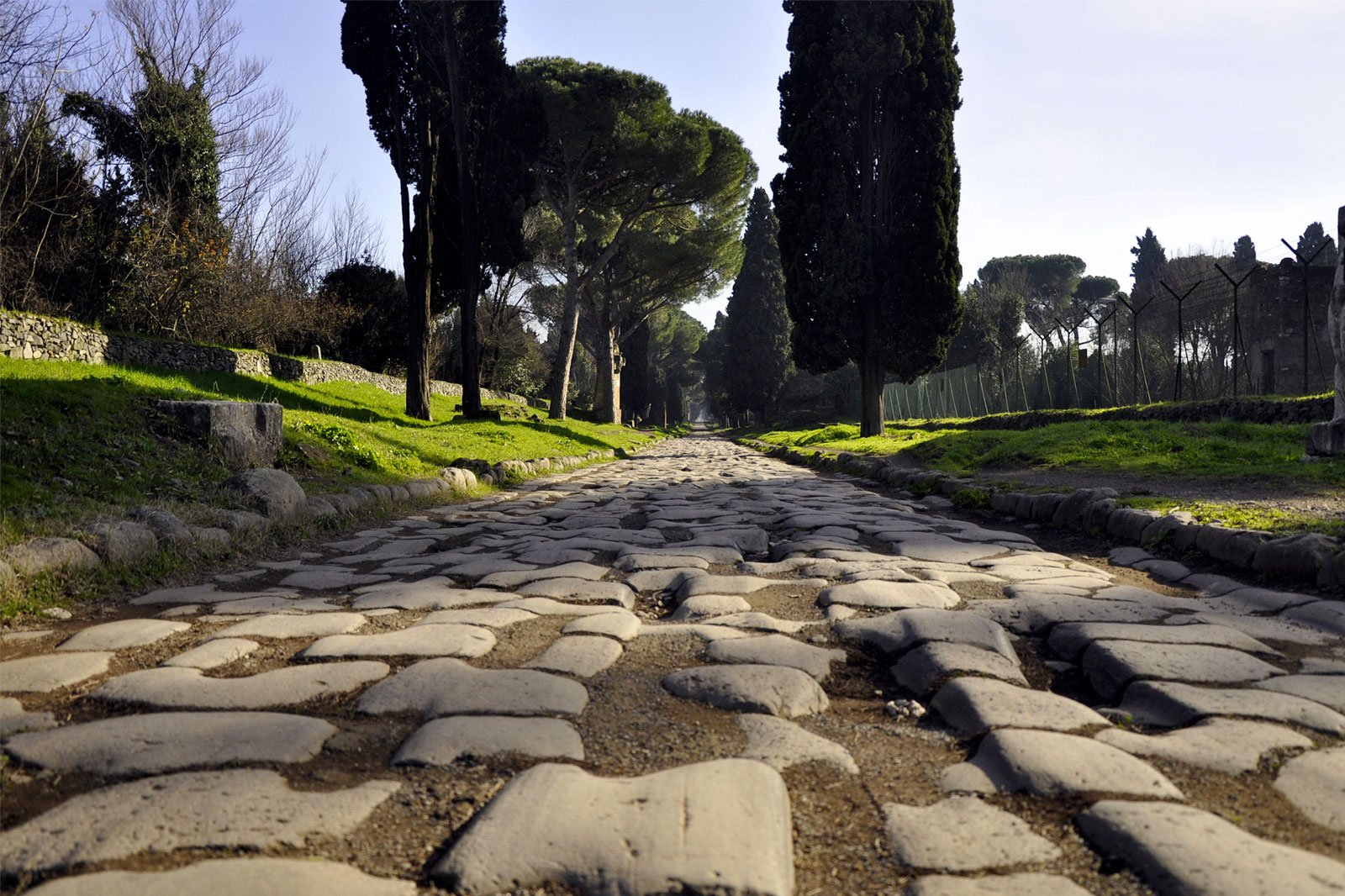 This historical road once connected Rome to Brindisi in the Apulia region. It was constructed with mainly stone and mortar, and much of it is well preserved. It's now a free tourist attraction, with the surrounding countryside being a favourite destination among hikers and off-road cyclists. You can reach the Parco Regionale Appia Antica (Appia Antica Regional Park) within about a 20-minute drive south from central Rome. Along the Appia, you can enjoy scenic walks with old ruins, several catacombs, mausoleums, and 12th-century stone towers along the way.
Location: Parco Regionale Appia Antica, Via Appia Antica, 42, 00178 Rome, Italy
Phone: +39 06 513 5316
photo by Paul Hermans (CC BY-SA 3.0) modified
9
Explore the Trastevere
One of Rome's most quaint and charming neighbourhoods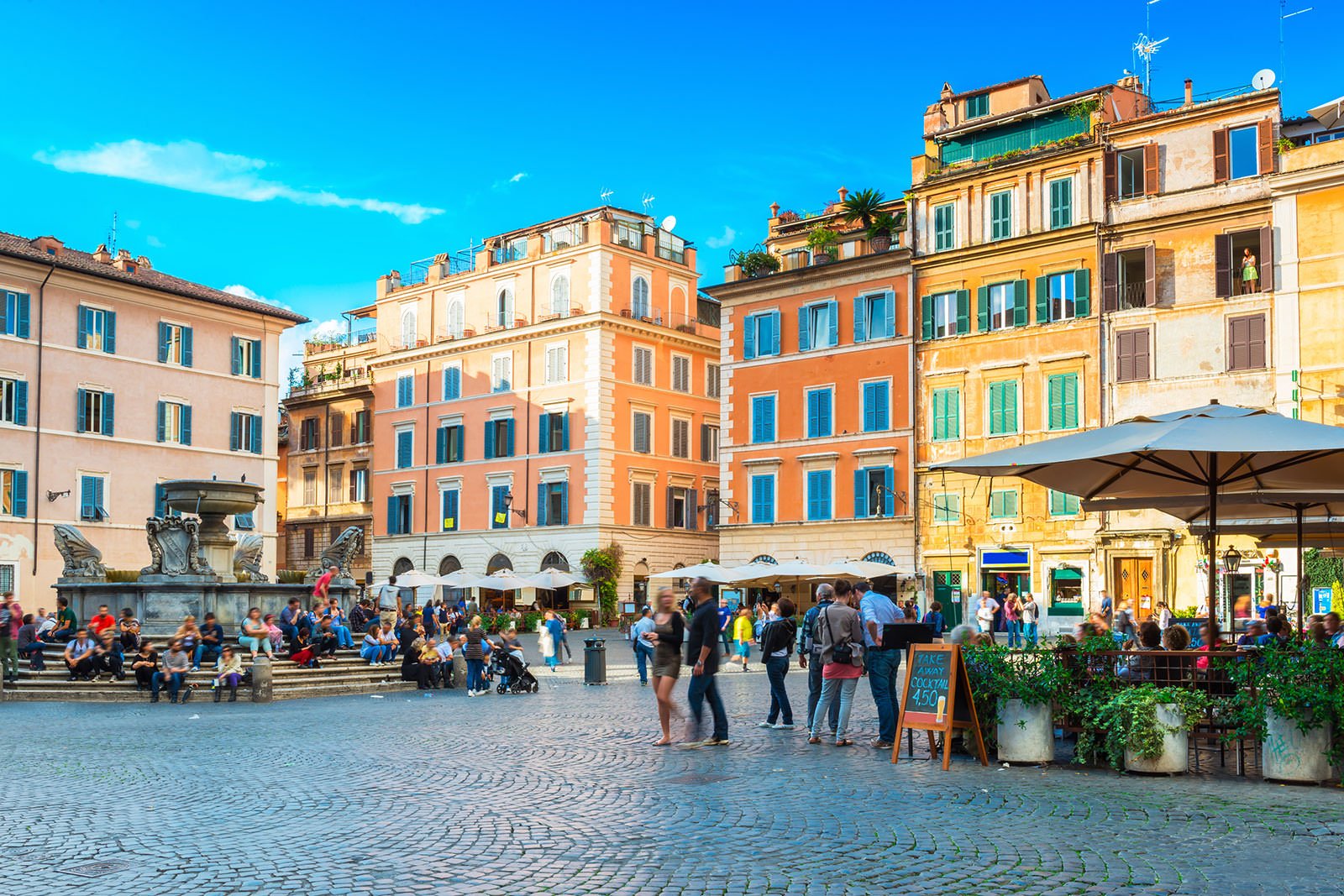 Enjoy wonderful walks through this lovely, cobblestoned neighbourhood, just west of the Tiber. Picturesque alleyways connect you to vibrant piazzas which, after dark, take on an atmospheric vibe of their own. You can start your journey through the district by crossing the Ponte Sisto stone bridge. Your discoveries will then include mini piazzas within Aurelian walls, as well as basilicas with bell towers and even botanical gardens where you can spend an afternoon, before enjoying the area's evening charms.
Location: Piazza Trilussa, 00153 Rome, Italy
10
Bargain hunt at Campo de' Fiori
Rome's vibrant farmers' market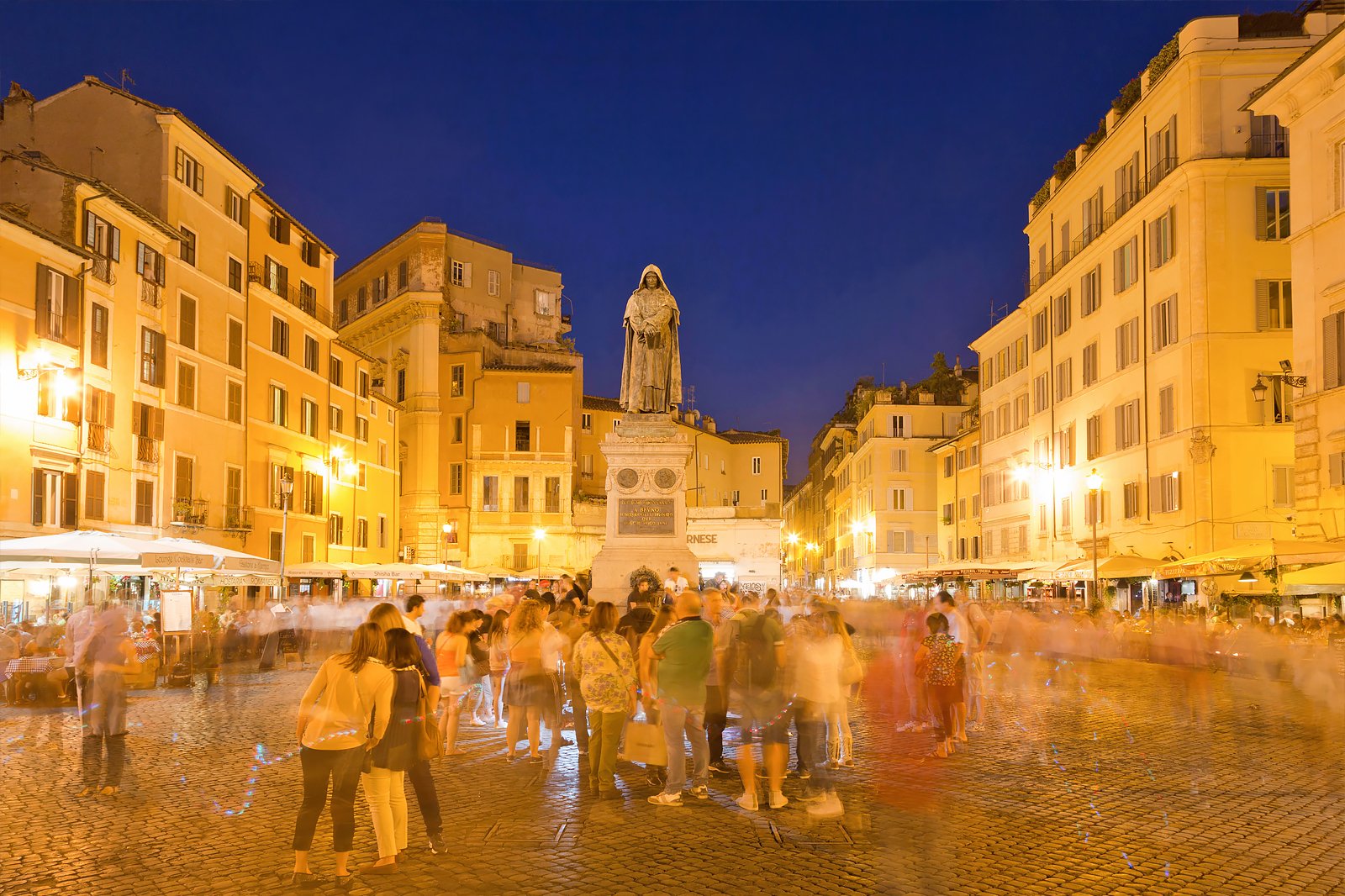 This piazza is within easy walking distance of Piazza Novana, and is just before the Ponte Sisto bridge, which crosses over the Tiber to the neighbourhood of Trastevere. Neo-classical buildings surround the piazza, and at its centrepiece is the statue of the late Italian philosopher Giordano Bruno. He overlooks the many tents of vendors at Campo de' Fiori (literally, "the field of flowers"), which sell fresh farmers' produce such as fruits, flowers and vegetables. You can also find various snacks and knick-knacks, mostly at bargain prices.
Location: Piazza Campo de' Fiori, Rome, Italy
Open: Monday - Saturday from 7.30 am to 3 pm
Back to top