10 Best Things to Do in Ischia
What is Ischia Most Famous For?
Ischia is one of the most picturesque islands in the Bay of Naples, part of the Campanian Archipelago. Besides offering exotic sceneries with flowing hills and rocky beaches, it's famous for thermal spas and natural springs. You can reach Ischia within an hour's transfer by ferry or hydrofoil from the port of Pozzuoli near Naples, southern Italy.
Upon docking, you're welcomed by the modern capital of Ischia Porto, with its harbour-view bars and restaurants. Just a 10-minute drive east, you'll reach the historical seaside town of Ischa Ponte, home to a dramatic volcanic islet with a medieval castle on its hilltop. These things to do in Ischia in a day or two can help you discover all the best in between.
What are the best things to do in Ischia?
1
Piazza Antica Reggia
Ischia's port town neighbourhood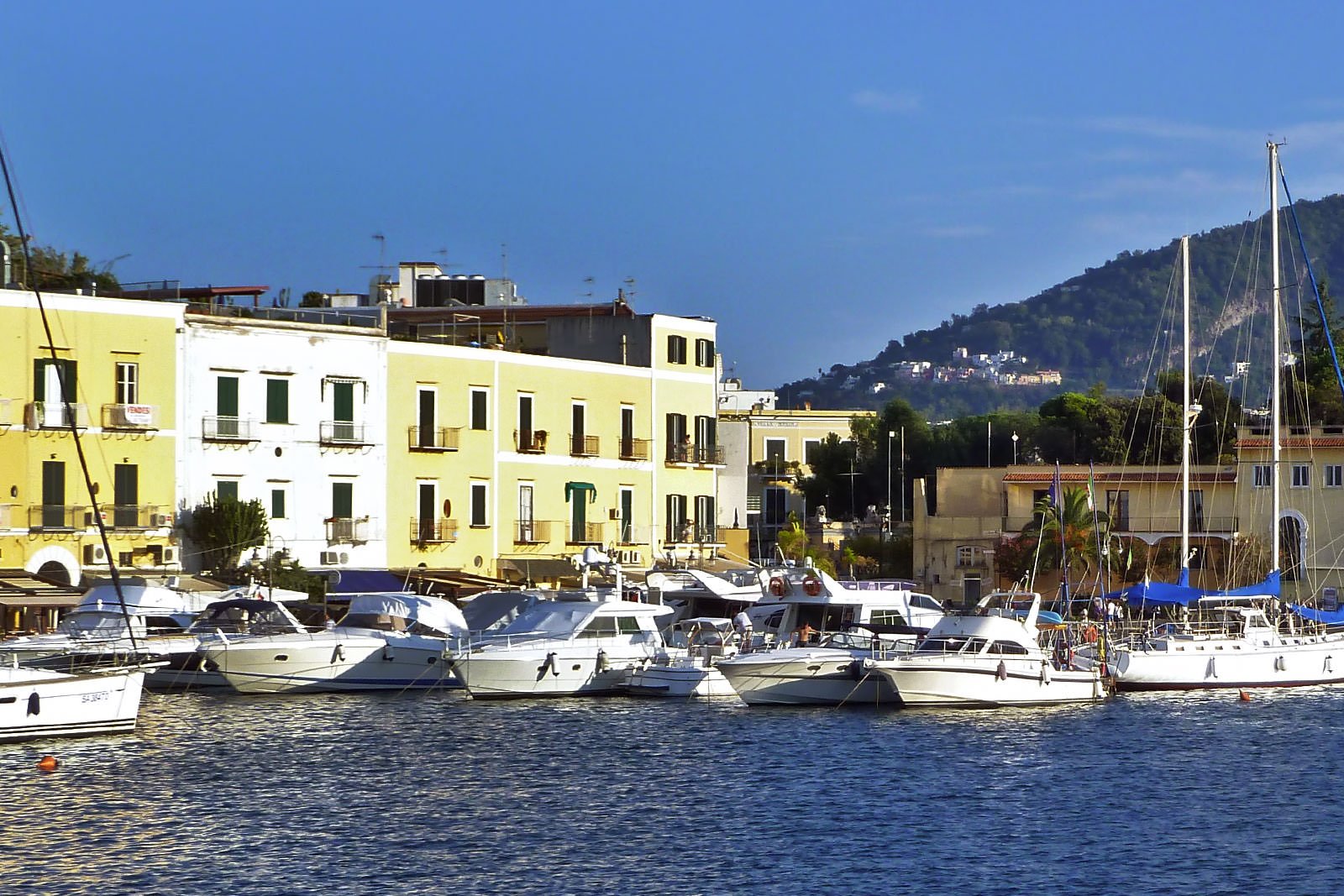 At the docks, the busy port town greets you with shops, bars, cafés and parked taxis along Banchina Olimpica and Via Iasolino. Choose from the many terraces for coffee or gelato with the view. Your journeys in Ischia start from the compass rose-styled roundabout at the junction of Via Porto and Via Iasolino. The sidewalks are narrow and it can get busy with whizzing scooters, so take care. Take Via Osservatorio past the Palazzo Reale di Ischia (Royal Palace of Ischia) for a quiet, tree-shaded walk.
Location: Via Iasolino, Ischia Porto, Ischia, Italy
Open: 24 hours
photo by Abxbay (CC BY-SA 4.0) modified
2
Castello Aragonese
A monumental islet to feast your eyes on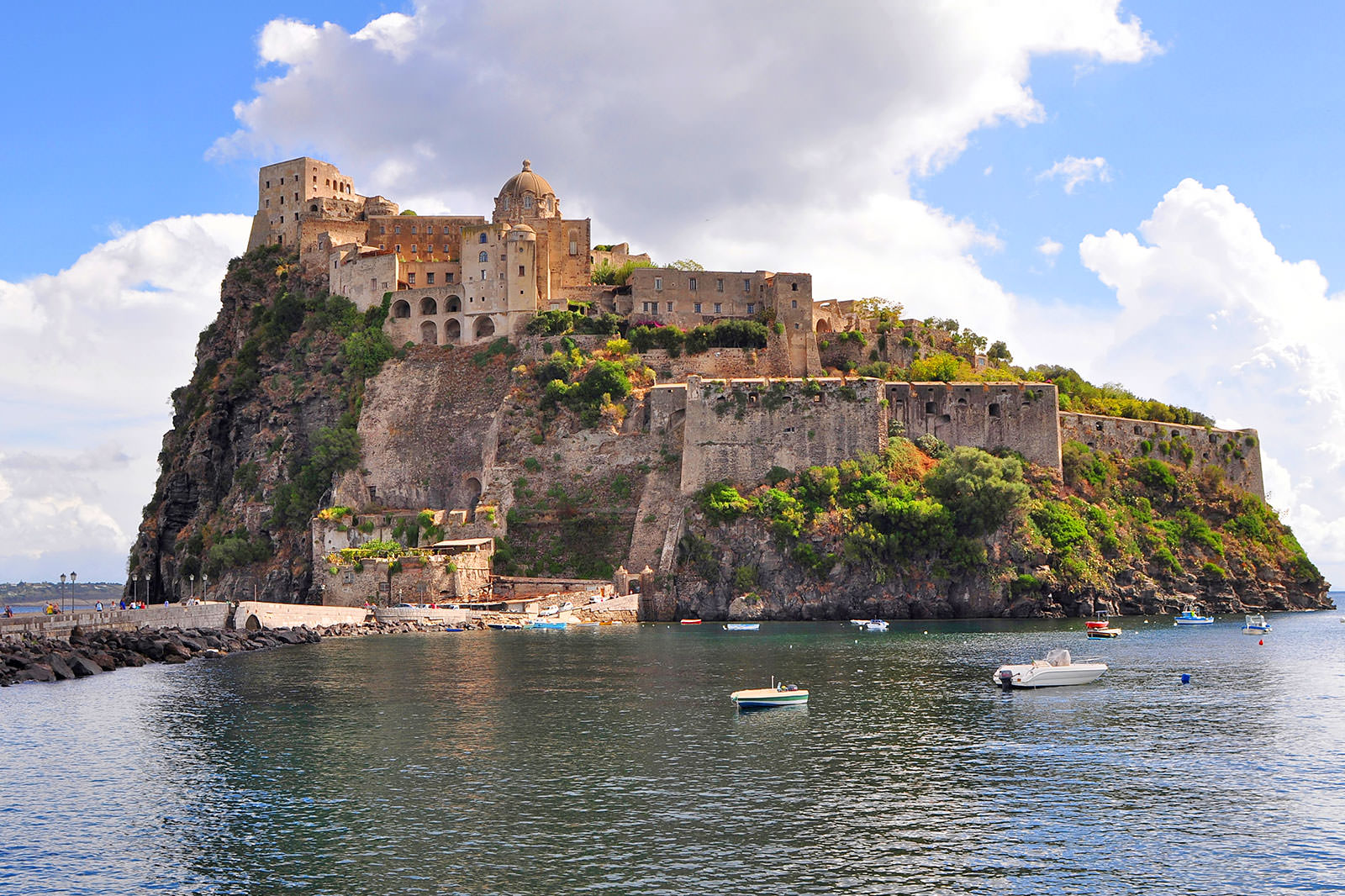 This islet on Ischia's beautiful east coast has the medieval castle of Aragonese as the icing on the cake. From the port, it's a half-hour walk past hotels, pizzerias and the lush Pineta Mirtina Park (or a 7-minute drive). Crossing the causeway to the islet is a visual treat, and there's a lift that you can take to the castle's main area. If you're fit, a network of carved stone paths and tunnels leads you to many different spots on the islet to explore. Tickets to the castle are around €10, with guided tours available.
Location: Via Pontile Aragonese, Ischia, Italy
Open: Daily from 9 am to 4 pm (winter) and from 9 am to 8 pm (summer)
Phone: +39 (0)81 992834
3
Sant'Angelo Fishing Village
See the amazing thermal fumaroles!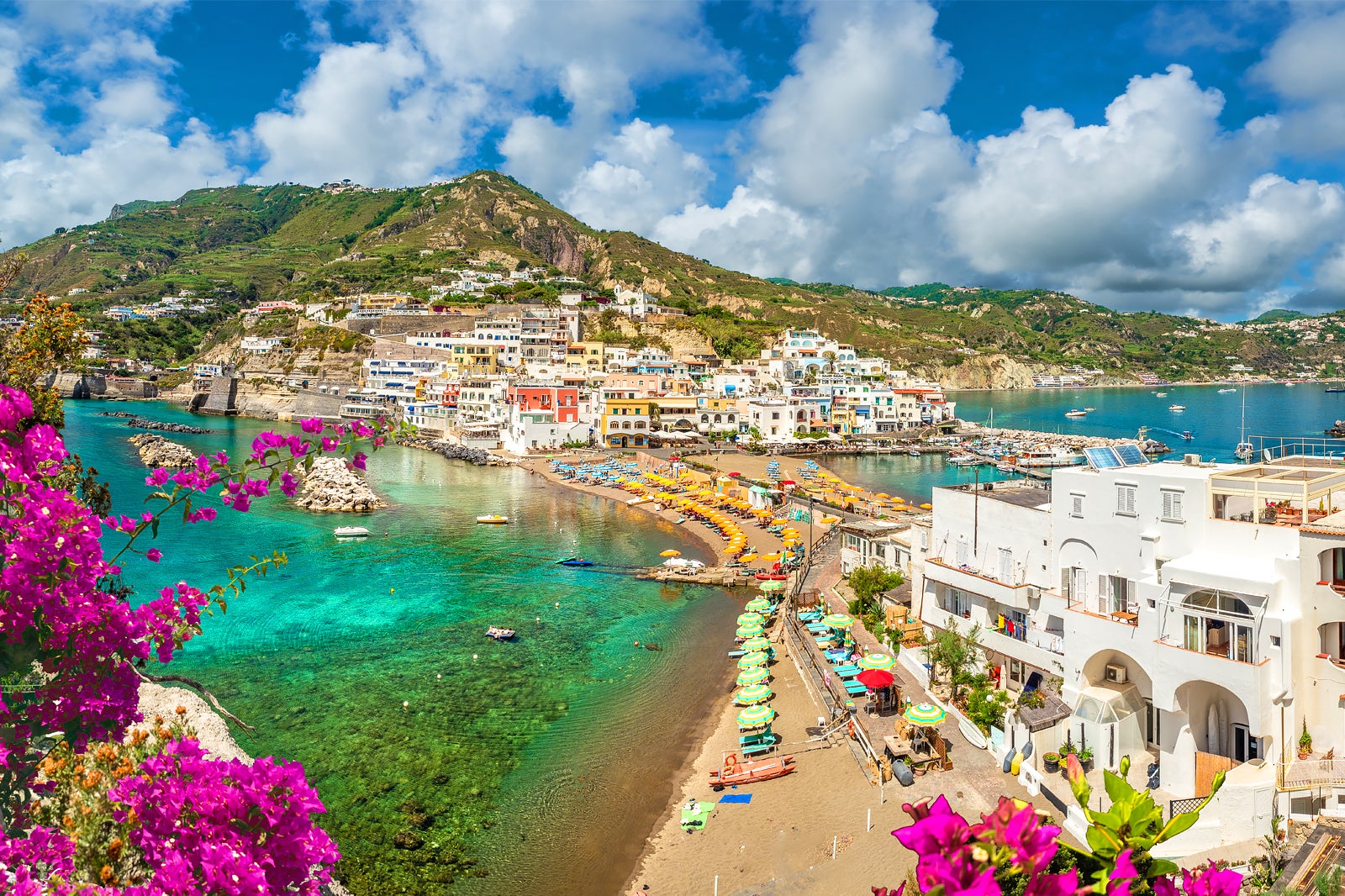 On the island's southern end, the idyllic coastal village of Sant'Angelo is connected to its main commune of Serrara Fontana by the narrow beach strip of Spiaggia di Sant'Angelo. Here, you can bask on the sand or on sun loungers, and there are plenty of bars and shops at both ends of the narrow causeway. A few minutes' walk northeast is the unique Fumarole Beach, where the sand is geothermally heated – great for a natural spa treatment. It's the best area to head to for a good variety of thermal parks and luxury spas.
Location: Sant'Angelo, Serrara Fontana, Ischia, Italy
Open: 24 hours
4
Giardini la Mortella
See one of Italy's most beautiful hillside parks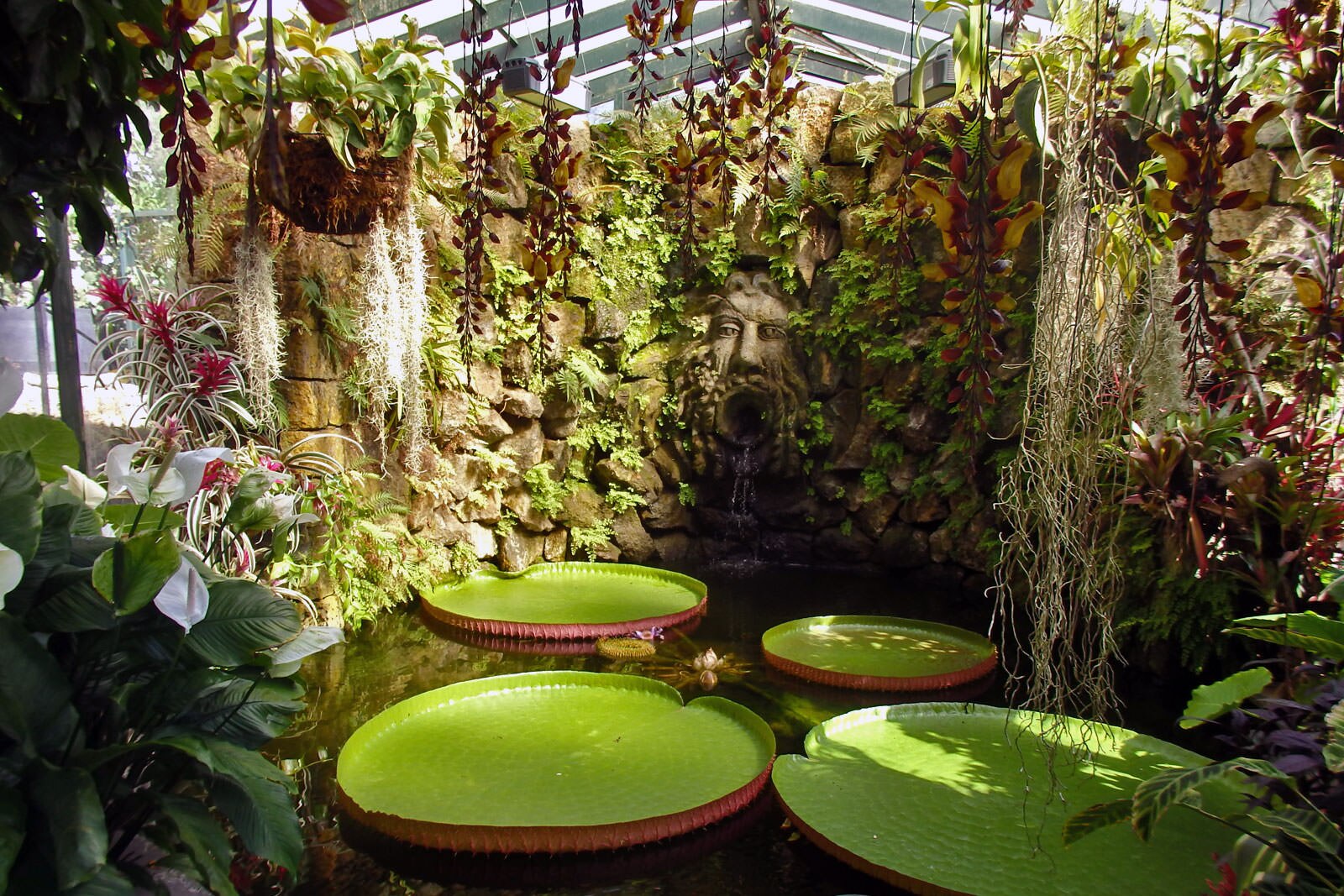 This vast and beautiful private garden in the hills of Forio, on the north-western point of Ischia, blooms with a mix of tropical and Mediterranean plants. For around €12, you can freely roam the leafy pathways spanning the 2 hectares of valleys and hillsides, with charming water features in between. Head up to the upper gardens for scenic bay views. There's a museum dedicated to classical composer Sir William Walton (whose wife built the gardens) and a Greek theatre that hosts classical and tribute concerts, as well as summertime events.
Location: Via Francesco Calise Operaio Foriano, 45, Ischia, Italy
Open: (March - October) Tuesday, Thursday, Saturday and Sunday from 9 am to 7 pm
Phone: +39 (0)81 986220
photo by Nemo bis (CC BY-SA 3.0) modified
5
Chiesa del Soccorso
A small but scenic landmark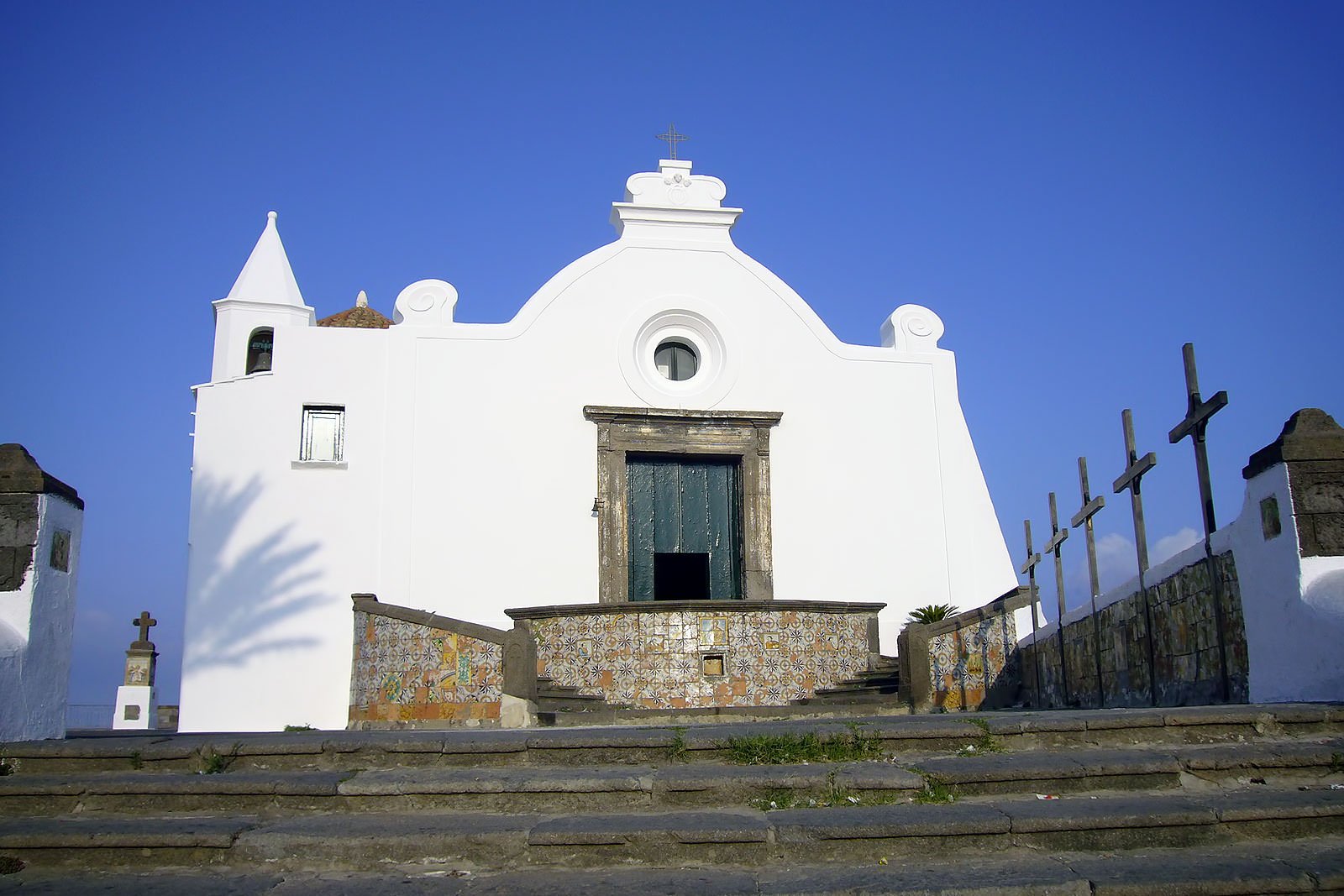 Although small and humble, Chiesa del Soccorso is one of Ischia's most scenic landmarks overlooking the Tyrrhenian, thanks to its setting. This all-white 14th-century Augustinian church was restored in the 18th century, and is about 10 minutes' drive southwest to Ischia's westernmost tip from Giardini la Mortella. It's set on top of a reinforced cliff point, and the view can be magical at both sunrise and sunset. Walk up to the church from the equally charming Piazzale Del Soccorso, which is home to a few other historical buildings, including the Municipio townhall.
Location: Via del Soccorso, Forio, Ischia, Italy
photo by Lalupa (CC BY-SA 3.0) modified
6
Ischia's Thermal Parks
Naturally heated pools to soak in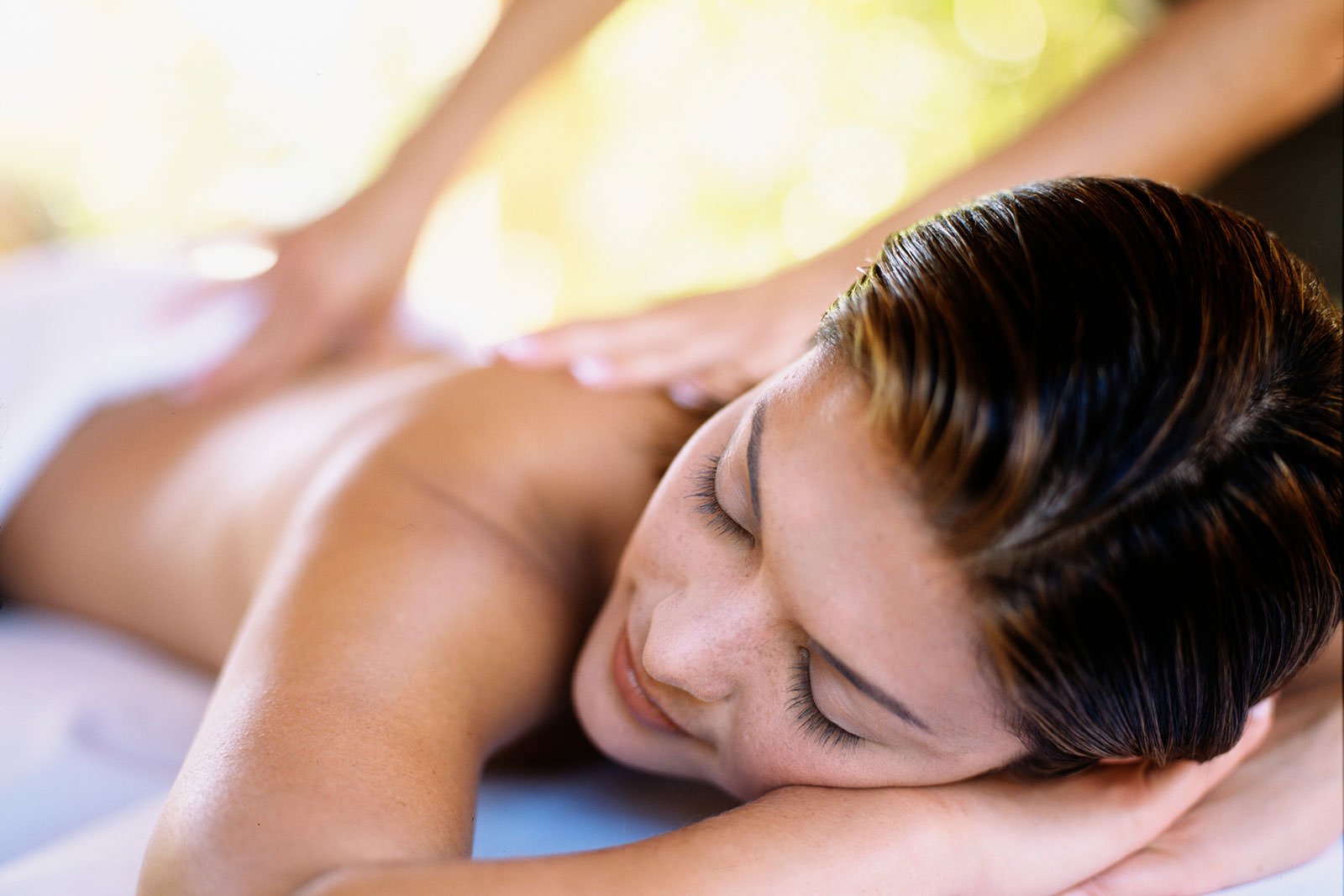 You can enjoy a soothing spa treatment at many thermal spas that dot Ischia's coast. Sant'Angelo and its Fumarole Beach has plenty of choices, some of which are luxurious and upscale. These include the Spa Aphrodite Apollon and the Romantica Resort & Spa, among others. Up in the northeast and around Forio, popular thermal gardens include Poseidon and Negombo. If you're pressed for time, the closest to Ischia Porto is the Castiglione thermal park with its 10 naturally heated pools. All-day access is from €27.
7
Chiaia Beach
Considered Ischia's best beach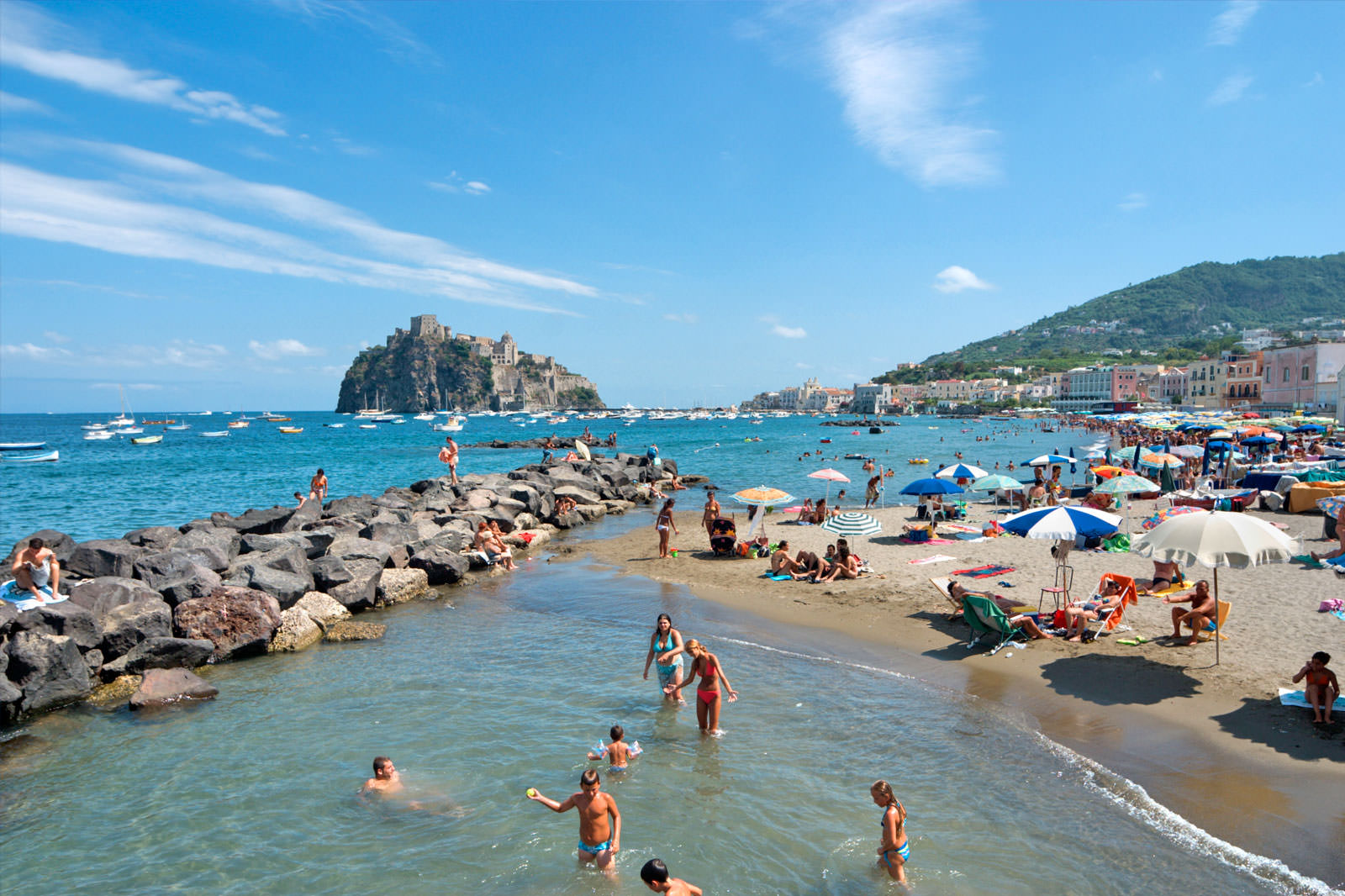 The west-facing Spiaggia della Chiaia (Chiaia Beach) is Ischia's widest coastal stretch, and is a great spot to head to for fun in the sun and to take in Ischia's glorious sunsets. The kids can splash in the calm Tyrrhenian waters, while mum and dad take advantage of the parasols and sun loungers laid out neatly along the coast. Most of the beach's midsection is divided into different zones that are managed by beach bars, such as the Chalet Nonna Carmela, who rent out their sun loungers and facilities (from €22). The wide northern end is mostly free, though.
Location: Via Spinesante, Forio, Italy
Open: 24 hours
8
Blanco Disco Club Ischia
One of Ischia's best nightclubs by the sea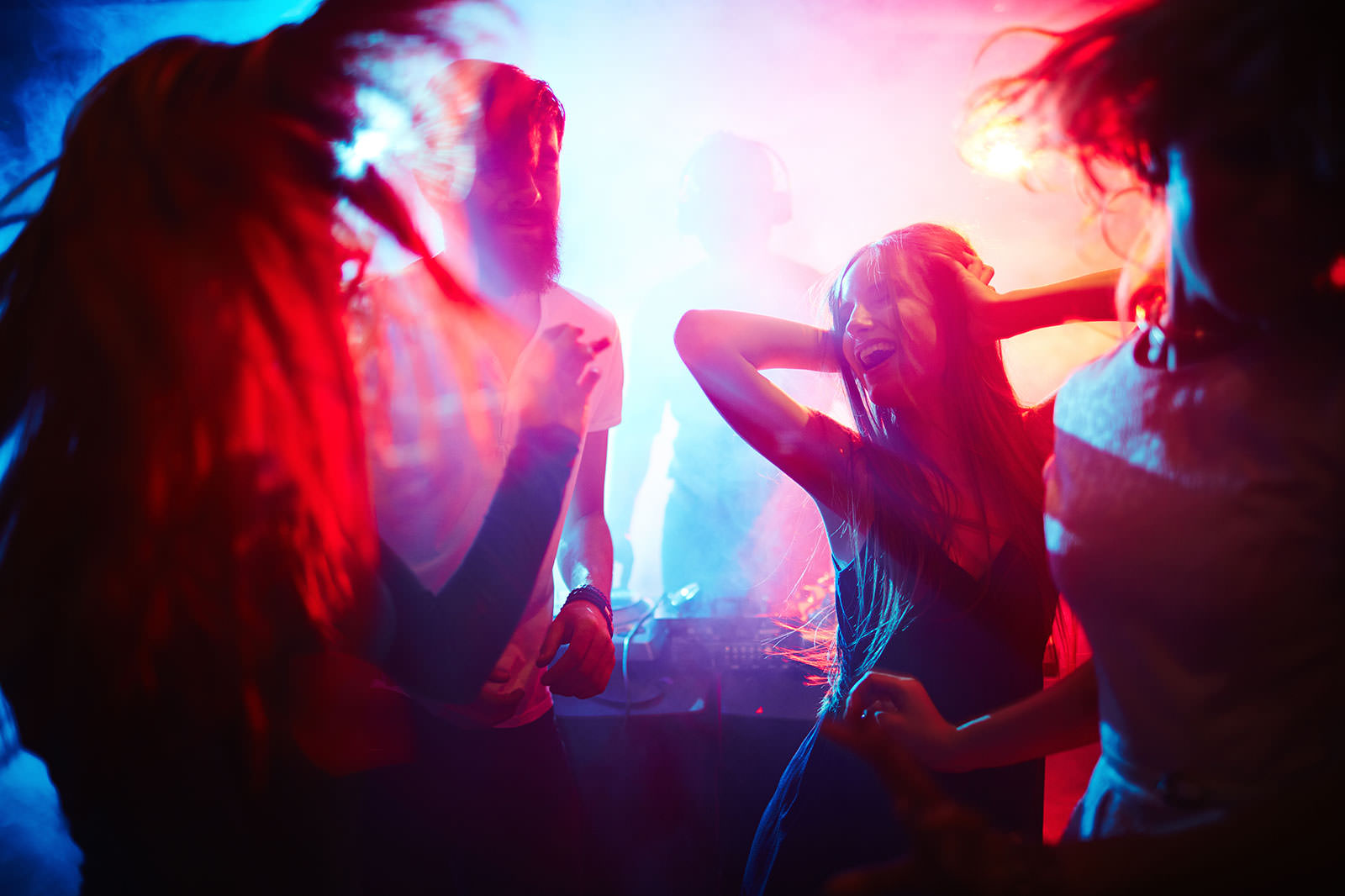 Set on the exotic rocky seafront in Casamicciola Terme, on the northern part of the island, the Blanco Disco Club is a glitzy spot where you can party the night away with thumping beats around a well-stocked bar. It's open over the weekends only, with parties spilling well into the wee hours. Inside, it's mostly lit with blue LEDs and spotlights, but comes more alive when DJs start playing their mixes and the CO2 cannons add to the magic. It's usually a young and energetic crowd. Cover charge is around €15.
Location: Via Salvatore Girardi, Ischia, Italy
Open: Saturday from 11 pm to 5 am and Sunday from 9.30 pm to 4 am
Phone: +39 (0)340 174 2515
9
Casa D'Ambra
Top-quality Italian wines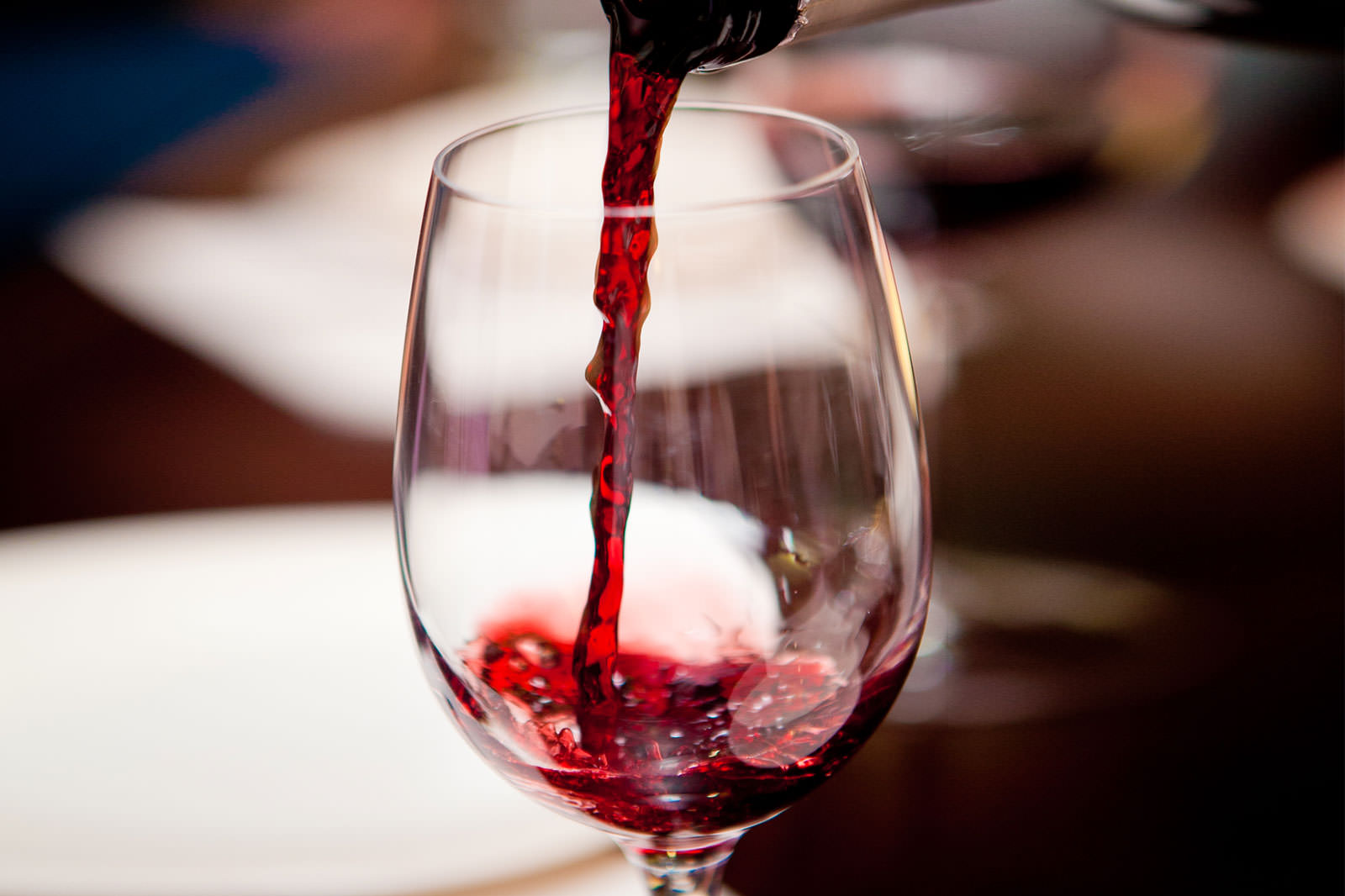 The volcanic island of Ischia is blessed with fertile soil and a perfect climate for viniculture. Wine making here dates back to the Ancient Greeks, and the Romans even once dubbed it the 'Land of Wine'. The types of grapes used are indigenous to the island. One of the best places to sample the variety of Ischian wines is at Casa D'Ambra, a wine house in the southern part of Forio. Their vineyards are scenic and overlook the bay, and their facility has been producing wines for generations, since 1888.
Location: Via Mario D'Ambra, 30, Forio, Italy
Open: Monday - Saturday from 9 am to 1.30 pm and from 2.30 pm to 6 pm
Phone: +39 (0)81 907246
10
Al Pontile Ristorante
Laidback dining against the medieval castle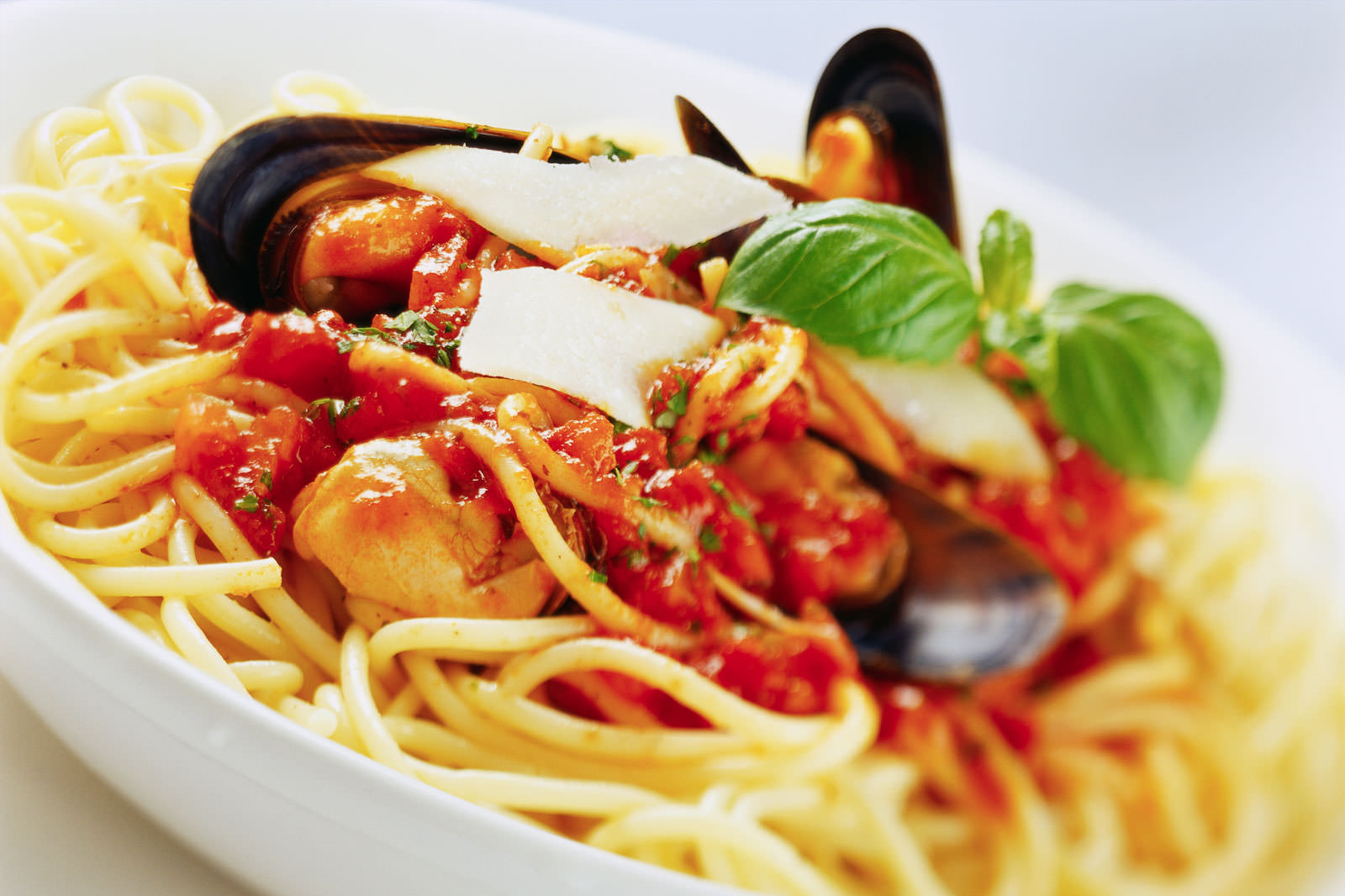 For dining with one of the best views in Ischia, Al Pontile is a great choice as it's right in front of the iconic Castello Aragonese. The restaurant straddles the Lungomare (beach road) with a row of parasol-shaded tables on both sides. You can also sit inside for cosier settings. Their menu may be compact, but they offer good traditional Italian favourites, from gnocchi to spaghettis, but you should try their true Ischian specialty: Coniglio alla Ischitana or Ischian rabbit, cooked in a terracotta pan with herbs and spices (around €10 per serving).
Location: Via Luigi Mazzella, 15, Ischia, Italy
Open: Daily from 9 am to 6 pm
Phone: +39 (0)81 1951 7657
Back to top