Crete Travel Essentials
Crete Useful Travel Information
Our Crete travel essentials guide is full of all the information you need to make the most out of your holiday, from practical info to the best sites to see. We'll start with the best time to go there and information like electrical outlets and currency, plus how to make an emergency phone call. We'll look at means of transportation to and around the island, and even some of the important annual events and festivals that take place throughout the year.
Next, we'll examine things to see and places to go, from main points of interest to the towns and villages around the area. By the time you go, you'll have everything you need for a memorable trip.
1
When is the best time to travel to Crete?
Crete's climate falls somewhere between a Mediterranean and North African climate, with humid air, hot summers and mild winters. Snow is common in the mountains in winter.
The most rainfall can be seen in December and January, with an average of 90 to 95 millimetres in those months.
The warmest months of the year are July and August, with a mean temperature of 26° Celsius.
The best time to visit for sun and beachgoers is the summer from June through October, while the off-season with the fewest crowds but still mild weather occurs between February and May.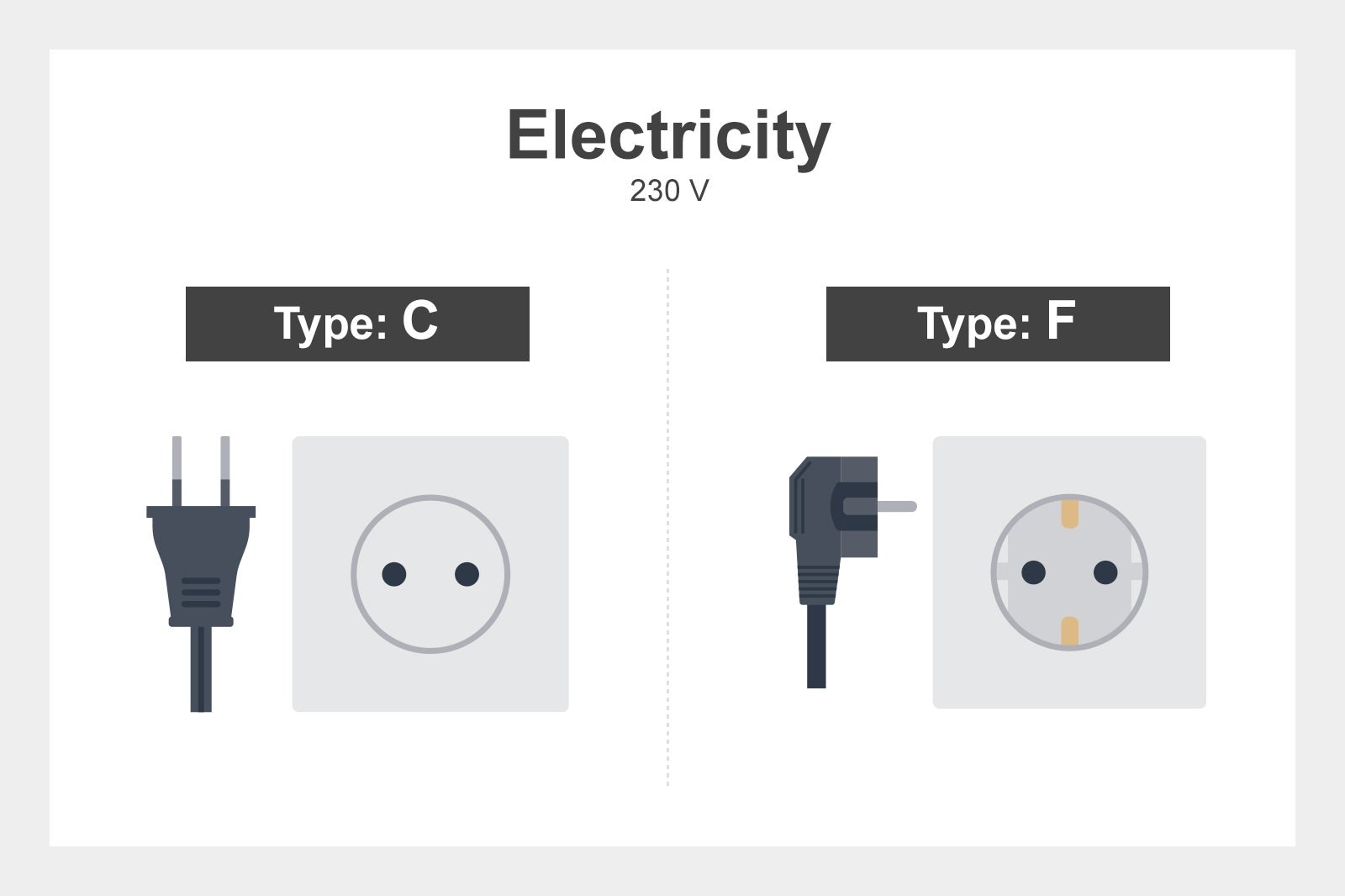 The Plug type is either C or F.
Electricity and current are 230 volts at 50 Hz.
The currency is the European Euro.
The International Dial Code is +30.
For emergency telephone calls, dial 112 anywhere in the European Union, including Greece.
3
How to get to my hotel in Crete?
Getting to Crete (and then to your hotel) is astonishingly easy, with plenty of transportation options available, including planes, trains and ferries from the mainland. This resort island destination can be accessed from just about anywhere.
Airports
The island of Crete has 2 major international airports. The first is the Nikos Kazantzakis Airport Heraklion (HER) in the central north of the island. The second is the Daskalogiannis Airport Chania (CHQ) in the northwest of the island. You can also fly into Athens and catch a ferry boat to the island.
Major train stations don't service Crete directly, but a number of train stations do travel into Athens, including trains running to and from Patras via Corinth, as do Metro trains and the Suburban Railway connecting Athens with the airport. If you choose rail, you'll need to catch a ferry to the island, usually from Athens.
Ports are the major way to get into Crete from the mainland. The island hosts no fewer than 6 different seaports, all of which bring passenger ferries in. These include Kastelli-Kissamos, Rethymnon, Chania, Agios Nikolaos, Heraklion and Sitia.
4
How to get around Crete?
Travel tips
Most people get around via car hire, which offers the freedom to do what you want and when you want. Public buses also connect travellers through and within all the major cities. There is no universal Crete travel card, but fares tend to be inexpensive within cities, while they cost more to travel between cities. It's also important to note that within cities, many people just hoof it to save money and get a bit of exercise, as the cities tend to be quite walkable.
Taxi and rideshare apps
Taxi and rideshares do operate in Greece, and that includes the island of Crete. Cabs can be called in advance or hailed on the street. As a bit of common wisdom, always agree on a fare before you even get into a cab, as drivers have been known to forget to turn on their metres. In addition, write down the address of your destination to avoid confusion. Finally, politely allow the driver to know if you prefer not to share the cab with strangers, as doubling up on fares is common practice in Greece. Rideshares like Uber operate just as anywhere else.
Bus network
All bus service on Crete is operated by KTEL. Fares tend to be very cheap within the city but cost less if you purchase tickets in advance rather than pay on the bus. You can also catch bus service between cities. Buses run to and from Agios Nikolaos, Chania, Heraklion and Rethymno. Fares are significantly more costly to travel between cities, and it's worth knowing that service is more frequent in the north than in the south because the southern coast isn't as developed. The bus is a reliable way to get around overall.
Car Hire
Car hire is be found in Crete, and most of the major car hire companies have a presence here. You can find offices at airports and major sea ports as well as throughout the city. Car transport is among the most popular ways to get around, as it represents the freedom to go anywhere whenever you want. It also may save money if you're travelling between cities, as gas and mileage may be cheaper than intercity bus fares. Drivers must be 21 years of age, and it's a good idea to obtain an International Driving Permit before obtaining a car hire.
Bicycle Hire
Depending on how far you are travelling, a bicycle hire can be a good way to see the countryside while staying healthy, green and getting some exercise in. Many cycle hire companies can be found all across the island's northern coast, and many of the natural areas, beaches, public parks and the like feature cycling trails to explore, so if you are a cycling enthusiast, this may be an attractive way to go. In fact, cyclists actually consider Crete to be a destination with its winding roads and low traffic between cities.
5
What are the main annual events in Crete?
The Carnival & Shrove Monday
When: February
What: Shrove Monday is the Monday before Ash Wednesday and is part of a major Carnival celebration across the island with parades, dancing, food, games and live entertainment.
Where: Every major city on the island.
Easter
When: April or May
What: Easter sees a rich pageant with candlelit processions, a ritual burning of Judas outside the Orthodox churches, lamb feasts, Magiritsa soup and local village wine. On Holy Saturday after Midnight Mass, the night is filled with fireworks. It's a sombre and important holiday across the island. Most businesses are closed and families gather behind closed doors.
Where: Across all of Greece
Chania Summer Festival
When: May through September
What: Every summer, the small old city of Chania orchestrates a wide range of cultural events, theatrical nights, arts exhibits, live concerts, dance and entertainment. It's a celebration of the city's culture and heritage.
Where: Across the city of Chania
6
What are the main landmarks in Crete?
Palace of Knossos
The Knossos Palace dates back to the mysterious Minoan culture that occupied this region long before Greece and Rome, and today is among the most important archaeological sites on Crete. It's about 20 minutes south of Heraklion and dates to around 7000 B.C.E. It's famous for its artwork and ornate architecture as a well-preserved example of this lost culture.
Heraklion Archaeological Museum
The Heraklion Archaeological Museum is one of the most important museums in Greece and showcases one of the world's most comprehensive collections of Minoan art and artefacts. It also delineates the entire history of Crete from the Bronze Age through today, including tools, art, textiles and pottery that tell part of the story of a lost world.
Spinalonga Island
Spinalonga is an island in the Gulf of Elounda in northeastern Crete that carries the nickname "Island of the Living Dead." In the early 20th century, it housed a leper colony, among the last in Europe. Today, it is one of the most visited archaeological sites in Greece, also offering surpassing natural beauty.
Moni Preveli
Moni Preveli is a monastery complex at the foot of a mountain in South Crete consisting of 2 main buildings, the Kato or lower and the Piso or rear. The Piso Monastery of Saint John the Theologian is still in operation today, but both can be visited. These structures date back many centuries and offer stunning architecture and astonishing views.
7
What are the main towns and villages around Crete?
Heraklion
Heraklion is a major port city and the capital of Crete. It's a major metropolitan city that plays host to the Palace of Knossos, the Koules fortress that dates to the 16th century and the Heraklion Archaeological Museum. It also offers a cosmopolitan atmosphere with plenty of shopping and dining, beaches and a thriving nightlife scene ranging from hopping beach clubs to elegant terrace dining and cocktail lounges. This city is a major destination when people travel to the island because it offers just about every kind of holiday you could want.
Chania
Chania is a northwestern coastal city on Crete and is famed for its walkable streets, foodie scene and many historical attractions and multicultural influences. The harbour area features stunning Venetian architectural design and dates to the 14th century. Its entrance is marked by a historic 16th-century lighthouse whose architecture is influenced by Venetian, Egyptian and Ottoman design. The city also hosts the Nautical Museum as well as the Architectural Museum of Chania in a former monastery of St. Francis. It's also a foodie destination for its waterfront seafood dining establishments.
Rethymno
The city of Rethymno or Rethimno is on Crete's northern coast and offers an old town filled with historic buildings as well as towering landmarks and museums. Atop the western hills of the city, the Fortezza citadel from the 16th century overlooks the city and features a unique star-shaped design. The old town area hosts the Venetian Harbour with its many fishing boats and traditional tavernas. The city also is home to the Historical and Folklore Museum, which preserves ancient local arts and crafts from textiles to ceramics.
Agios Nikolaos
Agios Nikolaos is a town just east of the capital city of Heraklion and situated along the island's coast. The town is the home of the iconic Lake Voulismeni, the legendary bathing place of the Goddess of Wisdom, Athena. It's also the home of Mirabello Bay, the largest bay of the Greek Islands, and of Havania Beach, Minos Beach, Kolokytha Beach, Mirabello Beach and Beach Almyros, where visitors can kick back and relax on long stretches of white sand and clear, turquoise waters.
Back to top