10 Best Things to Do in Saxony
What is Saxony Most Famous For?
In Germany's far east lies Saxony. A free state shrouded in history, the area has played a role in some of Europe's most decisive events, including the dismantling of communist regimes in the 1980s. A fascinating mix of charming Baroque towns and exceptional landscapes delight visitors year-round. Once situated east of the Iron Curtain, the atmosphere in Saxony now attracts many young creatives, history buffs, and outdoor enthusiasts.
New and old fuse in Dresden, a city rebuilt from ruin, the vibrant art scene that Berlin once hosted now hatching in Leipzig, and a dreamy town unscathed by the destruction of World War II – all these call Saxony home. From winter hideaways in the mountains to bizarre rock formations towering toward the clouds, there's no shortage of things to do in Saxony.
What are the best things to do in Saxony?
Uncover Leipzig, Berlin's cool younger sibling
Explore the city's musical history, trendy galleries, and commanding landmarks
Leipzig, dubbed the coolest city in Saxony, has become the playground of a new generation of young creatives uprooted by the gentrification of Berlin. More than just the latest city to have a new-age revival, it's steeped in a rich and diverse history, especially where music is concerned, having produced the likes of Bach and Wagner.
With an up-and-coming art scene, time spent exploring the galleries and museums of Leipzig will be well rewarded. It's hard to miss Museum der bildenden Künste's enormous glass building which contains an extensive collection of works from the 15th century to now, including pieces from Monet and Munch. But if it's architecture that holds your attention, spend time at St. Thomas Church where Bach played his compositions. If you prefer to mix your history with a little bit of wine, enjoy a glass in the city's 2nd-oldest restaurant, Auerbach's Cellar. With a history dating back to 1438, it's well known for once being a favourite haunt of Germany's answer to Shakespeare, Goethe.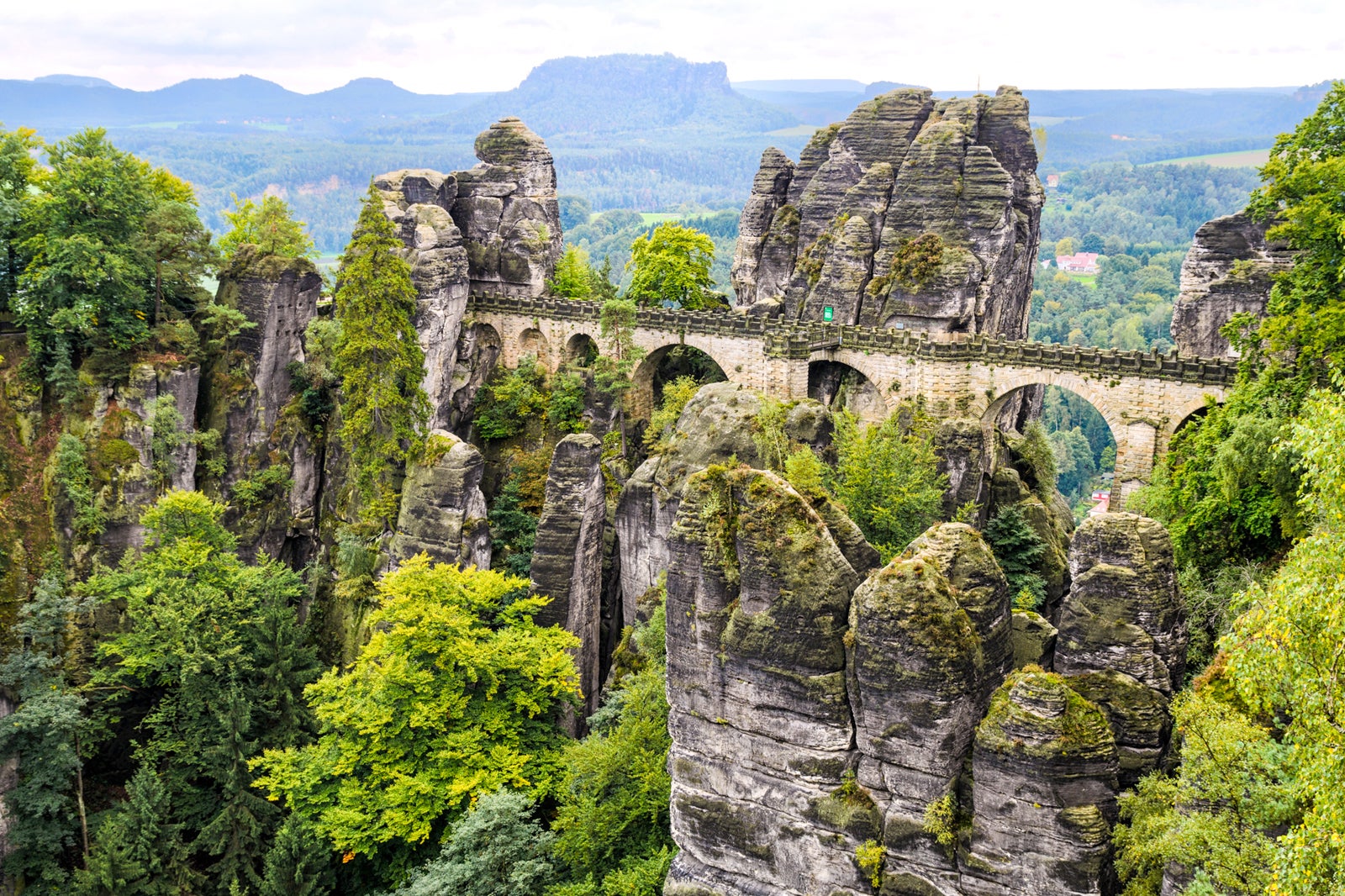 Hit the hiking trails in Saxon Switzerland National Park
Gaze upon fascinating landscapes in Germany's far east
Rugged terrain with deep valleys, unusual columns, and dense forest form Germany's only rock national park – Saxon Switzerland National Park. Here, you'll uncover peaceful villages set among the rising rock columns that are the most iconic feature of this bold landscape. A favourite with rock climbers, there are more than 700 summits to ascend. If you prefer keeping your feet firmly planted on the ground, over 400 km of hiking trails will keep you busy for a few hours.
For a different kind of experience, jump aboard one of the paddle steamers or steamboats to encounter the park from the waterways, or take the Kirnitzsch Valley tram which connects to many of the key interest points. No trip to Saxon Switzerland National Park is complete without journeying to Bastei Bridge, the most iconic of the park's imposing rock formations.
Location: Bastei Bridge, 01824 Lohmen, Germany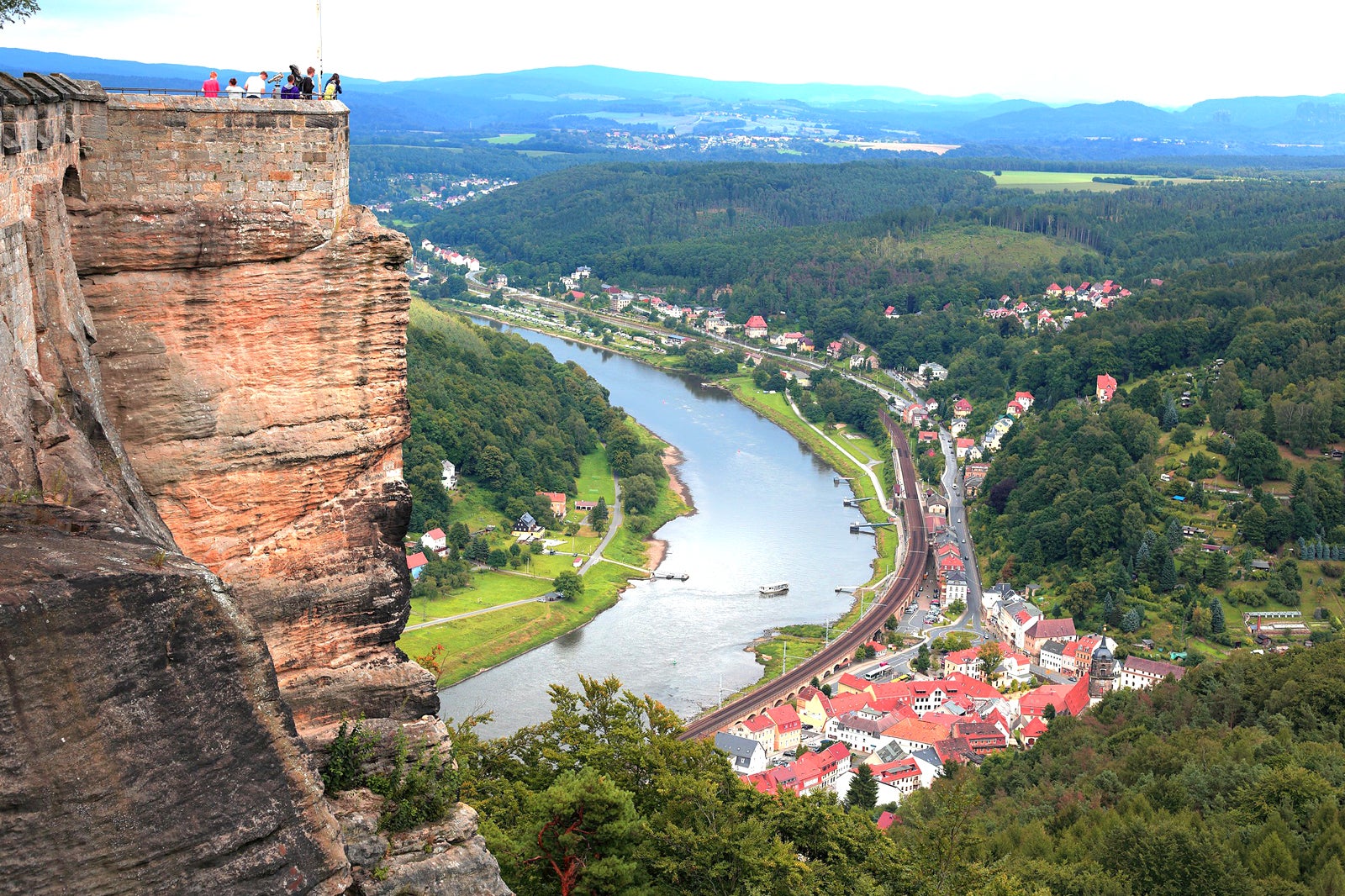 Visit one of Europe's largest hilltop strongholds at Königstein Fortress
This 400-year-old fortress provides brilliant views over the Elbe River
One of Europe's largest garrisons, Königstein Fortress had a former life as a medieval castle and monastery before its conversion into a fortress in the late 16th century. From then until the 1920s, it stood as the most feared prison in the state of Saxony. Throughout its history, it held several well-known inmates including Russian revolutionary Mikhail Bakunin and the co-inventor of European porcelain, Johann Friedrich Böttger.
Situated high on the plateau of a table mountain, the fortress welcomes visitors to explore its expansive grounds. Here you can admire the incredible views overlooking the Elbe River, easily accessed by a lift and panoramic elevator. After you've meandered around the fortress grounds, head inside to enjoy the exhibitions.
Location: Königstein Fortress, 01824 Königstein, Germany
Open: Daily from 9am to 6pm (open until 5pm in winter)
photo by Thomas Depenbusch (Depi) (CC BY 2.0) modified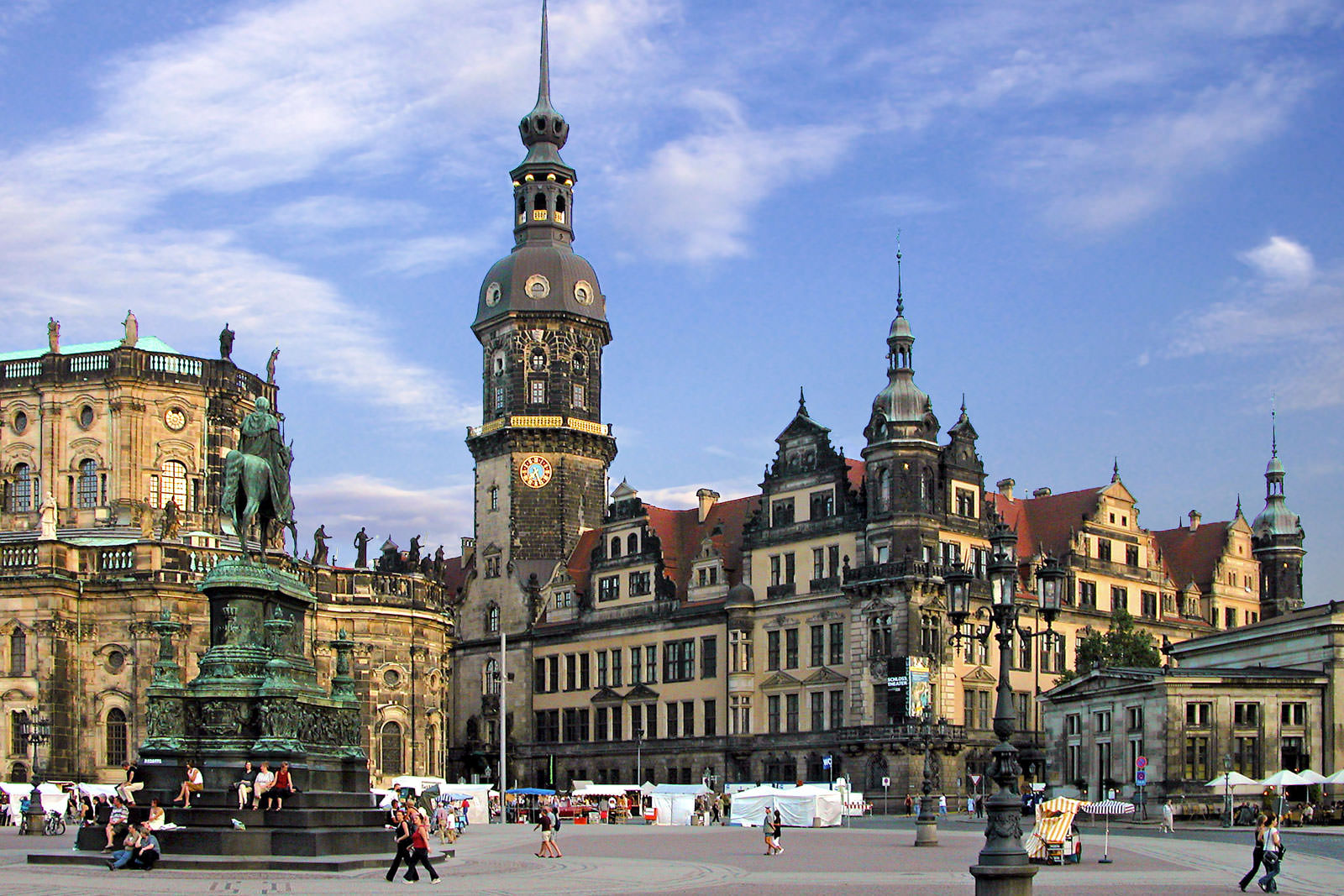 Delve into Dresden's treasure trove of Baroque architecture
This city is home to one of Europe's most handsome skylines
Dresden attracts visitors with its impressive city skyline, despite being almost entirely obliterated during the Allied bombings in 1945. Palace domes and towers, church spires, and stately buildings all contribute to the appeal of this striking Baroque city.
You can find excellent buildings throughout Dresden, many of which were rebuilt or repaired after the divide between East and West Germany was dissolved. Frauenkirche is one of the most beautiful churches in the world, with a spectacular interior dressed with Baroque flourishes and tiers of rising gallery walls. Other excellent examples of the fine architecture in Dresden include The Zwinger (a brilliant 18th-century palace), Theaterplatz and the Semper Opera (one of Germany's first public squares and opera houses), and Brühl's Terrace.
photo by Jörg Blobelt (CC BY-SA 4.0) modified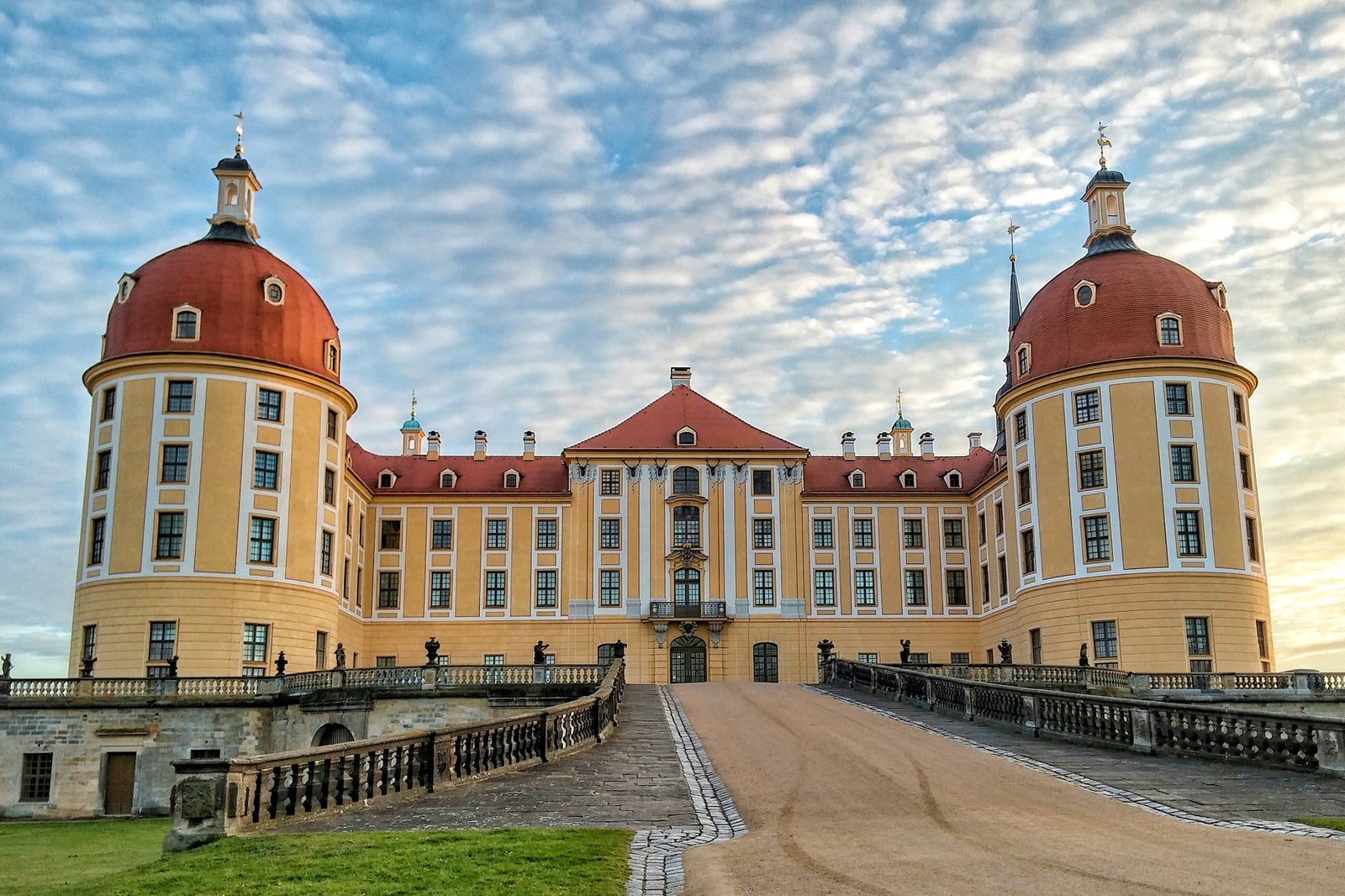 Make your way to Moritzburg Castle
You'll need to journey across the water to visit this palace on an island
If you want to visit one of the most extraordinary Baroque palaces in central Europe, you'll need to travel to Moritzburg, where the Moritzburg Castle sits in the middle of an artificial island. The remarkable estate is ideal for romantic walks by the shore and around its beautiful park grounds.
Originally built as a Renaissance-style hunting lodge, it soon became the epicentre of hunting in Saxony in the 16th century. In the early 18th century, work was undertaken to transform the building into a Baroque hunting and pleasure palace. Further additions were made to the nearby grounds, including the Rococo-style Little Pheasant Castle and the lighthouse pier. Located at the Lower Great Lake Baernsdorf, this is the only lighthouse in Saxony.
Location: Moritzburg Castle, Schloßallee, 01468 Moritzburg, Germany
Open: Daily from 10am to 6pm (open until 5pm in winter)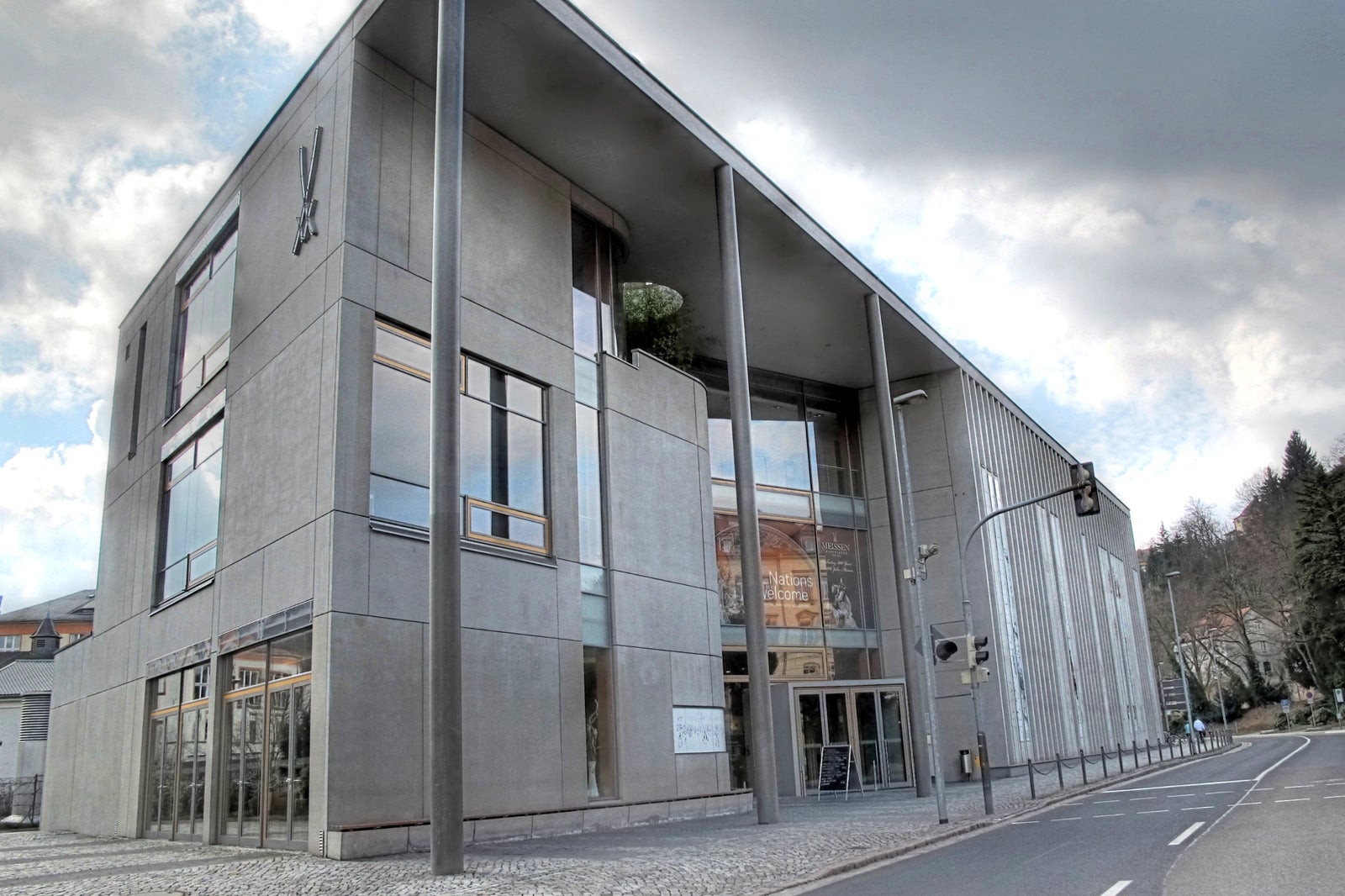 Discover the art of European porcelain making in Meissen
Learn about more than just 'white gold', with cathedrals and castles to explore
The origins of European porcelain manufacturing lie in Meissen, a city identifiable by its imposing 15th-century hilltop castle in the Old Town. Since the early 18th century, Meissen has been at the heart of European porcelain heritage and famed for August the Stronghold's 'white gold'. The Museum of the Meissen Porcelain Foundation is the ideal place to familiarise yourself with the craft of porcelain making and gain an understanding of how these delicate creations are painstakingly hand-painted.
More than the heart of porcelain though, this region of Saxony is well-known for its small wine district. Schloss Proschwitz is the most notable winery and also one of the oldest as it has been attracting wine connoisseurs since the 12th century. Bask in glorious views of the castle and the Elbe River below while sipping a delightful drop of the local product.
photo by Richard Huber (CC BY-SA 3.0) modified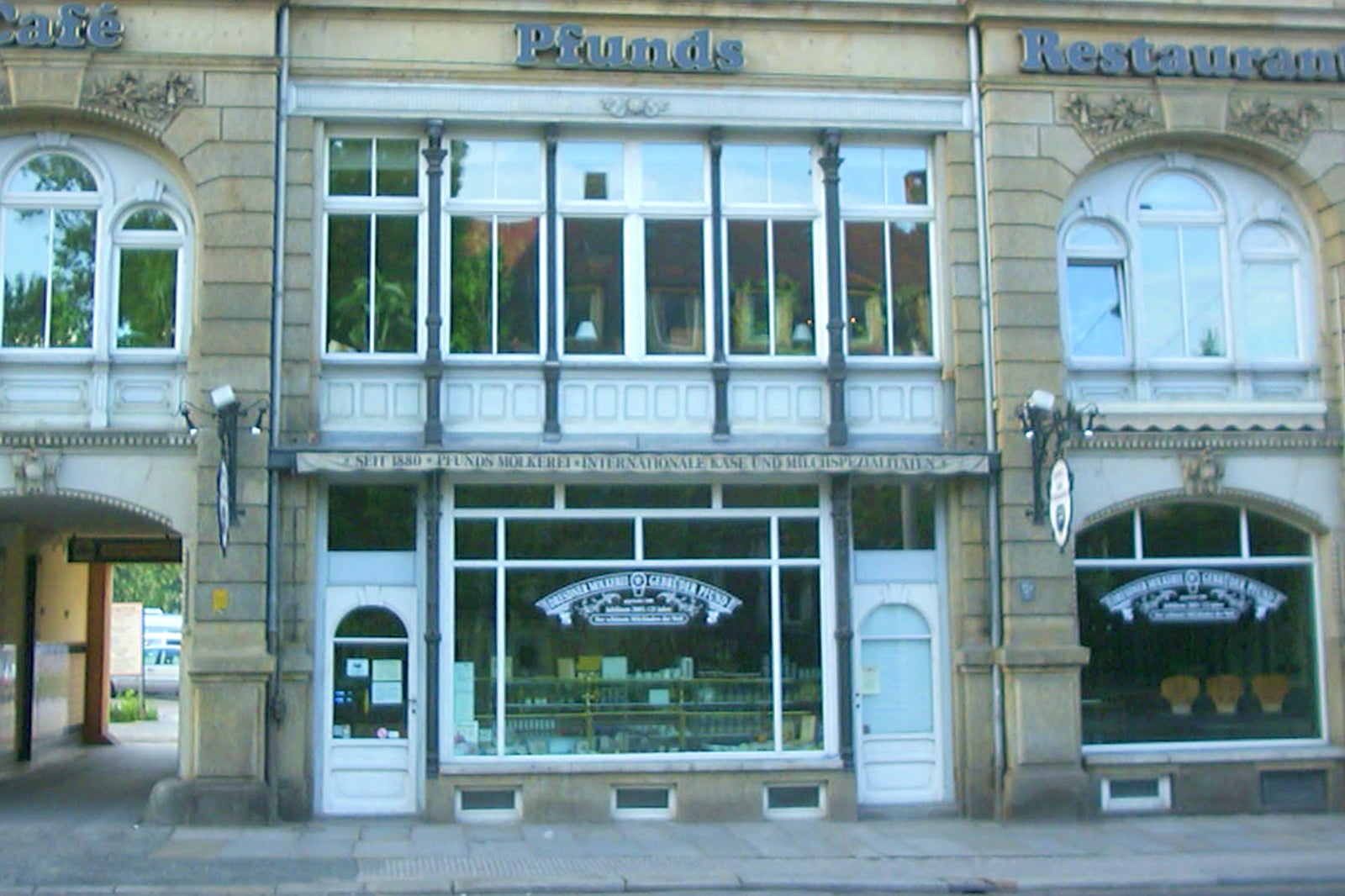 Don't miss a stop at Dresdner Molkerei Gebrüder Pfund
Marvel at the Guinness World Record's most beautiful dairy shop
Stepping inside Dresdner Molkerei Gebrüder Pfund, it's not hard to see why this dairy shop took the title of 'Most Beautiful Dairy in the World' in the Guinness Book of Records. It's a mesmerising work of art, with ornately decorated ceilings and walls covered in handpainted faience work dating back to the late 19th century.
The highly embellished interior features neo-Renaissance motifs painted on tile, creating what must be one of the most visually impressive shop interiors in existence. Nationalised in the 1970s, the Pfund brothers later closed their doors in 1990. Dresdner Molkerei Gebrüder Pfund has since been restored and reopened, with visitors able to purchase a variety of cheeses from the dairy shop.
Location: Dresdner Molkerei Gebrüder Pfund, Bautzner Straße 79, 01099 Dresden, Germany
Open: Monday–Saturday from 10am to 6pm, Sundays from 10am to 3pm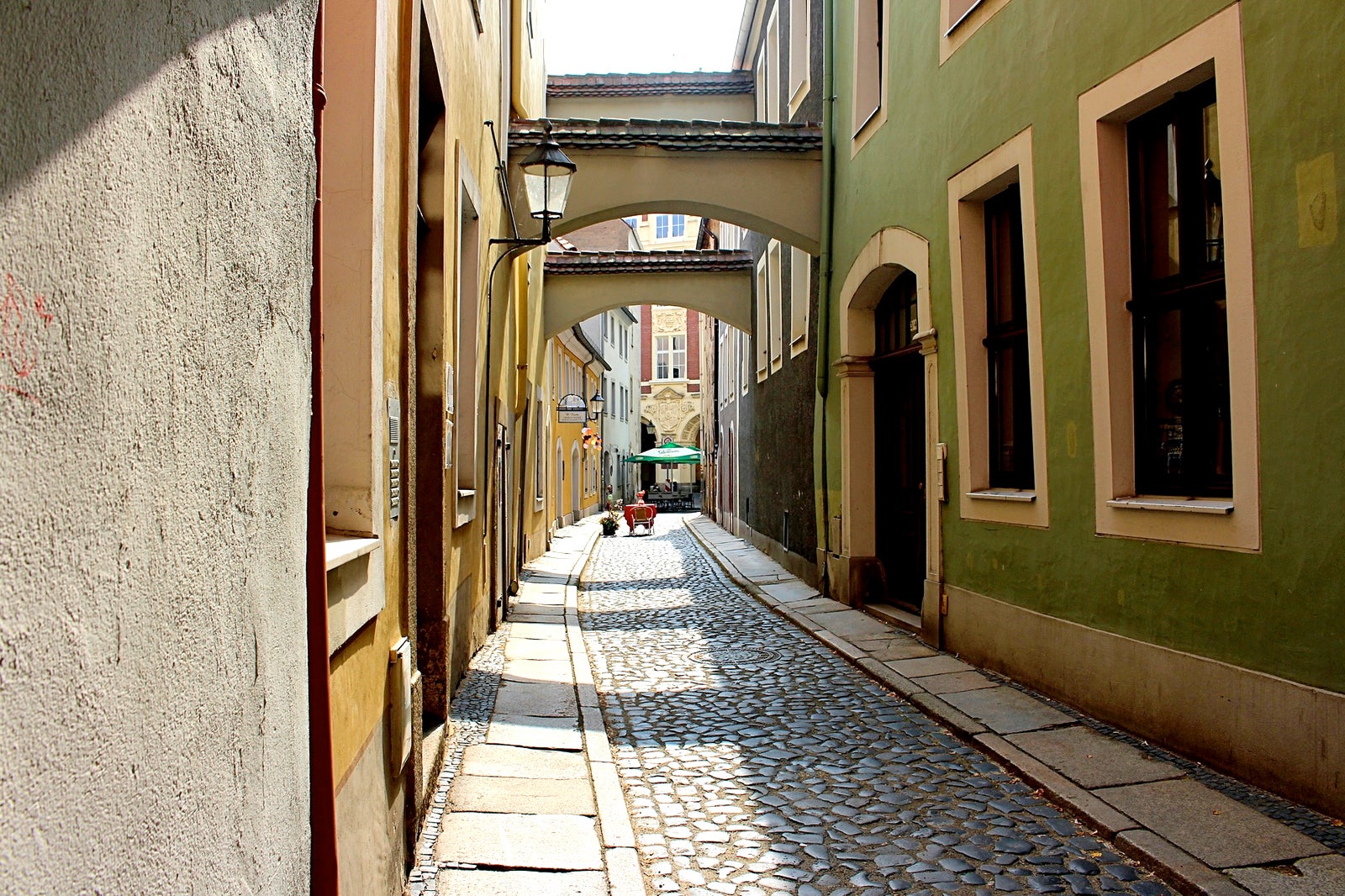 Meander the picturesque streets of Görlitz
Appreciate more than 4,000 buildings that escaped the destruction of World War II
Hugging the Polish border in Germany's far east, Görlitz is generally laidback and has a well-preserved old town that showcases a profound mix of architectural styles. The town was split in 1945 when the new border of Germany was drawn along the Neisse River. The eastern flank forms the Polish town of Zgorzelec. You can easily cross the river using a footbridge, with little sign that you've left Germany.
Hollywood is rather taken with Görlitz, due to the town's preservation of historic buildings, making it a popular location for period films. The Book Thief, Inglourious Basterds, and The Grand Budapest Hotel all feature scenes filmed in the charming streets of Görlitz.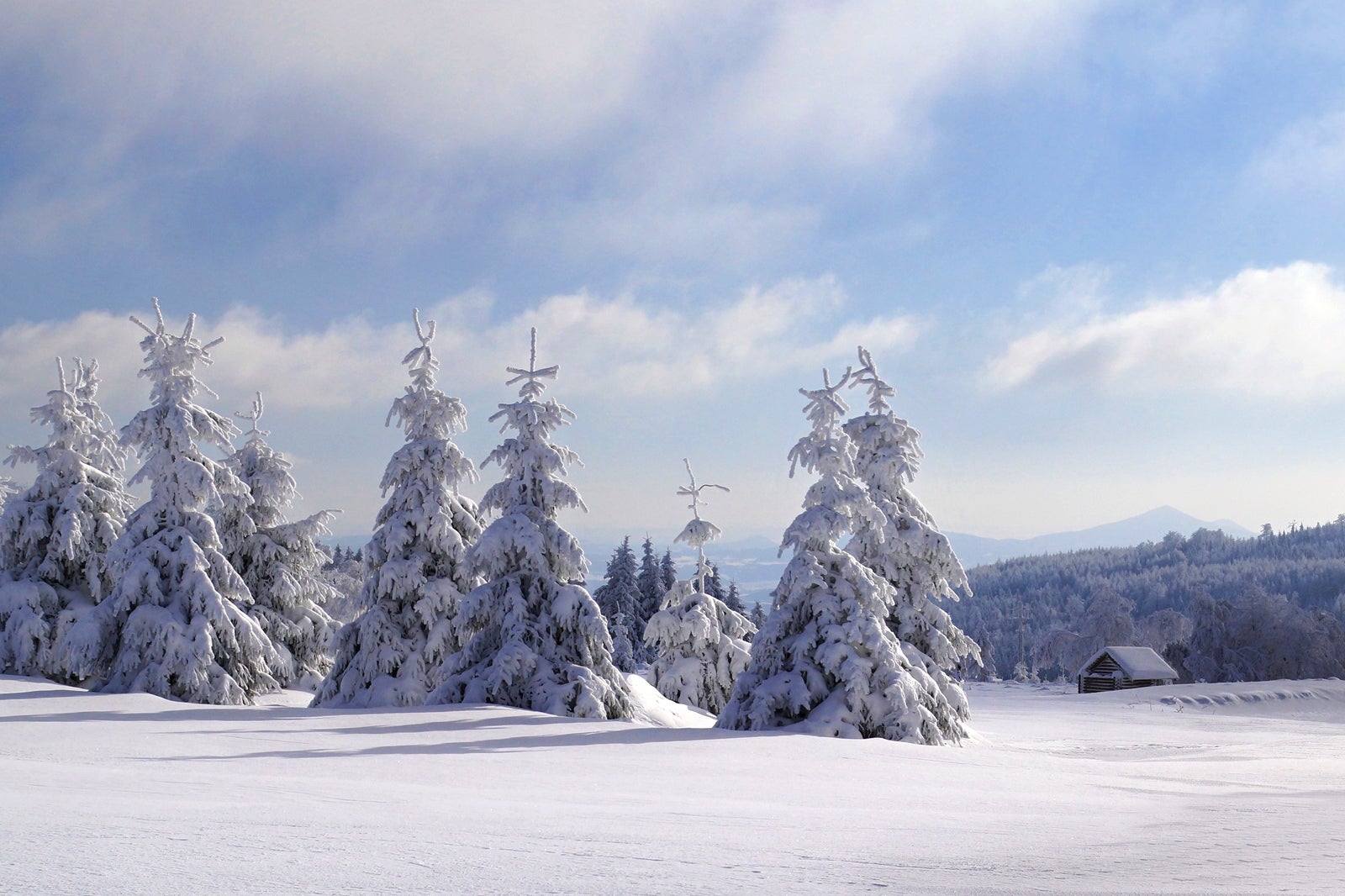 Experience a winter wonderland in the Ore Mountains
This year-round destination is truly magical in its winter whites
The Ore mountain range stretches 160 km along the German-Czech border and is full of incredible scenery. Hosting an array of activities from winter sports to hiking, cultural attractions include museums, castles, and traditional woodcarving. The region is never short of things for visitors to see or do in any season.
As the highest mountain in Saxony, Fichtelberg Mountain affords excellent landscapes for winter activities like cross-country skiing and bobsledding. It transforms into a vast network of hiking and biking trails in the summer. For winter action off the ski runs, enjoy the twinkling lights and delightful Christmas treats at the Scharfenstein Castle Christmas Festival. You can also spend time in the town of Annaberg-Buchholz, where you can find one of the most picturesque Christmas markets in the Ore Mountains.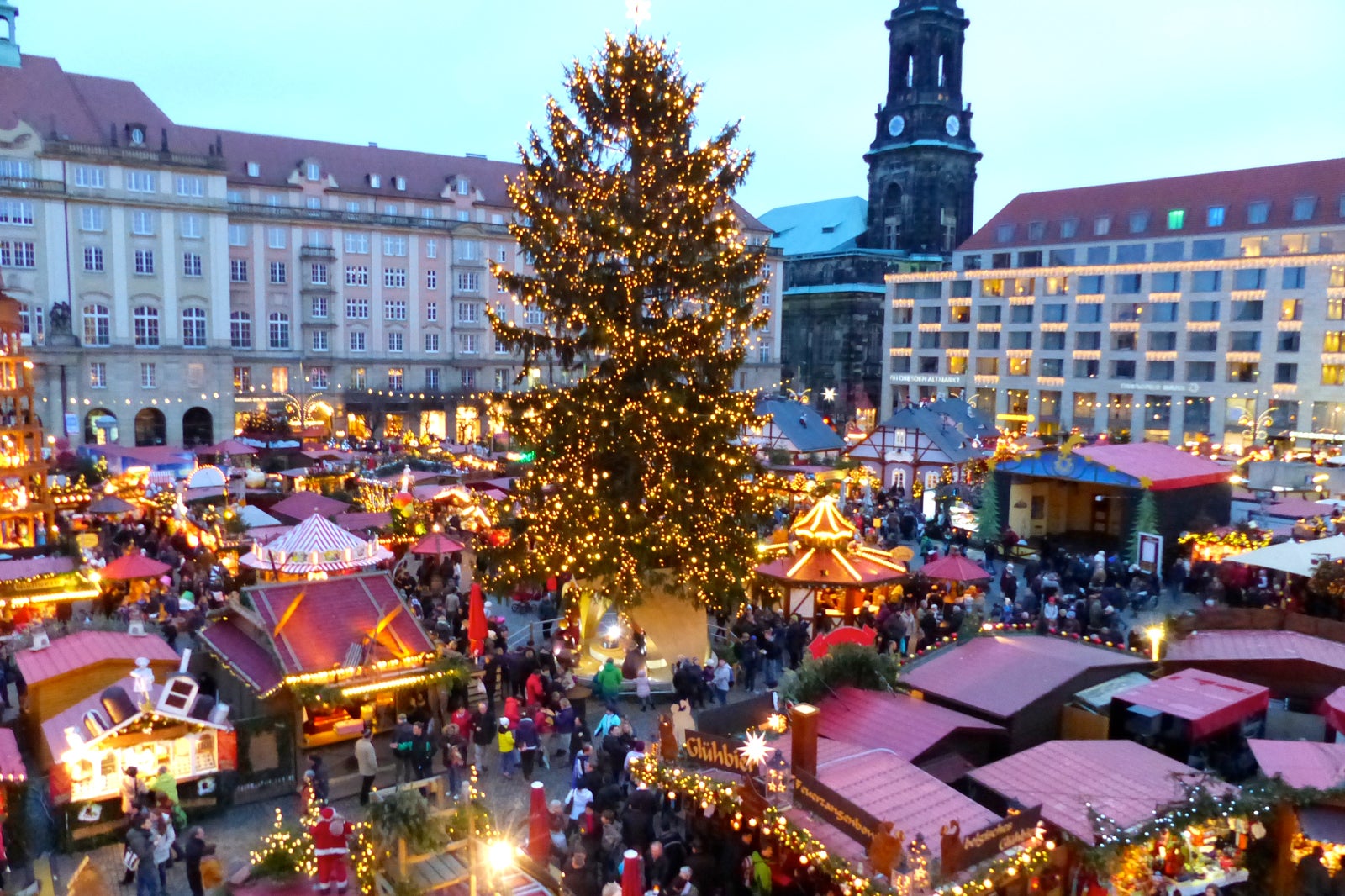 Embrace a truly Saxon Christmas at Dresden's Striezelmarkt
Revel in twinkling lights, Christmas carols, and mulled wine at this 600-year-old market
Germany is renowned for hosting some of Europe's most splendid Christmas Markets and Dresden's Striezelmarkt lives up to this deserved reputation. Its humble beginnings date back to a 1-day event that began in 1434. This one-off event has since grown to see the city welcoming more than 200 stands every December.
The market was named after a well-known Christmas bread – stollen, or Striezel in middle-high German. Every year, a Stollen Festival honours the delicacy, with celebrations involving a procession through the Baroque Old Town in Dresden. You can also expect other local treats and traditional products to include Lebkuchen (traditional Christmas sweet similar to gingerbread) and Pflaumentoffel (good luck charms made from dried plums designed to represent the city's chimney sweeps of bygone days).
Location: Altmarkt, 01067 Dresden, Germany
Open: Market opens in late November
Families
Shoppers
History
Photo
photo by Dr. Bernd Gross (CC BY-SA 4.0) modified