10 Best Things to Do in Hannover
What is Hannover Most Famous For?
Hannover offers a mix of old-world charm and natural landscapes, as well as lively beer gardens and modern shopping malls. One of the best places to start your day is at its historical district, which features winding walkways lined with picturesque cathedrals, monuments, and sculptures dating back the 14th century.
Museums in Hannover offer a diverse collection of art, fossils, and artefacts, as well as informative workshops and events, while concert halls host a mix of classical and contemporary performances. The city is teeming with landscaped gardens and expansive lakes, where you can be as lazy or active as you like. It's that sort of a place.
What are the best things to do in Hannover?
1
Start the Day at Marktplatz – Old Town
See the entire Old Town from the top of Marktkirche's bell tower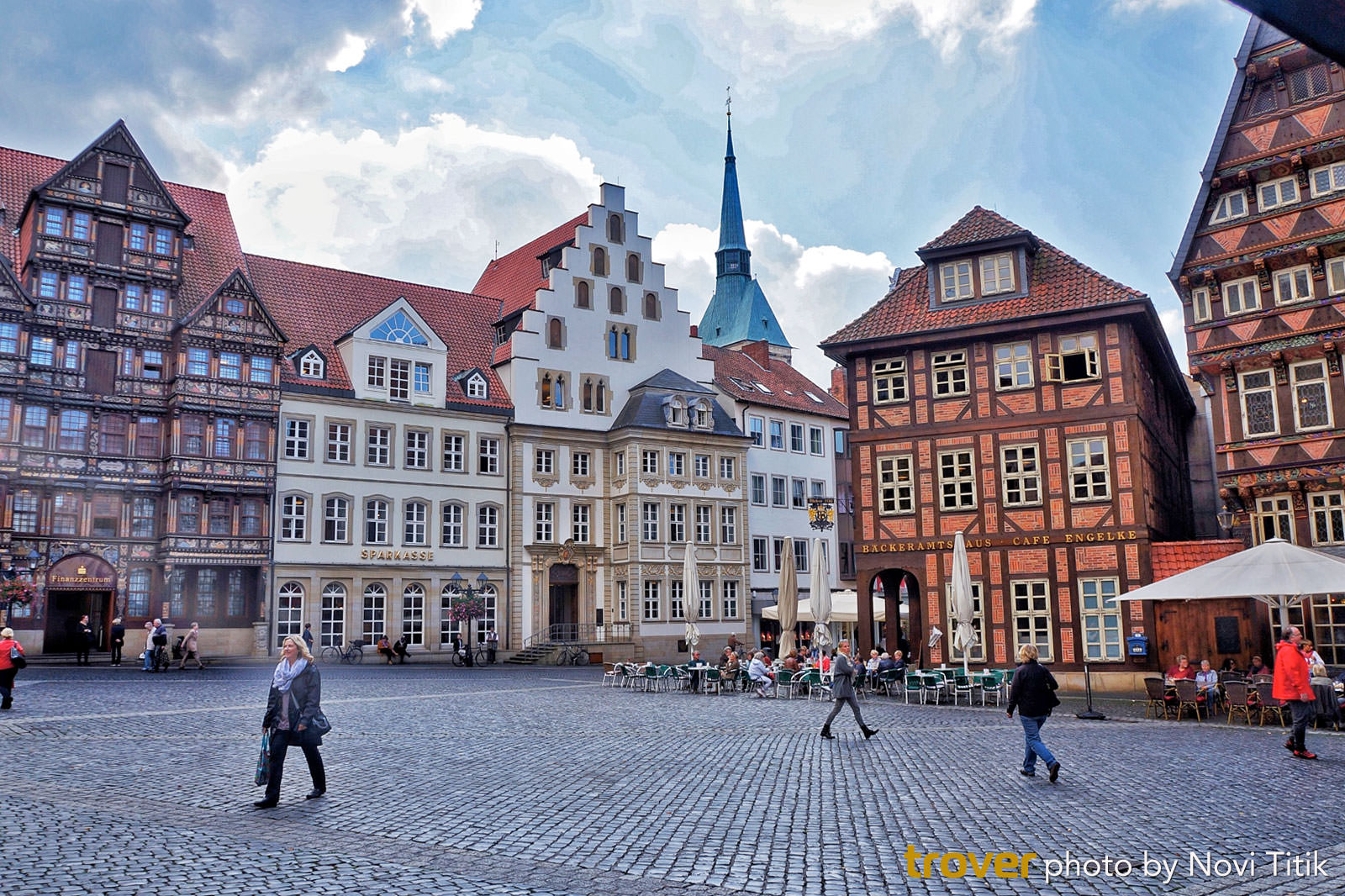 Marktplatz, set in the middle of Hannover Old Town, is a good starting point for sightseeing in the city. The square contains some of the city's most impressive Gothic structures, dating back to between the 14th and 15th centuries. Must-visits include the Old Town Hall (Altes Rathaus), Aegidienkirche Church, and Market Church (Marktkirche). The Marktkirche Lutheran church is known for its 97-metre-tall brick tower, which you can climb to the top of for expansive views of Hannover.
Location: Altes Rathaus Hannover, Köbelingerstraße 4, 30159 Hannover, Germany
2
Follow the Red Thread Trail
Enjoy a self-guided tour of the city centre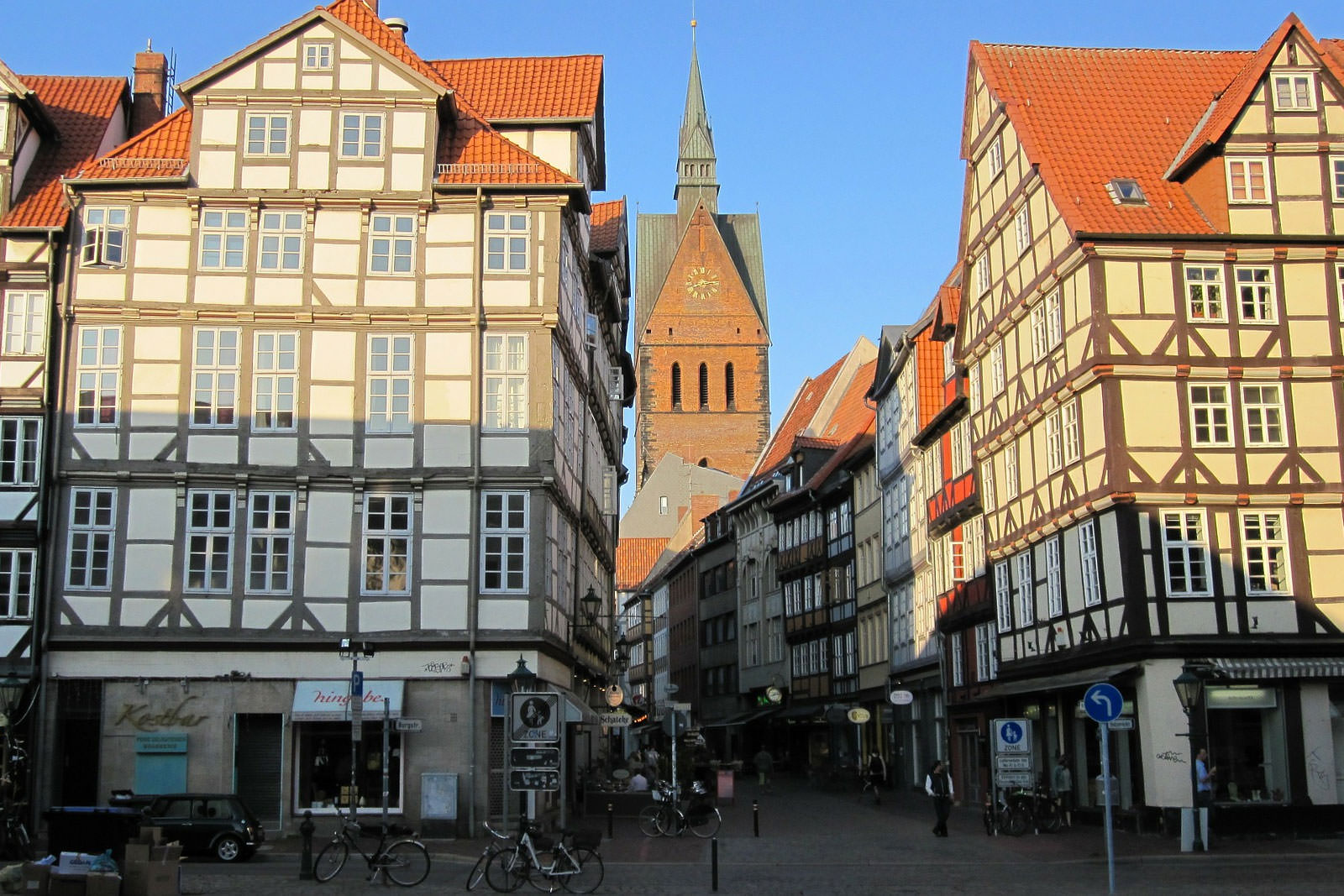 The Red Thread is a 4.5 km route guiding you to 36 notable buildings and monuments in central Hannover. This self-guided tour starts at the tourist information centre opposite Hauptbahnhof Station and continues along walkways that are painted with a red line. Along the way, you can stop at historical sites such as Market Church, the Opera House, Museum August Kestner, and the New Town Hall. You can get a brochure from the information centre for about €3, which includes detailed information about each landmark and an additional 45-minute route along the banks of Lake Maschsee. For a change of scenery, book a night (or two) near Maschsee Lake and out your feet up after a day of walking.
3
Shop at Ernst-August-Galerie
Shop for upmarket and high-street brands at this modern mall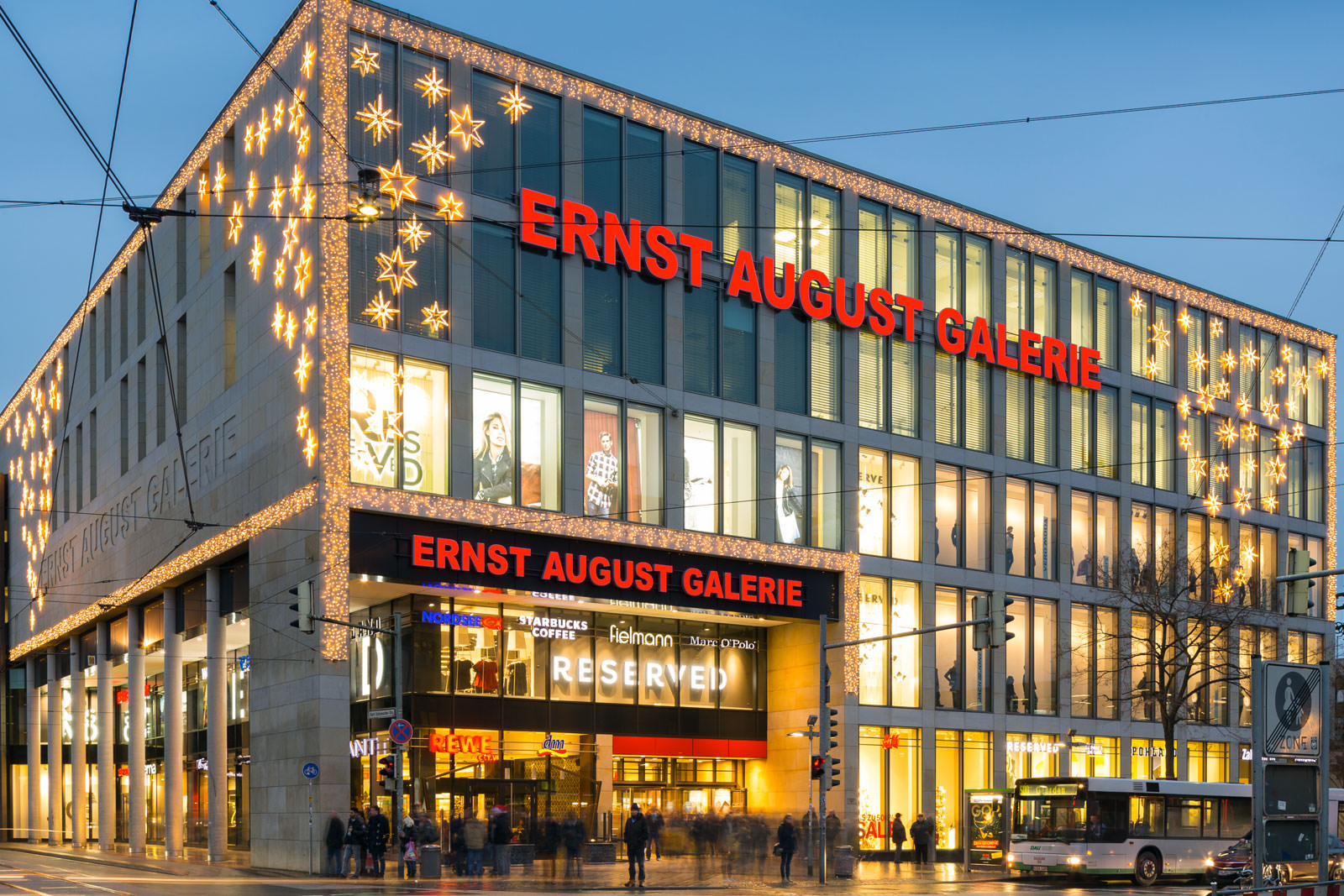 Ernst-August-Galerie is a 3-storey shopping mall that's within a 10-minute walk of Hannover Hauptbahnhof Station. Featuring a sleek design, its main atrium hosts a wide range of activities, events, and concerts throughout the year, especially on public holidays. There are over 100 retail outlets selling high-street and luxury brands, including H&M, Tommy Hilfiger, and Adidas. You can also find a supermarket, numerous cafés and restaurants, as well as a playground within Ernst-August-Galerie.
Location: Ernst August Gallery Hannover, Ernst-August-Platz 2, 30159 Hannover, Germany
Open: Monday – Saturday from 10 am to 10 pm (closed on Sundays)
Phone: +49 (0)511 169 9680
photo by Christian A. Schröder (CC BY-SA 4.0) modified
4
Must-See: New Town Hall
See miniature models of Hannover inside this museum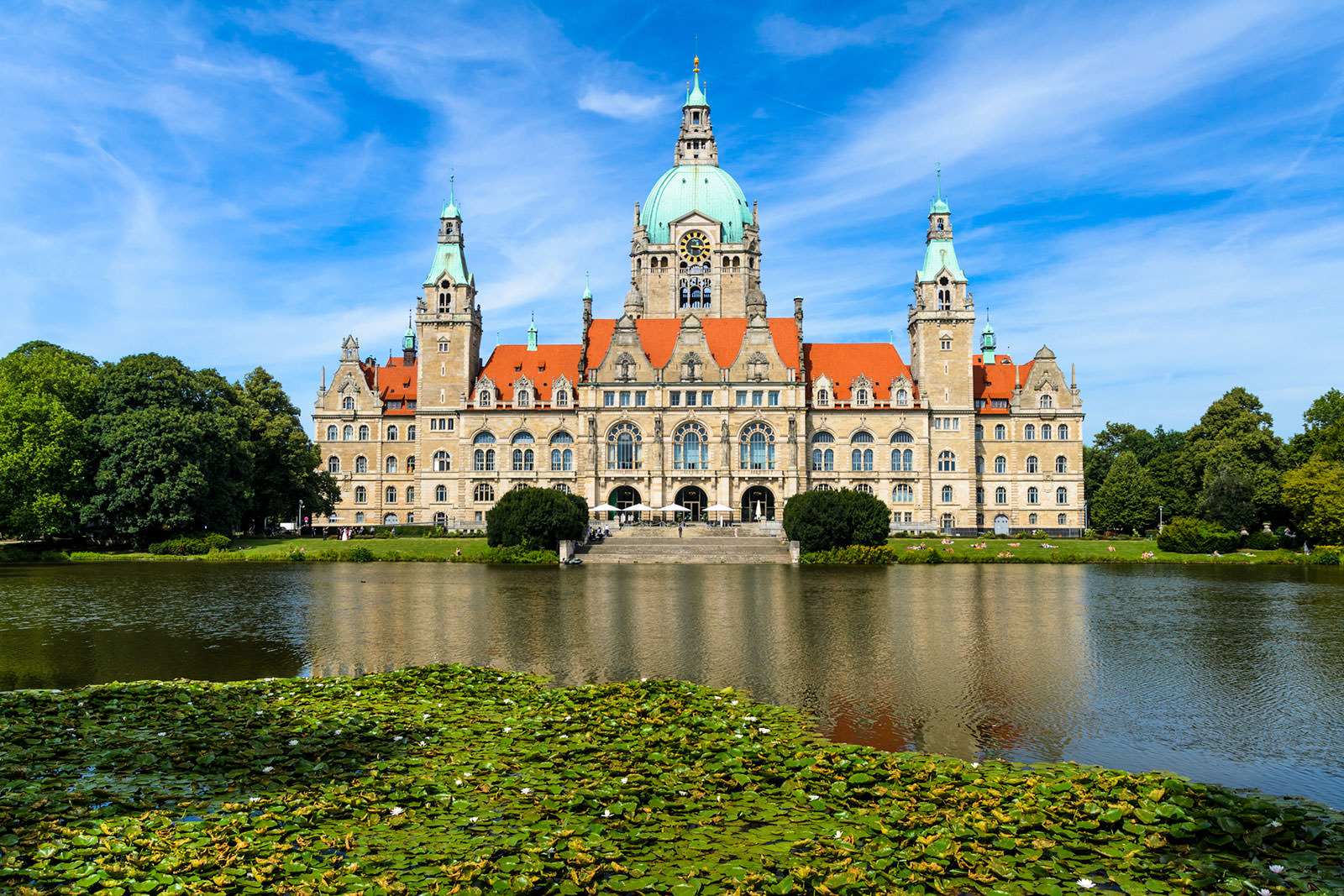 Hannover's New Town Hall (Neues Rathaus) is a grand palace-like structure in Trammplatz, about a 5-minute walk of the Old Town. Established in 1913, several halls within the building have been converted into museums, which hosts a variety of exhibits all year long. There are 4 scale models depicting Hannover's cityscape during the Middle Ages, pre-World War II, 1945, and the present day. Enjoy panoramic views of Hannover when you visit the observation deck, which stands at 93.5 metres. New Town Hall is adjacent to Maschpark, a tree-filled park that's popular for outdoor activities such as jogging, picnicking, and cycling.
Location: New Town Hall, Trammplatz 2, 30159 Hannover, Germany
Open: Monday – Friday from 11 am to 4.30 pm, Saturday – Sunday from 10 am to 4.30 pm
Phone: +49 (0)511 1680
5
Eat Rouladen at Broyhan Haus
Enjoy this traditional dish with Einbecker beer at a historical tavern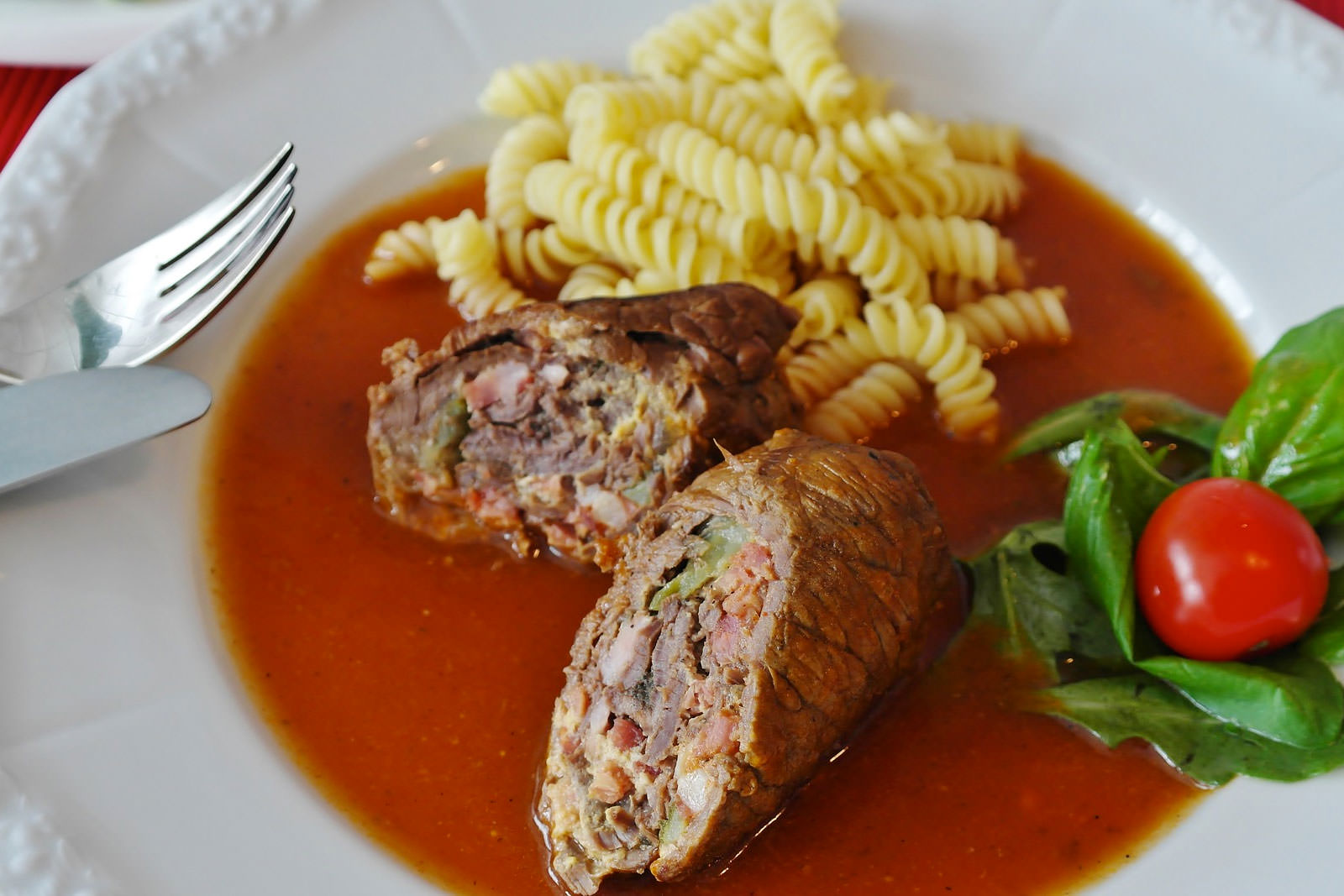 Rouladen consists of a meaty filling that's typically rolled within thin slices of braised beef, though veal and pork are commonly used as well. The filing is a mix of pickles, chopped onions, and pork belly (or bacon). If you're not a fan of beef, some restaurants in Hannover serve rouladen with venison or pork slices. A popular comfort food in Germany, it's usually served with gravy, dumplings, mashed potatoes, and blaukraut (red cabbage). A must-visit for traditional German food and beers, Broyhan Haus gastropub occupies a historical half-timbered structure in Hannover's Old Town.
Location: Broyhanhaus, Kramerstraße 24, 30159 Hannover, Germany
Open: Monday – Thursday from 11 am to 1 am, Friday –Saturday from 11 am to 2 am, Sunday from 11 am to 1 am
Phone: +49 (0)511 323 919
6
Sample over 10 types of beers on tap at Lister Turm Biergarten
Sample over 10 types of beers on tap at Lister Turm Biergarten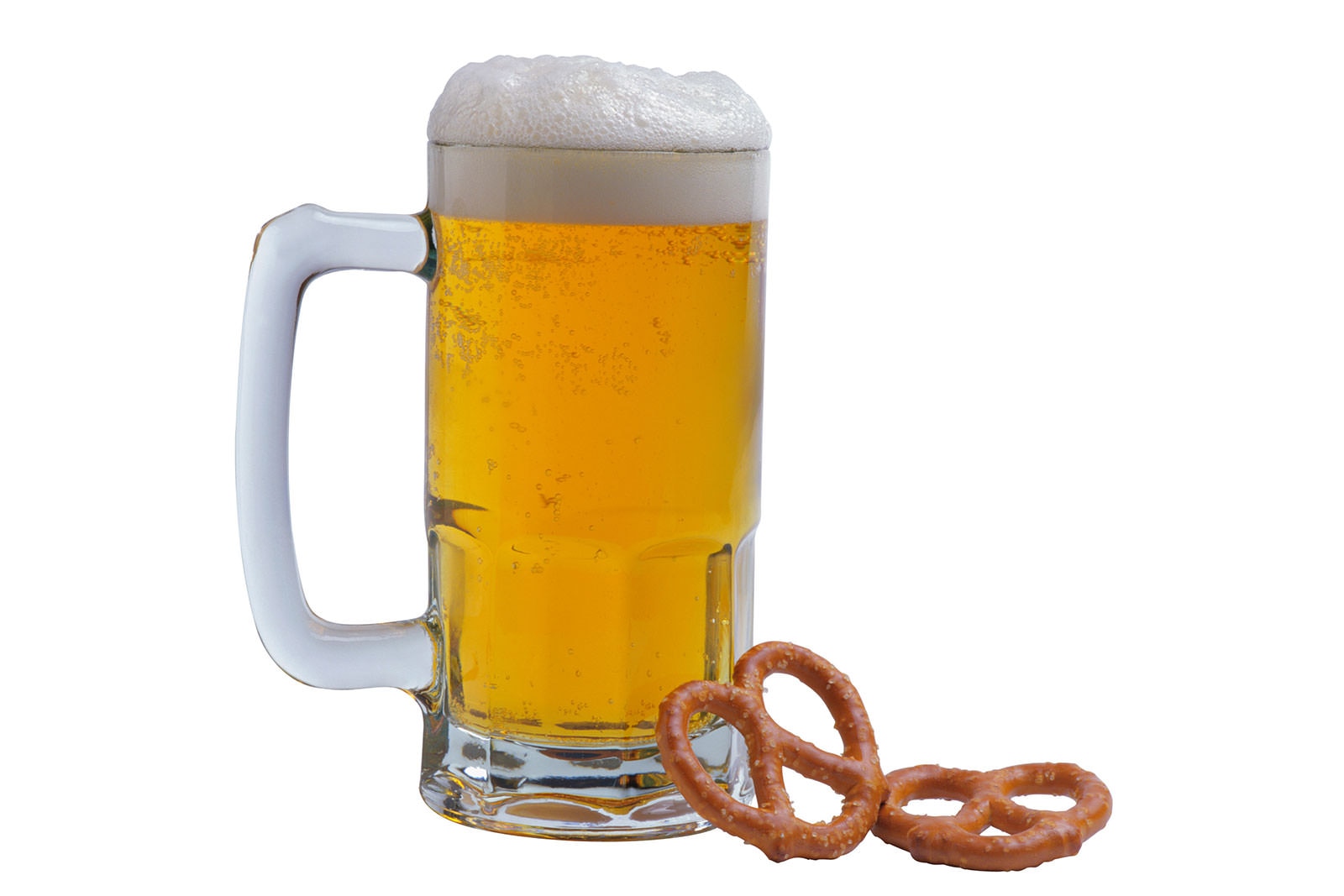 Enjoying an ice cold beer during the day is a common activity in Germany, and Hannover is no exception. Beer gardens are plentiful in the city, where you get to relax and socialise with like-minded locals and tourists. Located 1.3 km north of Oststadt, Lister Turm Biergarten is one of Hannover's most popular beer gardens. Here, you can enjoy a variety of draft beers, wines, and spirits, as well as Bavarian and Greek cuisine such as pretzels, bratwurst, and gyro. This open-air venue is fitted with 3 bars, a kitchen, a playground and hundreds of shaded wooden communal seats. Choose this area as your base, book a hotel situated near Eilenriede and enjoy its park.
Location: Lister Turm Biergarten, 100Walderseestr, 30177 Hannover, Germany
Open: Monday – Friday from 3 pm to 11 pm, Saturday from 12 pm to 11 pm, Sunday from 11 am to 11 pm
Phone: +49 (0)511 1684 2402
7
Take a Break at the Royal Gardens of Herrenhausen
Visit the Grotto by artist Niki de Saint Phalle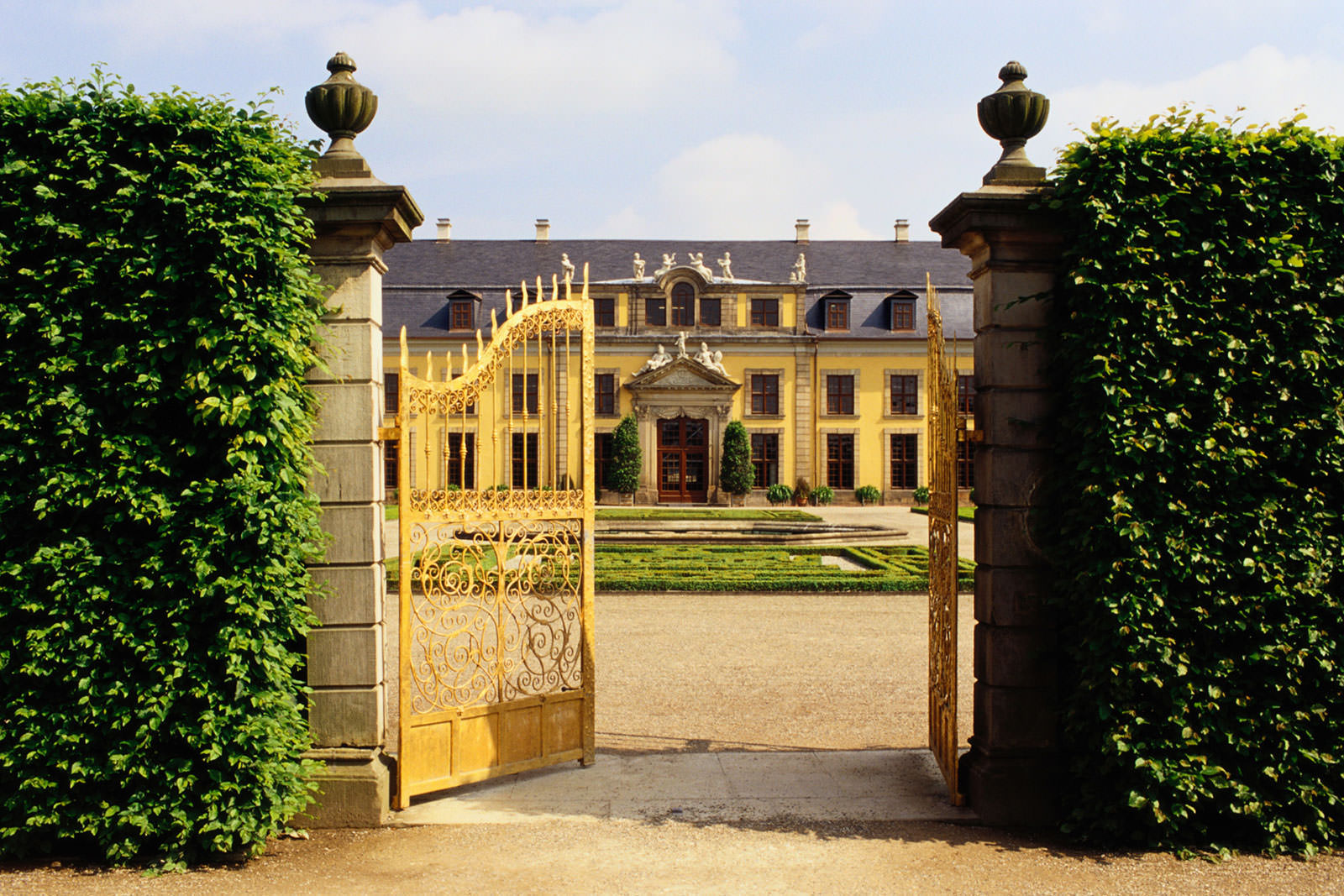 The Royal Gardens of Herrenhausen give you plenty of sightseeing opportunities that are surrounded by beautiful flowers, fountains, and unique sculptures. This expansive park is home to 4 baroque and Renaissance gardens, namely Großer Garten, Welfengarten, Berggarten, and Georgengarten. Großer Garten (Great Garden) is where you can enjoy a variety of events, festivals, and concerts at the open-air Gartentheater. There's also a beautiful grotto filled with modern artworks by artist Niki de Saint Phalle. Entrance to the Royal Gardens of Herrenhausen costs about €8 in the summer, but you can enjoy a reduced rate if you're in Hannover between October and February.
Location: The Royal Gardens of Herrenhausen, Herrenhäuser Str. 4, 30419 Hannover, Germany
Open: Daily from 9 am to 8 pm (hours vary by season)
Phone: +49 (0)511 1683 4000
8
Must-See: Lower Saxony State Museum
See over 2,000 types of exotic fish and reptiles at the vivarium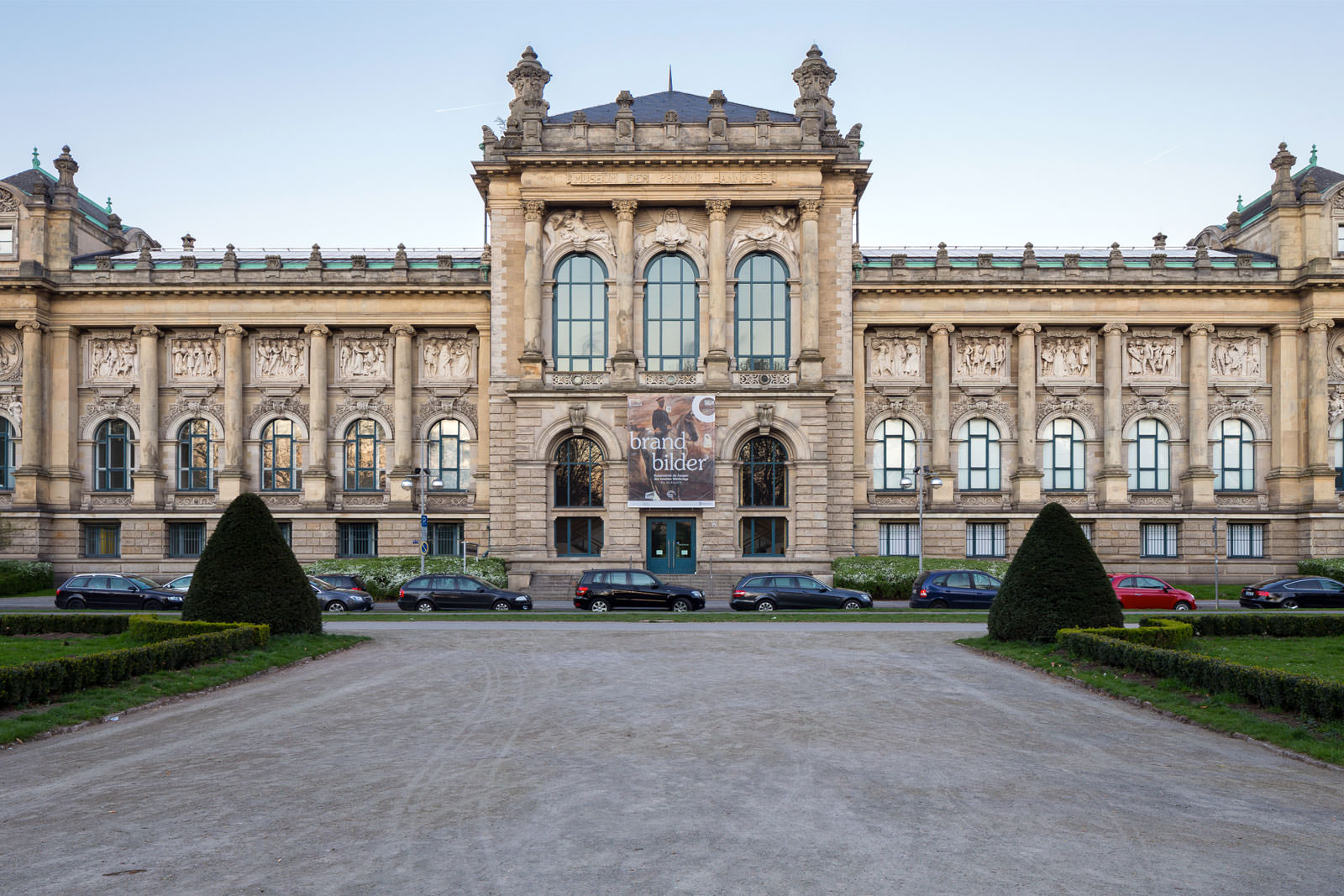 Hannover's Lower Saxony State Museum, opposite the New Town Hall, has a diverse collection of paintings, artefacts, fossils, and wildlife from all over the world. The State Art Gallery is where you can see contemporary and classical art by artists such as Albrecht Dürer, Rembrandt, and Rubens, while its natural history department has a massive vivarium filled with over 2,000 types of fish, amphibians, and reptiles. Admission to the Lower Saxony State Museum start from €5, but it's free of charge if you visit on Friday from 2pm to 5pm.
Location: Lower Saxony State Museum, Willy-Brandt-Allee 5, 30169 Hannover, Germany
Open: Tuesday – Sunday from 10 am to 5 pm, Thursday from 10 am to 7 pm (closed on Mondays)
Phone: +49 (0)511 980 7686
photo by Christian A. Schröder (CC BY-SA 4.0) modified
9
Barhop at Oststadt
Enjoy some of the best cocktails in Hannover at Auszeit Bar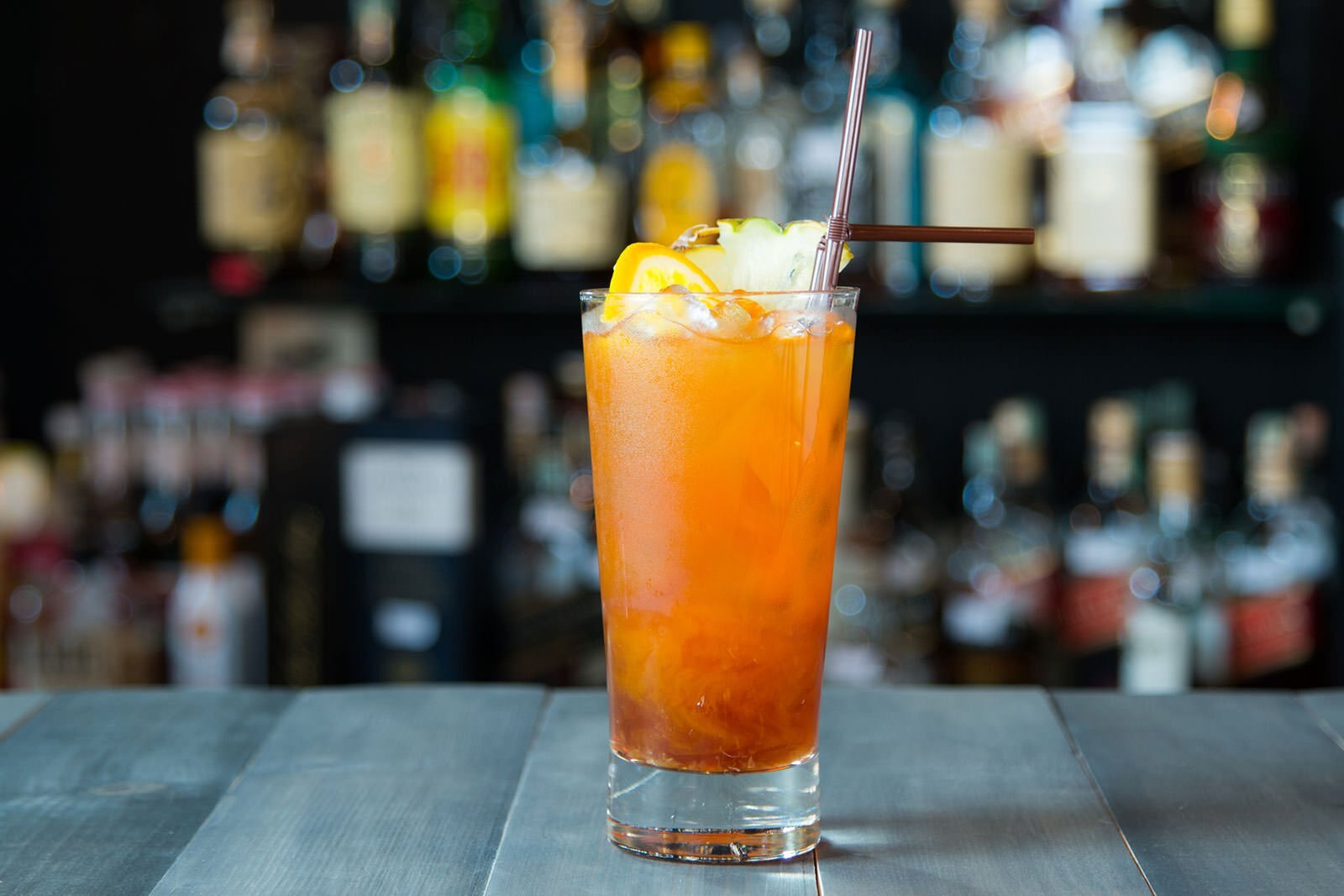 Oststadt is an eclectic part of Hannover that's known for its diverse range of restaurants, bars, and nightclubs. Located near Eilenriede Park, it's teeming with picturesque Art Deco buildings, giving you plenty of beautiful snapshots during your visit. You can find many quirky bars and pubs along the northern end of Passerelle Street, where you can relax on outdoor terraces while enjoying delicious tapas, cocktails, wines, and beers until late. A popular spot here is Auszeit, a classy cocktail bar with a spacious loft that overlooks the bar area. Avoid long distances, book a hotel in the Oststadt neighbourhood.
Location: Auszeit, Friesenstraße 15, 30161 Hannover, Germany
Open: Monday – Saturday from 6 pm to 1.30 am (closed on Sundays)
Phone: +49 (0)511 336 5588
10
End the Day Watching Classical Opera
Watch a variety of classical performances at Staatsoper Hannover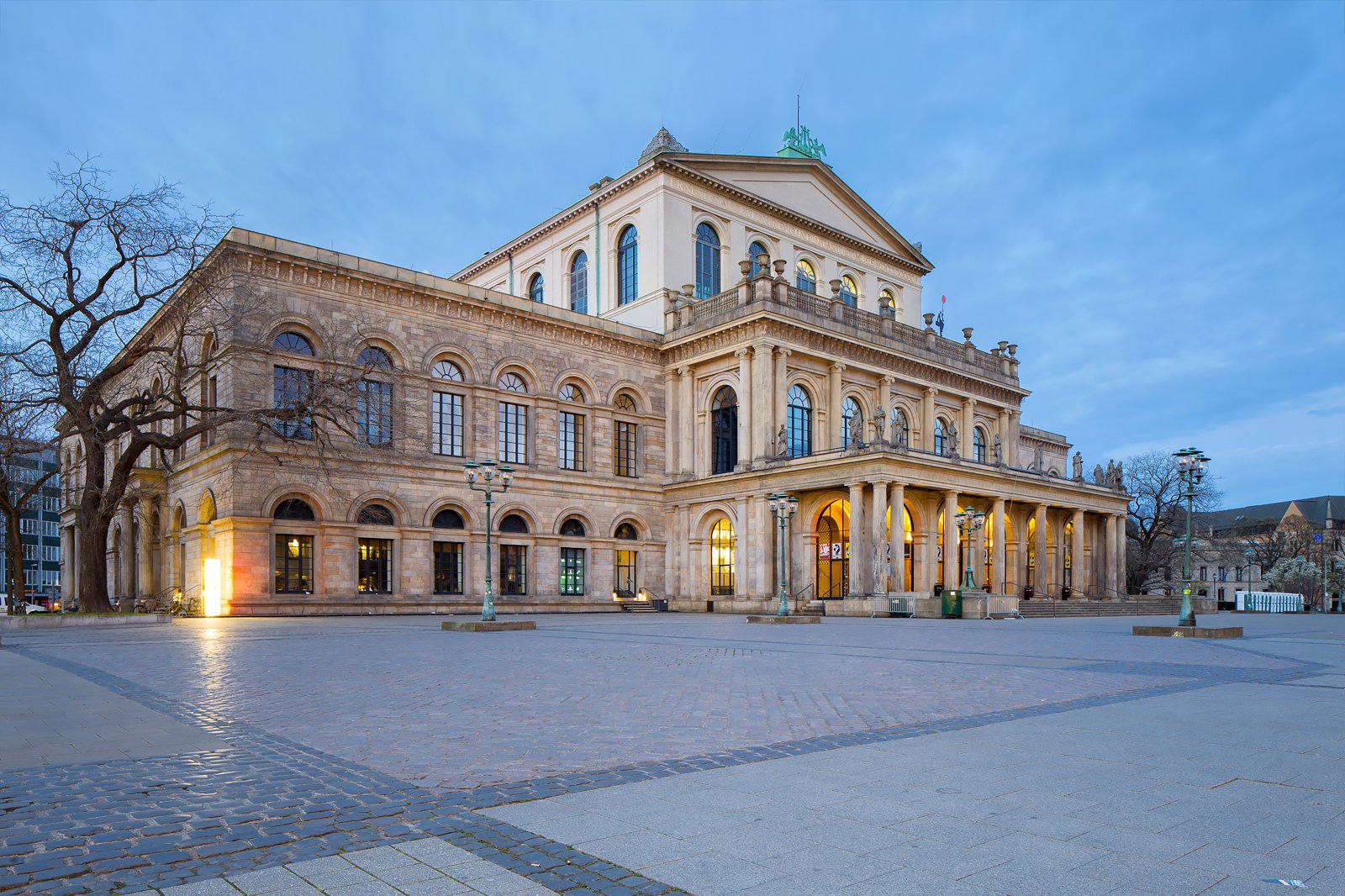 Staatsoper Hannover is a 19th-century opera house that hosts classical performances such as theatre, ballet, symphony, and opera. Found in the Old Town, the historical building is within a 5-minute walk of Marktplatz. Even if you're not planning to catch a show, the building's neo-classical interior is worth exploring. Sculptures of prominent composers, poets, and musicians can be found on the terrace. Behind Staatsoper Hannover is a museum that hosts various lectures, readings, concerts, and exhibits on Germany's theatre scene.
Location: Staatsoper Hannover, Opernplatz 1, 30159 Hannover, Germany
Open: Box office: Monday – Friday from 10 am to 7.30 pm, Saturday from 10 am to 6 pm (closed on Sundays)
Phone: +49 (0)511 9999 1111