8 Best Things to Do for Couples in Hamburg
What to Do on a Romantic Trip to Hamburg?
Hamburg and romance seem strange bedfellows at first sight, but the city's waterways and open spaces are actually readymade for a romantic break. While the city is more famous for its brash nightlife scene down the Reeperbahn, there are many peaceful spots where you can enjoy Hamburg with your partner.
Of course, taking a river cruise is top of many couples' lists, but head through the Old Town toward Alster Lake and you'll find plenty of romance along the old, cobblestoned streets. If you're here in winter, head for the excellent Christmas market in front of the Town Hall.
1
Canal and harbour cruise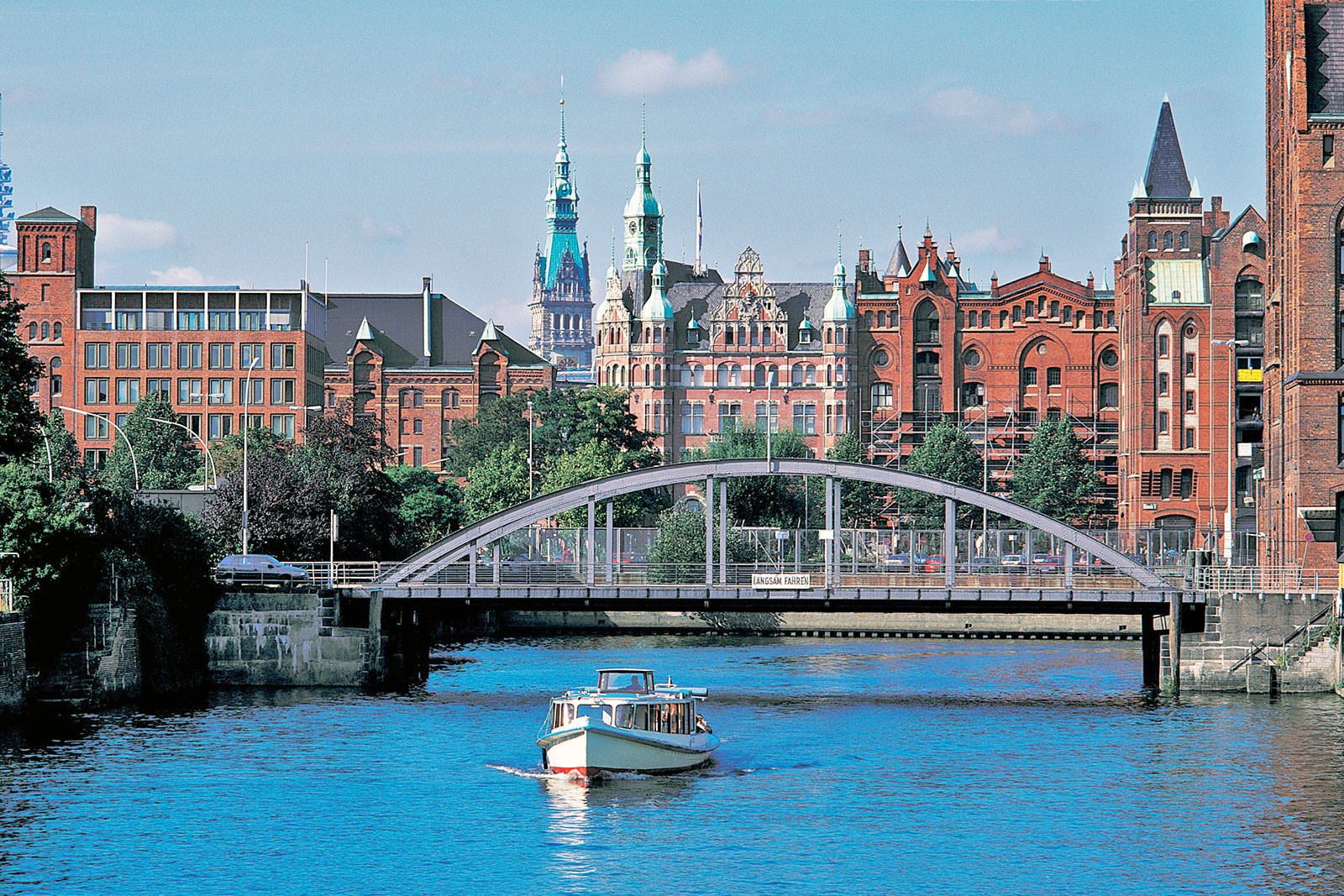 Locals are proud to tell you that Hamburg has more canals than Venice. A cruise along the waterways and out into the harbour is a classic couples activity. Starting from the Port of Hamburg, close to Landungsbrücken subway station, there are several tour operators sailing barges along the canals in the Speicherstadt district, past the Town Hall, and back to the harbour. The journey takes around 1 hour. If the weather is nice, consider taking a larger boat with an open upper deck for relaxing in the sun.
Location: Landungsbrücken Ferry Terminal
2
Leave a padlock on Love Lock Bridge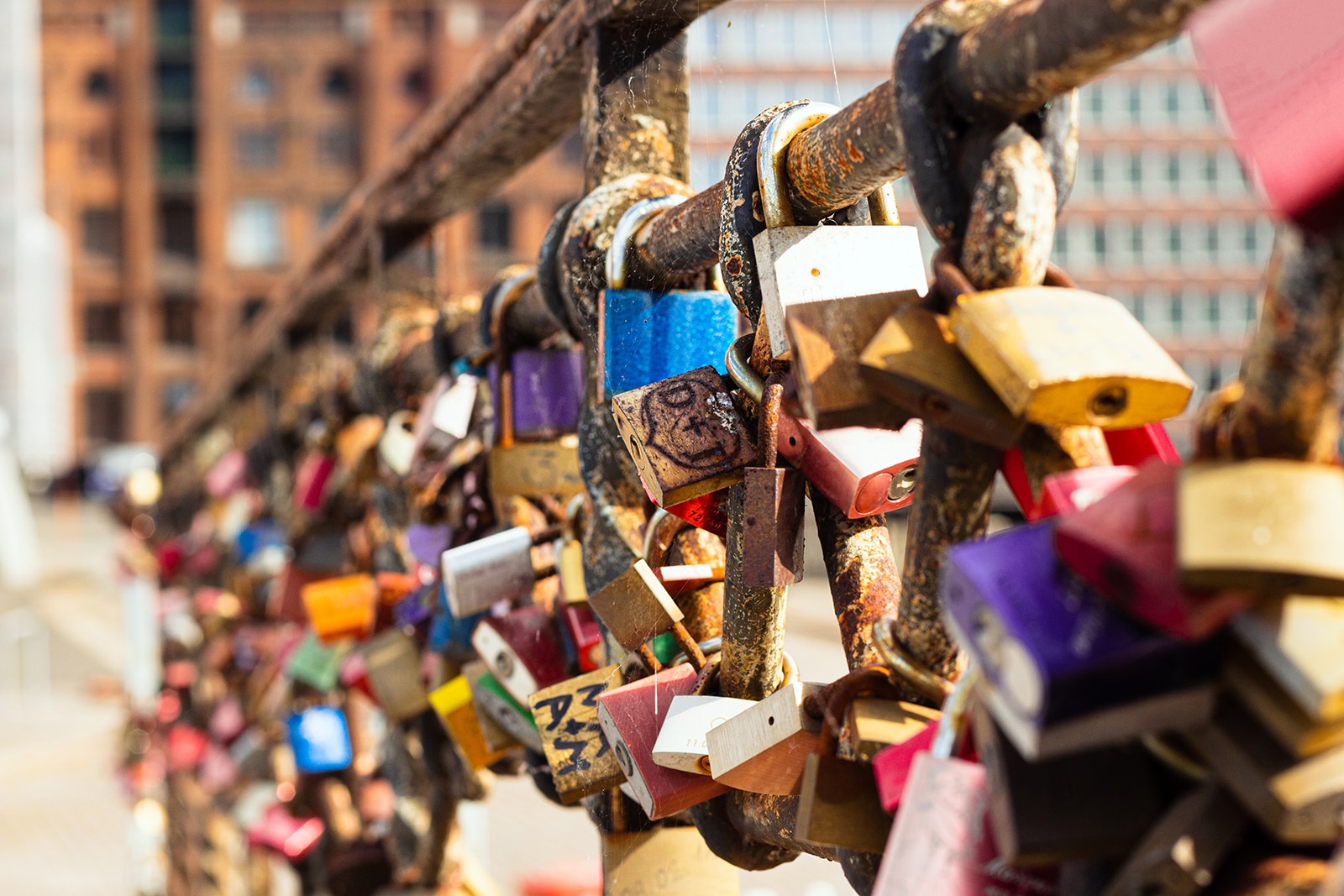 With so many canals crisscrossing the city, it should come as no surprise that bridges are everywhere in Hamburg. Couples have taken to declaring their love for each other by fixing a lock to bridges around the city. One of the most popular spots is a footbridge that connects to Landungsbrücken subway station. Some of the locks have been inscribed with names and dates, and it's fun to do it yourself and to dream about all the other couples that came before you.
Location: A footbridge connected to Landungsbrücken subway station
3
Stroll around Planten um Blomen park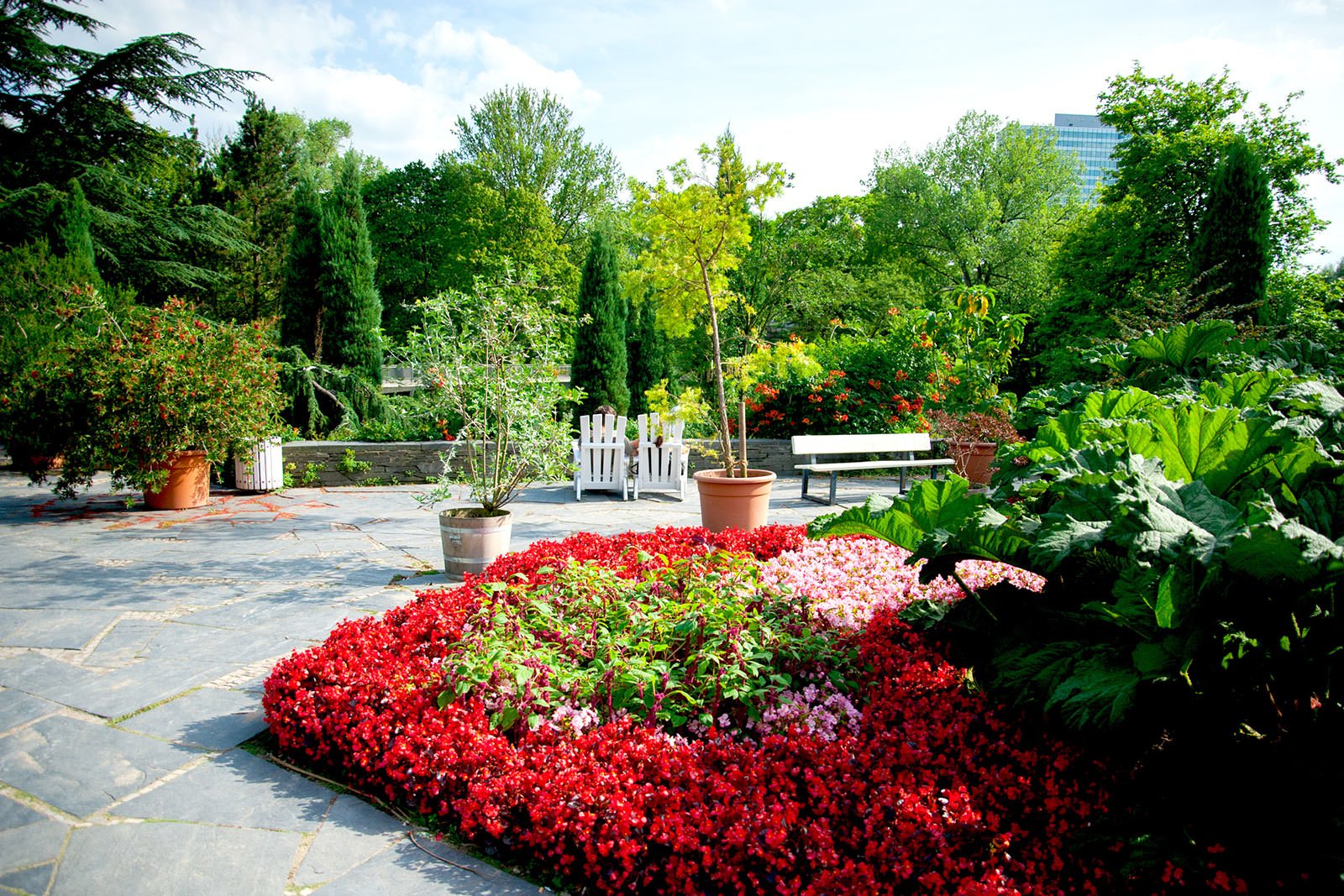 An evening walk in the park with your loved one is a great way to enjoy dusk in Hamburg. Planten un Blomen park is a huge expanse of green space in the city centre, featuring a wide array of flowers and water features. Every evening, the park is illuminated by pretty lights and there's also a water show that attracts large groups. It's the best place to escape the busy streets and waterways in central Hamburg. Don't miss the carefully manicured Japanese garden and its large taiko drum.
Location: Marseiller Str., 20355 Hamburg, Germany
Open: Daily from 7 am to 11 pm
Phone: +49 (0)40 42731 0545
4
Row a boat around Alster Lake
Lake Alster is a 160-hectare lake that's surrounded by beautiful villas and lush parks. On sunny days, it's fun to take to the water in a rowing boat, paddleboat or kayak. You can find plenty of rental shops dotted all around the lake, but head to Jungfernstieg subway station and you'll find a cluster of rentals options. Lake Alster often freezes over during wintertime, turning it into one of the largest ice-skating rinks in the city.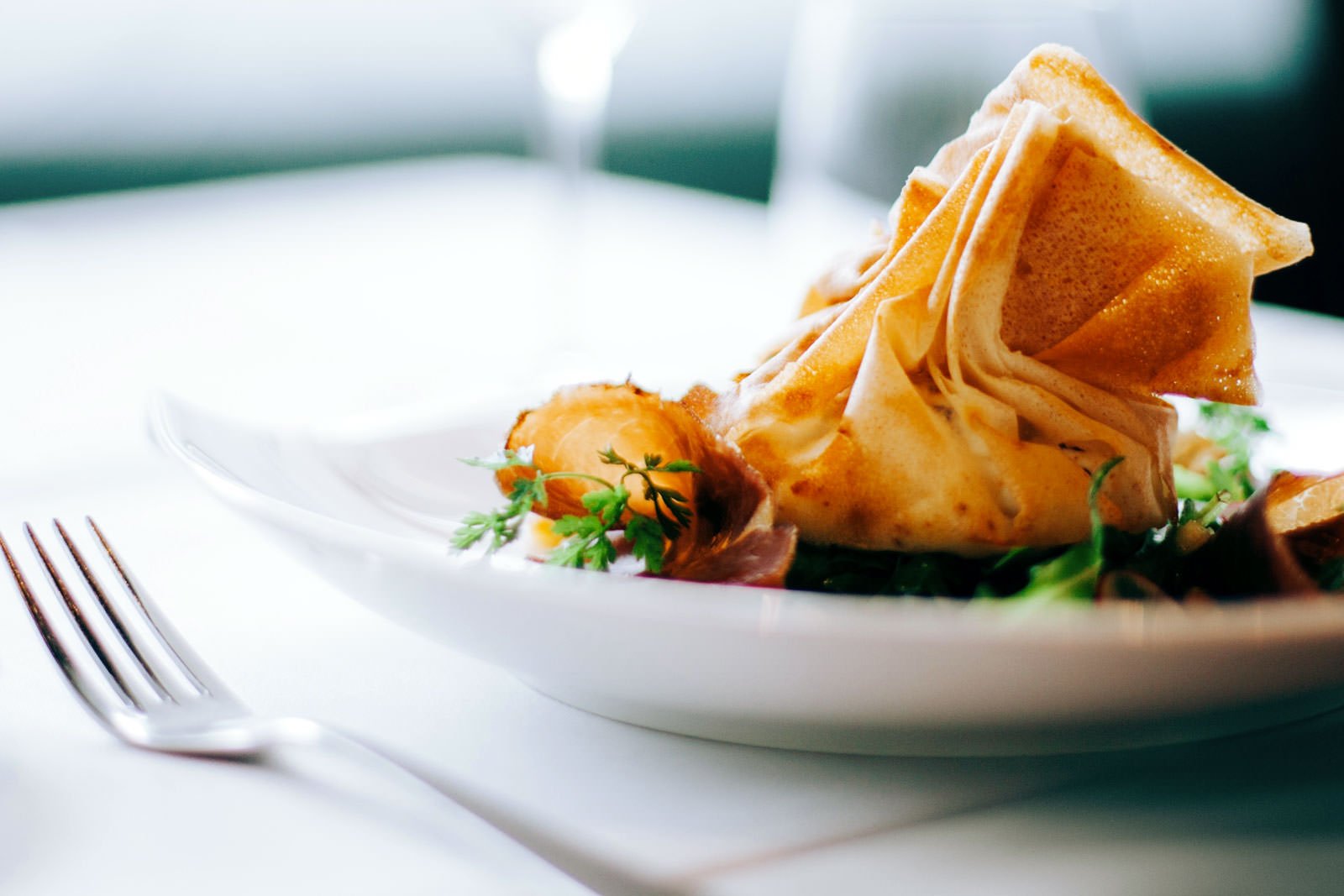 Haerlin is a fancy restaurant serving French haute cuisine. The dining room is full of fresh flowers and it's incredibly romantic when lit up in soft candlelight. The menu has a range of tasting courses, which change according to seasonal produce. Expect world delicacies such as roasted veal with morel mushrooms and Gillardeau oyster poached in champagne. Every element has been carefully considered, from the bread basket at the start of the meal to the macaroons at the end. Located in the 5-star Fairmont Hotel, the setting on the left bank of Inner Alster Lake is stunning. It's walking distance from Jungfernstieg subway station.
Location: Fairmont Hotel, Neuer Jungfernstieg 9-14, 20354 Hamburg, Germany
Open: Tuesday–Saturday from 6.30 pm to 9.30 pm
Phone: +49 (0)40 3494 3310
6
Drink a cocktail at Skyline Bar 20up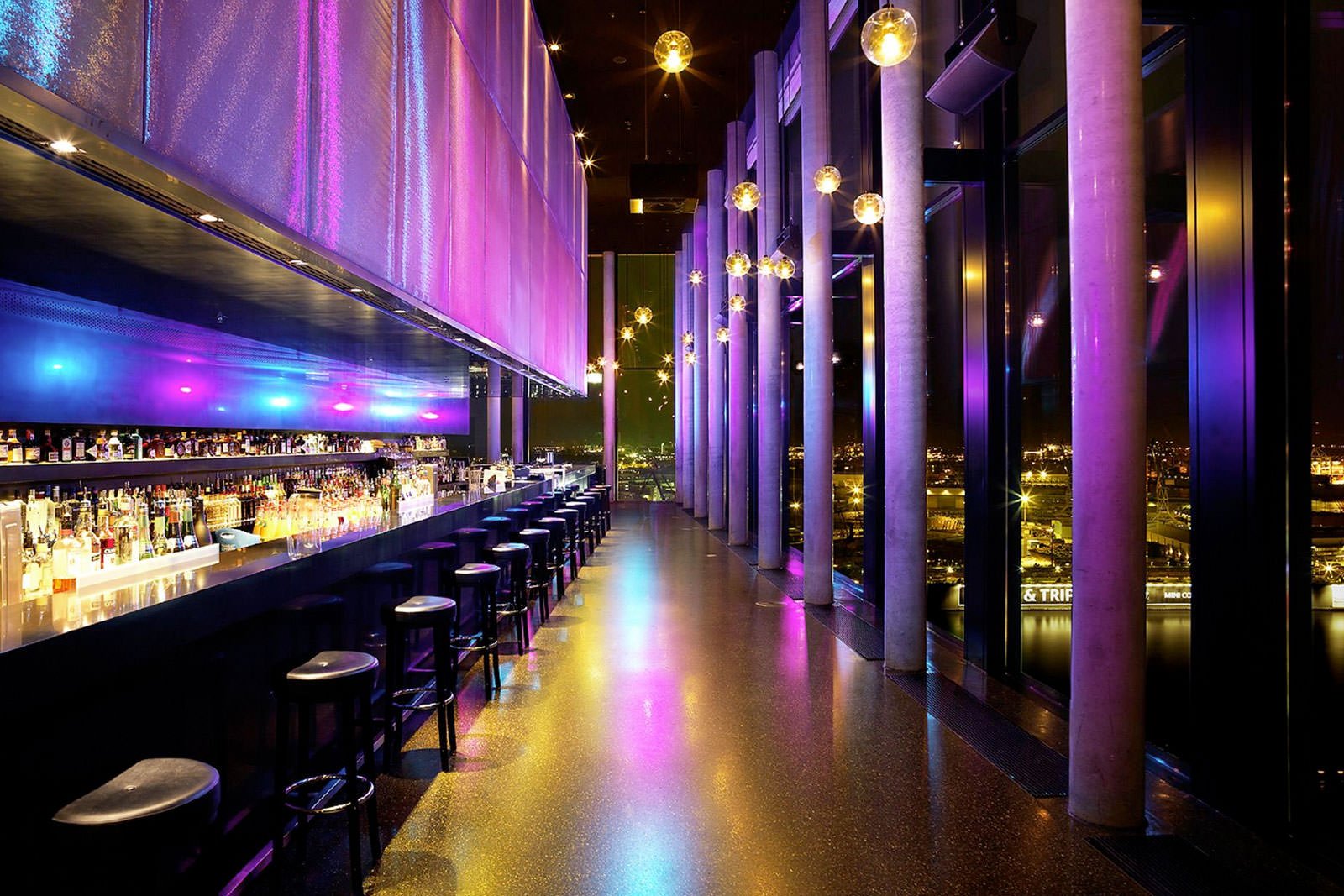 A couple of cocktails and a stunning view is a tried-and-tested recipe for romance. Head to Skyline Bar 20up close to the River Elbe to find this winning combination. The views of the Port of Hamburg on the Elbe River are industrial but pretty, especially in the evening. Call ahead to book a table up against the glass walls. Cocktails cost around €15. There's also a small food menu featuring some excellent sushi bites.
Location: Empire Riverside Hotel Hamburg, Bernhard-Nocht-Straße 97, 20359 Hamburg, Germany
Open: Daily from 6 pm to 2 am (3 am on Friday and Saturday)
Phone: +49 (0)40 31119 70470
7
A candlelit couples' spa at Holthusenbad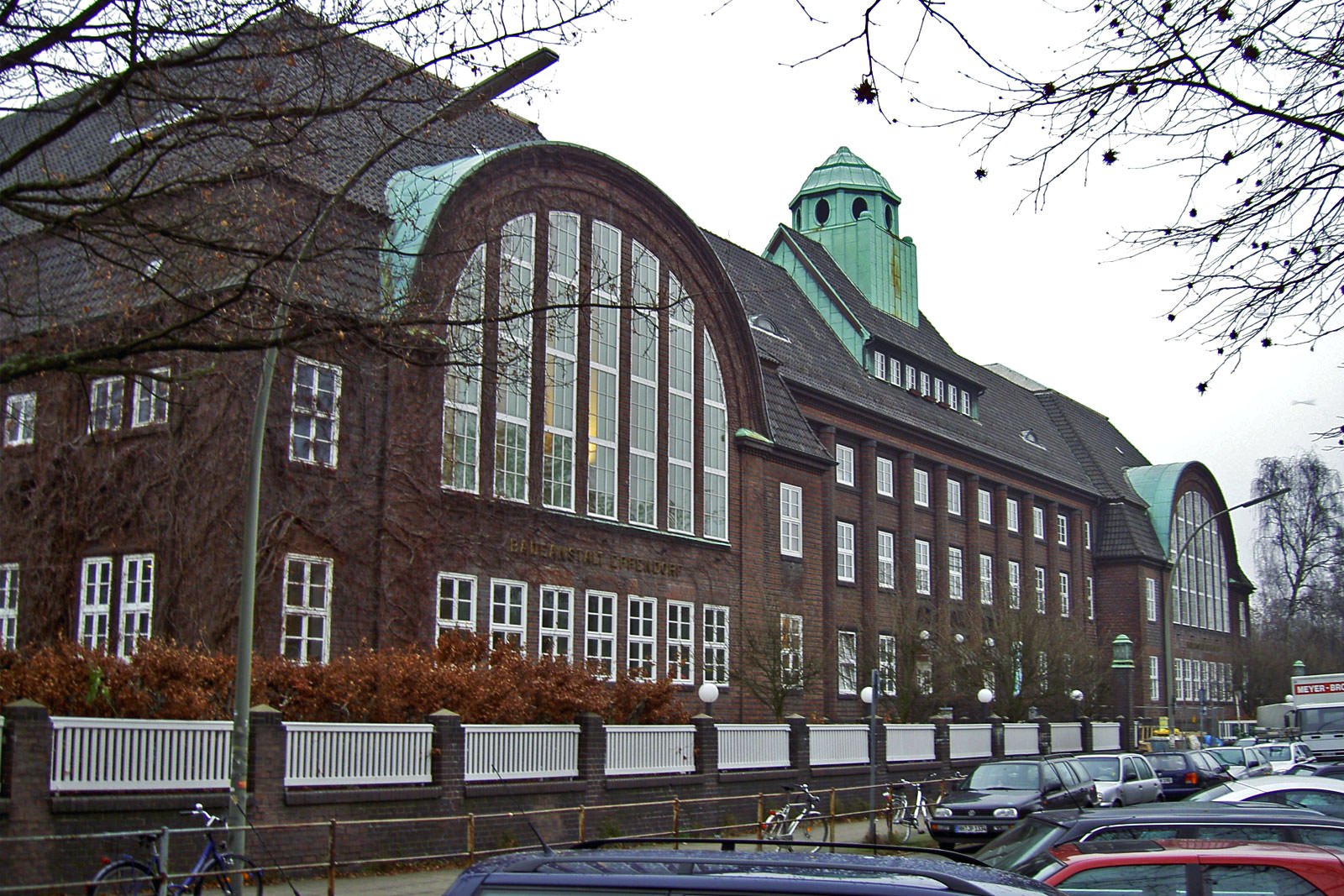 Holthusenbad is a public swimming pool and spa housed in an atmospheric, pre-war building. It only costs a few euros to enter, and the facilities are retro in a charming way. You'll find 3 pools here, both indoor and outdoor, 1 of which is a wave pool. The sauna and steam room area is separate from the public swimming pool. Come on Friday evenings to enjoy a romantic treat, when the sauna area is all lit up in candlelight.
Location: Goernestraße 21, 20249 Hamburg, Germany
Open: Daily from 10 am to 10 pm (opens at 9 am on weekdays)
Phone: +49 (0)40 188 890
photo by Heidas (CC BY-SA 3.0) modified
8
Watch a show at Elbe Philharmonic Hall
The Elbe Philharmonic Hall is one of the most technically advanced concert halls in the world. It's a great place for couples to end their evening in Hamburg, listening to solo piano recitals, neo-classical orchestras or even ambient electronic performances. It's all very avant-garde.
This futuristic landmark wrapped in curved glass is easy to find in an area known as Hafen City. It towers above its surroundings on Grasbrook peninsula on the Elbe River. As well as fantastic music, you can enjoy great views of Hamburg from the plaza.
Location: Platz der Deutschen Einheit 1, 20457 Hamburg, Germany
Phone: +49 (0)40 3576 6666
Back to top