Hamburg Travel Essentials
Useful Information to Help You Start Your Trip to Hamburg
Our Hamburg Travel Essentials lays out the essential information you need to help you plan your trip to one of the most popular destinations in Germany. No matter how frequently you travel, some questions will always need answers: What's the weather like? How can I get from the airport to my hotel? What currency and type of plug do I need?
We have all these answers plus other basic info about the best time to go, getting there, getting around, and a few useful travel tips. It's all compiled in this Hamburg Travel Essentials. After reading this short and easy-to-read guide, you will be a little more prepared to start your trip to Hamburg.
1
When is the best time to travel to Hamburg?
Hamburg has an oceanic climate, with brisk winters and moderately warm summers.
Average temperatures range from -1ºC in winter to 22ºC in summer.
Most rainfall occurs in December and January, yet downpours can happen anytime, even during summer.
The warmest time of the year is from May to September.
Summer, in July and August, is peak tourist season, when hotel and flight prices rise accordingly.
May, June and September offer good alternatives to go to Hamburg: the weather remains agreeable and hotel and flight prices are more affordable than during summer.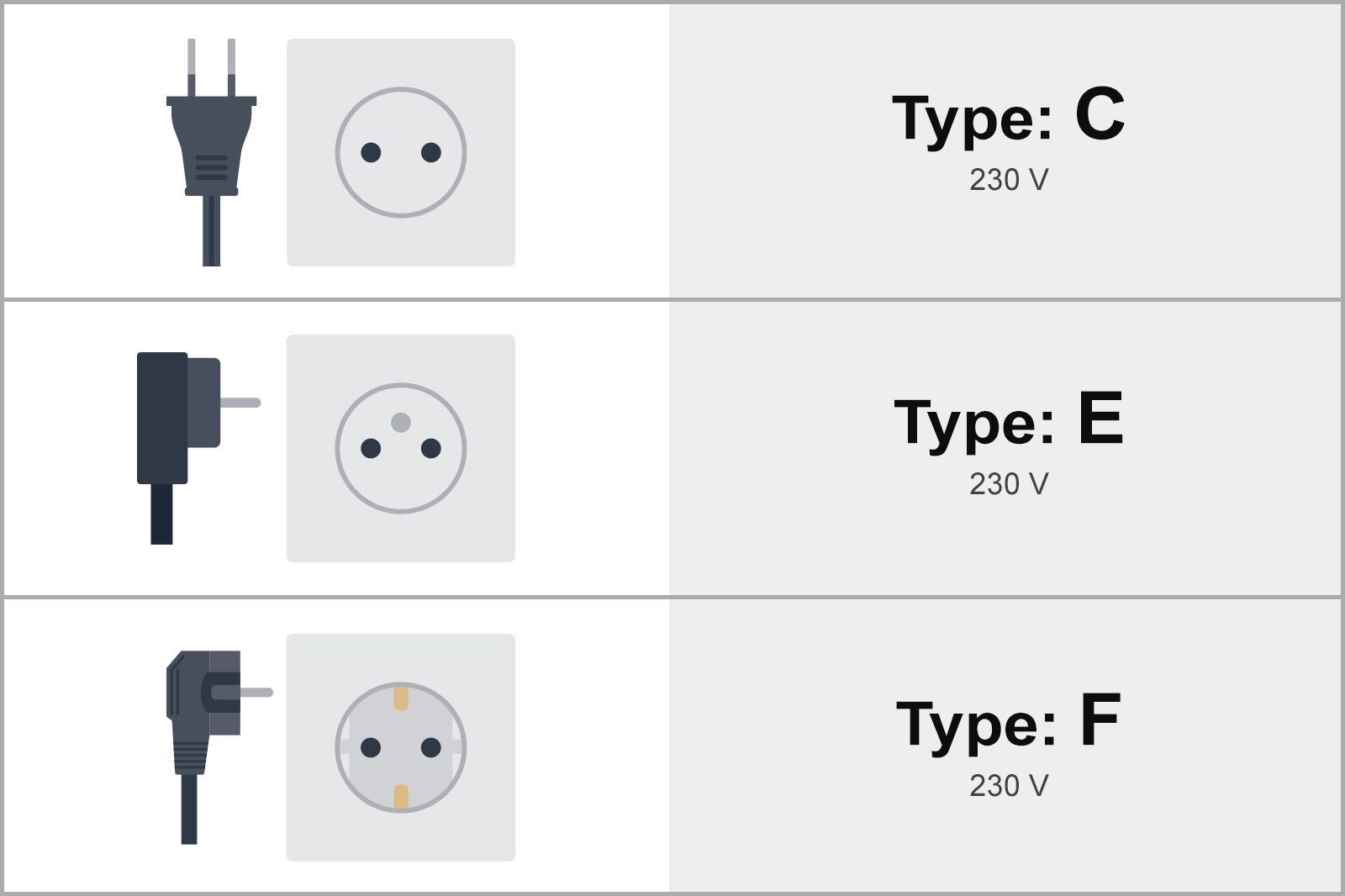 Primary language: German
Plug types: C, E and F
Electricity: 230 V
Currency: Euro (€)
International dialling code: +49 40
Emergency telephone number: 112
3
How to get to my hotel in Hamburg?
Helmut Schmidt - Hamburg Airport
Helmut Schmidt - Hamburg Airport is 10 km north of the city centre. It hosts 2 terminals separated by a plaza that houses shops, restaurants and other facilities. It's one of the busiest airports in Germany. There are several transfer options to reach central Hamburg:
A taxi to the city centre takes around 30 minutes. Taxi ranks can be found in front of the terminals.
The S-Bahn (rapid transit railway) takes around 30 minutes. The S-Bahn station is right in front of the terminals.
Car rental agencies can be found in the arrival hall.
Hamburg Central Railway Station
Known as Hamburg Hauptbahnhof in German, Hamburg Central Railway Station sits 1 km east of the city centre. One of the busiest train stations in Germany, it features an impressive 70-metre-wide hall and is home to over 70 shops and restaurants. From here, transfer options available for you to get to your hotel include: S-Bahn (rapid transit railway), U-Bahn (subway), bus and taxi.
photo by Huhu Uet (CC BY-SA 3.0) modified
4
How to get around Hamburg?
Travel tips
The most pleasant way to explore Hamburg city centre is on foot. You'll find many landmarks and attractions such as the Speicherstadt, the Elbphilharmonie and the International Maritime Museum within a 1-km circle around the Town Hall.
For longer journeys, the city's transport services are as efficient as they are affordable. Run by the HVV (Hamburger Verkehrsverbund), S-Bahn (rapid transit railway), U-Bahn (metro), bus and ferry networks permit you to go anywhere in Hamburg. They conveniently use the same ticketing system.
As for public transport, Hamburg is divided into 5 zones.
The ticket pricing depends on the zones you want to travel to.
Zones A and B are combined as 'Hamburg AB', which hosts most of the things to see in the city.
Single tickets, 1-Day Tickets and 1-Week Tickets are available.
If you plan to visit many attractions in Hamburg, you have 2 options to save money:
The 1- up to 5-day Hamburg Card combines the use of all public transport with up to 50% discount on more than 150 attractions and museums, harbour tours, theatre shows, restaurants and coffee shops.
The 1- to 5-day Hamburg City Pass combines the use of all public transport with free entrance and priority access to over 30 attractions and discounts in many shops and restaurants.
photo by Roel Hemkes (CC BY 2.0) modified
5
Taking a taxi in Hamburg
Many taxi companies operate in Hamburg. Their cream colour and black-and-yellow rooftop sign make them easily recognisable.
Official taxi ranks can be found near train stations, popular attractions and shopping areas.
Taxis can be hailed on the street. You can see that a taxi is free when its sign is lit up.
Most taxis in Hamburg accept the payment of the fare by credit card.
MyTaxi and Hansa-Taxi are 2 apps you can use to hail a taxi in Hamburg.
photo by Riggwelter at wts wikivoyage (CC BY-SA 4.0) modified
Bike-sharing schemes offer a pleasant way to explore Hamburg on clear days. The city features a public system named StadtRAD (city bike). Private systems including Donkey Republic and Nextbike are also at hand.
StadtRAD Hamburg has over 100 stations all around the city. You can register at any station or online. You can also download their app. The first 30 minutes of use are free. If you carry a HVV card, you get a special rate on StadtRAD bikes.
Donkey Republic works with a downloadable application. Their bike racks can be found all around the city.
Nextbike also works with a downloadable application. The registration is free of charge. Their stations can be found all around the city.
photo by MissyWegner (CC0 1.0) modified
7
What are the main annual events in Hamburg?
Altonale
What: An arts festival combining live music, theatre, and lively street parades. A total of more than 2000 artists and 180 organisations take part.
When: 2 weeks in June
Where: Altona
Reeperbahn Festival
What: A live music festival bringing around 400 major local and international acts to Hamburg. Music spans from rock to punk, hip-hop, jazz and soul.
When: 4 days in September
Where: St Pauli
Hamburger Dom
What: One of the largest and longest established funfairs in Germany. It features an impressive firework every Friday that it runs.
When: 30 days in spring, summer and winter
Where: Heiligengeistfeld
photo by Melanie Richter (CC BY-SA 2.0) modified
Back to top