10 Ways to Save Money in Strasbourg
How to Enjoy Strasbourg on a Budget
Strasbourg has a particularly rich history and traditions, while also being home to many forward-looking institutions. You can discover many sides to this French city by strolling along the canals and through the historic city centre – which doesn't require spending a single euro.
Plan ahead to take advantage of all the good deals Strasbourg has to offer, including free entry to museums and botanical gardens. We've compiled some of the best ways to save money in Strasbourg so that you can still experience the best of the city on a small budget.
1
Buy a Strasbourg Pass
Enjoy free or half-price entry for 3 days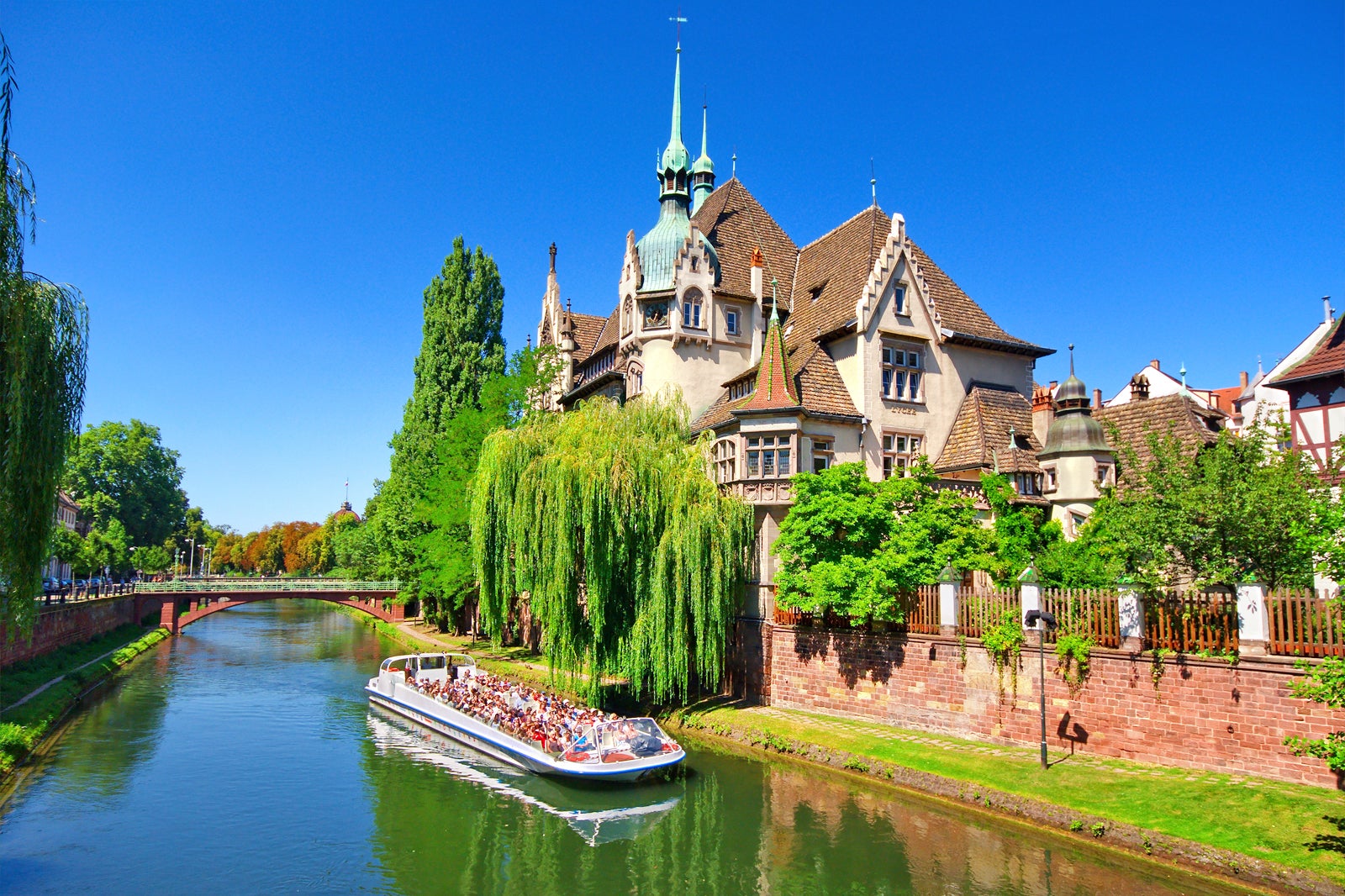 The Strasbourg Pass is a great option for those looking to visit the city's landmarks at a reduced cost. It's significantly cheaper than purchasing individual tickets, and you get to enjoy many services for free. The pass includes free entry to the Cathedrale Notre-Dame's astronomical clock, a museum of your choice, and a boat tour through Strasbourg.
You can also enjoy reduced rates on a Segway discovery tour and a mini-train ride (April–October), along with notable museums like Les Secrets du Chocolat and Château Vodou. The Strasbourg Pass is valid for 3 days, so it's worth researching on days when the museums are closed for your itinerary.
2
Grande Île
An island in Strasbourg's historic centre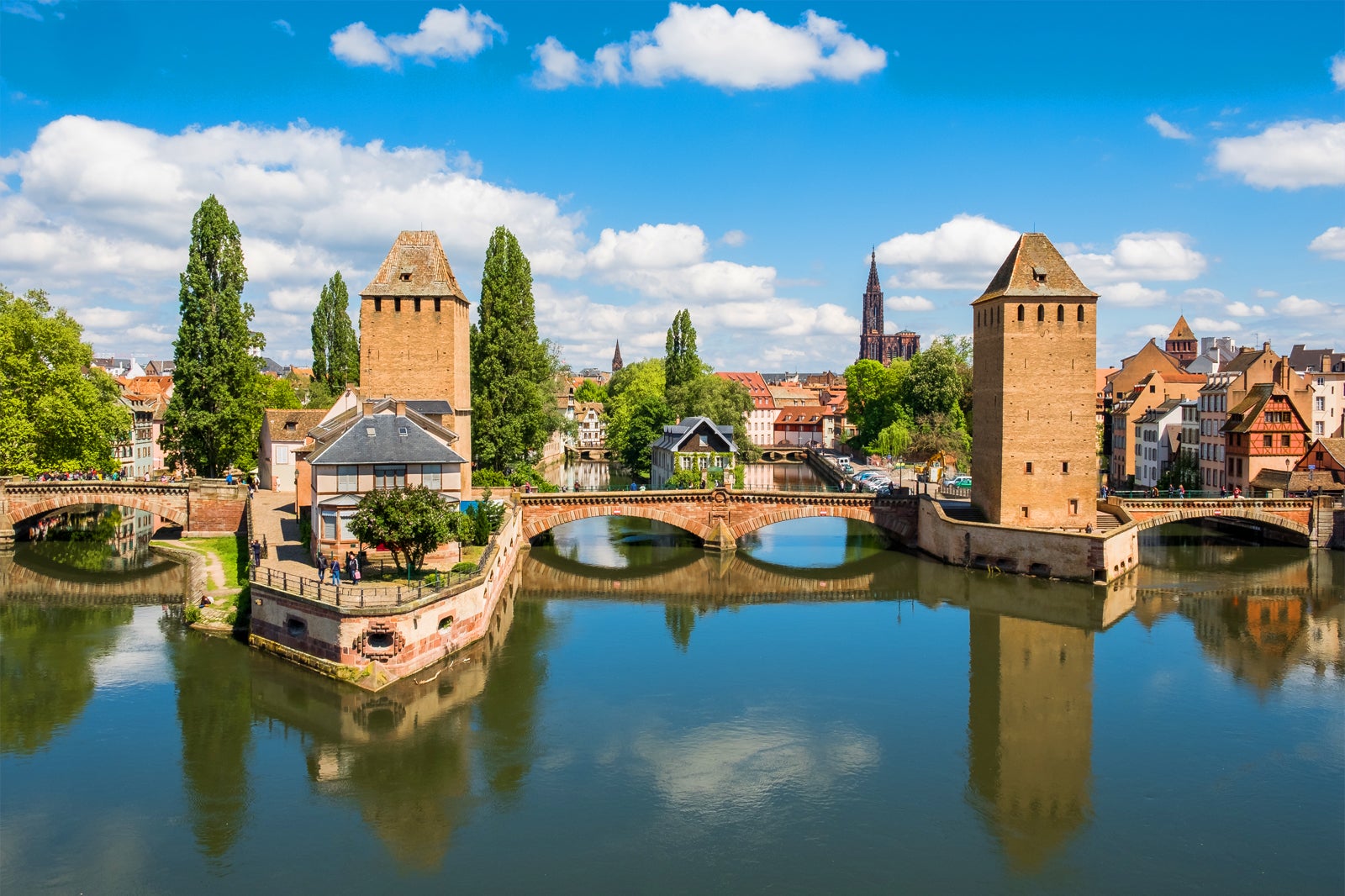 Grande Île (Grand Island) is great for learning about Strasbourg's history, as you can explore historical monuments and period houses along its canals. The UNESCO World Heritage site has half-timbered houses, private mansions, and religious sanctuaries dating back to the 15th century.
Start your day in this open-air museum with a tour of Place de l'Homme de Fer, cross old bridges like Ponts Couverts and Pont Saint-Martin, before unwinding in Place Kléber, the island's central square. Must-sees on Grande Île include Strasbourg Cathedral, Palais Rohan, and St Thomas' Church.
3
Parcours d'Europe
Enjoy a stroll in the heart of Strasbourg's European quarter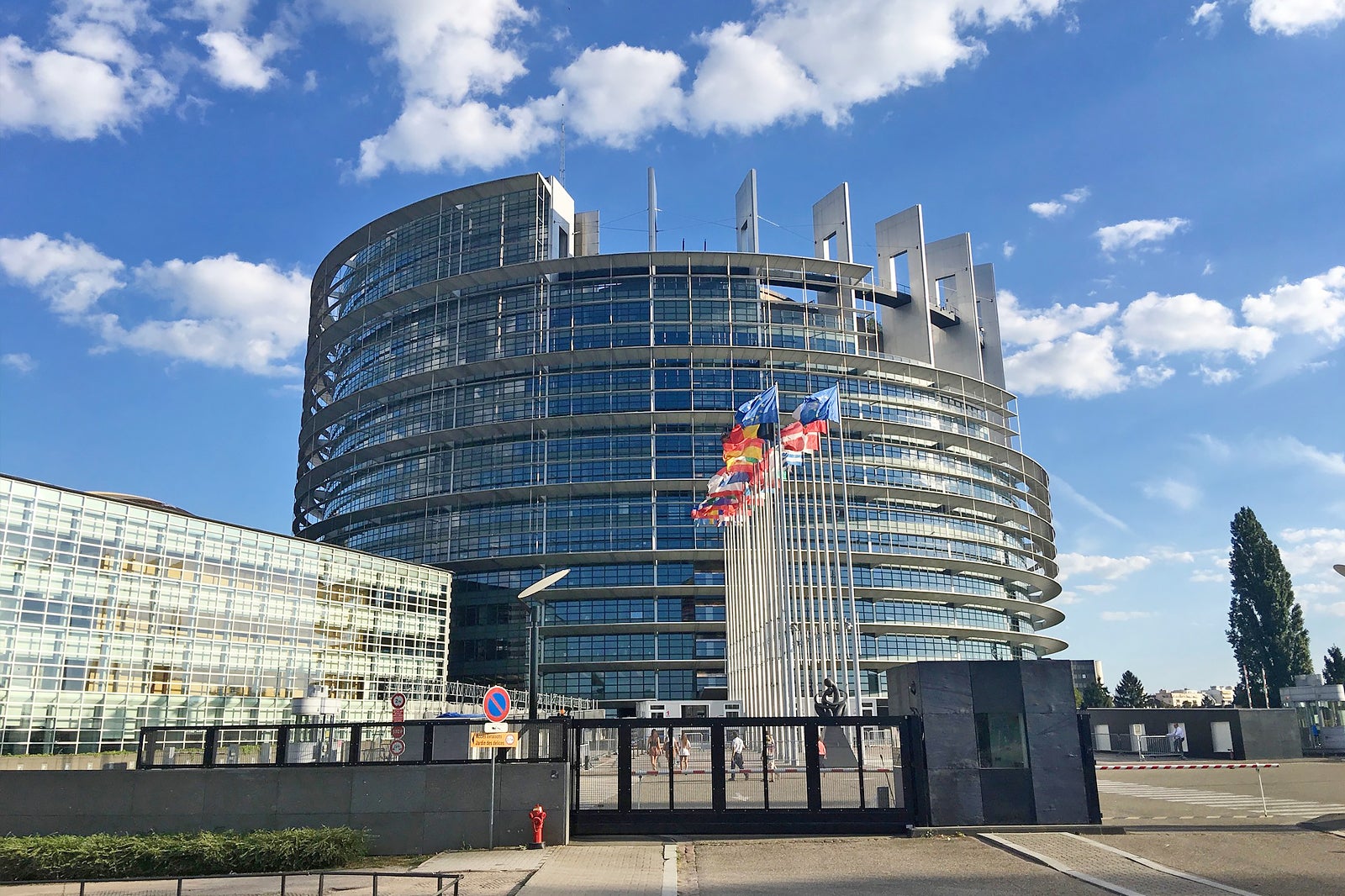 Parcours d'Europe is a signposted walking route that runs from Rue Boecklin to Place Kléber in Strasbourg. It has metal markers dotted along the path, taking you past prominent institutions such as Lieu d'Europe, the Arte TV headquarters, and Agora-Council of Europe. You can even enter the inner courtyard of the European Parliament for free.
The 2.5-km walking tour has illustrations detailing the role and involvement of the bodies that govern the old continent. Information boards, puzzles, telescopes and hourglasses are also fitted along Parcours d'Europe.
4
Anticafé
A coworking space on Grande Île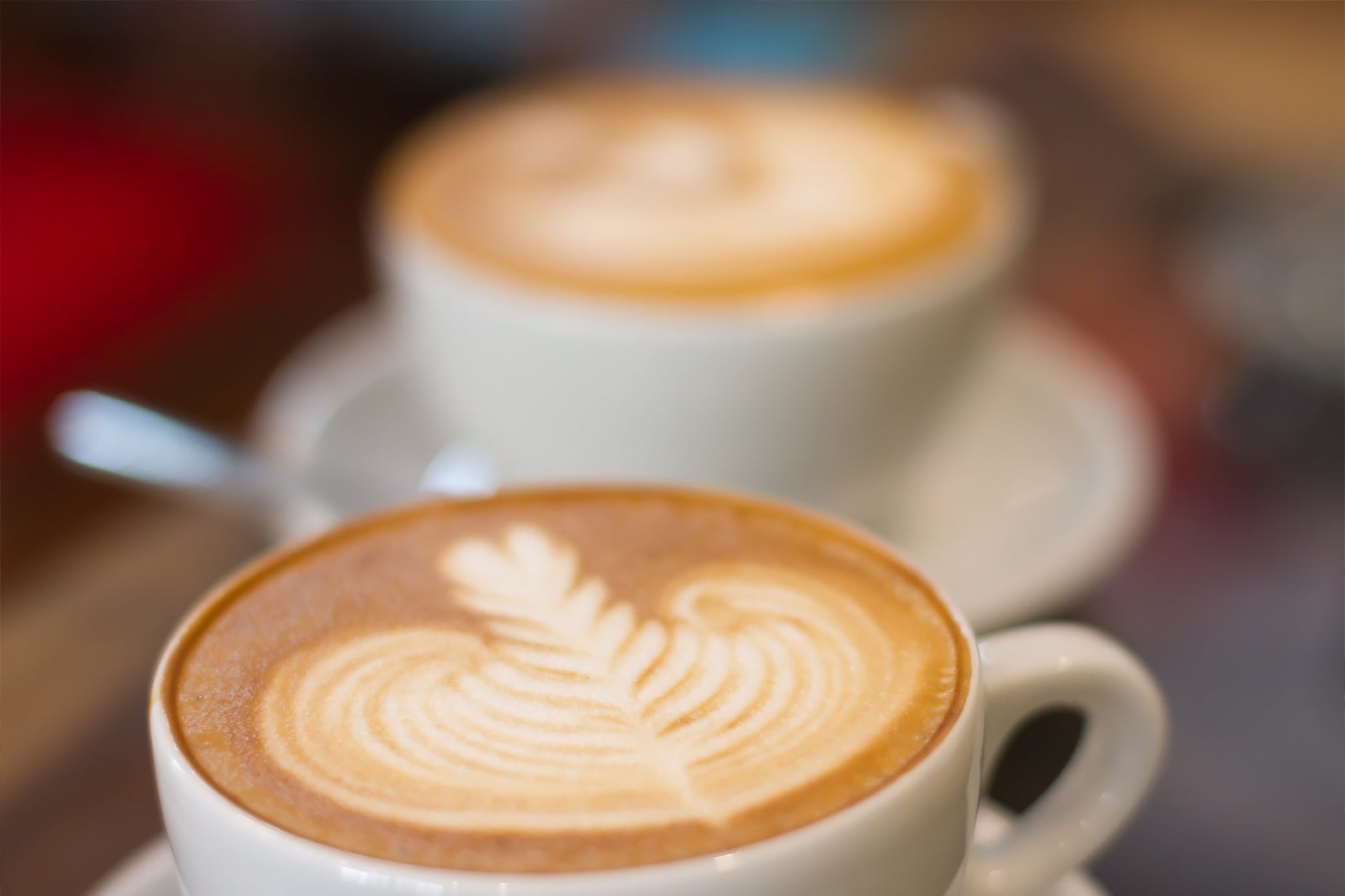 Anticafé is a creative coworking space on Strasbourg's Grand Island, just a short walk of Église Saint-Thomas and Historical Museum of the City of Strasbourg. While entry isn't free, you only pay according to how long you stay inside the cafe. Unlimited drinks and snacks are included in the price.
Anticafé's concept is aimed more towards those looking to work, read or unwind in a calm environment. You can sit around a shared table with mismatched chairs or in a snug alcove surrounded by posters with inspirational quotes.
Location: 1 Rue de la Division Leclerc, 67000 Strasbourg, France
Open: Monday–Friday 9 am to 9 pm, Saturday–Sunday from 10 am to 9 pm
Phone: +33 (0)9 87 33 45 19
5
Free entry to museums
Take the opportunity to discover unexpected treasures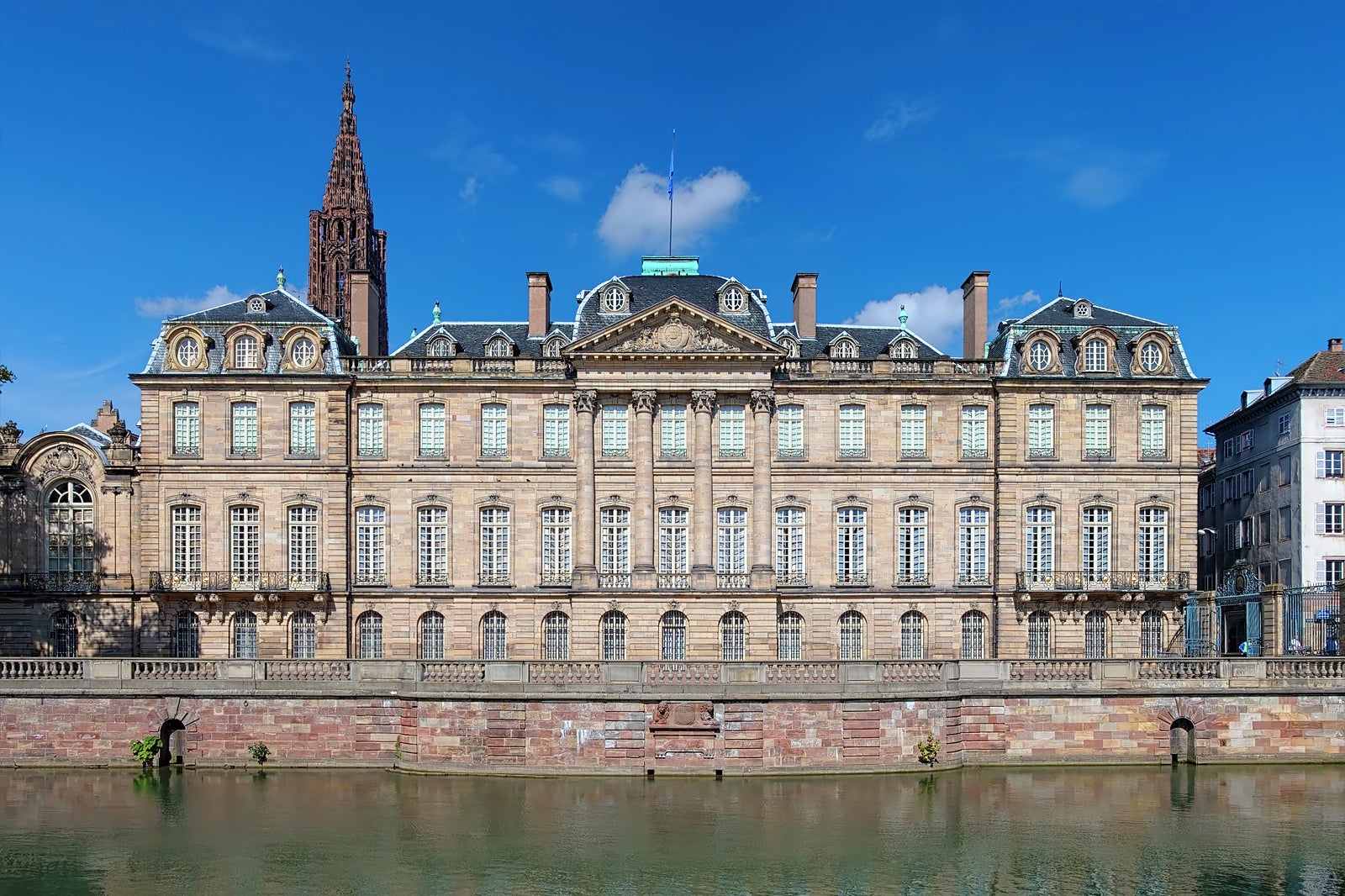 Strasbourg offers free admission to all of its museums on the first Sunday of every month. These cultural venues open their permanent collections and temporary exhibits to the public, as well as offer several free activities for families.
You can take part in drawing workshops in the gothic gardens of the Museum Œuvre Notre-Dame, immerse in the world of folklore at the Alsatian Museum, and wander through the vast galleries of the Strasbourg Museum of Modern and Contemporary Art.
6
Cave des Hospices Strasbourg
Enjoy wine tastings and tours of the historic cellars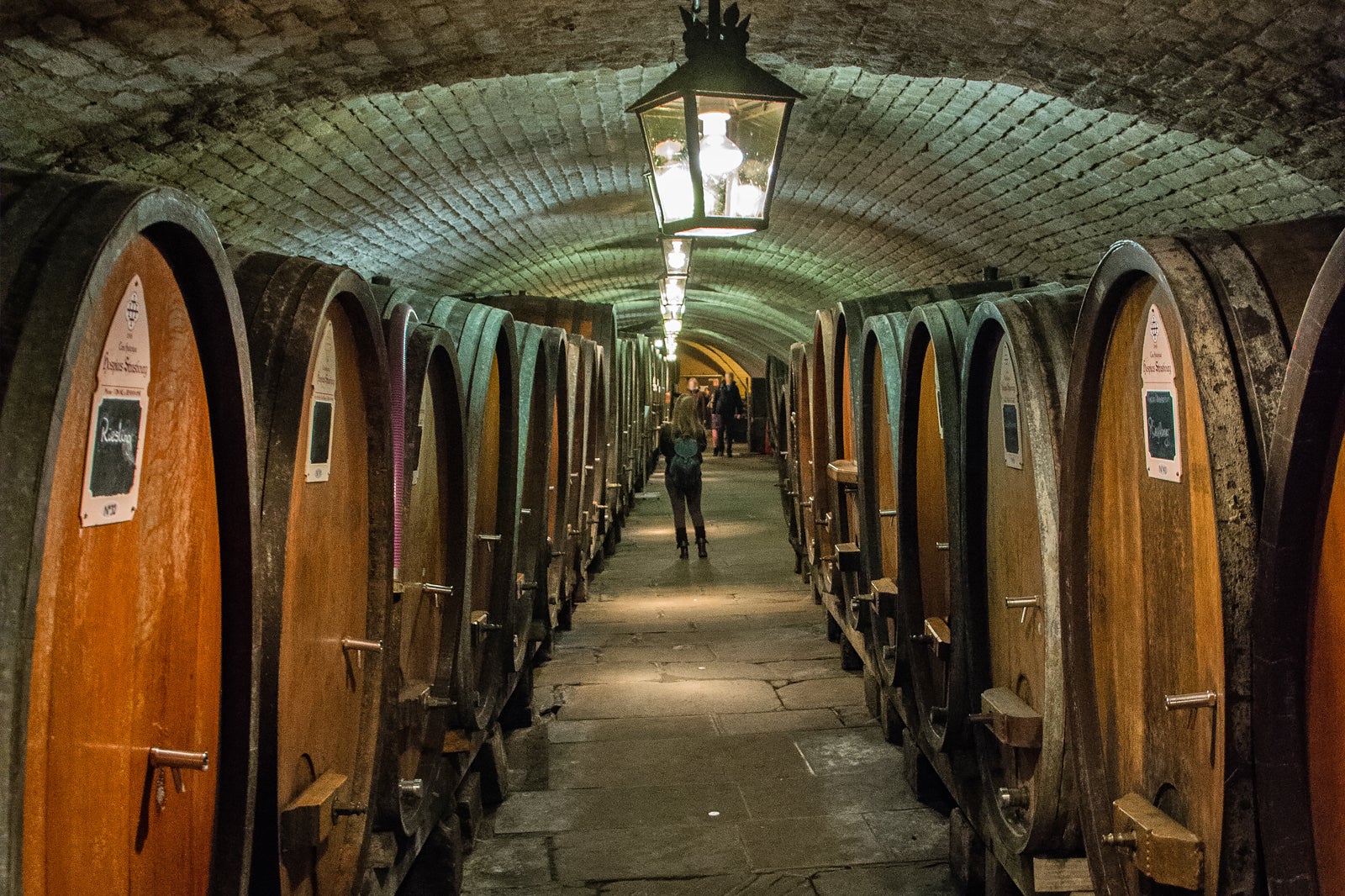 Cave des Hospices Strasbourg is a vaulted wine cellar below Strasbourg Hospital, one of France's oldest medical centres. It dates back to the 14th century and were intended to meet the needs of the sick, poor and pilgrims who were treated in the hospices. At that time, the wine was actually used for therapeutic reasons, though the cellar also stocks grains and foodstuffs.
Today, Cave des Hospices Strasbourg is open for wine tastings, with barrels containing wines from different regions of Alsace. You can also see 3 historic barrels dating back to 1472, 1519 and 1525, as well as an 18th-century winepress.
Location: 1 Place de L Hôpital, 67000 Strasbourg, France
Open: Monday–Friday from 8.30 am to noon and from 1.30 pm to 5.30 pm, Saturday from 9 am to 12.30 pm (closed on Sundays)
Phone: +33 (0)3 88 11 64 50
photo by Ian Coates (CC0 1.0) modified
7
Strasbourg astronomical clock
A Renaissance masterpiece at the Cathedral of Our Lady of Strasbourg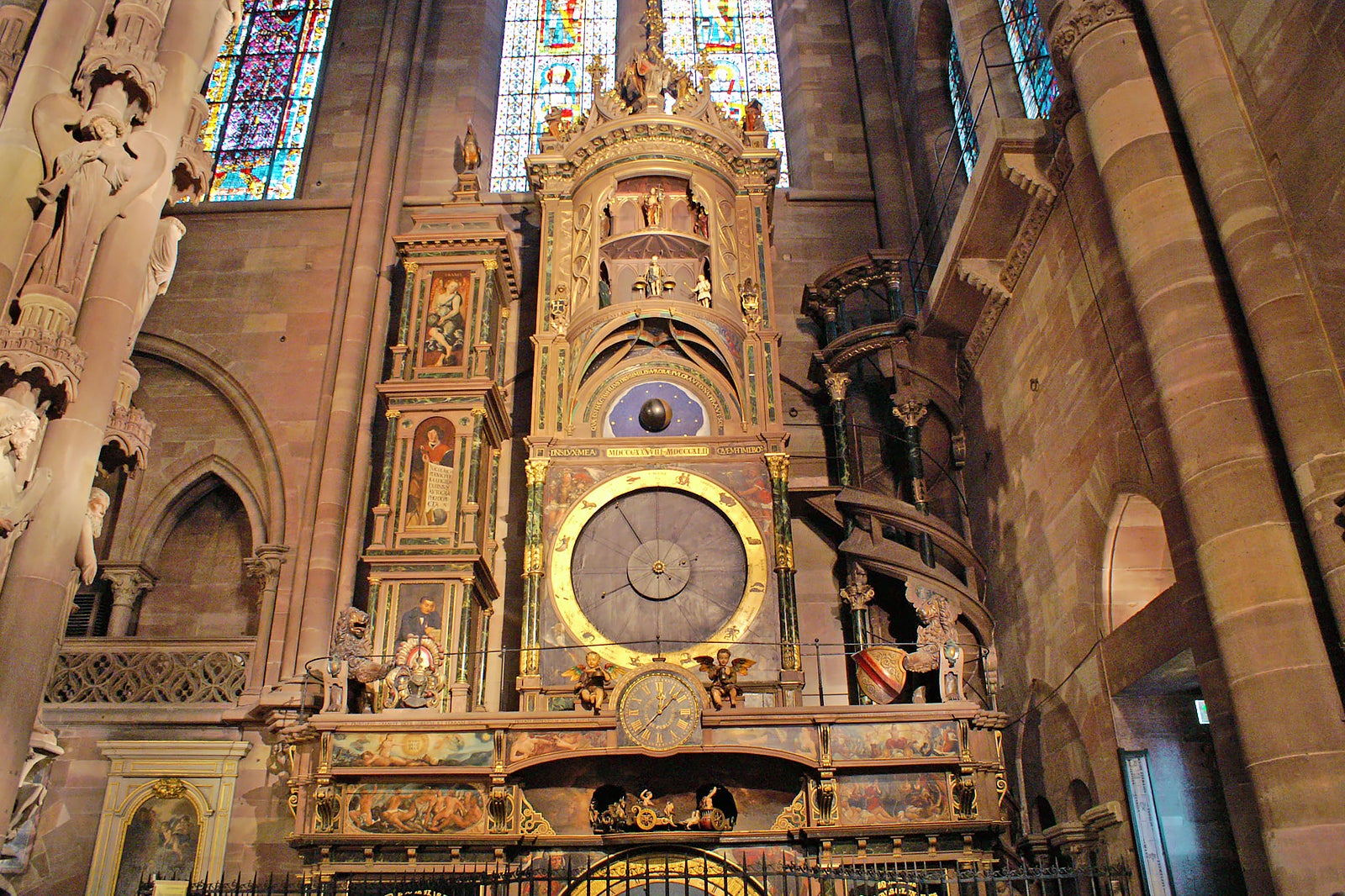 Strasbourg's astronomical clock occupies a Renaissance-style cabinet within the Cathedral of Our Lady of Strasbourg. This technical masterpiece required the combined efforts of clockmakers, mathematicians, sculptors and painters. It's known for not only displaying the time, but also the date, current lunar phase, and position of the planets.
At noon, the astronomical clock has several automata that come to life every 15 minutes. It's a good idea to arrive at the church around 11.30 am to catch a short film and get a good seat. The experience is free for toddlers below 6 years old.
Location: 17 Place de la Cathédrale, 67082 Strasbourg, France
photo by Didier B (CC BY-SA 2.5) modified
8
Botanical Gardens of Strasbourg University
Join a guided tour of the 19th-century gardens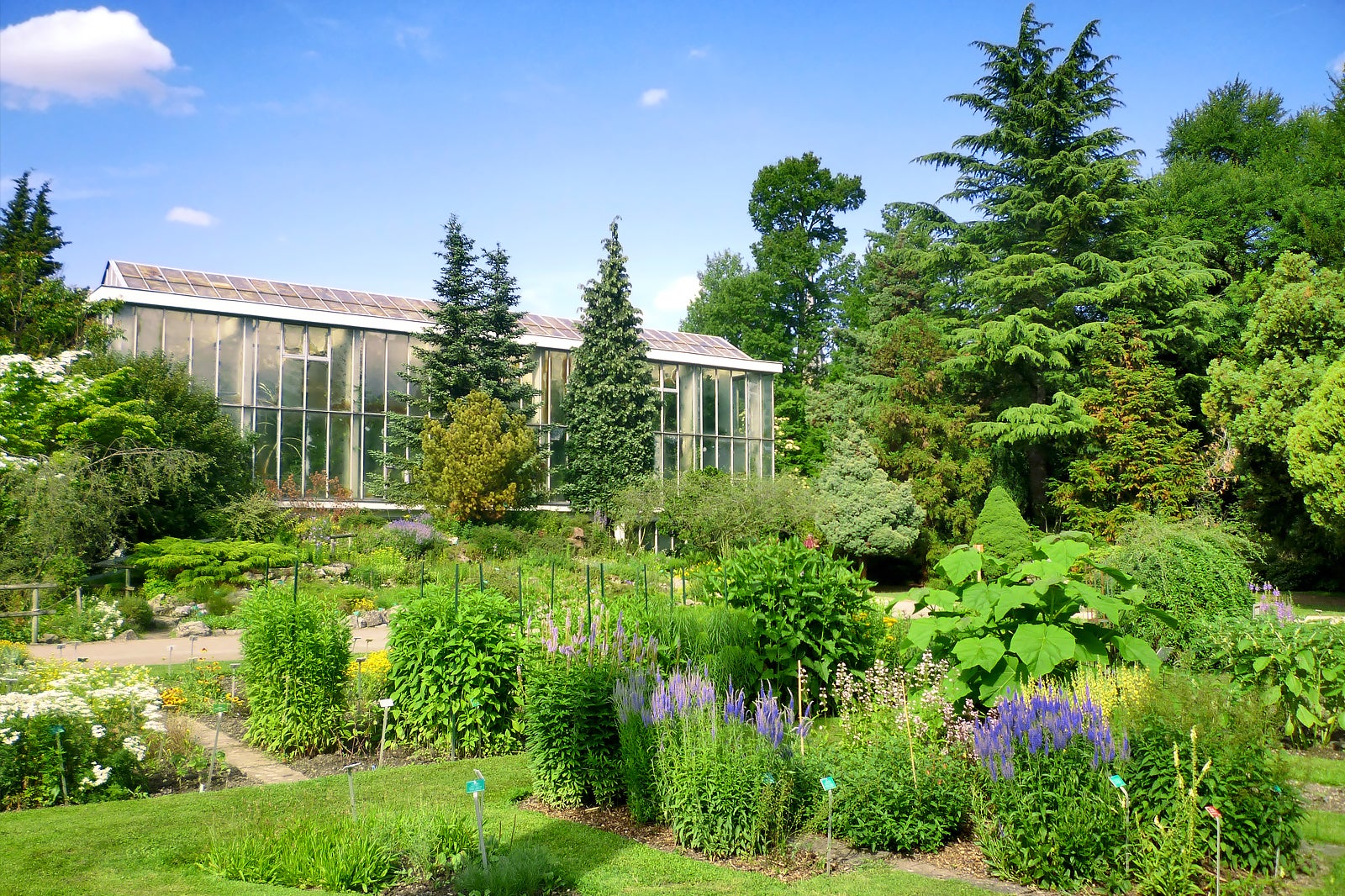 Botanical Gardens of Strasbourg University dates back to 1884 and houses over 6,000 plant species in a 3.5-ha space. On Sunday afternoons, you can join a free guided tour of the gardens, with an expert sharing interesting facts while taking you along the tree-lined paths.
A must-see is the Serre de Bary greenhouse, which is home to around 2,200 trees and shrubs from temperate regions. There's a cold house sheltering over 500 plant species, including conifers from the Southern hemisphere, cacti and succulent plants.
Location: 28 Rue Goethe, 67000 Strasbourg, France
Open: Hours vary by season
Phone: +33 (0)3 68 85 18 65
9
Happy Strasbourg
Join a free walking tour of Strasbourg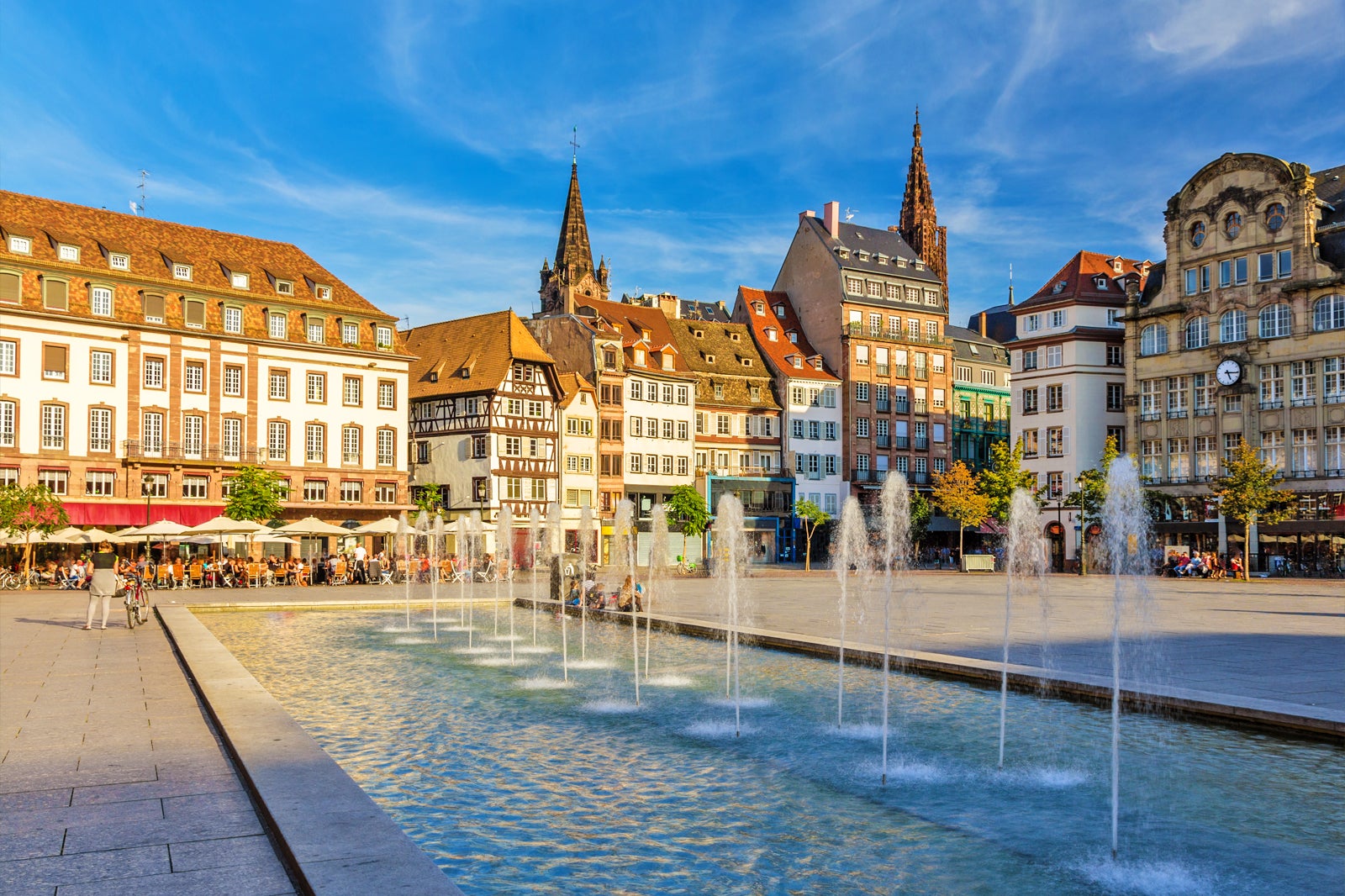 History
Photo
Budget
Unusual
Happy Strasbourg organises a free walking tour of Strasbourg every day (weekends from January to March), with knowledgeable guides taking you to some of the city's most popular squares. The excursion takes less than 2 hours, so it's a good idea to carry some water and wear comfortable shoes.
The original tour leads you to Grand Island, where you'll pass by landmarks such as Strasbourg Cathedral, Place Kléber and Palais Rohan. You can choose to pay any amount to your guide at the end of the walking tour.
Phone: +33 (0)652 653 527
10
Stimultania
Enjoy free and independent photography exhibitions
Stimultania defines itself as a photographic centre in Strasbourg, offering free exhibitions and events to the public. Opened in 1987, this eclectic gallery covers several styles and eras, with archival images mingling with contemporary works.
Exhibits are often combined with sound fragments to stimulate the viewer's curiosity and thoughts. A series of free tools called 'Click Words' is available for those who want to develop their photographic criticism.
Location: 33 Rue Kageneck, 67000 Strasbourg, France
Open: Wednesday–Sunday from 2 pm to 6 pm (closed on Mondays and Tuesdays)
Phone: +33 (0)3 88 23 63 11
Back to top