10 Best Things to Do for Couples in Paris
What to Do on a Romantic Trip to Paris?
Paris is often considered one of the most romantic cities in the world, and couples on honeymoon or on a weekend getaway can find many things to do here. The superb, timeless look of the city's architecture offers a prime environment for couples in love.
Amorous strolls along the banks of the River Seine, a museum fully dedicated to French romanticism, shopping in covered passageways and dining in a top-notch restaurant on the second floor of the Eiffel Tower are just a few of the exciting things to do for a couple in the City of Lights. Follow us for a virtual tour through Paris's most romantic places.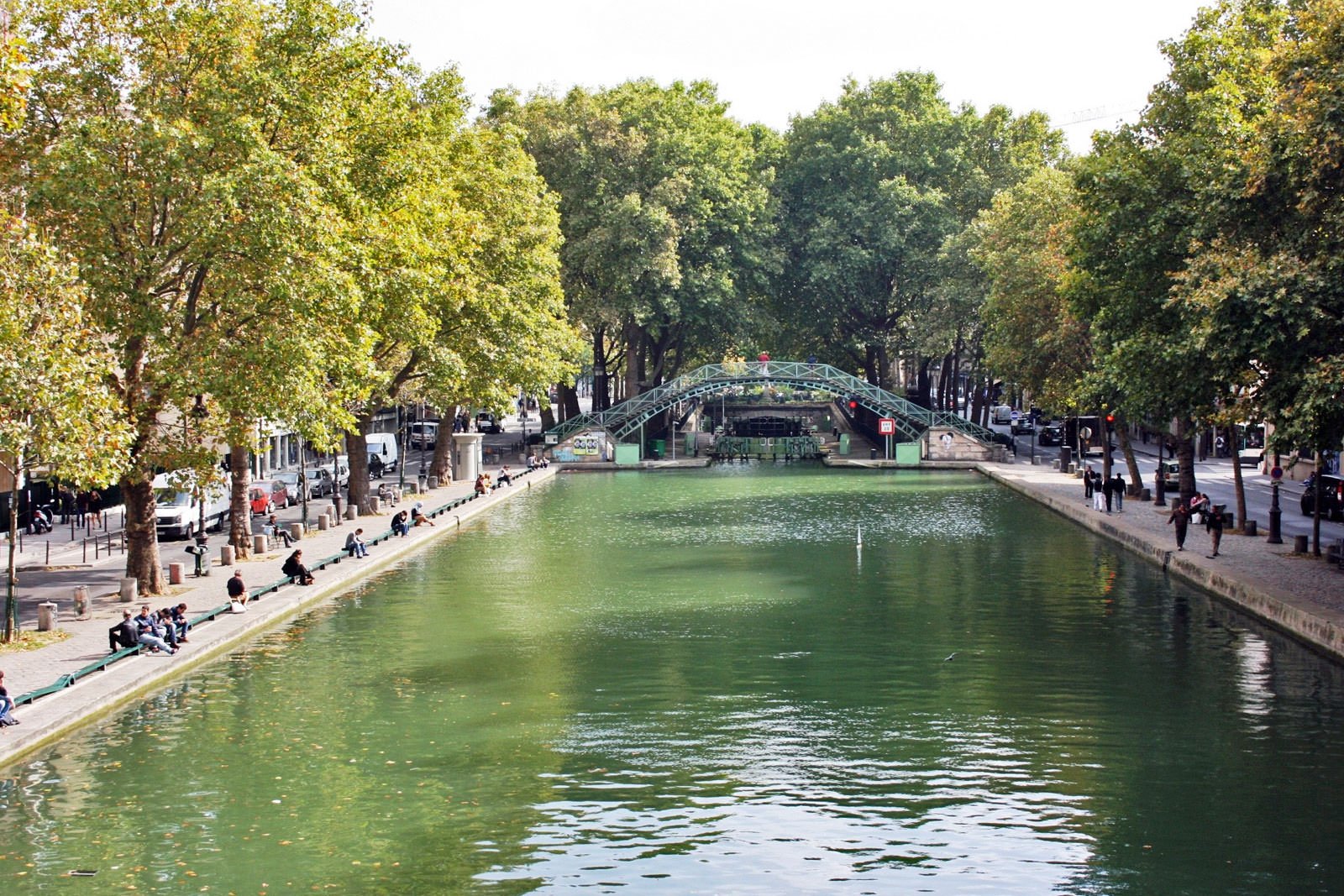 Stretching for almost 2 km between Rue du Faubourg du Temple and Rue Lafayette, the uncovered part of the Canal Saint-Martin is an iconic place in Paris. Bordered by the Quai de Valmy and the Quai de Jemmapes, it's a lovely, trendy walkway for a romantic stroll in the shade of the chestnut trees that line the two sides of the canal. This quaint area hosts typical French cafés and restaurants, which adds to that iconically romantic Parisian atmosphere.
Read more
Location: Porte Saint-Martin, 75010 Paris, France
2
Couple's spa
Enjoy a soothing treatment with your loved one
Is there something more soothing and pleasing than a spa session for 2 during a getaway in Paris? Most of the best places in Paris to enjoy such a delightful treatment are in upscale hotels. Pop Up Spa at the Four Season George V is the cream when it comes to spa treatments for couples. Another first-class venue is the Spa Valmont at Le Meurice. Last but not least, you can trust Spa Le Bristol by La Prairie. Their treatments are pure bliss.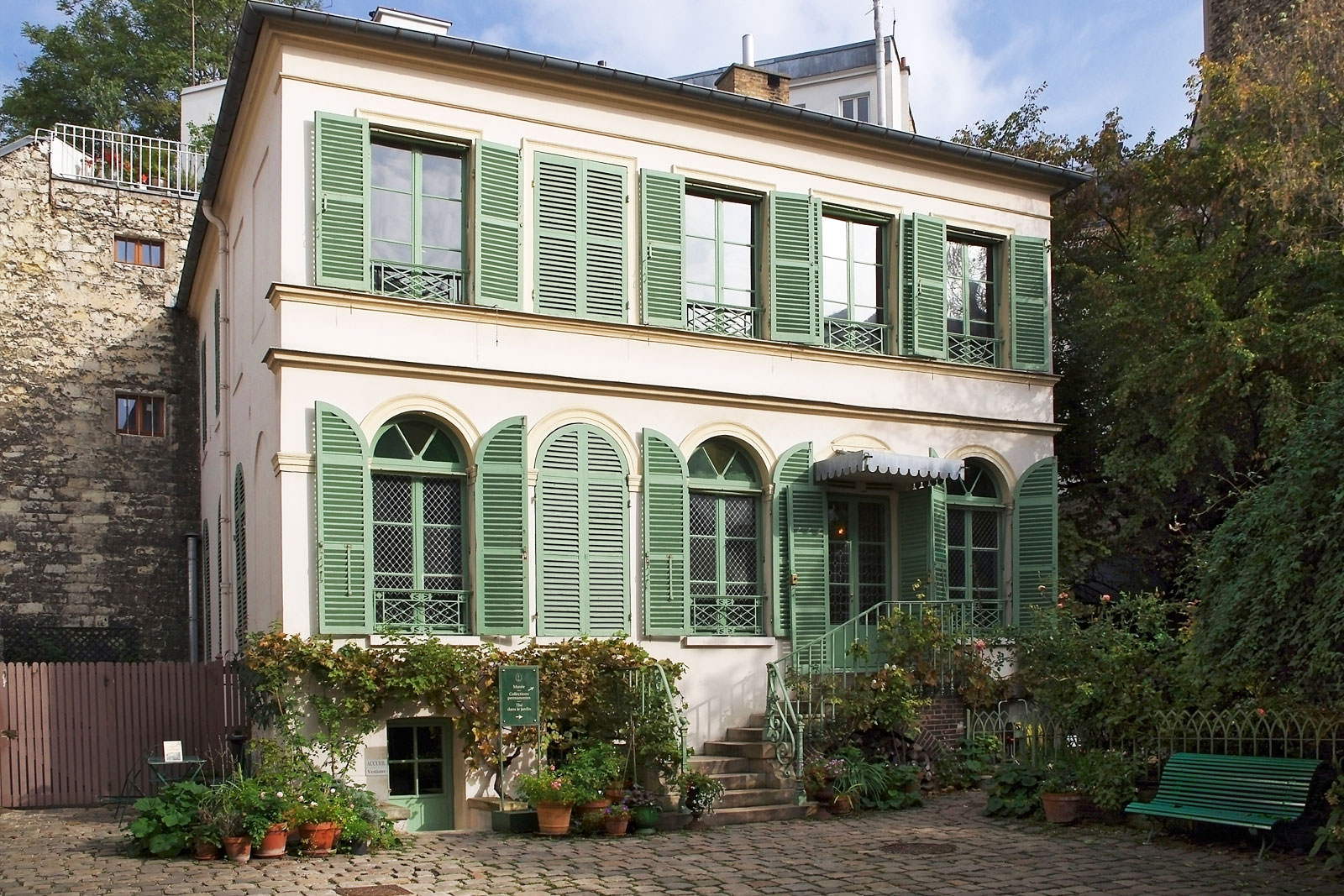 The Musée de la Vie Romantique (Museum of the Romantic Life) is in a 19th-century mansion at the foot of Montmartre Hill. The first floor of the museum is dedicated to George Sand's romantic life and to her liaison with Chopin through objects, sensuous letters and paintings. The second floor showcases paintings, sculptures and rarities depicting love and romanticism. This quirky museum has a café and a compact garden in which you can take a relaxing break in serene surroundings.
Read more
Location: 16 Rue Chaptal, 75009 Paris, France
Open: Tuesday – Sunday from 10 am to 6 pm (closed on Mondays)
photo by JLPC (CC BY-SA 3.0) modified
4
Grand Action Cinema
A lovely experience in a vintage French cinema
Everyone remembers their first date at a cinema – the shivers of excitement when the lights are turned off and the feeling of being cast away with your loved one in the dark. You can retrieve these sweet feelings by going to watch a classic movie at the Grand Action Cinema, a short stroll south of Notre-Dame Cathedral, in the centre of Paris. Far away from the modern multiplexes, this independent cinema retains a charming, vintage décor and atmosphere, with classic movies shown in their original versions.
Location: 5 Rue des Écoles, 75005 Paris, France
Open: Daily from 1 pm to 11.30 pm
photo by LPLT (CC BY-SA 3.0) modified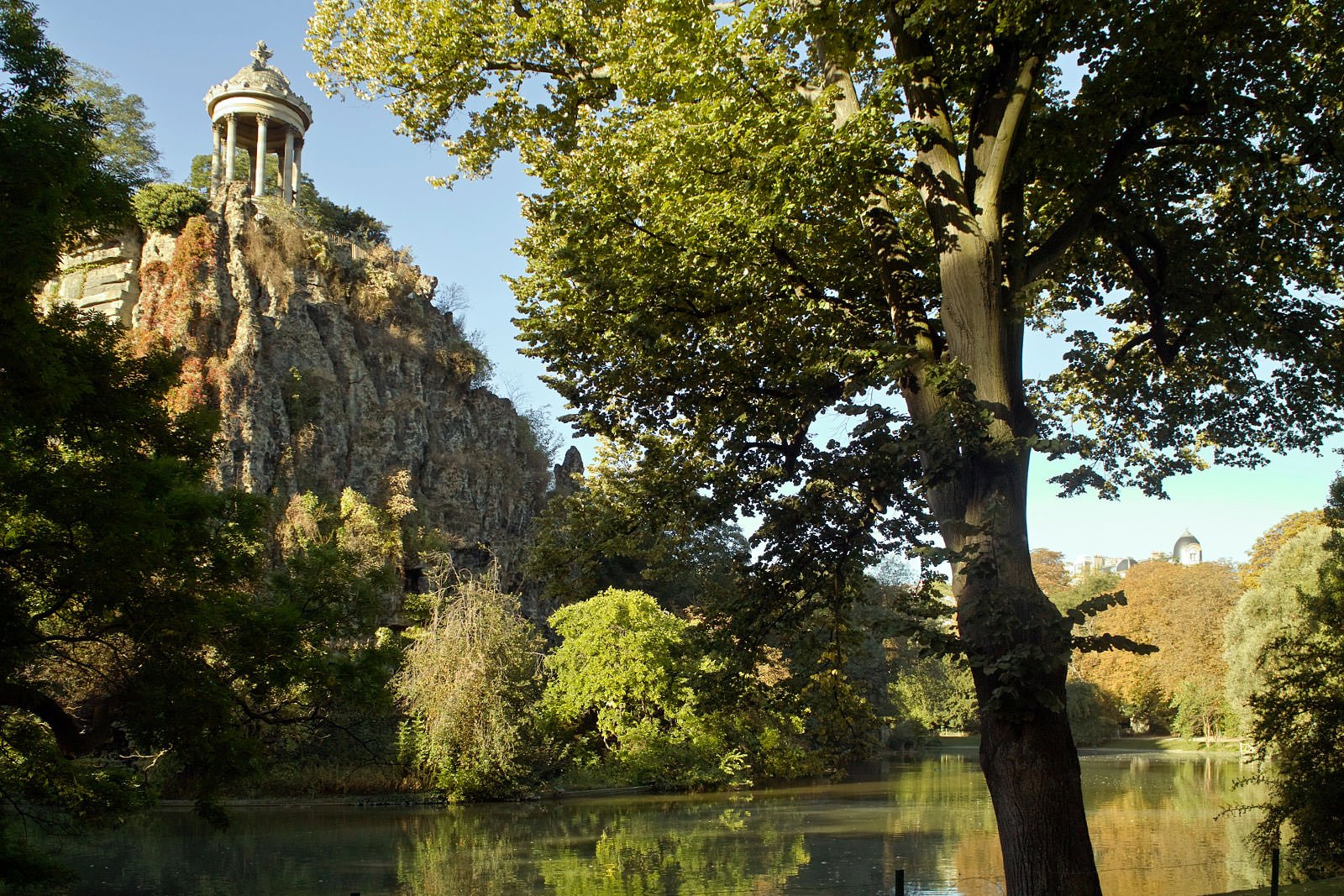 The Parc des Buttes-Chaumont is a great place for a romantic stroll. Established at the end of the 19th century in the northeast of Paris, it's famous with couples for the Temple de la Sibylle, a viewpoint at the top of an island in the centre of an artificial lake. Secluded and offering beautiful views of the city, it's a serene place to stop during your promenade. A pleasant restaurant with an outdoor terrace sits near the suspension bridge that leads to the island.
Read more
Location: 1 Rue Botzaris, 75019 Paris, France
Open: Daily from 7 am to 9 pm
photo by Traktorminze (CC BY 3.0) modified
6
Shop in glass-roofed shopping galleries
Experience the charm of Paris's intimate covered passageways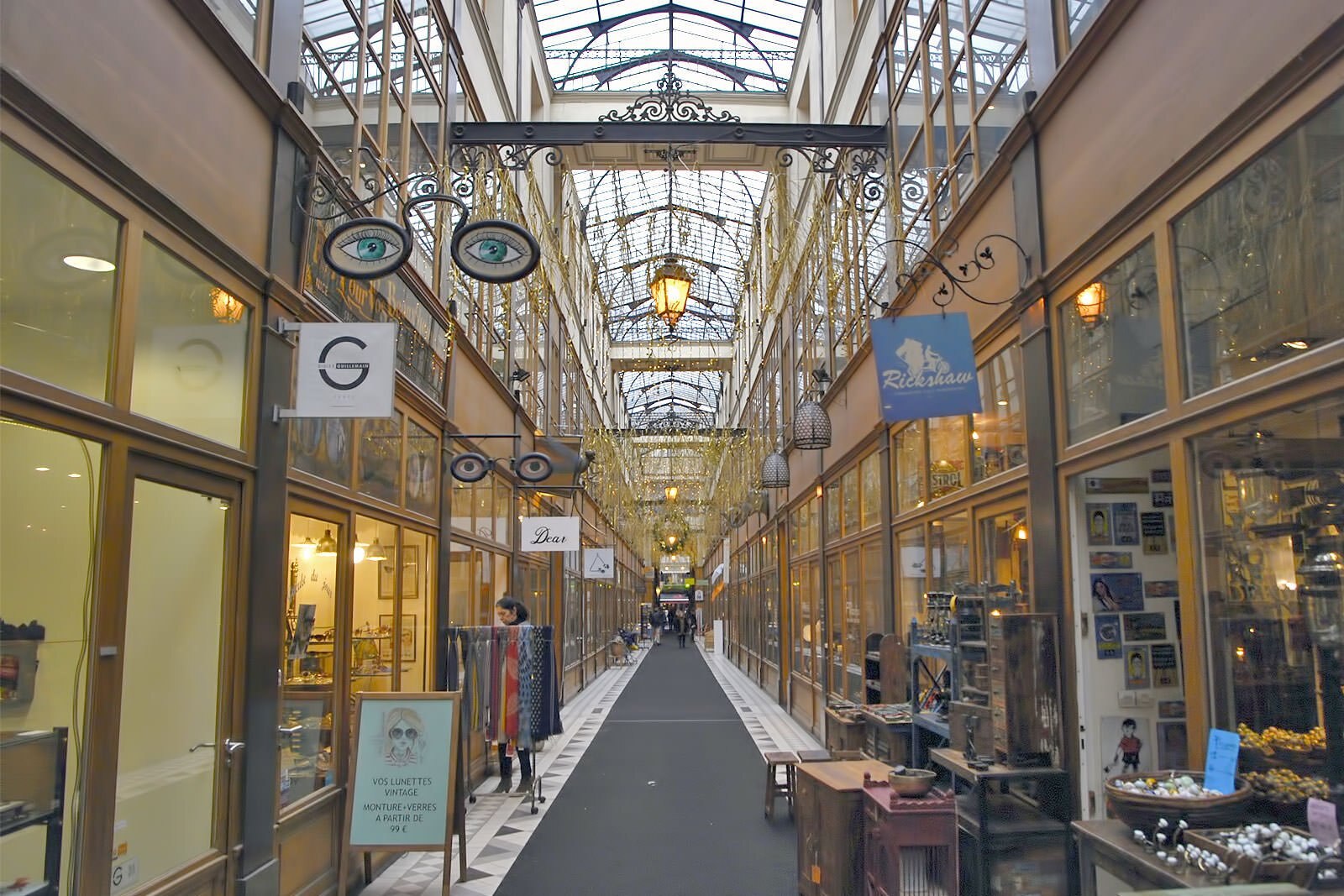 Step back into the past in Paris's quaint shopping galleries from the 18th and 19th centuries. The glass-roofed arcades with splendid mosaic tiling are real architectural wonders. The most beautiful of them include Galerie Vivienne on Rue de la Banque, Passage du Grand-Cerf on Rue Saint-Denis and Passage des Panoramas on Rue Saint-Marc. Housing a wide variety of small boutiques, quaint cafés, and restaurants, they are hidden gems in the City of Lights.
photo by koronis.at (CC BY-SA 2.0) modified
7
Watch the sunset from Montmartre Hill
Enjoy one of the most beautiful views of Paris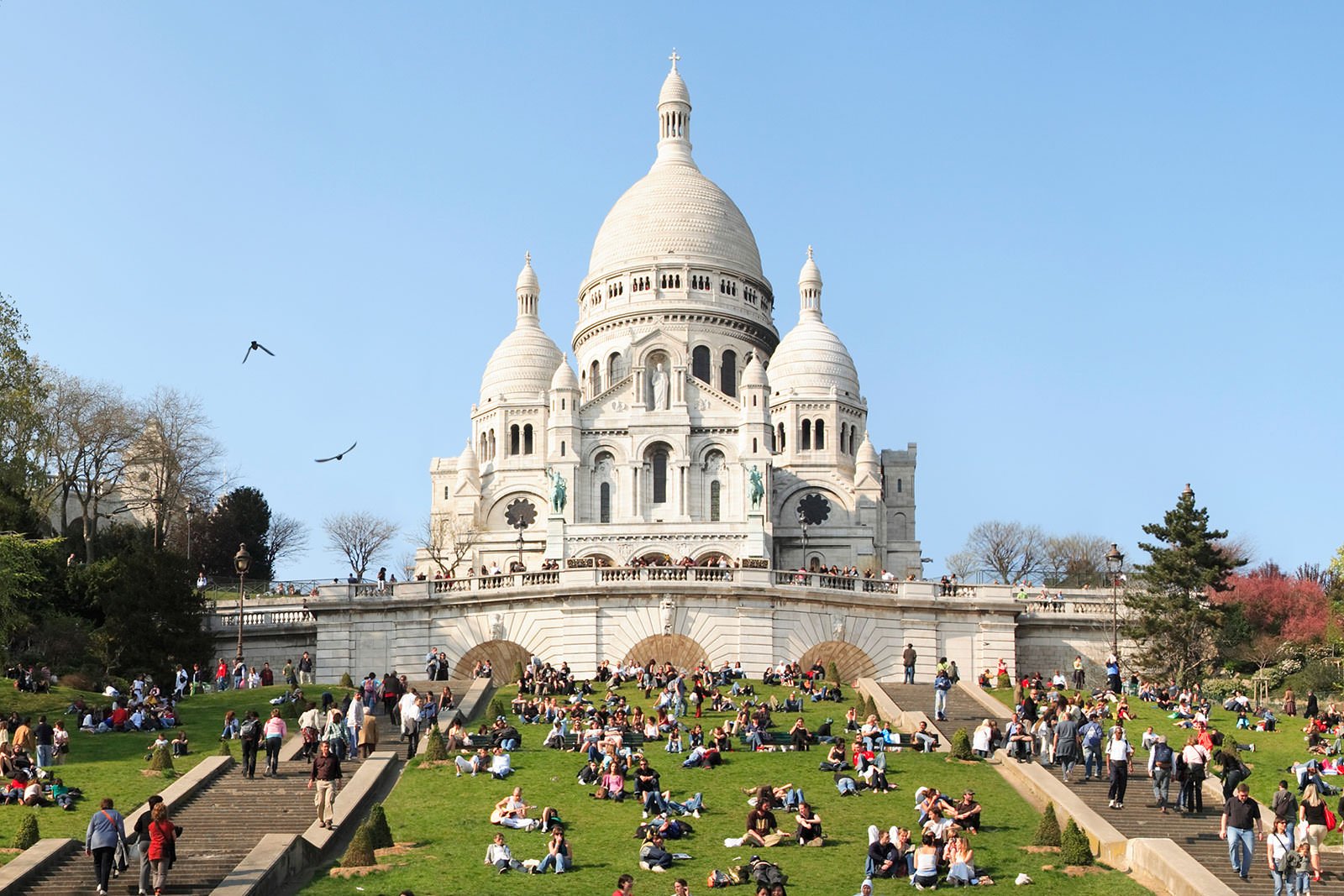 Erected at the top of Montmartre Hill and overlooking the city, the Basilica of the Sacred Heart of Paris is among the city's most iconic landmarks. The square right in front of the basilica is a great place to watch the sunset over the City of Lights. You then can go to dine or have a drink in one of the many cool cafés and restaurants nearby. Montmartre is a quaint neighbourhood with a strong artistic, bohemian touch.
Location: 1 Parvis du Sacré-Cœur, 75018 Paris, France
8
The Seine River at dusk
Take an amorous walk in a timeless urban setting
The banks of the Seine River offer a quaint place for romantic strolls at dusk. One of the favourite segments for such a promenade stretches between the Pont Neuf and the Pont de Sully, along the left bank of the river. The Arab World Institute, Notre-Dame Cathedral and many other historical buildings dot the journey. You can also opt for route with more landmarks and views between the Eiffel Tower and the Pont de la Concorde. In any case, you'll enjoy a moment in a stunning, timeless setting.
9
Candlelight dinner at Le Jules Verne
Spoil yourself with a delicious dinner and a unique view of Paris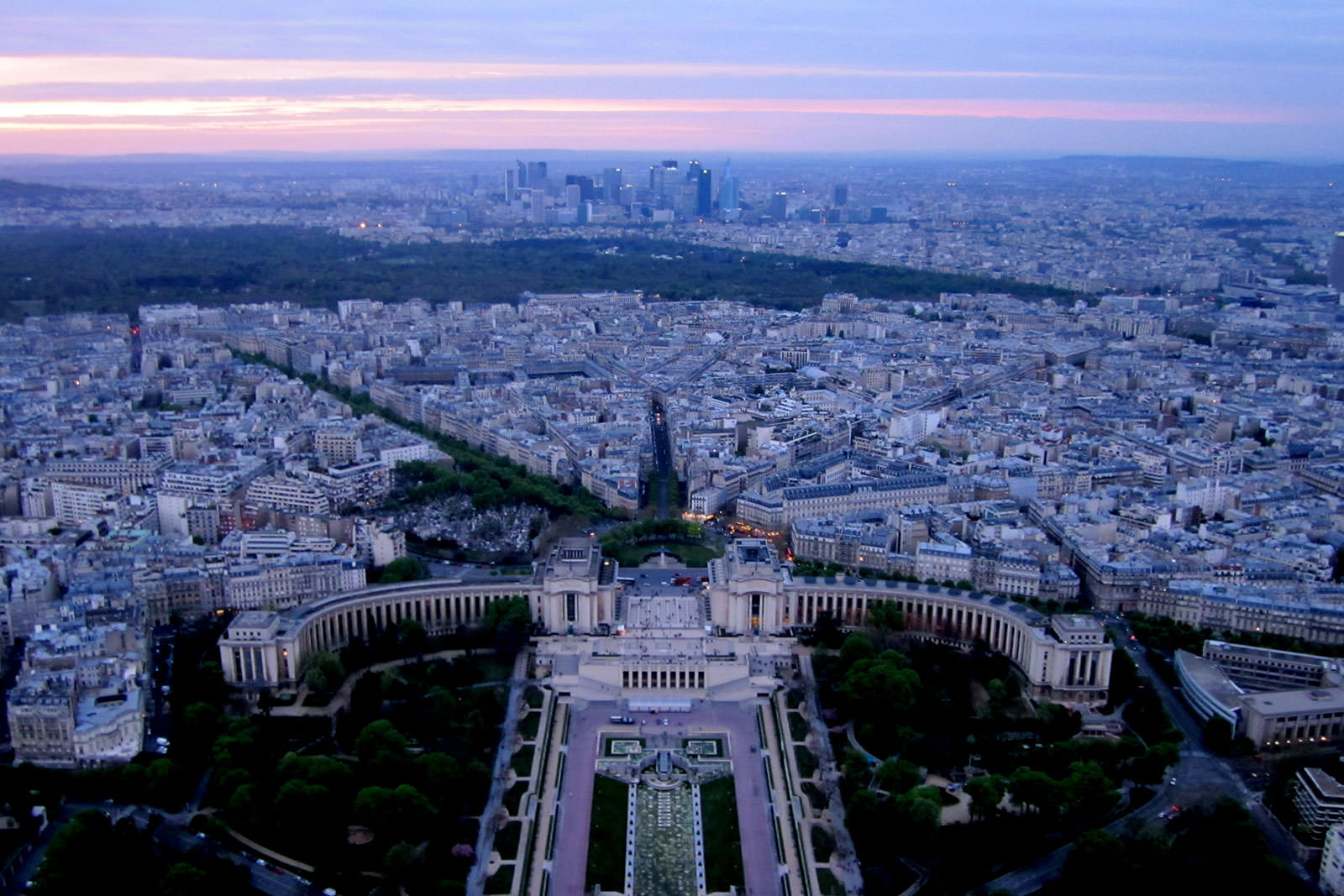 A dinner at Le Jules Verne, the first-class restaurant on the Eiffel Tower, can be the climax of your stay in Paris. Ask for a window table and enjoy the view of Paris at night while you sample the delicious French dishes and wines on offer. With top-notch service, comfortable settings, delectable food and breathtaking views, a dinner by candlelight at Le Jules Verne is a memorable, unique experience. Prices are in line with the overall quality of the venue and booking ahead is highly recommended.
Location: Avenue Gustave Eiffel, 75007 Paris, France
Open: Daily from 12 pm to 1.30 pm and from 7 pm to 9.30 pm
10
The Terrass Hotel Paris Rooftop Bar
Raise your glass to the City of Lights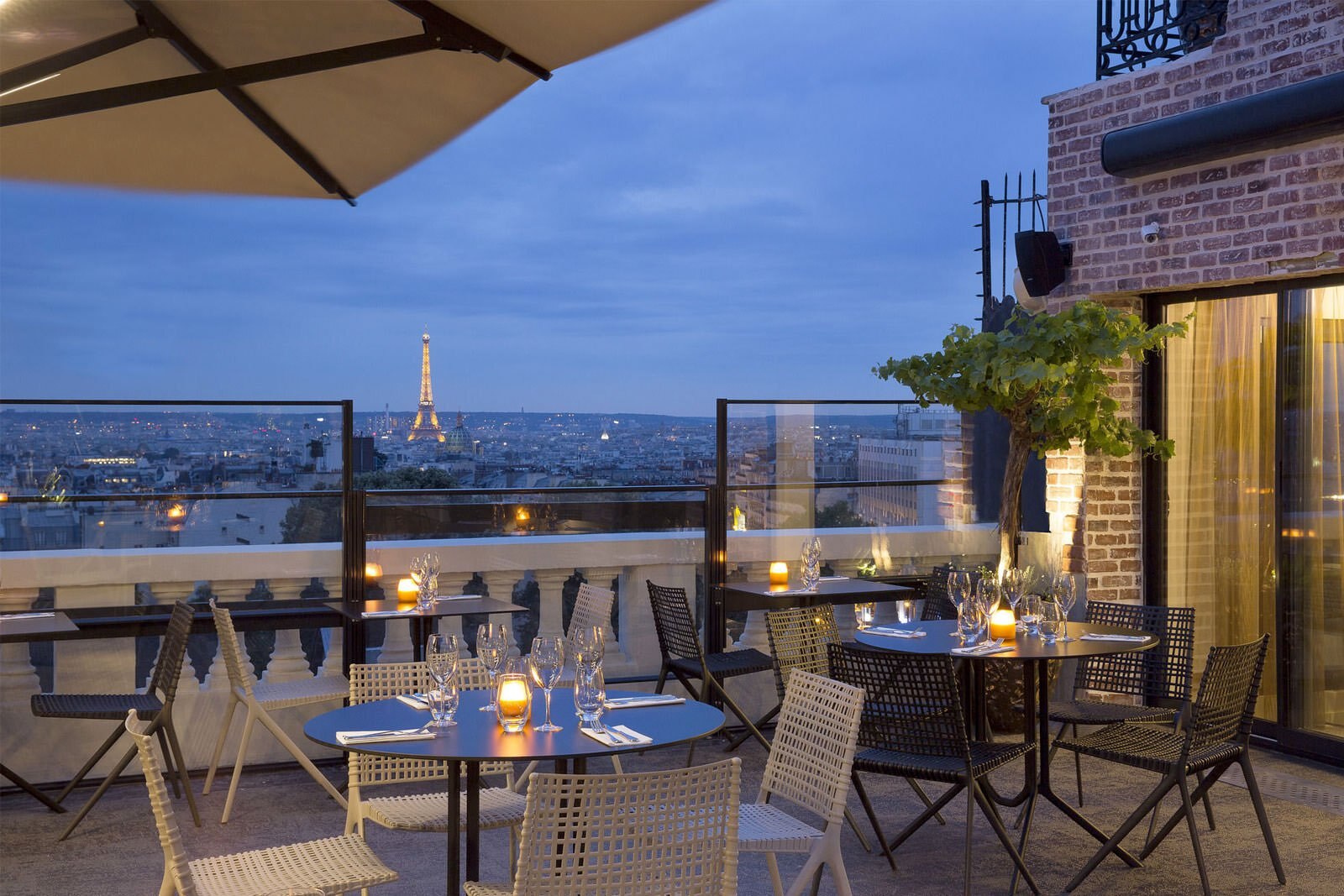 End the day at a stylish rooftop bar that offers spectacular views of Paris and of the Eiffel Tower. Wines, skilfully mixed cocktails and spirits are available at this popular venue on the panoramic terrace of the aptly named Terrass Hotel Paris, which sits at the foot of Montmartre Hill. The terrace is heated and you're provided with blankets in winter, so you can enjoy a drink here at almost any time of year.
Location: 12-14 Rue Joseph de Maistre, 75018 Paris, France
Open: Daily from 3.30 pm to 1 am
Back to top