10 Best Things to Do in Strasbourg
What is Strasbourg Most Famous For?
Strasbourg has both the old-fashioned charm of a quaint medieval city and the mighty feel of a powerful European political centre. Located right next to the border with Germany, the city is the capital of the Grand East Region of France and blends French and German influences through its architecture, cuisine, and culture.
From the historical districts that occupy the central area of the city to the modern museum of science and technology, Strasbourg has a timeless feel. Another great asset of Strasbourg is its dining scene. The delectable local dishes, excellent wines and refreshing local beers give credence to the city's nickname as 'the crossroads of Europe'.
What are the best things to do in Strasbourg?
1
Stroll around La Petite France
Take a walk in the historic Little-France district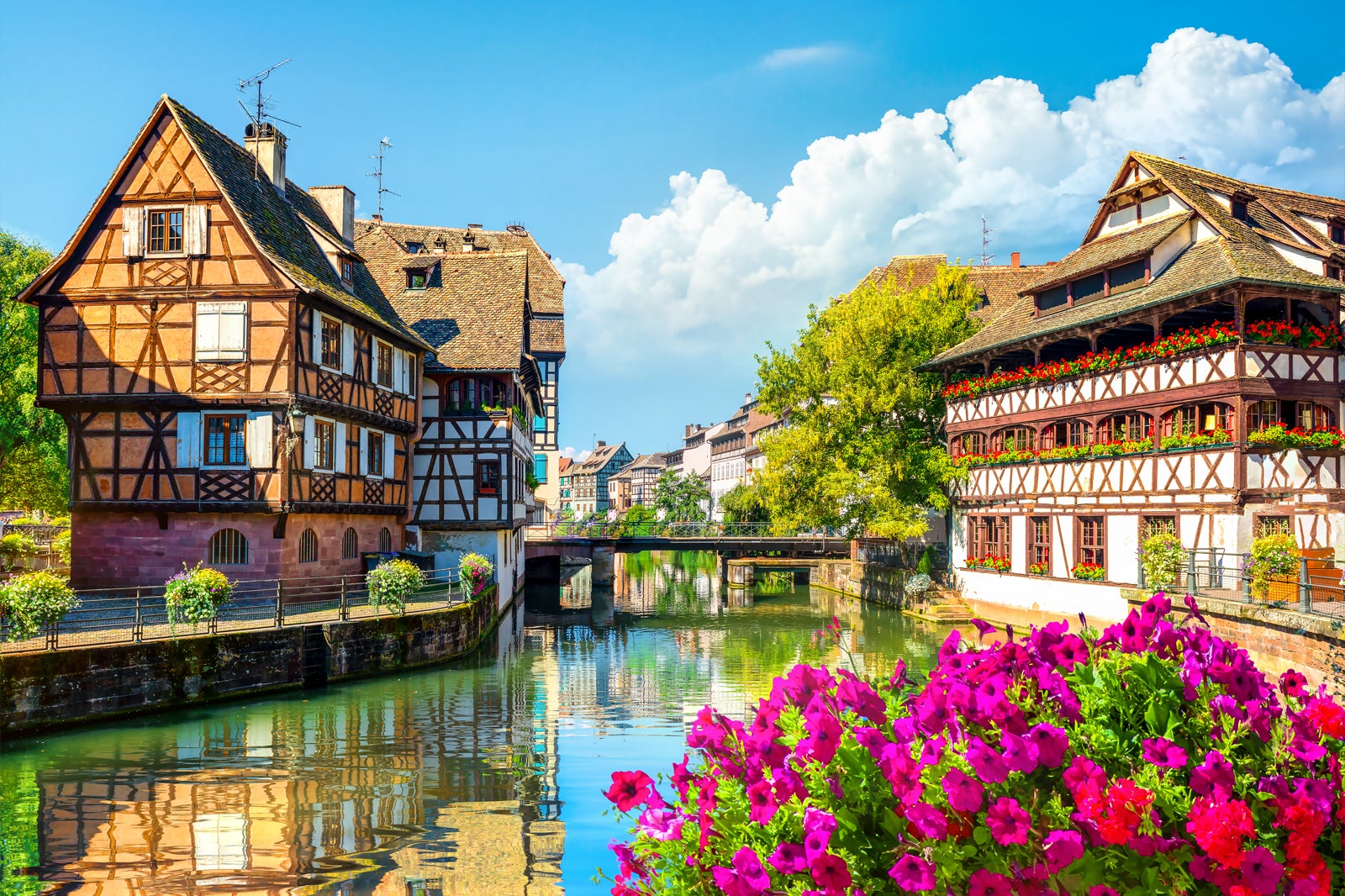 Also known as the Quartier des Tanneurs, La Petite France (the Little France) is a historic neighbourhood located at the western end of the Grande Île (the Big Island). It's easy to find in the centre of Strasbourg. Surrounded by the River Ill, the whole Grande Île is a UNESCO World Heritage Site.
The Petite France was, during the Middle Ages, a district occupied by tanners, fishermen and millers. It's home to well-preserved medieval architecture remnants including half-timbered buildings, narrow cobblestoned lanes, and covered bridges. There are many quaint bistros to stop at for a snack and a drink during your stroll.
Location: At the western end of the Grande Île in the centre of Strasbourg
2
Strasbourg Cathedral
Visit one of the tallest churches in the world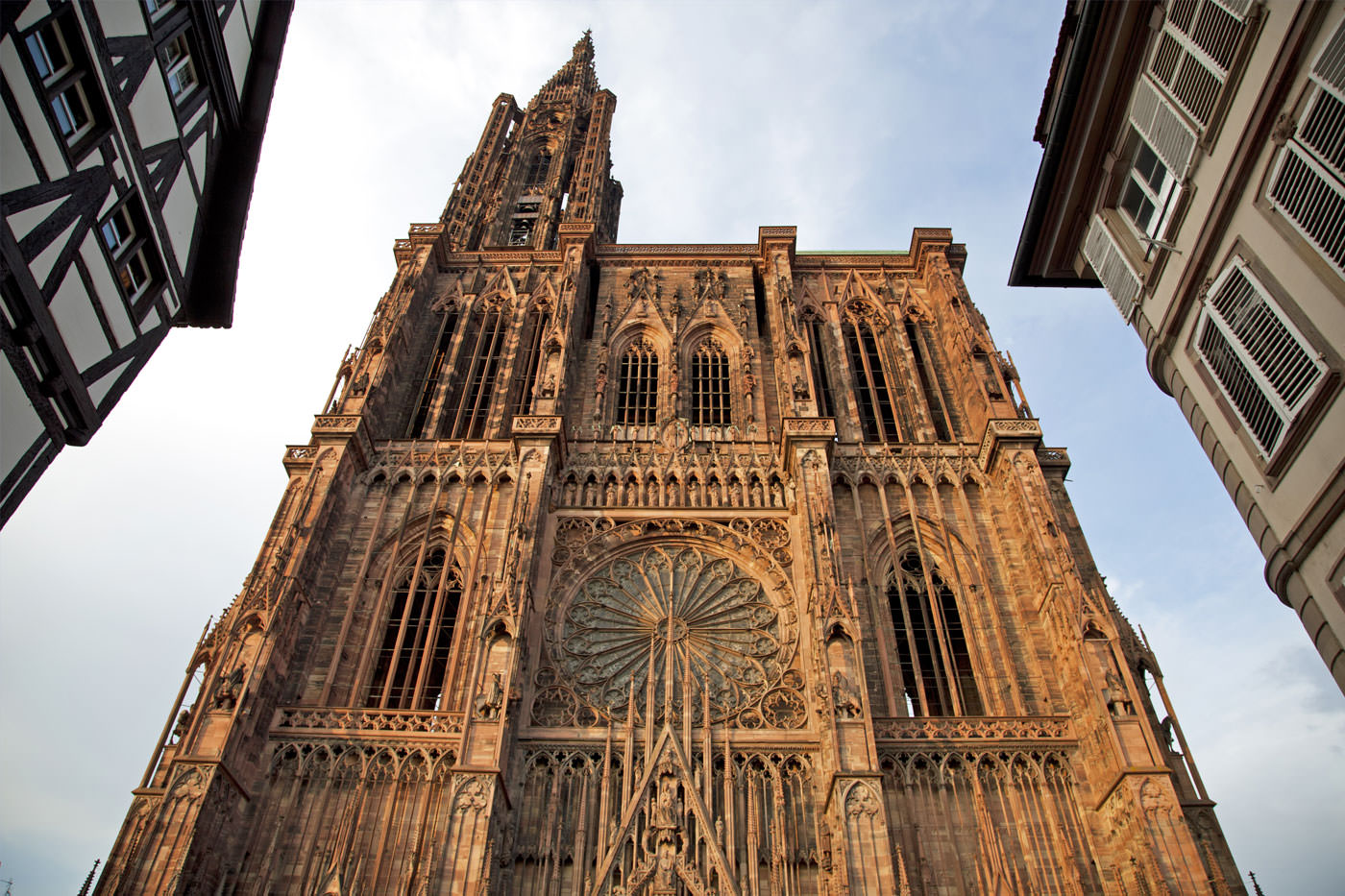 Erected in the early 11th century, Cathédrale Notre Dame de Strasbourg is, at 142 metres, one of the tallest churches in the world. During its long history, this remarkable building has been modified from its original Romanesque style by the addition of Gothic architectural elements that make it a piece of art as stunning as it is impressive. Stained glass windows from the 12th century, the St. Pancrace's altar from the 16th century, and an astronomical clock from the 17th century, are just a few of the highlights of the Strasbourg Cathedral.
Location: On the Grande Île in the centre of Strasbourg
Open: April-September, daily from 9 am to 7.30 pm; October-March, daily from 10 am to 5.30 pm; June-August, until 10 pm every Friday and Saturday
3
Eat Alsatian cuisine
Feast on choucroute garnie, flammekueche, and gingerbread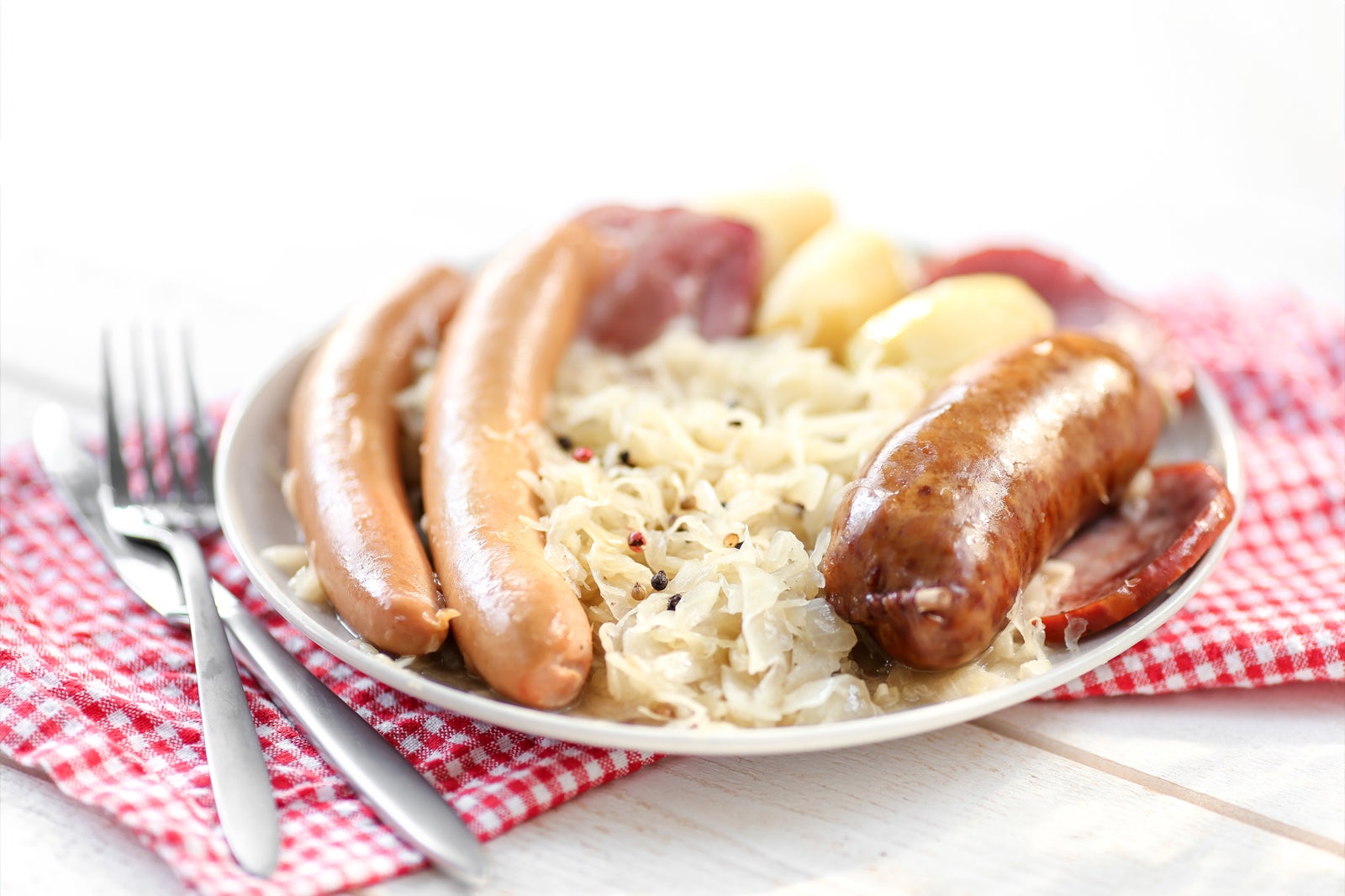 Strasbourg and Alsatian cuisine is based mostly on pork and blends German and French influences. From the hearty choucroute garnie (shredded cabbage fermented in salt water served with potatoes, thick slices of bacon and smoked sausages) to the Bouchées à la Reine (light puff pastry case filled with meat, vegetables and cream sauce), Strasbourg is not the best holiday destination if you're on a diet. Joking aside, Alsace proudly hosts one of the richest regional cuisines in France.
4
Vauban Dam
Get to the panoramic terrace of a historic building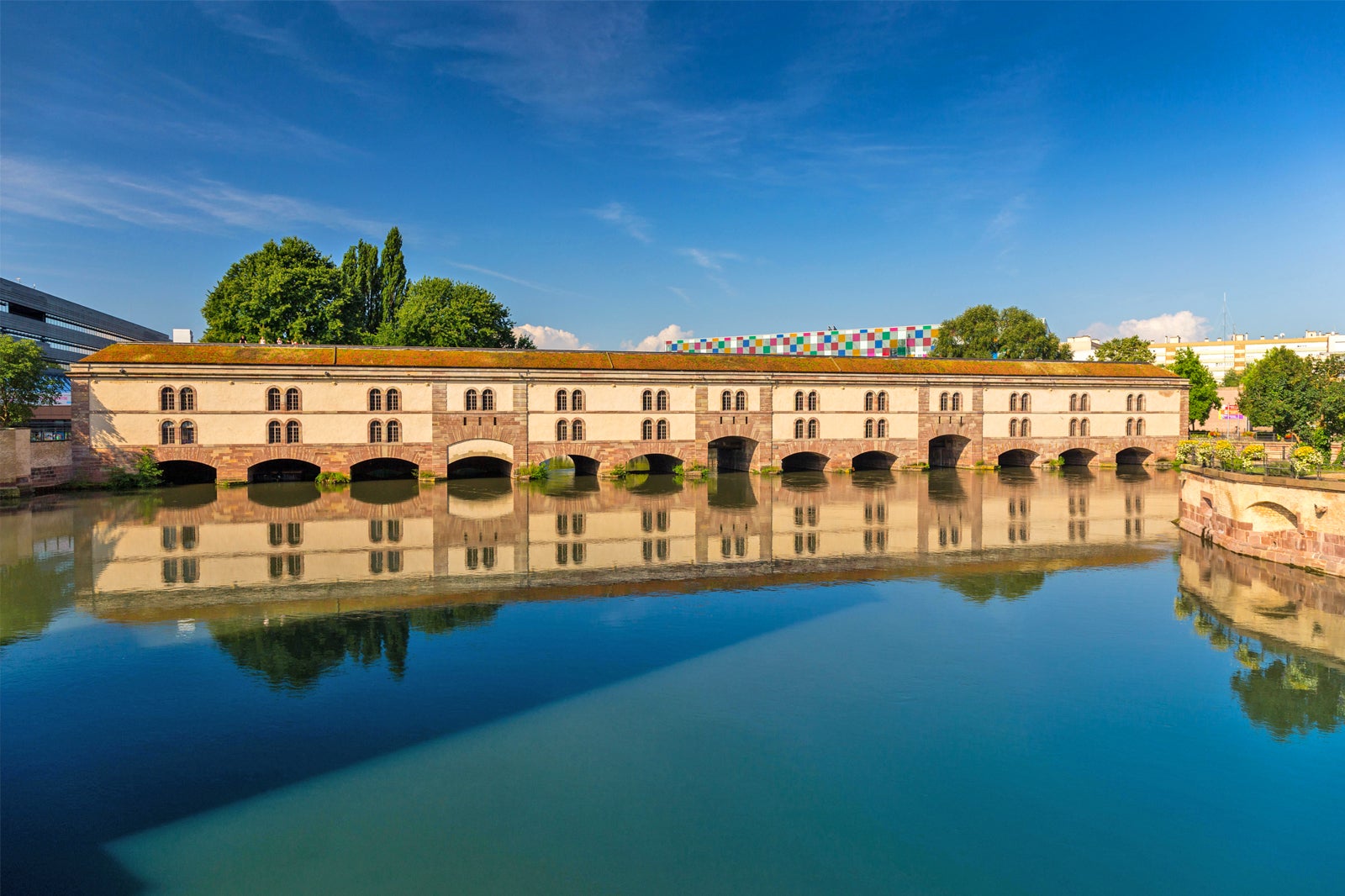 The Barrage Vauban (Vauban Dam) was built at the end of the 17th century to defend Strasbourg from invaders through its capacity to flood the southern access to the city. Today, it's at the same time a witness of the engineering genius of Vauban and a place that houses ancient plaster casts and copies of statues from the Palais Rohan and the cathedral. The highlight of the Vauban Dam is its rooftop terrace that offers picture-perfect views of the River Ill and of the Petite France.
Location: Off the southwestern tip of the Grande Île in the centre of Strasbourg
Open: Daily from 9 am to 7.30 pm
5
Strasbourg Christmas Market
Get into the festive spirit at one of the oldest Christmas markets in Europe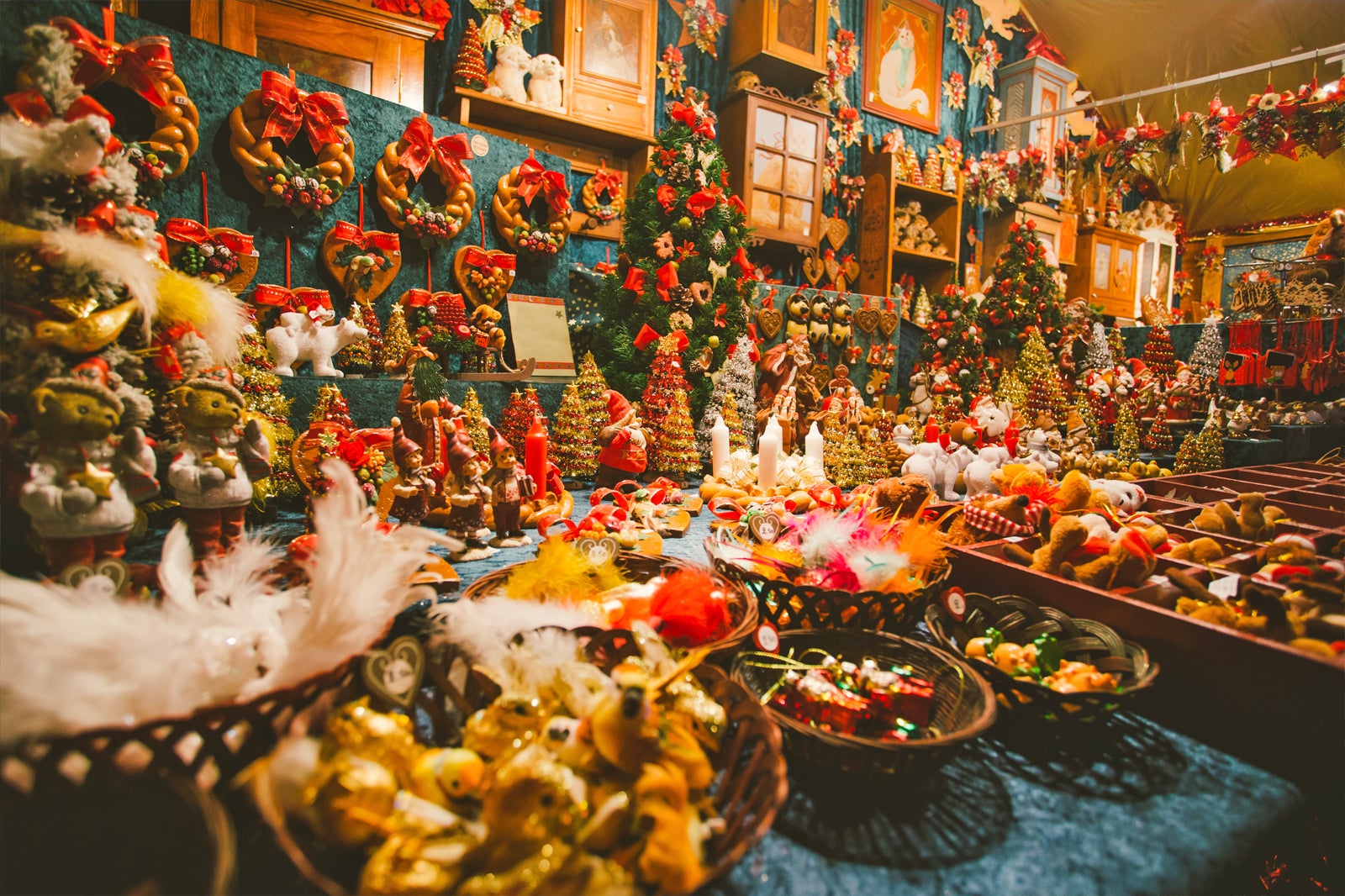 Families
Food
Couples
Shoppers
Photo
Officially named Christkindelsmärik, the Christmas Market in Strasbourg is held every year from end of November until the end of December in front of Strasbourg Cathedral. The atmosphere of this market is simply magical, especially at night when the streets and Christmas decorative ornaments are illuminated. Featuring festive ambiance and good choice of local products, you'll be taken by the scents of gingerbread and mulled wine while roaming through the stalls. Be aware that this market is one of the most attended in Europe, so you should book your hotel as early as possible if you want to stay at walking distance from it.
Location: On the front square of Strasbourg Cathedral
Open: In December, daily from 11 am to 8 pm
6
Parc de l'Orangerie
Take a breath of fresh air in an engaging park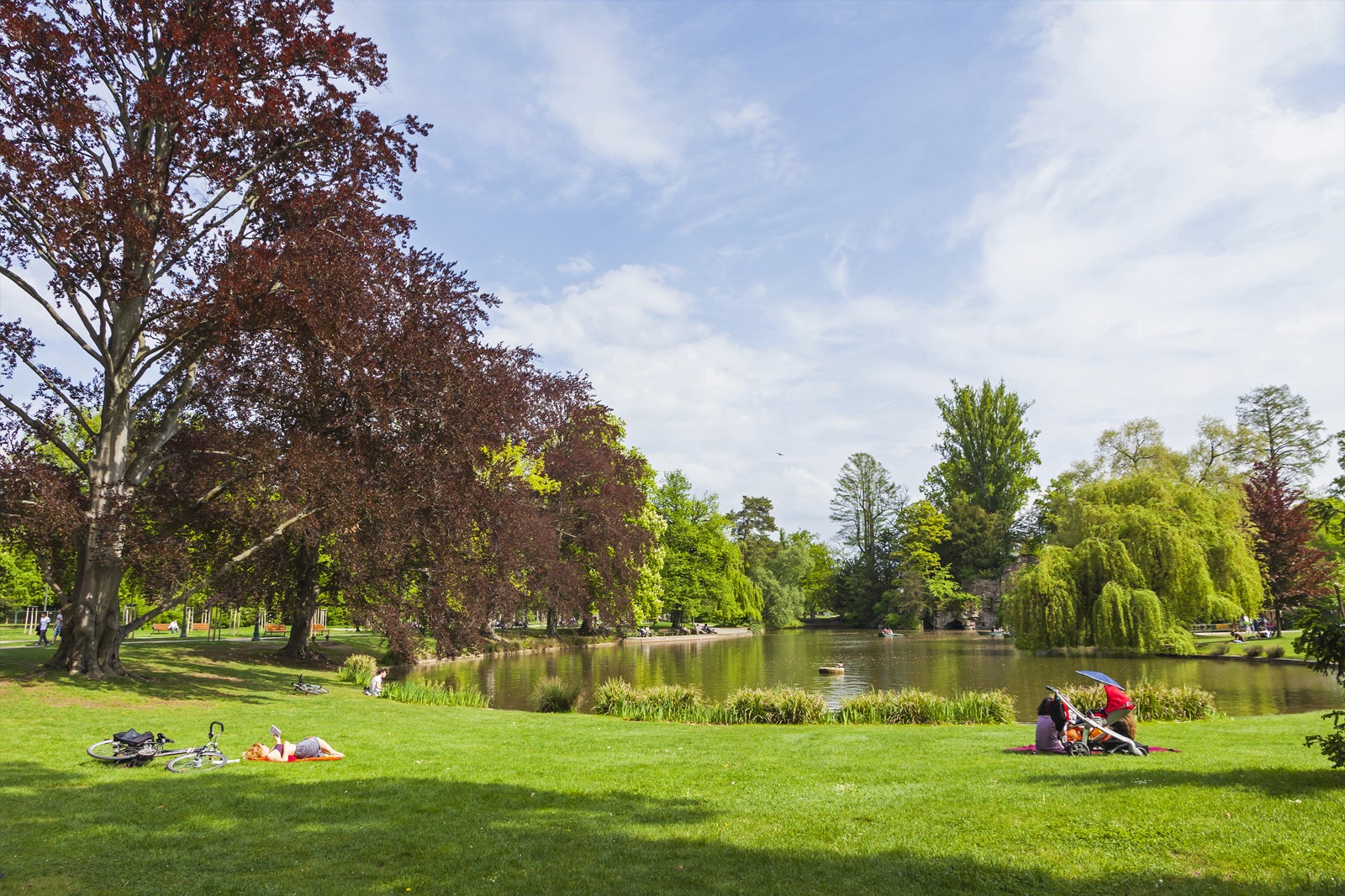 Families
Couples
Photo
Budget
Parc de l'Orangerie is a 26-hectare public park established at the end of the 18th century in the northeast of the city. The park owes its name to the orange trees offered by the Republicans to the city hall of Strasbourg after they stole them at the Bouxwiller Castle during the French Revolution. Today, the park is a serene place for a stroll. You'll find a zoo, a bowling green, children's playgrounds, pétanque and sports fields, and a Michelin-star restaurant named Le Buerehiesel. You can even rent a small boat for a romantic cruise on the lake.
Location: On the northeast side of Strasbourg, near the European Court of Human Rights building
Open: 24/7
7
Alsatian Museum
Discover the bygone daily life of Alsatian people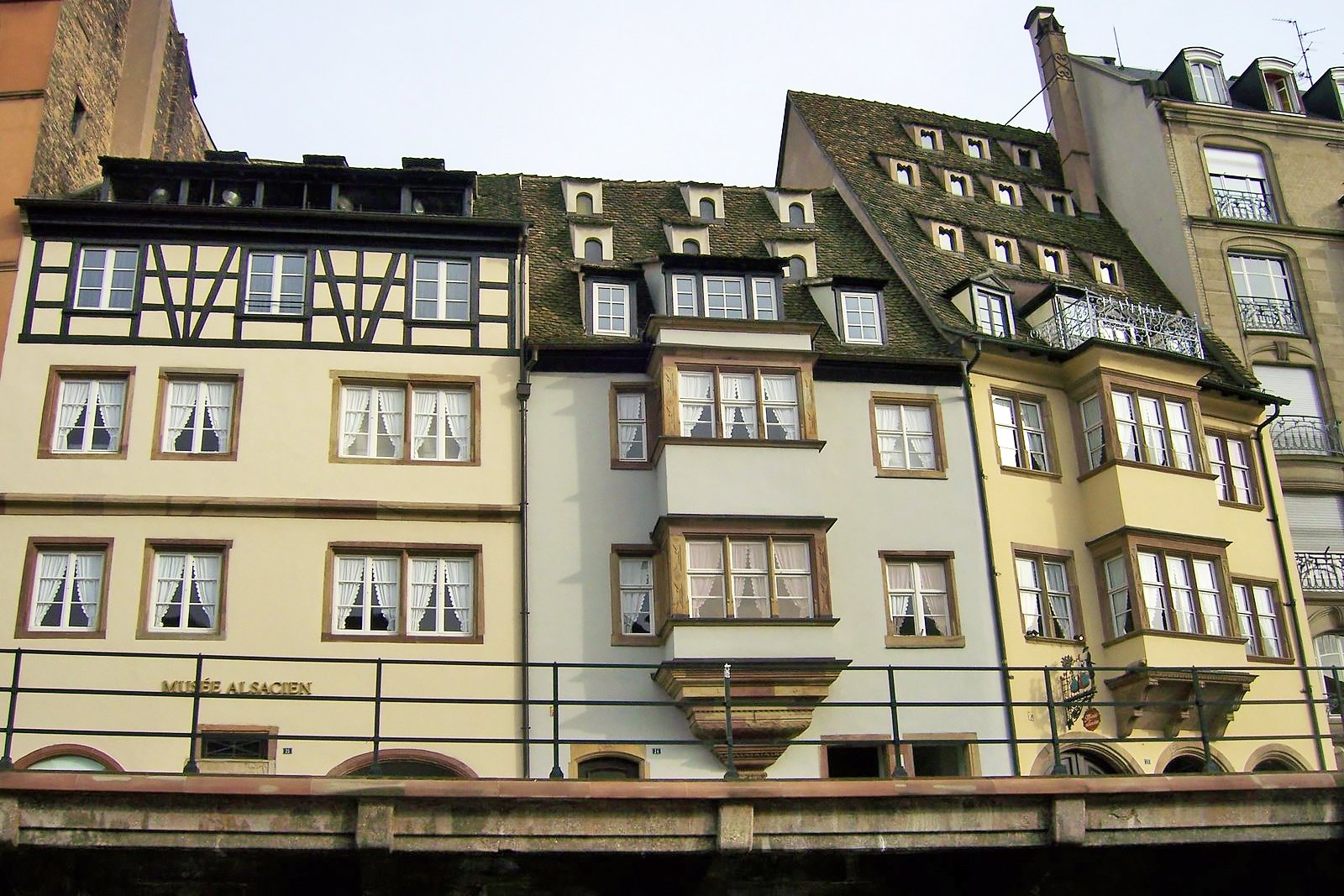 Settled in a splendidly restored 5-storey timber-framed building, the Alsatian Museum invites you to discover and learn more about the local history and culture. Despite a rather haphazard layout, the museum is pleasant to explore. It's home to an impressive collection of traditional Alsatian clothing, utensils, furniture, tools and toys, most of them dating back 2 centuries or more. Booklets and recorded tours with headphones in multiple languages are available at the ticket desk. Do not miss the inner courtyard, which is a popular place to take photos.
Location: Quai Saint-Nicolas in Krutenau District
Open: Wednesday-Monday from 10 am to 6 pm, closed on Tuesdays
photo by Anna Doorenbos (CC BY 3.0) modified
8
Drink Alsatian Wines and Beers
Sample, with moderation, locally produced wines and brews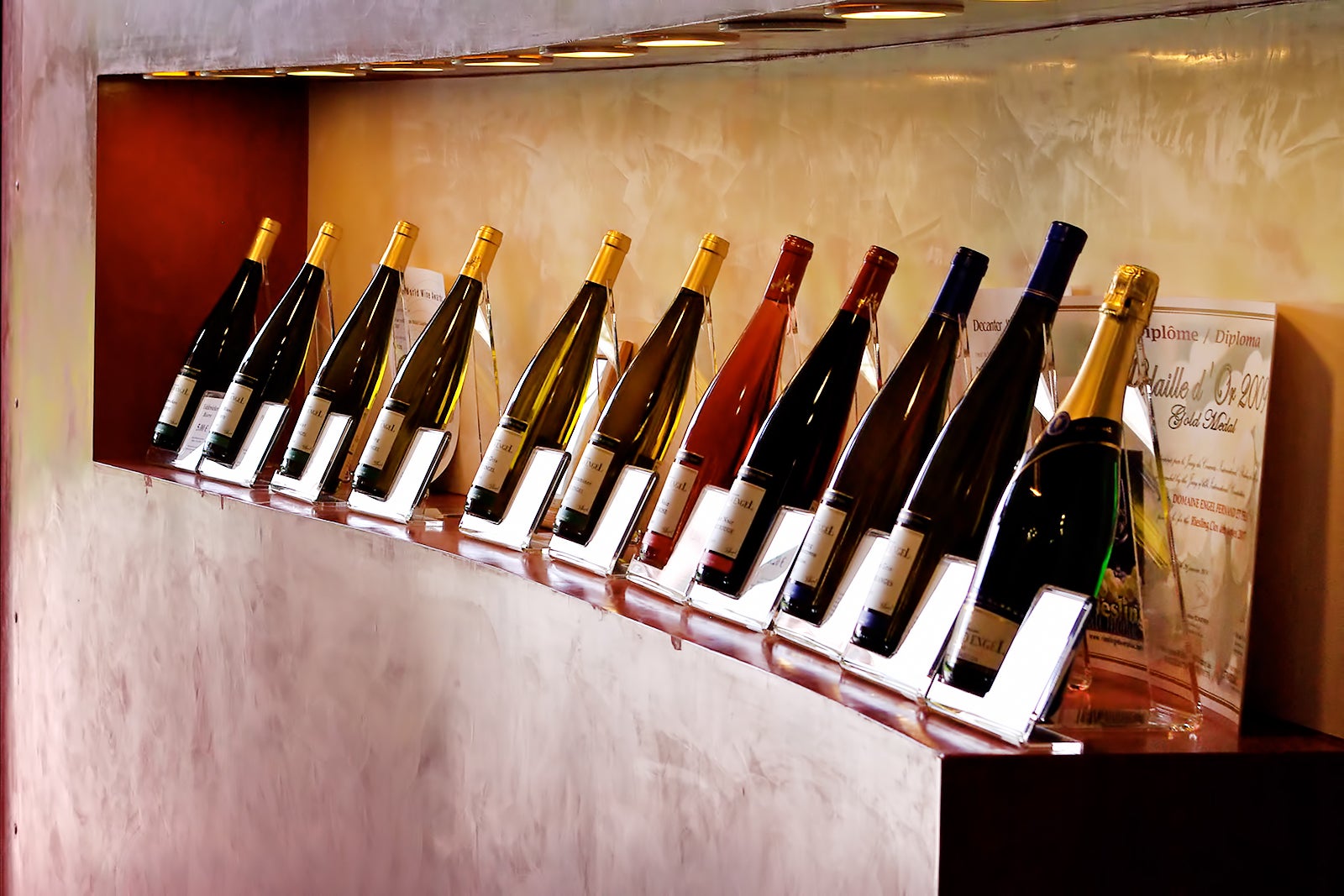 The Alsace region is famous for its white wines and beers. Names such as Riesling, Gewurztraminer and Pinot Gris should ring a bell to any wine lovers. These fruity white wines can be sampled in trendy wine bars such as Terre à Vin in Rue du Miroir, The XX in Rue des Planches or Le Grincheux in Rue du Vieux Marché aux Vins, to name just a few.
As for beer, due to its location right next to Germany, Strasbourg has a thriving beer culture. Originally brewed in monasteries, beer can be brewed mostly anywhere nowadays. Head to La Lanterne in Rue de la Lanterne or to Kohler-Rehm in Rue des Grandes Arcades to sample freshly brewed Alsatian beers. Cheers!
photo by Will Bakker (CC BY-SA 2.0) modified
9
Le Vaisseau
Take your children (and your inner child) to this cool science centre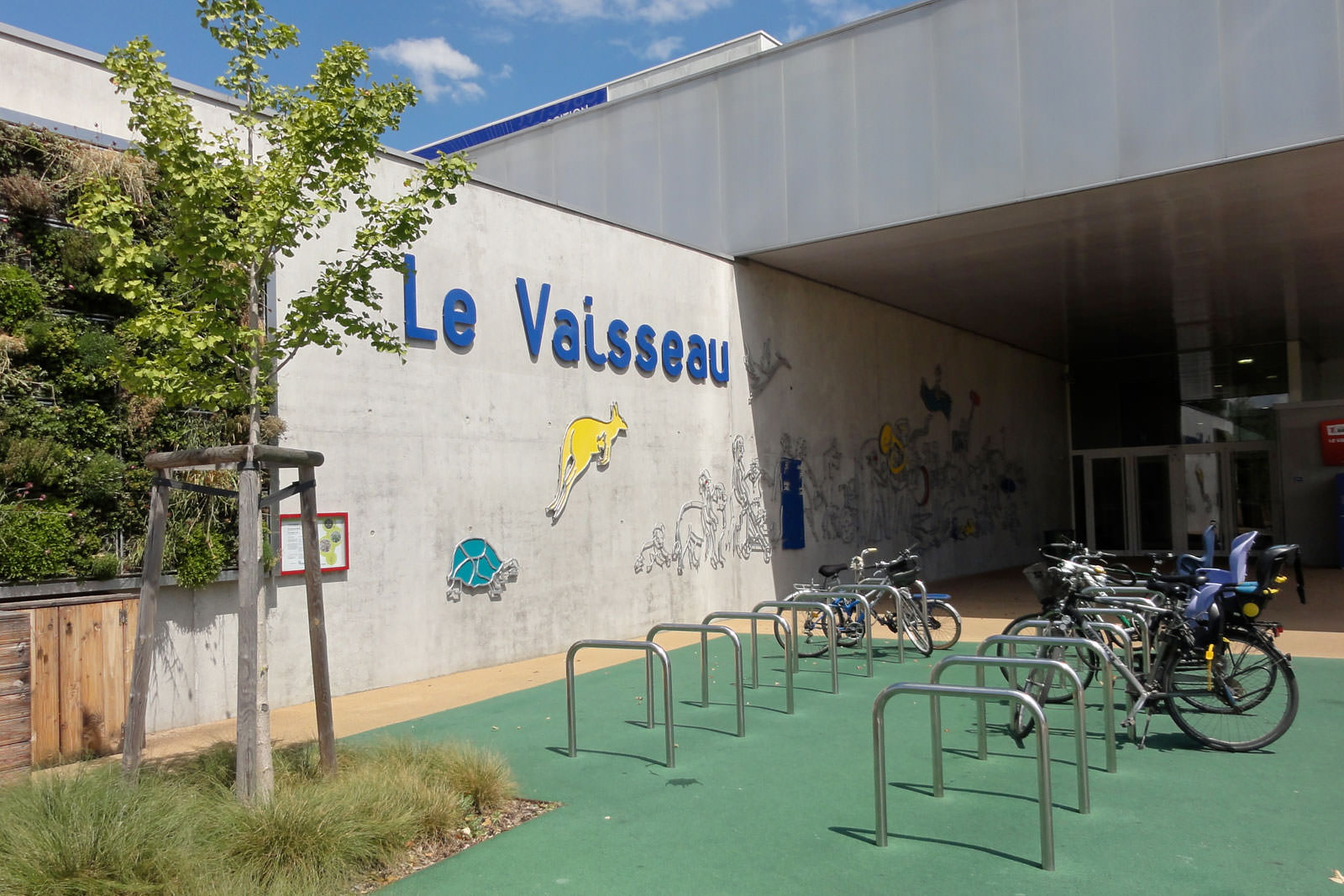 Le Vaisseau is a museum of science and technology located just south of the city centre. It's a cool place to take your children as it was especially designed to introduce science and in a fun and educational way, primarily to children aged 3 to 15. At Le Vaisseau, you'll go through 6 permanent exhibits, each of them dedicated to a topic as following: 'being human', 'the animals', 'I build', 'water', 'log'hic' and 'the garden'. Over 100 interactive elements are at hand for you and your little ones to discover science in a recreational way.
Location: 1 Bis Rue Philippe Dollinger, 67100 Strasbourg, France
Open: Tuesday-Sunday from 10 am to 6 pm (closed on Mondays)
Phone: +33 (0)3 69 33 26 69
photo by Ralph Hammann (CC BY-SA 4.0) modified
10
Krutenau District
Head to this district for a lively night out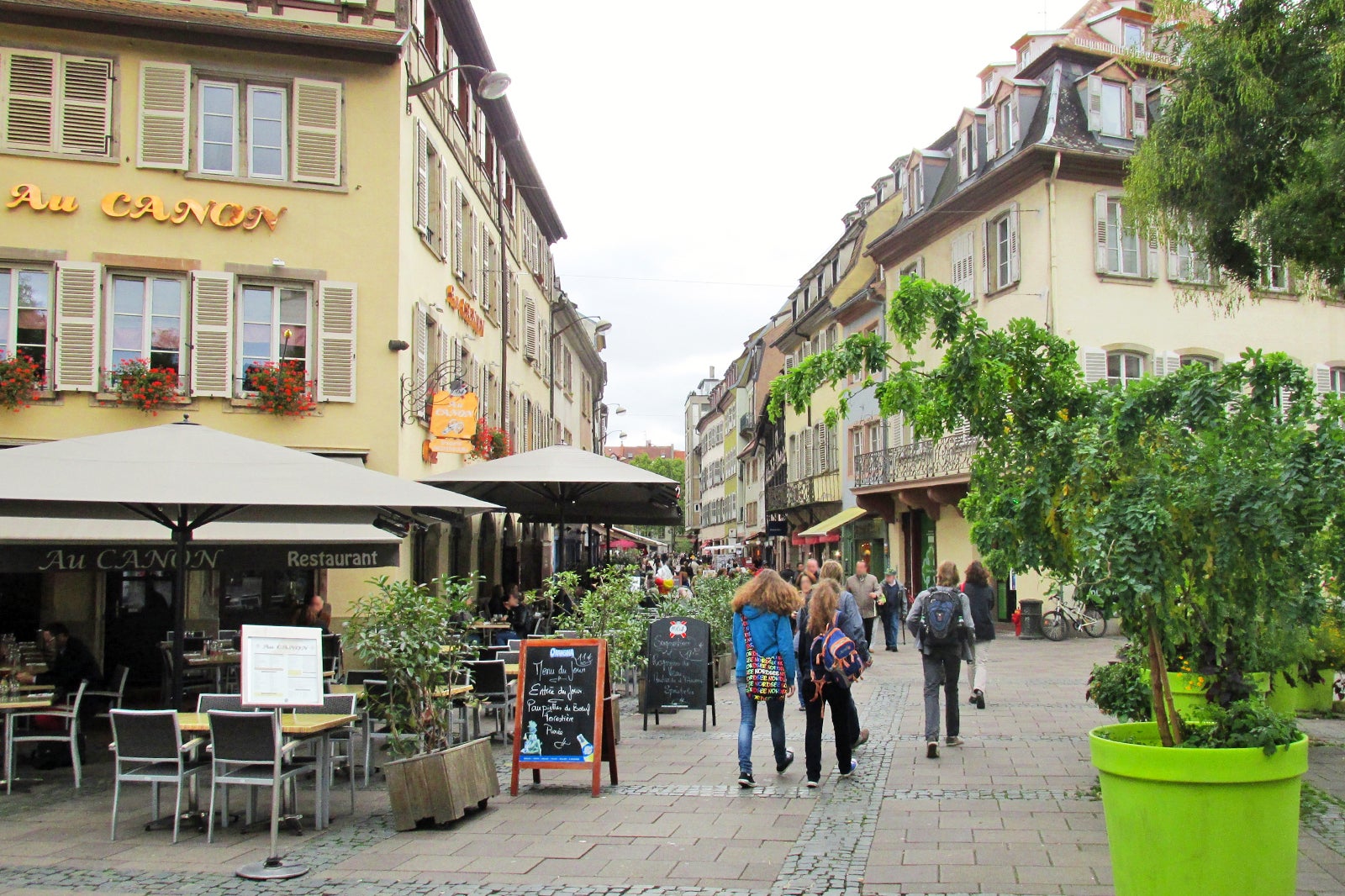 One of the oldest districts in Strasbourg, Quartier Krutenau sits southeast of the Grande Île from which it's separated by an arm of the Ill River. Featuring nicely restored half-timbered houses, it's nowadays a lively district filled with contemporary style bars and restaurants, fashionable boutiques and art galleries. After dark, head to Ze Trou in Rue des Couples if you fancy to sip a few cocktails before to go to dance at the Stand Up in Rue des Bouchers.
Location: Just southeast of the Grande Île, near the centre of Strasbourg
photo by fotogoocom (CC BY 3.0) modified
Back to top