10 Best Things to Do in Provence
What's Provence Most Famous For?
Beautiful Provence in southeastern France is a traveller's dream destination with its scenic landscapes, Roman ruins, and quaint hilltop villages. You'll also find endless culinary delights here, from fresh farmers' markets and family-run wineries to Michelin-starred restaurants. This region has long attracted artists, including Cézanne and Van Gogh, who along with countless wanderers over the centuries were entranced by the region's diverse natural beauty, elegant architecture, and colourful fields of sunflowers and lavender.
Though it would be tempting to spend 'A Year in Provence' like the author Peter Mayle recounts in his best-selling book of the same name, there's also plenty to make a visit of just a week, or even a few days, worthwhile. Take a look at our pick of the best things to do in Provence to get a taste of what's available.
1
Cruise the Rhône River and canals
Starry nights and scenic sights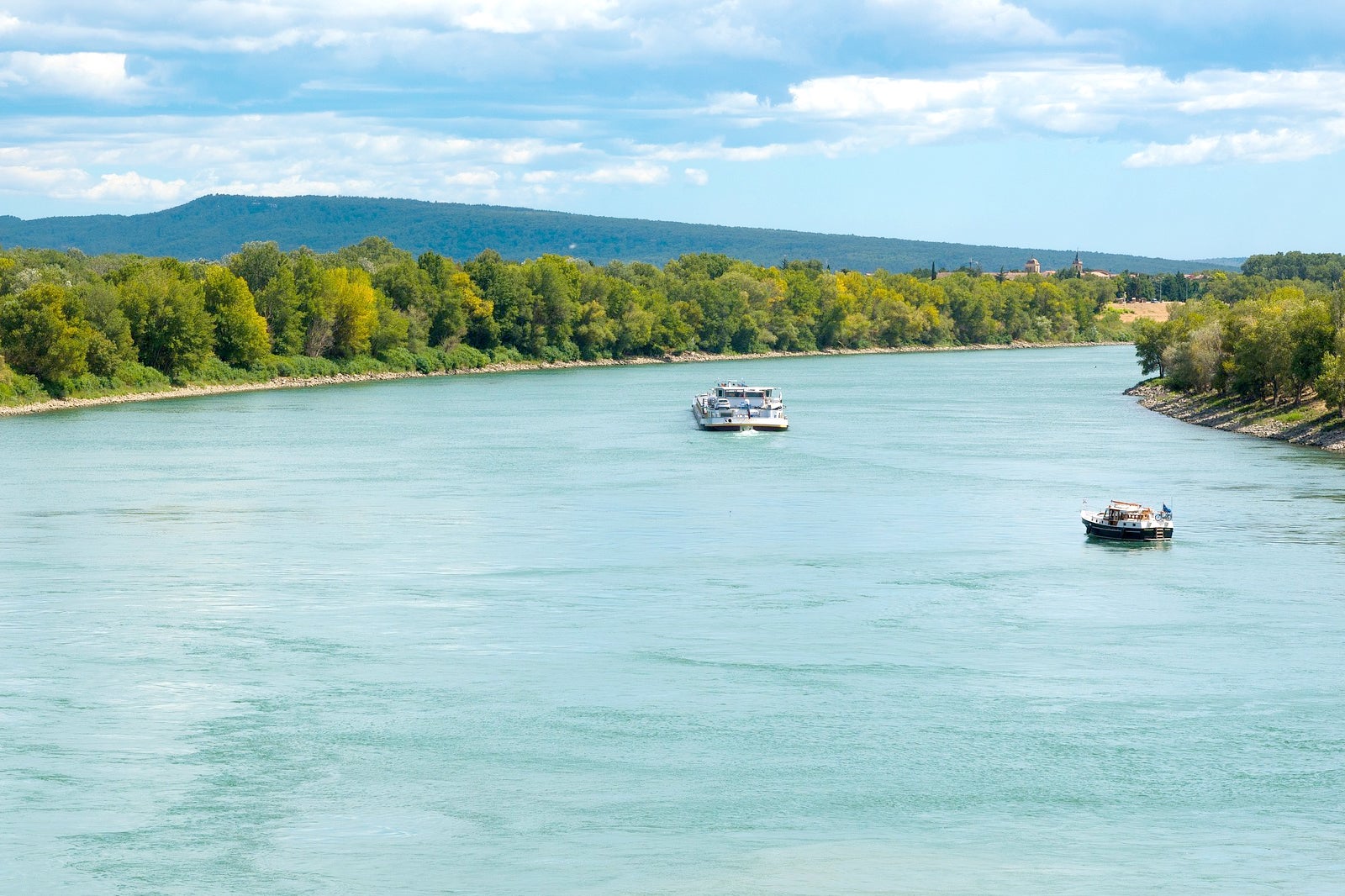 Flowing from the Swiss Alps to the Mediterranean Sea, the Rhône is one of Europe's great rivers, with some spectacular sights along its meandering path through Southern France. There are myriad ways to explore the river, from short 1 or 2-hour trips to sights such as Bartelasse Island in Avignon, to cruises of a week or more with onboard accommodation.
Multi-day tours afford a chance for you to discover magnificent Roman monuments, local wineries, and olive groves, as well as to witness the rolling Provençal landscapes that inspired the works of Vincent van Gogh. Most tours include stops at Avignon and Arles with detours to charming towns such as Martigues, which is also known as Little Venice.
2
Shop in the markets of Aix-en-Provence
Visit the birthplace of post-impressionist artist Cézanne
With its thriving food, handicrafts, and flower markets set in picturesque squares and streets, the elegant city of Aix-en-Provence is a captivating place to wander and shop.
Start in the Old Town to explore its labyrinth of narrow streets dotted with markets, boutiques, and cafés. The finest local foods are on display at Le Grand Marche (The Big Market) that runs every Tuesday, Thursday, and Saturday morning – try such locally made temptations as Cavaillon melon, goat's cheese, olives, and wine. The markets also brim with local artisan goods including lavender soap, textiles, and earthenware. Here, you'll find an eclectic mix of antique and second-hand goods.
photo by Anna & Michal (CC BY-SA 2.0) modified
3
Explore the Roman ruins of Nîmes
Catch the Festival de Nîmes music festival in summer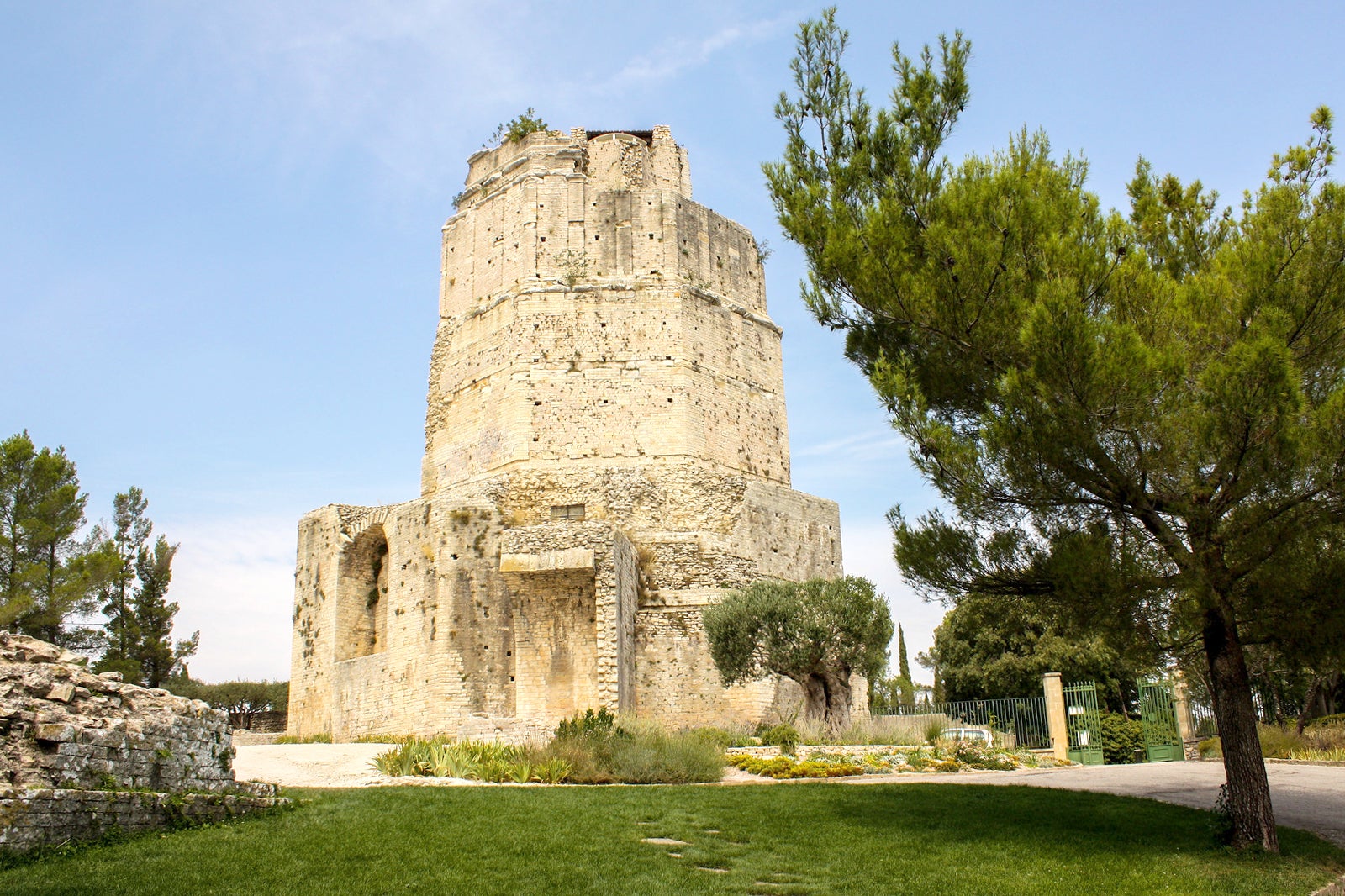 Discover the history of Nîmes through its glorious Roman ruins that have survived from the days when Emperor Augustus ruled the land 2,000 years ago. Most impressive is the Arena of Nîmes, a huge amphitheatre built in AD70 that once hosted gladiator battles and is still in use today for concerts and bullfights.
Another beautifully preserved building is the Maison Carrée museum, originally built as a grand Roman temple in 20 BC. History enthusiasts will not want to miss seeing the 3-tiered Roman aqueduct Pont du Gard and the Jardin de La Fontaine, a 17th-century park where you'll find the remains of the Temple of Diana and Tour Magne, an ancient Roman watchtower.
photo by Shadowgate (CC BY 2.0) modified
4
Wander the scenic streets of Gordes hilltop village
Enjoy panoramic views over Luberon Valley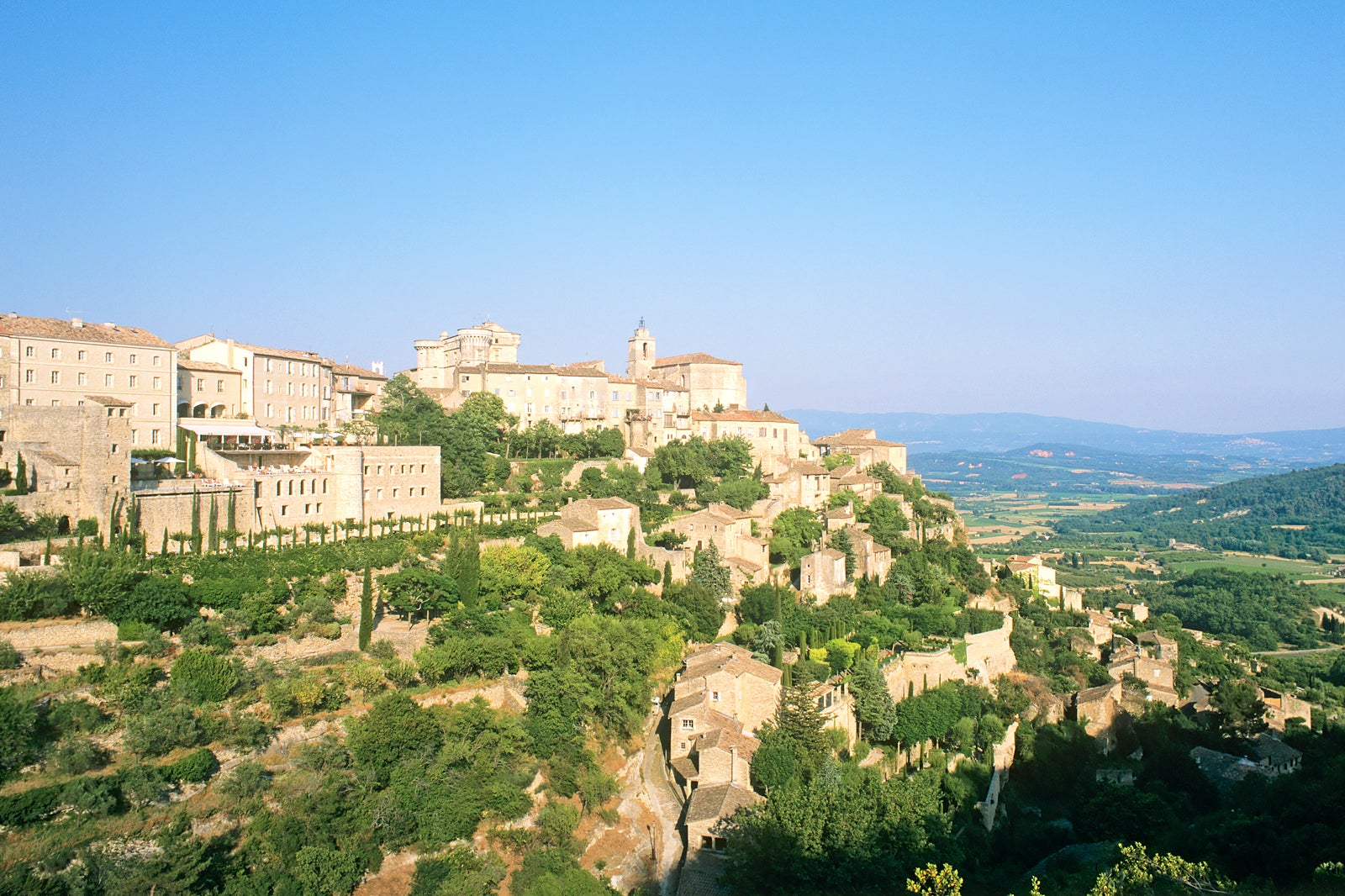 Set in the foothills of Vaucluse, about 40 km from Avignon, Gordes village offers heavenly views and a maze of narrow cobblestone streets to explore. You could easily spend days just wandering around taking in the lovely village setting of fountains, squares, and stone houses built into the hillside.
Among several historic sights dotted in and around Gorges is the Chateau de Gordes, an imposing castle that blends architectural styles from the Middle Ages and the Renaissance era. Just outside of the village is the fascinating Bories Village with its huts made entirely of dry stone.
5
Enjoy a bouillabaisse meal at the Old Port of Marseille
Savour seafood with stunning sea views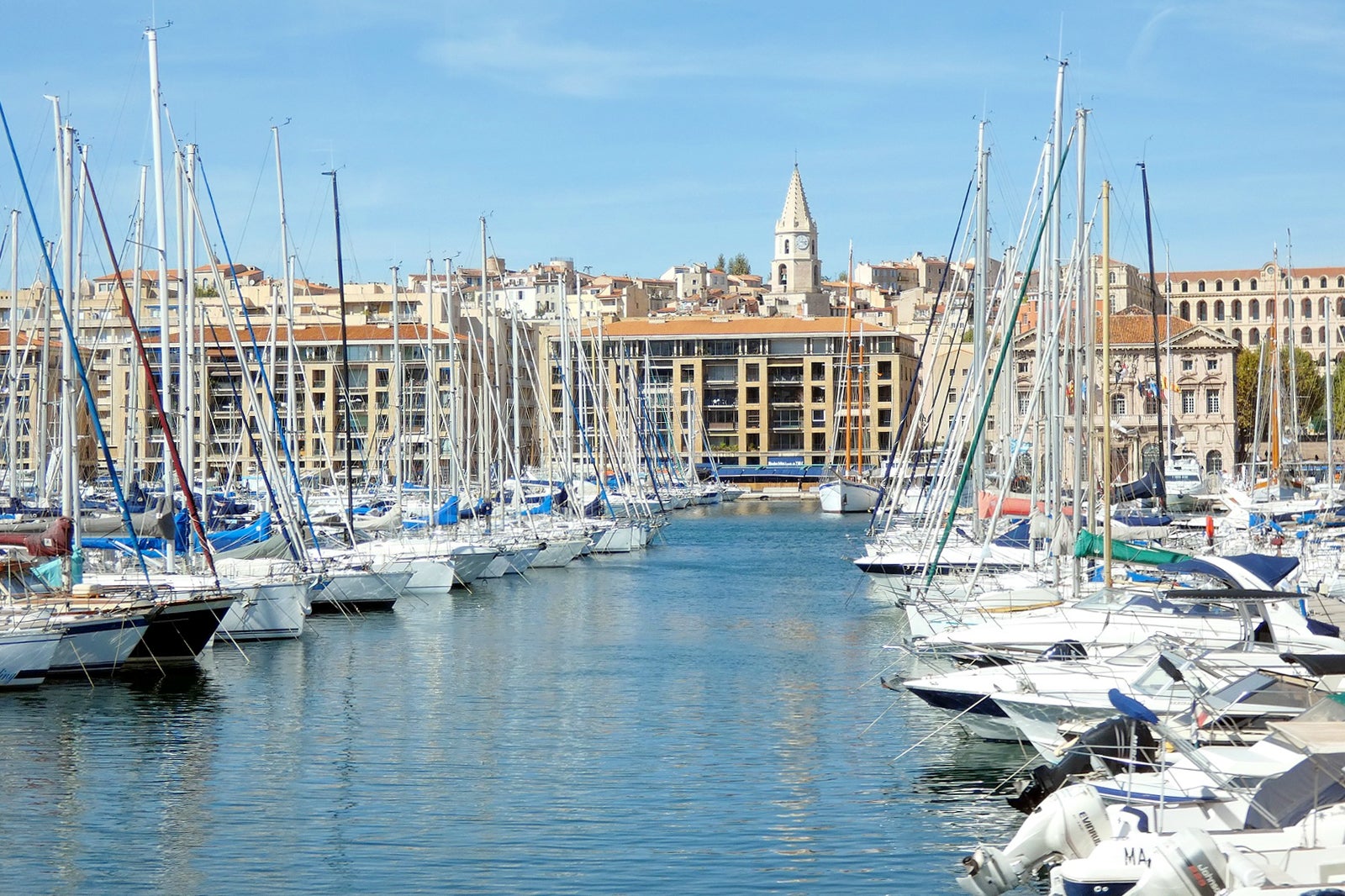 Marseille is the oldest town in France and its vibrant Vieux Port area has served as the heart of the town's commerce and community for more than 2,000 years. Though this port city has a bit of a rough-and-tumble reputation, it's also justly known for its fantastic food.
Come to relax at a waterfront bar or café and enjoy views of the traditional fishing boats and luxury yachts bobbing in the bay. No visit to Marseille is complete without trying its signature dish: bouillabaisse. Find some of the most flavourful and authentic versions of this seafood stew at Le Miramar, Chez Fonfon, and Le Rhul restaurants.
6
Visit the Palace of the Popes in Avignon
Built in the 1300s by Popes Benedict XII and Clement VI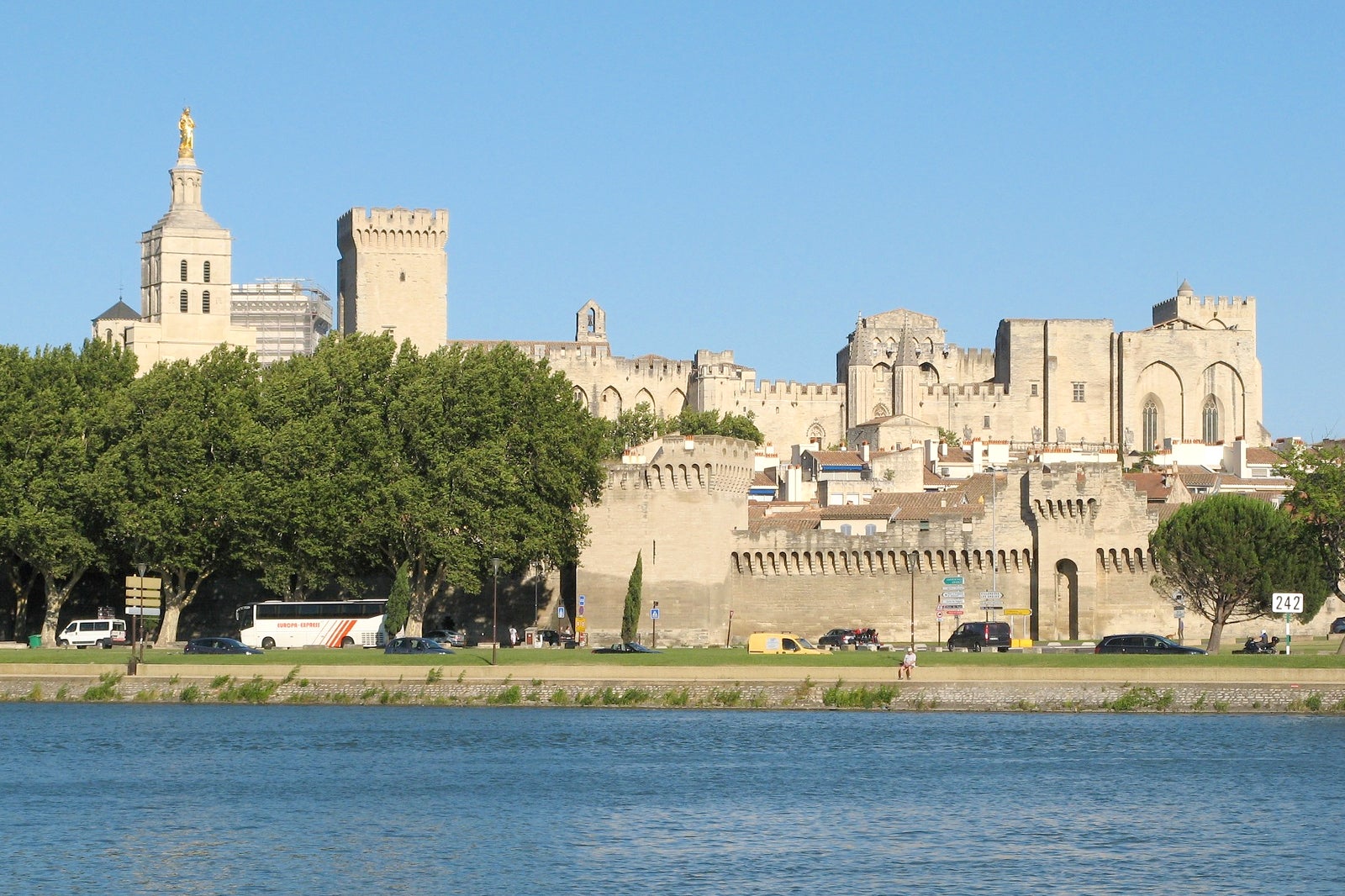 With 15,000 sq m of floor space, the Palais des Papes (Palace of the Popes) is the largest Gothic palace in Europe and has been an imposing presence along the Rhône River since the 14th century. An important centre for the church for some 7 centuries, the palace is now a UNESCO World Heritage site.
Visitors can explore more than 20 rooms including the popes' private chambers containing frescoes painted by Italian artist Matteo Giovannetti. From June to November, the Great Chapel is host to an annual art exhibit, while in July there are Avignon Theatre Festival performances in the courtyard. Guided tours are available.
Location: 84000 Avignon, France
Open: Monday–Saturday from 9 am to 5 pm
Phone: +33 4 32 74 32 74
7
Hike the trails of Verdon Gorge
The Grand Canyon of Europe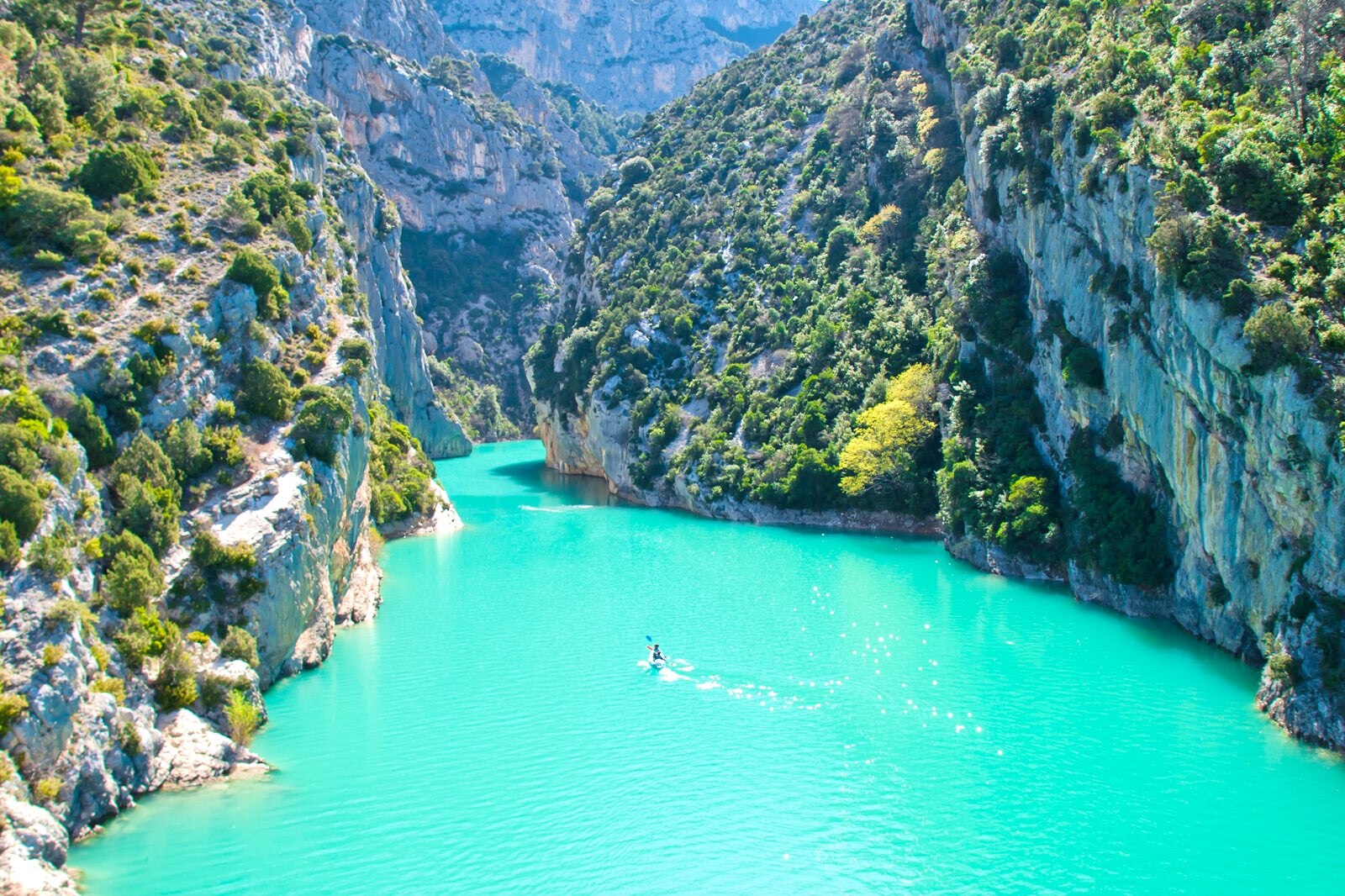 The spectacular Gorges du Verdon (Verdon Gorge) offers hikers a peaceful and varied landscape of deep canyons and turquoise-blue rivers to explore. You can hike trails leading through ancient oak forests, past abandoned churches and villages, and winding up to breathtaking viewpoints.
One of the most popular trails is the Blanc-Martel. It runs between Point Sublime in Rougon and Châlet de la Maline. Expect to spend 6-7 hours navigating the 14-km trail through wild, mountainous terrain, along with a few steep staircases to climb. Trails are marked for independent hikers, though guided trips are available, too.
8
Cycle the idyllic lavender-perfumed roads
Enjoy the heavenly scents and sights of a Provence summer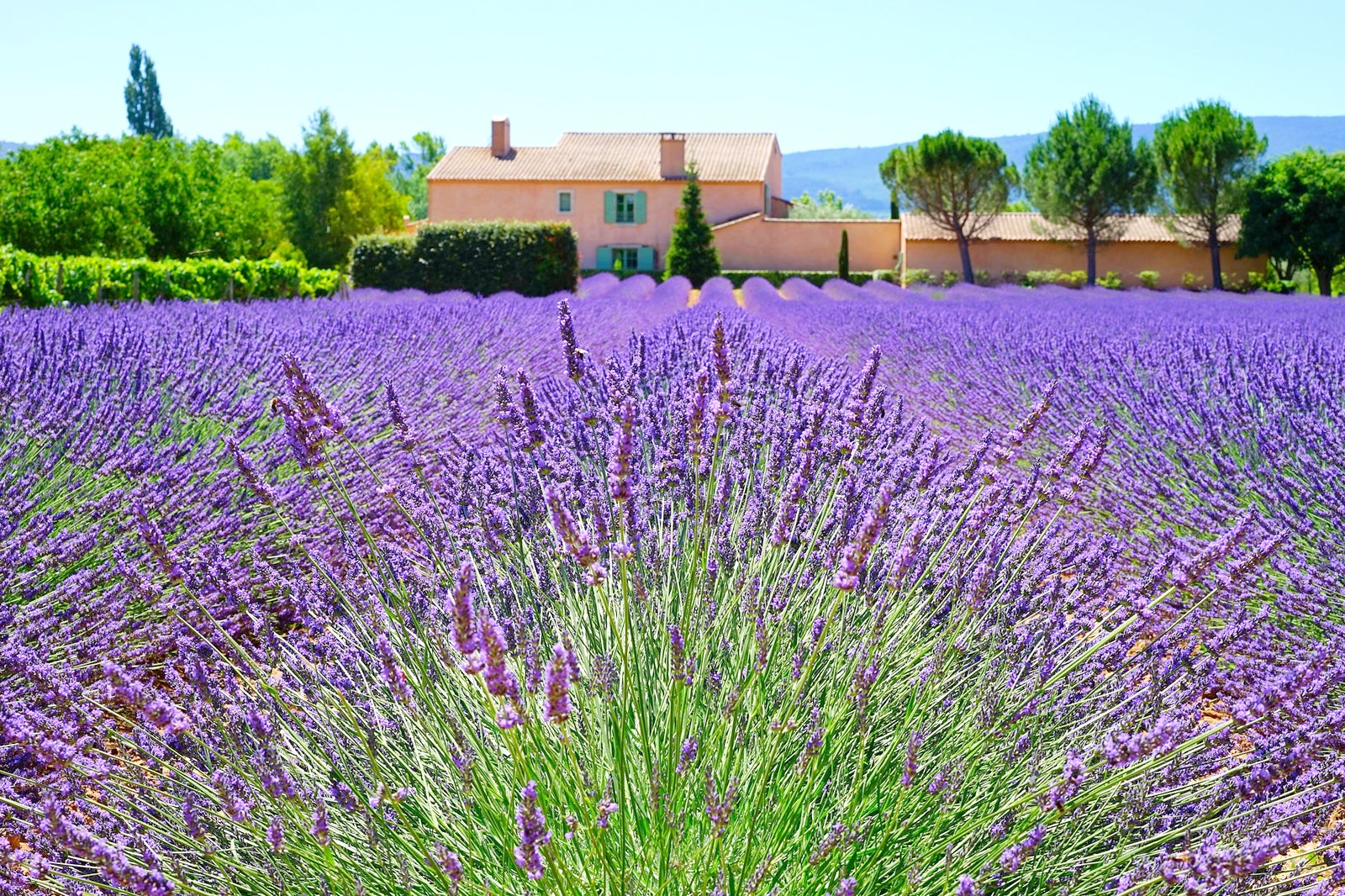 One of the most iconic sights of Provence is its lavender fields. These can be seen in full bloom across the region during the summer months. The best time of year to see lavender in bloom is late June to early July, though it varies somewhat by location and seasonal weather conditions.
You'll find some Instagram-worthy photo opportunities at the fields in front of Senanque Abbey in Luberon Valley near Gordes and on the plateaus of Sault or Valensole. Those interested in learning more about lavender can visit the Lavender Museum in the town of Coustellet or stop by a lavender farm, some of which are open to visitors.
9
Take in the spectacular multimedia art show at Carrières de Lumières
Enjoy magical art shows in an old quarry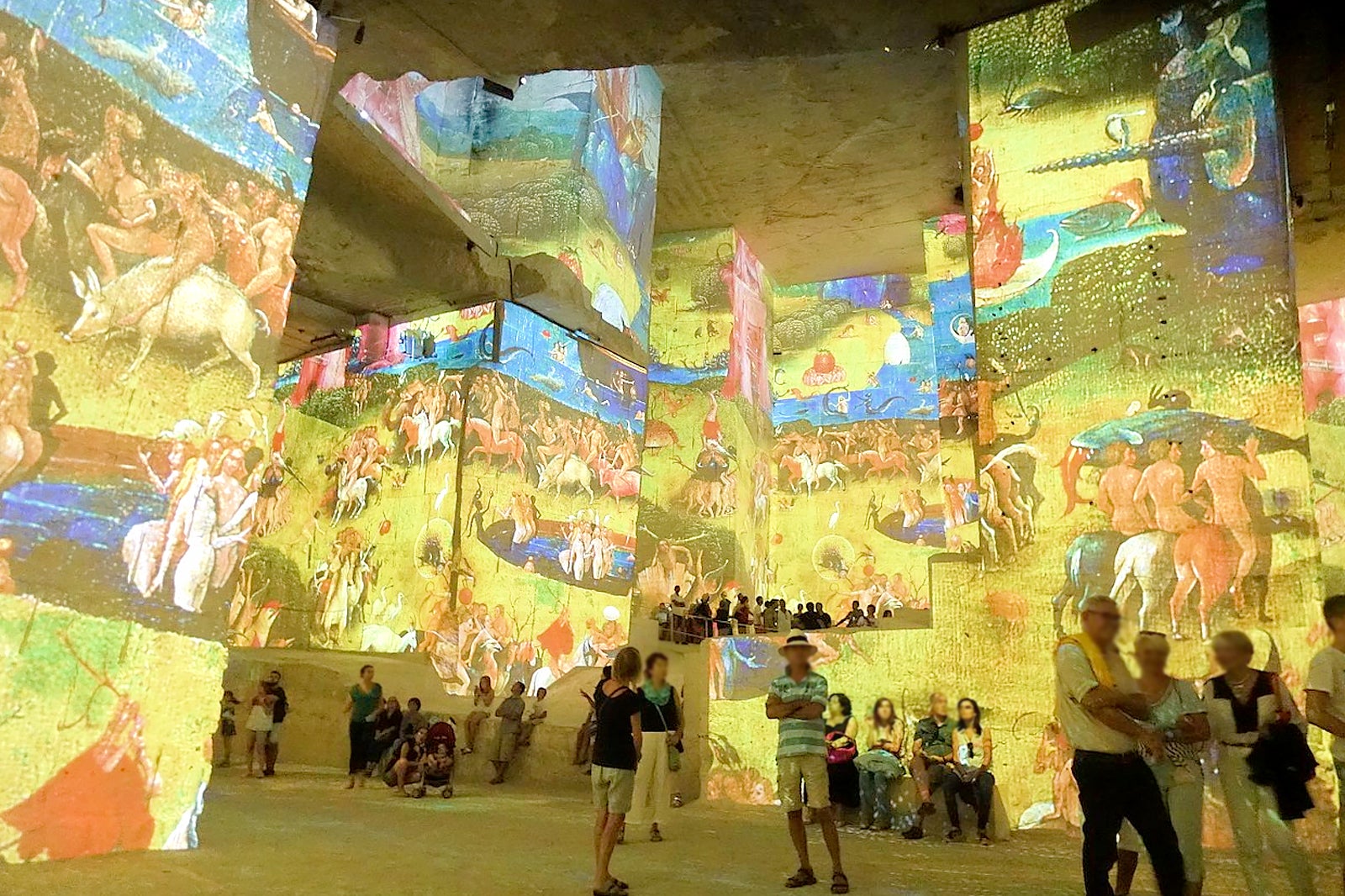 Used as a limestone quarry from the Roman era to the 1930s, the historic site of Les Baux de Provence is now a site for audiovisual shows of bright colours and music. Hidden away in a rocky hillside, the Carrières de Lumières show is an immersive experience where visitors are completely surrounded by images projected onto the huge rock walls.
Exhibitions over the years have featured such artists as Michelangelo, Raphael, Marc Chagall, Picasso, and Vincent van Gogh. During the summer months especially, it's best to book a time slot for your visit online in advance to avoid the queues.
Location: Route de Maillane, 13520 Les Baux-de-Provence, France
Open: January, March, November and December: daily from 10 am to 6 pm. April–June, September and October: daily from 9.30 am to 7 pm. July–August: daily from 9.30 am to 7.30 am
Phone: +33 (0)4 90 49 20 02
photo by Joseolgon (CC BY-SA 4.0) modified
10
Indulge in a rosé wine tasting tour
Rosé was introduced to Provence by Ancient Greeks in 600 BC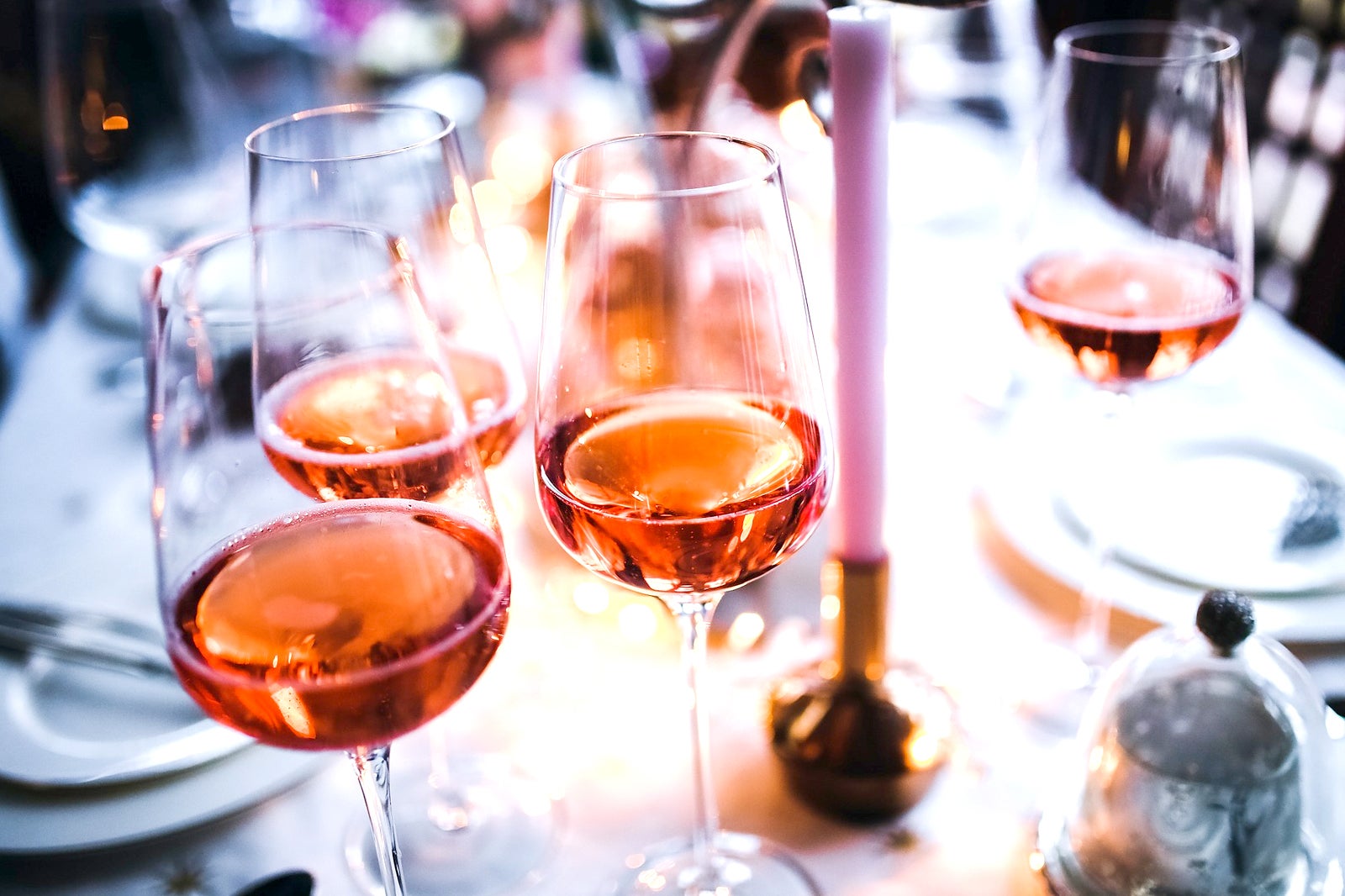 Provence is a producer of many types of wine, but by far the region's most popular is the fresh, fruity, and aromatic rosé wine. It's a quintessential summer tipple, and there can be few better ways to enjoy rosé than by sipping a glass of it on a sun-drenched terrace overlooking the lovely Provençal landscape.
There's no shortage of wineries to see here, with more than 600 sprinkled around Provence. Most of these welcome visitors for tastings and tours. You can join a guided tour, or just explore the area by car and look for the distinctive "routes des vins de provence" signs pointing to the next enticing winery up the road.