10 Best Things to Do in Honfleur
What is Honfleur Most Famous For?
Honfleur's cobbled streets, timbered houses and beautiful harbour all add to the rustic charm of the medieval town. Sitting on the quaint coast of Normandy, Honfleur is among the most picturesque places in France. Its rustic beauty has been immortalised in paintings by famous artists including Claude Monet, Eugene Boudin and Johan Jongkind.
Even today, Honfleur's slate-covered frontages and narrow, cobbled streets seem to jump out of Impressionist paintings. But more than its many Instagram-worthy sites, Honfleur has a plethora of activities to offer for the entire family. Here are the best things to do in Honfleur.
What are the best things to do in Honfleur?
1
Old Harbour of Honfleur
Picture perfect poses along cobblestoned paths of a majestically beautiful harbour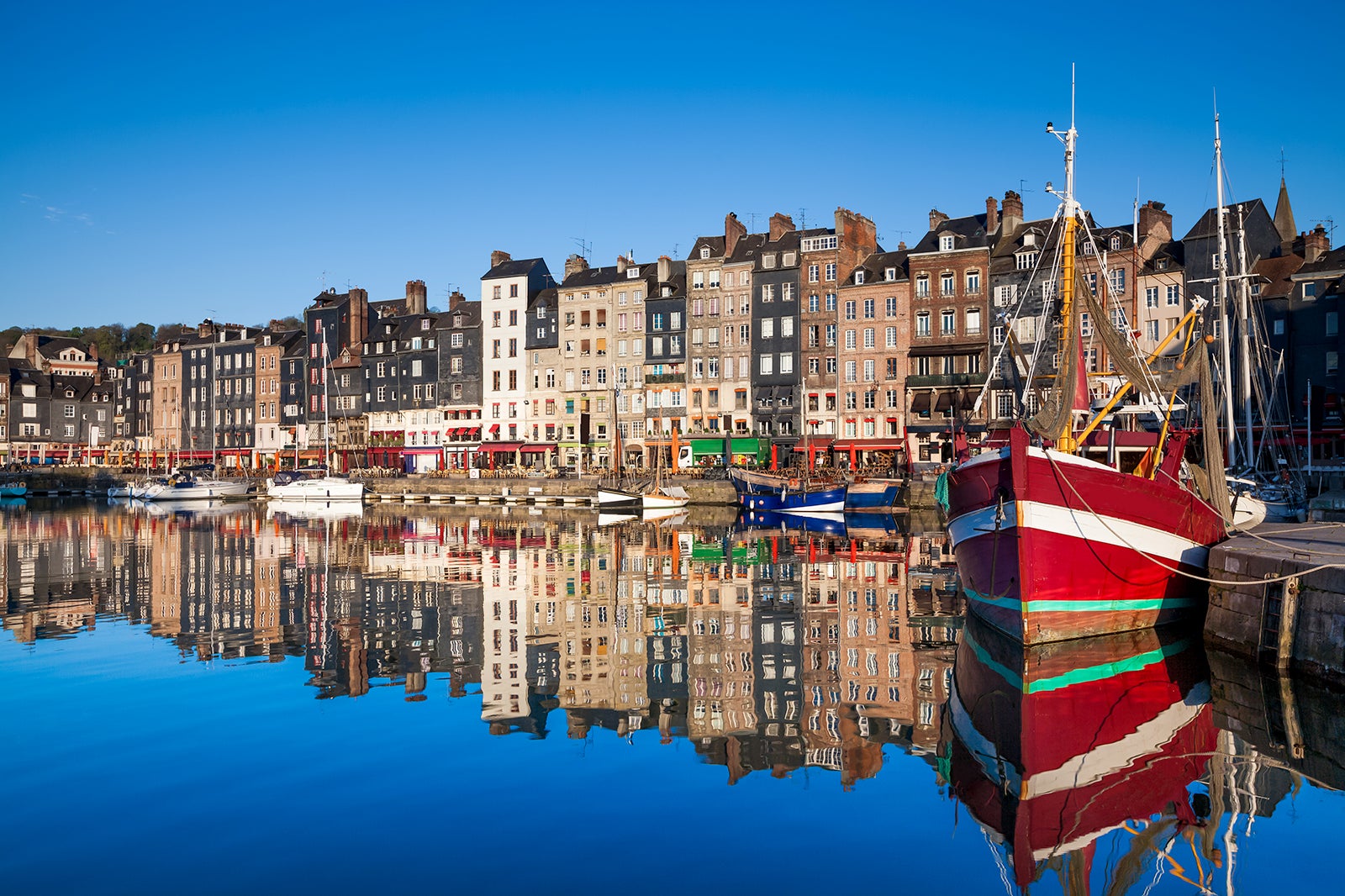 Couples
History
Photo
Budget
The historic dock of Vieux Bassin provides one of the prettiest backdrops for those perfect social media photos. This quaint harbour is located near the Norman Museum of Ethnography and Popular Arts.
The dock is lined with distinctive tall, narrow, timber-framed, and slate-clad townhouses built from the 16th to 18th century. At night, the lights from these houses are reflected in the water, transforming the harbour into a majestic wonderland. During the day, you can enjoy a picnic on the stone steps while watching the hustle and bustle in the harbour.
Location: Quai de la Quarantaine, 14600 Honfleur, France
2
Normandy Bridge
A landmark of Normandy's maritime supremacy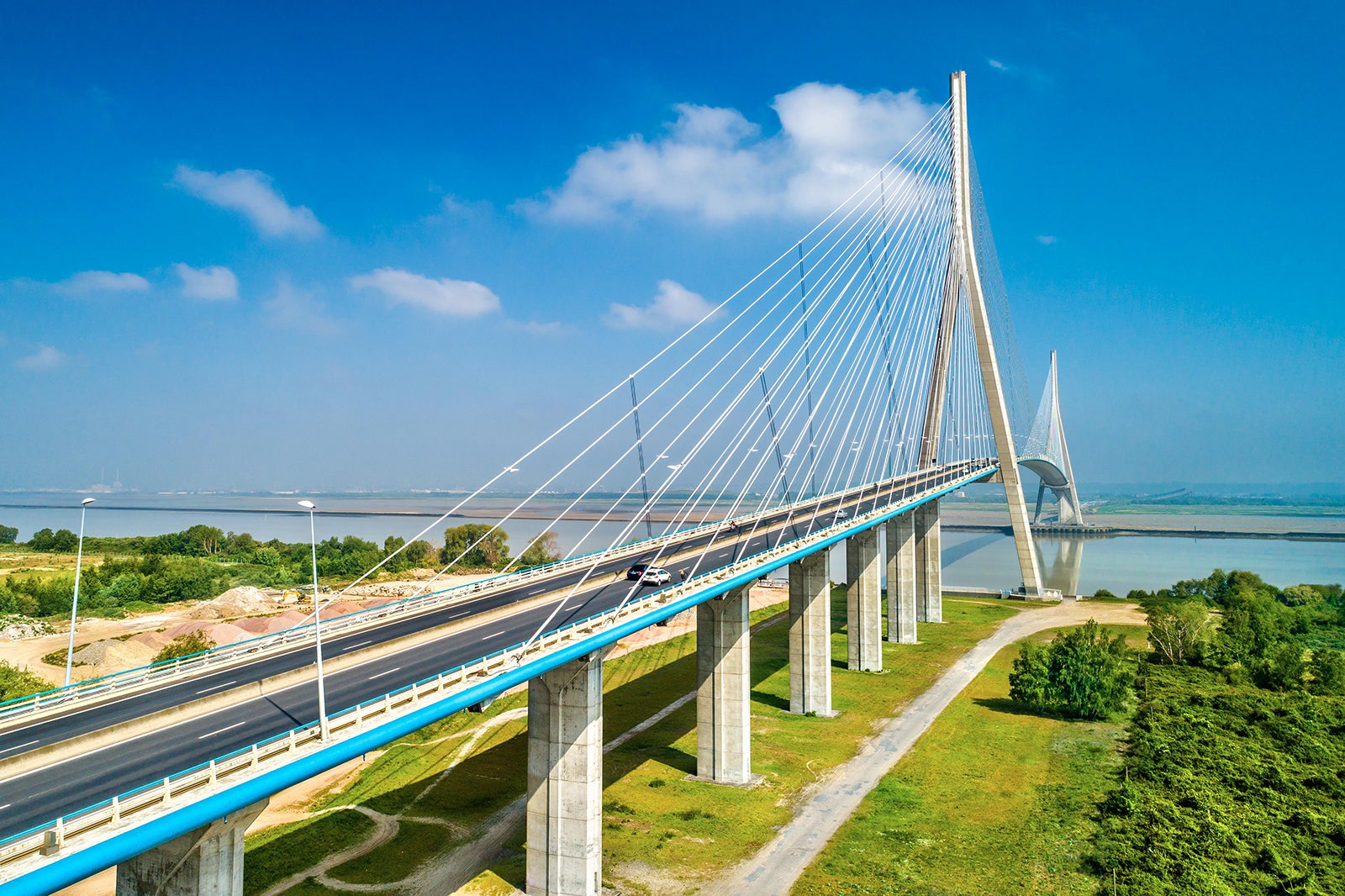 A technological feat completed after over 10 million working hours, the Normandy Bridge is a source of pride for the region. It was hailed as the longest cable-stayed bridge in the world when it opened in 1995. It spans the Seine between Honfleur and Le Havre. It also provides panoramic views along the estuary.
While it was designed to carry a toll road for cars, there are special paths where people can walk or cycle for free. The Normandy Bridge offers impressive architectural views so remember to look up as you cross it.
3
St Catherine's Catholic Church
A historic wooden church showcasing the skills of the shipwrights of Normandy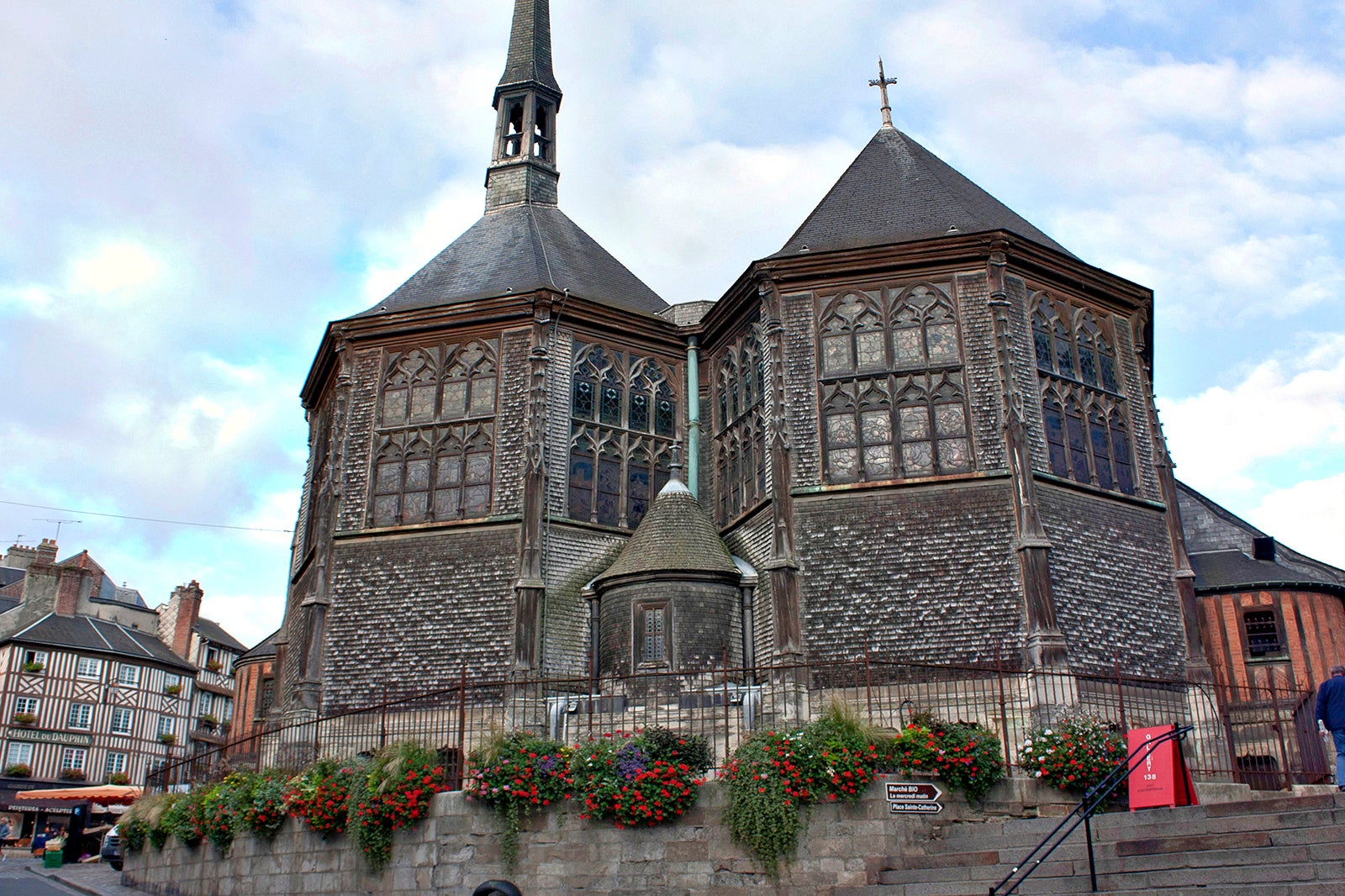 The Church of St. Catherine is the largest wooden church in France. It's believed to have been made by shipwrights to replace a stone church that was destroyed during the Hundred Years' War. This stunning edifice showcases the town's resourcefulness, craftsmanship and creativity.
With wood from the Touques forest as the only available material at that time, the builders used their naval construction skills to make the entire church out of the stuff. Since its creation in the 15th century, the church has become one of the main attractions in Honfleur.
Location: Place Sainte-Catherine, 14600 Honfleur, France
photo by Daniel Villafruela (CC BY 3.0) modified
4
La Lieutenance
The last bastion of medieval Honfleur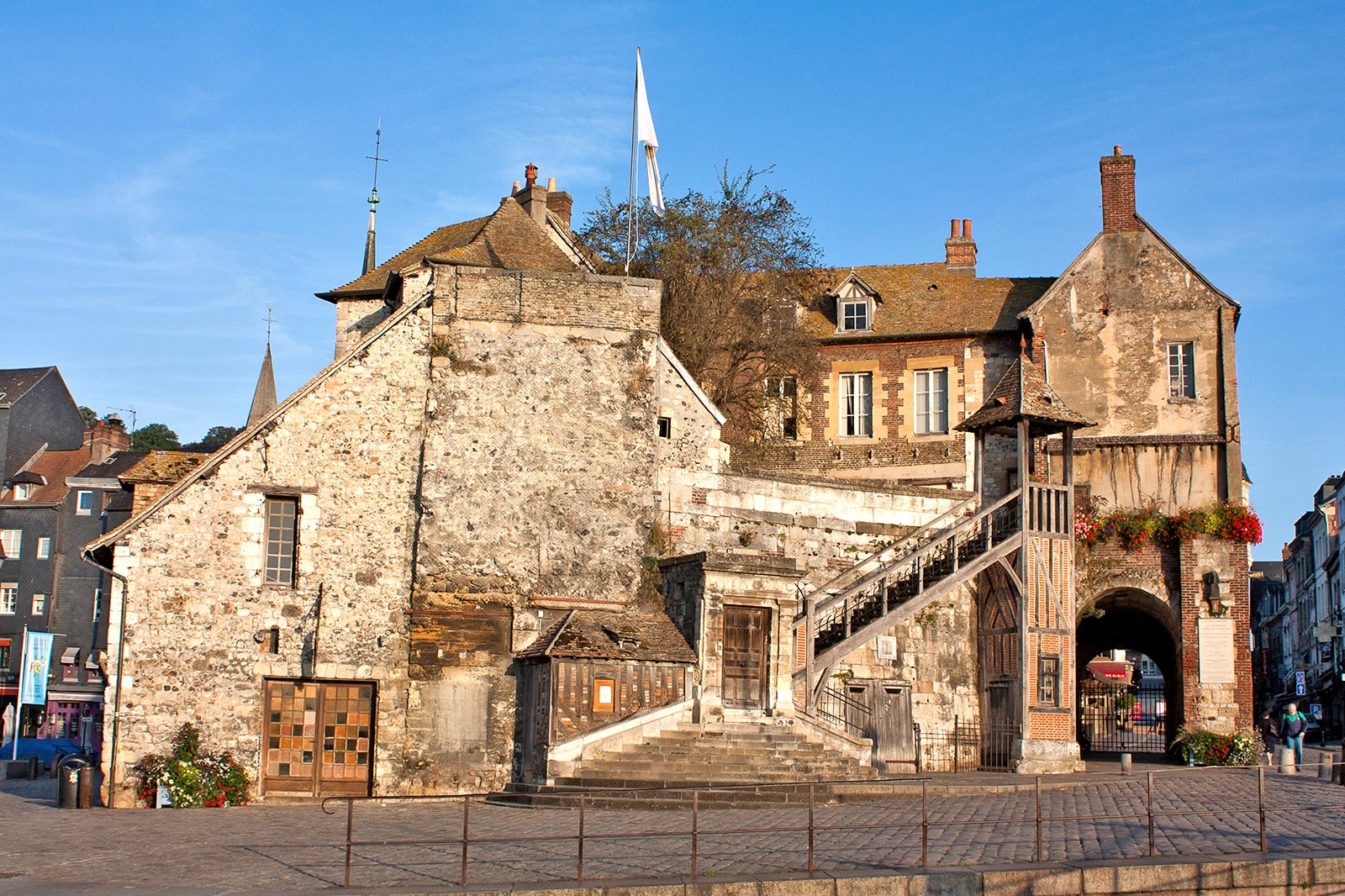 Touted as the Guardian of the Vieux Bassin, the imposing La Lieutenance stands watch over the harbour. As a remnant of a 16th-century castle, La Lieutenance adds to the city's charm. It served as the home of the king's lieutenant and is the last bastion of medieval Honfleur.
While it has undergone several restorations already, La Lieutenance still embodies 16th- to 18th-century architecture. Two distinct buildings form the entire brick-and-stone structure: a stone basement built around a corridor and the apartments of the Lieutenant of the King.
Location: Quai Sainte-Catherine, 14600 Honfleur, France
photo by Daniel Villafruela (CC BY 3.0) modified
5
Chapelle Notre-Dame de Grace
A church with inspiring stories and a majestic view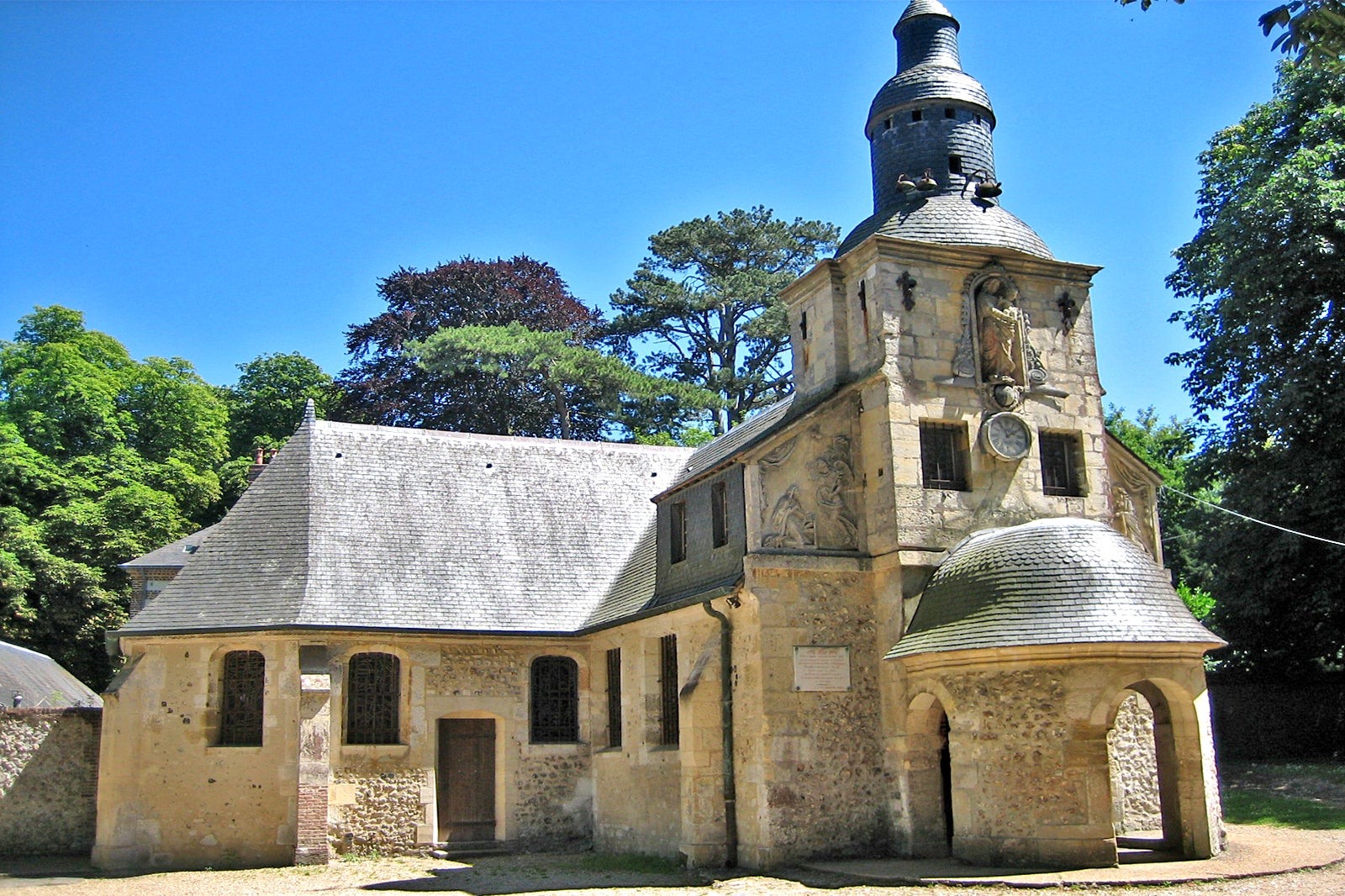 The Chapelle Notre-Dame de Grace sits on a high hill above the city of Honfleur. This 17th-century chapel was built on the spot where pilgrims used to offer gratitude to God for keeping them safe during natural disasters. Even the Duke of Normandy, Richard II, came here to offer thanks when he narrowly escaped a storm in the early 11th century.
Ship models, plaques, and paintings adorn the church and provide a testament of gratitude from visitors. The area surrounding the chapel offers spectacular views over Honfleur, the Seine estuary, Le Havre, and the Pont de Normandie.
Location: rue Charrière de Grâce, 14600 Équemauville, France
Open: Monday–Saturdays from 8.30 am to 5.30 pm, Sundays from 8.30 am to 7 pm
photo by René Dinkel (CC BY-SA 3.0) modified
6
Satie Museum
A whimsically surreal experience with art and music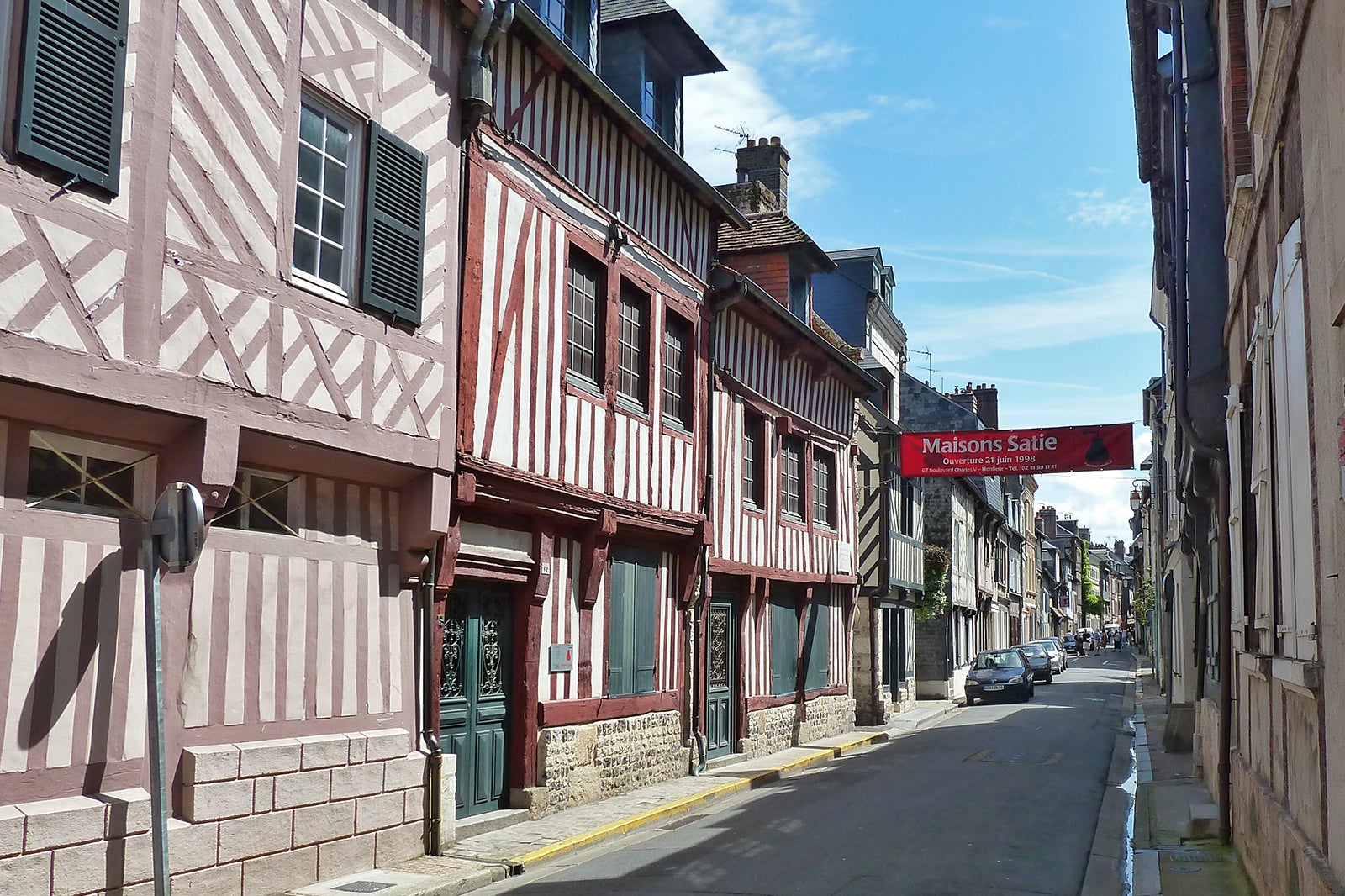 Maisons Satie was the birth home of composer Erik Satie. This red-timbered house-turned-museum is located just a couple of miles northwest of Vieux Bassin. A giant pear with wings greets you and hints at the whimsical experience you're bound to have as you go through the museum.
Satie's work includes collaborations with various artists, like with Surrealists Picasso and Jean Cocteau. You're going to see much of their influences in Maisons Satie. The audio-guided scenographic tour encourages you to do various activities that make you see art and classical music in a whole new light.
Location: 67 Boulevard Charles V, 14600 Honfleur, France
Open: May–September: Sunday–Monday from 10 am to 7 pm. October–April: Sunday–Monday from 11 am to 6 pm (closed on Tuesdays)
Phone: +33 (0)2 31 89 11 11
photo by Lipinski (CC BY-SA 3.0) modified
7
Ride the Carrousel de Honfleur
Relive childhood memories on a traditional carousel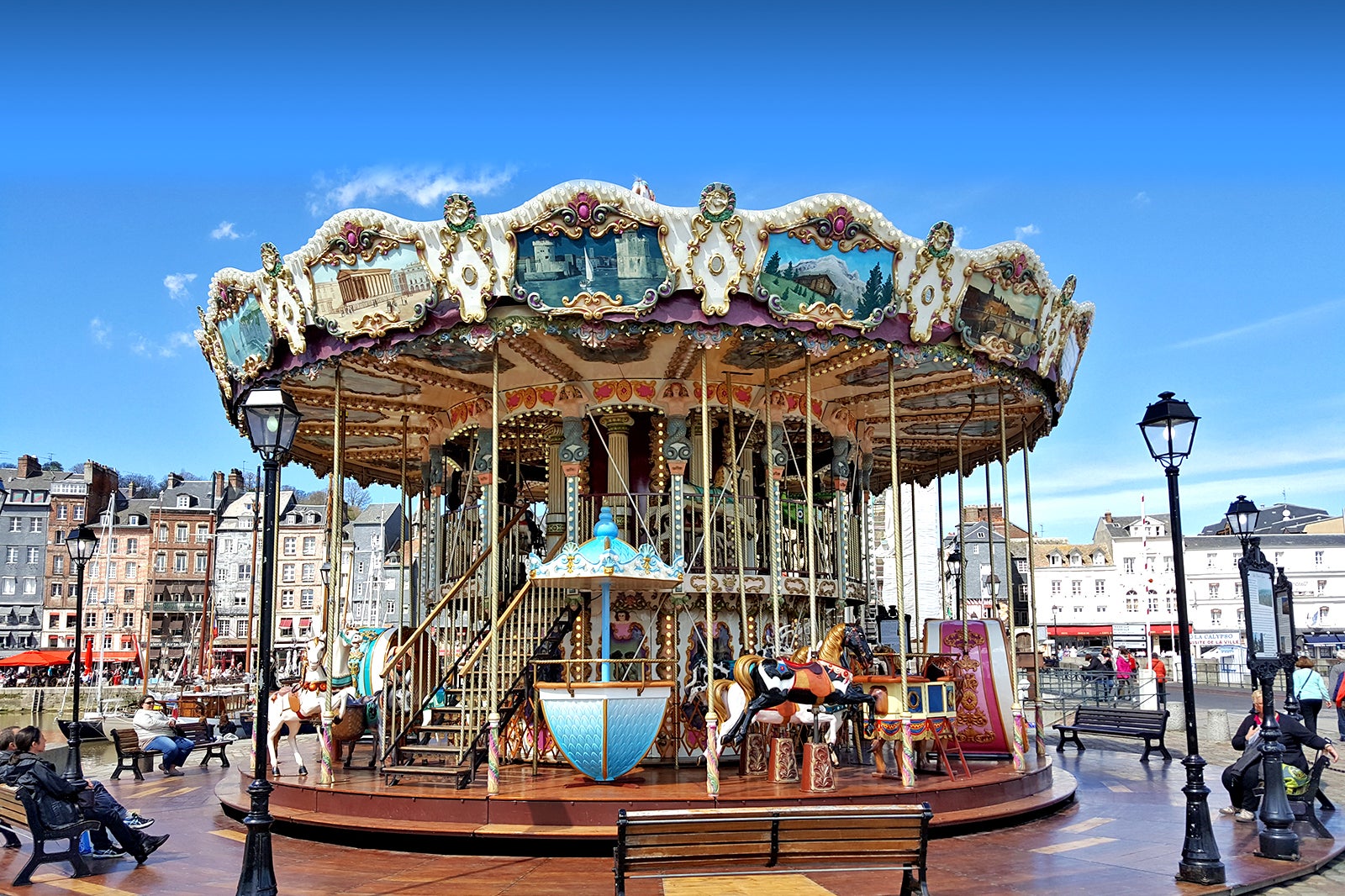 Pretty wooden horses and rustic decorations take you back in time when you go for a ride on this vintage carousel. It's usually set up just within sight of Honfleur's town hall. There are plenty of benches surrounding the area, so you can take a rest and enjoy the sights and sounds that the attraction brings.
Plenty of patrons look forward to its annual setup. Adults and children alike can enjoy this 2-decked carousel in Honfleur from May to October. However, you're bound to miss it during winter as it undergoes its annual maintenance.
Location: 3 Quai Saint-Etienne, 14600 Honfleur, France
8
Eugène Boudin Museum
A taste of the fine arts in Honfleur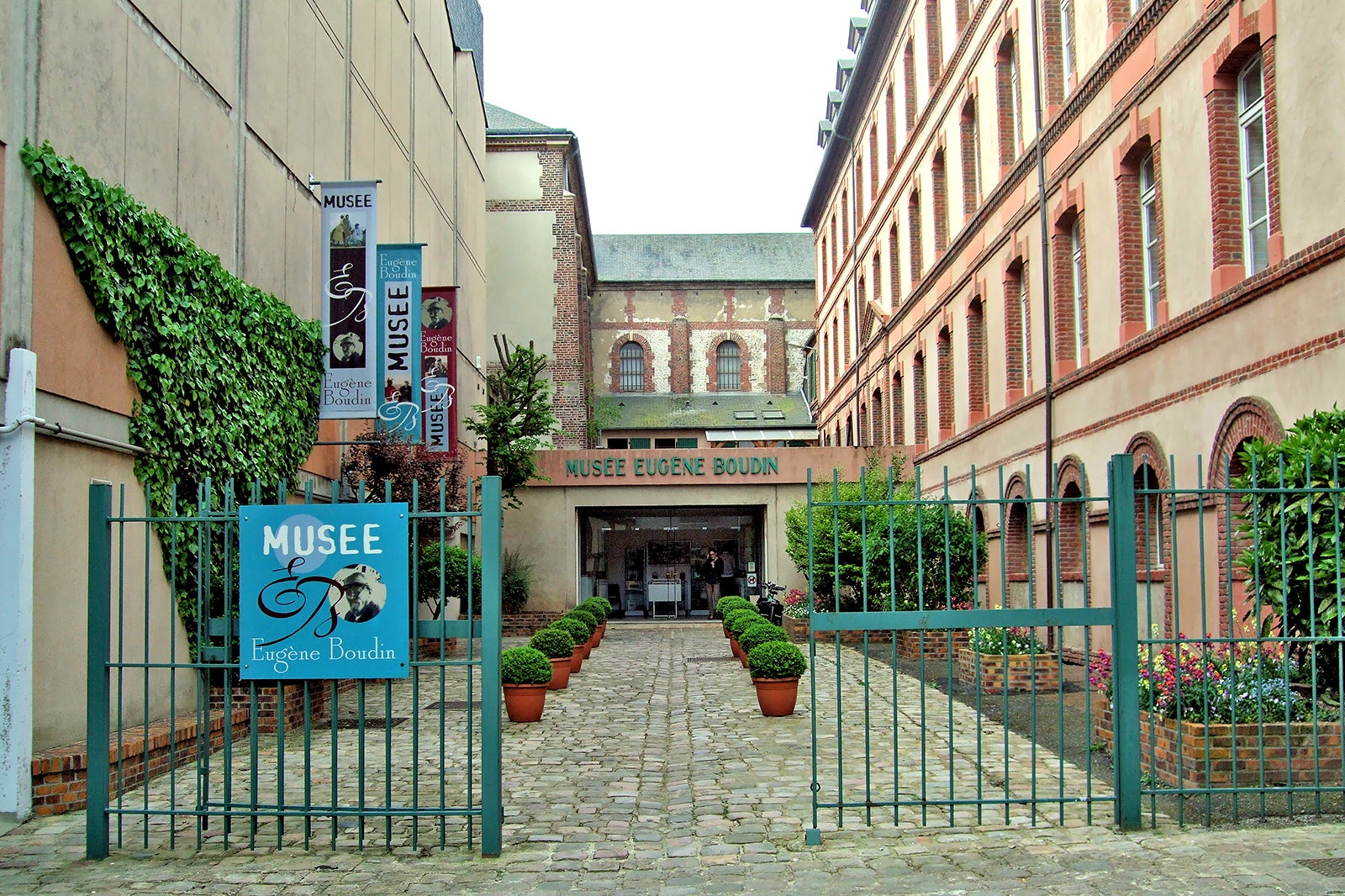 The Musée Eugène Boudin houses paintings of Normandy by celebrated artists such as Claude Monet and Eugène Boudin himself. Boudin is believed to have introduced the young Monet to the beautiful towns and harbours of Normandy.
The museum is also home to drawings, paintings, and fine religious pieces which were bequeathed by Eugène Boudin to Honfleur, the town of his birth. With over 2,500 art pieces from the 19th and 20th century, Musée Eugène Boudin can definitely give you a taste of the fine arts.
Location: Rue de l'Homme de Bois, 14600 Honfleur, France
Open: Wednesday–Monday from 10 am to 12 pm and from 2.30 pm to 5.30 pm (closed on Tuesdays)
Phone: +33 (0)2 31 89 54 00
photo by Jim Linwood (CC BY 2.0) modified
9
Enjoy a first-class meal
A culinary experience with Honfleur fine dining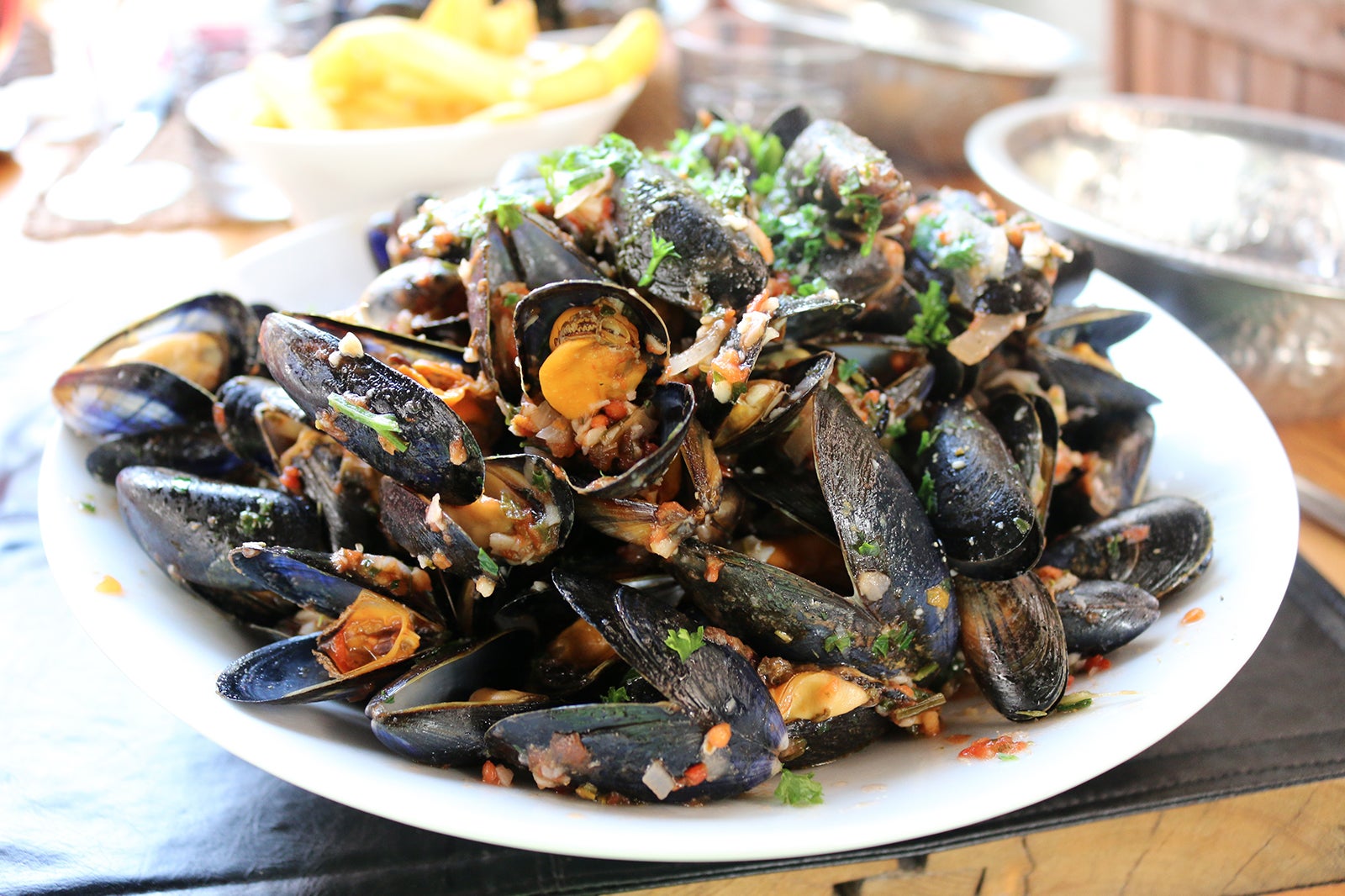 Have a taste of Honfleur's gastronomic delights, including the freshest seafood, artisanal cold cuts, and excellent cheeses made from the milk of Normandy cows. For those looking for refined gourmet food, reserve a table in one of the superb fine-dining restaurants in the city.
Splurge on SaQuaNa's gastronomic fusion of traditional cuisine and modern cooking techniques. This 2-star Michelin restaurant is known for its excellent cuisine and impeccable service. For freshly caught and exquisitely prepared fish, book a table at the Michelin-rated Au P'tit Mareyeur. For traditional bouillabaisse, delectable gazpacho soup, and the freshest seafood, reserve a table at La Lieutenance.
10
Butin Beach
An unpretentious spot for some fun with sand and sea
Families
Photo
Budget
Adventure
The Plage du Butin is an estuary beach that provides a nice respite from busy city life. It's equipped with showers, cabins, and other equipment that makes for a comfortable vacation. There's also a playground for young kids to play in as they take a break from the salty waters.
You can enjoy Butin Beach most from April to October when inflatable playgrounds are set up and straw huts line the beach. If you're dropping by from July to August, register for the annual sandcastle competition. All you need is a bucket and a whole lot of creativity.
Location: Phare du Butin, Boulevard Charles V, 14600 Honfleur, France
Back to top