13 Best Christmas Markets in Europe
Another Reason for a Winter Holiday
In Europe, Christmas markets bring everything we love about the season into one place: carol singing, the aroma of mulled wine and plenty of festive spirit. With the weather turning to anything from a downpouring of rain, strong winds, flurries of snow or the occasional unwelcomed hailstorm, Christmas and the warm environment of one of the season's wonderful markets can be a hot water bottle for the soul.
From the little country towns to the grand, sweeping plazas of the big cities, Europe offers a huge range of options for a quick Christmas holiday as the year's end approaches. Below is a list of some of the best and most beautiful Christmas markets throughout the continent.
1
Viennese Christmas World, Rathausplatz
Vienna, Austria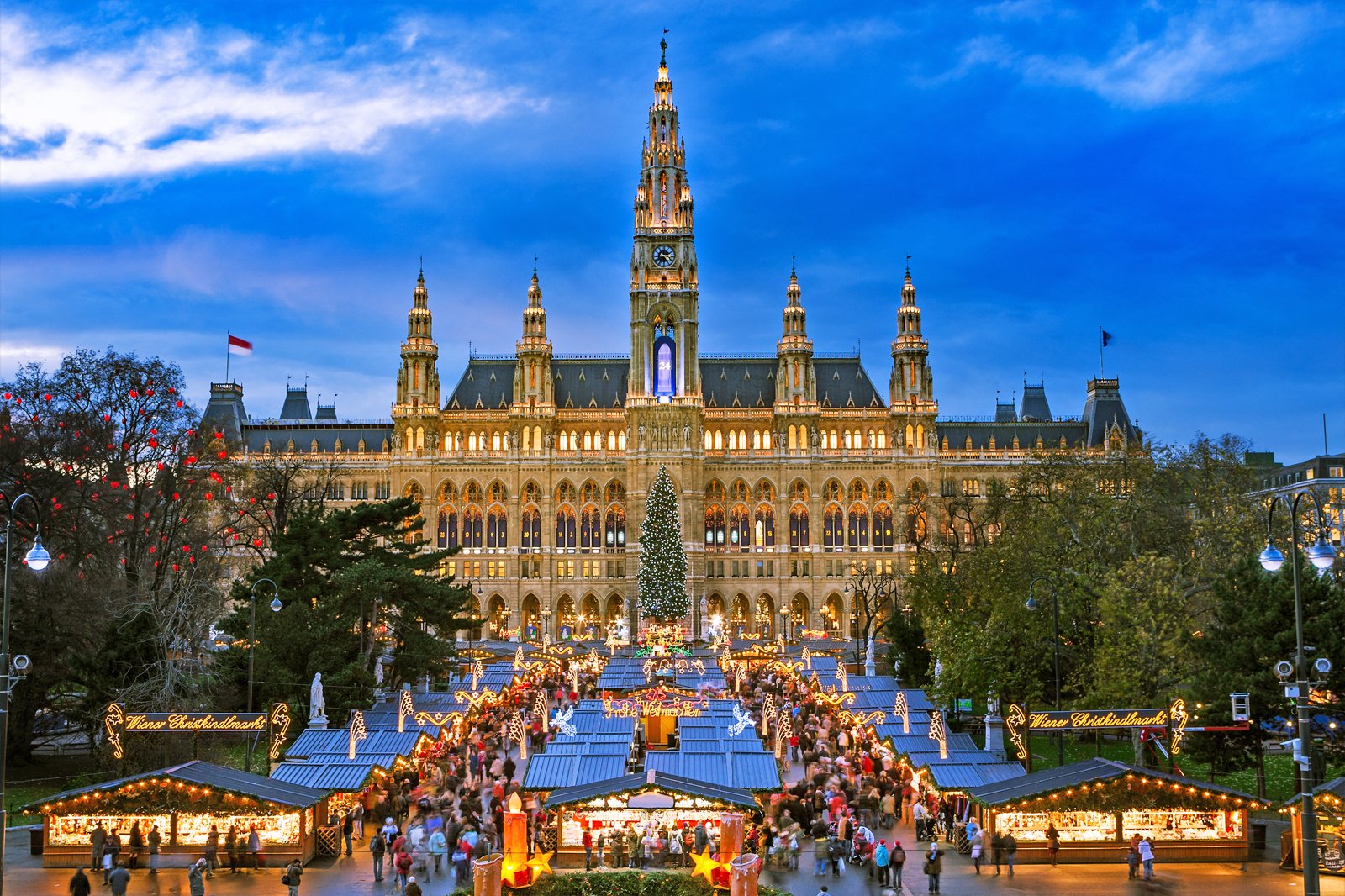 There are plenty of Christmas markets in Vienna, but Rathausplatz hosts the biggest one in the city. Set between the stunning town hall and the Burgtheater, the market puts you in a picturesque setting of twinkling lights and grand architecture. It has everything from reindeer rides to an impressive ice rink, which winds through the trees in the square. For some light shopping, wander through the 150 booths, which sell little gifts, trinkets and food. The market can get crowded, but it's all part of the Christmas fun.
Location: Rathausplatz, 1010 Vienna, Austria
Open: Mid-November-Christmas
2
Old Town and Wenceslas Square markets
Prague, Czech Republic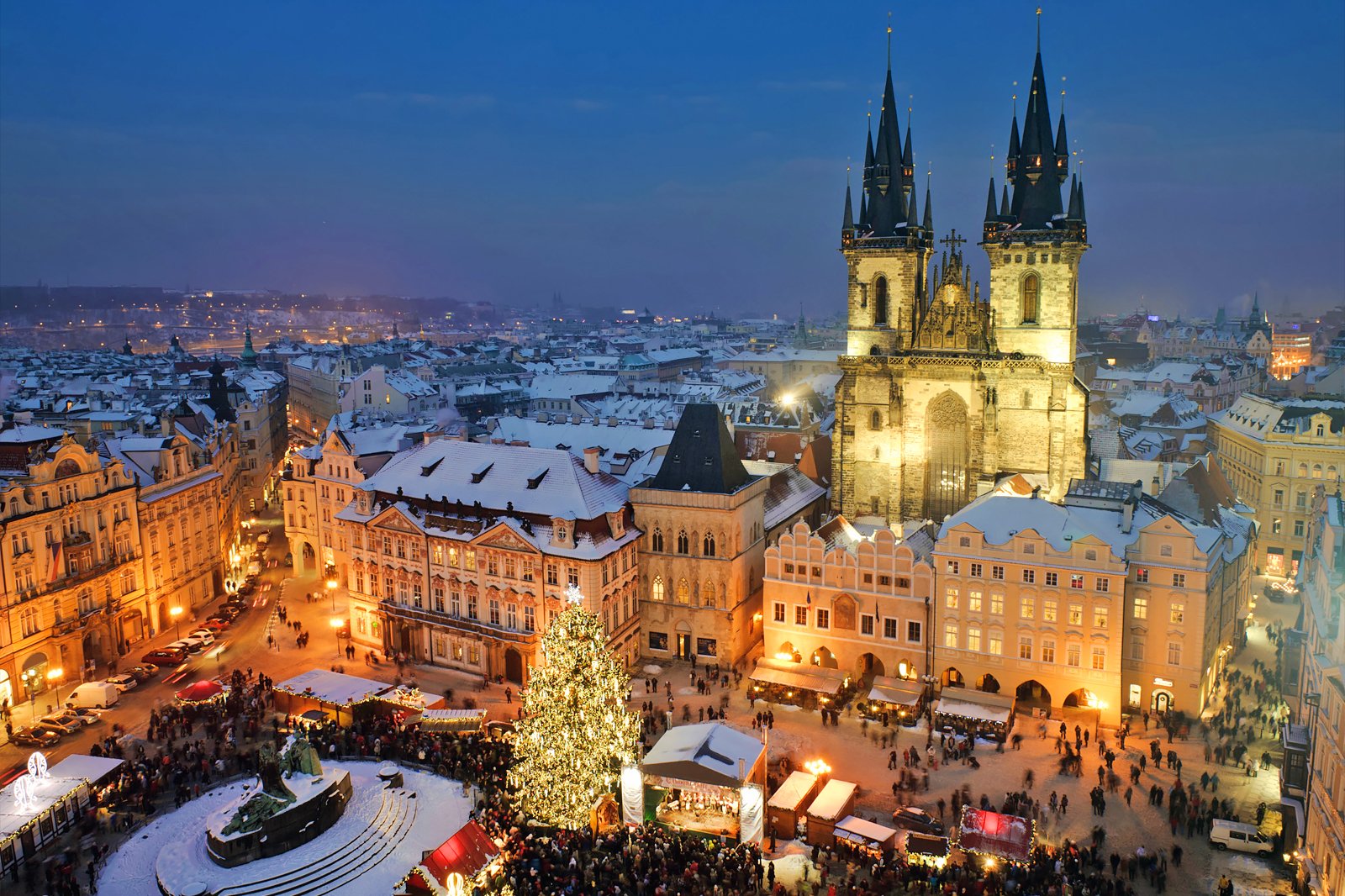 Couples
Families
Shoppers
Photo
As the hometown of Good King Wenceslas, these 2 markets in the Old Town and Wenceslas Square couldn't get more festive if they tried. The city is littered with beautiful medieval church domes and even has a spectacular 9th-century castle, making it an idyllic place to visit in Christmas. Prague hosts many markets, but the Old Town Square Market is the biggest and most popular of them all. Come here to see a massive golden glowing Christmas tree, stalls with traditional Czech crafts and a daily carol concert. At Wenceslas Square, you'll find cute stalls selling specially-made handicrafts and yummy Czech treats, such as trdelník – a grilled spit cake topped with walnuts and sugar.
Open: Early December-early January
3
Rathaus Christmas Market
Hamburg, Germany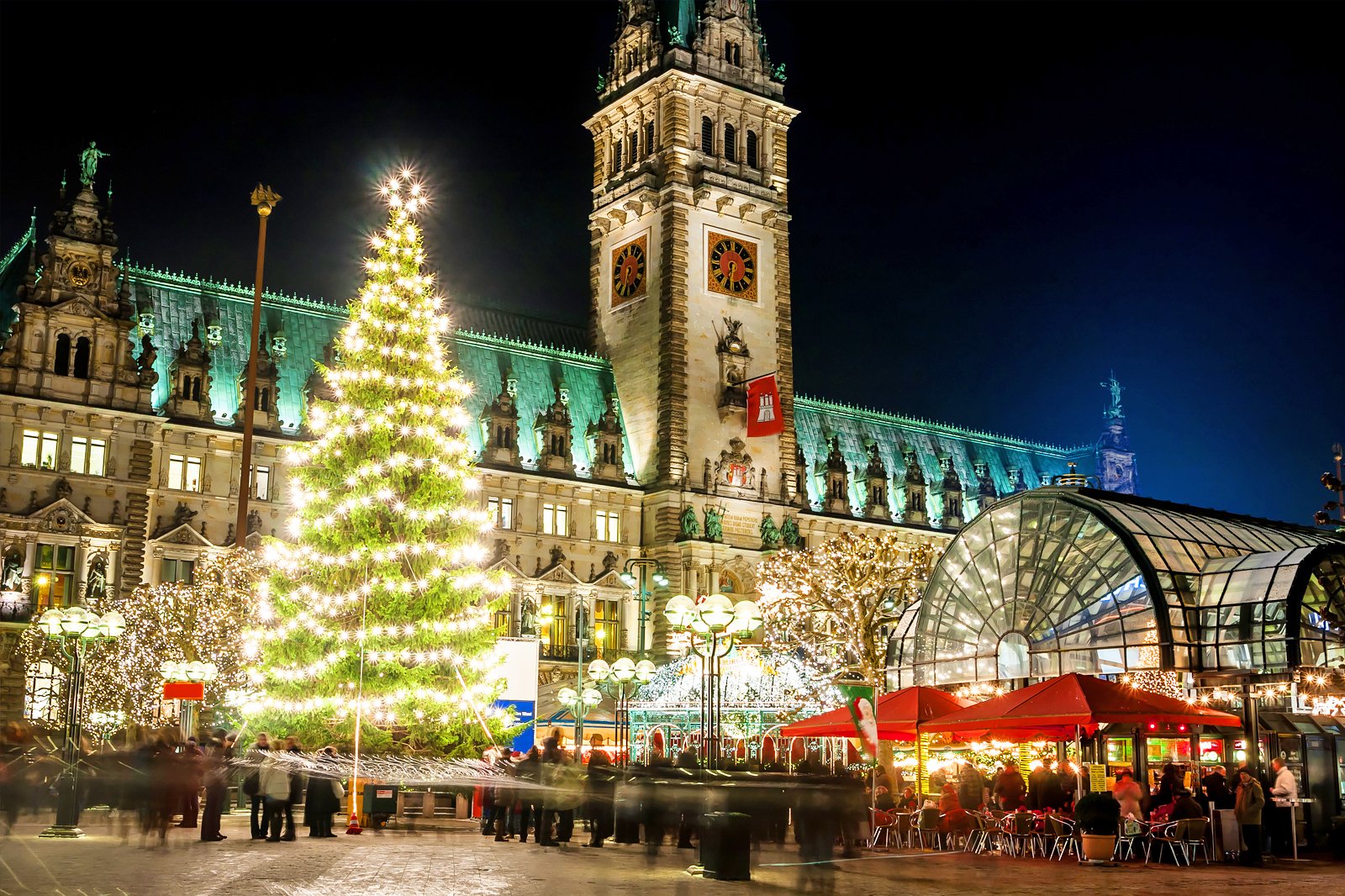 Couples
Families
Shoppers
Photo
In Hamburg, the market on Rathausmarkt lights up with thousands of fairy lights every winter and visitors come to revel in the festive atmosphere. This market is a real treat for the little ones, as it features its very own Spielzeuggasse – a toy street filled with stalls by merchants from across the globe. Visitors can even see Father Christmas on his sleigh, hovering above the grandiose town hall. The other rows of stalls come in themes, ranging from sweet treats like chocolates, cakes and candy canes to crafts like local leather, tree ornaments and more.
Location: Town Hall, Rathausmarkt 1, 20095 Hamburg, Germany
Open: Late November-just before Christmas
4
Gendarmenmarkt
Berlin, Germany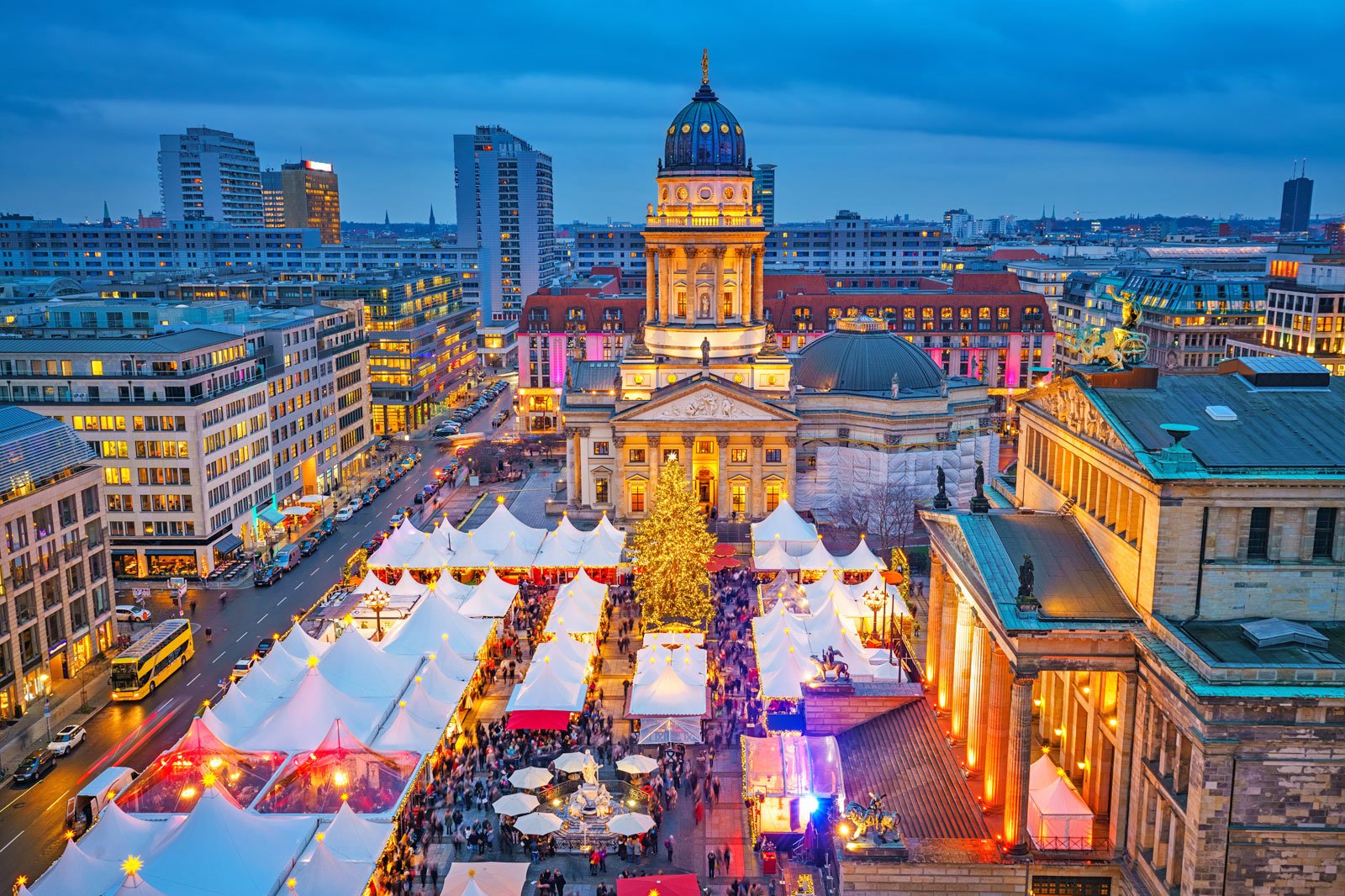 Gendarmenmarkt in Berlin is centrally located in one of the most beautiful squares in the city. Walk among the star-topped tents, which host stalls selling Christmas treats, such as tree ornaments and traditional glühwein ­– mulled wine. Although it's one of the few European markets that charges for admission, it's only €1 per person. The market has a large crafts tent where you can watch wood carvers, dressmakers and other artisans working their magic. Make sure you catch a performance by one of the many entertainers including jugglers, fire-eaters, choirs and classical, jazz or gospel ensembles.
The market comes to life at the end of November to the end of December. Visit the website for exact dates and opening hours.
Location: Gendarmenmarkt, 10117 Berlin, Germany
Open: End of November-end of December
5
Tivoli Gardens Market
Copenhagen, Denmark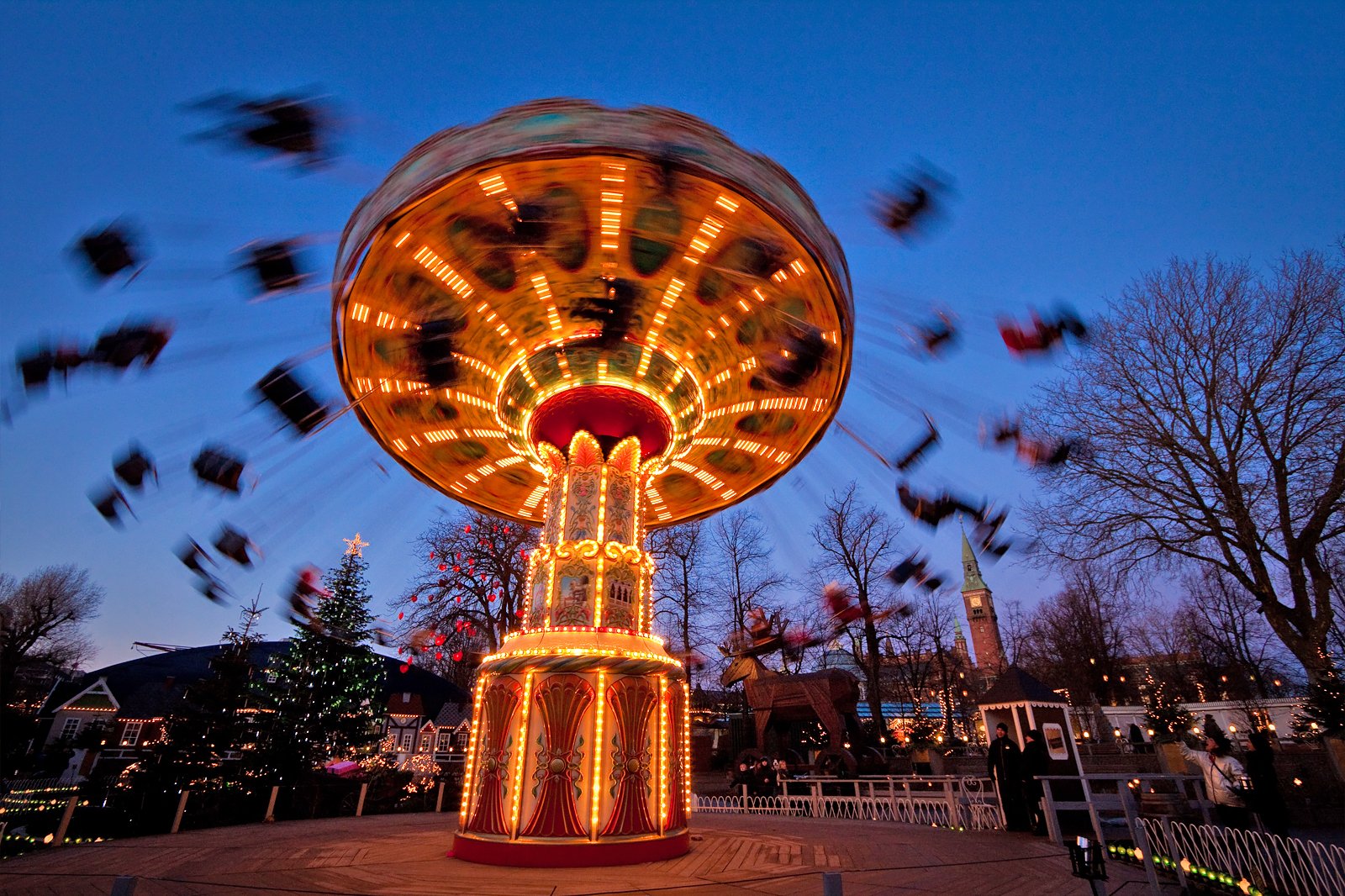 Copenhagen is home to the magical Tivoli Gardens, and the theme park fills with even more wonder every winter. As an important tradition for Copenhageners, the market retains its authentic charm and remains Danish to its core. From mid-November and throughout December, the garden transforms into a typical Nordic Christmas scene. Trees are strung with glittering lights, quaint wooden houses are adorned with pine cones and branches and, if you're lucky, snow covers the pathways and trees. Hit up one of the 60 stalls selling Christmas food, drinks and gifts or head over to go on one of the 27 amusement rides. For adults, admission is between 110 kr and 120 kr. Kids between 3 to 7 years old enter for 50 kr.
Location: Vesterbrogade 3, 1630 København V, Denmark
Open: Mid-November-late December
Phone: +45 33 15 10 01
photo by Stig Nygaard (CC BY 2.0) modified
6
Tallinn Christmas Market
Tallinn, Estonia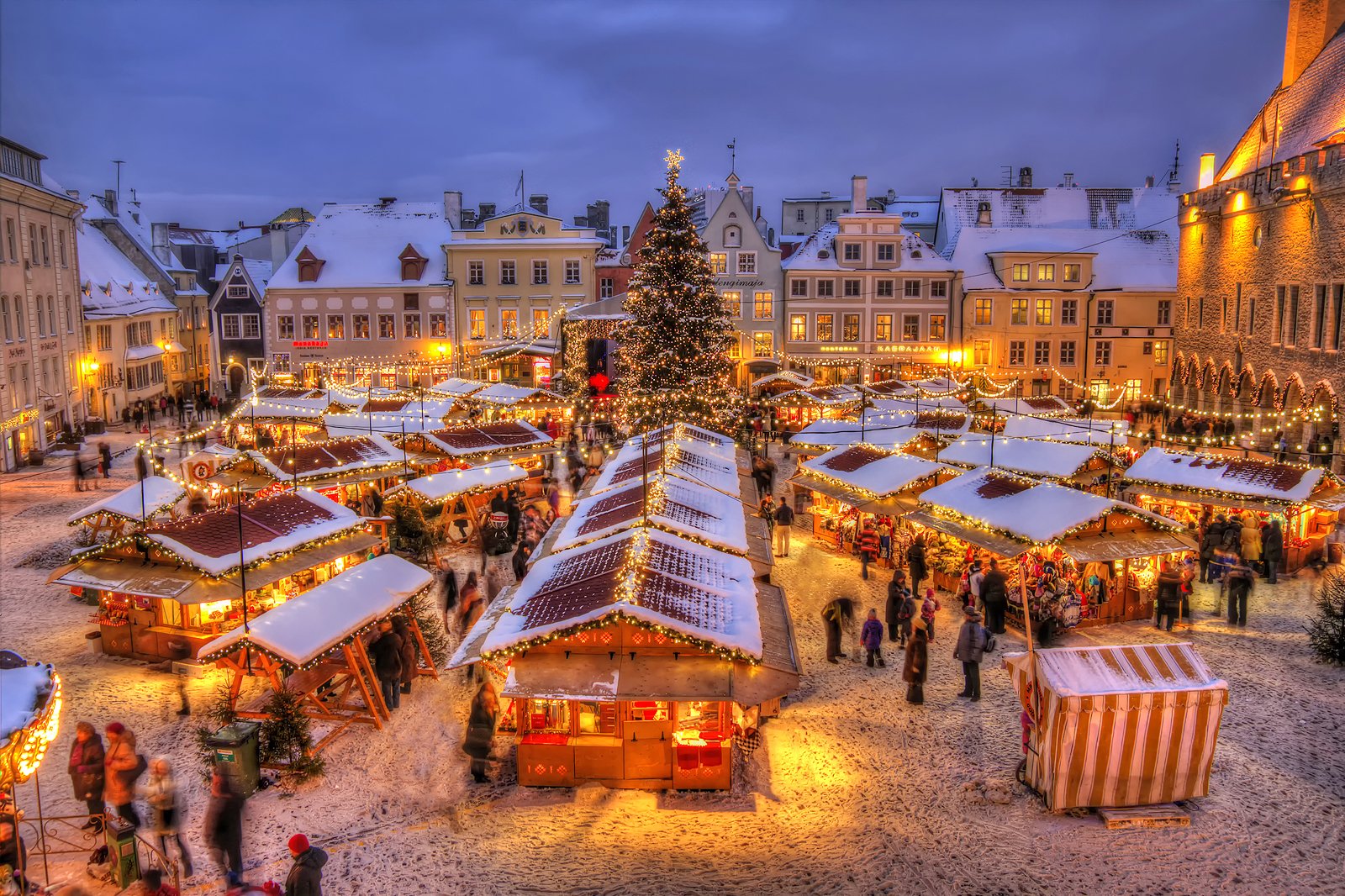 Couples
Families
Shoppers
Photo
The Tallinn Christmas Market lasts a bit longer than your typical market, continuing into the new year. This is because the Russian Orthodox Church counts 7th January as Christmas Day. For those who are in denial after 25th December, head to Tallinn to experience a snowy Christmas. Visit the city's much-loved Christmas tree, which has been set up since 1441, making it the first Christmas tree to be displayed in Europe. Enjoy traditional Estonian Christmas cuisine, which includes sour cabbage, black pudding and classic gingerbread goodies.
Location: Raekoja Plats 8-9, 10123 Tallinn, Estonia
Open: End of November-early January
Phone: +372 508 9771
7
Rynek Główny Christmas Market
Krakow, Poland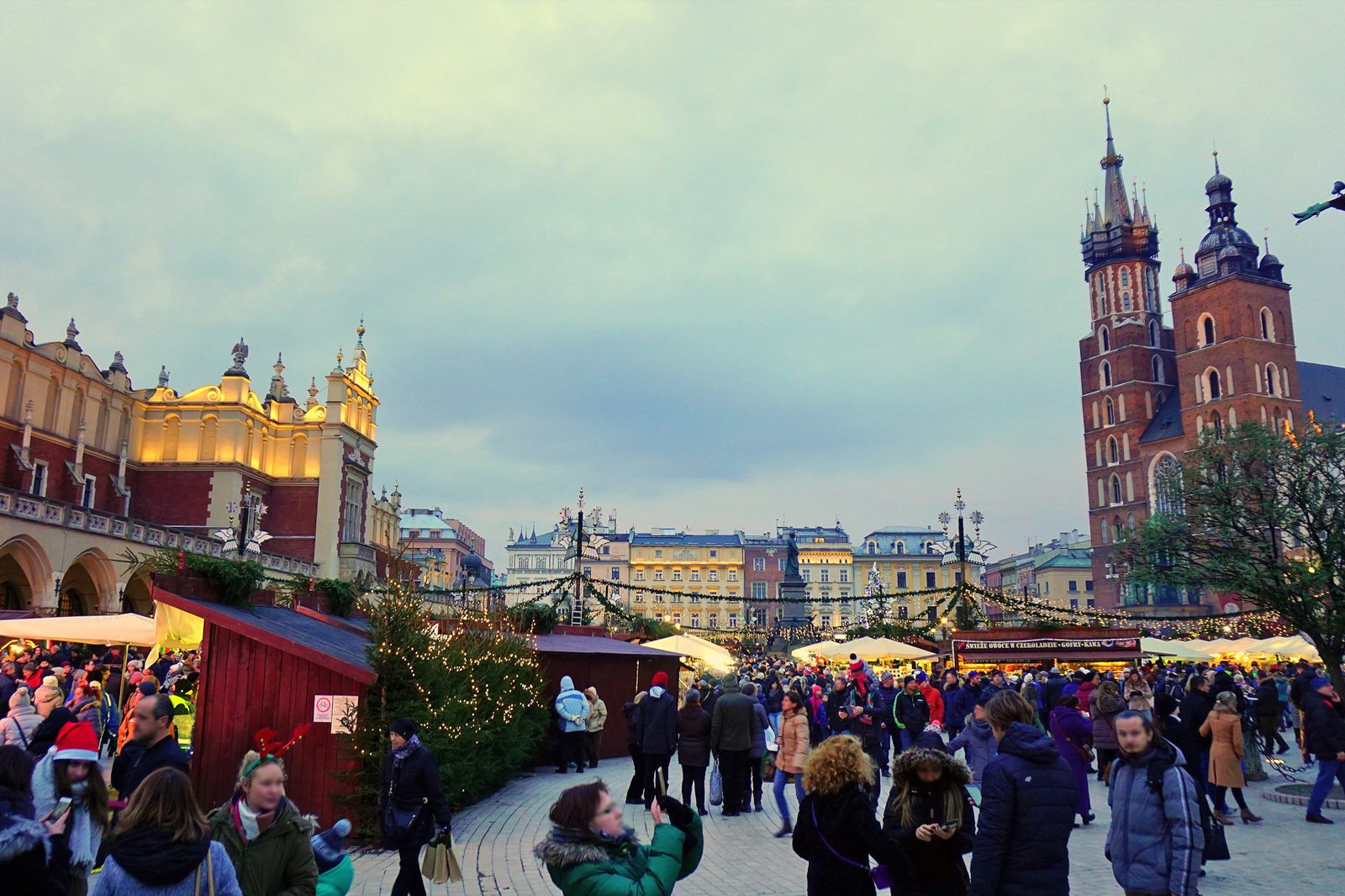 Couples
Families
Shoppers
Photo
As winter rolls in, Krakow gets wrapped in layers of sugar-white snow, and historic houses and streets glow with warm light. The Christmas market, found in the centre of the Old Town, explodes with life as crowds of eager visitors meander in and around the regal Renaissance Cloth Hall and the soaring St. Mary's Basilica. The market is a traditional affair and fits in perfectly with the old charm of the area. Watch a performance by one of the local school's choir and munch on one of the many Polish delicacies on offer.
Location: Rynek Główny, 30-062 Kraków, Poland
Open: End of November-end of December
photo by Rachel Titiriga (CC BY 2.0) modified
8
Budapest Christmas Fair
Budapest, Hungary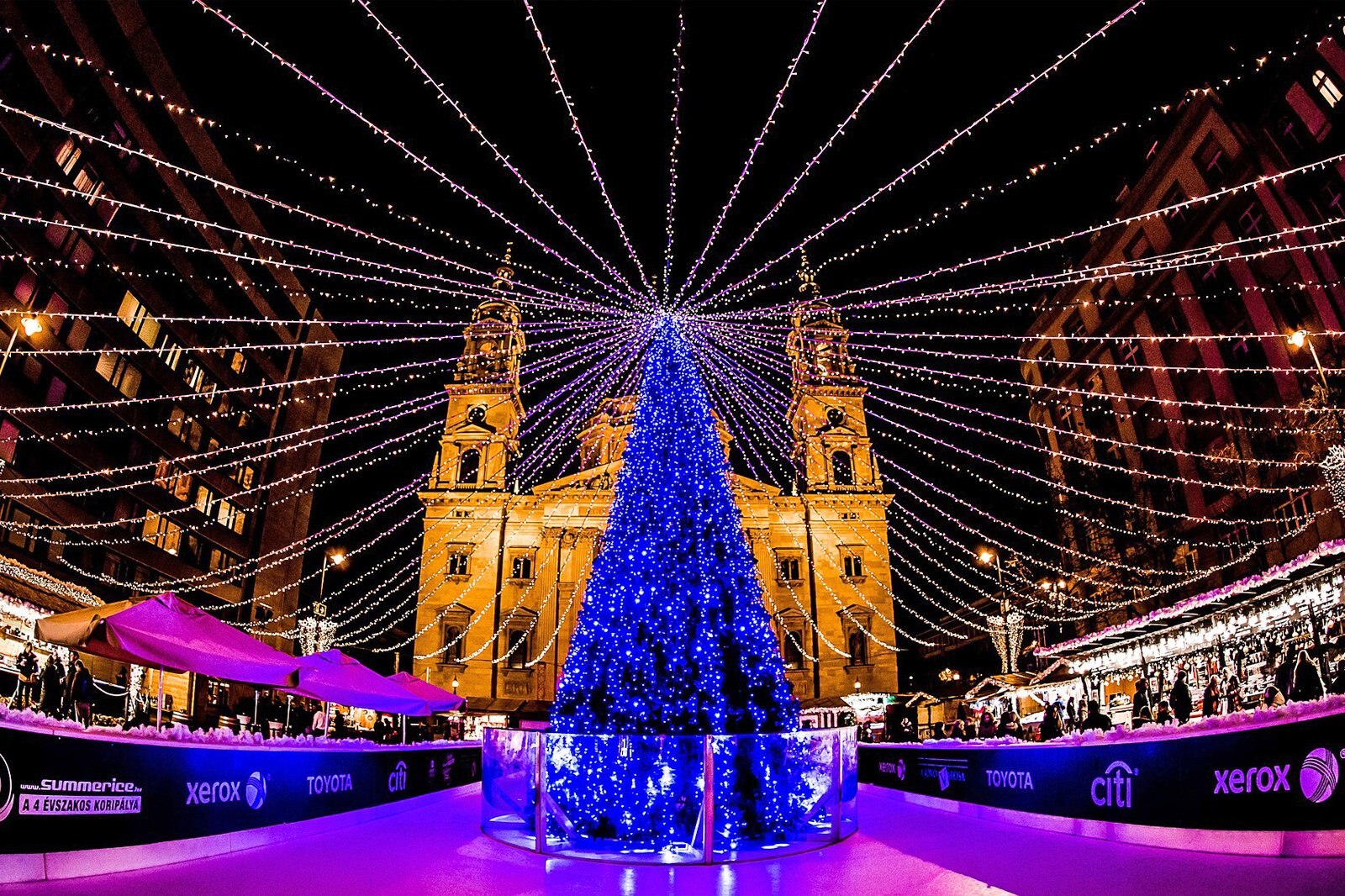 Couples
Families
Shoppers
Food
Found on Vörösmarty Square, the Budapest Christmas Fair draws in thousands of visitors each year with its endless rows of gift and food stalls, which release aromas of sweet-smelling pastries and spiced wine. Hungry travellers will be spoilt for choice, but a must-try is the Hungarian favourite, kürtőskalács – a delicious chimney cake, made by wrapping dough around a pole, baking it then coating it in sugar, cinnamon and nuts. If you prefer something savoury, warm up with goulash soup in a bread bowl (gulyásleves) or maybe even some kakastöke pörkölt (rooster testicle stew!).
Location: Budapest, Vörösmarty Tér, 1051 Hungary
Open: Early November-early January
Phone: +36 1 438 8080
9
Zagreb Christmas Market
Zagreb, Croatia
You may be slightly surprised to find that Zagreb's Christmas Market has been named the best in Europe more than once. The Croatian capital nabbed these titles through the sheer spectacle of its market, which spreads throughout the city. The decorations and lights are particularly elaborate, but the Ice Park is the shining feature of the market (quite literally) and is fun for all ages. One side of the square is set up as a small, snowy village, transporting you to the middle of Lapland.
The market is typically held from early December to early January. Check online for exact opening hours.
Location: Ban Josip Jelačić Square, 10000, Zagreb, Croatia
Open: Early December-early January
photo by Miroslav Vajdic (CC BY-SA 2.0) modified
10
Colmar Christmas Market
Colmar, France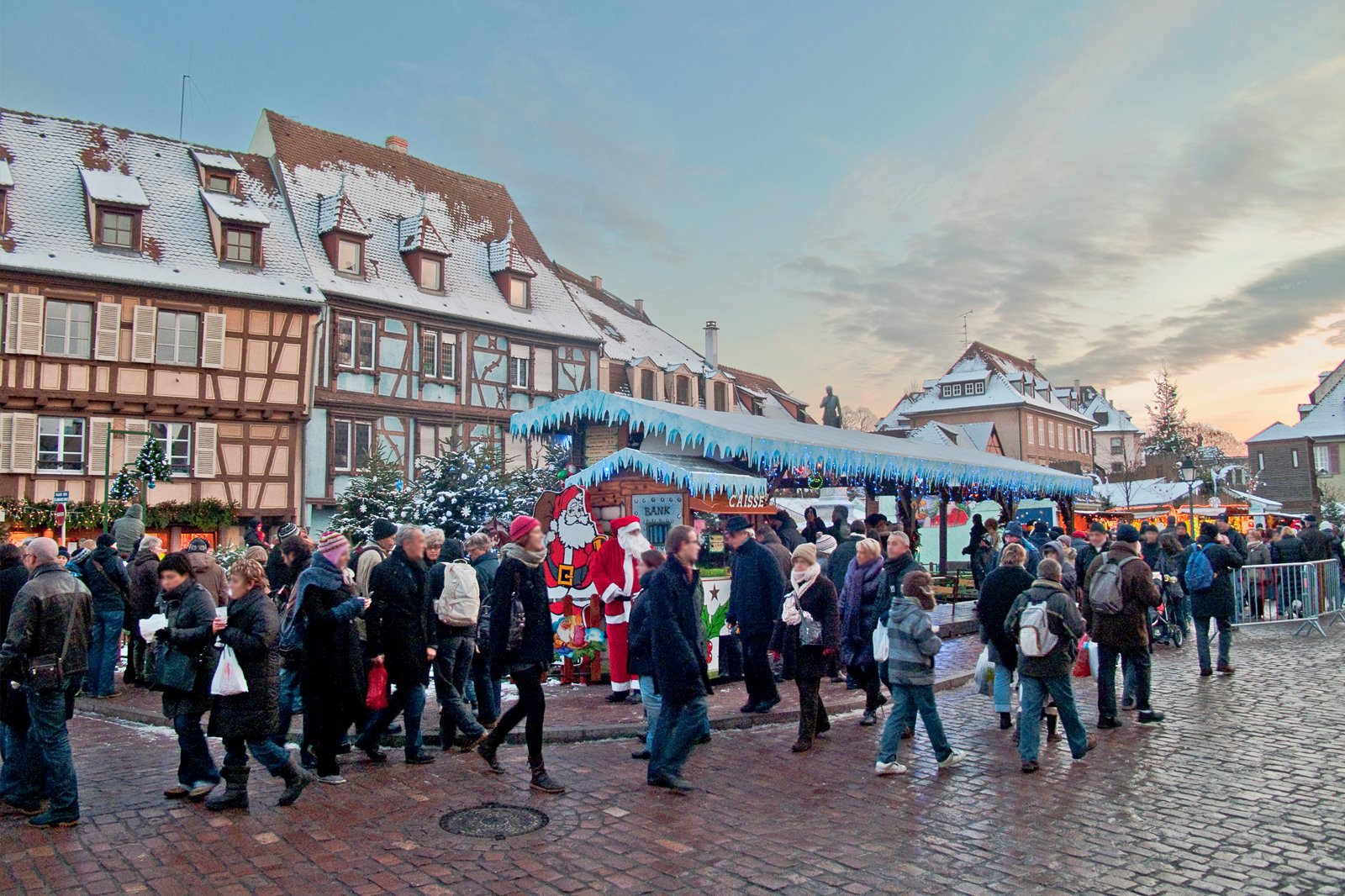 The fairy-tale town of Colmar hosts 6 Christmas markets, each with its own mini-villages of festive fun. The markets span the whole of Old Colmar, bringing this historical area to life with sparkling lights and yuletide joy. Within each of these markets, there are individual groups of craftsmen who work their magic and create remarkable products, which are sold from the 180 stalls throughout the area. As you meander your way through the markets, you can't help but feel like you're in some sort of Christmas fantasy, with beautiful, old, Alsatian buildings and the faint sounds of carolling surrounding you.
Open: End of November-end of December
photo by Office de Tourisme de Colmar (CC BY 2.0) modified
11
Old Town Christmas Market
Stockholm, Sweden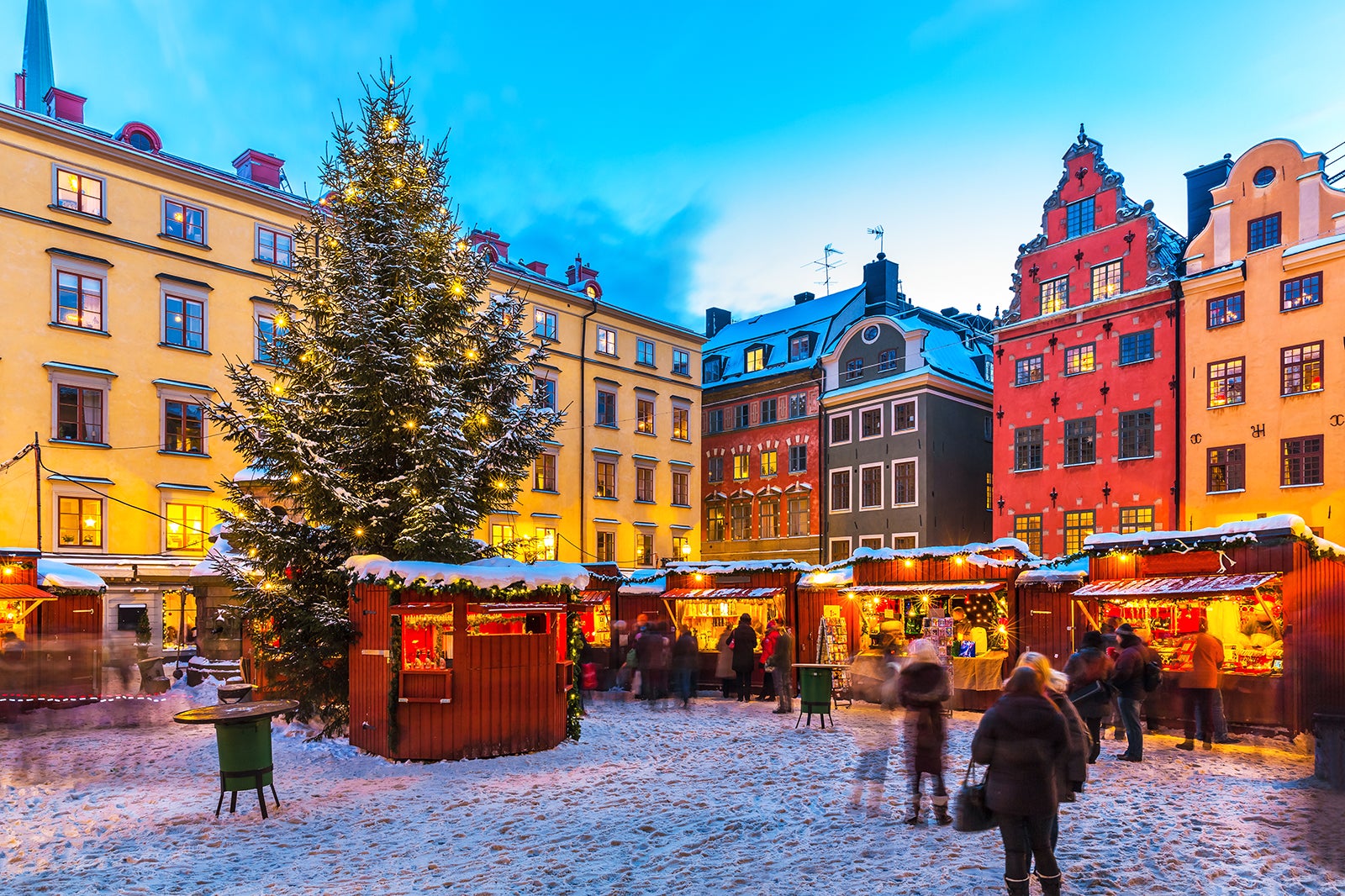 Every winter, Stockholm's Gamla Stan (Old Town) holds the most traditional Christmas market of the city. The historic area is shrouded in swarms of rosy light and dozens of wooden huts are set up on the main square and surrounding area. As you walk through these cobbled streets, you'll come across stalls adorned with festive garlands, which sell handmade crafts, colourful candies, and clothes. Traditional Swedish treats are also available, including gingerbread cookies, hot glögg (Swedish mulled wine) and elk and reindeer sausages (don't tell Rudolph...). Remember to wrap up as Swedish winters can be harsh.
Location: Stortorget, 111 29 Stockholm, Sweden
Open: End of November- just before Christmas
12
Striezelmarkt
Dresden, Germany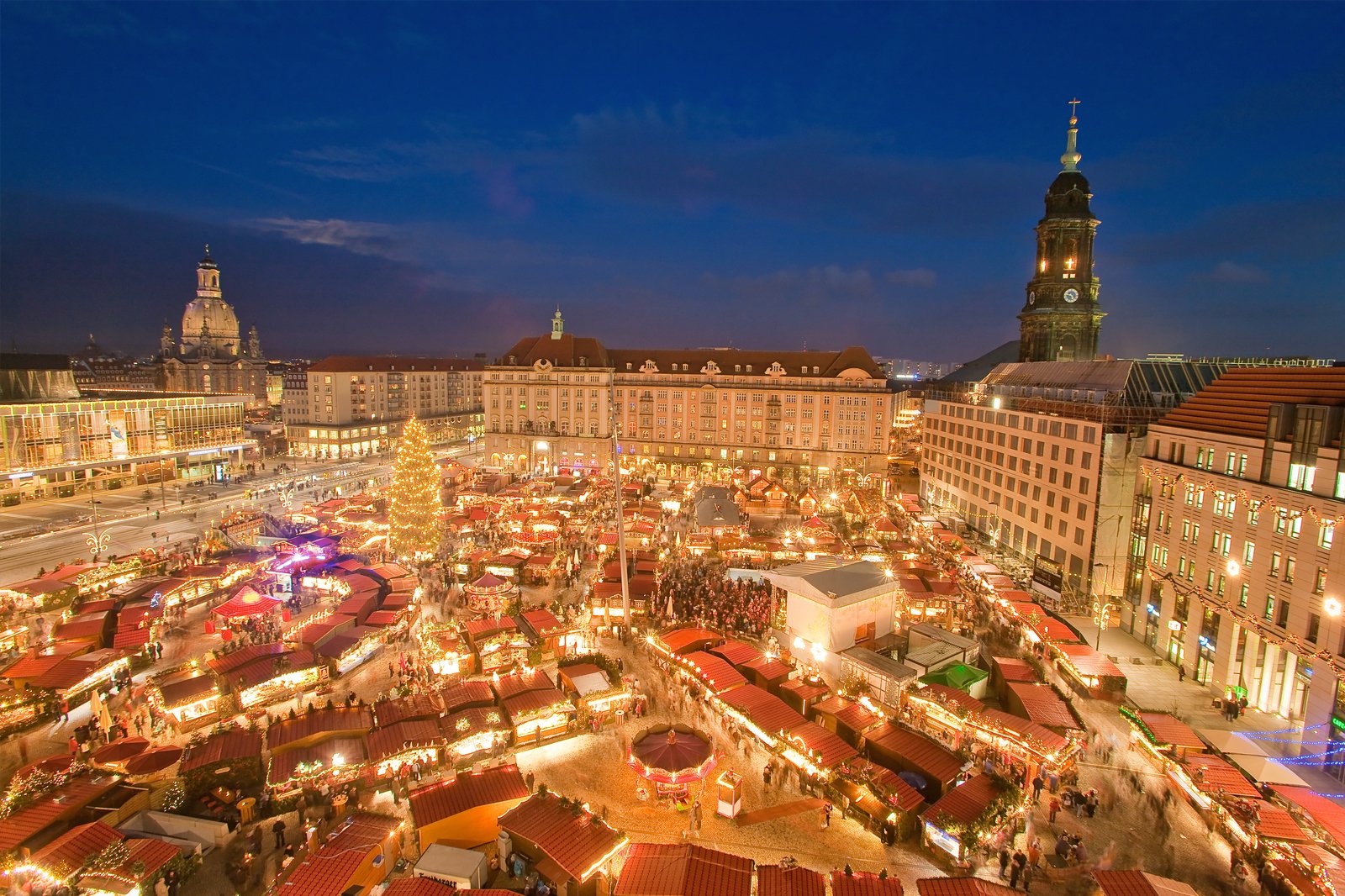 Couples
Families
Shoppers
Photo
Striezelmarkt in Dresden is one of Germany's oldest documented Christmas markets. Every year, Almarkt Square is home to charming wooden huts, a brightly-lit carousel and Ferris wheel, as well as a 15-metre-tall Erzgebirge step pyramid. The market's name comes from a well-known Christmas bread named Stollen. A "Stollen festival" is celebrated every year to honour the food and involves parading a giant Stollen through the baroque Old Town. At the stalls, visitors can expect a varied assortment of traditional products and local delicacies. Make sure to check out the folk art of the Erzgebirge region, with craftsmen creating miniature pyramids, Räuchermänner (smoking men) and other small figurines.
The market is held from the end of November to the end of December.
Location: Altmarkt 22, 01067 Dresden, Germany
Open: End of November-end of December
Phone: +49 (0)351 4880
photo by LH DD Wifö (CC BY-SA 3.0) modified
13
Nuremberg Christkindlmarkt
Nuremberg, Germany
Couples
Families
Shoppers
Photo
As one of Bavaria's biggest draws, Nuremberg is alive with visitors year-round, but especially so at Christmas time. The tempting aromas of sweet roasted almonds, Nuremburg bratwurst and gingerbread fill the streets of the Old Town, which is decorated in Christmas regalia. You can even take a tour in an old-fashioned coach and the coachmen will play nostalgic Christmas tunes on their trumpet. For a stunning display of Christmas lights, walk up the steps of The Church of Our Lady, which overlooks the market. The Nuremburg Children's Christmas, just around the corner from Christkindlmarkt, is a child's fairy-tale dreamland, with lots of fun fair rides.
Location: Hauptmarkt, 90403 Nürnberg, Germany
Open: End of November-just before Christmas