10 Most Amazing Europe Road Trips You Won't Forget
Scenic Drives in Europe to Try Once in Your Lifetime
Little compares to the thrill of hitting the open road across Europe. The continent's sheer size and vast geographical diversity mean it's packed with plenty of spots to do just that. Pass the forests, mountains and fairy-tale castles of southern Germany, snake through Iceland's supremely picturesque green highlands and alongside glacial rivers and waterfalls, or spin through sedate, sun-washed villages and stop for pintxos (tapas-style snacks) in northern Spain.
We've whittled down the most impressive corners of the continent for independent-minded travellers to let off some steam and embark on 10 of the most amazing Europe road trips. Some are short but jaw-droppingly photogenic hops, and others are awe-inspiring cross-country adventures. They are all about as far removed from your everyday commute as it can possibly get.
1
Les Corniches, France
A high-flying route to the Riviera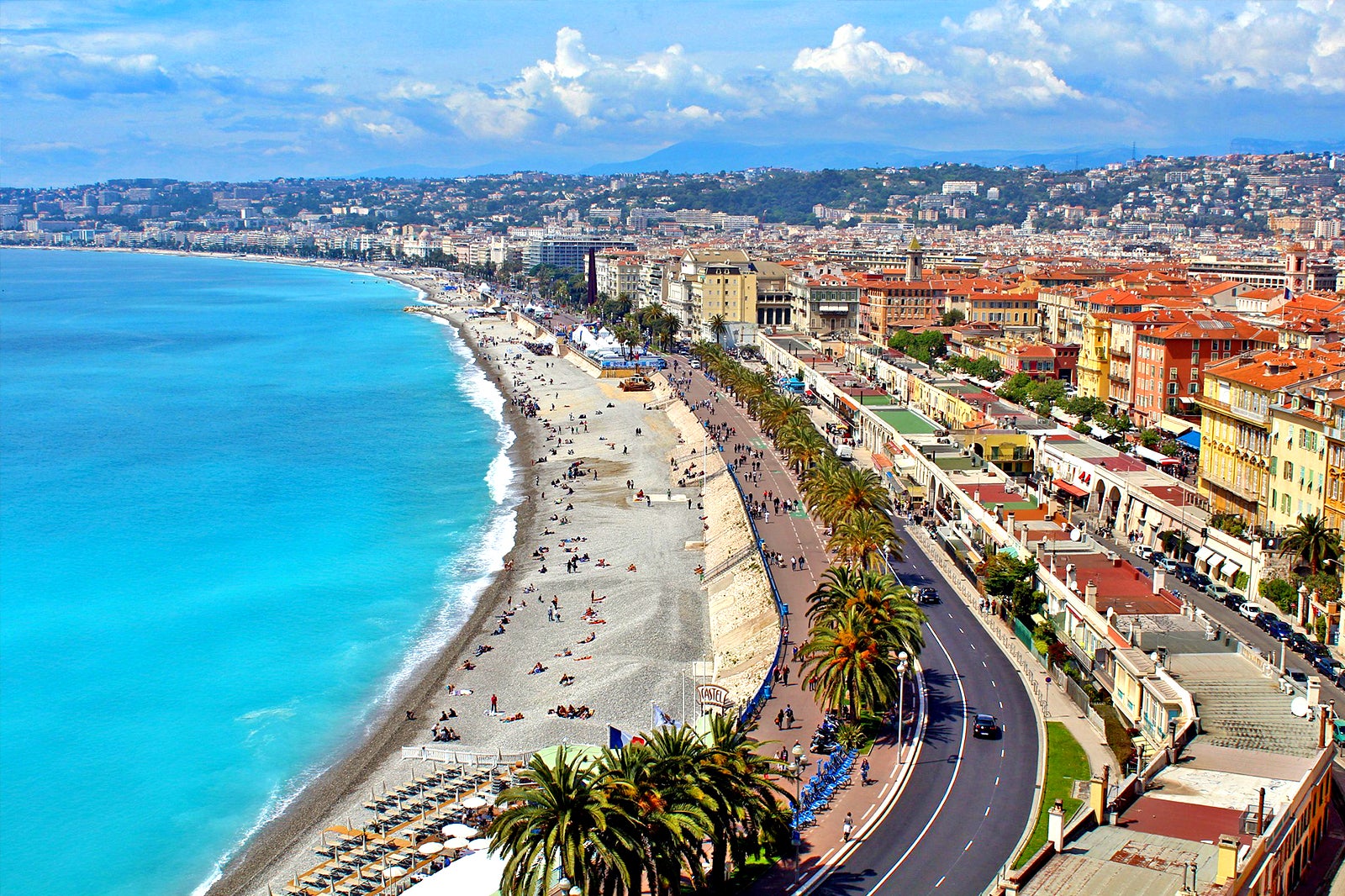 Literally 'cliff-edge roads', Les Corniches are famous for the picturesque views they thrust at drivers heading for the French Riviera. Les Trois Corniches (the Three Corniches) connect the big coastal city of Nice (en route to ultra-luxe St. Tropez) with the smaller, more undiscovered town of Menton about half an hour to the northwest.
Les Corniches pass through 7 even smaller yet equally stunning communities on the way, but it's the views from up high that will leave you seriously impressed. The Grande Corniche has you negotiating some staggeringly steep, winding stretches of road at heights of up to 450 metres. The Moyenne Corniche and Basse Corniche are easier going, but all give generous views of the glistening sea, charming villas, and peaceful gardens.
Location: Nice-Menton, France
2
Romantic Road, Germany
Picturesque Germany at its best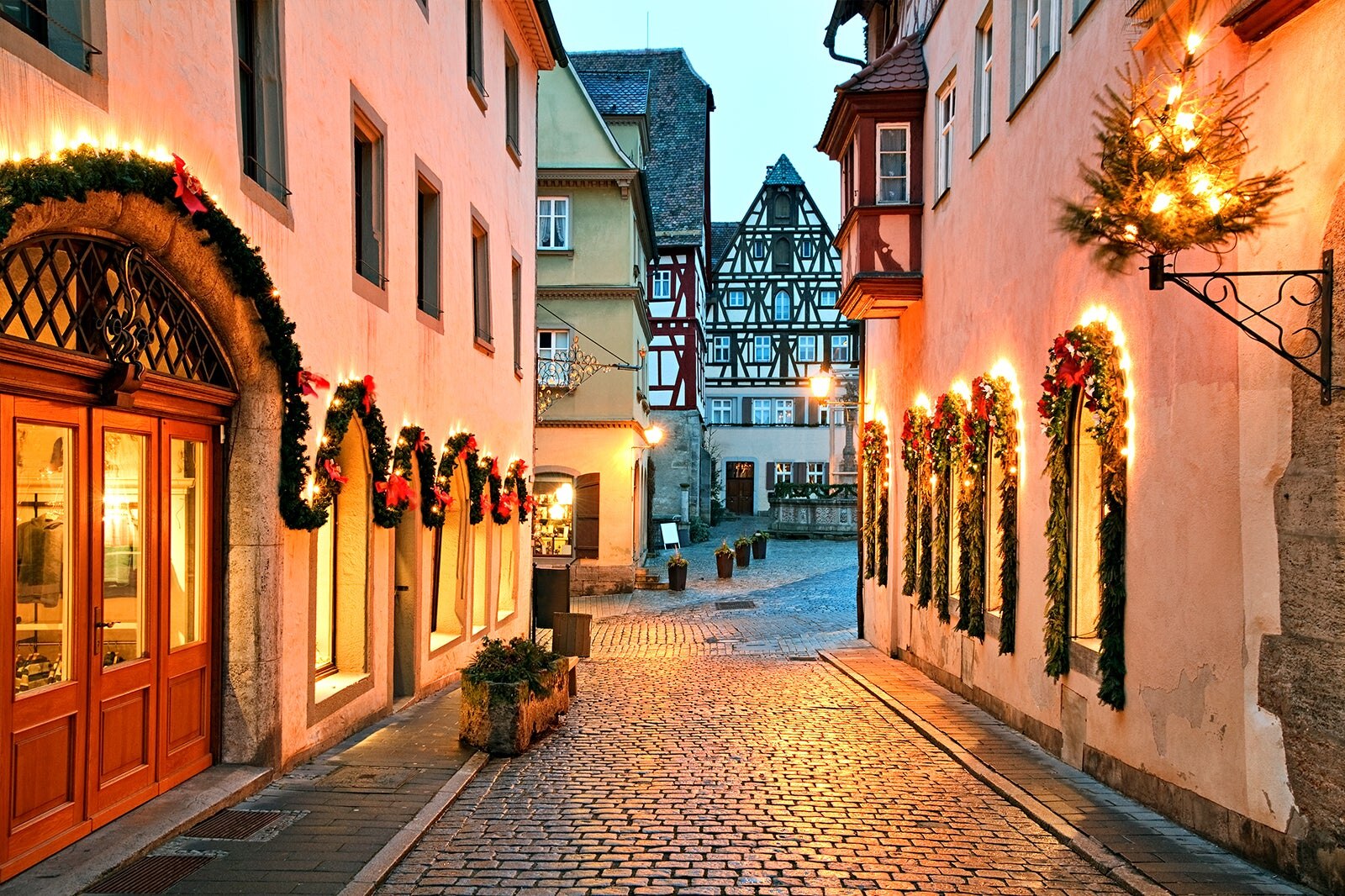 Southern Germany conjures images of colourful towns with fairy-tale castles and Hansel-and-Gretel-like houses, and that's certainly the order of the day on the Romantische Strasse (Romantic Road).
This route snakes through the states of Bavaria and Baden-Württemberg and stretches some 350 km from Würzburg's striking baroque architecture and prominent wine industry to the town of Füssen – just short of the Austrian border and less than a 10-minute drive from famous Neuschwanstein Castle. The Romantic Road was once a medieval trade route, but it came to prominence again as a tourist-geared scenic route in the mid-20th century. That means you'll pass from one impossibly pretty, irresistibly German town to the next, with no shortage of photo opportunities.
Location: Würzburg-Füssen, Germany
3
Ring of Kerry, Ireland
History and beauty on the Iveragh Peninsula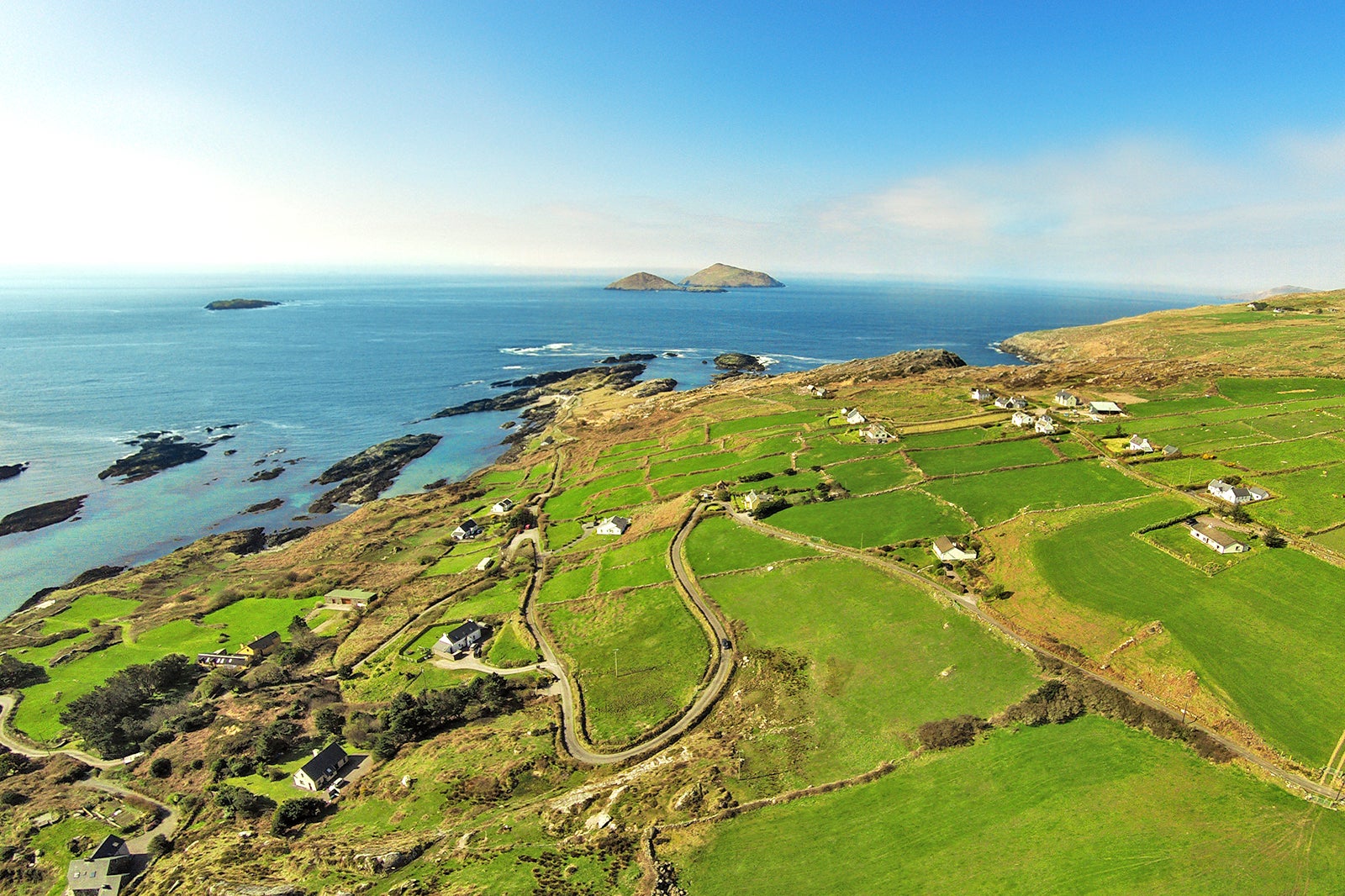 Southwest Ireland's 179 km-long Ring of Kerry offers history galore and no end of incredible natural scenery to soak up along the way. Ireland already puts on a good show wherever in the country you look for road trip action, but the Ring of Kerry really excels, with sights that range from the untamed Atlantic to verdant forests.
Parts of the Ring of Kerry date back at least 10,000 years and popular sites include the 7th-century monastery on the island of Skellig Michael just off the Iveragh Peninsula and stunning viewpoints like lush Ladies View and the Iron-Age Staigue stone fort. Just be warned that in the busy summer months, the narrow roads on the Ring of Kerry quickly pack out.
Location: County Kerry, Ireland
4
Amalfi Coast, Italy
Romantic vistas in Italy's south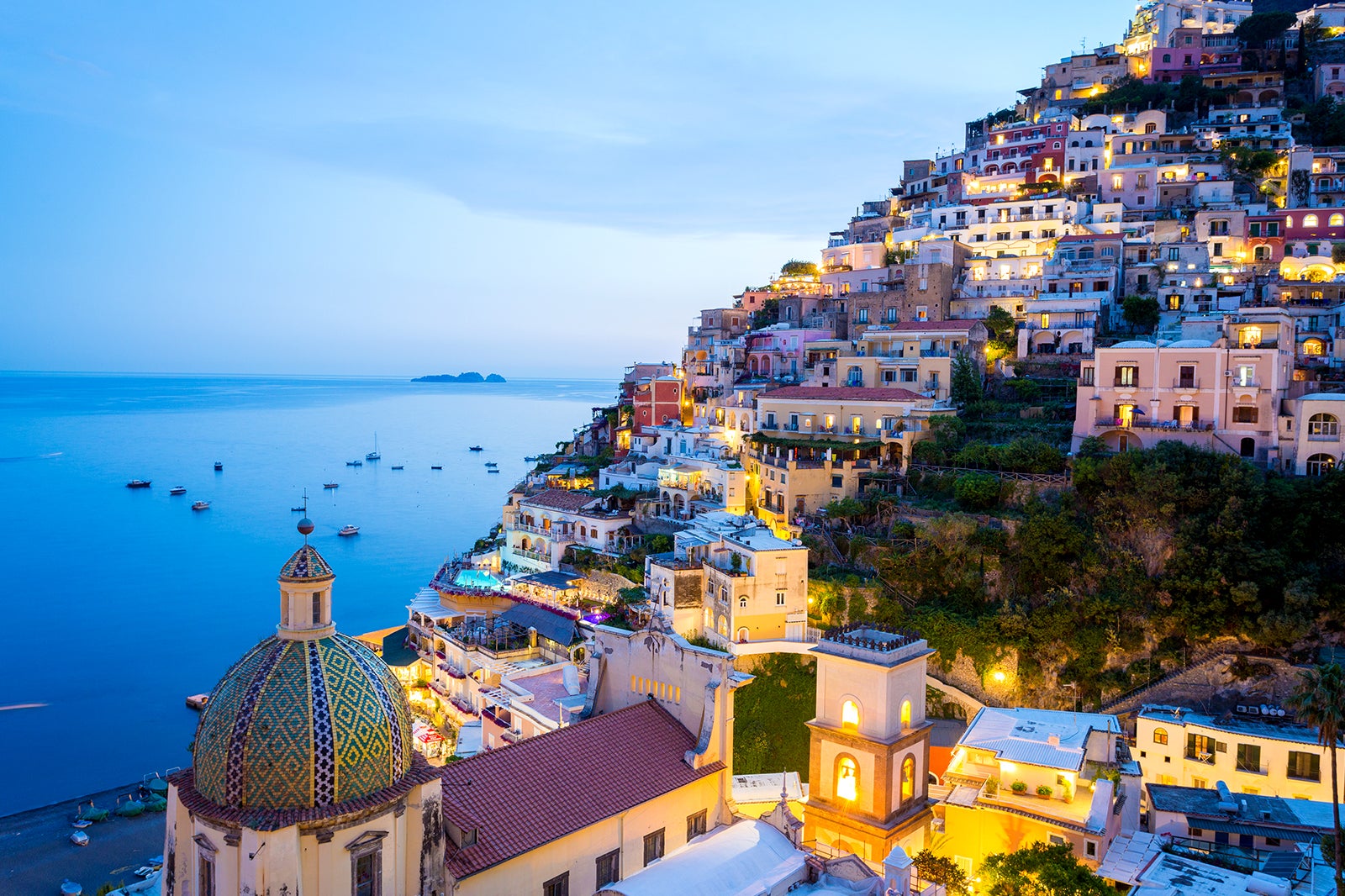 Incredible natural scenery pervades right along southern Italy's Amalfi Coast. It's best discovered with your own 4 wheels, not least as a way of escaping the vast summertime crowds this part of the country is well known for attracting (and with good reason, too).
From art, architecture and world-class pizza in Naples, down to Sorrento – the jumping off point for the island of Capri – this Amalfi Coast road trip is only a short one, racking it at just under 50 km. But the countless opportunities for spontaneous stop-offs, to gaze longingly out over the dreamy blue sea, make it worth the trip alone.
Location: Amalfi, Salerno, Italy
5
Trollstigen, Norway
A road trip with other-worldly scenery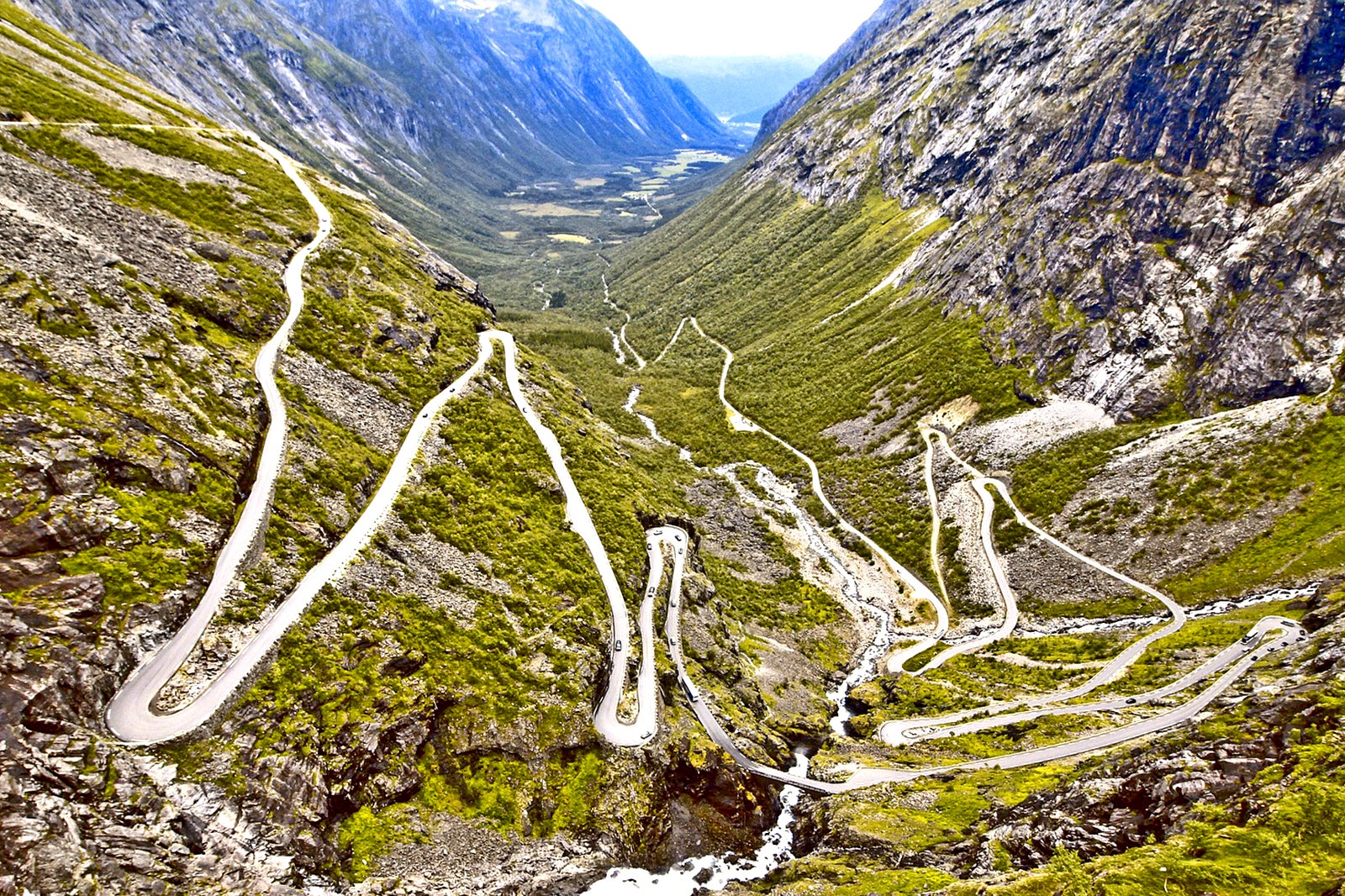 Once you've snatched a glance of picturesque fjords wedged between soaring mountains, it's hard to disagree that western Norway's Trollstigen Road has some of Europe's most staggeringly photogenic scenery. Trollstigen translates as the Troll's Road and this kind of incredible setting makes it easy to believe the mythical creatures are lurking close by.
The fact that Trollstigen is just one hairpin bend after the other only adds to its appeal. Part of Norway's Road 63, which itself forms a section of the scenic route to fjord-famous Geiranger village, in the summer the route fills up with adrenaline junkies seeking the thrill of its steep inclines and the unforgettable views from the 700-metre-high peak.
Location: Trollstigen, Andalsnes, Norway
6
Northern Spain
A journey through Basque and Galician culture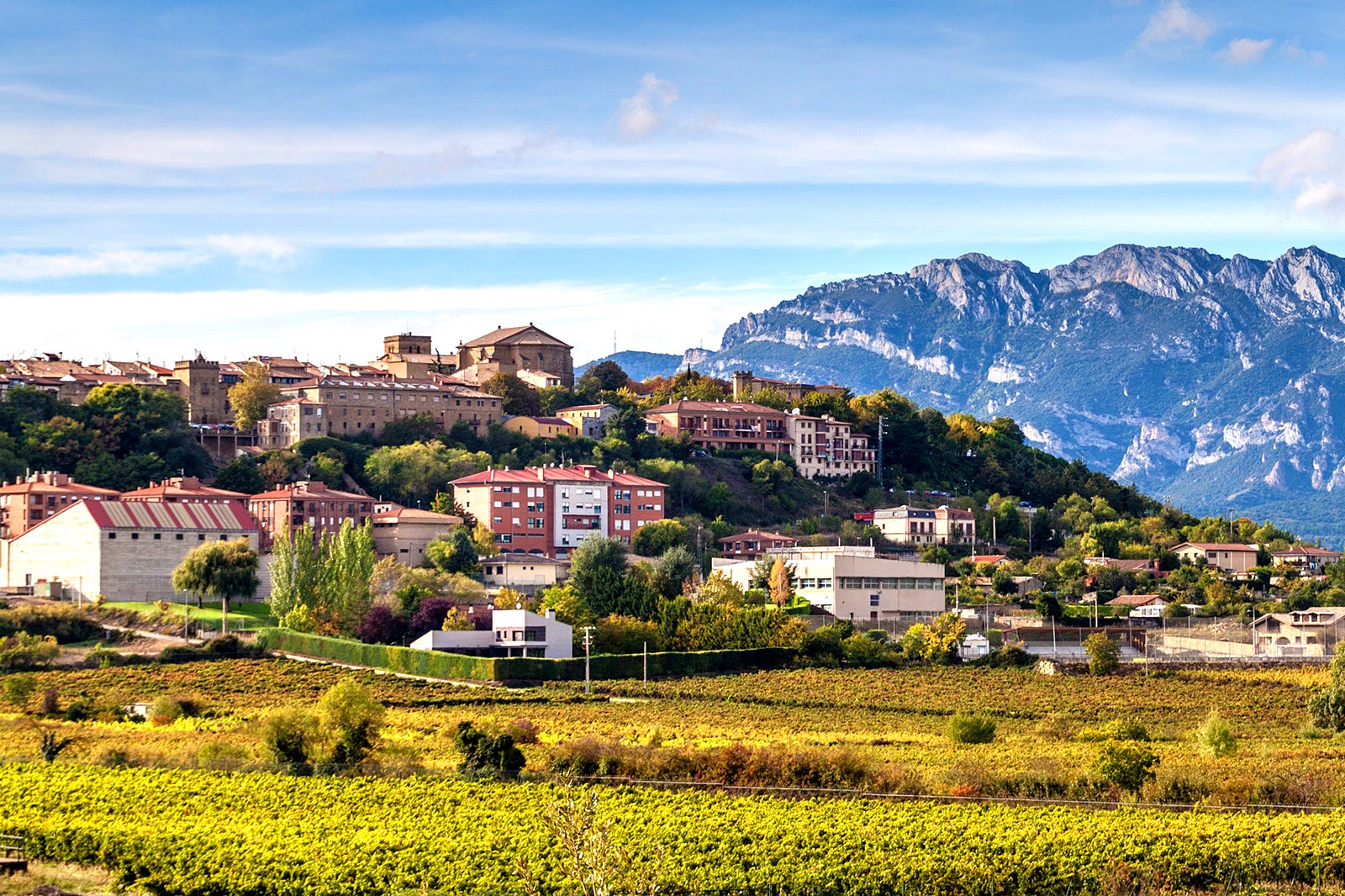 Northern Spain is where you would come for the scenery and stay for the pintxos, tapas' northern Spanish siblings. Many would choose to start this odyssey as far away as Madrid, but zoom in on northern Spain proper and you'll be amply rewarded.
Starting in San Sebastián gives you a feel for some of Spain's finest food at the coastal city's famous pintxo bars. Sample regional morsels and fine wines, before hitting the road the next day towards Bilbao for the Guggenheim Museum, Santander's 20th-century architecture, the Roman port city of A Coruña, and the religiously significant Galician capital of Santiago de Compostela. There's 650km of dramatic coastlines, bustling cities and peaceful local backwaters to digest on the way.
Location: Northern Spain, Spain
7
North Coast 500, Scotland
About as north as it gets in mainland Britain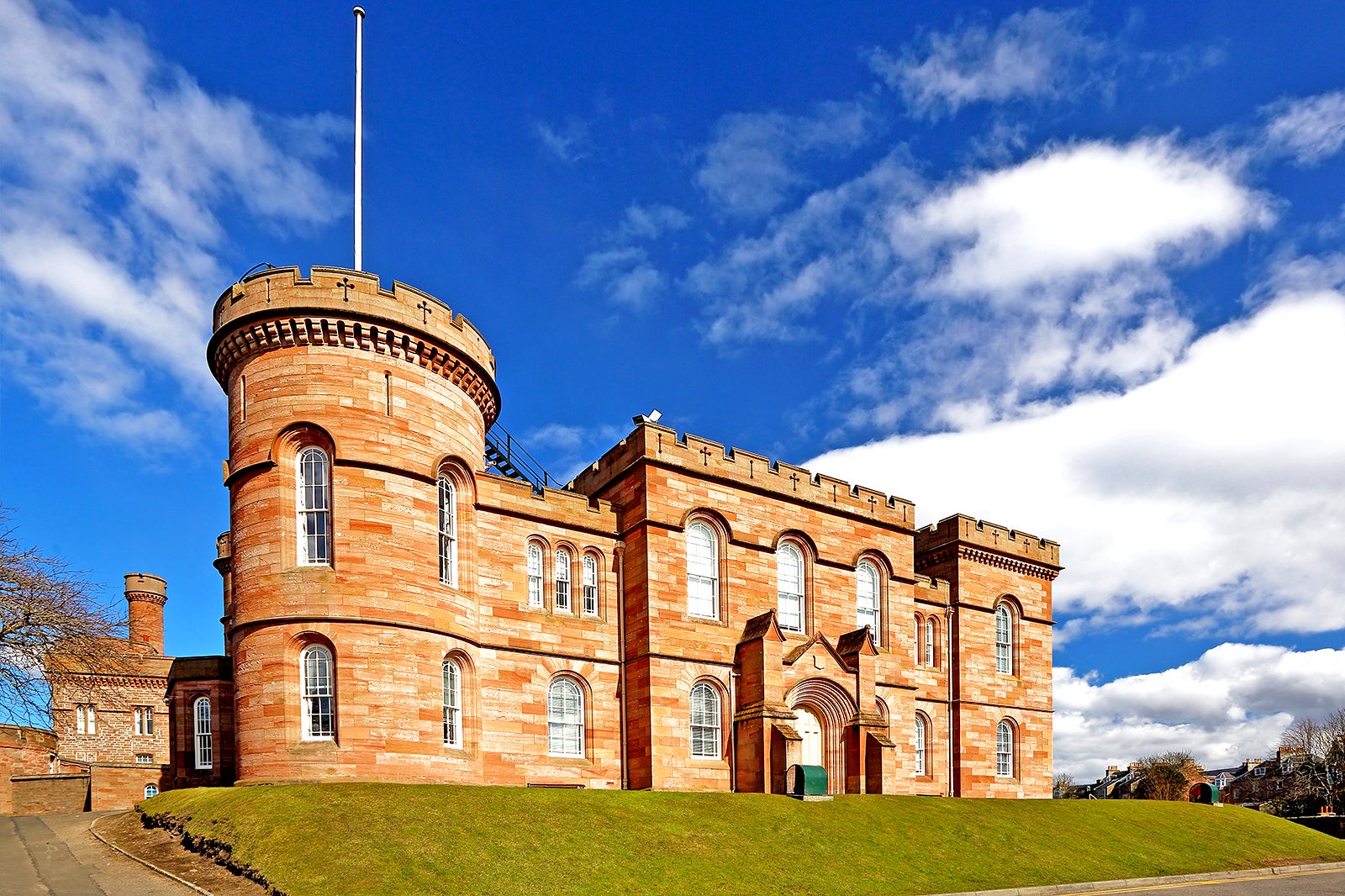 North Coast 500 is the ultimate Scottish road trip, a circular route that starts and ends at the historic Inverness Castle. The route covers over 800 km and includes the UK's northernmost mainland coast. Be sure to stop by the village of John o' Groats, famous as one of the furthest mainland points from Land's End at the other far end of the country.
The North Coast 500 comprises 6 distinctive encounters. There's whisky to sample at Easter Ross, and seals to spot off its shores, while you might also catch dolphins off Black Isle, where the local food and craft beer scene are worth a stop, too. That's without even mentioning the mysterious lochs and stunning white-sand beaches of Wester Ross.
Location: Inverness Castle, Scotland
8
Route 1, Iceland
Hit the gas for Iceland's premier road trip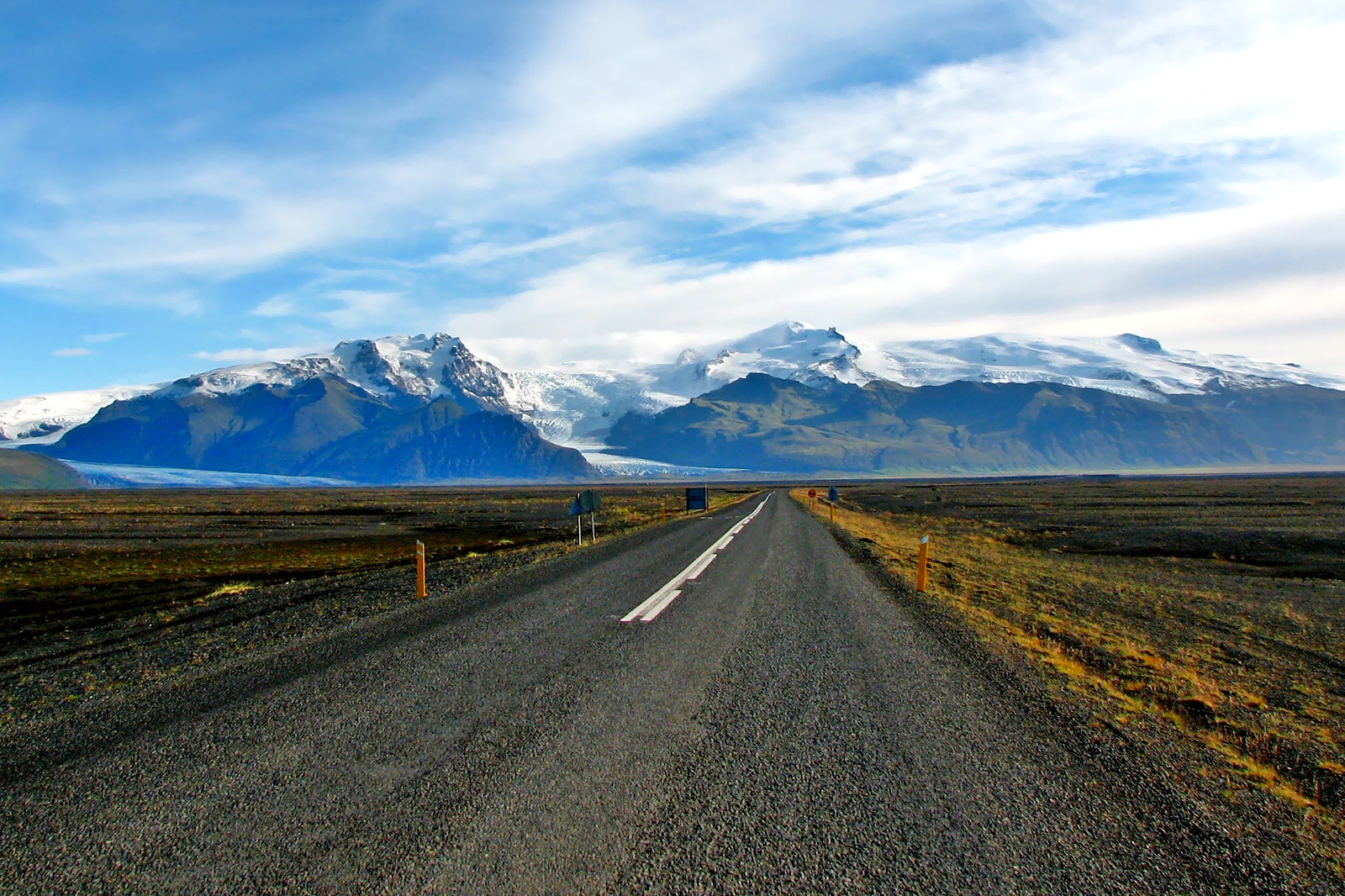 It's also known as the Ring Road, but the fact that this Icelandic road trip is commonly referred to as Route 1 tells you how impressive it is. The 1,300m-long road encircles pretty much the whole of Iceland, giving you and your four wheels an ideal way to catch a glimpse of all that's on offer.
It'll take you a good week to do Route 1 justice, so take it slowly and indulge yourself with sights like unexpectedly green highlands stretching into the distance, together with the breathtaking glaciers, fjords, and rivers. Park up to be mesmerised by the Seljalandsfoss falls, take a detour for a dip in the hot springs in Reykjadalur, and see if you can spot the wildlife-rich Westman Islands archipelago off Iceland's southern coast.
Location: Hringvegur, Iceland
9
Great St Bernard Pass, Switzerland
Take the high road from Switzerland to Italy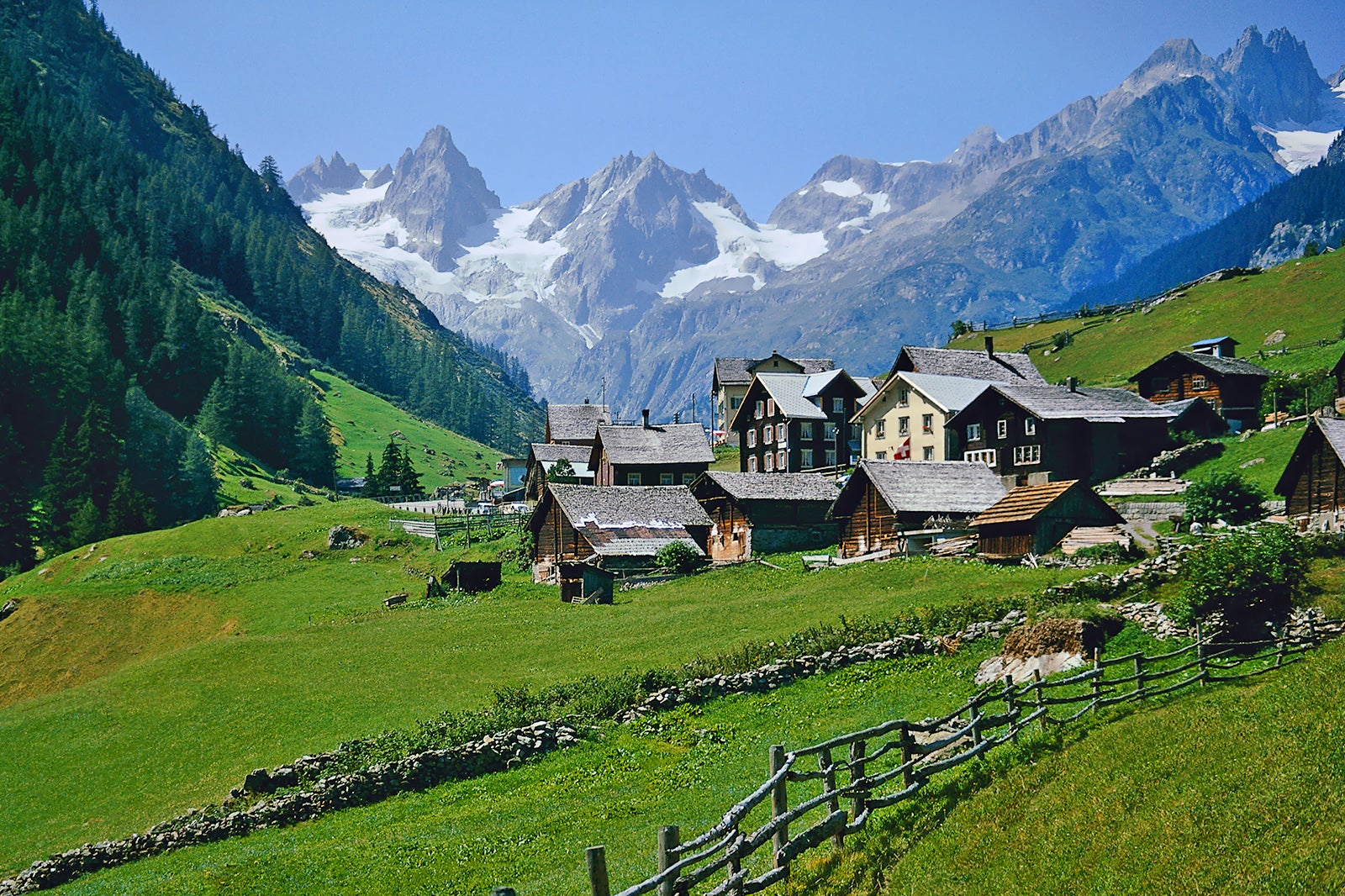 Adrenaline junkies should make a beeline for Great St Bernard Pass, which links the southern Swiss city of Martigny to Aosta in neighbouring Italy. Switzerland's third highest road pass, Great St Bernard is believed to date back to the Romans and even the Bronze Age.
It reaches crazy heights of almost 2,500m, and in winter it can see snow 10 metres deep. Meanwhile, the nearby Col de la Forclaz pass connects Martigny to France's Chamonix, underscoring what a multi-cultural junction of Europe this is. As you drive across, keep an eye out for the famous Saint Bernard dogs, raised by monks here to assist in avalanche rescues – one of their number, Bernard, was named as Patron Saint of the Alps in 1923.
Location: Valais, Switzerland-Aosta Valley, Italy
10
Athens to Meteora, Greece
History, nature and spirituality, all on one road trip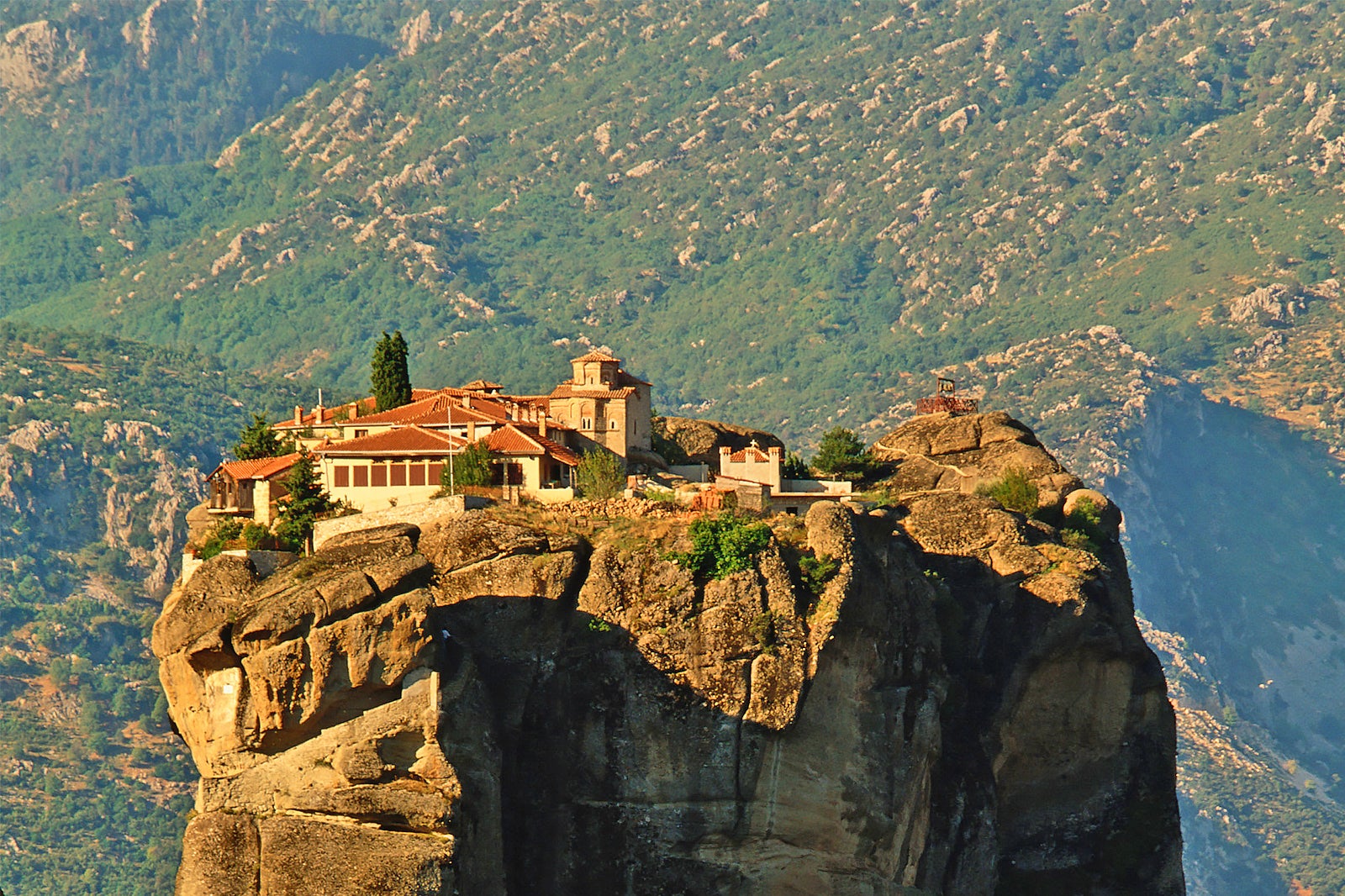 While everyone bakes themselves on the islands, get behind the wheel for a taste of beautiful, historical central mainland Greece. It's tricky to imagine anywhere much richer in history than Athens, the birthplace of democracy, so you'll want to catch its obligatory sights like the Acropolis before you set out in search of Meteora.
After stopping off in the attractive mountaintop town of Arachova, with its distinctive stone houses, the route takes you onwards to Delphi (formerly known as Pytho). This culturally brimming archaeological site still holds visible ruins of Ancient Greece's Temple of Apollo – plus incredible vistas from the top. But soldier on to Meteora for equally stunning views of monasteries perched on mountainous outcrops; the kind of scene few of us associate with Greece.
Location: Athens-Meteora, Greece