10 Best Things to Do in East Midlands
What is the East Midlands Most Famous For?
East Midlands combines cosmopolitan cities, charming market towns, and plenty of opportunities to get out and enjoy nature. Historic buildings are found throughout the region, each with its own fascinating tale. Theme parks and adventure tours make East Midlands a great spot for family vacations and those who enjoy staying active.
From the city sights of Nottingham and Leicester, to the peaceful walks and country manors of the Peak District, the East Midlands offers a fascinating slice of middle England to anyone who takes the time to explore the area.
What are the best things to do in East Midlands?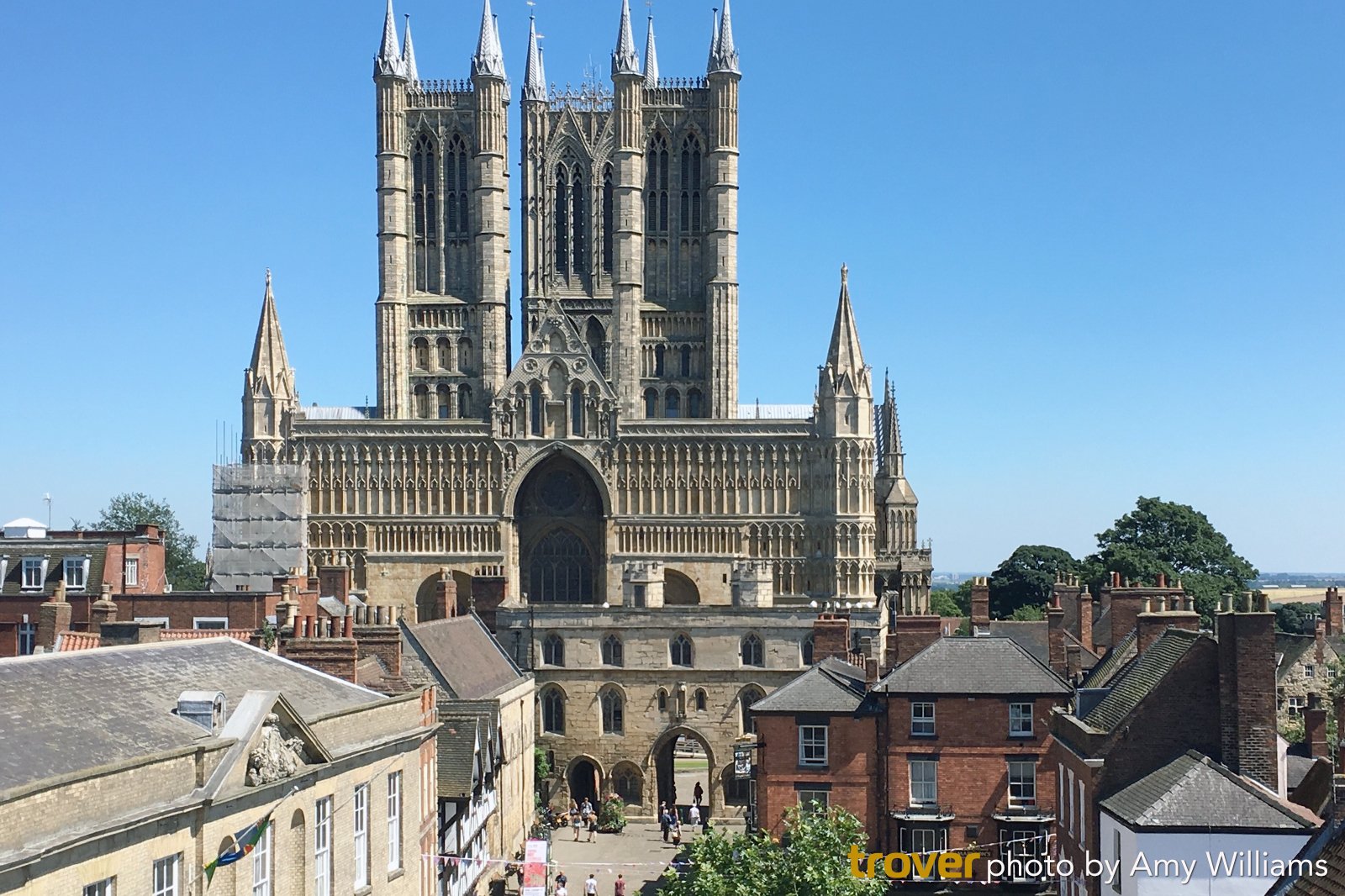 Explore the Cathedral Quarter in Lincoln
See England's finest Gothic-style building from every angle
If you're looking to experience historic England, you can't do much better than the area surrounding Lincoln Cathedral. The steep, cobbled streets lead to an impressive medieval cathedral on top of a hill. It can be seen for miles around. You'll see timber-framed houses, quaint tearooms, and weekend farmers' markets in Castle Square.
The cathedral itself, built in 1088, is one of the finest in the UK, and was the tallest building in the world for 238 years. Join a walking tour to find out more about the cathedral's rich history.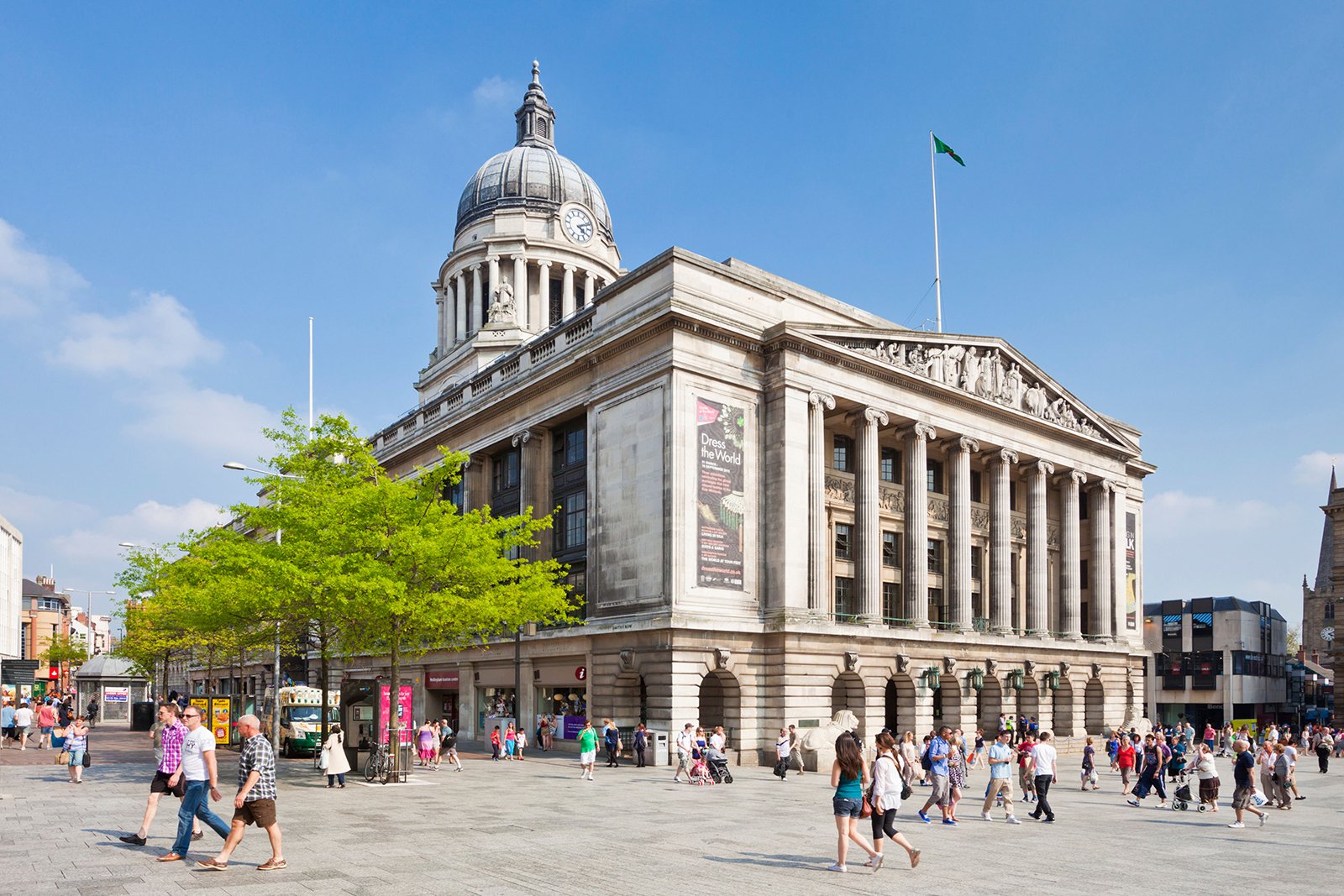 Go high street shopping in Nottingham
Visit the Paul Smith boutique and other famous British retailers
Nottingham has a great selection of shops. While there are 2 large shopping centres in Nottingham town centre, we prefer shopping along leafy, pedestrianised Albert Street, and over to St Peter's Gate. Here you'll find classic British brands like Marks & Spenser's, Ted Baker, The Body Shop, and Clarks. You should also check out the boutique of Paul Smith, a Nottingham-native who has since built a worldwide fashion empire.
Further up the hill, the Lace Market is a particularly stylish part of the city, home to speciality arts and crafts stores. If you need a break, head to the Old Market Square – a huge, pedestrianised area in the centre of Nottingham – and find a place that suits among the grand old buildings.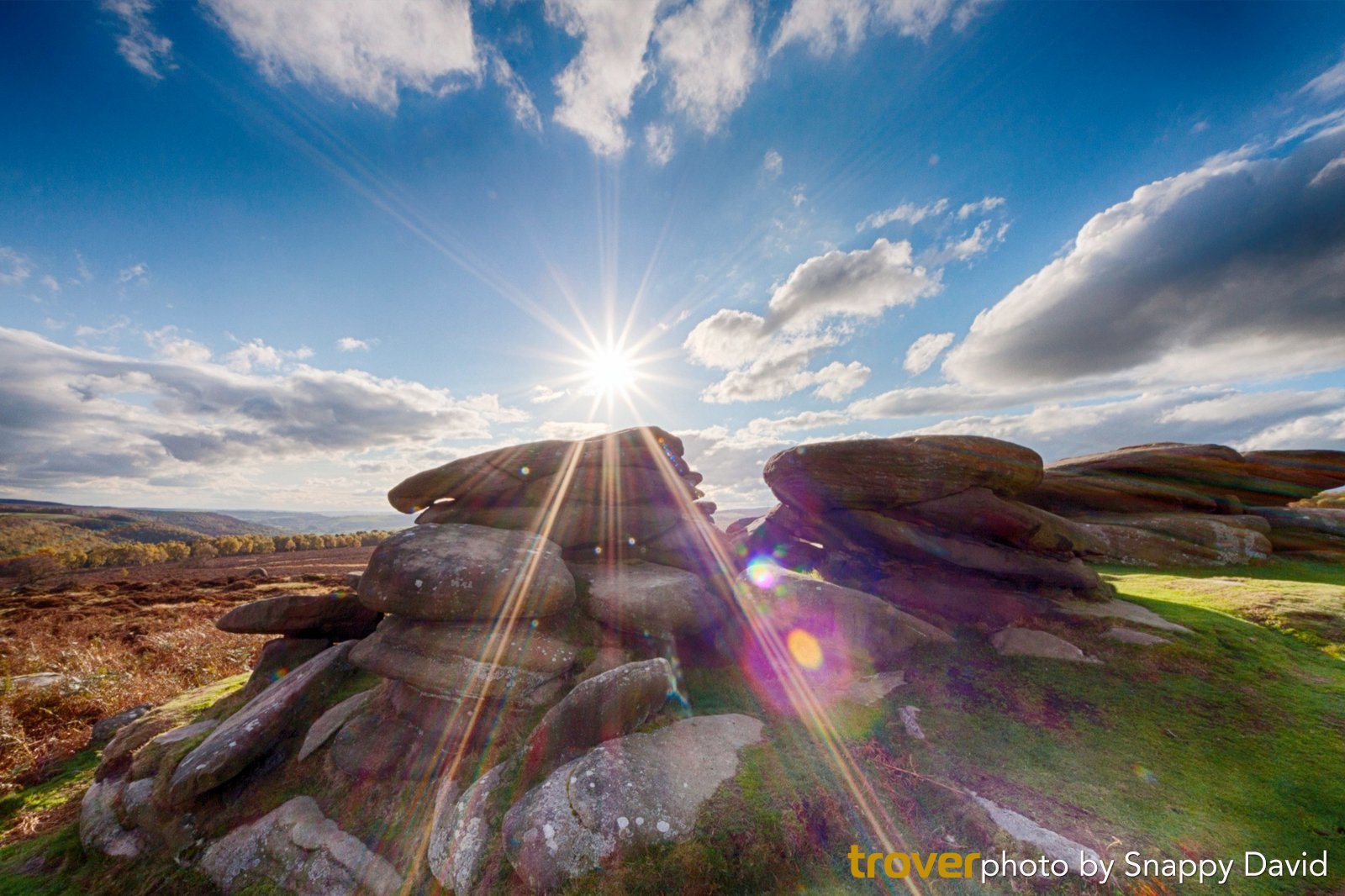 Go for a hike in the Peak District National Park
See England's green and rolling hills
The Peak District covers a swathe of land in East Midlands and central England. You will find many walking trails through the undulating hills, with charming villages scattered throughout. Head for Bakewell Village for a glimpse at typical village life and explore the beautiful surroundings. Check out the many manors and grand halls in the area, particularly Haddon Hall and Chatsworth House stately manor, known as 'the Palace of the Peak'.
Photo
Budget
Adventure
Group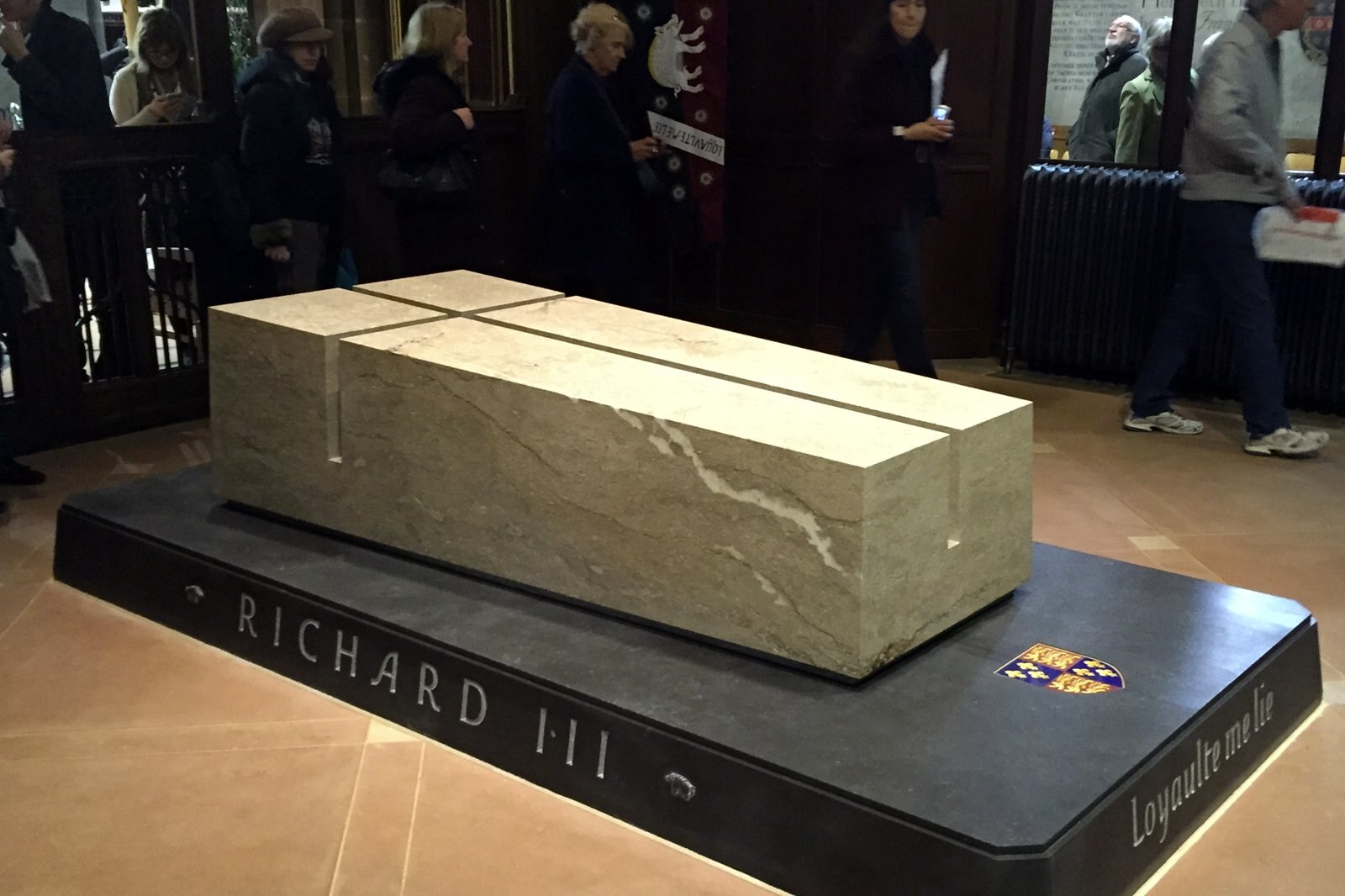 Visit the King Richard III Visitor Centre in Leicester
Visit the exact spot where the King's remains were unearthed
King Richard III is a hugely significant figure in the history of England. It was a huge shock when his remains were found under a Leicester car park in 2002. This spot has now been turned into an interactive museum all about the medieval royal and his place in the bloodiest civil war in England's history, known as the 'War of the Roses'. Located in the centre of Leicester, you can visit the cathedral nearby to see King Richard III's tomb.
Location: 4A St Martins, Leicester LE1 5DB, UK
Open: Daily from 10 am to 4 pm
photo by Isananni (CC BY-SA 3.0) modified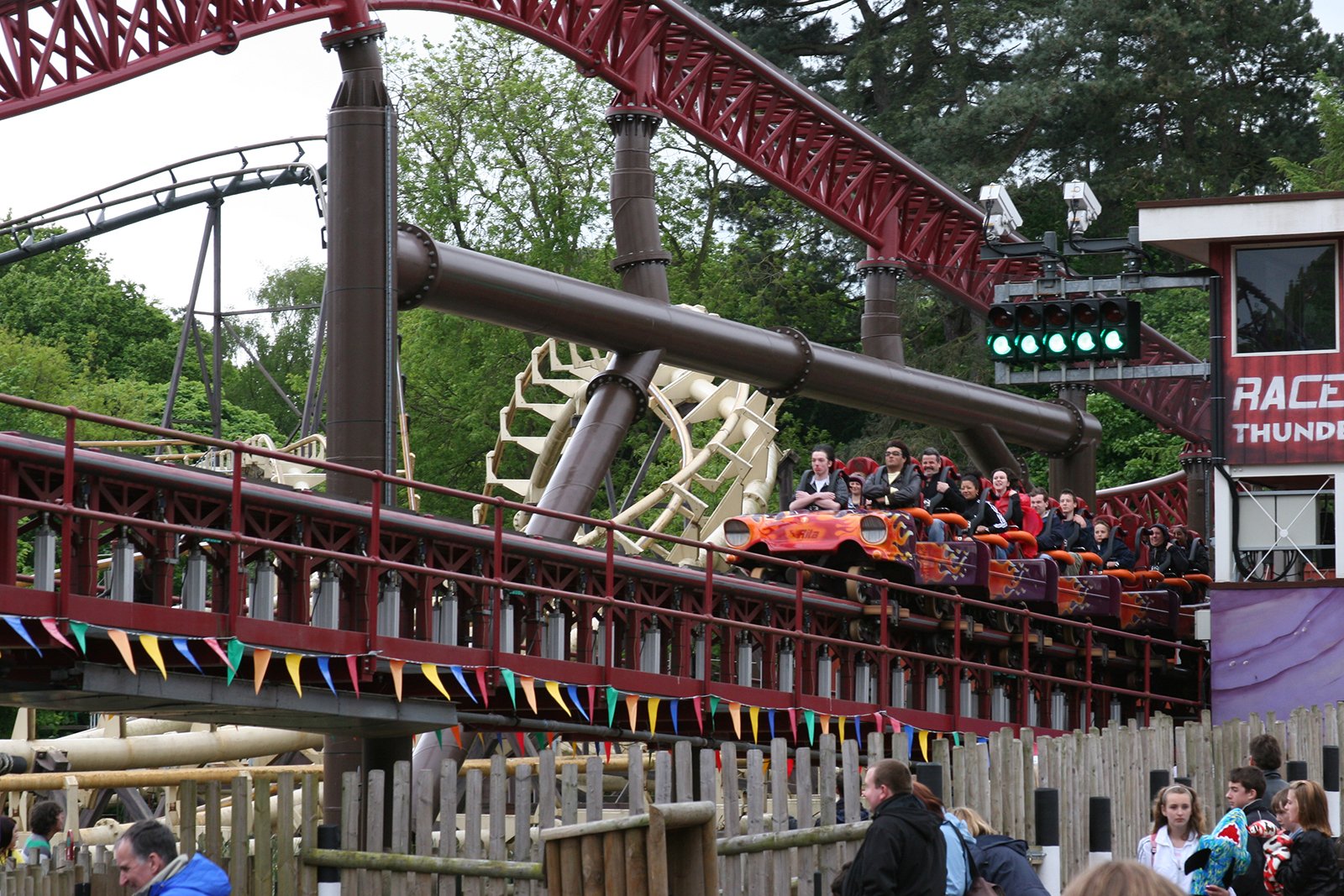 Ride the Rollercoasters at Alton Towers Theme Park
Ride the Oblivion, Europe's first vertical drop rollercoaster
Alton Towers is the closest thing the UK has to a Disneyland. Expect high-octane rollercoasters, sugary treats, and fantastical worlds to discover. The Nemesis is a classic ride which twists and rolls at high speeds, and Oblivion has a vertical drop into a dark hole at almost 70 mph. If you're looking for an adrenaline rush, you can't miss it.
It's not all fast and furious rides though, and younger children will find rides in Cloud Cuckoo Land like the Galloper's Carousel and the Night Garden Magical Boat ride. Visit the park around the holidays for added fun. Christmas sees avenues awash with festive lights. Throughout October, Alton Towers gets into Halloween with a month-long Scarefest, featuring ghoulish characters and a generally spooky vibe.
Location: Farley Ln, Alton, Stoke-on-Trent ST10 4DB, UK
Open: Daily from 10 am to 5 pm (4 pm in winter)
Phone: +44 (0)871 222 3330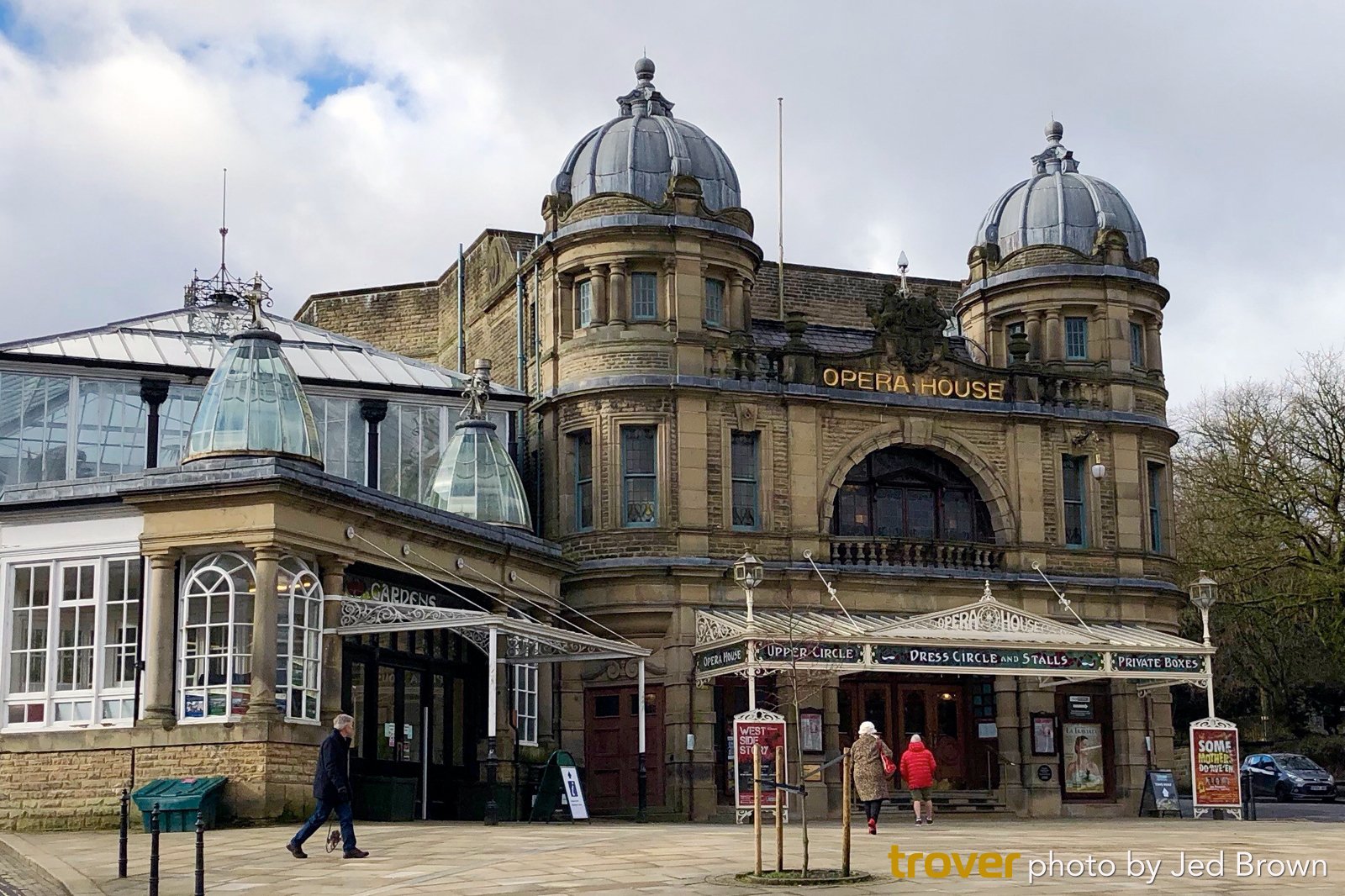 Watch a Performance at Buxton Opera House
See a live show in a gorgeously renovated theatre
Buxton is a small town on the River Wye, and is home to one of Britain's finest live venues. Buxton Opera House hosts live theatre, music, opera, stand-up comedy, and even Shakespearean drama. A full calendar of events can be found on their website.
The building itself is a beautiful example of a 19th century Baroque performance space, with gilded cherubs and frescos inside. There is the option to join a backstage tour to see behind the scenes.
Location: Water St, Buxton SK17 6XN, UK
Phone: +44 (0)1298 72190
Couples
Families
Nightlife
Luxury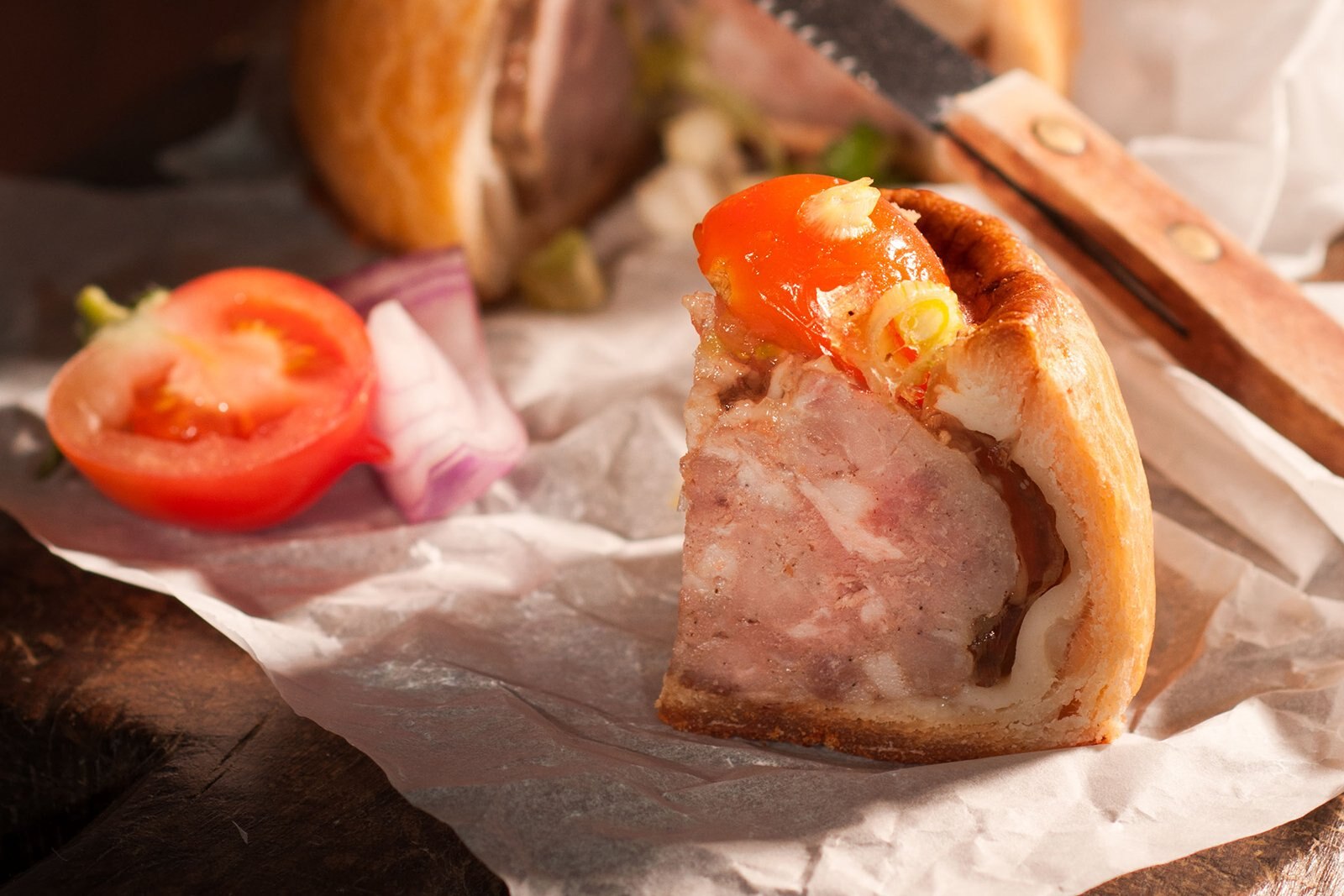 Eat a Melton Mowbray pork pie
Sample East Midland's famous snack
Pork pie is a rich and thick shortcrust pastry surrounding tender chunks of meat encased in jelly. Melton Mowbray in Leicestershire has its own specific recipe. The peppery, uncured pork combines well with the handmade crust.
Although it used to be a humble side dish, inventive chefs have added gourmet touches to the pork pie. By adding new ingredients and playing with the presentation, you can find a pork pie at the market, in the butchers' shop, and on the menu of some swanky gastropubs. You can eat it hot or cold, with salad or mushy peas, and it makes the perfect mid-afternoon snack.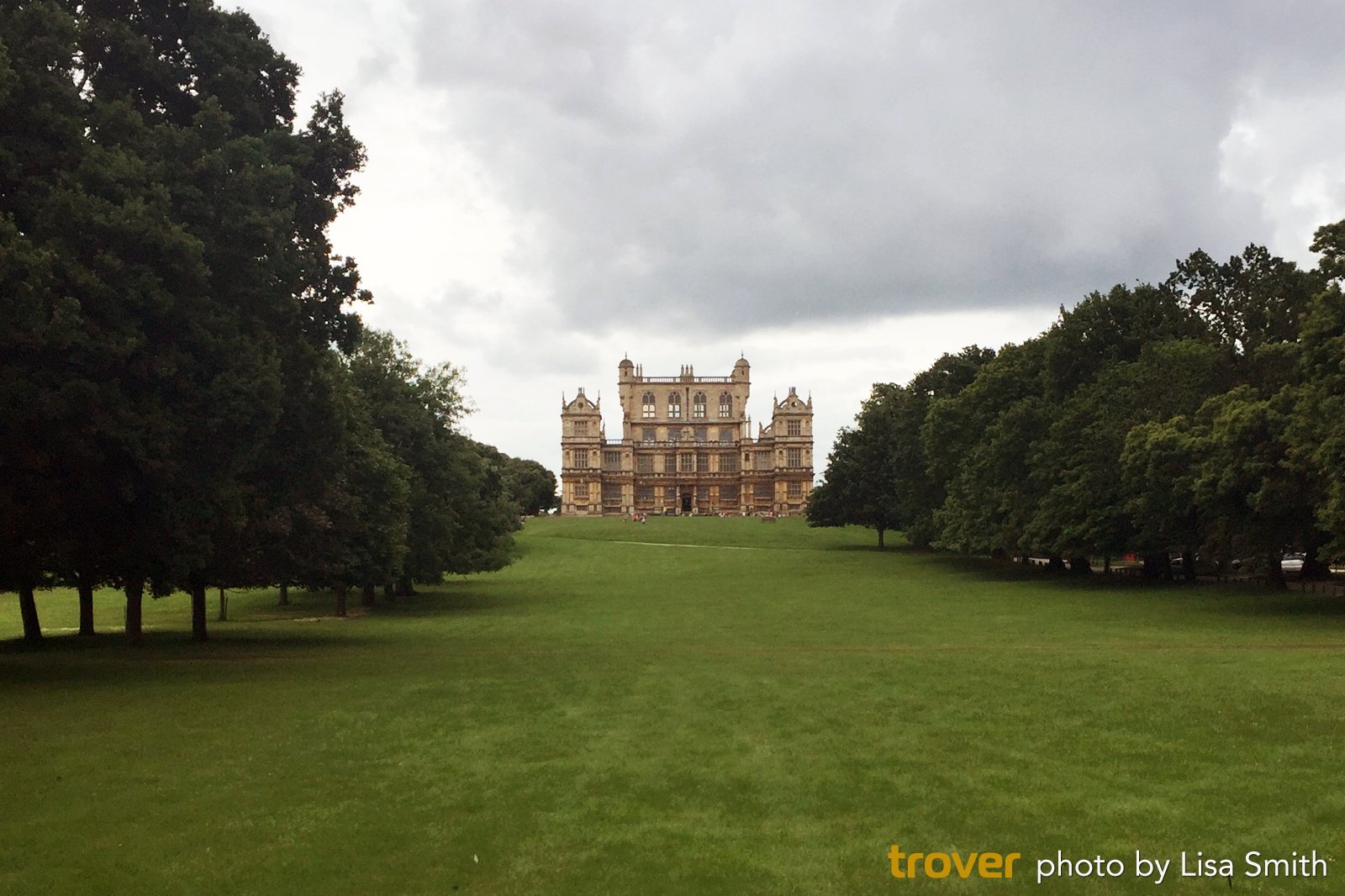 Must See: Wollaton Hall and Park
Visit the flower garden in summer
Wollaton Hall is a grand hall on the outskirts of Nottingham. It's less than a 20-minute drive from Nottingham train station. This grand Elizabethan manor houses a natural history museum, as well as a house tour with many rooms reverted to look as they did in the 16th century.
The grounds of Wollaton Hall are full of flowers in the summer and are well-cared for throughout the year. You can explore the botanic garden and take a stroll in the deer park. There's a golf course within the grounds, too.
Location: Wollaton Hall, Nottingham NG8 2AE, UK
Open: Daily from 10 am to 5 pm
Phone: +44 (0)115 8763100
Couples
Families
History
Photo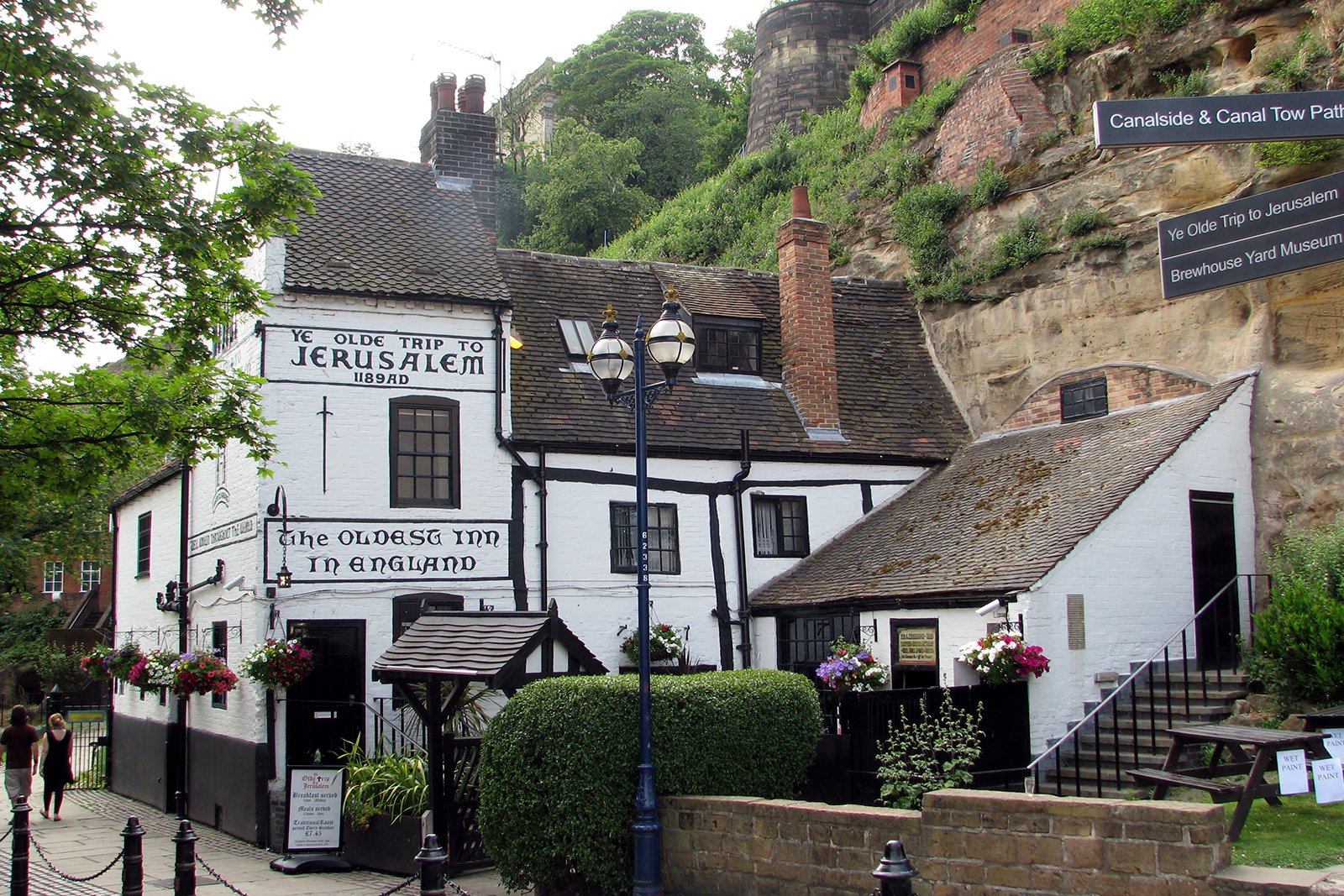 Enjoy a Nottingham Pub Lunch in 'England's Oldest Pub'
Have a pint in a pub that dates back to the Middle Ages
Ye Olde Trip to Jerusalem is an old pub bursting with character. The pub is actually built into the foundations of Nottingham Castle, and just looking at it tells you it has been around for a long, long time.
The floorboards creak, the roof is sagging, and it has a large sign above the door claiming to be "the oldest Inn in England". The menu is typical of an average boozer in the UK – think bangers and mash or steak and chips – but having a drink or a meal here is more for the cool tale you can tell when you're back home.
Location: 1, Brewhouse Yard, Nottingham NG1 6AD, UK
Open: Daily 11 am to 11 pm (open until midnight on weekends)
Phone: +44 (0)115 947 3171
Conkers Adventure Park
Let the kids run wild on the obstacle course
This children's adventure playground is set over 120 acres of woodland. You can zipline through forest canopies, paddle canoes across lakes and learn about the local ecosystem. In summer, being outside enjoying the obstacle course is most popular. In winter, Conkers has plenty of indoor activities to enjoy too, including a 4D cinema experience. Younger children especially love the miniature train ride. There's a small restaurant onsite so you can refuel with a sandwich and a hot drink.
Location: Rawdon Rd, Ashby-de-la-Zouch, Swadlincote DE12 6GA, UK
Open: 10 am to 5 pm
Phone: +44 (0)1283 216633