11 Best Things to Do in Bournemouth
What is Bournemouth Most Famous For?
Bournemouth is a fine example of a modern British seaside resort. Many similar cities have sadly fallen into decline by desperately clinging to past glories, but Bournemouth has managed to move with the times without demolishing their history. The pier jutting from the beautiful sandy beach hosts innovative amusements, old churches are now home to high-class nightclubs, and even the traditional seaside fish and chips has been revamped by ingenious chefs.
The result is a fun and attractive resort town with quite a lively pulse. It attracts people by the thousands every year, not least for its array of fantastic festivals. Don't miss the 10-day Bournemouth Food & Drink Festival in June or the UK's biggest air show in late-August.
What are the best things to do in Bournemouth?
1
Bournemouth Pier
A modernised historical attraction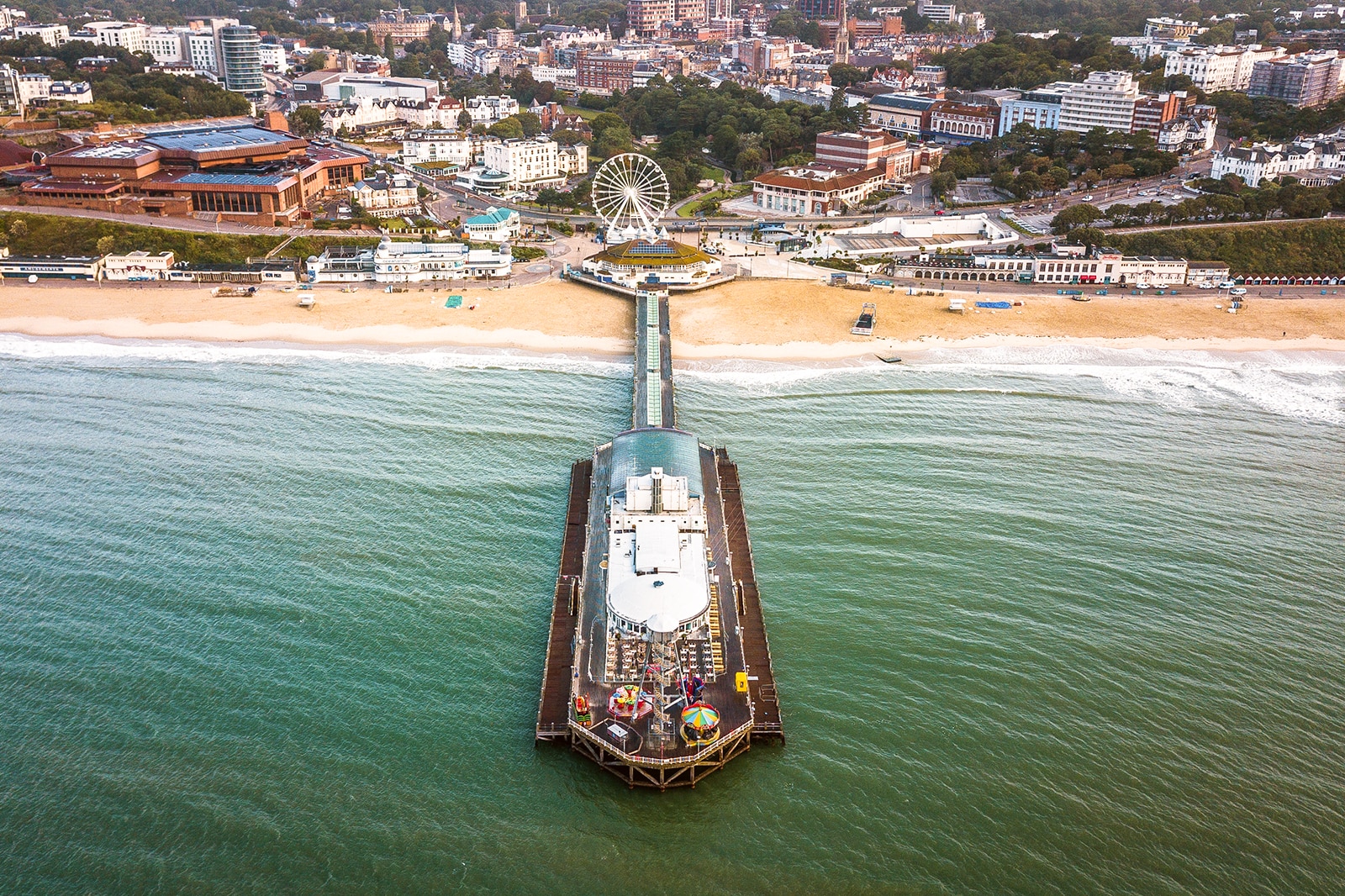 While British seaside piers were all the rage in the Victorian era, many have fallen into disuse as trends have changed. Bournemouth's has adapted and remains one of the best bits of this lively seaside town. The old theatre has been converted into an indoor climbing centre and the world's first pier-to-shore zipline can carry you back to the beach when you're done. There's plenty of reason to stay on the pier, though – a modest selection of shops, some great restaurants and a little funfair at the very end.
Location: Pier Approach, Bournemouth BH2 5AA, UK
Open: Daily from 9 am to 11 pm (open till 7 pm from October to May)
2
Bournemouth Beach
It's one of Britain's best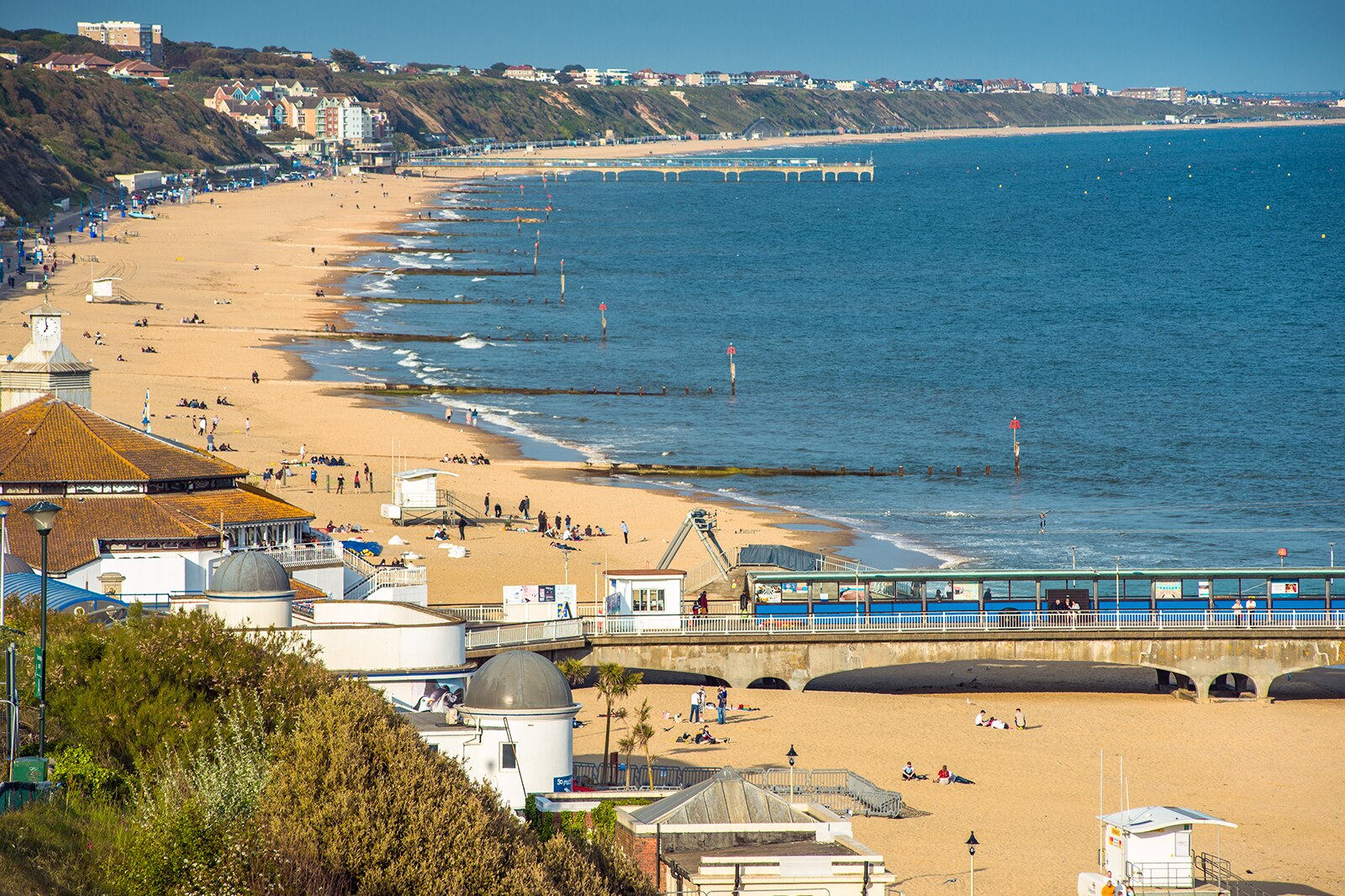 Bournemouth has one of the finest beaches in England, with wide and soft golden sands stretching for 7 award-winning miles. The English Channel isn't known for its warmth, but Bournemouth is fortunate enough to have a microclimate creating some of the warmest waters around the UK. There's lots to do nearby, including watersports like surfing, kayaking and paddle boarding. Check out the seaside parks and gardens, work out in the Coastal Activity Park, or just relax and enjoy the sun, sea, and sand.
3
Oceanarium
Watch the penguins play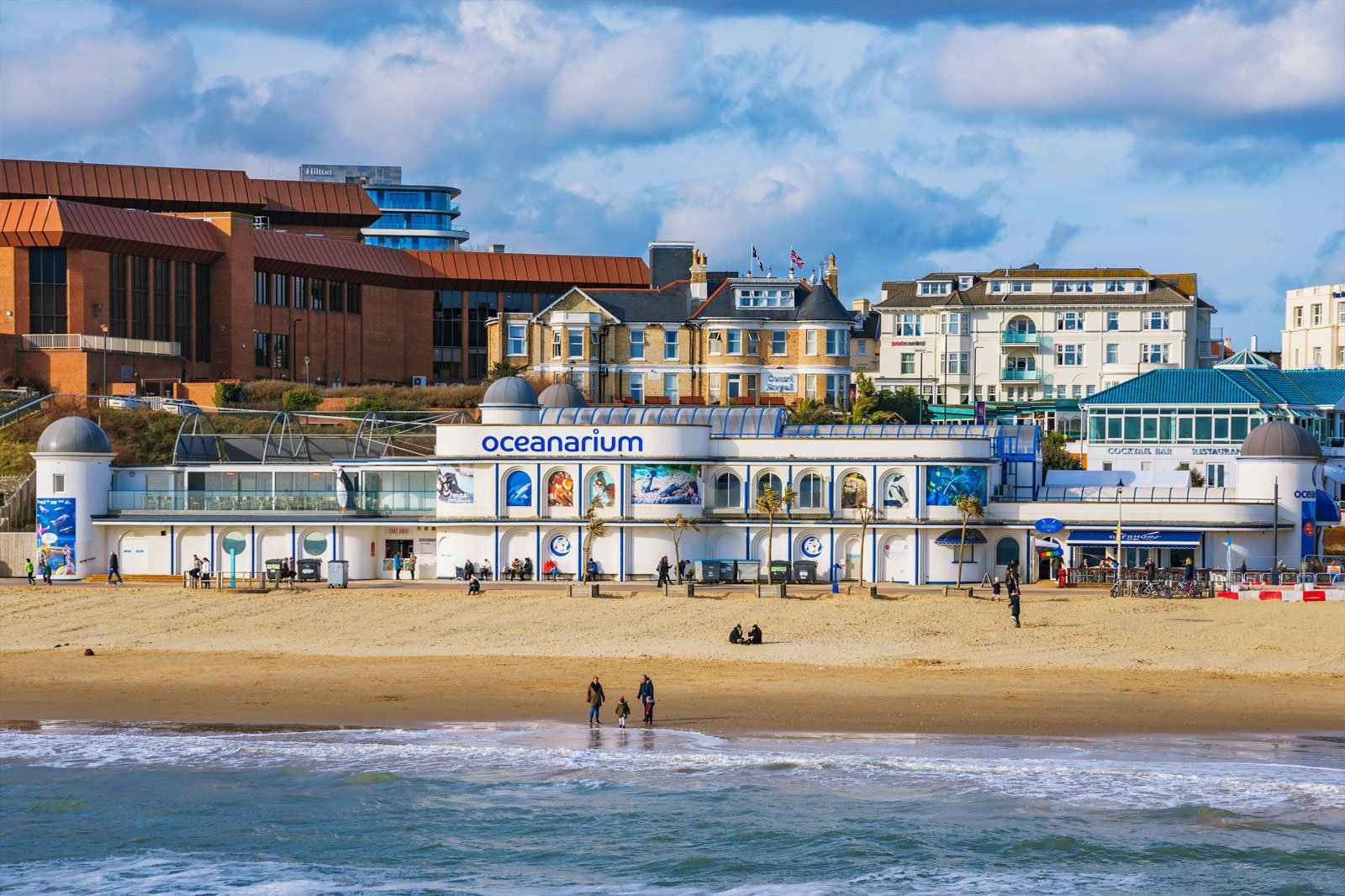 The Oceanarium, near Bournemouth Pier, puts a lot of emphasis on interactivity, though in a way that's safe both for visitors and the resident creatures. Feeding times are among the star attractions, with otters, penguins, sharks and turtles all getting their daily feed (the penguins get two). Despite being quite modest in size, the Oceanarium has 10 recreated environments, housing over 150 fish species as well as quite a few reptiles and invertebrates. Don't miss the glass tunnel through the Great Barrier Reef zone, so you can get a close view of sea turtles and sharks.
If it's the main reason for your visit to this coastal town, then choose a hotel close-by, along Bournemouth Beach.
Location: Pier Approach, Bournemouth BH2 5AA, UK
Open: Daily from 10 am to 5 pm
Phone: +44 (0)1202 311993
4
St Peter's Church
One of England's best Gothic revival churches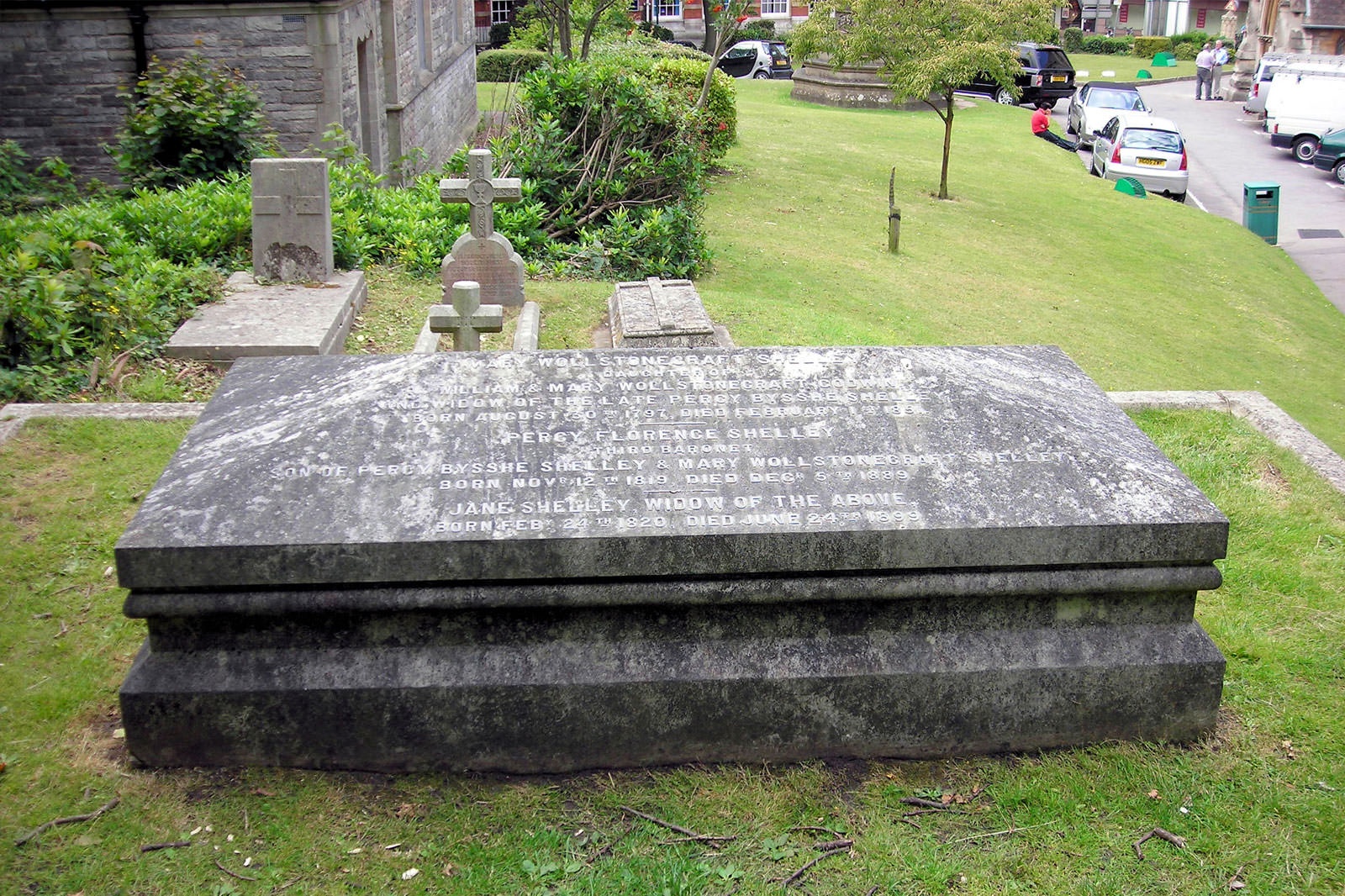 St Peter's Church is already noteworthy for being a very beautiful Gothic revival building. Its 200ft spire is among the tallest structures of the Bournemouth skyline. The interior is just as striking and earns the church a place among England's finest. In the graveyard outside lies the author of the Gothic horror novel Frankenstein, along with her husband – famed lyrical poet Percy Bysshe Shelley – and parents.
Location: 4 Hinton Rd, Bournemouth BH1 2EE, UK
Phone: +44 (0)1202 290986
photo by Jim Linwood (CC BY 2.0) modified
5
Russell-Cotes Art Gallery & Museum
Discover a unique collection in a unique house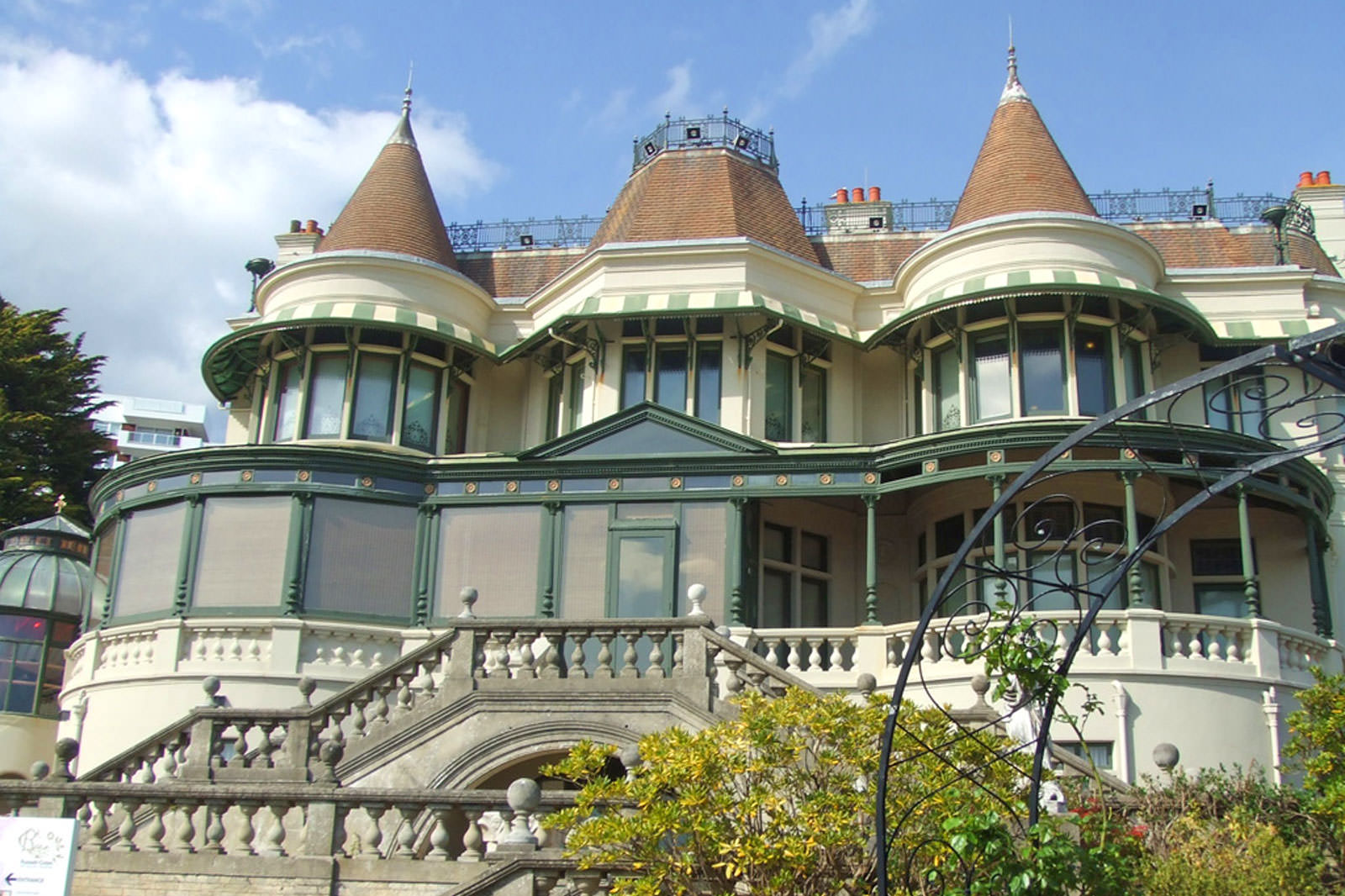 Sir Merton Russell-Cotes was a philanthropic Mayor of Bournemouth in the late 1800s. In 1901, he built a dream house for his wife as a birthday present. A mere 6 years later, they gifted the building and its contents to the people of Bournemouth, creating this remarkable art gallery and museum. It's quite a grand and eclectic place, combining all sorts of architectural styles in its construction and artistic styles in its collection. Every room has something to see and enjoy, making it undoubtedly one of Bournemouth's star cultural attractions.
Location: Russell Cotes Rd, Bournemouth BH1 3AA, UK
Open: Tuesday–Sunday from 10 am to 5 pm (closed on Mondays)
Phone: +44 (0)1202 451800
photo by Graham C99 (CC BY 2.0) modified
6
Christchurch Road
Explore Bournemouth's vintage quarter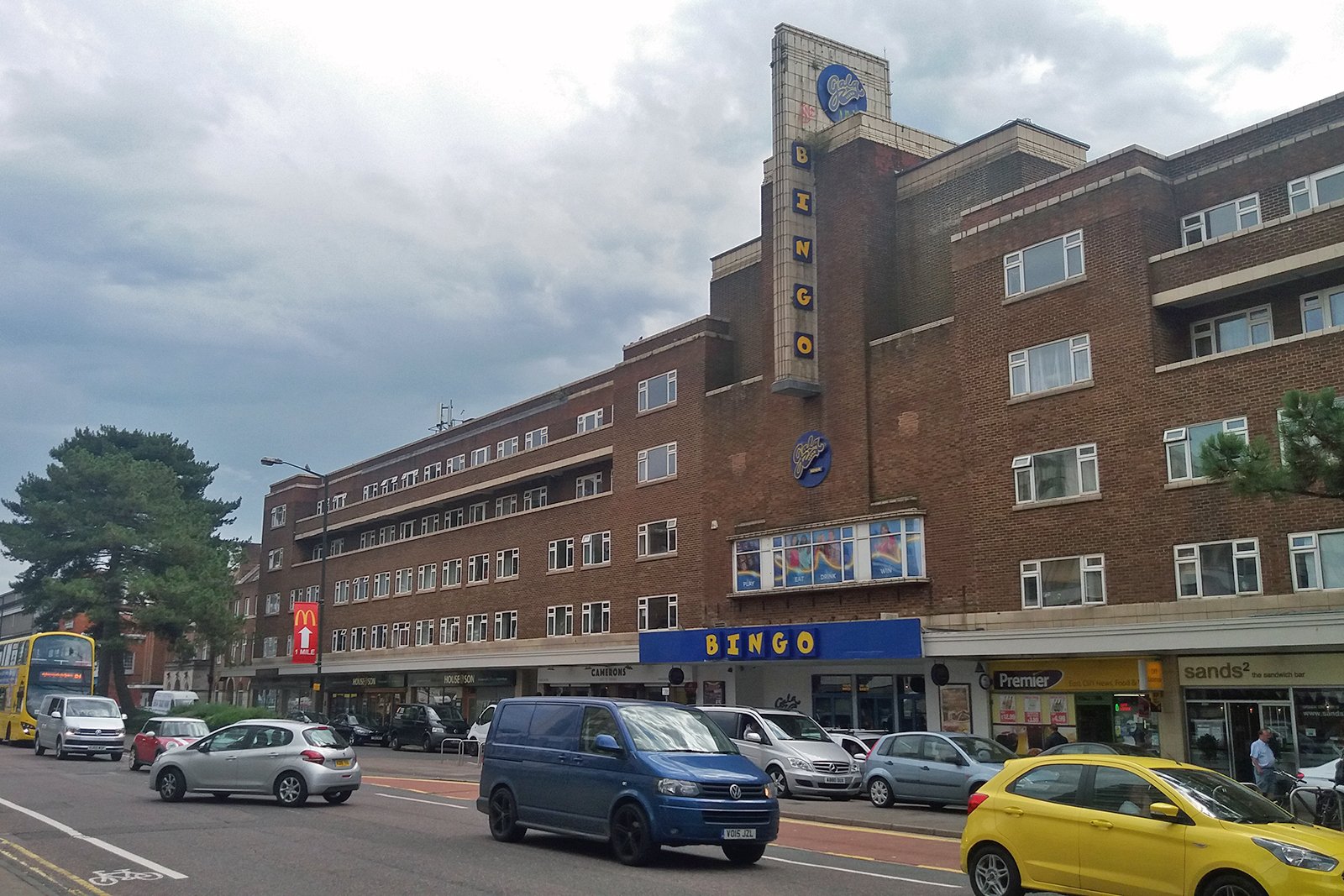 Christchurch Road runs through a largely residential part of Bournemouth yet is lined with some of the most interesting shops, especially near the Pokesown train station. If you're looking for something different and unique, you'll probably find it among the vintage clothes shops, antique stores, and little independent boutiques here. If you want a more contemporary selection, you'll find the modern Sovereign Shopping Mall at the opposite end of the same road.
Location: Christchurch Rd, Bournemouth BH7 6DL, UK
photo by Along time ago... (CC BY 2.0) modified
7
The Square
Have your morning coffee in the heart of Bournemouth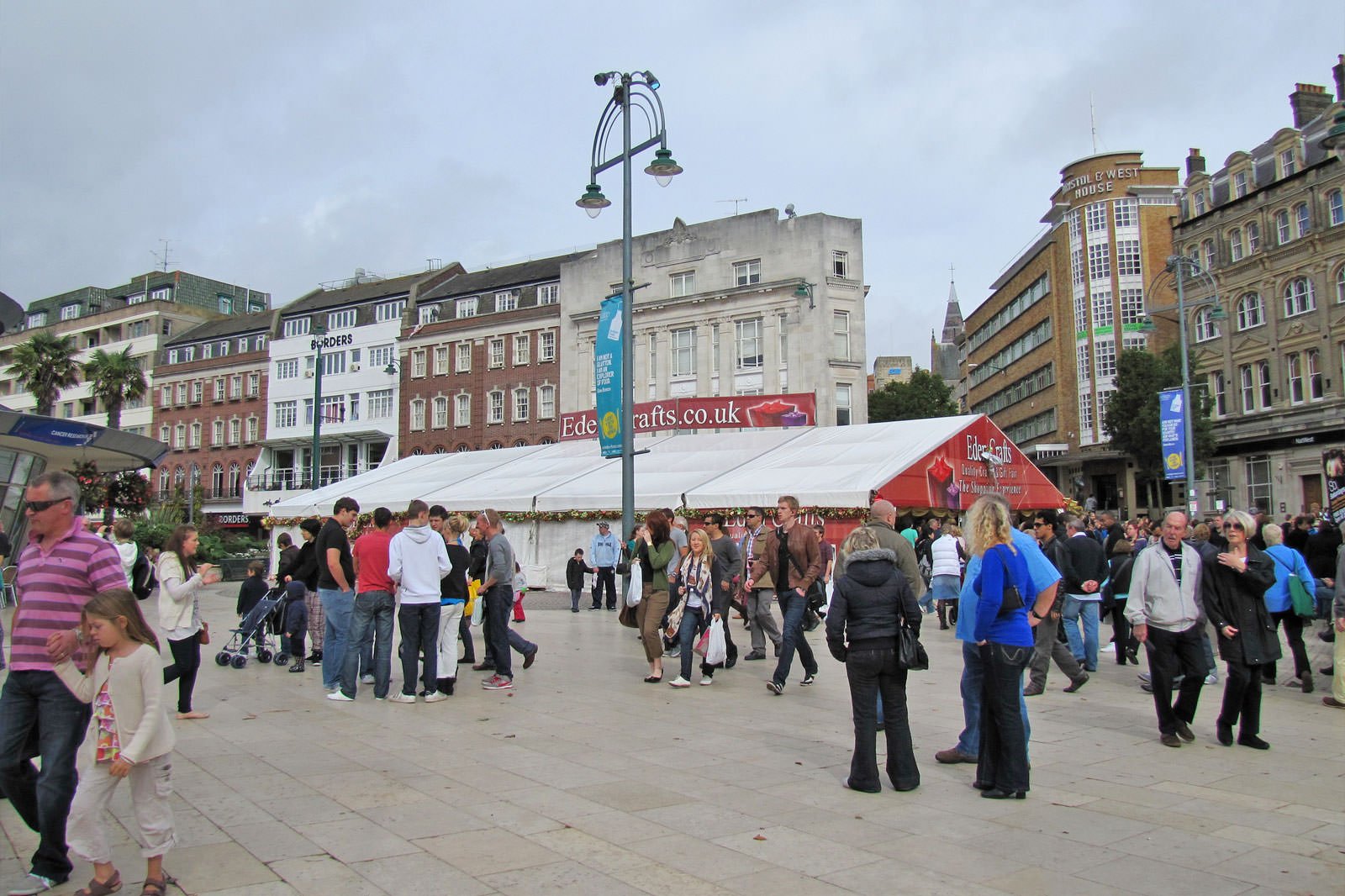 The Square is pretty much the hub of central Bournemouth, and an excellent place to start your day. Not exactly square-shaped, it has pedestrianised shopping precincts to the east and west, and parks over the roads to the north and south. Head to the nearby South Coast Roast for your morning brew, then maybe check out the nearby shops, which include a Debenhams department store in quite a grand old building.
Location: The Square, Bournemouth BH2 6EG, UK
photo by Robert Linsdell (CC BY 2.0) modified
8
Bournemouth Gardens
Follow the Bourne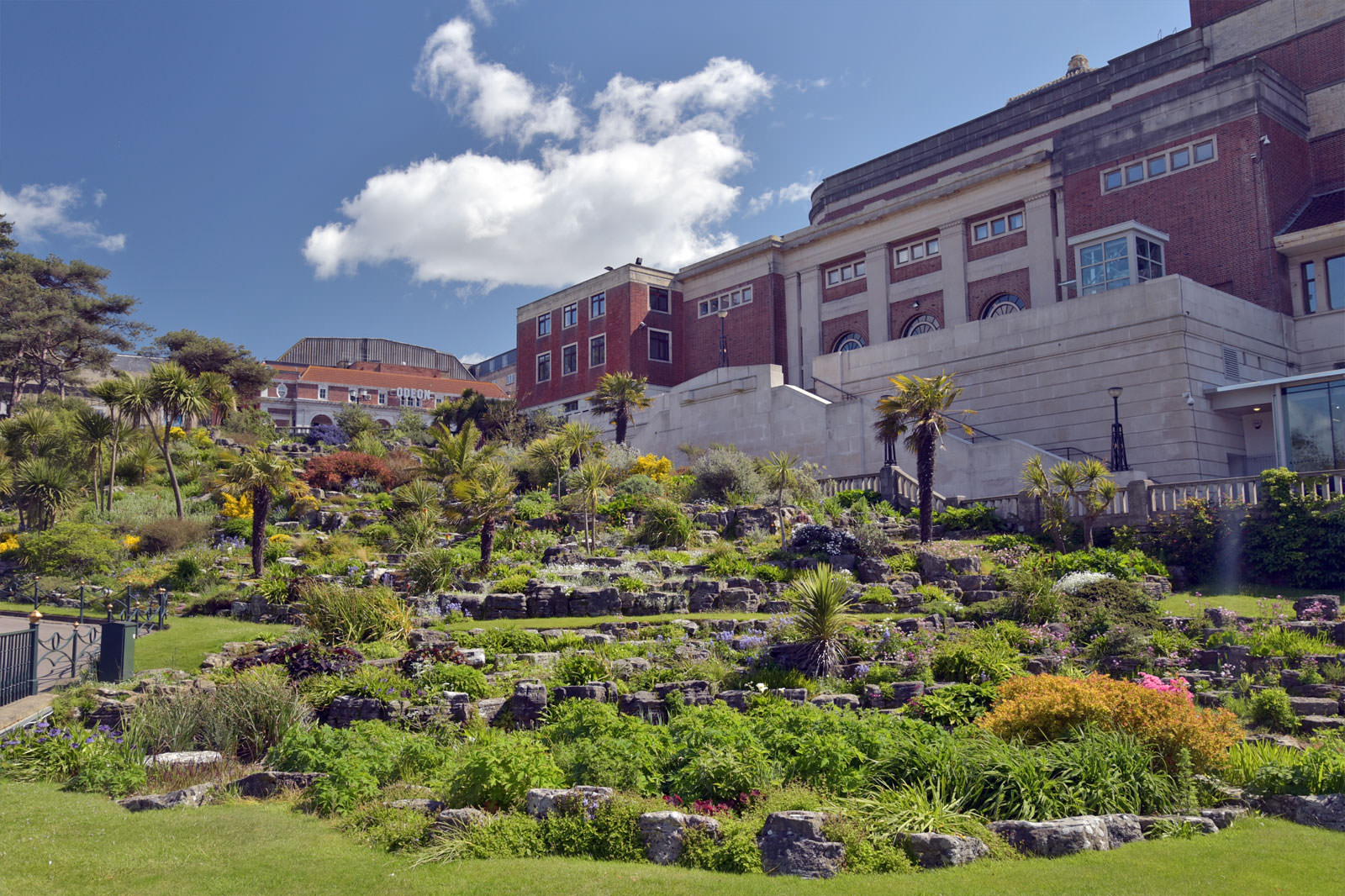 The main parks in Bournemouth are a little unusual in shape. They follow the course of the Bourne – the river the city takes its name from – and are therefore about 2 miles long but only a couple of hundred feet wide. Split by minor roads, they are unimaginatively named Upper Gardens, Central Gardens and Lower Gardens. To be fair, the tree-shaded banks of the Borne are genuinely peaceful, and 8 tennis courts, mini golf, and an aviary have somehow been squeezed into the restrictive space as well.
Location: Westover Road, Bournemouth BH2 5AH, UK
9
O2 Academy
There's a big show almost every weekend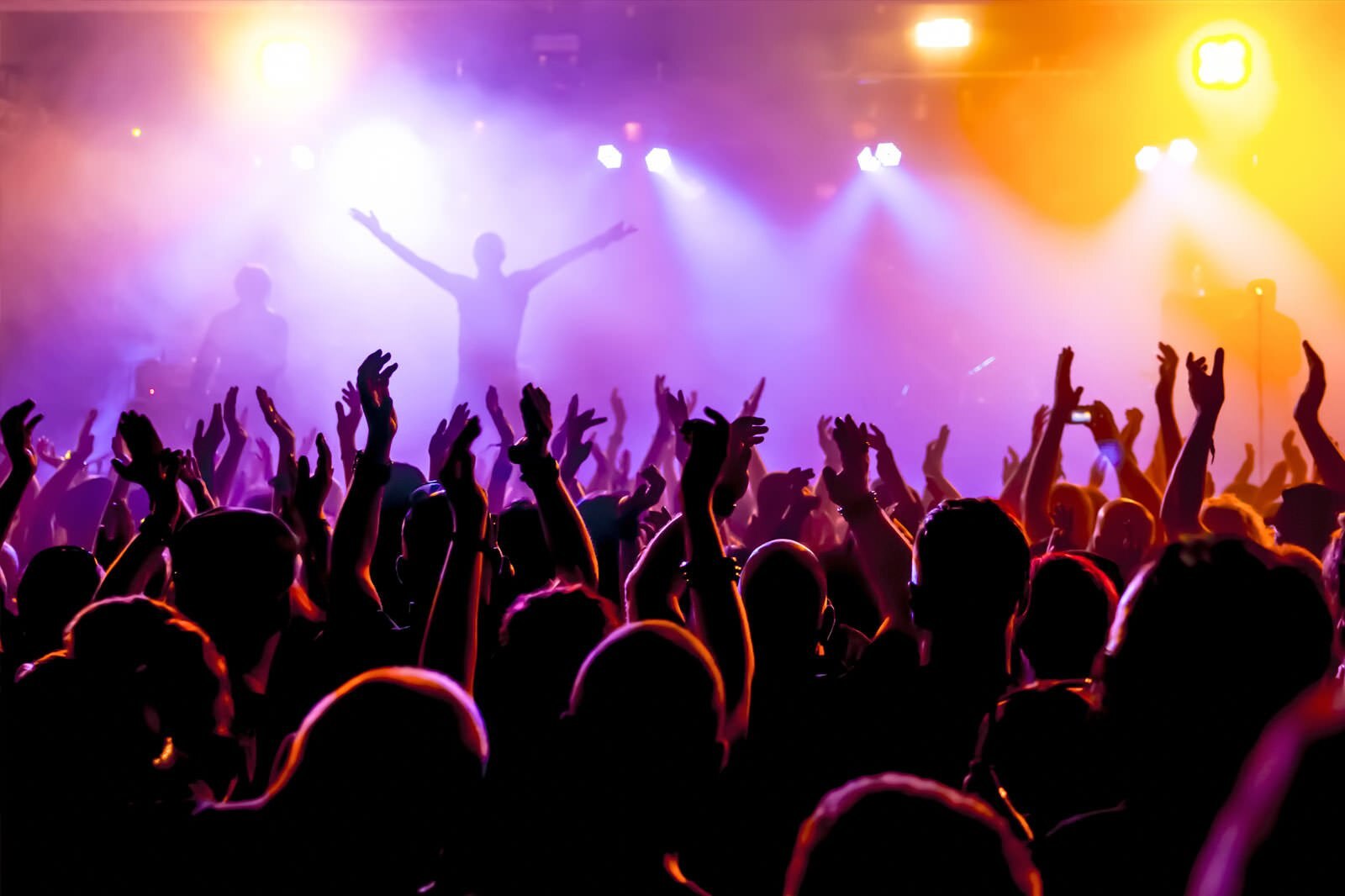 Bournemouth has a thriving music culture and is known as one of the best places outside of London to see major gigs and concerts. There are 3 big venues to choose from – Bournemouth International Centre, the Pavilion Theatre, and O2 Academy. The last 2 of these are beautiful historical buildings. O2 Academy, on Christchurch Road, has seen many stars take to its stage through its long history, and still has big events virtually every weekend.
Location: 570 Christchurch Rd, Bournemouth BH1 4BH, UK
Phone: +44 (0)1202 399922
10
Bournemouth pubs and clubs
Pick the right party for you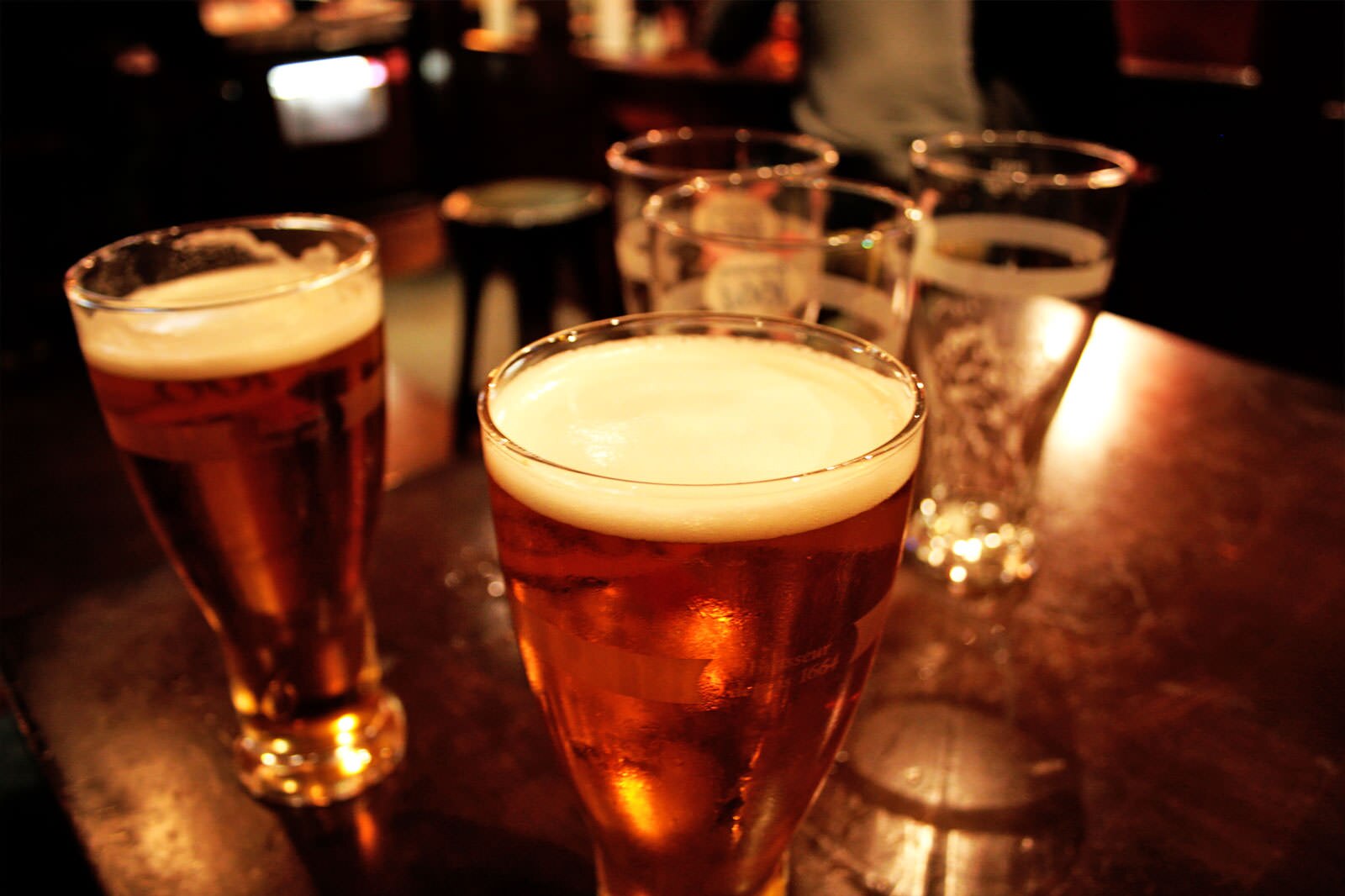 With a young and lively population, Bournemouth has a good nightlife scene, including a range of first-class clubs. Most can be found along Old Christchurch Road, near the city centre. Don't worry if high-energy discos aren't your thing – the scene is very varied, with traditional English pubs and sophisticated cocktail lounges also available. Among the top venues are the refined Smokin' Aces on Commercial Road, with its extensive selection of spirits. There's also The Old Fire Station on Holdenhurst Road, which is particularly popular with the local university students and attracts big-name DJs. Halo is somewhat iconic in the UK nightlife scene and is housed in a former church on Exeter Road – definitely worth checking out!
11
Bournemouth's dining scene
Great local ingredients and international preparations
Bournemouth's reputation as a food-lover's paradise is growing stronger with every year. It started off with the standard seaside staple of fresh fish and chips, but the selection of restaurants now includes cuisines from Brazil, Mexico, France, Italy, America, India, China, Thailand, and many others, as well as countless quirky fusions and modern takes on British classics. Urban Reef, on Boscombe Promenade, is best for breakfast. They do great smoked kippers with sourdough toast. For fresh local seafood with a view of the pier, WestBeach takes some beating. Cafe Boscanova, on Christchurch Road, has a funky style and great American pancakes.
Back to top