10 Best Things to Do in Blackpool
What is Blackpool Most Famous For?
The best things to do in Blackpool are found stretched along the coast of this British seaside resort in the northwest of England. Most Brits remember family holidays on the pebble beach as quaint but typically English. The same is true today, and even though the rise in low-cost flights to sunnier climates has increased the competition, there's something inherently British about a trip to Blackpool.
A trip to Blackpool is a trip back in time. The donkey rides, cabaret shows, and sticks of rock candy haven't really changed in a generation, and there's something charming about that. Once the sun sets, Blackpool becomes a beacon for bachelor parties who party late into the night.
What are the best things to do in Blackpool?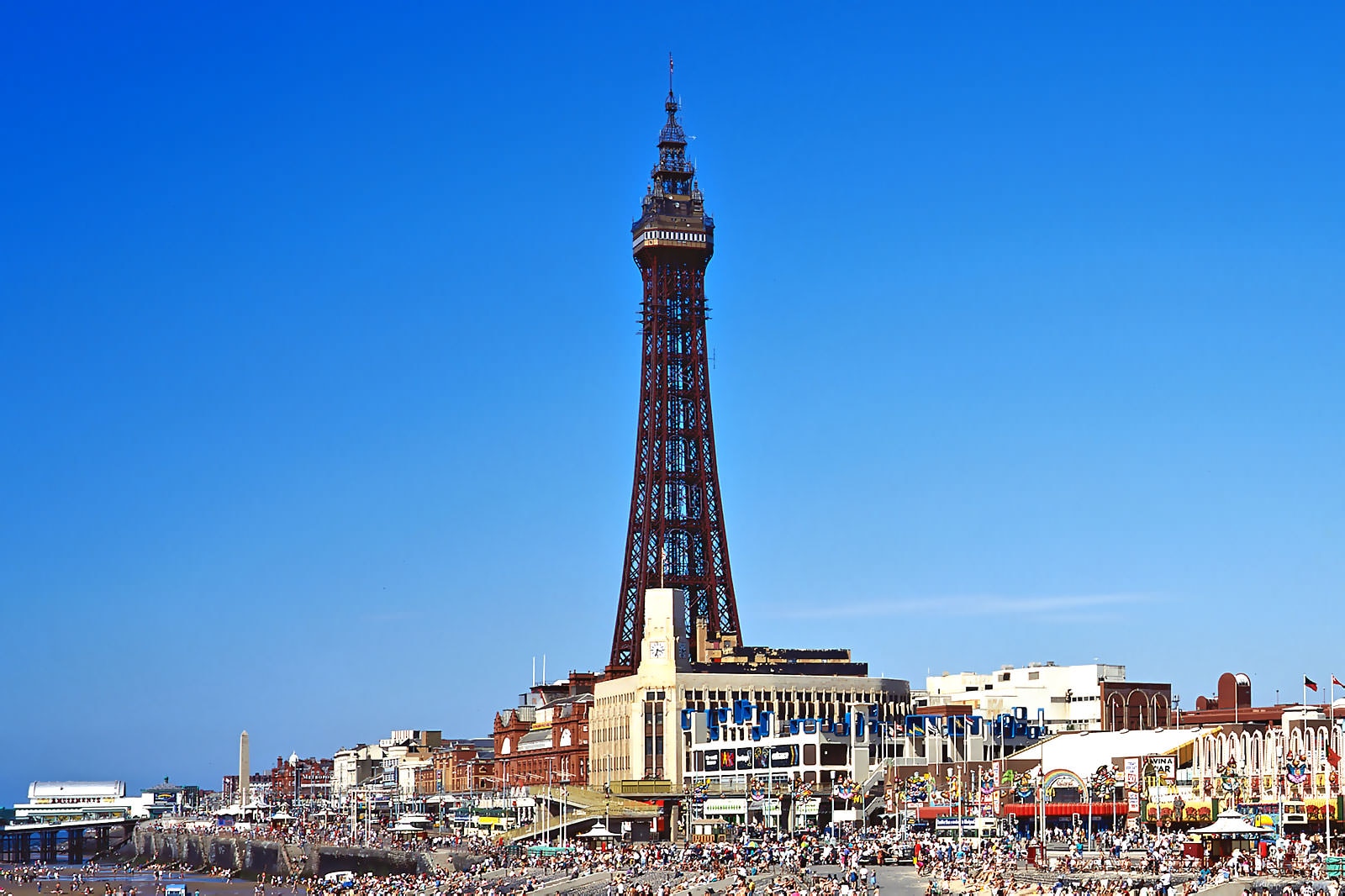 The iconic landmark of the city, Blackpool Tower dominates the skyline from its location in the centre of town. It's 158 metres tall and resembles the Eiffel Tower. There are loads of tourist attractions inside the tower, appealing to different types of guests – it's one of the most popular and best things to do in Blackpool. You can head up to the viewing deck at the top for some great photos, take the kids to the jungle gym or head to the dungeons for a fun escape game. There's also a ballroom inside that hosts regular live shows – everything from comedy to dancing and even afternoon tea.
Read more
Location: Promenade, Blackpool FY1 4BJ, UK
2
Central Pier
A classic British promenade with lots of family attractions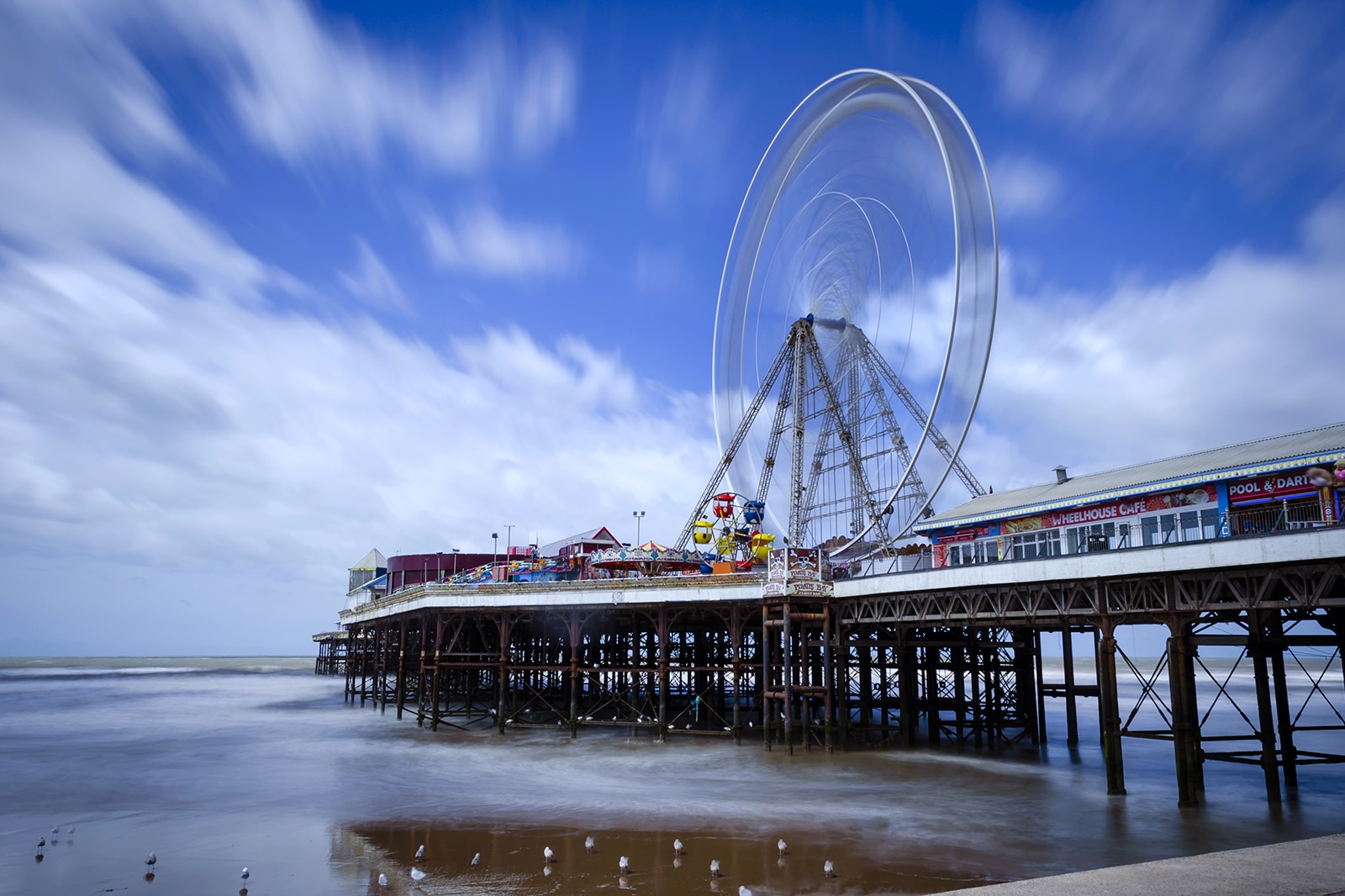 A long pier is a hallmark of a British seaside resort. As proof of Blackpool's popularity, it has 3 separate piers, but Central Pier is our pick to start the day. The long promenade makes for a pleasant stroll, and it's lined with fairground rides, the iconic big wheel, games arcades, and plenty of takeaway stalls for snacks and drinks. It's loud and a lot of fun. Don't miss out on any of this by choosing a hotel that's situated near the Central Pier.
Read more
Location: Promenade, Blackpool FY1 5BB, UK
Open: Daily from 11 am to 11 pm
Phone: +44 (0)1253 623422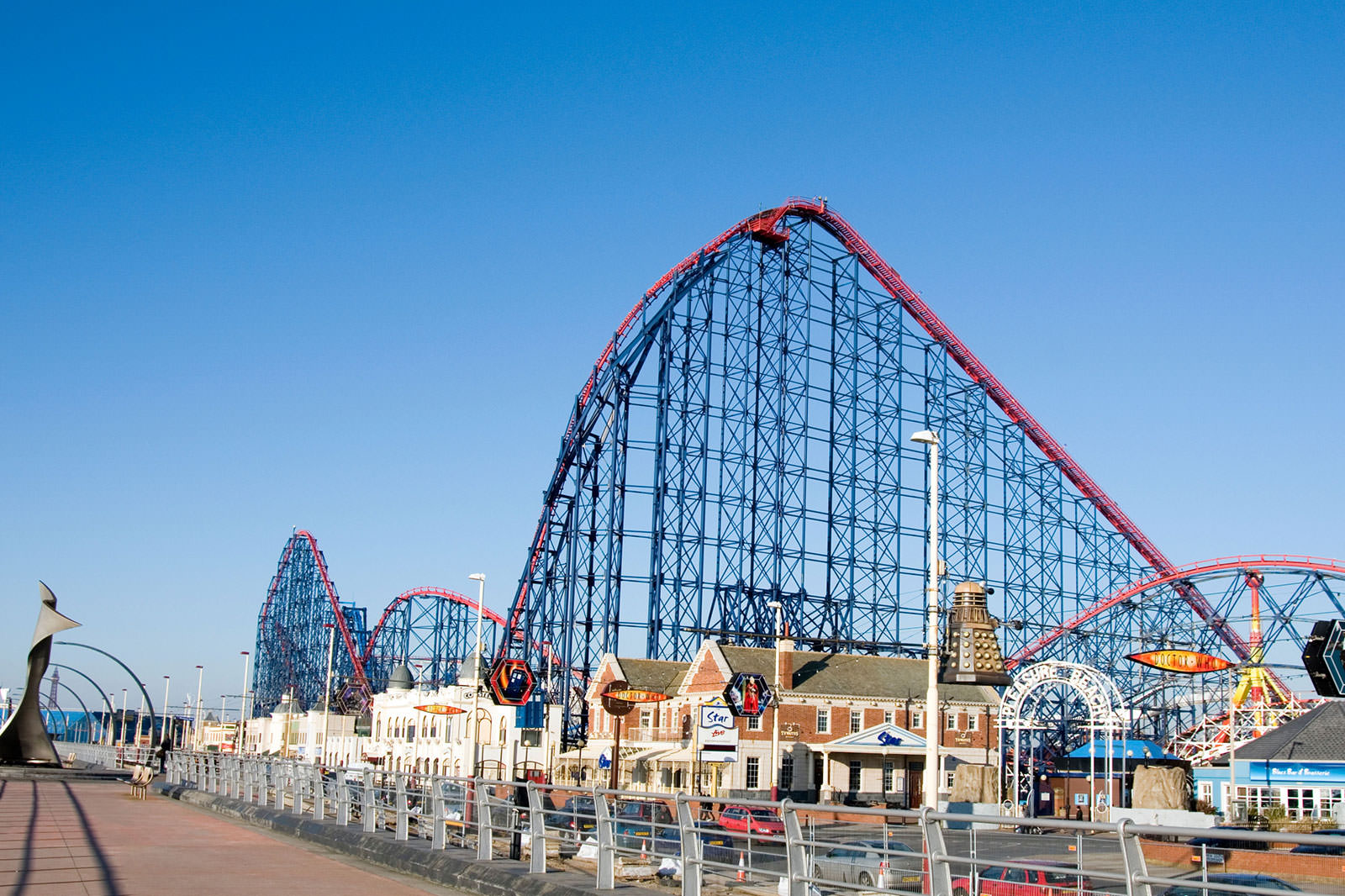 Blackpool Pleasure Beach is an amusement park with some thrilling rollercoasters and a scary haunted house that is staffed with actors who walk around acting like zombies. The centrepiece of the park is aptly named, the Big One. Featuring a 235 ft drop, it's the tallest and faster ride in the UK. The addition of Nickelodeon Land has added more rides for toddlers, like SpongeBob's Splash Bash and Rugrats Lost River, plus the Wallace & Gromit Thrill-O-Matic rollercoaster.
Read more
Location: 525 Ocean Blvd, Blackpool FY4 1EZ, UK
Open: Daily from 10 am to 6 pm
Phone: +44 (0)871 222 1234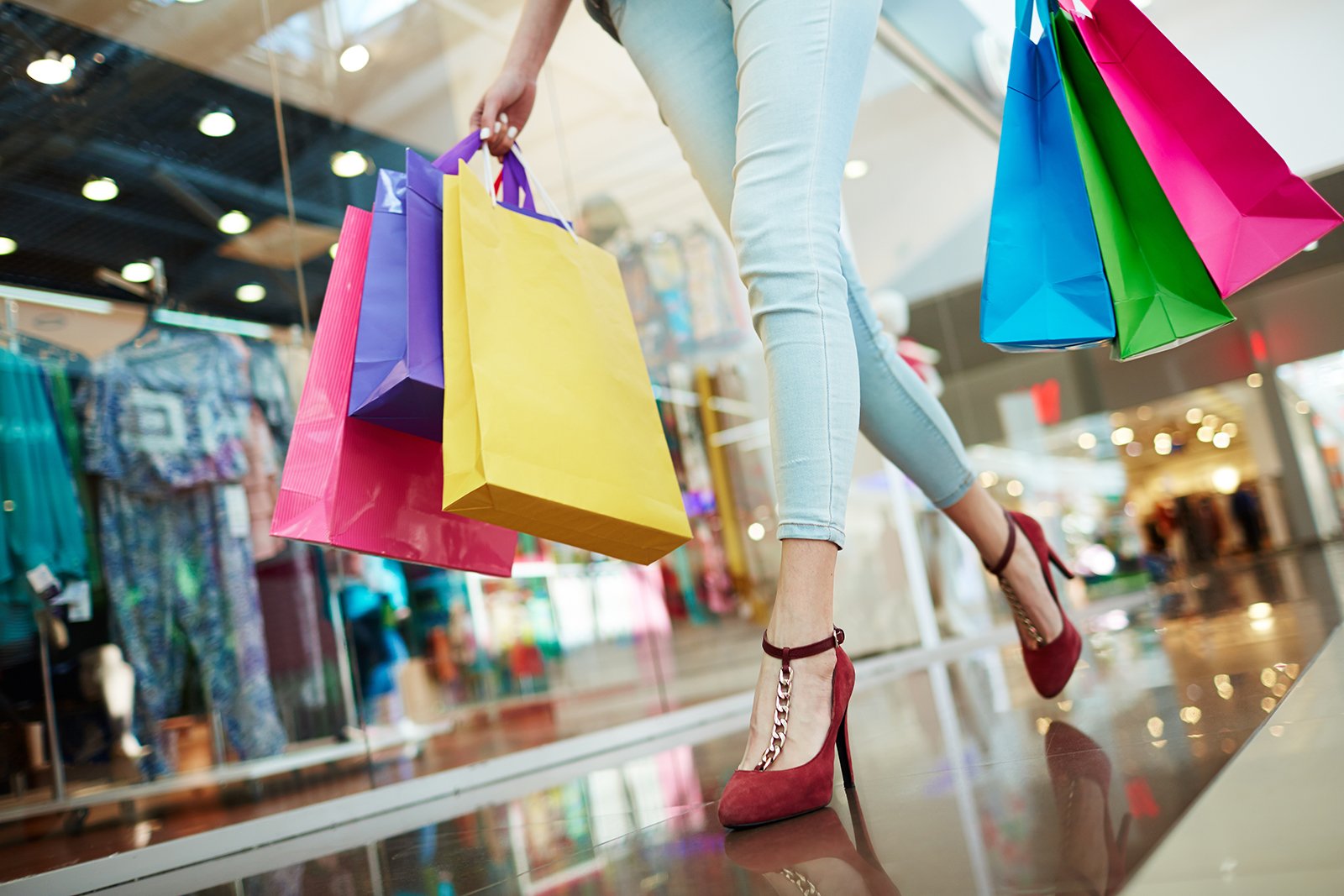 Blackpool isn't renowned for brand name shopping, but if you're looking to shop then Houndshill Shopping Centre has a decent selection of stores. It's easy to find, just behind Blackpool Tower and walking distance from the beach. Debenhams department store is the probably your best bet for fashion items. As it's fully enclosed, Houndshill Shopping Centre is a popular spot on a rainy day, with a choice of restaurants, coffee shops and fast food outlets.
Read more
Location: 17 Victoria St, Blackpool FY1 4HU, UK
Open: Daily from 9 am to 5.30 pm
5
Eat Blackpool Rock
It's the most famous Blackpool souvenir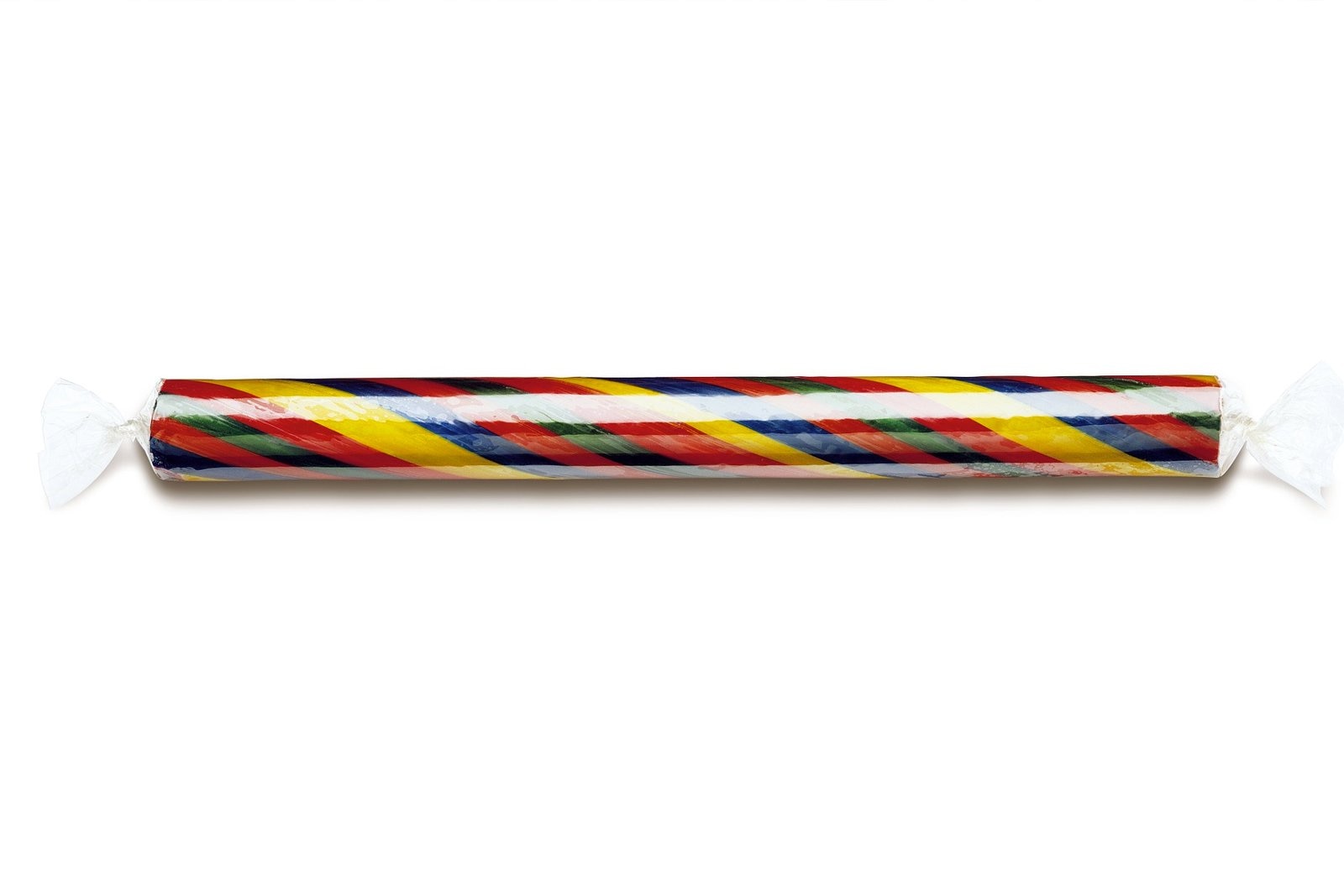 This hard-boiled candy can be picked up all over town. Your dentist wouldn't approve, but it makes a cheap and easy souvenir of your time in Blackpool. It comes in a range of flavours, usually with a mint flavour in the centre. To add a personal touch, some souvenir shops offer the option of adding a personalized message written into the centre of the candy.
6
Ride a donkey on the beach
Ride on a mule, just like in Victorian England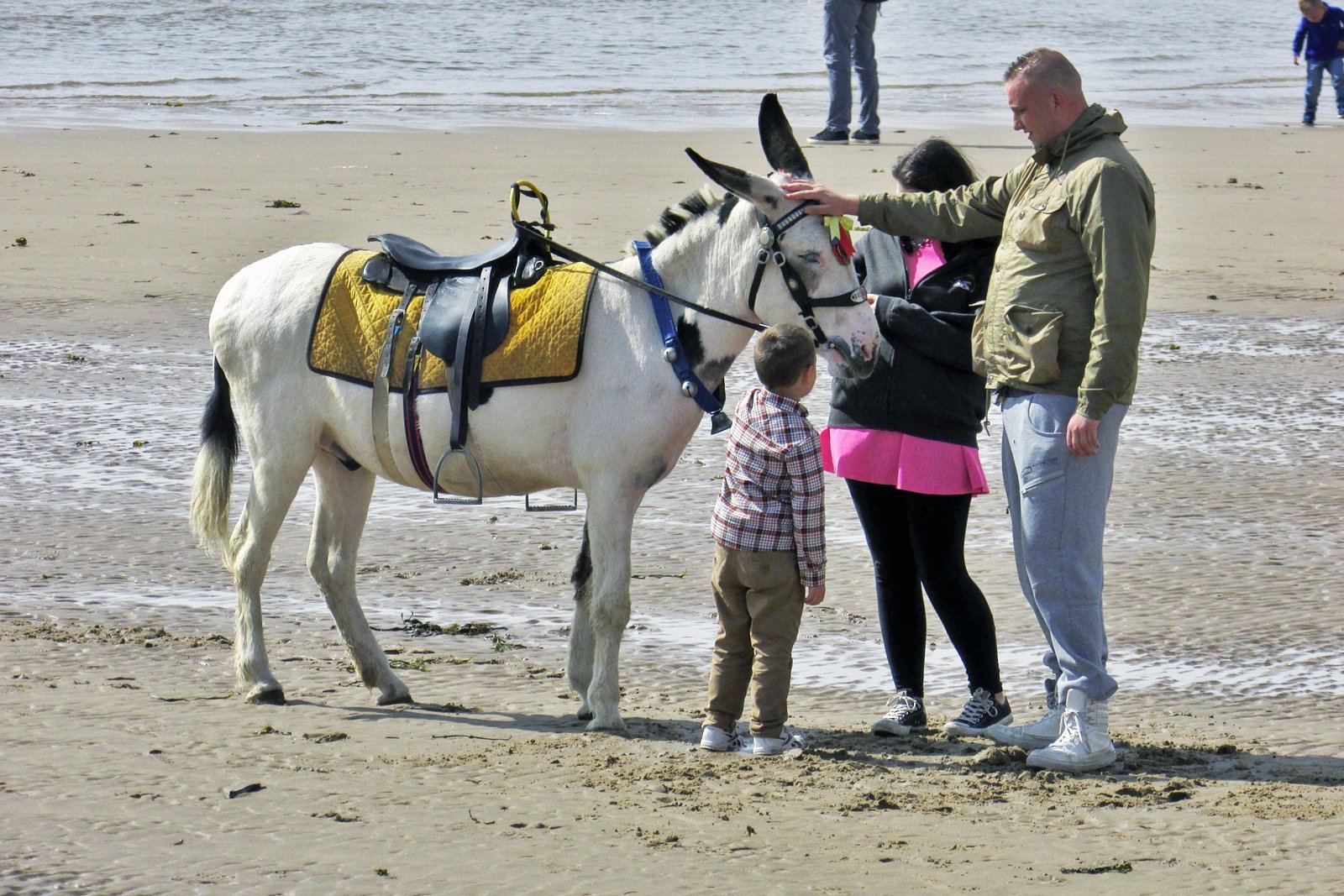 Families
Photo
Adventure
History
A donkey ride on Blackpool Beach is a rite of passage for many youngsters on a family holiday since the 19th century. The donkey will be led by a harness on a slow walk. The route up and down the beach has stayed largely the same, but these days, some of the donkeys have credit card payment machines attaches to their saddles. Rides only cost a couple of pounds and last around 15 minutes. To ensure the donkeys are well cared for, vets inspect the animals every week. There's also a weight restriction so no one over 8 stone (50kg) is allowed to ride.
Location: Blackpool Beach, close to the Central Pier
Open: Daily from 9 am to 5 pm
7
Eat cockles and whelks
Fresh seafood, eaten with a cocktail stick on the beach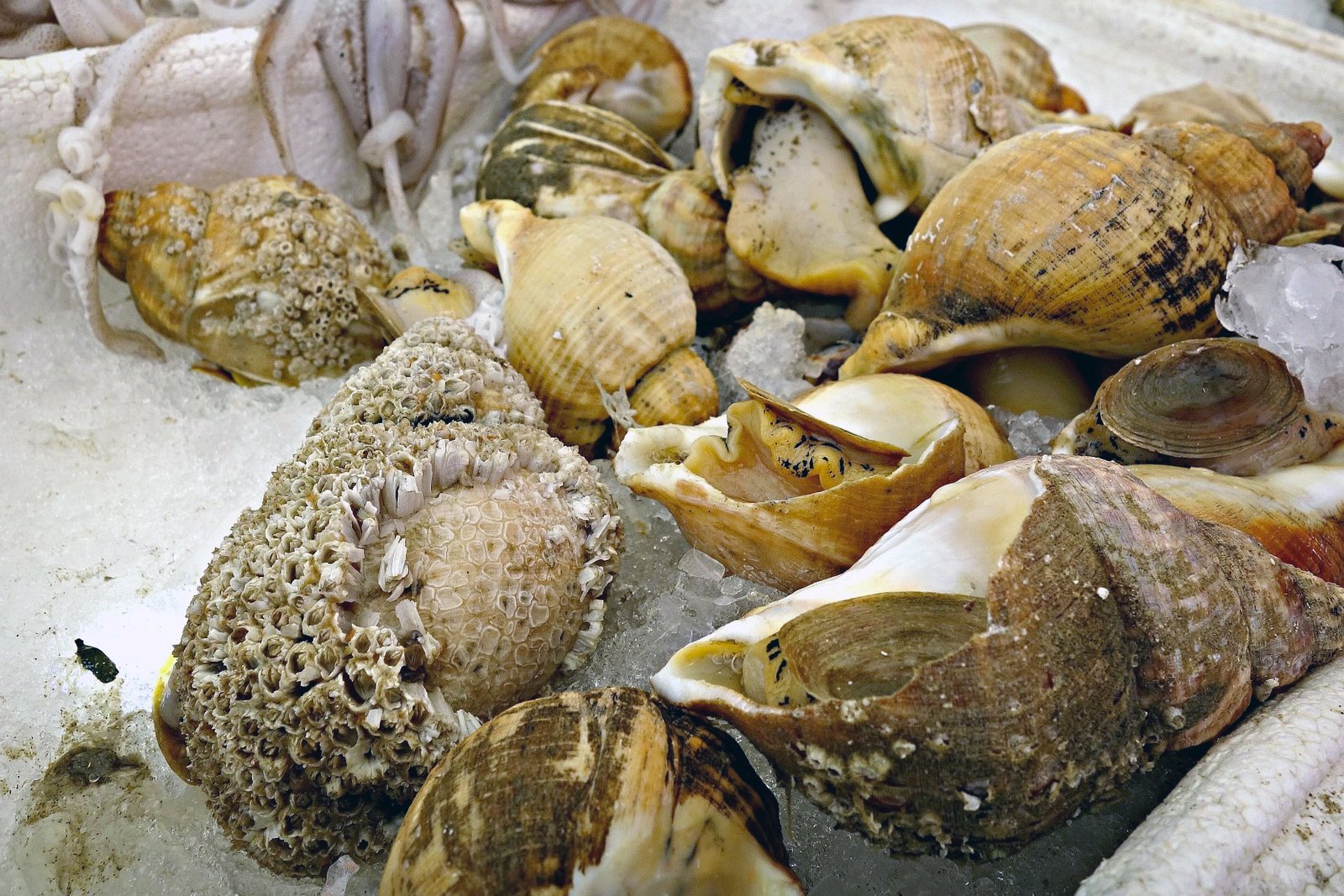 Shellfish is best eaten fresh, and in Blackpool you'll find plenty of seafood restaurants serving up local catches. The northeast of England has a bountiful variety of oysters, mussels and razor clams, but most famously, you'll find jars of cockles and whelks. Try these small boiled shellfish in the local style, with pepper and plenty of vinegar. For a bonus point, eat them with a cocktail stick while sitting on the beach.
Genting Casino has a nice variety of games to play and insists on a smart-casual dress code, so the crowd is more pleasant than other casinos in town. It's about 10 minutes' drive north of Blackpool Tower. The minimum bets start from £2 for a game of Blackjack, and less for Roulette, so you don't have to be a high roller to join in. Of course, you don't have to gamble. The casino has a swanky restaurant that's one of the best in town and a bar that serves until 5.30am. ID is a must.
Read more
Location: 64 Queen's Promenade, Blackpool FY2 9QG, UK
Open: Daily from 11 am to 6 am
Phone: +44 (0)1253 352628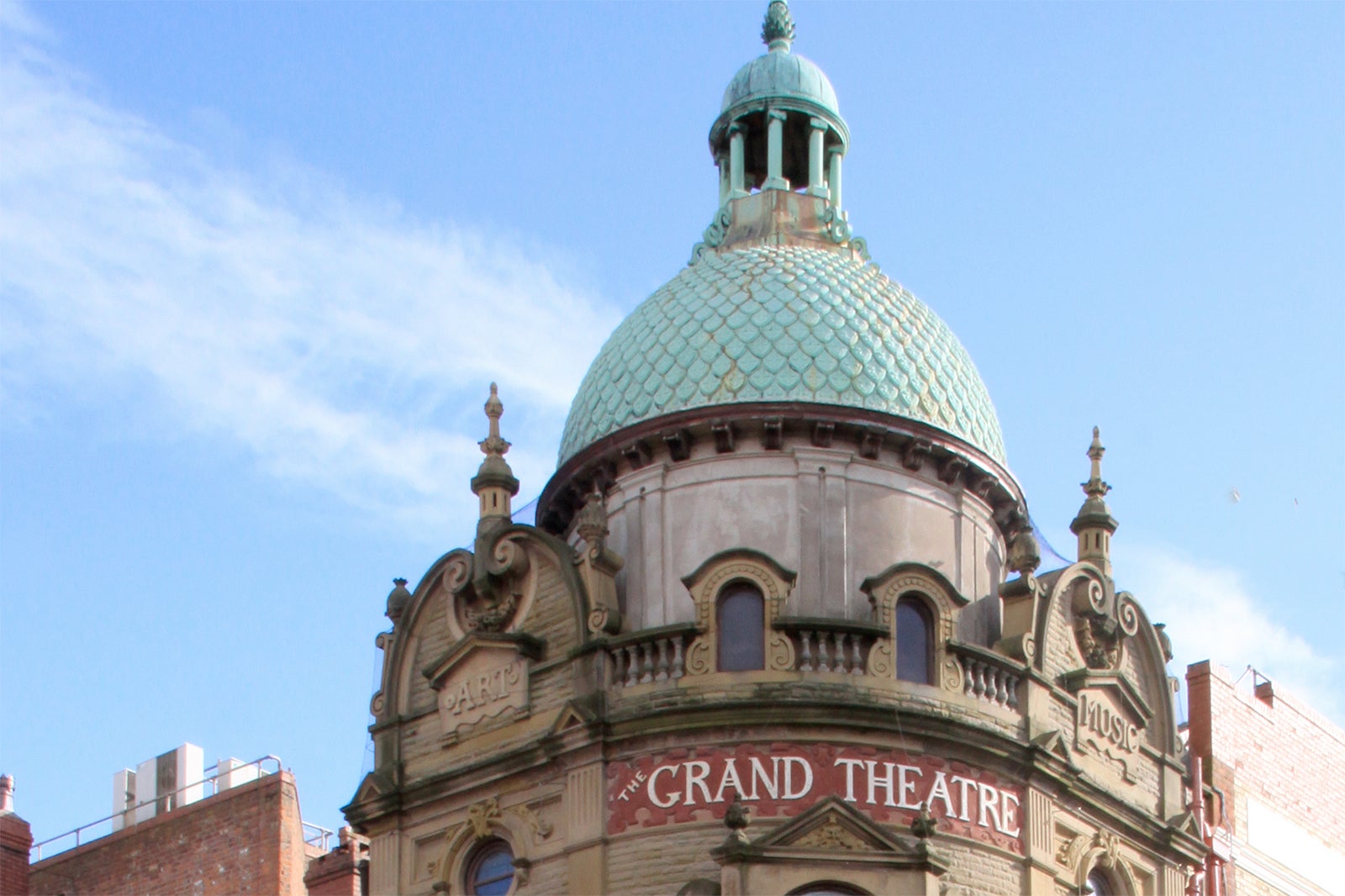 As a tourist resort, it makes sense that the city boasts a lot of evening entertainment. The Grand Theatre is one of the best venues for live shows, with something light-hearted and fun being performed most nights. Musicals like Grease and The Rat Pack are particularly popular, along with live comedy and tribute bands. It's known as the National Theatre of Variety for a reason.
Read more
Location: 33 Church St, Blackpool FY1 1HT, UK
Phone: +44 (0)1253 290190
photo by Tony Hisgett (CC BY 2.0) modified
10
Queen Street
Be warned – the pubs get wild in Blackpool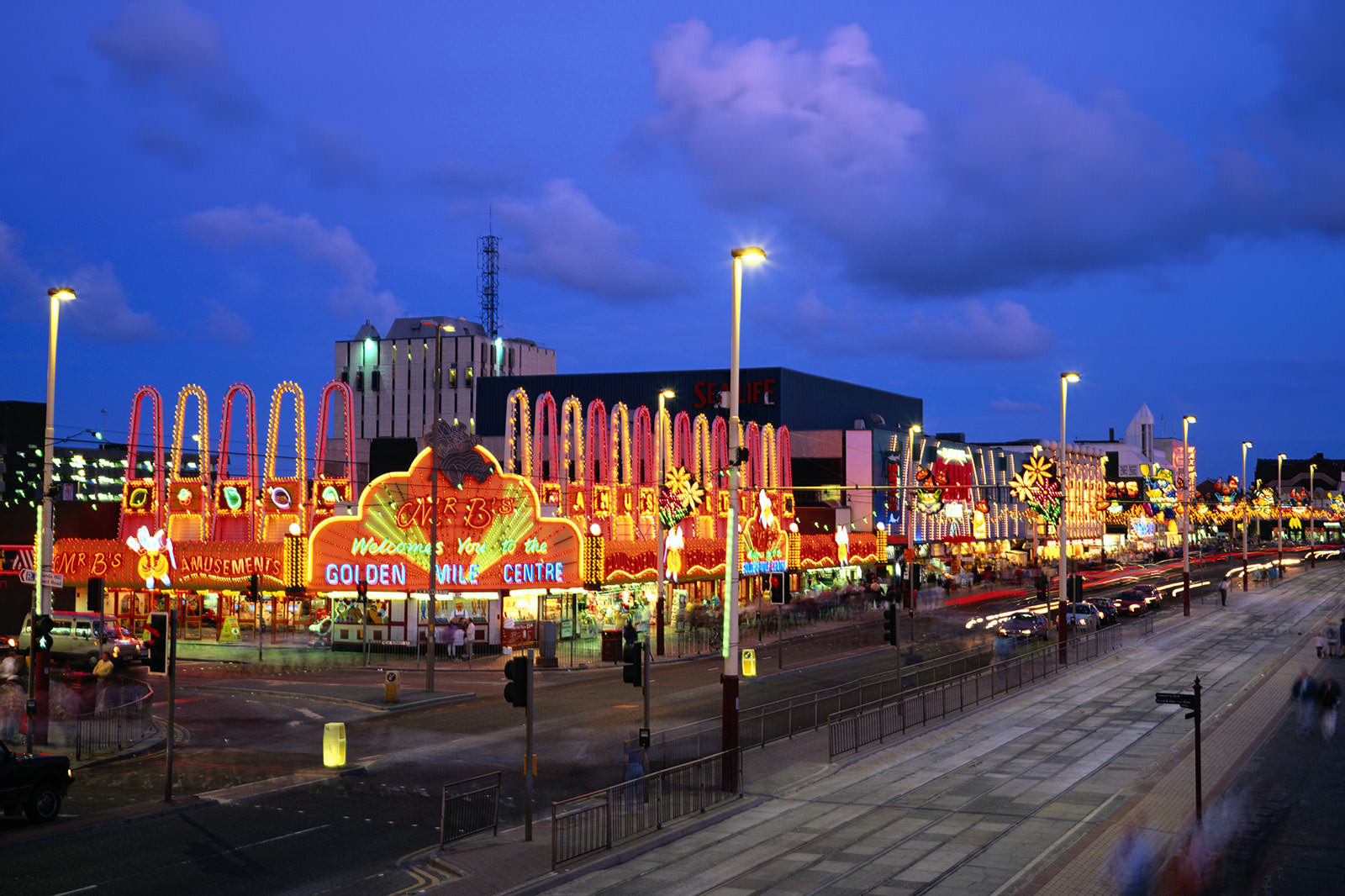 Blackpool is known for its extreme drinking culture, which makes it a lot of fun, but you should be prepared to see groups of pre-marriage parties in outlandish fancy dress, known locally as 'stag' and 'hen' parties. Queen Street runs from North train station to the North Pier and is lined with over 20 different bars and clubs. You'll find plenty of lively bars, live music joints and nightclubs to choose from.
Location: Queen Street, Blackpool, UK
Back to top