10 Best Things to Do in Weymouth
What is Weymouth Most Famous For?
A stalwart of southern England's holiday scene, Weymouth is a delightful Georgian town that fulfils all of the clichés of the English seaside. From retro fish and chip shops to donkey rides on the beach, it's all here and it's all as delightfully kitsch as ever.
With that said, Weymouth is cultivating a newer, more refined image as vintage boutiques and artisanal coffee shops pop up across town. All of this makes Weymouth a perfect place to while away a couple of days, with the town's proximity to the beaches of the Jurassic Coast an added incentive. Take a look at the best things to do in this much-loved seaside town, below.
What are the best things to do in Weymouth?
1
Nothe Fort
A 19th-century fort that's home to a museum, a cafe and cultural events
Nothe Fort is a key local landmark overlooking Weymouth Harbour. Perched at the tip of a grassy peninsula, the fort was built in 1860 to ward off the threat of French invasion. It boasts a fascinating museum that details the building of the structure as well as its 160-year-long history. Tickets cost around £8 per person with children entering for just £2 and kids under 5 years get in free.
Location: Barrack Rd, Weymouth, DT4 8UF, UK
Open: April–November from 10.30 am to 5.30 pm
Phone: +44 (0)1305 766 626
photo by Jim Linwood (CC BY 2.0) modified
2
Weymouth Harbour
Fishing boats, chip shops and pastel-painted houses at the heart of town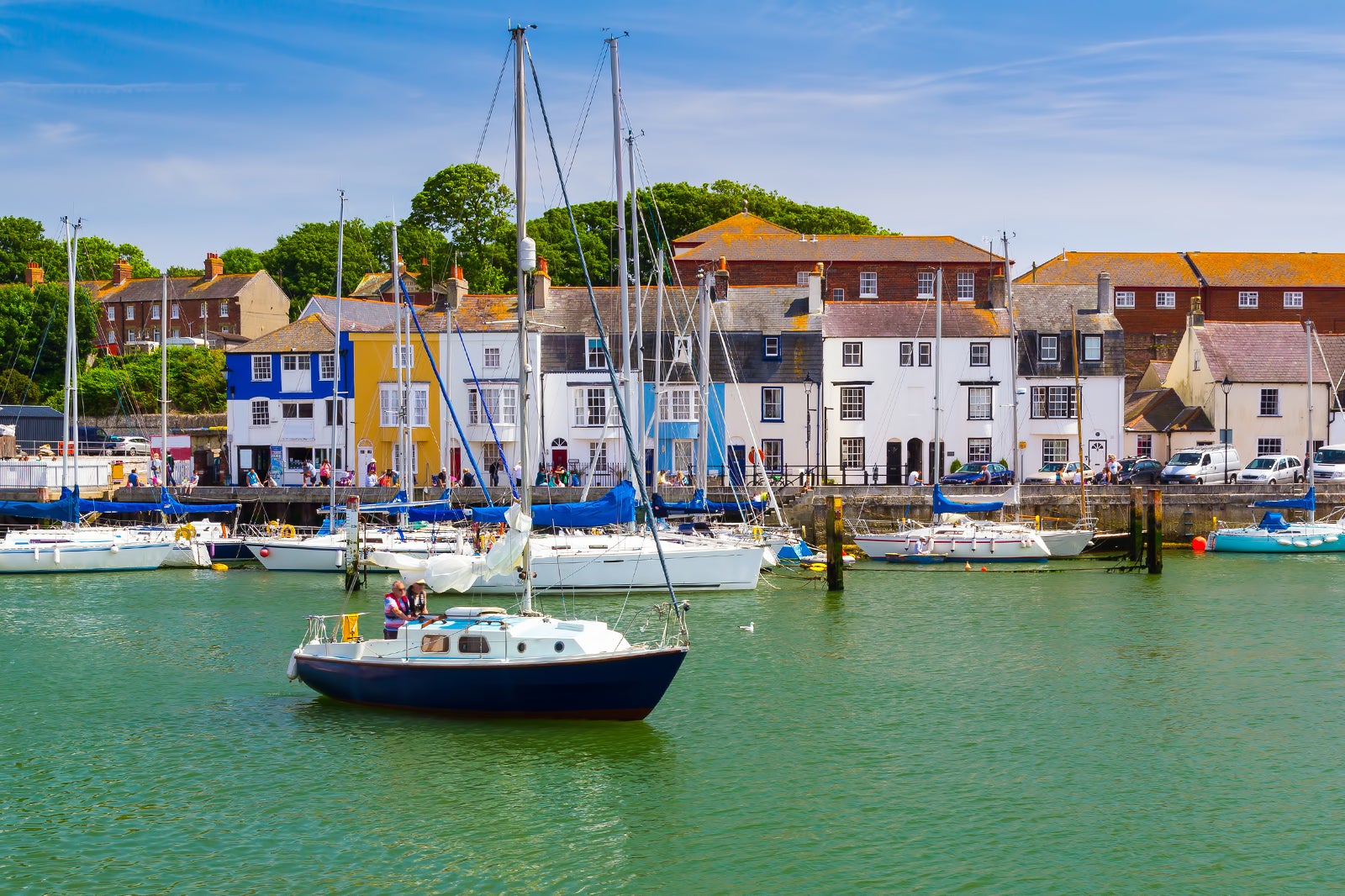 Weymouth Harbour is a picturesque spot resplendent with Old World charm dating back to the 16th century. There isn't much to do here besides admiring the view and perhaps enjoying a plate of fish and chips from one of the many vendors, which are rumoured to be among the very best in the country. Alternatively, sample another local tradition by sipping a pint of ale at one of the waterfront pubs and watching the world go by.
Location: Harbour Trinity Rd, Weymouth DT4 8TJ, UK
3
Weymouth Beach
Where donkey rides, sand castles and deck chairs reign supreme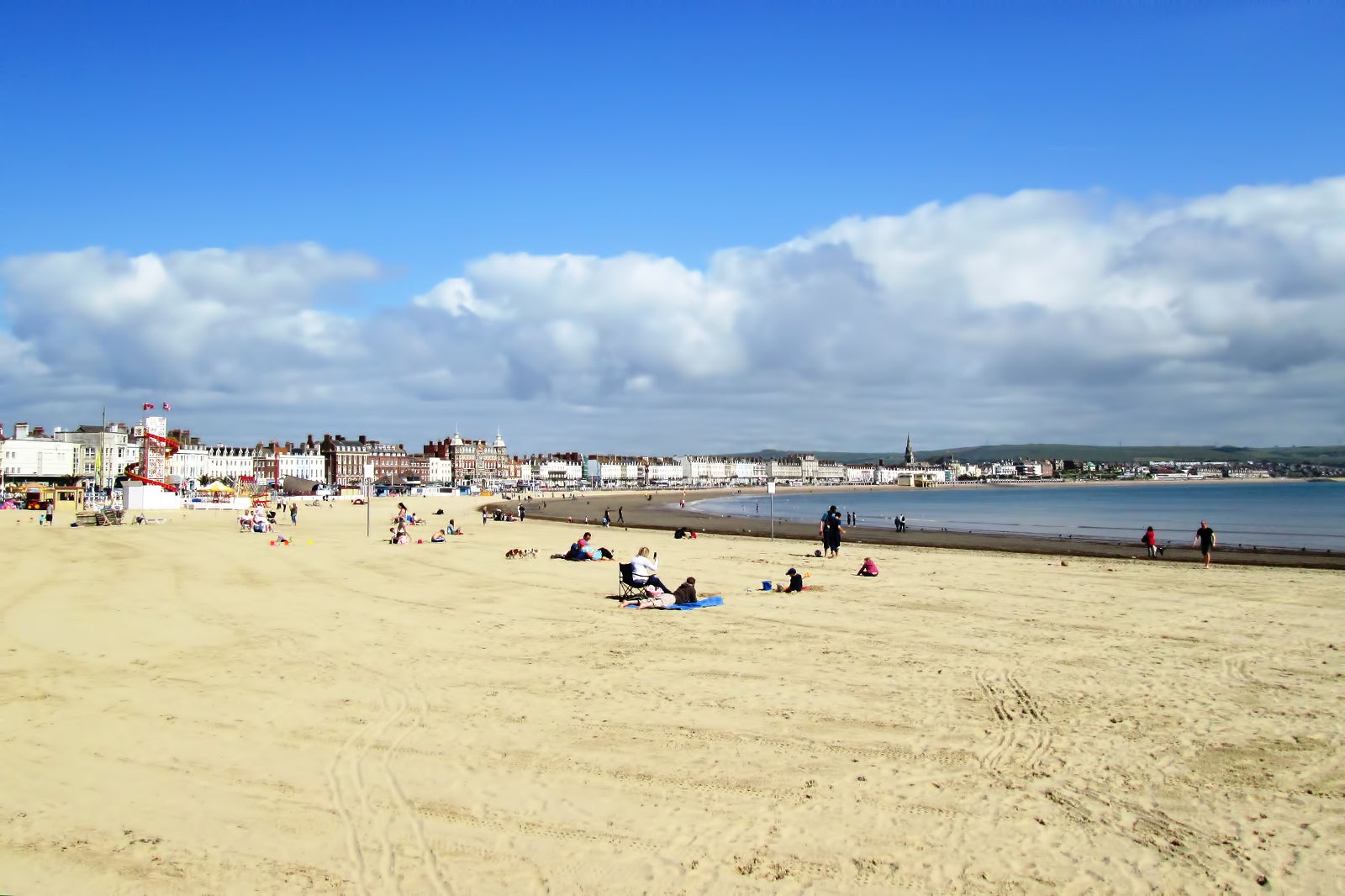 Budget
Couples
Families
Photo
Weymouth Beach offers the whole gamut of wonderful clichés and is for those seeking the quintessential seaside experience. From Punch and Judy shows to ice cream vans to carousels, there are enough activities to enjoy at this part-pebble, part-sand beach.
It pays to get here early during the peak summer months as Weymouth Beach can be extremely popular with locals and visitors alike. Renting a striped deckchair from one of the many vendors is both a practical and immensely traditional way to enjoy the beach.
Location: The Esplanade, Weymouth DT4 7SL, UK
4
Chesil Beach
A wild and windswept stretch of shingle beach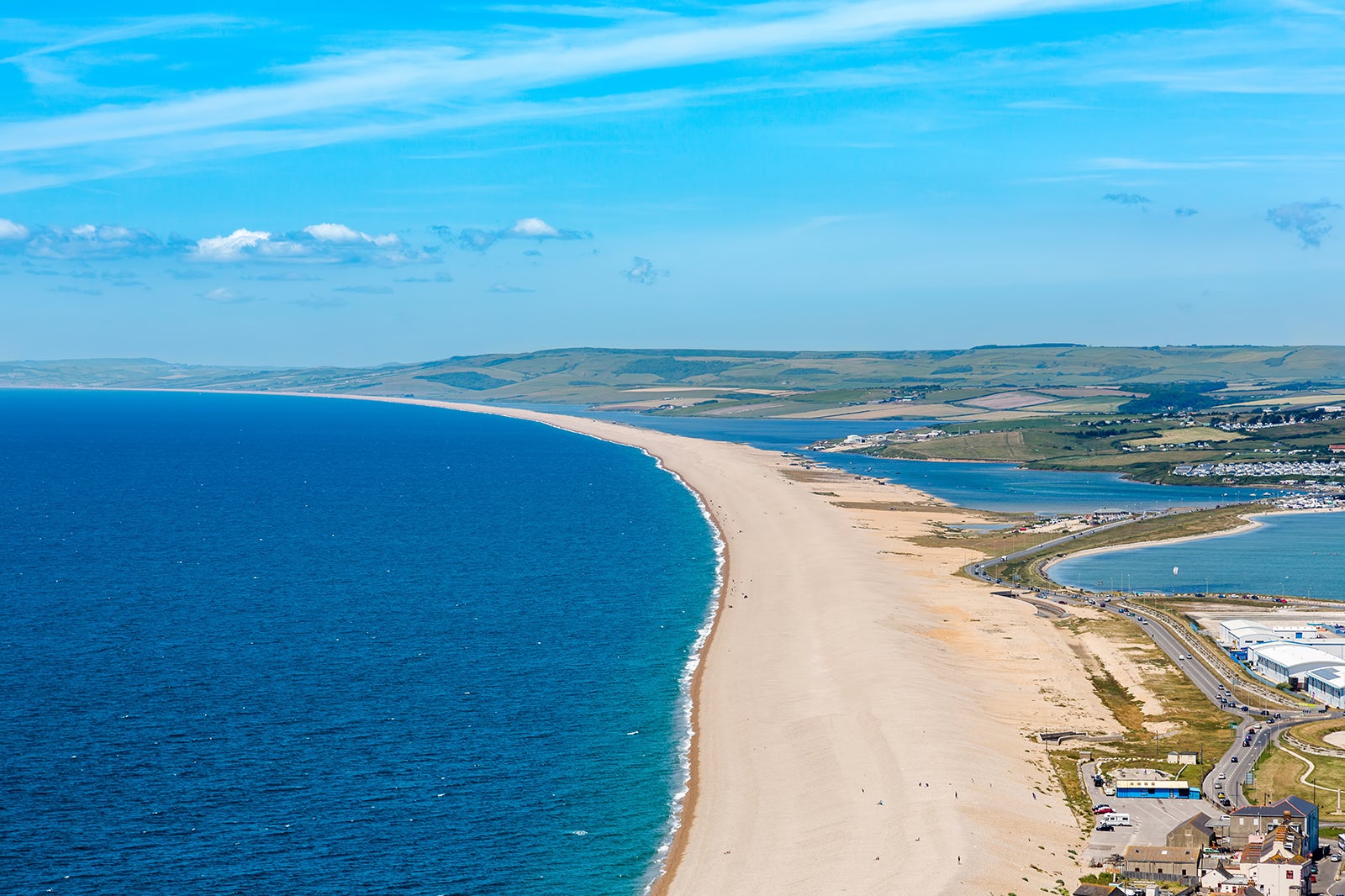 Budget
Couples
Families
Photo
Chesil Beach is renowned for being a rugged example of England's south coast at its most intense. The beach stands in stark contrast to the quaint charms of Weymouth Beach.
A walk along Chesil Beach is at once invigorating and relaxing, the waves providing a stunning soundtrack as they pound into the pebbles onshore. Head to Chesil Beach at either sunrise or sunset for a truly special experience of this stunning English beach.
5
Sandworld
Enjoy art made of sand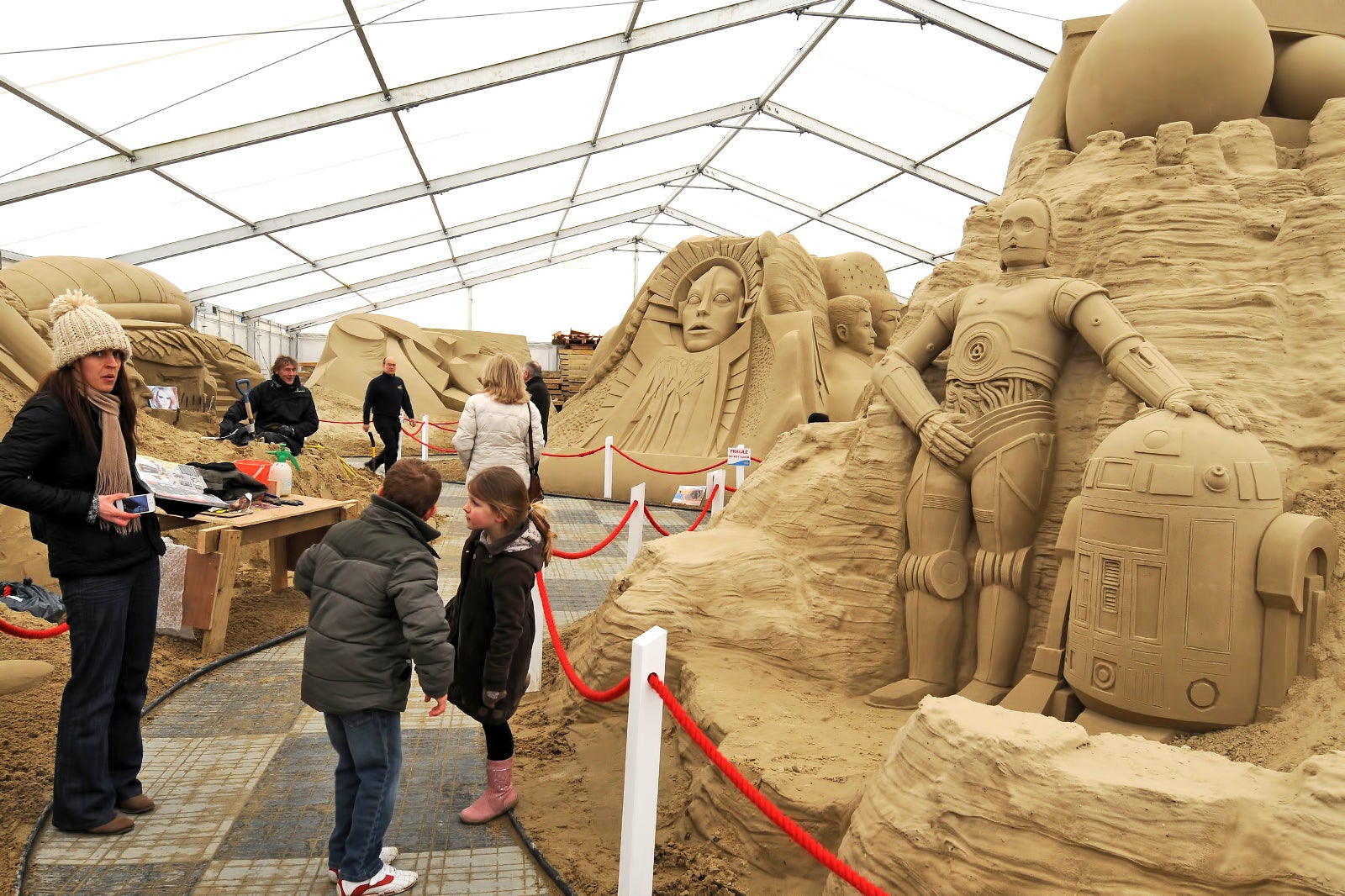 Budget
Couples
Families
Photo
Sandworld is a seasonal attraction showcasing some of the finest sand art in the UK, and which has been a key fixture on Weymouth's cultural calendar for decades. The action takes place beneath an enormous marquee, with artists often working on new pieces throughout the season.
A great family attraction, Sandworld encourages visitors to try their hand at sand sculpting under the tuition of globally renowned masters of the craft. There's a cafe serving drinks, snacks and ice cream while the gift shop provides an opportunity to take home postcards, trinkets and more.
Location: Lodmoor Country Park, Preston Beach Road, Weymouth DT4 7SX, UK
Open: Saturday–Thursday from 10 am to 3.30 pm and Friday from 10.30 am to 3 pm
Phone: +44 (0)7411 387529
6
SEA LIFE Adventure Park
See sharks, sea turtles and penguins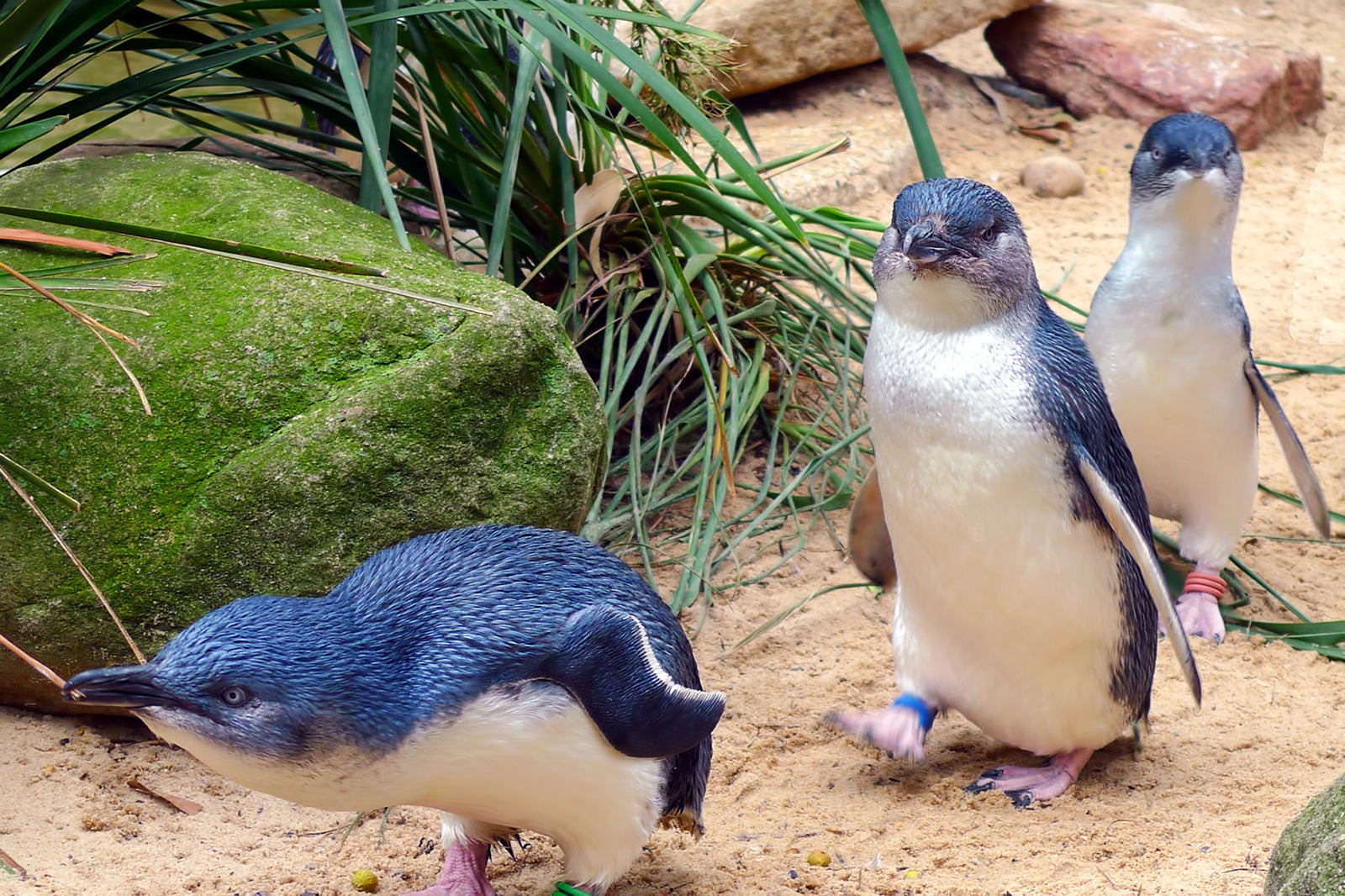 SEA LIFE Adventure Park exemplifies Weymouth's long-established role as a seaside town. Home to a wide range of sea dwellers including penguins, otters and octopuses, this is an extensive aquarium that has both indoor and outdoor sections.
With playgrounds and interactive events such as animal feedings taking place throughout the day, SEA LIFE is an ideal place to visit for families in Weymouth.
Location: Lodmoor Country Park, Preston Beach Road, Weymouth DT4 7SX, UK
Open: Monday–Friday from 11 am to 4 pm and Saturday–Sunday from 10 am to 4 pm
Phone: +44 (0)1305 761070
7
St Alban Street
Dip into Weymouth's trendiest district for handmade clothes and trinkets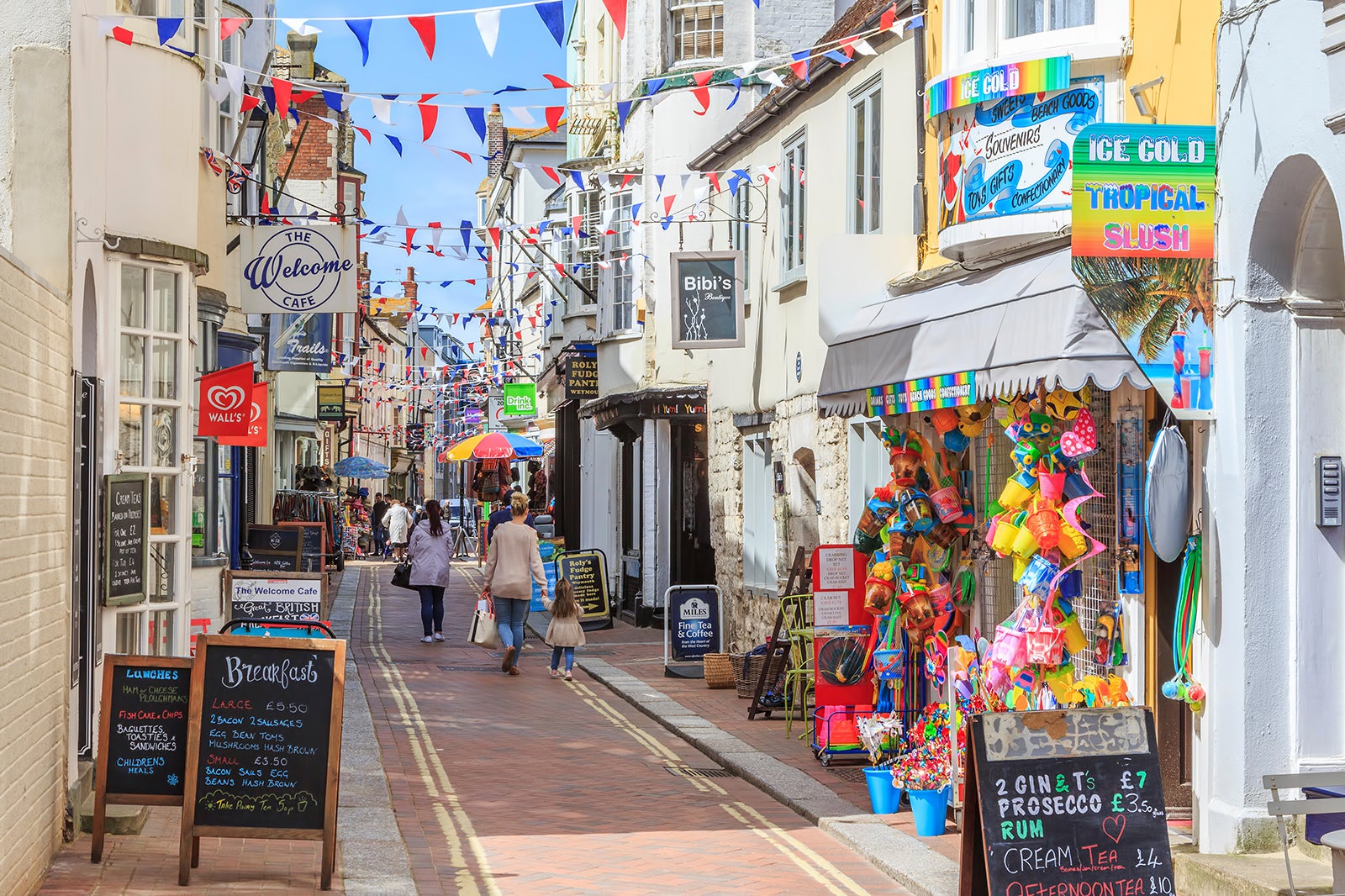 St Alban street is packed with quaint Georgian houses and has been called Weymouth's answer to Shoreditch due to the prevalence of hip indie shops and boutiques in the area.
From locally made clothing to artisanal baked goods, this picturesque part of town is home to over 20 individually owned and operated stores, including a vintage vinyl record shop and a glassblowing workshop.
8
Durdle Door
Marvel at Weymouth's stunning rock formation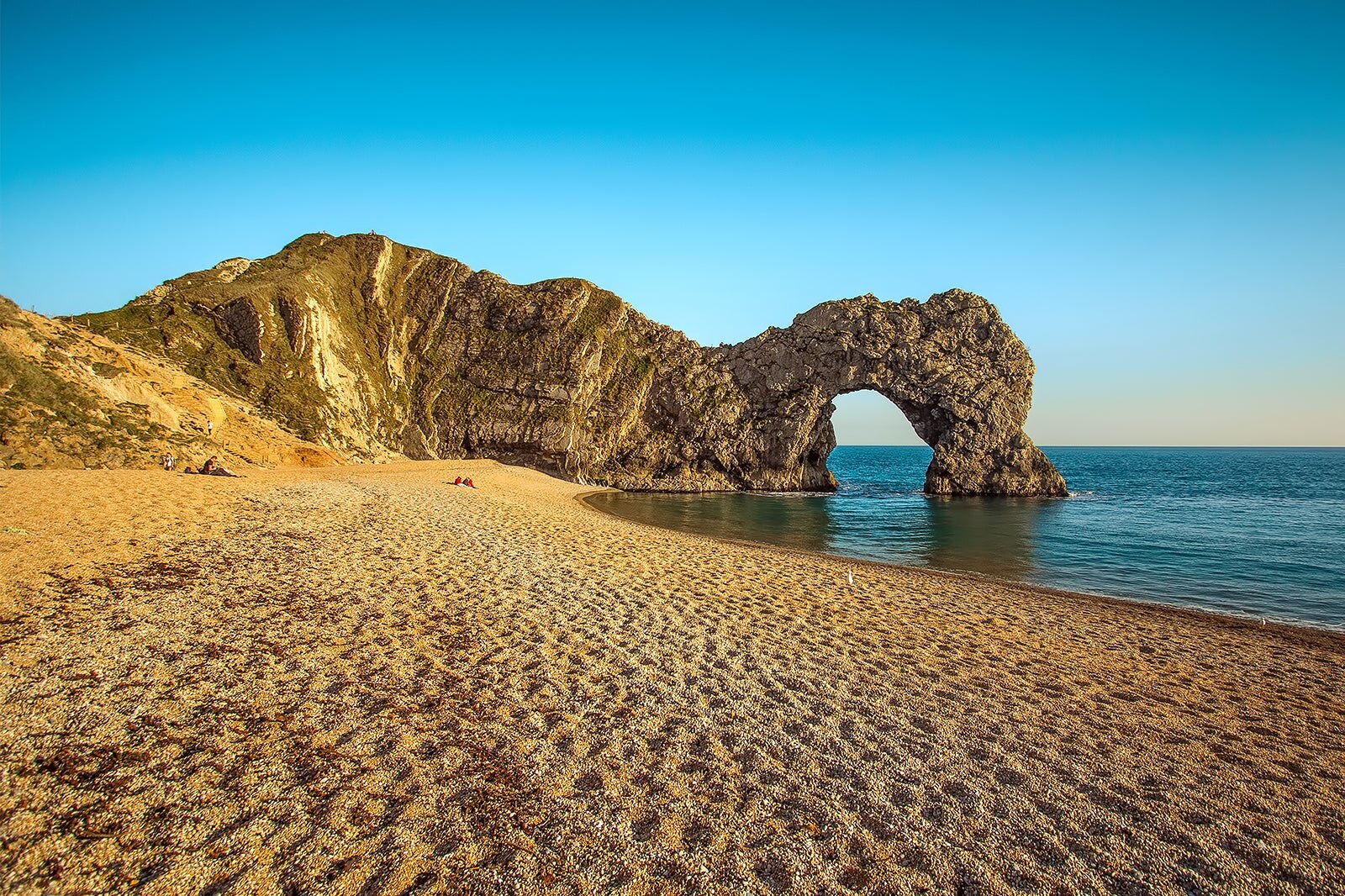 Durdle Door is one of England's most iconic areas of natural beauty, a natural limestone arch sitting adjacent to a shingle beach accessible only via a steep footpath. A UNESCO World Heritage site since 2001, Durdle Door shows Dorset at its dramatic best.
For those seeking a day at the beach, the adjacent Lulworth Cove is a quieter and more accessible alternative to the beach at Durdle Door itself.
Location: Wareham, BH20 5PU, UK
9
Weymouth's cafe culture
Artsy newcomers or decades-old favourites? You decide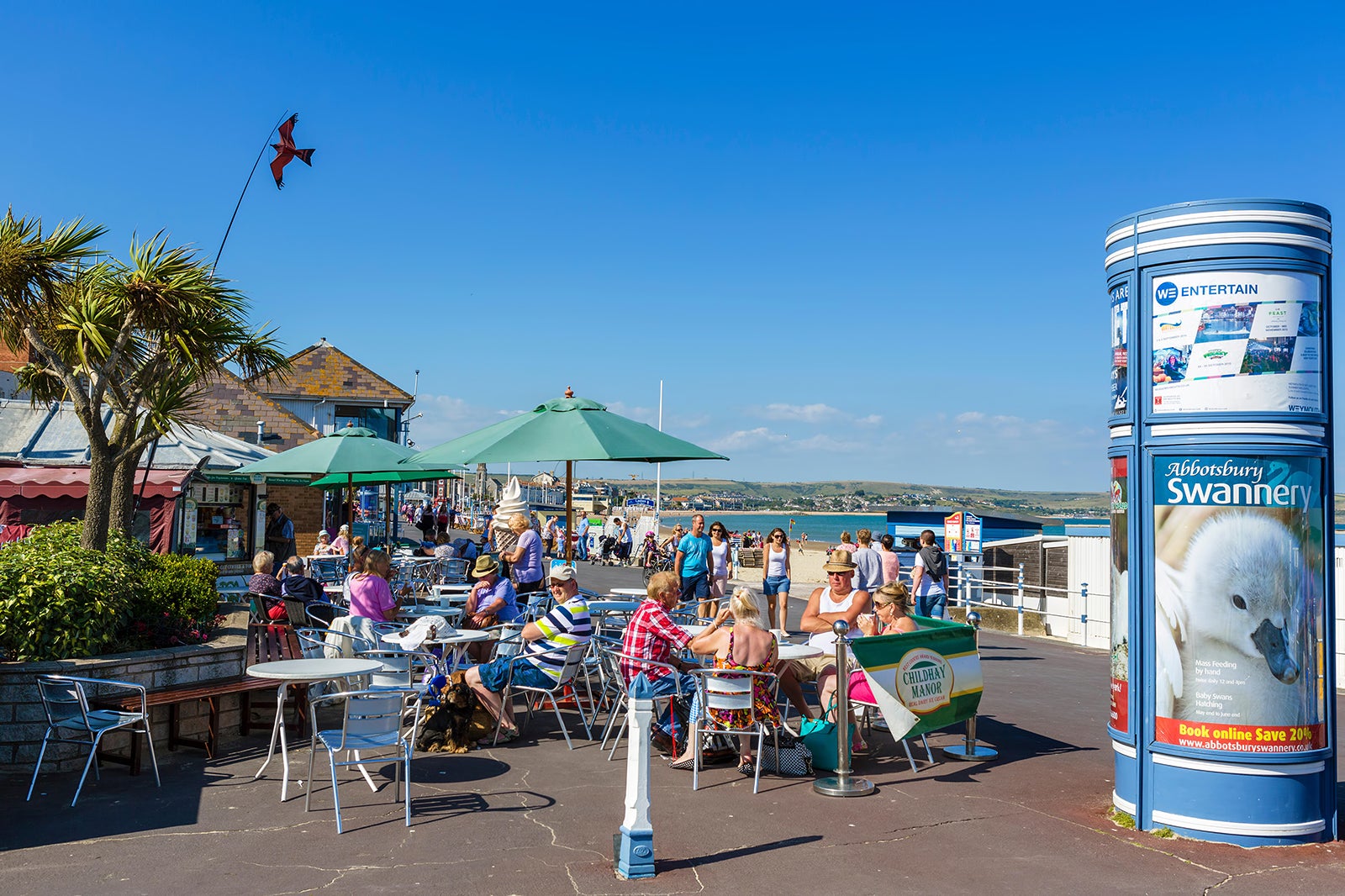 Getting a quality cup of coffee in Weymouth has never been easier thanks to a constantly evolving coffee culture in the town. At HiVe Cafe in the town centre, patrons sip almond milk lattes while sampling the vegan and vegetarian lunches that have made this place one of the most popular in Weymouth.
For those who prefer a more traditional spot, 1652 Coffee Bar creates delicious espresso-based drinks amid rustic yet hip surrounds. Their bagels are said to be the best in Weymouth.
10
Indulge in some local seafood
Weymouth has some of England's finest seafood restaurants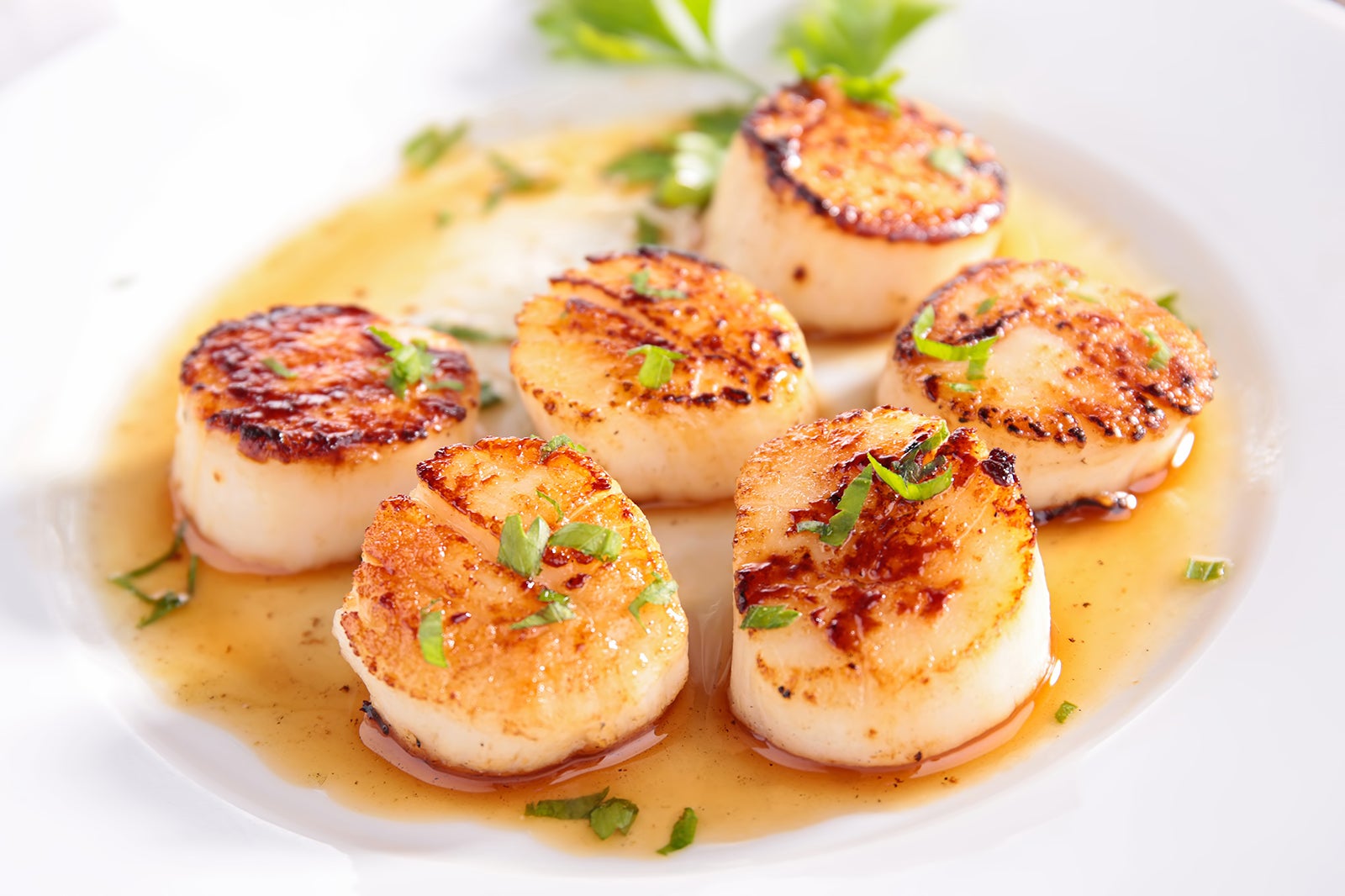 Fish and chips may reign supreme across Weymouth, yet there's much more to the town's culinary scene that this deep-fried delicacy. From fine-dining institutes serving up silky scallops and mighty king prawns to hip new establishments influenced by flavours from across the globe, Weymouth is the perfect place to sample freshly caught seafood.
Hall's Kitchen is one of the town's most respected restaurants, serving contemporary British fare with an emphasis on local seafood. For an alternative dining experience, Les Enfants Terribles take a more experimental yet equally delicious approach to regional produce.
Back to top