12 Best Nightlife in York
Where to Go at Night in York
The best nightlife in York mostly takes the form of traditional-style English pubs, many of which genuinely have hundreds of years of history. While the city isn't known as one of the world's liveliest nightlife destinations, it has a generally friendly atmosphere. If you want a pint of excellent beer, stout, bitter or cider in a cheerful setting, York is a safe bet.
Our list of the best places to go at night in York is far from exhaustive – there's a frankly dizzying range of pubs in and around the city. However, we've picked out the places that really stand out; the ones that do something a bit differently. Of course, the nightlife in York is not just pubs and clubs, and we've included a few extra options if you want a bit of variety.
1
Guy Fawkes Inn
The birthplace of the gunpowder plotter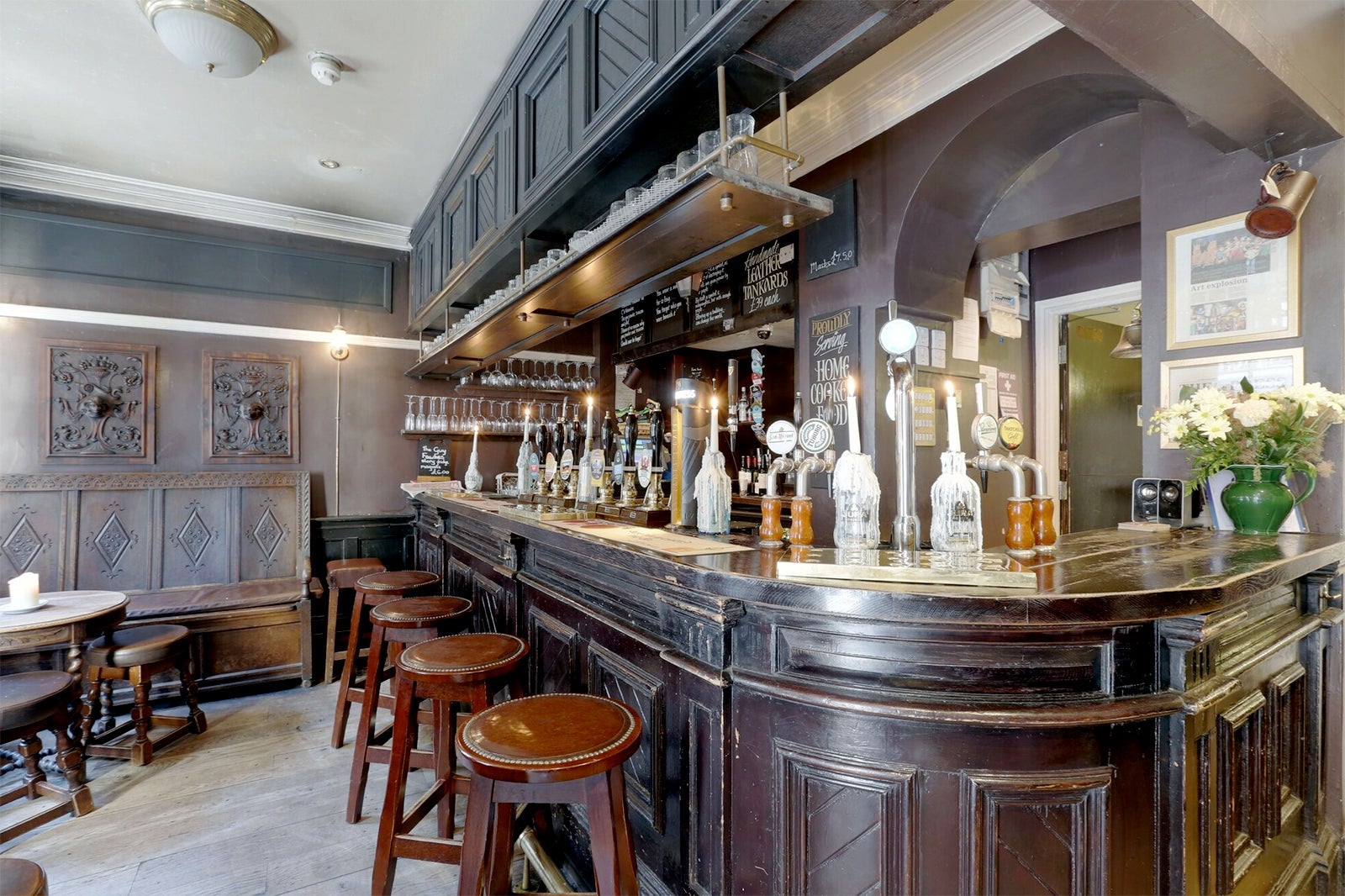 The Guy Fawkes Inn takes its name from the fact that it was where the famous revolutionary was born. Right next to York Minster, the Grade II-listed building dates back to the 18th century and has an olde-worlde-style décor that perfectly suits its surroundings.
While its famous heritage makes it arguably a bit touristy, The Guy Fawkes Inn is no slouch as a pub. It has an excellent restaurant, serving traditional and modern British pub grub. For some local flavours, try the Sunday Roast (with Yorkshire puddings) and wash it down with real cask ales and draught beers from local breweries.
Location: 25 High Petergate, York YO1 7HP, UK
Phone: +44 (0)1904 623716
2
Ghost walks in York
Explore the most haunted city in the world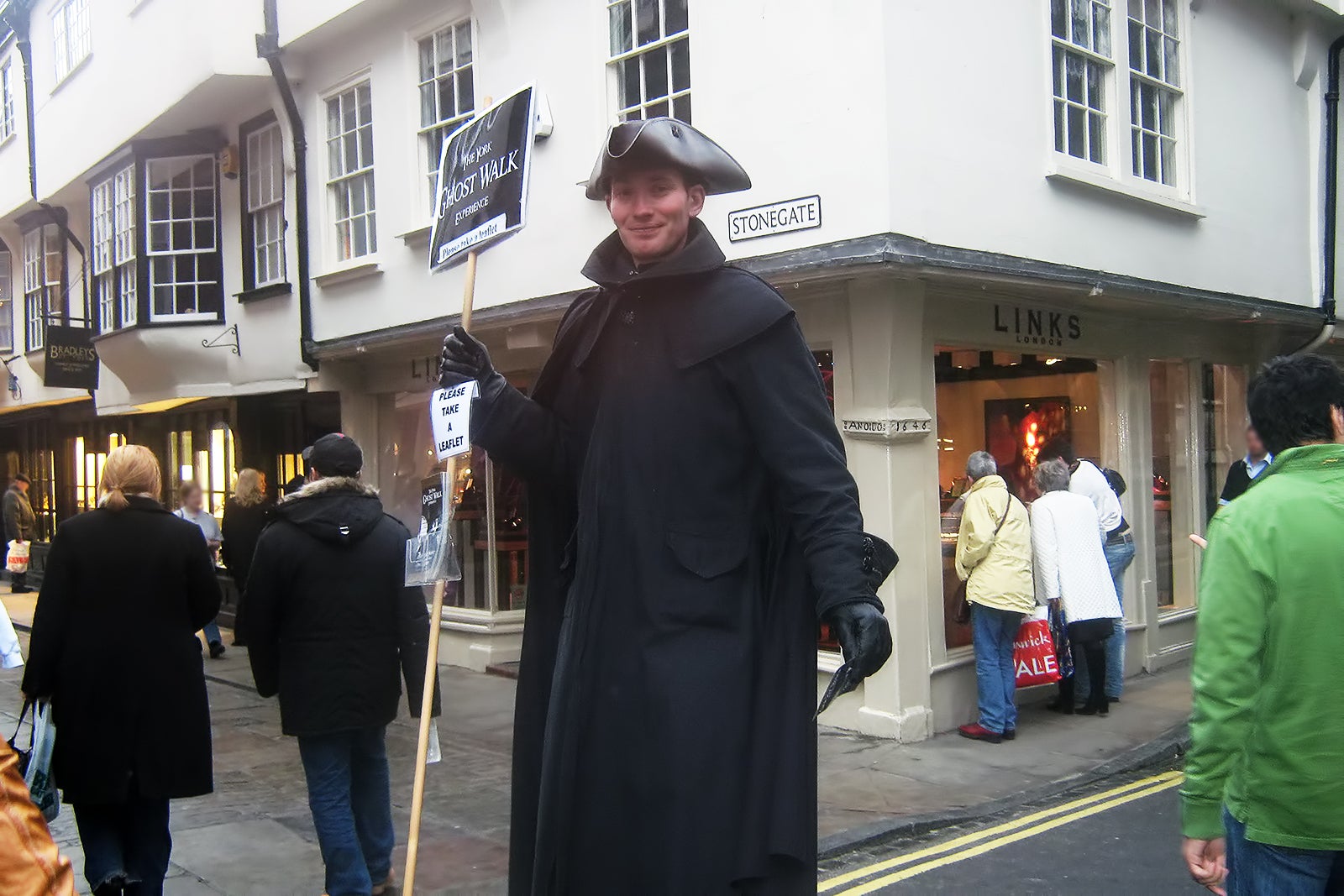 York is said to be among the most haunted cities in Europe, if not the world, and you can learn more about the spooks and spirits around the city on a ghost walk. There are some ghosts that date back as far as Roman times, including that of a slovenly legionnaire haunting Treasurer's House near York Minster. Some of the more modern ghosts can be found in Bootham Bar. As you might expect of a York ghost, he's found in a pub and is described as a friendly, handsome guy.
There are loads of ghost tours available around the city, each following slightly different routes to tell different stories. There's even one that goes around the city on a bus, though most of them explore the city's narrow streets and back alleys on foot.
photo by The Roaming Picture Taker (CC BY 2.0) modified
3
The Maltings
The best beer-drinker's bar in York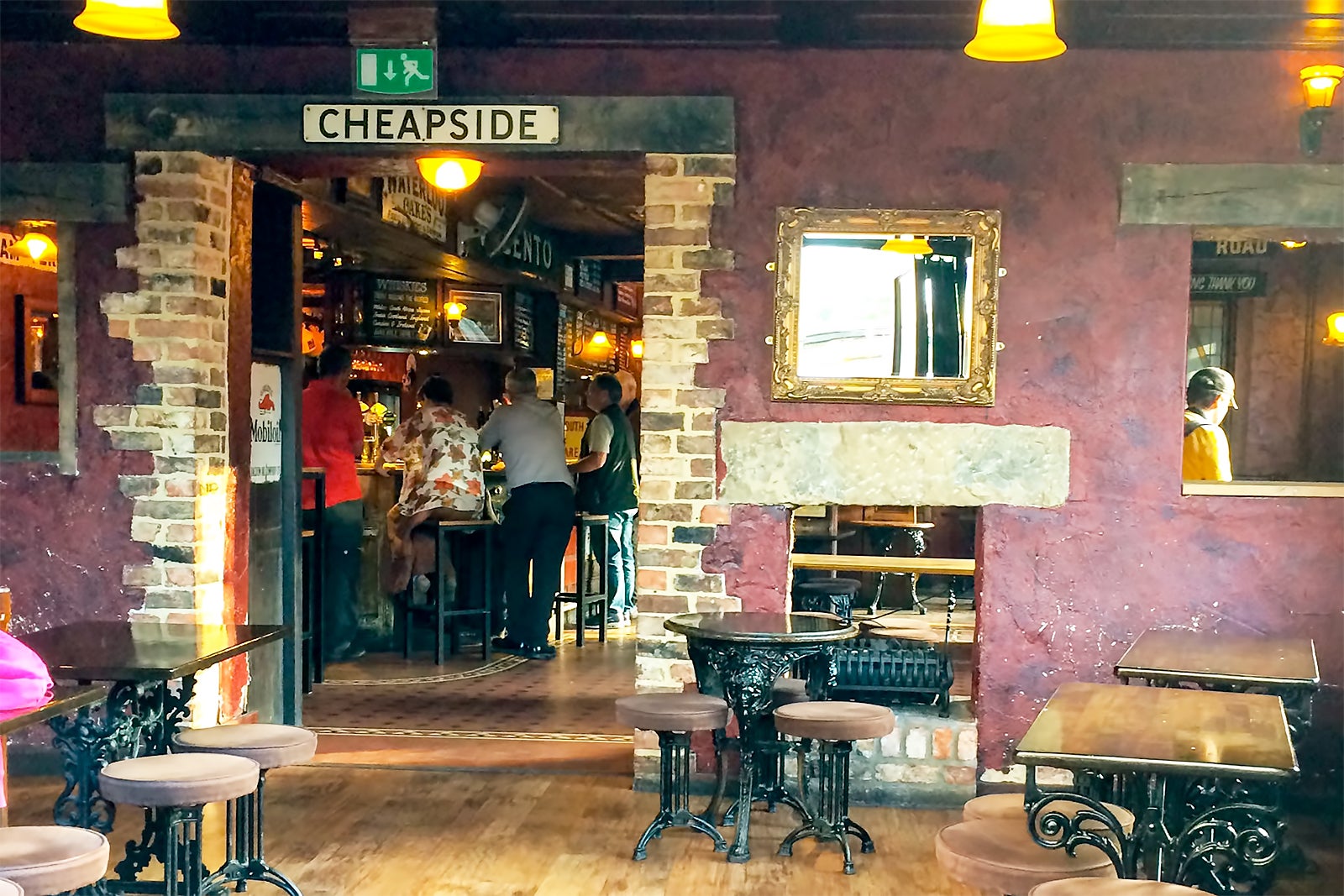 The Maltings is nothing special in terms of its appearance or setting but packs a punch when it comes to the beer it serves. A deserving past winner of the Pub of the Year award from the York branch of the Campaign for Real Ale, the bar serves a great selection of tipples, including high-quality cider and a regularly rotating selection of guest beers.
Beyond beer, The Maltings has a limited selection of food and occasional folk music performances. Despite its shortcomings in other areas, the beer alone is enough to make this an extremely popular venue, to the extent that they had to build an extension to handle all the demand.
Location: Tanner's Moat, York YO1 6HU, UK
Open: Monday–Saturday from 11 am to 11 pm, Sundays from 12 pm to 10.30 pm
Phone: +44 (0)1904 655387
photo by Malcolmxl5 (CC BY-SA 4.0) modified
4
Floodlit Evening Cruise
A romantic trip up the River Ouse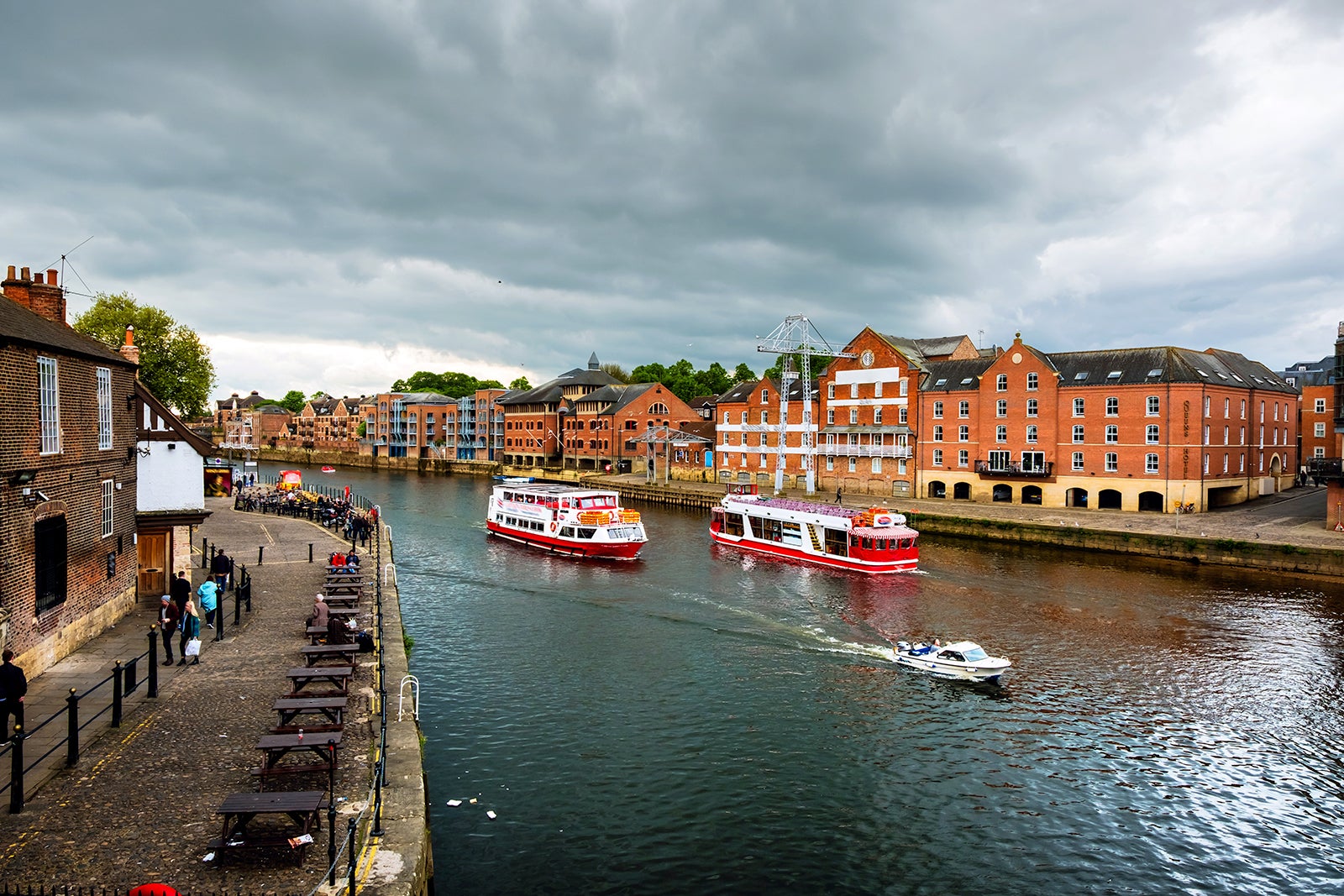 City Cruises runs boat trips up and down the River Ouse in York throughout the day, but the Floodlit Evening Cruise is definitely a highlight. The beautiful riverside buildings are beautifully lit up in the evenings, partially by the boat's own lights. The Woodsmill Quay, York Guildhall and The Bonding Warehouse are all noteworthy sights, but there are also waterfront parks and countryside to see.
The 70-minute cruise starts and finishes at King's Staith and features a relaxing soundtrack of swing and jazz background music. The ticket prices are reasonable and includes your first drink from the bar – something bubbly if you're on a date or something warm if it's a chilly night. There's a heated indoor saloon if you've had enough of the fresh evening air.
Location: King's Staith, York YO1 9SN, UK
Open: May–September: daily at 8.45 pm
Phone: +44 (0)1904 628324
5
Kings Arms
The one that's regularly flooded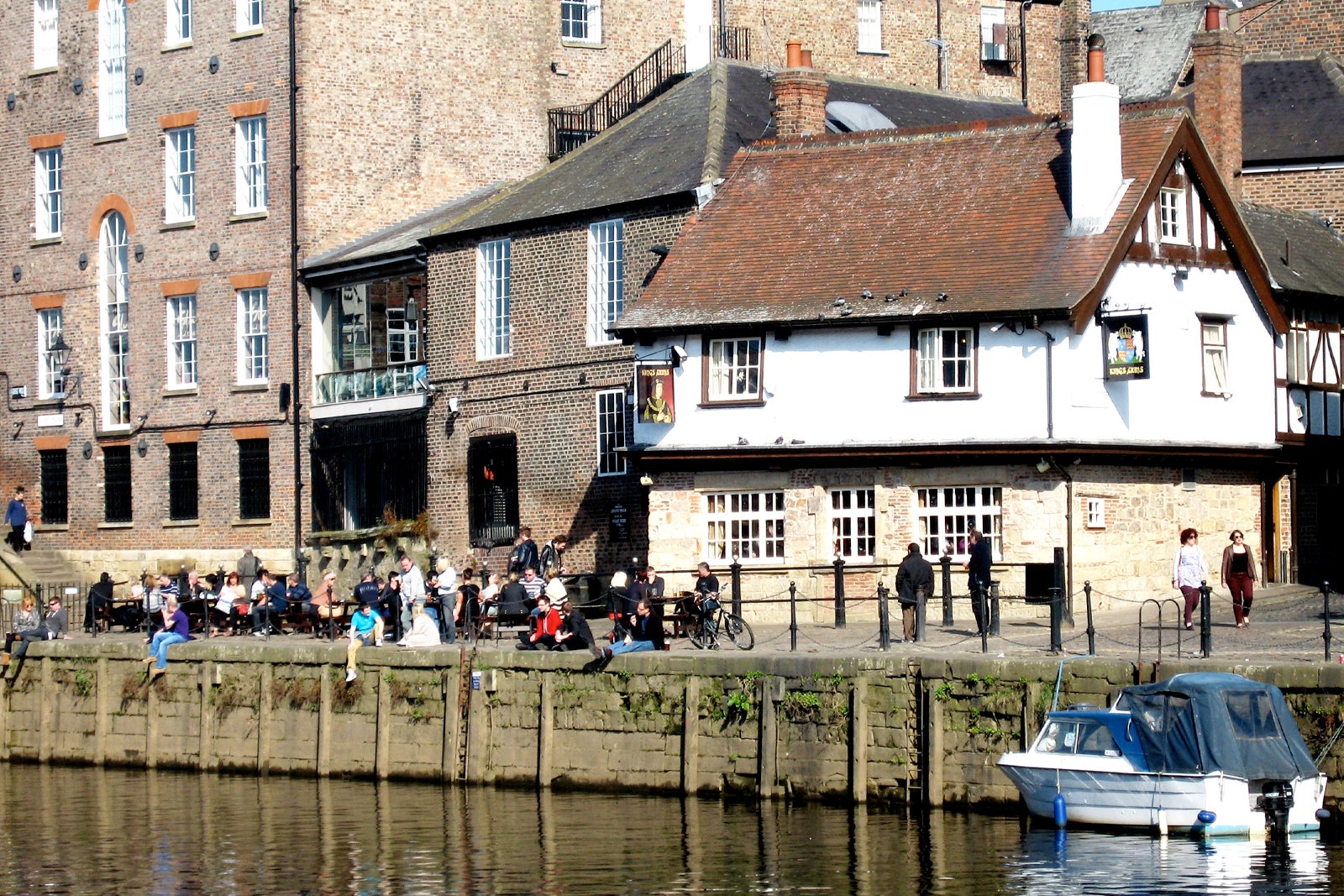 You'll know the Kings Arms pub if you've ever seen a picture of the River Ouse passing through the middle of York, especially if it's one of the river flooding. Being right by the water at a point where the river spills out onto the city streets if there's even a moderately heavy rainfall, this pub is famous for how often it has been submerged. In fact, you can even see markers on the walls showing the high-water marks of each flood.
Aside from this little novelty, the Kings Arms is actually a very popular pub. The tables by the river make a lovely spot to enjoy a pleasant pint on a sunny day, and those pints are pretty reasonably priced. Just be sure not to park your car too close by during winter, especially if it looks like it might rain.
Location: 3 King's Staith, York YO1 9SN, UK
Phone: +44 (0)1904 659435
photo by Malcolmxl5 (CC BY-SA 4.0) modified
6
The Black Swan
The archetypal olde-worlde pub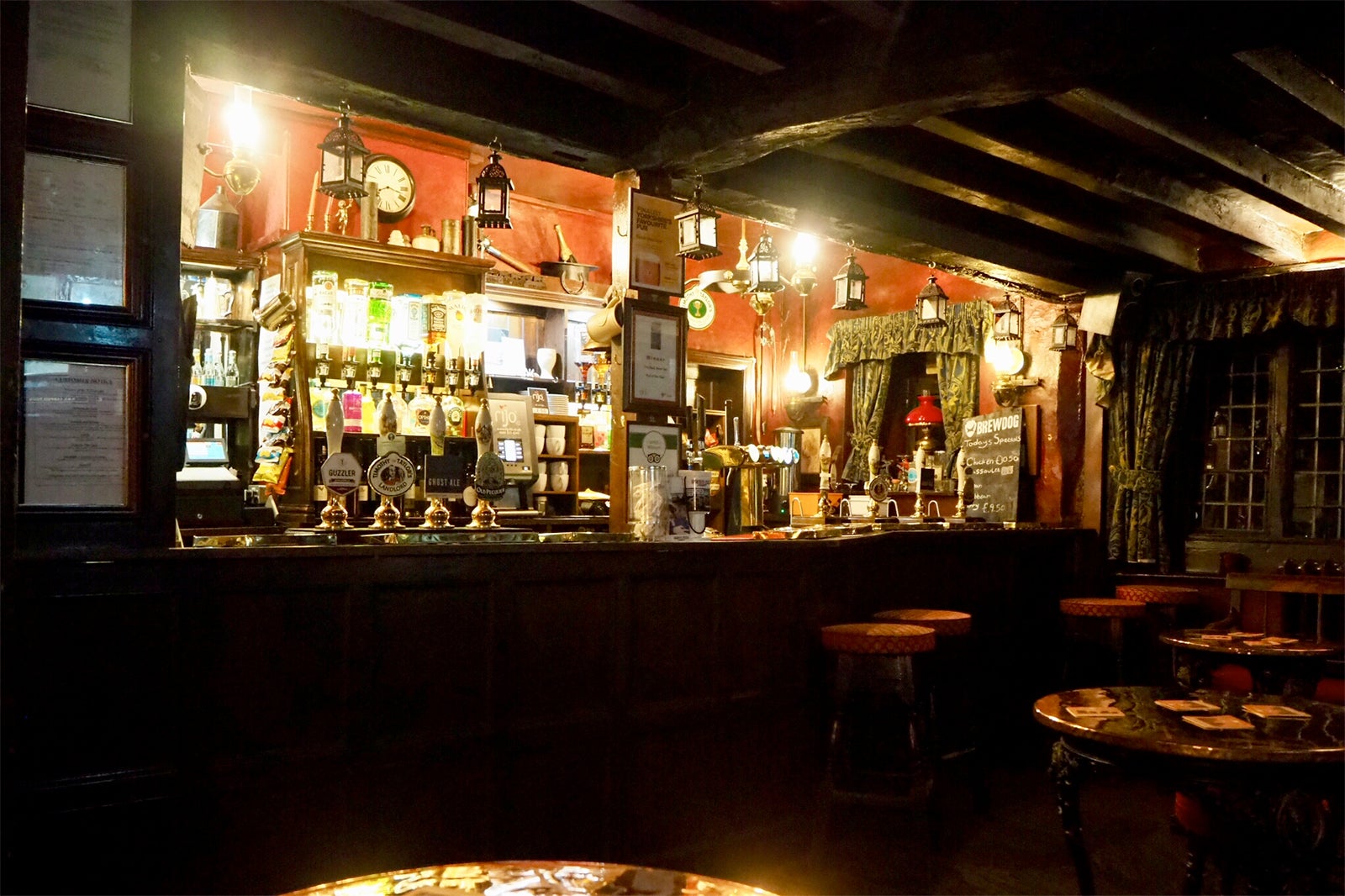 The Black Swan is the archetypal olde-worlde pub in York. The 15th-century timber-frame house on Peasholme Green has low beam ceilings and open fireplaces and, because this is York, a ghost or 2. The pub is a regular feature on ghost walks and even hosts candlelit ghost dinners. If you want a laugh instead of a fright, the upstairs function room also hosts comedy and folk music nights.
As a pub, The Black Swan is solid if unremarkable. There's a good if the slightly pricey selection of beers and ales at the bar and the pub grub is homemade and tasty. There are a few international options among the typical British fare.
Location: 23 Peasholme Green, York YO1 7PR, UK
Open: Monday–Saturday from 12 pm to 11 pm, Sundays from 12 pm to 10.30 pm
Phone: +44 (0)1904 679131
photo by Malcolmxl5 (CC BY-SA 4.0) modified
7
House of the Trembling Madness
A place of a weird and wonderful variety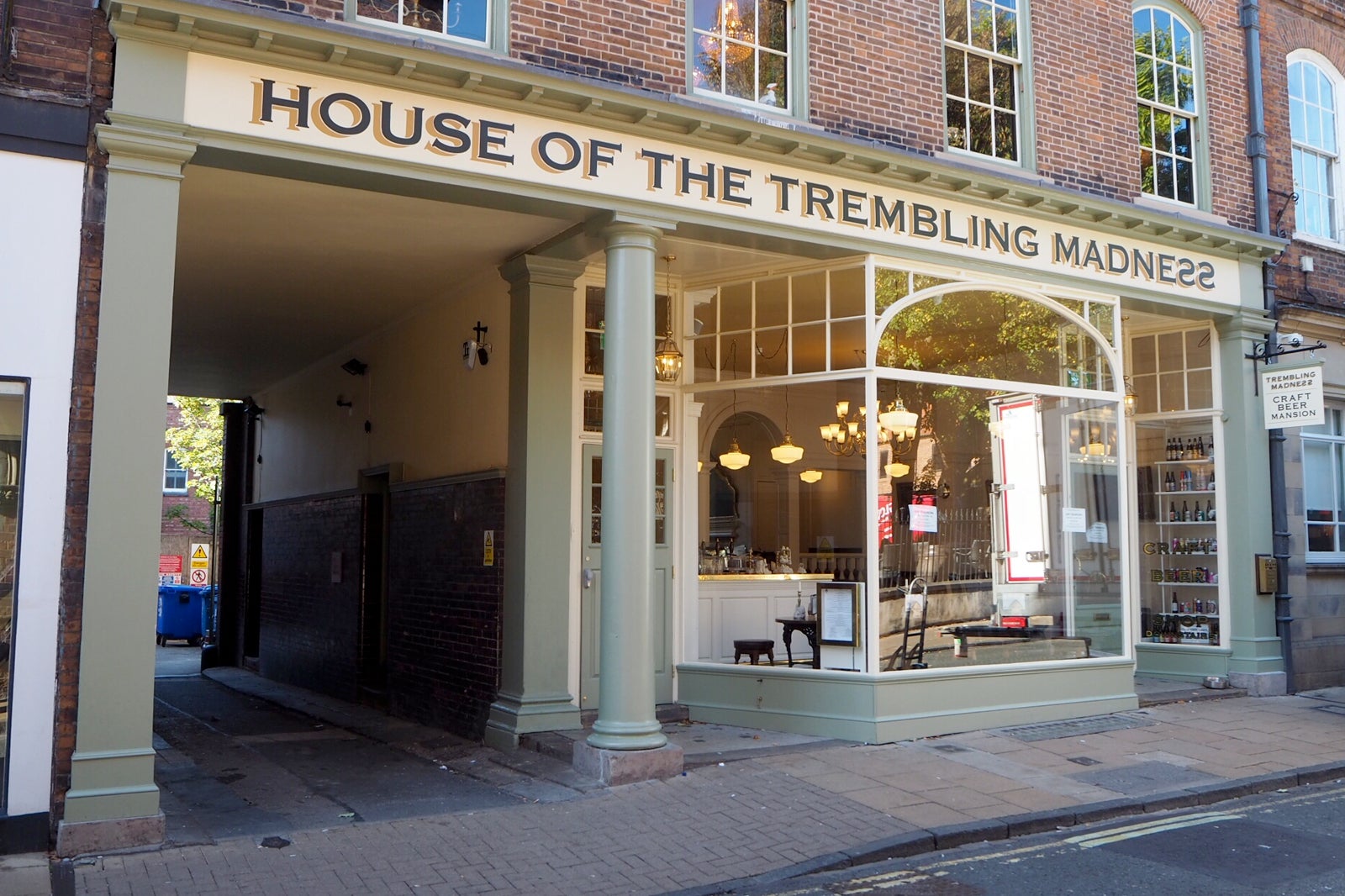 The House of the Trembling Madness takes its name from the Latin term delirium tremens, which are the shakes that come from extreme alcohol withdrawal. As with many of York's best nightlife venues, it's got a long heritage, with the roof beams said to have come from an 800-year-old ship. However, the really remarkable feature of the place is the huge array of stuffed animal heads on the walls, ranging from typical deer and boars to a kangaroo, a stoat and a badger.
Aside from its bizarre appearance, the House of Trembling Madness is also a very good pub. It has an outstanding range of beers and ciders from local and guest breweries, including plenty of hard-to-find Belgian tipples. The food menu is equally impressive, with juicy meat pies and impressive hunter's platters.
Location: 48 Stonegate, York YO1 8AS, UK
Open: Monday–Saturday from 10 am to 12 am, Sundays from 11 am to 12 am
Phone: +44 (0)1904 640009
photo by Malcolmxl5 (CC BY-SA 4.0) modified
8
York Theatre Royal
An old theatre with a modern design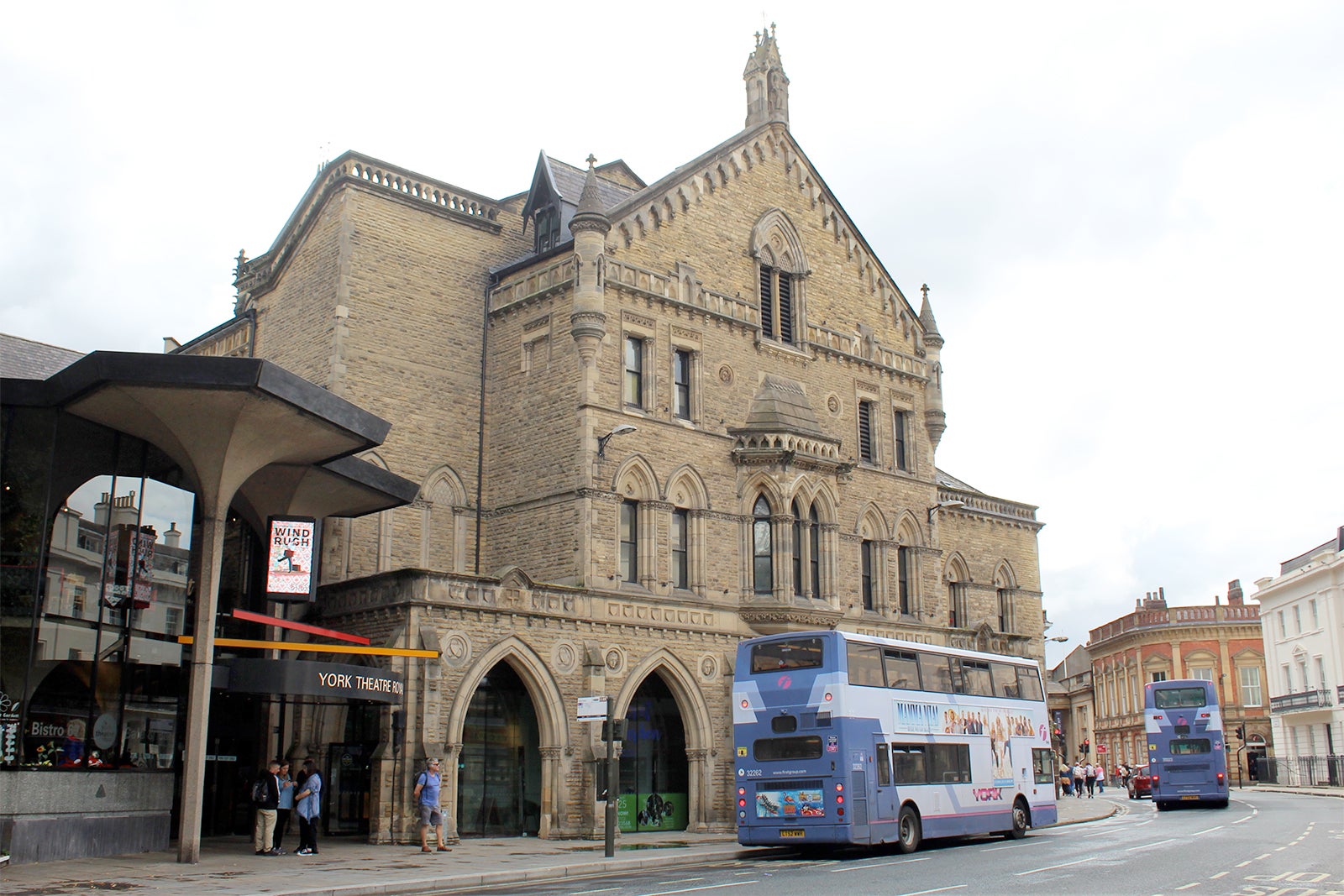 The York Theatre Royal is a grand old building near the Minster, but it has a modern interior providing a comfortable and enjoyable evening. Built in 1744, the theatre is a Grade II-listed building that has been refurbished several times through its long history. It has a modest capacity of just 750 seats in 4 tiers and hosts home-grown and touring shows, including pantomimes around Christmas.
You can expect to see dramas, comedies, musicals and performances by stand-up comics and conversations with celebrities. York Theatre Royal has a good café and bar as well as a kids' play area. The historical façade conceals an interior that's been well designed to allow easy access for wheelchair users.
Location: St Leonard's Pl, York YO1 7HD, UK
Open: Showtimes vary (closed on Sundays)
Phone: +44 (0)1904 623568
photo by Chabe01 (CC BY-SA 4.0) modified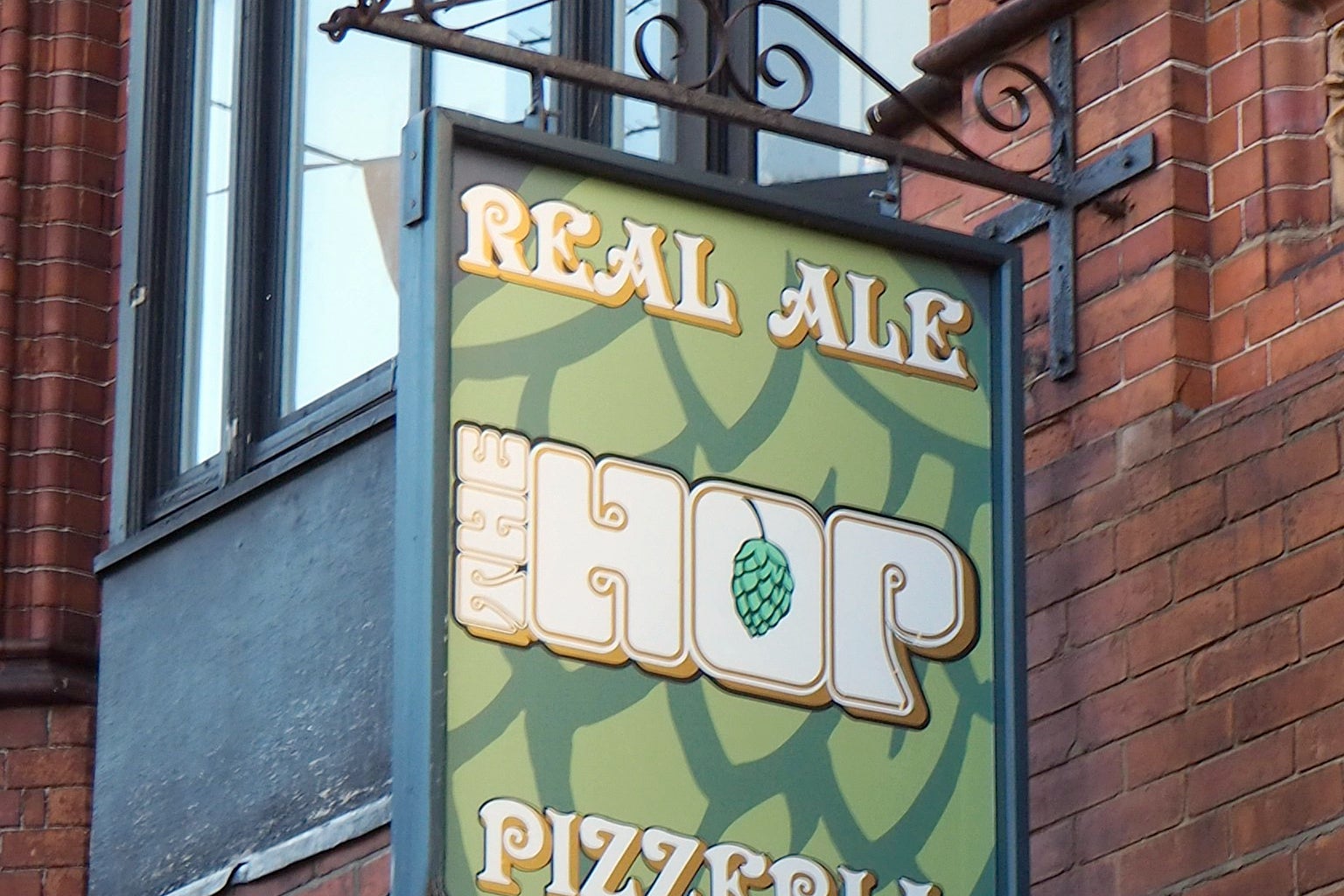 The Hop in York takes the typical 'ye olde pub' look and expands beyond it, adding some fun, modern twists to create a cool nightlife spot. The red-brick exterior and tiled interior effortlessly evoke the Victorian era, but the modern font on the sign hanging over Fossgate gives you a hint of what to expect from the menu.
The pizzas at The Hop are stone-baked on the premises and are the highlight of the food menu, while the week's drinks specials are shown on a blackboard and often include bizarre flavours – the rhubarb cider is tart, but tasty. There's a sort of large hall with bench-style seating at the back of the pub, which hosts live music and comedy at least 4 nights a week. As a final little quirk, you'll see the lyrics to The Grand Old Duke of York written along the staircase wall, so you can sing along as you come back down from the bathroom.
Location: 11-12 Fossgate, York YO1 9TA, UK
Phone: +44 (0)1904 541466
photo by Malcolmxl5 (CC BY-SA 4.0) modified
10
Ye Olde Starr Inne
York's oldest pub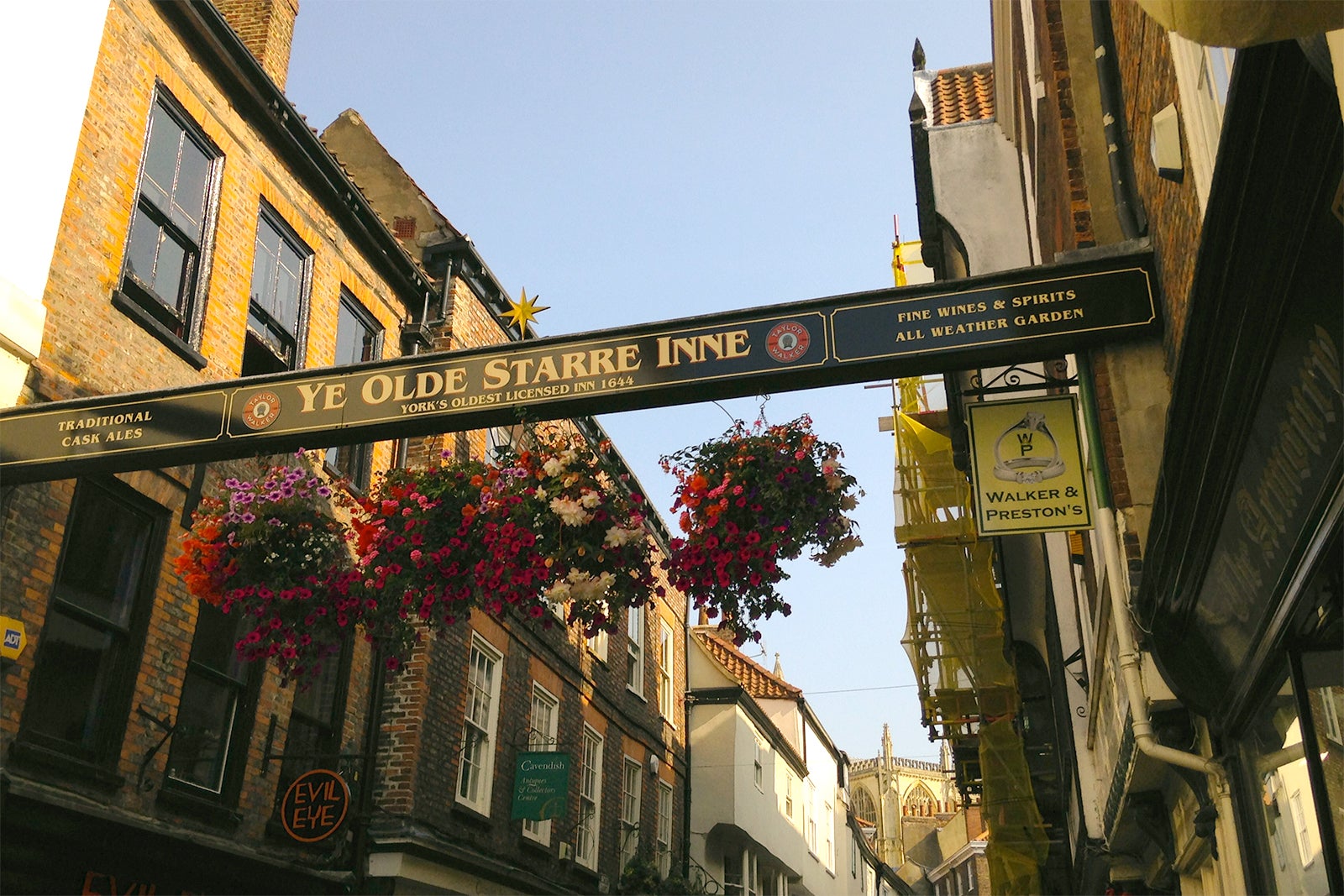 As the name suggests, Ye Olde Starre Inne is said to be the oldest pub in York. While it certainly holds the title of the venue that has been licensed the longest (since 1644!), there's some dispute over which pub is in the oldest building. The grade II-listed Olde Starre Inn on Stonegate also claims of being York's most haunted pub, with a couple of black cats being among the resident spooks.
In terms of its credentials as a pub, Ye Olde Starr Inn is fairly conventional. Expect typical British pub grub and a good selection of beers. Being in a busy part of town and with its various claims to fame, the pub is naturally particularly popular with tourists, though it has its share of local regulars (other than the ghosts), too.
Location: 40 Stonegate, York YO1 8AS, UK
Phone: +44 (0)1904 623063
photo by Malcolmxl5 (CC BY-SA 4.0) modified
11
Evil Eye Bar and Restaurant
The best cocktail bar in York
Ranked among York's finest cocktail bars, Evil Eye Bar and Restaurant has a vast array of spirits, bitters and mixers. In spite of its colourful, hippie-style décor, the old building on Stonegate lets in very little light, giving it a dark atmosphere that suits its name. The place has a very international style, with design inspirations from around the world and an equally eclectic menu.
The drinks menu is undoubtedly the standout. The array of cocktails available is staggering and relatively affordable, making this a popular spot for students – albeit a certain kind of student. It's a popular place generally, so expect long queues at the bar. The huge choice of beverages is supported by the fact that Evil Eye also has a world-record-holding gin shop, selling a dizzy choice of flavours.
Location: 42 Stonegate, York YO1 8AS, UK
Phone: +44 (0)1904 640002
12
York nightclubs
A small but varied selection
Being a university city, York naturally has a few lively nightclubs, though the selection isn't huge. Among the top venues is Kuda on Clifford Street. It's a big place with a tiki-style basement bar, a large main dancefloor and an upstairs balcony. The drinks prices are reasonable and the music selection is far-reaching, ranging from house to hip-hop.
Other highlights include Mansion on Micklegate, which is in a Grade II-listed building that suits its name and takes its music very seriously, even hosting occasional niche-interest nights. Popworld on George Hudson Street has a revolving dancefloor and a very '70s look, though it gets mixed reviews for its atmosphere.
Back to top