21 Best Shopping in Siem Reap
Where to Shop in Siem Reap
Options for the best shopping in Siem Reap range from renowned local brands and fair-trade centres to vibrant markets. They offer not only authentic and value-for-money goods but also an in-depth look at the local culture and history. Boasting some of the most unique historical landmarks in the world, Siem Reap's shopping scene is mostly dedicated to Cambodian craftsmanship such as stone carvings, silverware, lacquer figurines, ceramics, and silks.
Visitors can also experience the local lifestyle by visiting Siem Reap's numerous outdoor markets, where they can sample authentic Cambodian delicacies, shop for fresh produce and one-of-a-kind souvenirs, as well as enjoy cultural performances all day long. From traditional markets and shopping malls within central Siem Reap to trendy fashion boutiques and art galleries near Sivatha Boulevard, here's our guide to the best shopping in Siem Reap.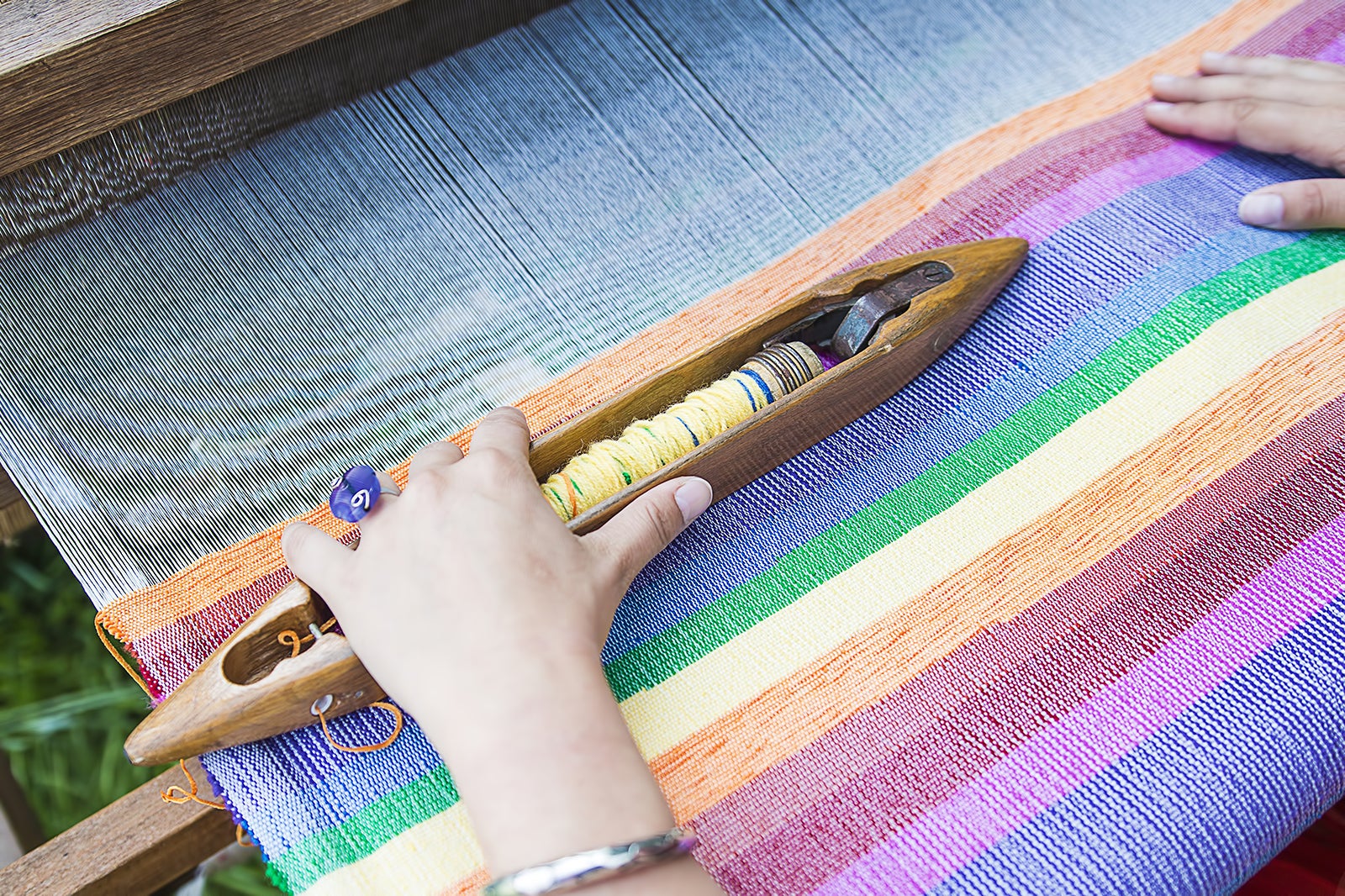 Angkor Handicraft Association
Angkor Handicraft Association is a fair-trade market with over 20 stalls selling authentic handicrafts. Set within Traing Village, visitors can also observe local artisans working on their products, learn about Khmer traditional crafting, and participate in various workshops.
Among the items you can find here are handwoven silk, silverware, stone and bronze statues, paintings, and bags, with 100% of the profits given back to the artisan, their families and the local community. Angkor Handicraft Association also hosts 12 types of activities for visitors of all ages, from coconut carving and palm leaf weaving to oil painting and flute making classes.
Location: Road 60, Traing Village, Siem Reap, Cambodia
Open: Daily from 9am to 7pm
Phone: +855 78 341 454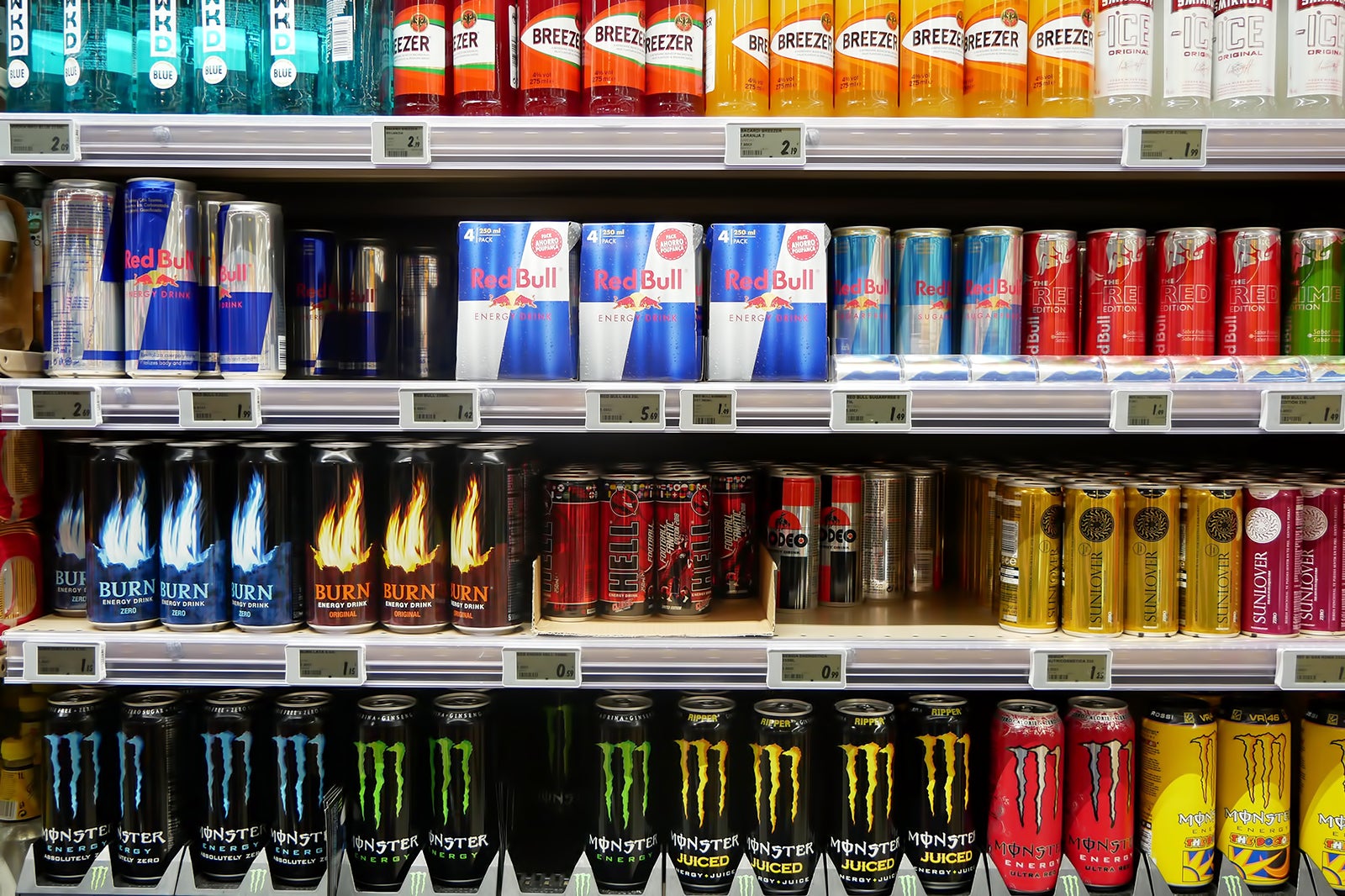 Angkor Market has been a one-stop place to shop for expats and tourists for years and was one of the earliest supermarkets in Siem Reap. The market has a large selection of imported food and groceries and is still the best place to shop for international items that even the supermarket doesn't stock. Tourists often come by the busloads here.
Location: 54 Sivatha Rd, Siem Reap, Cambodia
Phone: +855 63 767 799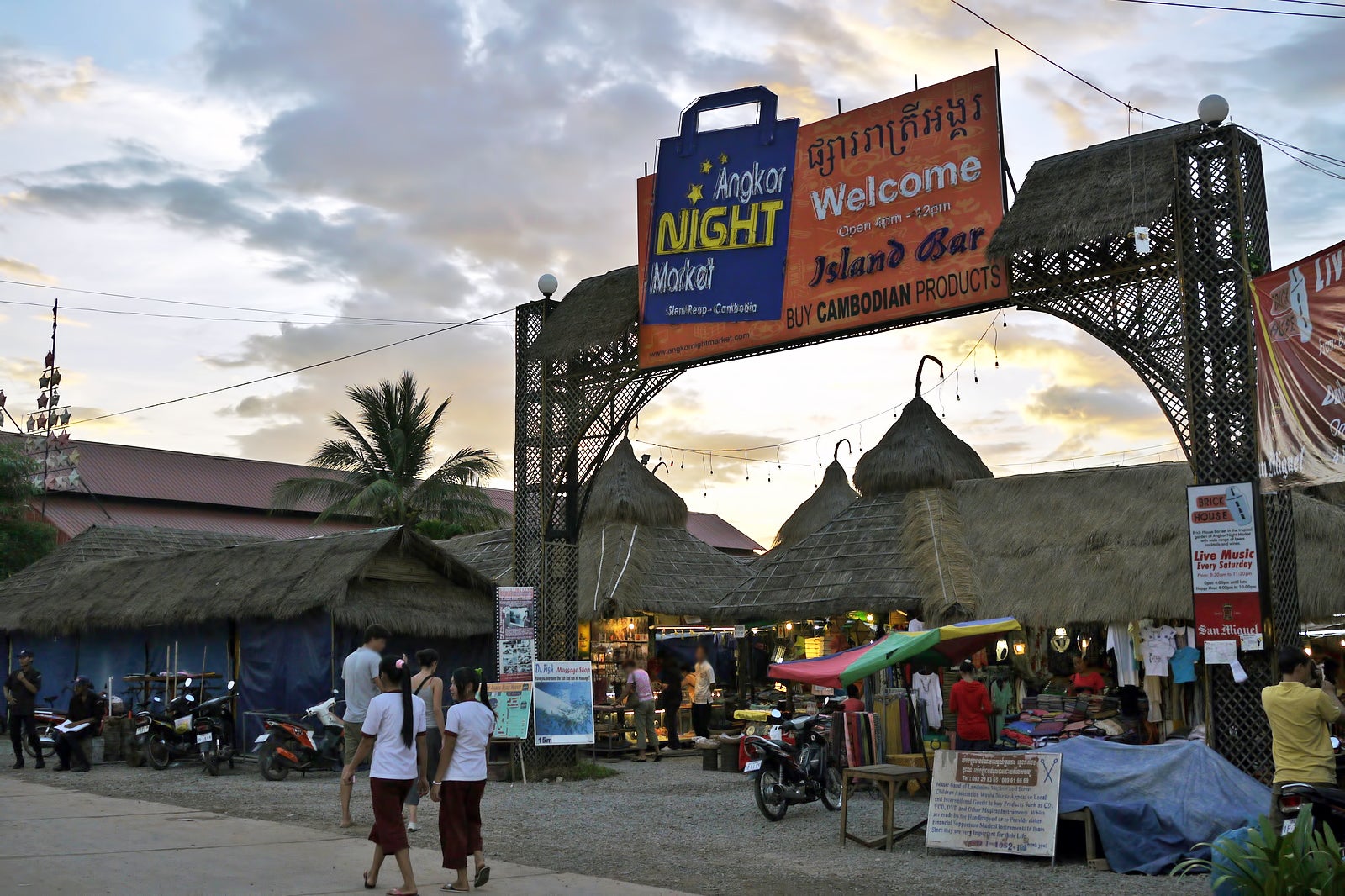 Angkor Night Market houses over 200 bamboo huts selling a wide range of clothing and handicrafts by local communities and non-governmental organisations. Set within a landscaped garden in central Siem Reap, the market was founded in 2007 to help preserve traditional Khmer handicrafts and improve the lives of the Khmer people.
Unlike most markets in Cambodia, Angkor Night Market offers mostly one-of-a-kind goods such as silk paintings, shadow puppets, handbags made from recycled materials, as well as intricate stone carvings embellished in silver or brass. Of course, you'll also find a smattering of mass-produced items that are a requisite of all markets in Southeast Asia. There are also several dining venues within the market, where you can enjoy live music performances, local delicacies, beers, cocktails, and smoothies at attractive prices.
Location: Sivatha Rd, Siem Reap, Cambodia
Open: Daily from 4pm to midnight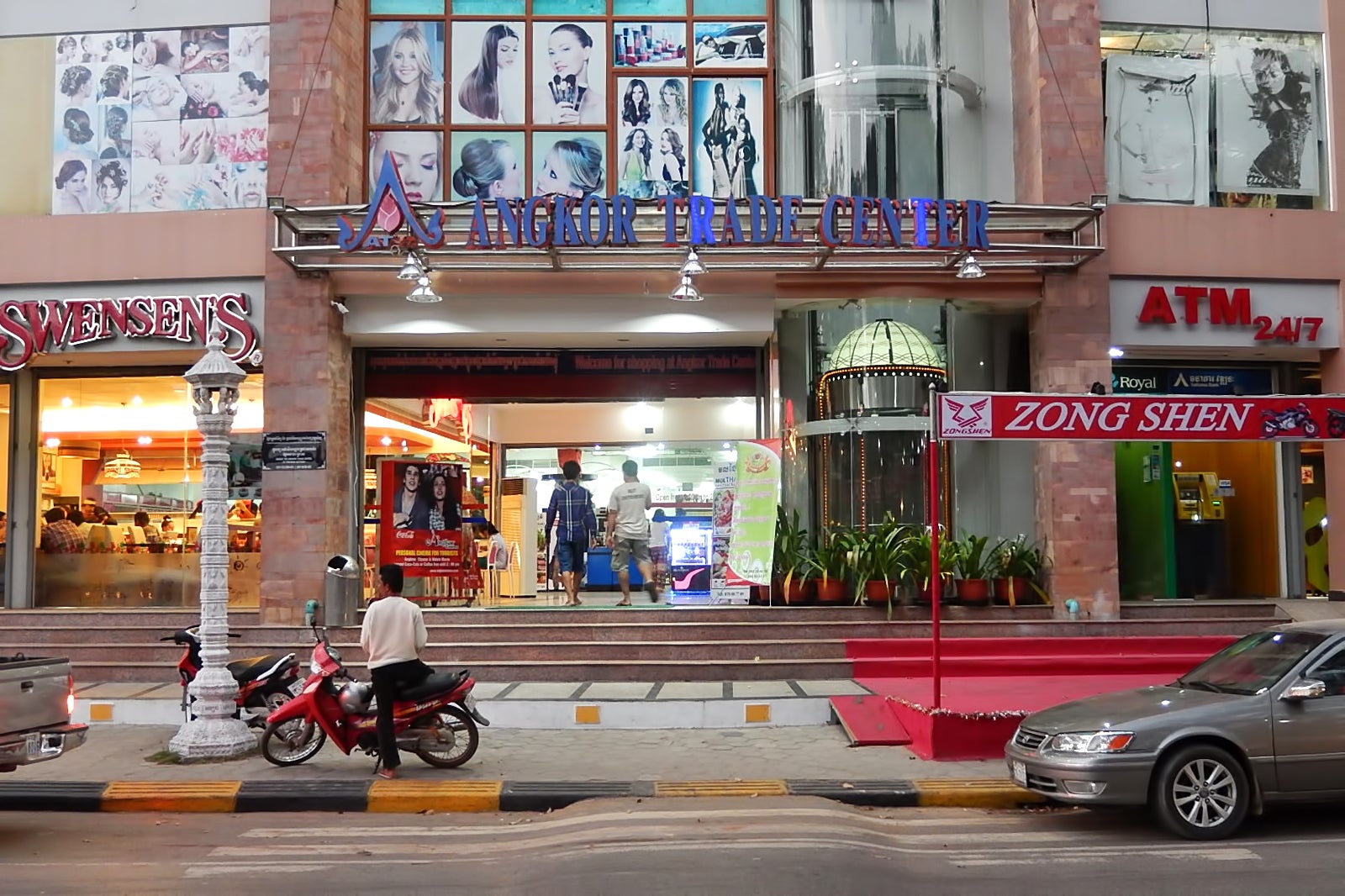 Angkor Trade Center is the first contemporary shopping centre in Siem Reap, featuring international restaurant chains, independent boutiques, entertainment venues, and a supermarket. Just a 2-minute stroll from Phsar Chas (Old Market), this 2-storey mall is located in Siem's Reap's Mondul 1 Village.
There's a games arcade and cinema on the 3rd floor, while Swenson's Ice Cream and Pizza Company are on the ground floor. While Angkor Trade Center is your run-of-the-mill shopping mall, it's a good option for when you need to stock up on toiletries and food items from back home.
Location: Pokambor Ave, Siem Reap, Cambodia
Open: Daily from 9am to 9pm
Phone: +855 63 766 666
photo by Michael Coghlan (CC BY 2.0) modified
ARTDELI is one of the most unique art galleries in Siem Reap. Located in a 2-storey shophouse, the gallery is very artsy and funky. At any time there are about 10 Cambodian artists displaying their works, representing a variety of eclectic styles and techniques from detailed pen-and-ink drawings to abstract art and photography.
Soft jazz music floats through the art gallery venue while you enjoy the artwork and sip your juice, coffee, beer or cocktails. You can find the gallery along the alley west of the Old Market area.
Location: Street 08, Siem Reap, Cambodia
Open: Daily from 9am to 11.30pm
Phone: +855 78 342 394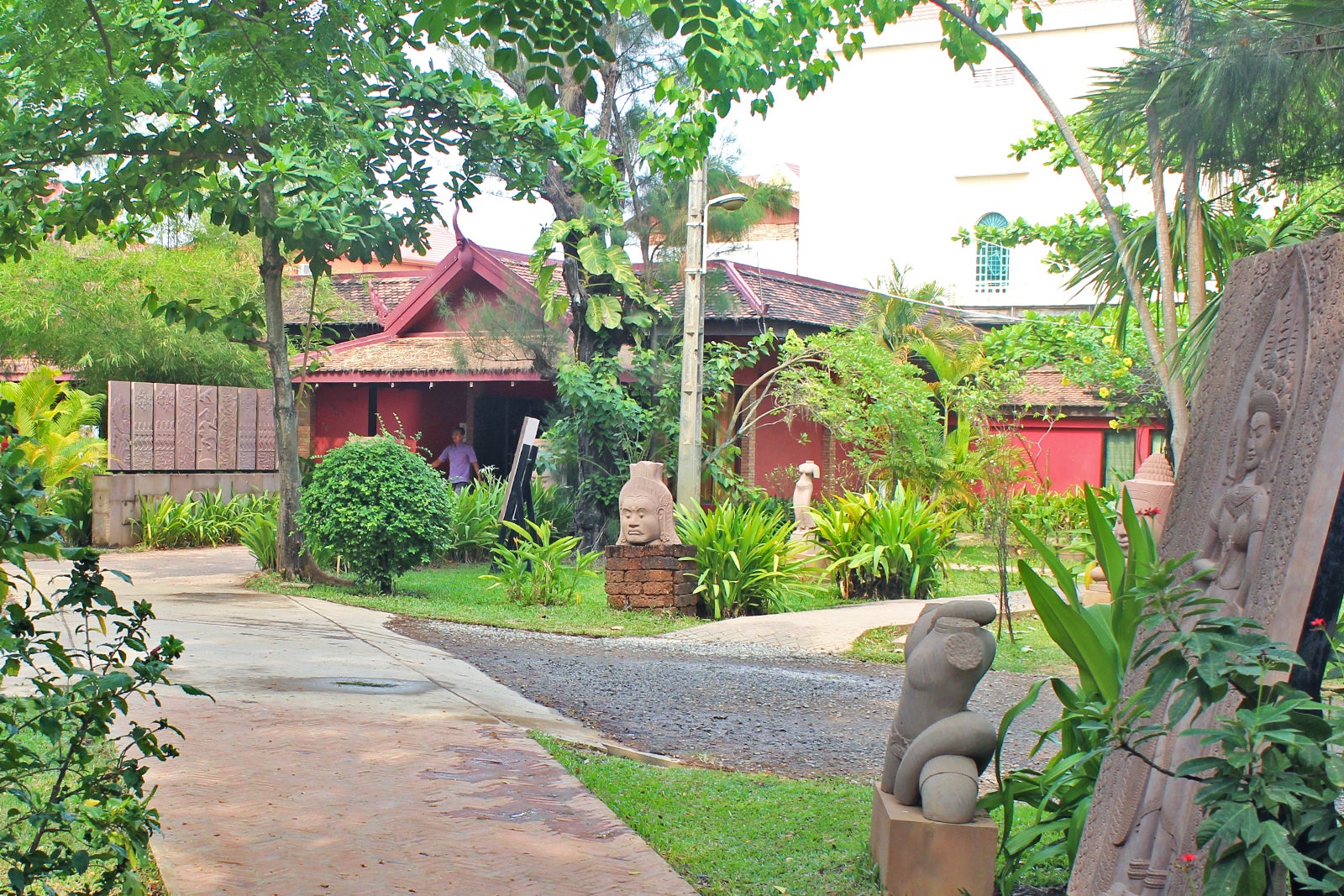 Artisans d'Angkor is a good option for those looking to purchase authentic Khmer handicrafts, textiles and homeware. Its numerous workshops not only provide employment to over 1,000 local artisans, but all profits go back into funding its training programme for impoverished youths.
Visitors can also join a complimentary tour of the establishment, where they can observe the meticulous techniques of stone and wood carving, lacquering, silver plating, and silk painting. Artisans d'Angkor also runs 3 duty-free outlets that are located at Siem Reap International Airport, Phnom Penh International Airport, and Hong Kong Airport.
Location: Chantiers-Ecoles Stung Thmey, Street, Siem Reap, Cambodia
Open: Daily from 7.30am to 6.30pm
Phone: +855 63 963 330
photo by Piseth1 (CC BY-SA 3.0) modified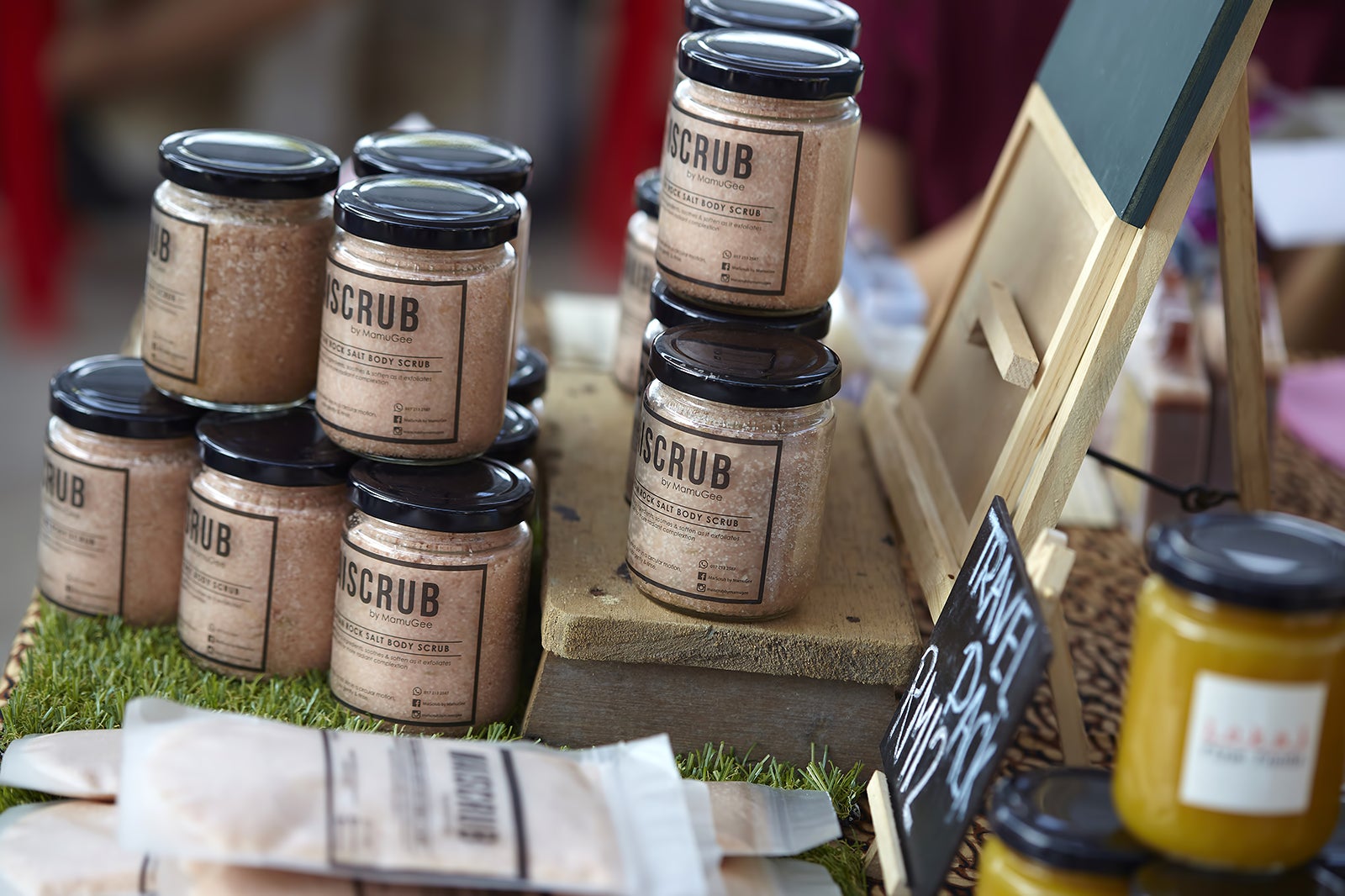 Blush Boutique is a veritable Aladdin's cave that you can find in a quiet pedestrian alley in central Siem Reap. The boutique offers a huge variety of items ranging from clothes, swimwear, shoes and boots to a full range of spa and beauty products. You can also find accessories ranging from hair bands, rings, bracelets, necklaces and nose-studs to a selection of handbags and clutches, mobile phone 'bling', stationery, wax, hair-colouring… and much more.
The design is unique, fresh and inspiring, with a water feature as the backdrop and a spacious changing room in the back. A tester area is also provided, equipped with a stylish wash basin to try all the spa and beauty products.
Location: The Lane (north of Pub Street), Siem Reap, Cambodia
Open: Daily from 10am to 10pm
Phone: +855 17 915 309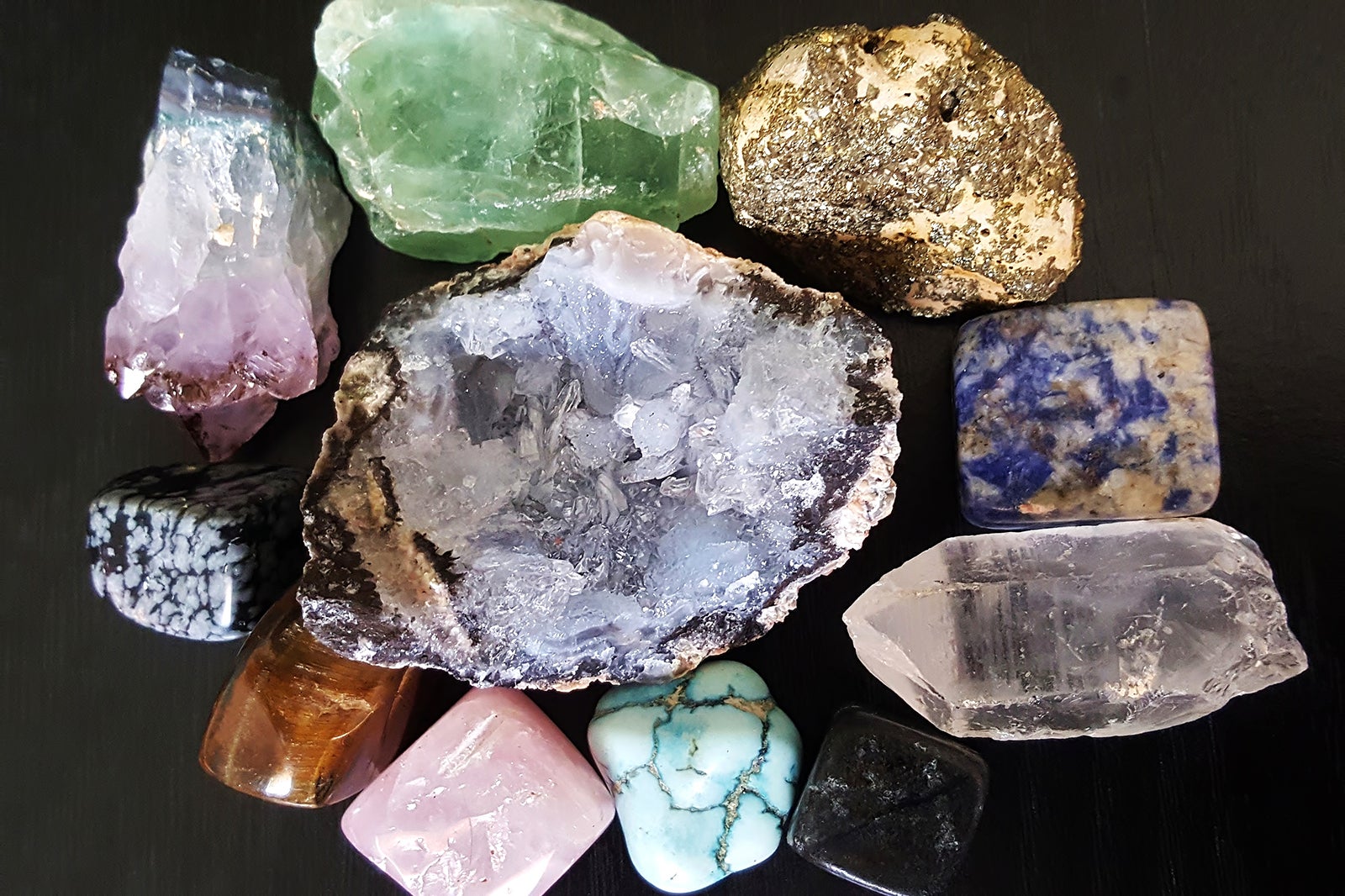 Gemological Institute of Cambodia
The Gemological Institute of Cambodia is an independent company that stocks a wide range of authentic gemstones from all over the world. If you're looking for precious stones in Siem Reap, this is a far more reliable source than the local markets.
Founded by Jean-Philippe Lepage, the laboratory is fitted with an exhibition room with over 150 varieties of gemstones from Cambodia, Myanmar, New Zealand and Colombia. The Gemological Institute of Cambodia also offers half-day and hour-long classes on gemmology in English and French, where visitors are introduced to gemstones found in Cambodia, such as zircon, rubies, sapphire, garnet, topaz, aquamarine, crystalline quartz and chalcedony.
Location: Night Market Street, Siem Reap, Cambodia
Open: Daily from 8.30am to 10pm
Phone: +855 92 615 288
The Khmer Ceramic Centre, founded in 2006, not only offers a deep insight of the ancient ceramic arts and culture between the early 9th and 15th century, but also a wide range of activities and handmade souvenirs.
Located along Charles de Gaulle Boulevard, the ceramic centre and boutique store displays top-quality handmade ceramic items such as jars, cosmetic bottles, serving bowls, decorative bowls, tableware, oil burners and accessories. You can also participate in pottery and ceramic painting classes for US$20 onwards. The workshops are guided by an English-speaking teacher, and inclusive of a free gift, hotel transfers and refreshments.
Location: 130 Vithey Charles de Gaulle, Krong Siem Reap, Cambodia
Open: Daily from 8am to 8pm
Phone: +855 17 843 014
photo by Sok CHHAN (CC BY-SA 4.0) modified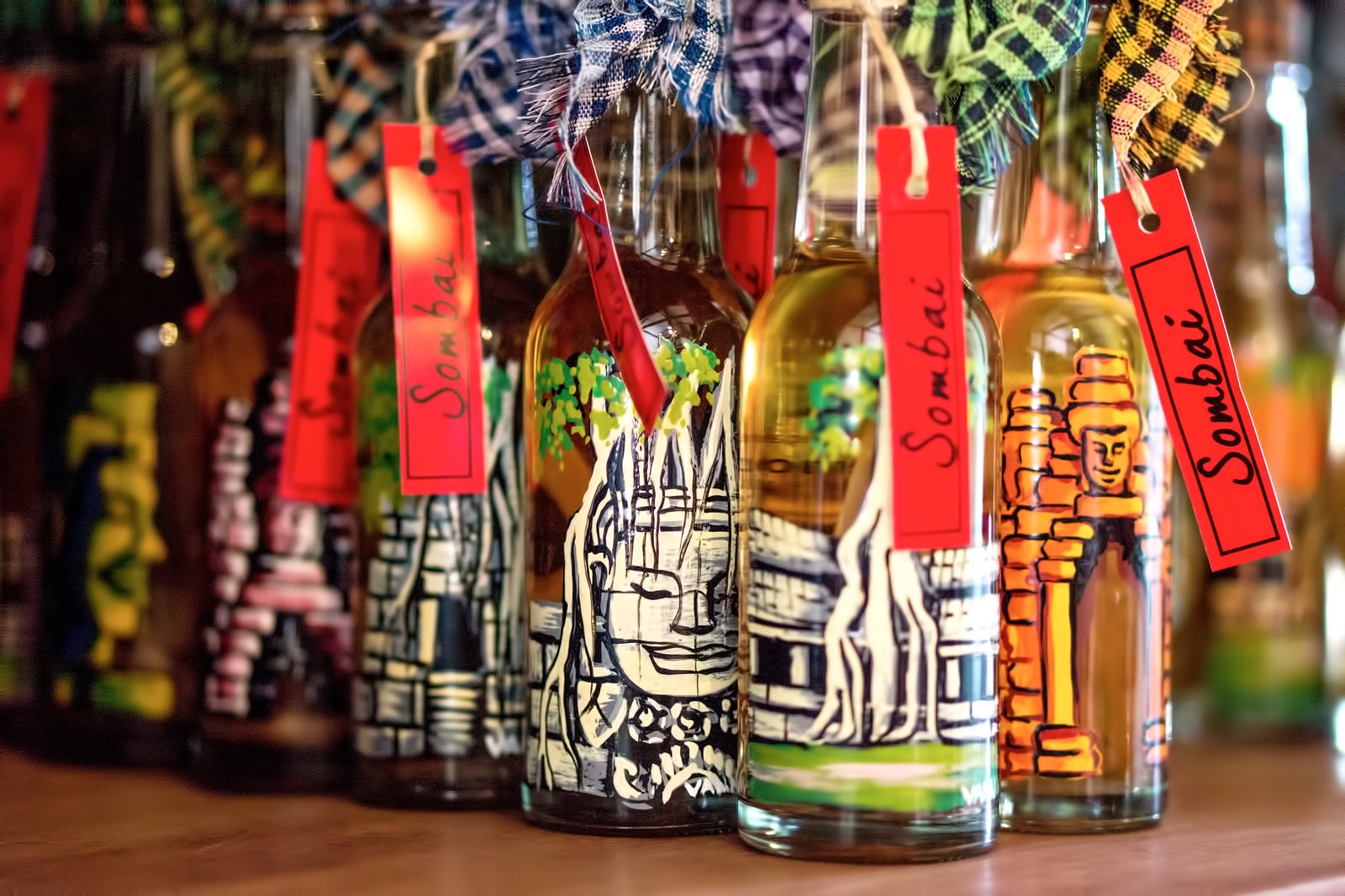 Made in Cambodia Market is a vibrant outdoor market that's set along the Siem Reap Riverside, offering a wide range of live performances, tasty local food, and Cambodian souvenirs. Held every Saturday, Sunday and Tuesday, renowned local artisans set up booths to showcase their creations such as clothes, cosmetics, jewellery, paintings, and toys.
One of the most unique items sold here is the Sombai rice spirits, which is infused with cinnamon, mangoes, star anise, and red chillies. If you're feeling peckish, Made in Cambodia Market also hosts a number of food stalls, all of which are run by some of Siem Reap's most prominent restaurants.
Location: Street 27, Achar Sva St, Krong Siem Reap, Cambodia
Open: Saturday, Sunday and Tuesday from midday to 10pm
Phone: +855 10 345 643
photo by Sepakam Sombai (CC BY-SA 4.0) modified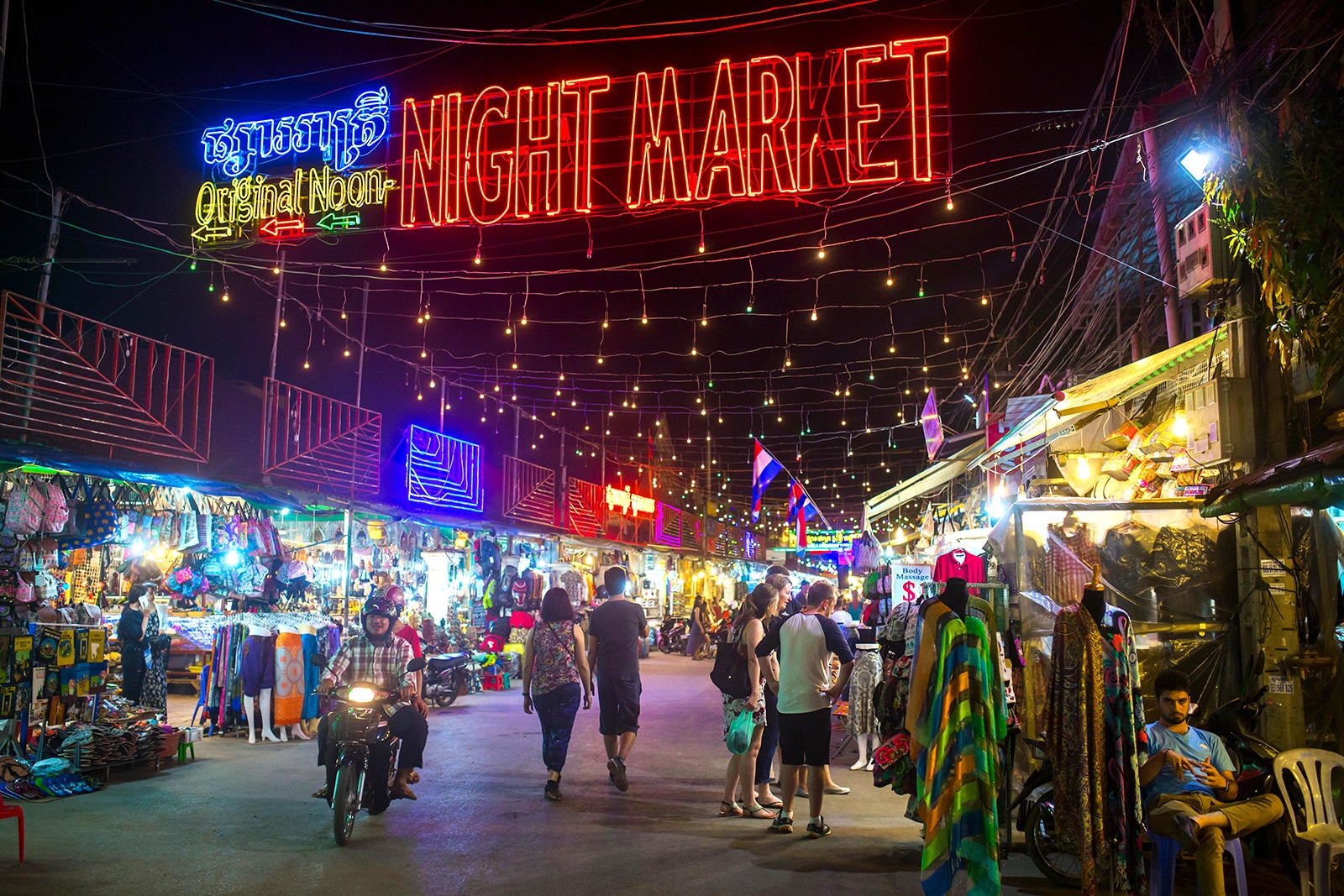 Noon Night Market in Siem Reap is the 2nd oldest, and 2nd largest of the night markets in the Angkor gateway town. You can find the market right off Sivatha Boulevard, and along the same street as Angkor Night Market. The stalls within the market also sell the same type of souvenir items at the Angkor Night Market.
You can find a wide range of products on sale here, although the prices can be irregular among vendors. A rule of thumb is to bargain hard and make sure to check your items after you've made a deal. It can be a great proving ground for putting your haggling skills to the test.
Location: Street 07, Siem Reap, Cambodia
Open: Daily from midday to midnight
Phone: +855 63 963 775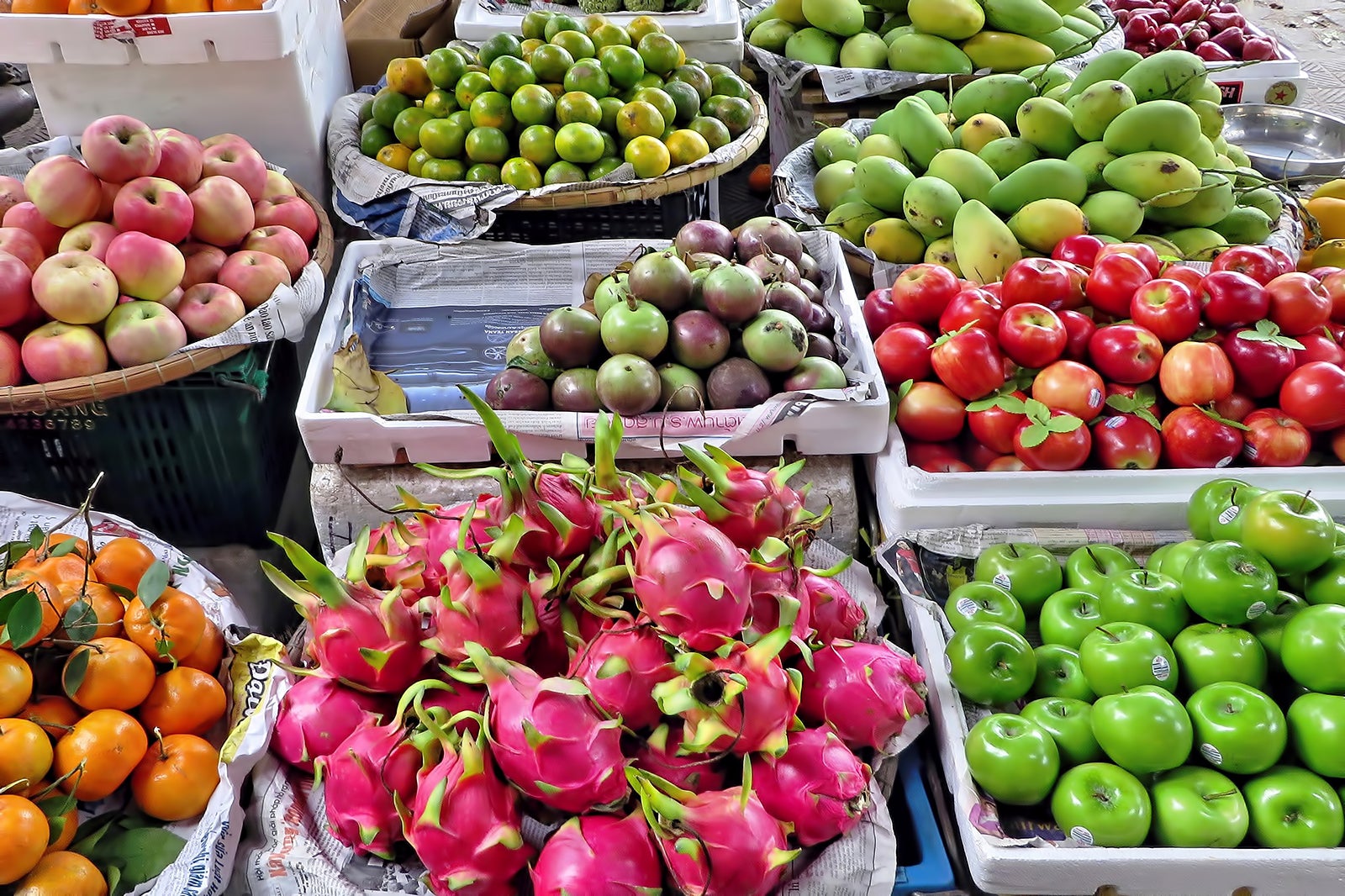 Phsar Samaki is a somewhat smaller version of Phsar Leu, and which is better known among locals as a vegetable and fruit market. Samaki is also on Highway No. 6, but closer to town.
The market is a great go-to for budget shopping, with outdoor fruit and vegetable stalls laid out under colourful parasols. Other sections of the market feature local food vendors where you can try out Khmer dishes.
Location: National Highway No. 6, Siem Reap, Cambodia
Open: Daily from 4am to 10pm
Phone: +855 98 211 411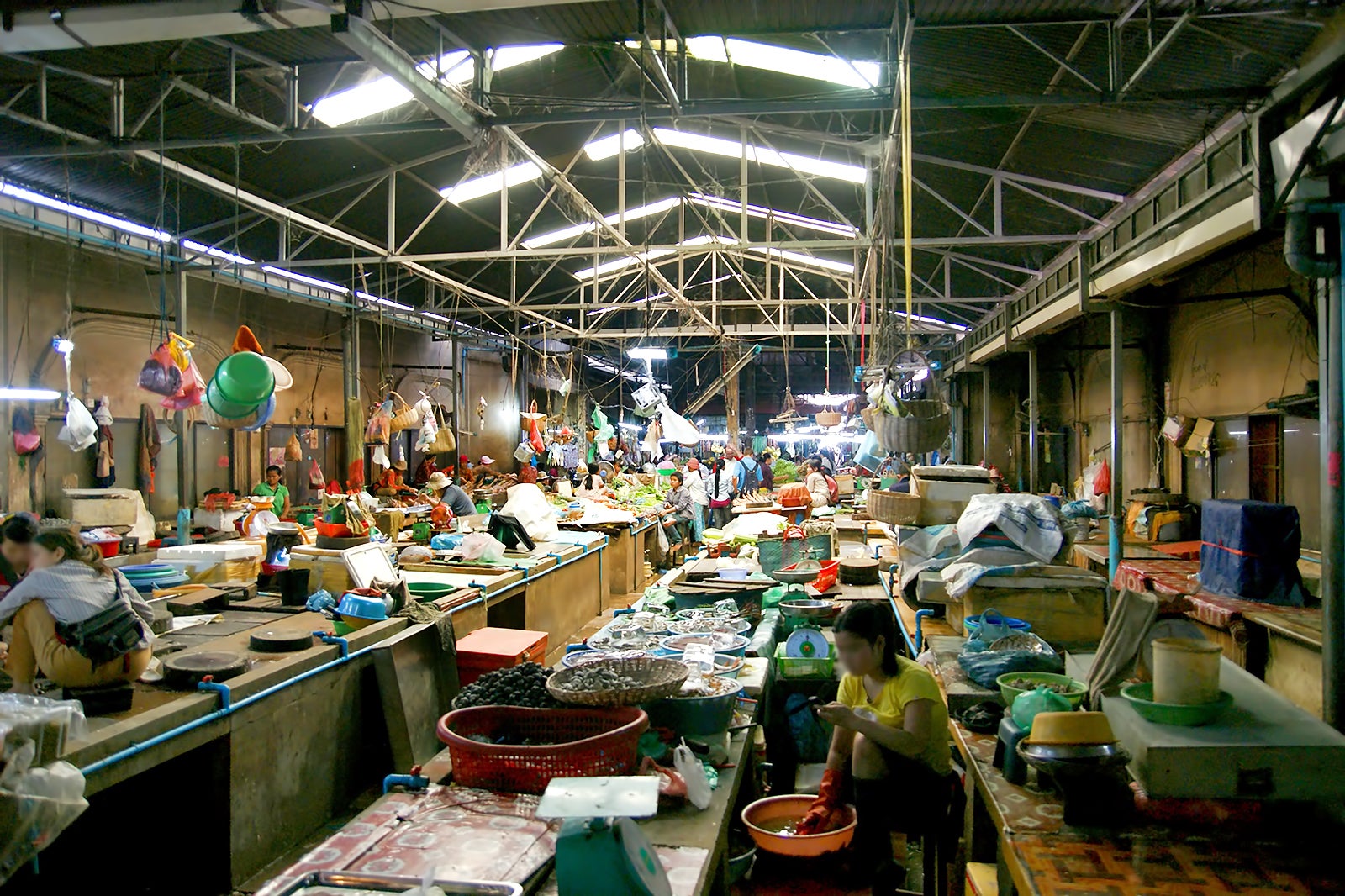 The Old Market, situated along Siem Reap River, is the town's oldest Khmer market. Also known as Psar Chas, locals flock to this open-air market in the morning to shop for fresh produce and household items. There's also a number of stalls located close to the entrance where you can find inexpensive souvenirs such as antiques, silks, jewellery, and shoes – make sure you bargain hard as most items are priced significantly higher for tourists.
The centre of Old Market hosts food vendors selling authentic Cambodian soups, rice dishes, baguettes, spiced frogs, dried fish, and pork sausages.
Location: 2 Thnou St, Siem Reap, Cambodia
Open: Daily from 7am to 8pm
photo by Allie_Caulfield (CC BY 2.0) modified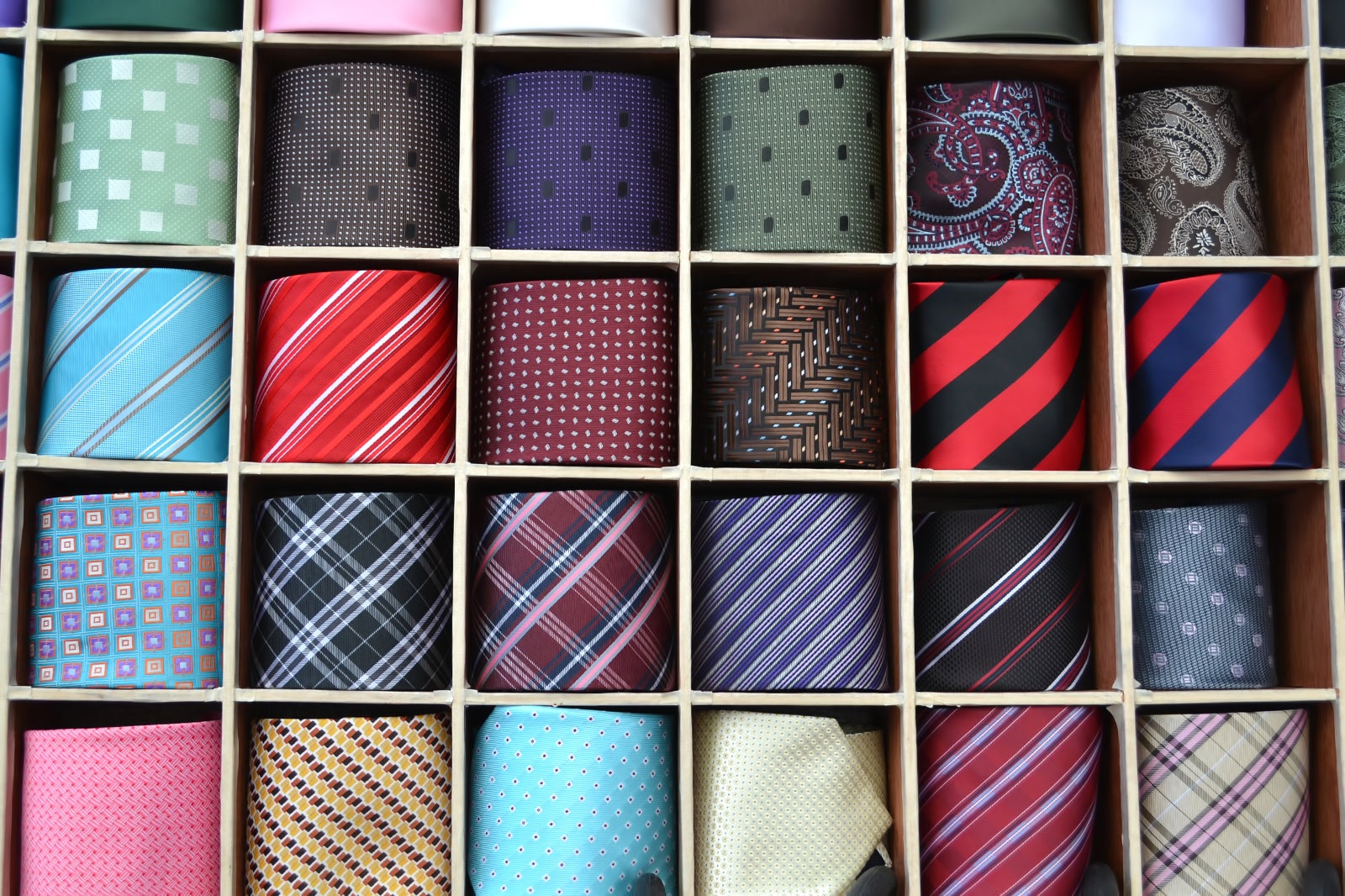 Samatoa is a tailor shop in Siem Reap that specialises in tailor-made clothing using natural silk. They can help you design your elegant suit, dress, blouse and even hat. There's also a good range of fashion accessories available to help you mix and match.
Location: Kolkran, road 63, Siem Reap 93160, Cambodia
Open: Monday–Saturday from 8am to 5pm (closed on Sundays)
Phone: +855 92 529 001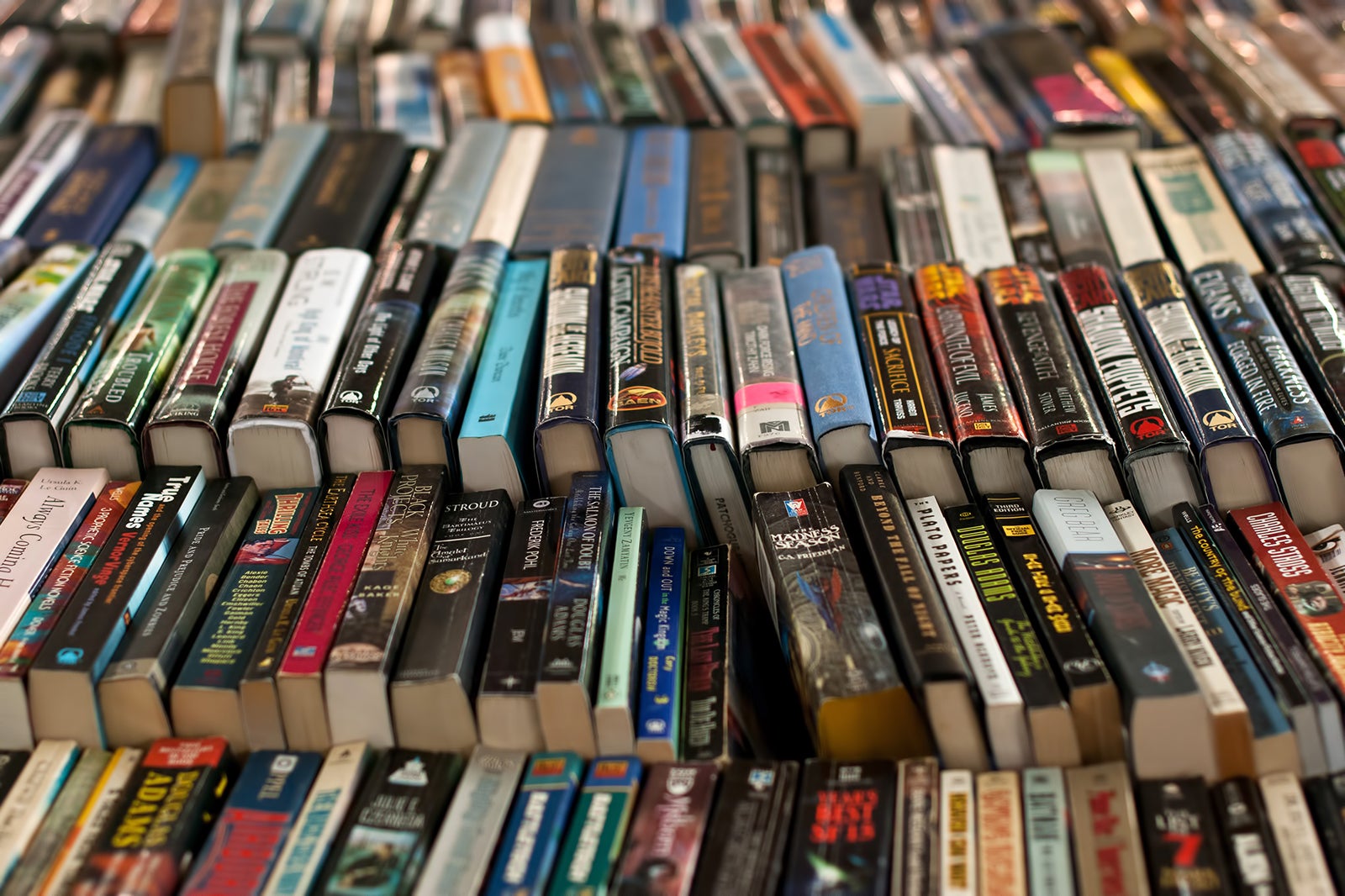 Siem Reap Book Center is a great 1-stop shop for your reading materials, stationery or souvenirs in Siem Reap. In addition to a wide selection of books, they also have clothes, silk products, bags, jewellery, CDs, stationary, postcards, and even wine!
Location: 61 2 Thnou St, Siem Reap, Cambodia
Open: Daily from 8am to 11pm
Phone: +855 63 965 132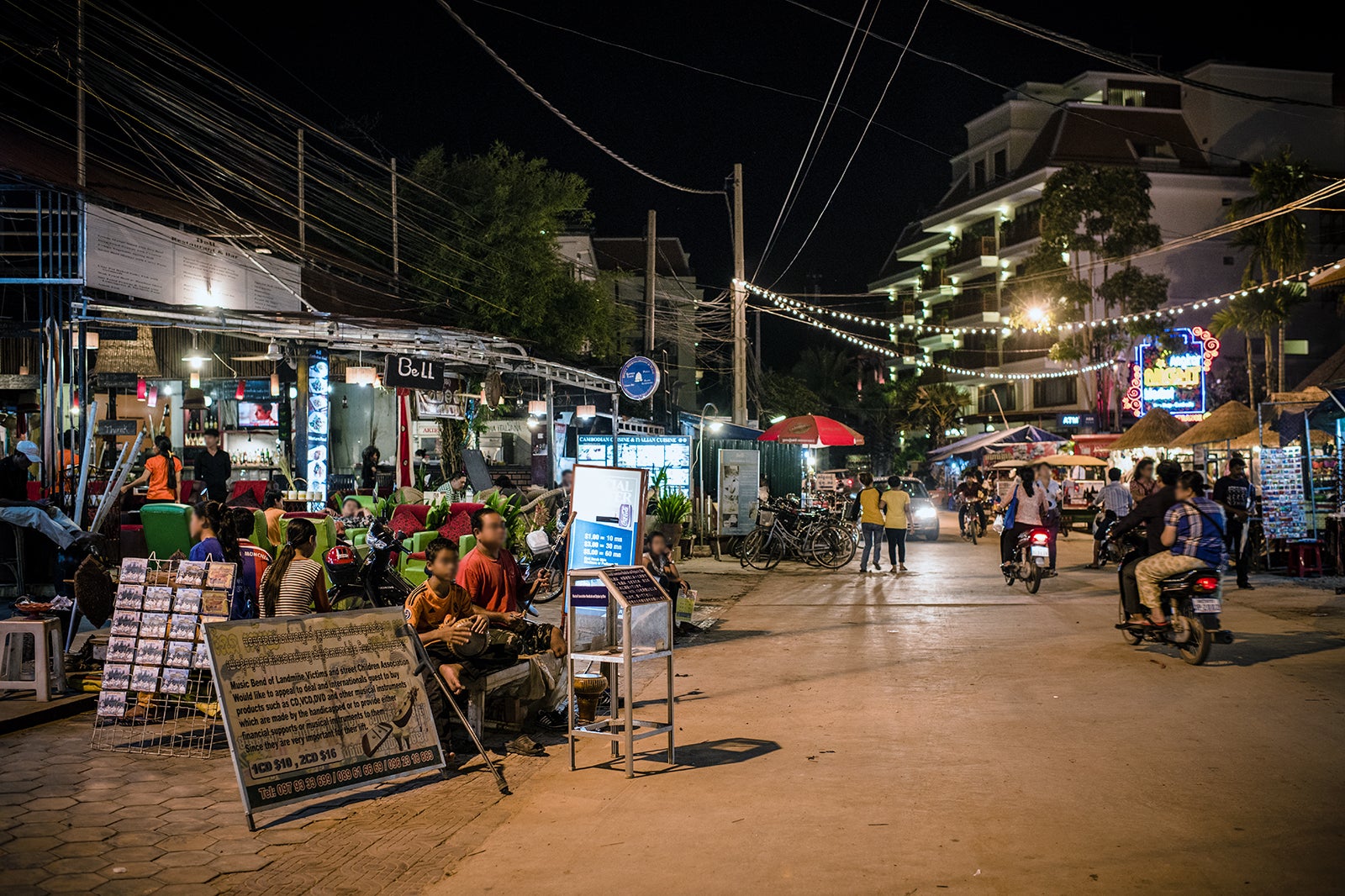 Siem Reap Night Market is one of the newest and smallest night markets in Siem Reap. The market offers mostly souvenirs, but you can also find a great selection of antiques here.
Start bargaining from half the offered price and work your way up. Another good rule is to not be fixated on 1 section of the market as there remains so much more to explore.
Location: Sivatha Road, Siem Reap, Cambodia
Open: Daily from 11.30am to 10pm
Phone: +855 92 239 928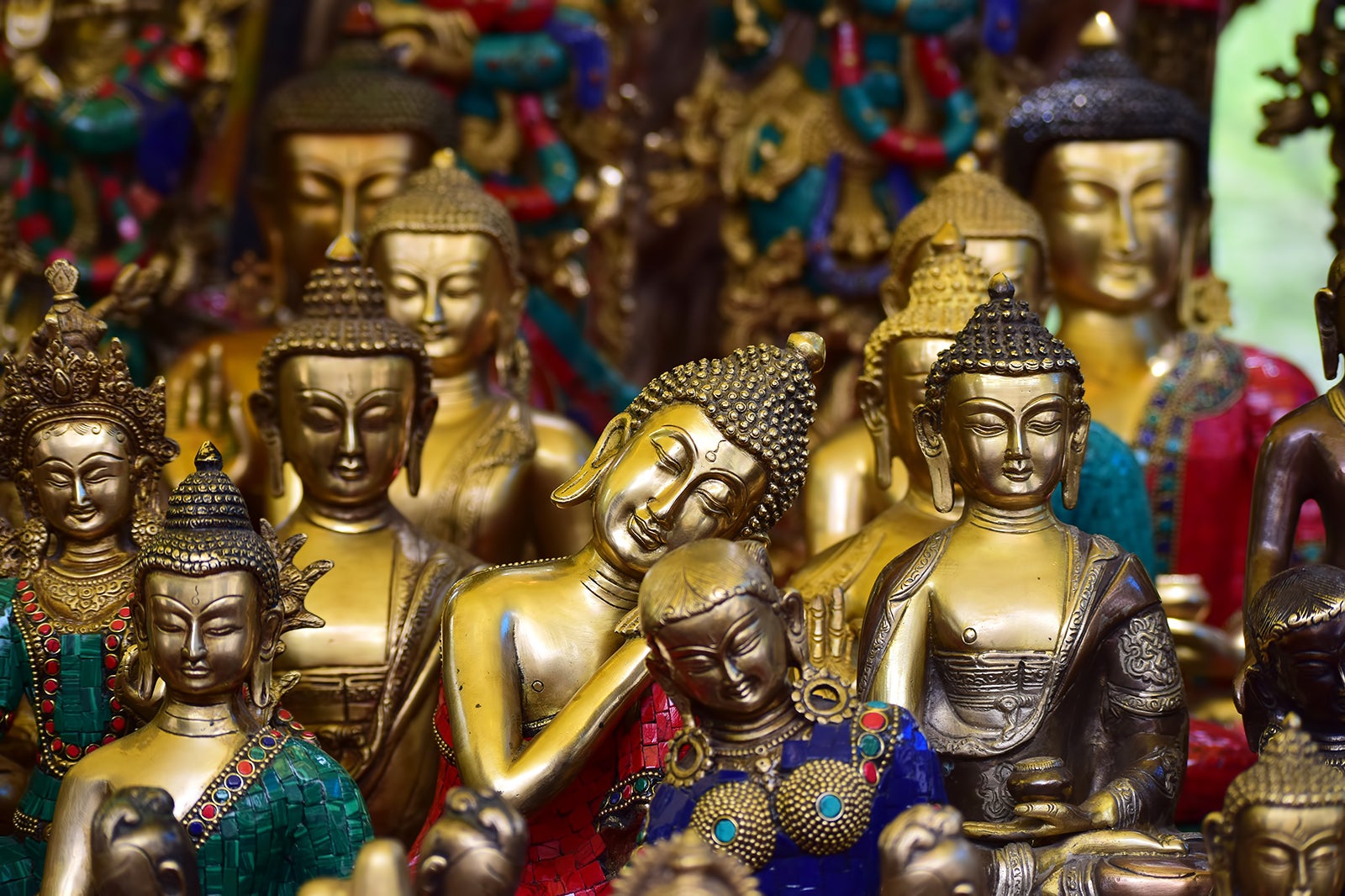 Theam's House Gallery is a quaint art studio within Siem Reap's Veal Village, where you can purchase original lacquer paintings and pottery by Cambodian artist and designer Lim Muy Theam. Upon entering the vicinity, visitors are guided through a private showroom of ornate Buddha sculptures, followed by the onsite workshop where 55 artisans under Theam's tutelage produce lacquered clay animals, paintings, and textiles. Due to its rather hidden locale, the best way to get to Theam's House Gallery is via tuk tuk – it's a 10-minute ride from the Angkor National Museum.
Location: 25, Veal Village, Siem Reap, Cambodia
Open: Daily from 8am to 7pm
Phone: +855 78 208 161
Louise Loubatieres Gallery
Louise Loubatieres Gallery is a minimalist, all-white boutique that stocks lacquer homeware, ceramics, and textiles from local artisans. As a graduate from London's Royal College of Art, Louise also often collaborates with local craftsmen to produce traditional goods with a contemporary twist.
Priced between US$20 and US$55, visitors can find plenty of souvenirs for loved ones back home, from brightly coloured bowls and trays to silk-covered bead necklaces and silk shawls that come in any colour. Louise Loubatieres Gallery also stocks a collection of antiques, cushions, and vases from the UK and Vietnam, among other places.
Location: 7 Hap Guan St, Siem Reap, Cambodia
Open: Monday–Saturday from 10am to 6pm (closed on Sundays)
Phone: +855 12 902 986
Lucky Mall is a shopping centre in central Siem Reap. While it has relatively few shops, it does have a Lucky Burger and a very good Lucky Supermarket within, and it can be very crowded in the evening and on weekends.
Siem Reap boasts a few somewhat full-fledged shopping centres, but they are not ones that you would compare with those found in developed countries. Lucky Mall does have a selection of grocery and electronic stores.
Location: Sivatha Road, Siem Reap, Cambodia
Open: Daily from 9am to 10pm
Phone: +855 63 760 740
New Apsara Market is more like a convenience store than its name suggests. Conveniently located on Wat Bo Road, it serves as a great mini-market on the east side of the Siem Reap River that has a good selection of imported groceries. They cater to travellers and expats, and it's a good place to stop in and stock up on canned goods, snacks, daily necessities and drinks.
Location: Wat Bo Rd, Siem Reap, Cambodia
Open: Daily from 7am to 11pm
Phone: +855 12 941 474
Phsar Leu Thom Tmey is a huge indoor market just east of central Siem Reap, where most locals go to buy their daily necessities. The stalls within the market sell a wide range of items such as food, clothes, shoes, tools, electronics, homeware and almost anything else, all in a single market site.
You can walk through the lanes between stalls in the outdoor courtyard and discover all types of delicious local snacks on display. Although slightly chaotic with the local crowd and motorcycles passing by, it's a great spot to witness local trade and try out local flavours.
Location: Highway No. 6, Siem Reap 17252, Cambodia
Open: Daily from 6am to 11pm