8 Souvenirs from Bruges Your Family Actually Want
What to Buy in Bruges
Bruges in northwest Belgium is a shoppers' dream city, with elegant shops set in centuries-old Gothic buildings and a central square – Markt – that's been a lively marketplace for more than 1,000 years. It's a great place to browse for finely crafted goods like lace and decorative items, not to mention divine pralines and sweet treats sold by dozens of chocolatiers – plus they make great souvenirs!
Families of all ages are sure to love wandering the cobbled streets of Bruges in search of gourmet foods, antiques, books and other Belgian treasures. Here are just a few suggestions to help you find the best souvenirs in Bruges.
1
Chocolate
Paradise for chocoholics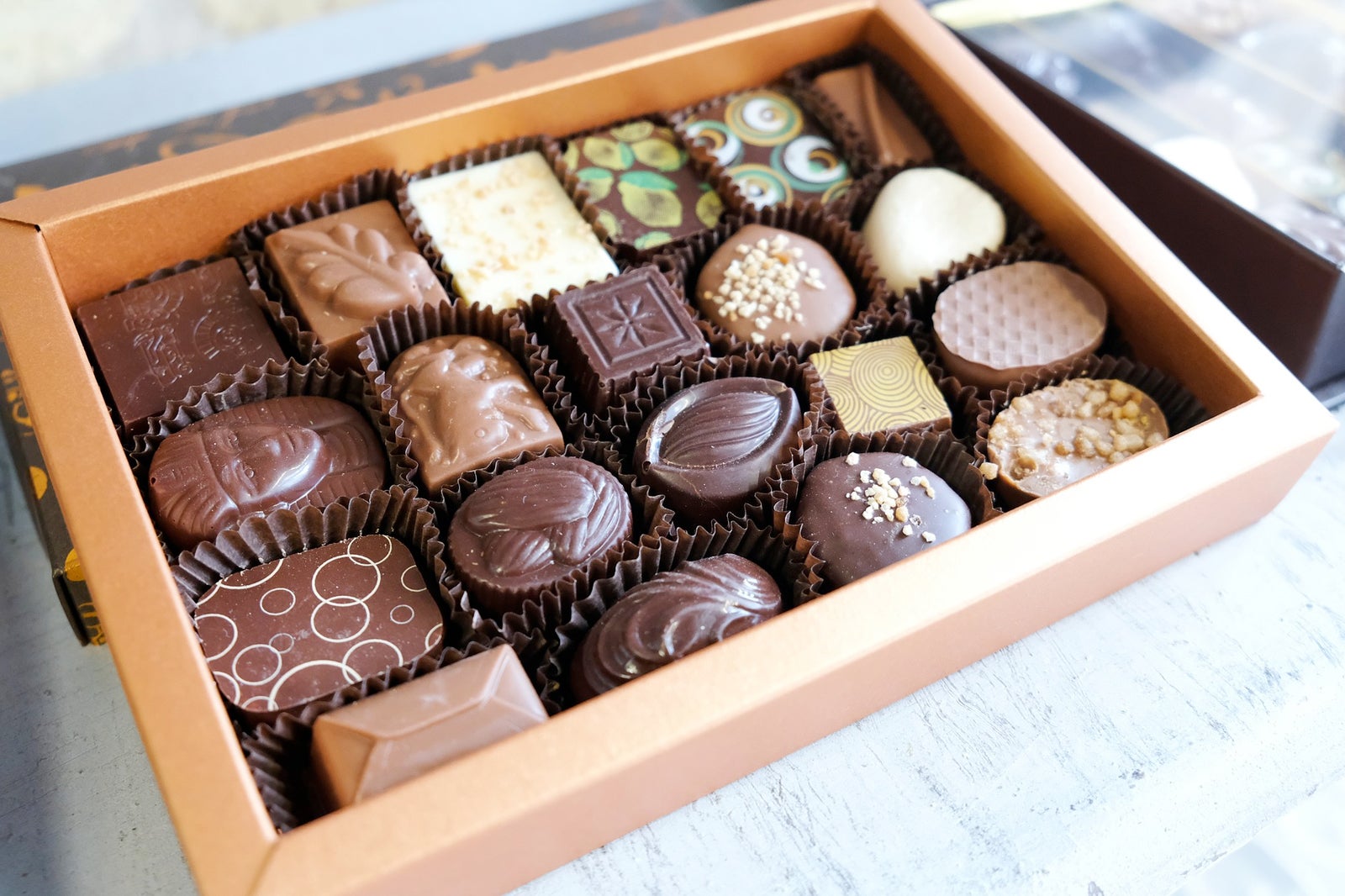 No trip to Belgium is complete without trying some of its sublime chocolates. The country is known as the world's chocolate capital, and in Bruges, you'll find dozens of chocolatiers selling pralines, chocolate truffles and other heavenly treats.
Dumon is a family-run artisanal chocolate shop near Markt square famous for its creamy, smooth chocolate selections. You'll find some unusual concoctions at Chocolate Line, a top-quality shop known for boldly mixing chocolate with savoury flavours. Chocolate lovers can even learn the history behind Belgian chocolate by stopping by the Chocolate Museum at Choco Story on Wijnzakstraat 2.
2
Christmas ornaments
Get into the festive spirit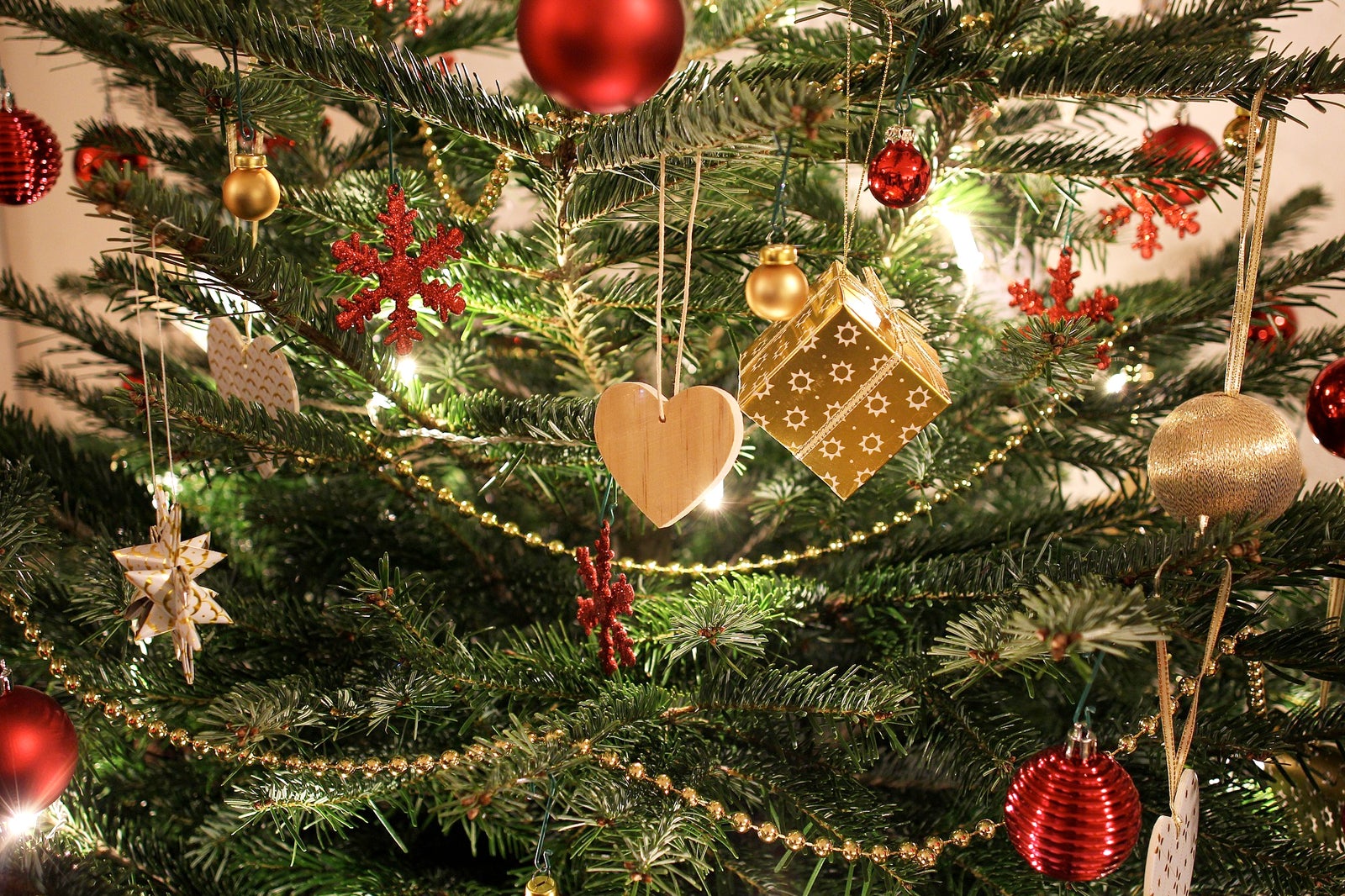 In Bruges, there's no need to wait till December to enjoy a magical Christmas setting. Just step inside one of the speciality shops around the city that sell beautiful ornaments and Christmas decorations, year-round. De Witte Pelikaan on Vlamingstraat 23 is an enchanting place to shop for ornate decorations with its elegant chandeliers and twinkling lights.
Kids will love getting lost in Käthe Wohlfahrt on Walplein 12, which sells intricate music boxes and adorable figurines in a glittering Christmas setting. True Christmas aficionados will want to visit Bruges from late November to the end of December when its exquisite Christmas market opens in the historic city centre.
3
Cheese
Follow your nose to the top cheese masters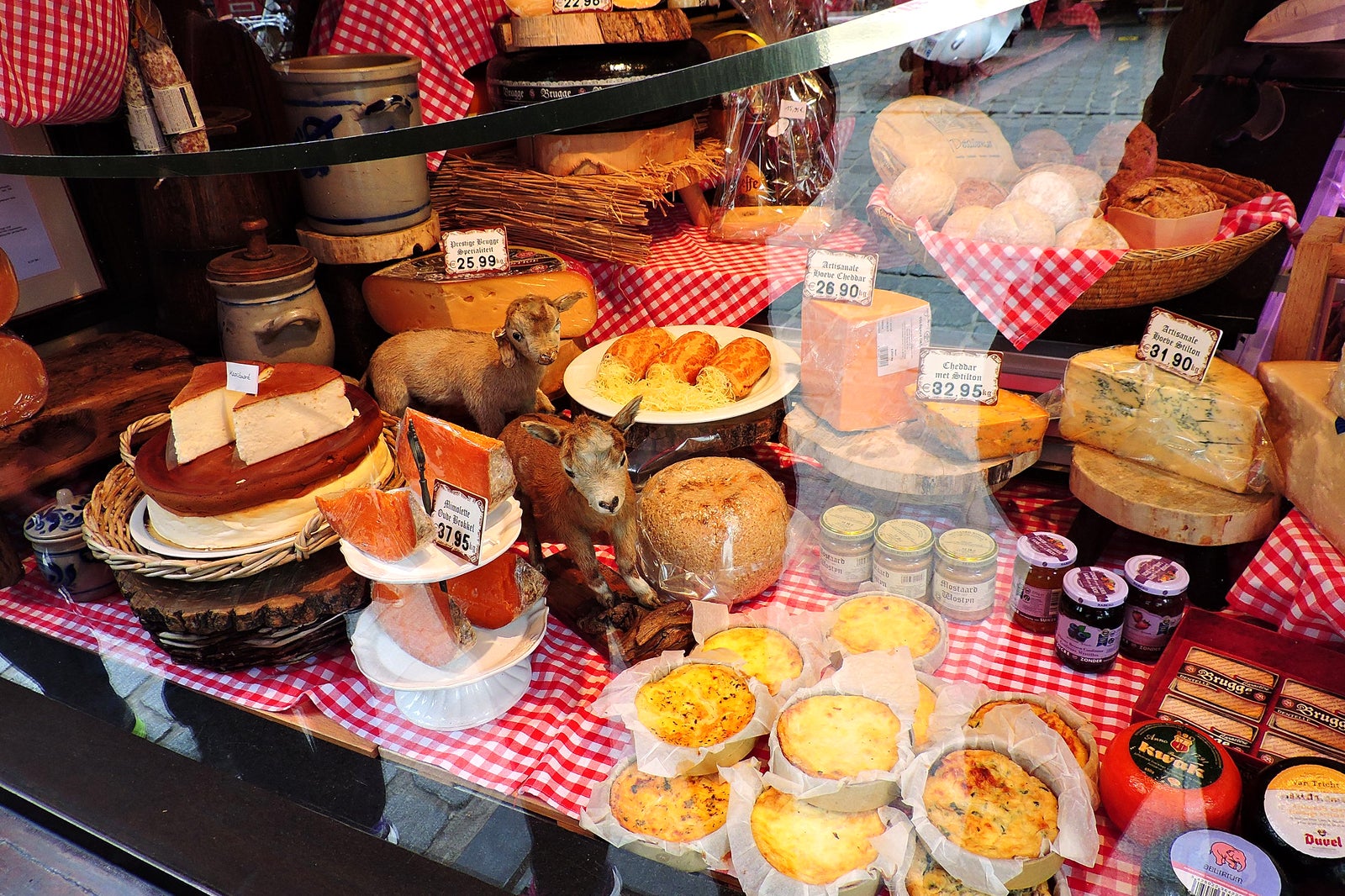 Cheesemaking has a long tradition in Belgium, and several shops around Bruges stock a wide variety of cheeses. With more than 200 cheeses to choose from at Diksmuids Boterhuis, you could spend hours just salivating over the display shelves. Book a tasting tour to get an insider's look at the cheese making process and come away with a delectable goodie bag. De Kaasbolle is another shop with a huge range of cheeses, including its creamy house cheese, Lucullus.
Many shops let you try their cheeses right in the shop (perhaps with a glass of wine), or you could buy samples wrapped in beautiful packaging to take back home.
photo by Dimitris Kamaras (CC BY 2.0) modified
4
Lace
Delicate handmade doilies and more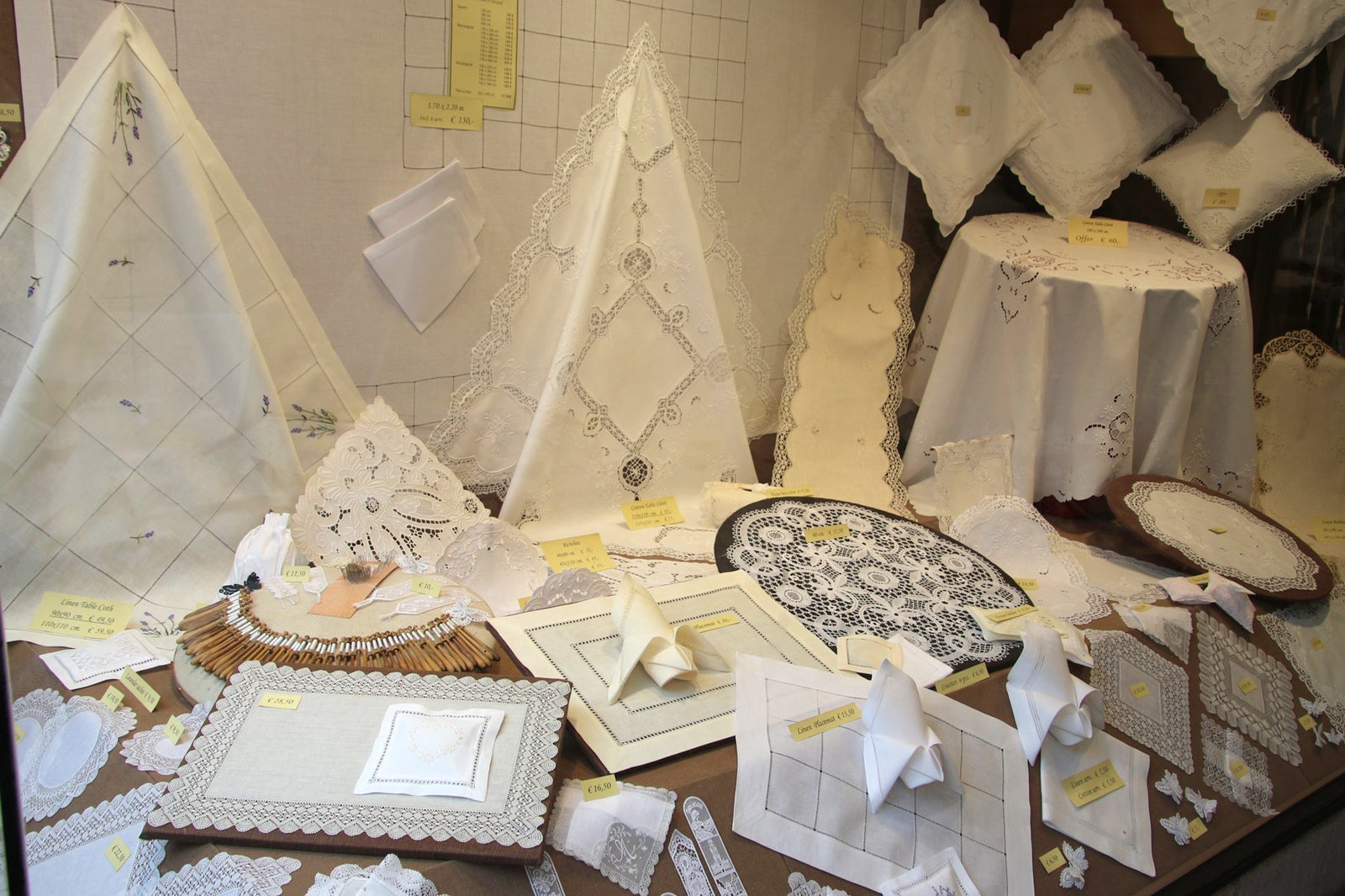 Bruges has been the epicentre for lace production since the 16th century, and it's said that at one time, more than a quarter of all women in the city were lace-makers. There's even a Lace Museum where you can find out more about this intricate craft, as well as a "lace walk" where a guide leads you to old lace-making schools around the St. Anna district.
Several shops around Bruges sell lace fabrics, including 'T Apostelientje, which specialises in antique and handmade lace, and the Lace Centre, where you'll also see students working on their latest lace creations.
5
Sweets
Indulge your sweet tooth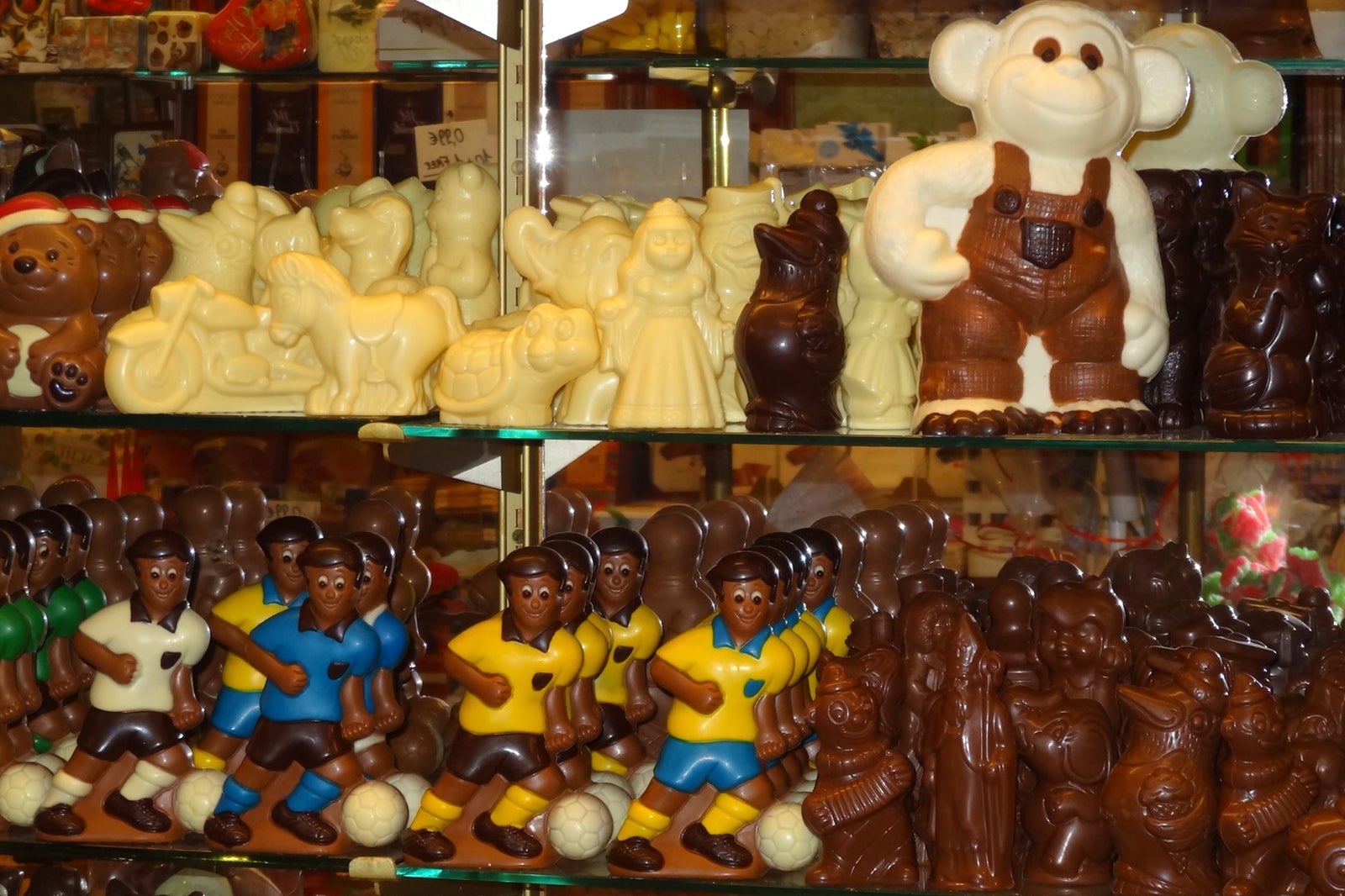 Chocolate may be the most famous sweet treat in Bruges, but there are plenty of other ways to satisfy your sugar cravings. Sweet shops around the city offer a range of tasty delights such as babelutte (toffee), kletskoppen (lace-like crunchy cookies) and a rainbow of lollipops.
Among the best is Confiserie De Clerck, a sweet shop in a centuries-old house run by the same family for generations selling traditional sweets like spekke (caramelised chew). Confiserie Zucchero is an artisan candy shop where you can watch their colourful confections being made on site. Pick up a box of candies or sugared almonds, or relax and enjoy a freshly-baked cupcake.
6
Flemish tapestries
Coveted by royals in the past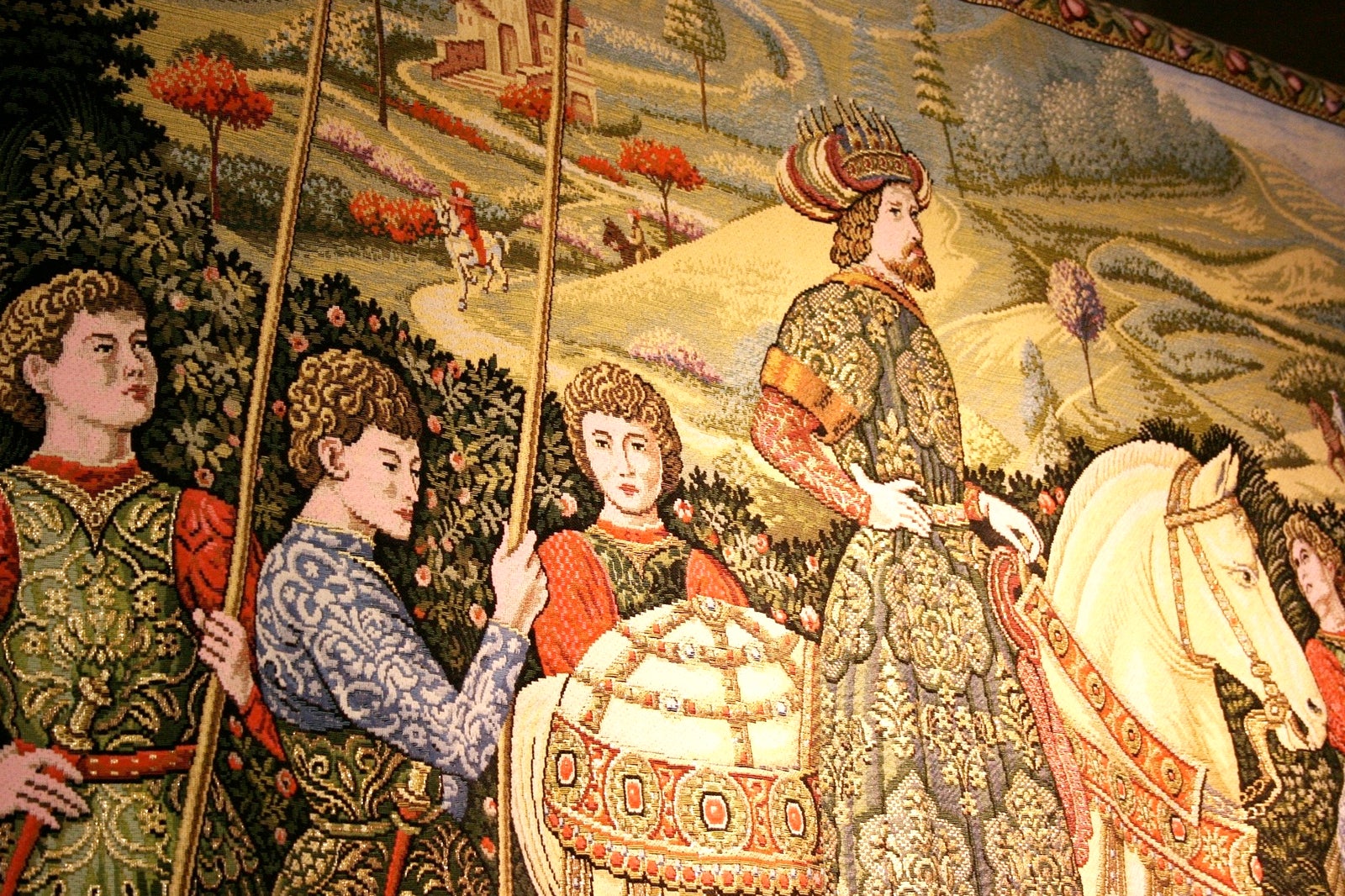 Bruges is well-known for its tapestries, a craft that dates back to the Middle Ages when large tapestry designs were used to cover the cold, damp stone walls of castles. Traditional tapestry-making lives on today in Bruges, with wall-hangings, pillow covers and handbags among the items to find here.
You'll see all kinds of detailed and colourful images on tapestries from old city scenes, flowers and pastoral landscapes. Mille Fleurs on Wollestraat 18 has a large collection of tapestries to choose from, including scarves and cushions with images of famous artists like Gustav Klimt.
7
Comic books
Find Tintin collections and more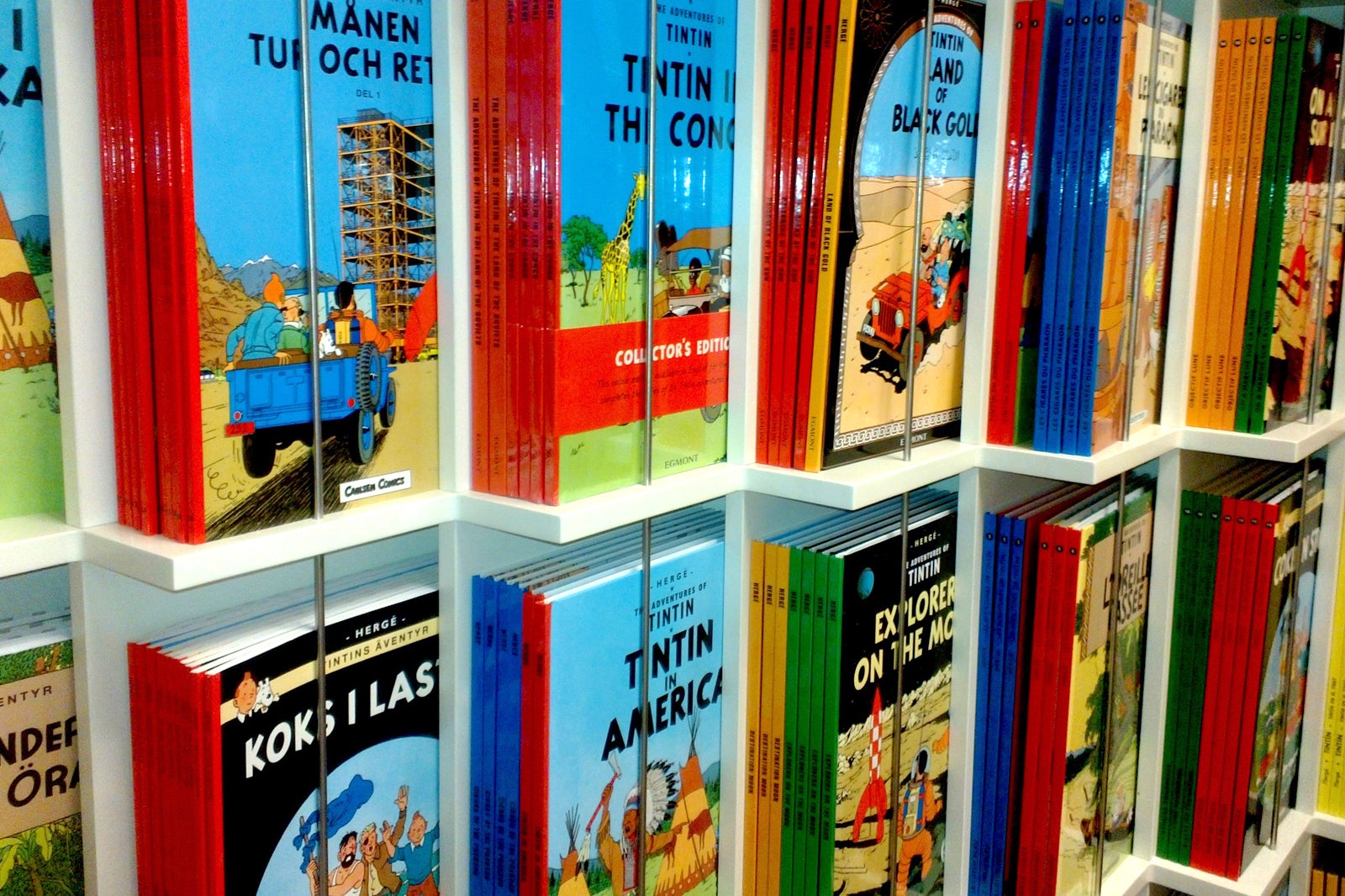 The Adventures of Tintin comic series originated in Belgium but it's since become popular around the world. It's fun to shop for Tintin books and other comics in Bruges on a wander through all the good bookshops lining its cobblestone streets.
De Striep on Katelijnestraat 42 in the city centre has a great collection of comic books and memorabilia in many languages. In the nearby town of Ghent (less than an hour's drive away), is Worlds' End Comics, which also stocks comic books from around the world. You can hang out at its gaming area and bar after browsing for your favourite manga.
photo by দেবর্ষি রায় (CC BY-SA 2.0) modified
8
Antiques
Vintage treasures from Europe and beyond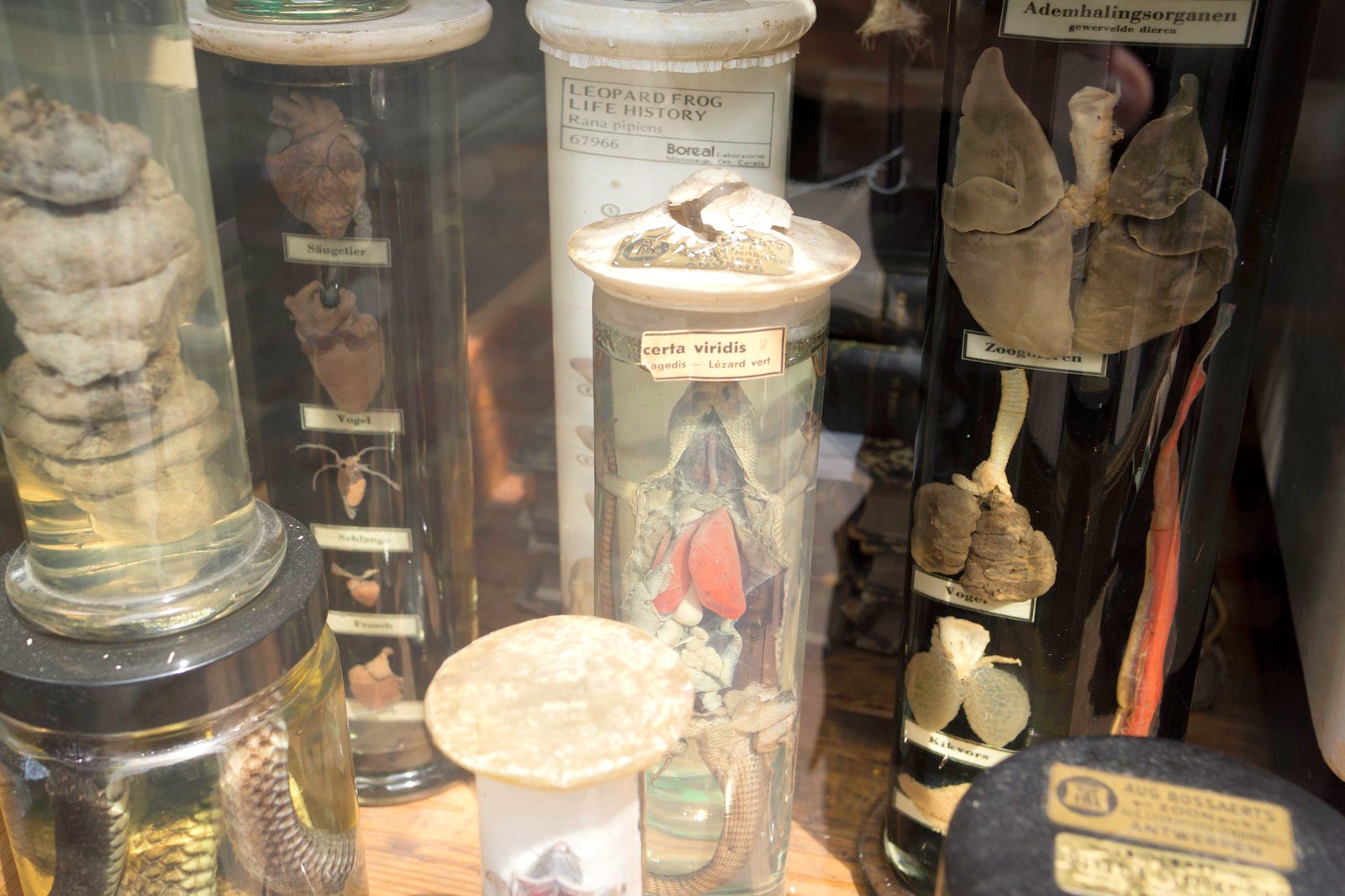 Not surprising for a city that was a thriving trade centre for hundreds of years, Bruges has an abundance of shops selling art and antiques. Adding to the charm of browsing for vintage items are the shops themselves, many of which are in beautifully restored historic buildings.
A good place to start is De Clerck Antiques, where you'll find antique furniture, glassware and ceramics in its collection of items curated by the family owners. Depot d'O is a fun spot to unearth more quirky antiques and curios including taxidermy animals and tribal art.
photo by StretchyBill (CC BY 2.0) modified