10 Best Things to Do in Barbados
What is Barbados Most Famous For?
Barbados offers you a Caribbean island holiday that's not short of world-class beaches – some afford privacy and seclusion, while others are at the heart of the action. No one will blame you if you can't drag yourself away. After all, such tropical idylls are the reason we fly halfway around the world for our 2 weeks in the sun.
But beyond the beach lies a hilly, verdant landscape liberally scattered with historic plantation homes, rum distilleries and lush tropical gardens. Barbados is, without doubt, an island that rewards the wanderer. Every part of the island has somewhere worthy of an excursion, no matter what your passion. Let us tempt you with some of the best things to do in Barbados.
What are the best things to do in Barbados?
1
Explore George Washington House and the Garrison tunnels
Go back in time to 18th-century Barbados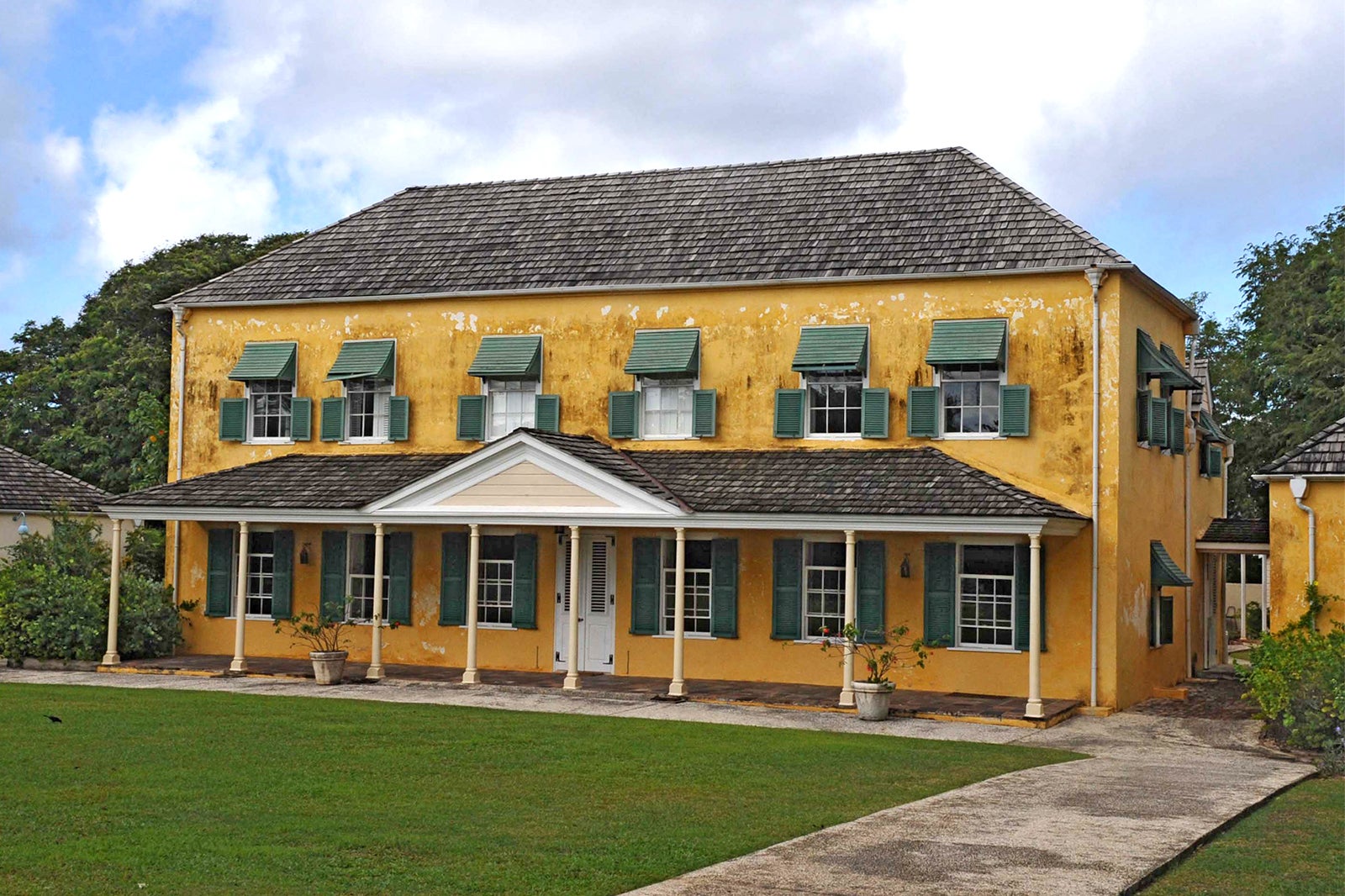 George Washington House was named after the man who would become the USA's first president. One of Bridgetown's oldest properties, this plantation-style house was restored by the Barbados National Trust. Tours of the house and grounds reveal what the place would've been like in the mid-18th century.
The adjacent Garrison tunnels were rediscovered when foundations were dug for George Washington House's onsite cafe. These drainage tunnels were dug in the 19th century to drain the peaty Garrison savannah land. Historians believe the tunnels could also have been used for the covert evacuation of the soldiers stationed at the nearby Garrison. The tunnels are almost 4 metres high and in all, the network extends over 2 miles.
Location: Garrison, St Michael, Bridgetown, Barbados
Open: Monday–Friday from 9 am to 4.30 pm (closed on weekends)
Phone: +1246 228 5491
photo by JERRYE AND ROY KLOTZ MD (CC BY-SA 3.0) modified
2
Visit a rum distillery
Sample the drink that's famous throughout the Caribbean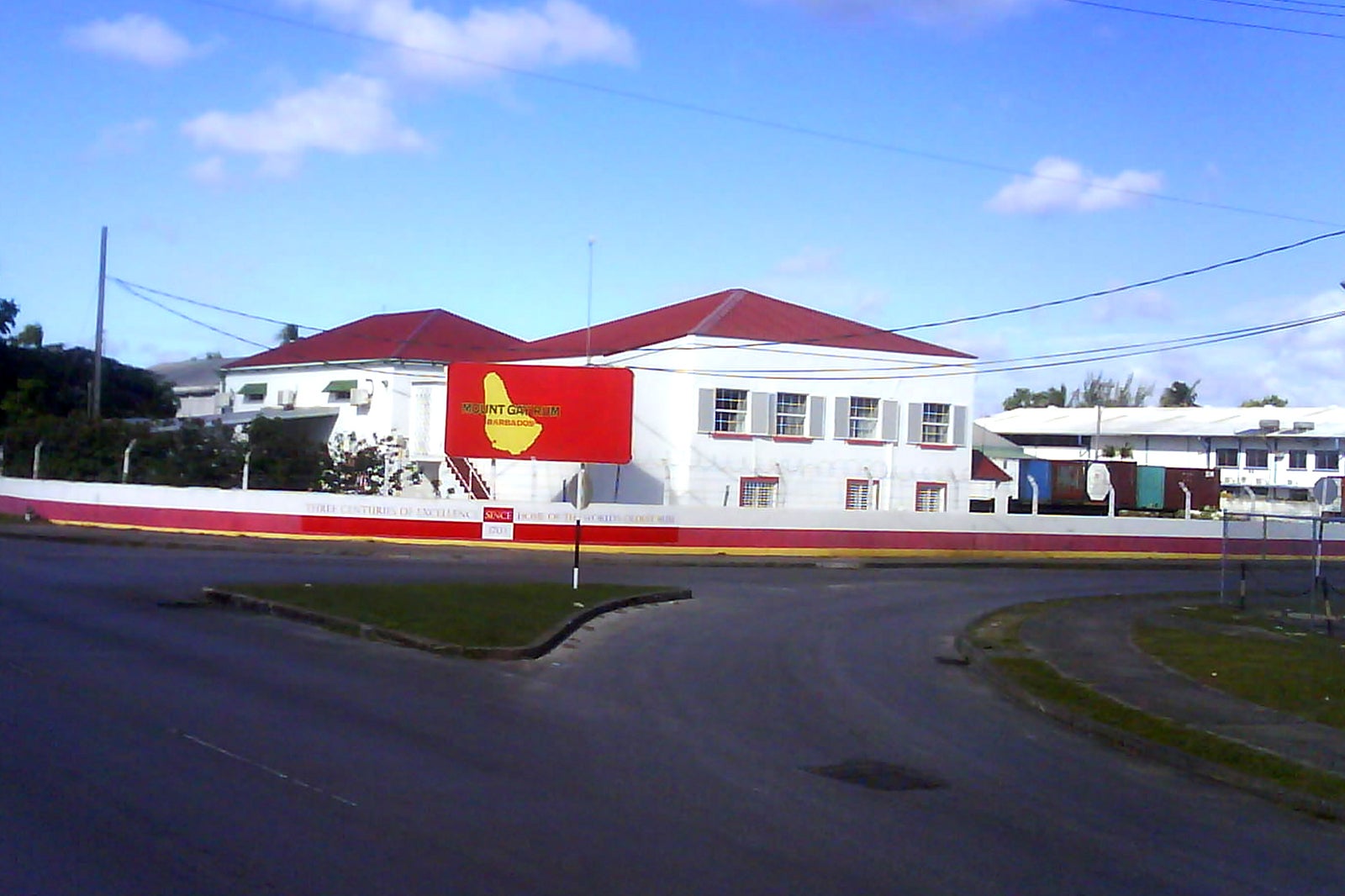 Mount Gay has a long history on Barbados – the first title deed to the distillery dates from 1703, making it the world's oldest rum brand. In 1747, the estate was sold to the somewhat ironically named John Sober. He was an absentee landlord, preferring to leave his business in the capable hands of his friend John Gay Alleyne. When Alleyne died in 1801, there was already a Mount Alleyne on the island, so the estate became Mount Gay in his honour.
Visitors to the upcountry estate tour the original well, as well as the molasses, fermentation and distillation houses. Most content themselves with a tasting at the company's more conveniently located visitor centre in Bridgetown, savouring the intense flavour of rum aged in oak barrels and learning how to mix a killer cocktail.
Location: Spring Garden Highway, Bridgetown, Barbados
Open: Monday–Friday from 9.30 am to 2.30 pm
Phone: +1246 425 8757
3
Join the fun at the Oistins Fish Fry
Enjoy good food at Barbados' most popular night out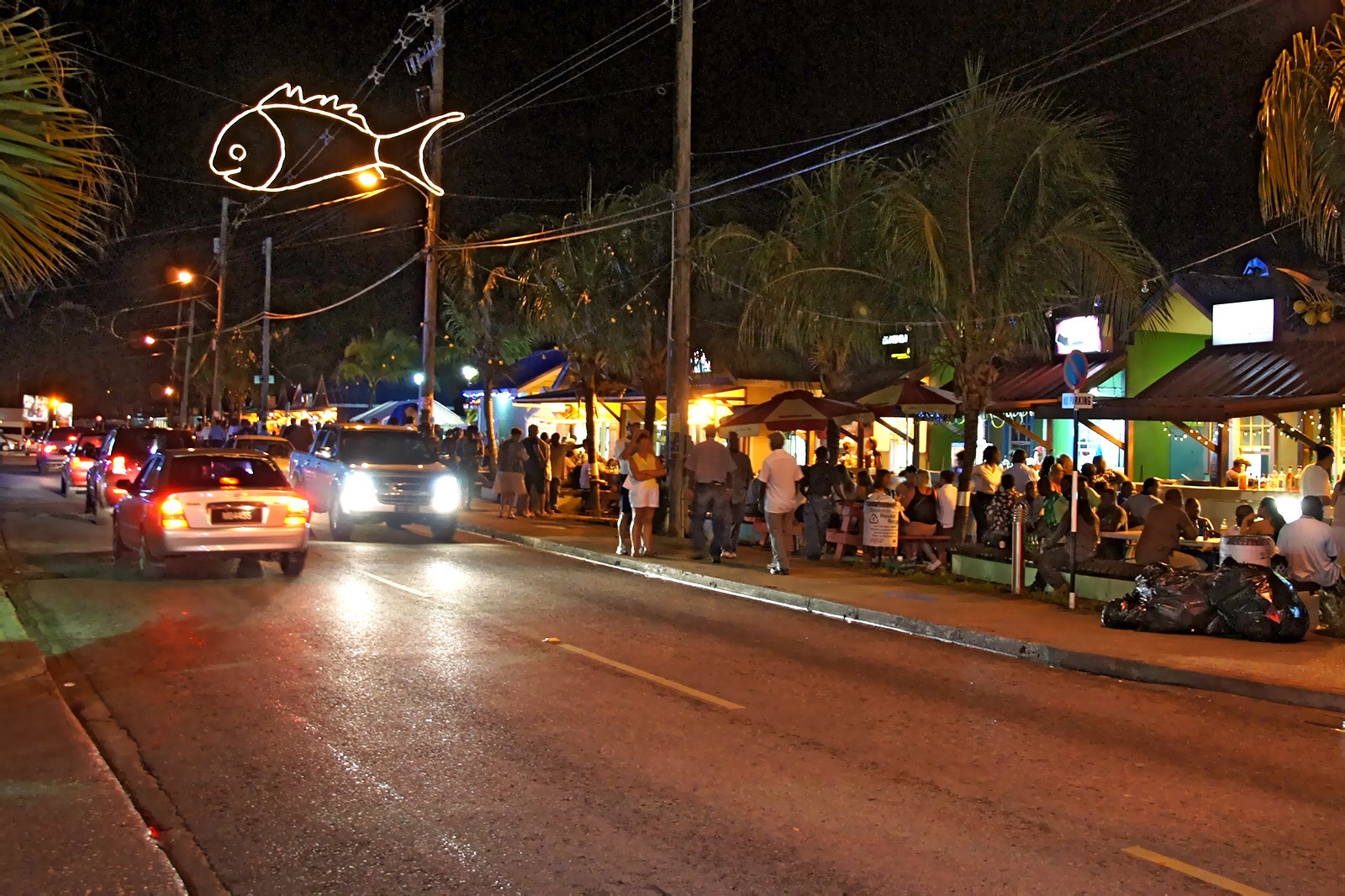 While you can dine at Oistins Fish Fry any night of the week, the restaurant really kicks into gear on weekends, especially on Friday evenings. This Barbadian institution is equally popular with locals and travellers who flock to the eateries lining Oistins Bay for freshly caught tuna, swordfish, marlin, mahi-mahi and the national favourite: flying fish.
In this informal setting, chefs grill or fry to order and the communal tables help create a convivial atmosphere. Some nights there's live music, but no matter when you come, you're likely to hear the likes of Bob Marley, Jimmy Cliff or Jamaican ska. Arts and crafts stalls selling locally made wood carvings, paintings, ceramics and jewellery complete the picture.
Location: Oistins, Barbados
Open: Daily from 6 pm to 11 pm
photo by Dan Costin (CC BY 2.0) modified
4
Have a flutter on the horses
Experience the thrill of the racetrack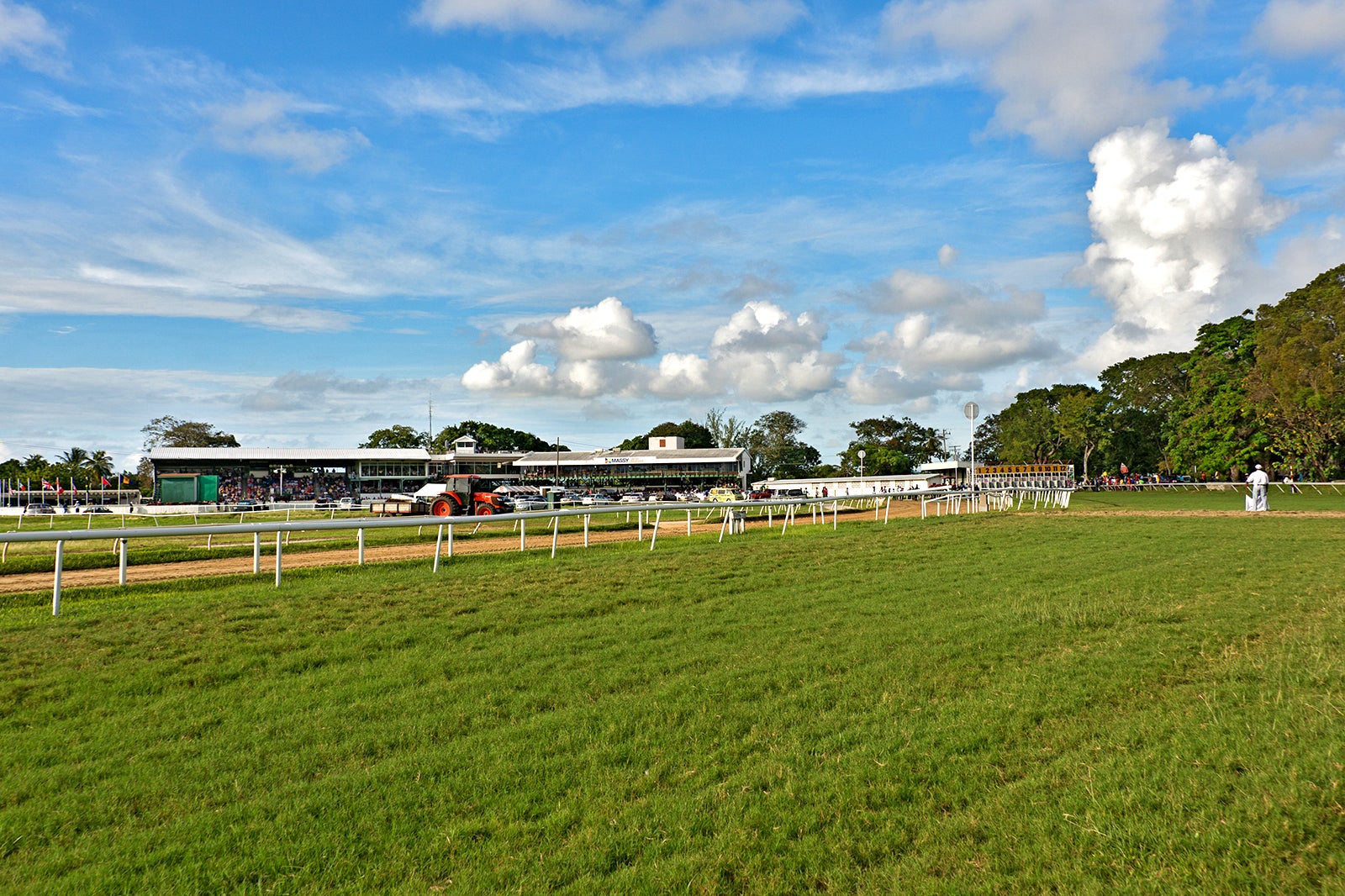 The Garrison Savannah has been the home of horseracing in Barbados since 1845. Initially, officers of the British army who were stationed there would race each other; wealthy merchants and planters soon joined them. What was once the reserve of the elite is now popular with people from all walks of life. While serious racegoers place their bets, families go picnicking under the trees surrounding the track.
The Barbados Turf Club hosts around 25 meetings a year, mostly on Saturdays, on this 6-furlong grass oval. But you can get your equine fix year-round if you head down to the track in the early morning. Jockeys exercise their horses before the tropical sun gets too fierce and will offer a cheery wave to anyone who's dragged themselves out of bed to watch.
Location: Garrison Savannah, Bridgetown, Barbados
Open: Monday–Friday from 9.30 am to 2.30 pm (closed on weekends)
Phone: +1246 626 3980
photo by Barry haynes (CC BY-SA 4.0) modified
5
Unwind at Hunte's Gardens
Let a talented horticulturist inspire you to plant your own verdant oasis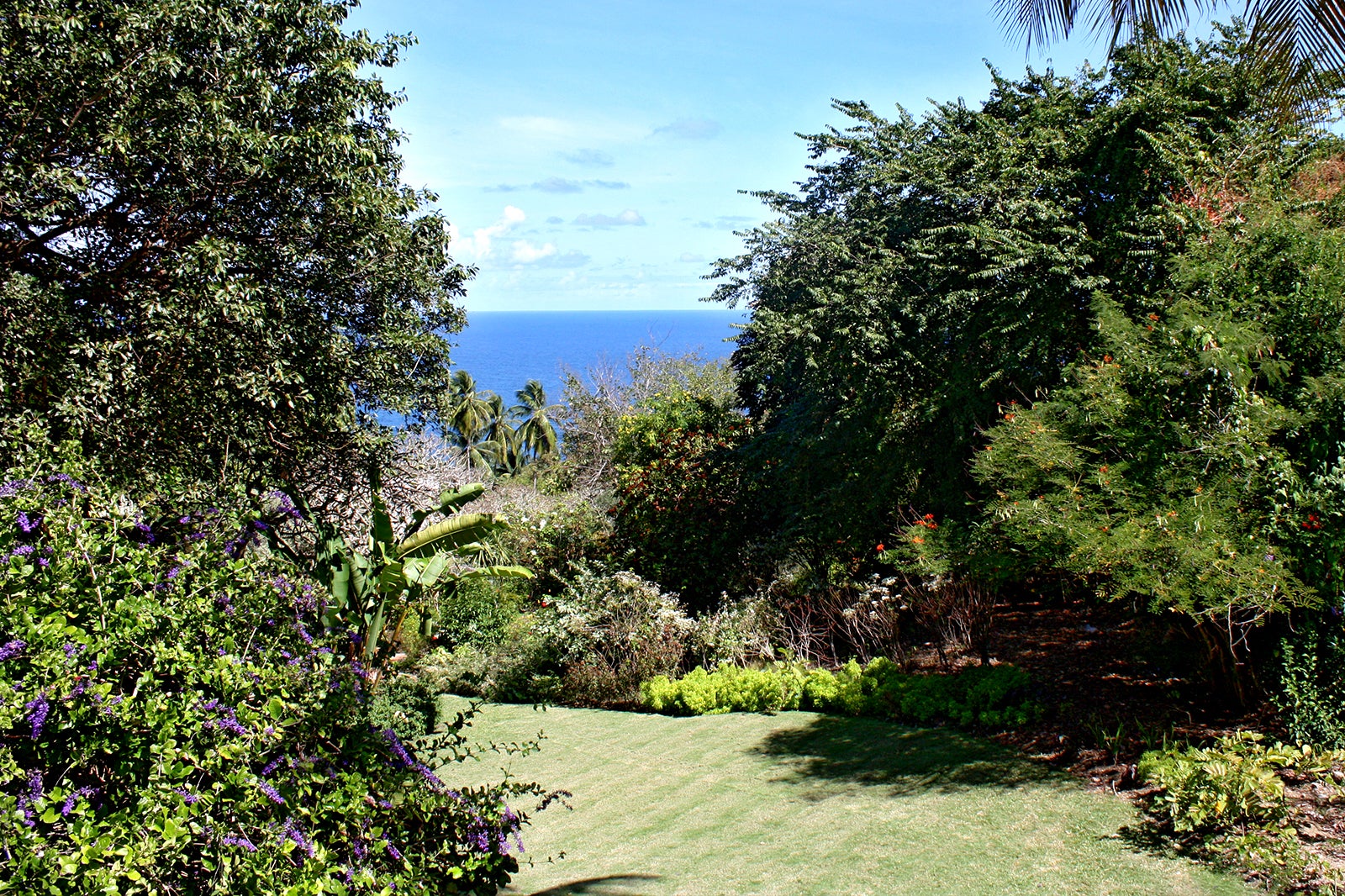 Paradise is an overused word, but step through the gate of Hunte's Gardens and you can't help but feel you've just found it. This once-neglected gully is a labour of love masterminded by owner Anthony Hunte. Paths wind downwards to create a vertical garden bursting with colour. At the bottom, seating occupies hidden nooks behind lush planting, facilitating an overriding feeling of serenity and calm as you stop and absorb every detail of the enchanting setting.
Hunte's keen to share his passion, and it's common for him to potter amongst his visitors. He entertains on his veranda, serving fresh juices and homemade cake to those who can't bear to tear themselves away, recounting stories of how the garden took shape.
Location: Highway 3A, Coffee Gully, Barbados
Open: Daily from 9 am to 5 pm
Phone: +1246 433 3333
photo by Postdlf (CC BY-SA 3.0) modified
6
Uncover Barbados' fascinating history in Speightstown
Learn about this island's rich heritage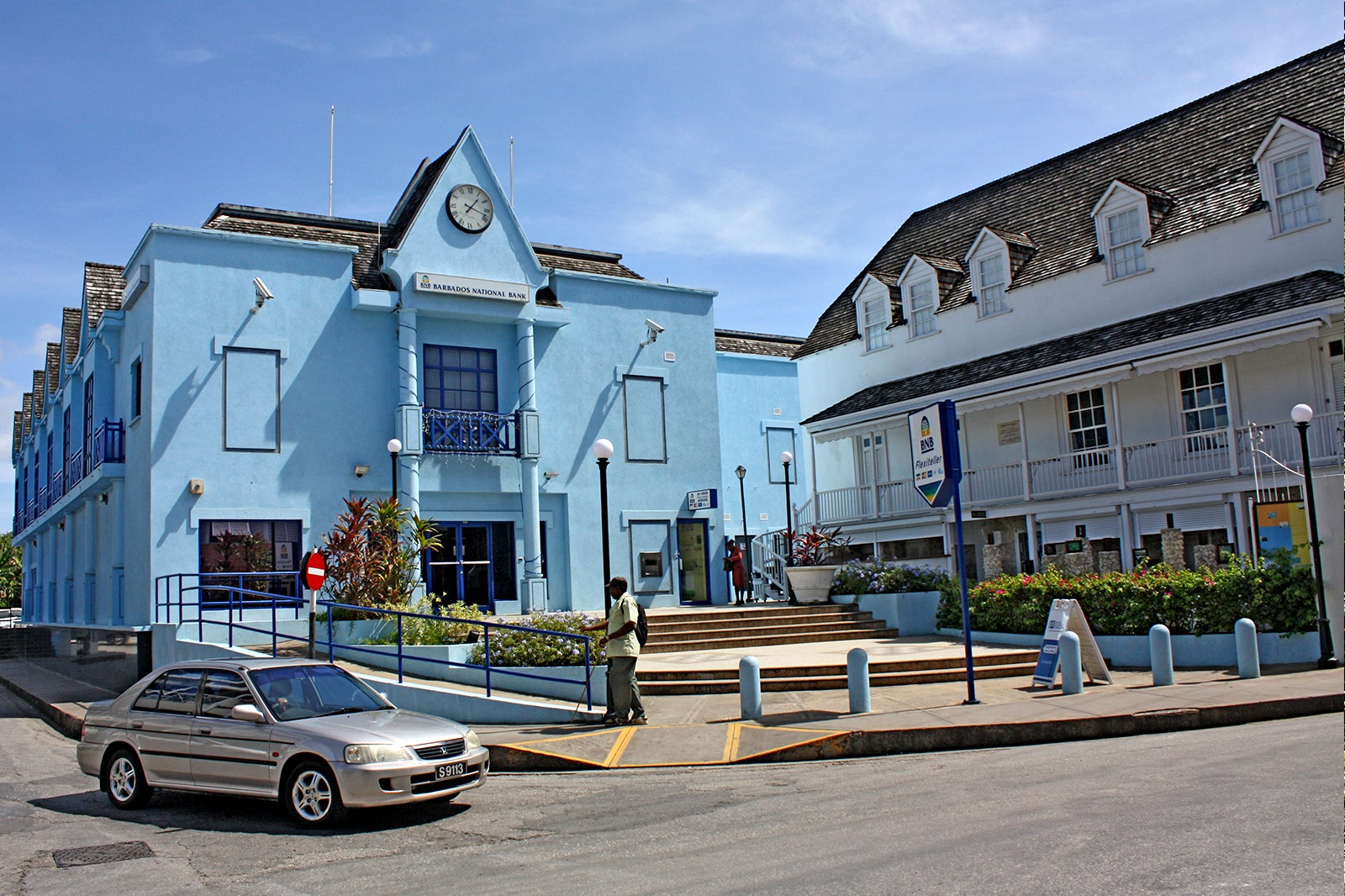 The Arlington House Museum in Speightstown offers a glimpse into Barbados' past. Housed in a beautifully restored 18th-century coral stone mansion, the museum's curators group exhibits into 3 main themes. Speightstown Memories covers the everyday lives of past inhabitants, Plantation Memories tackles sugar cane and slavery and Wharf Memories discusses Speightstown's history as a trading port.
Compelling oral histories and multimedia presentations tell tales from the past. Much thought has gone into the way such exhibits are presented, mounted on wooden shutters or accessed through a representation of a sugar cane field. The emphasis is firmly on interactivity, making this a crowd-pleaser no matter what your age.
Location: Queen's Street, Speightstown, Barbados
Open: Monday–Friday from 8.30 am to 4.30 pm, Saturday from 8.30 am to 3 pm (closed on Sundays)
Phone: +1246 422 4064
photo by Postdlf (CC BY-SA 3.0) modified
7
Ride the heritage railway at St Nicholas Abbey
Take a journey through a historic estate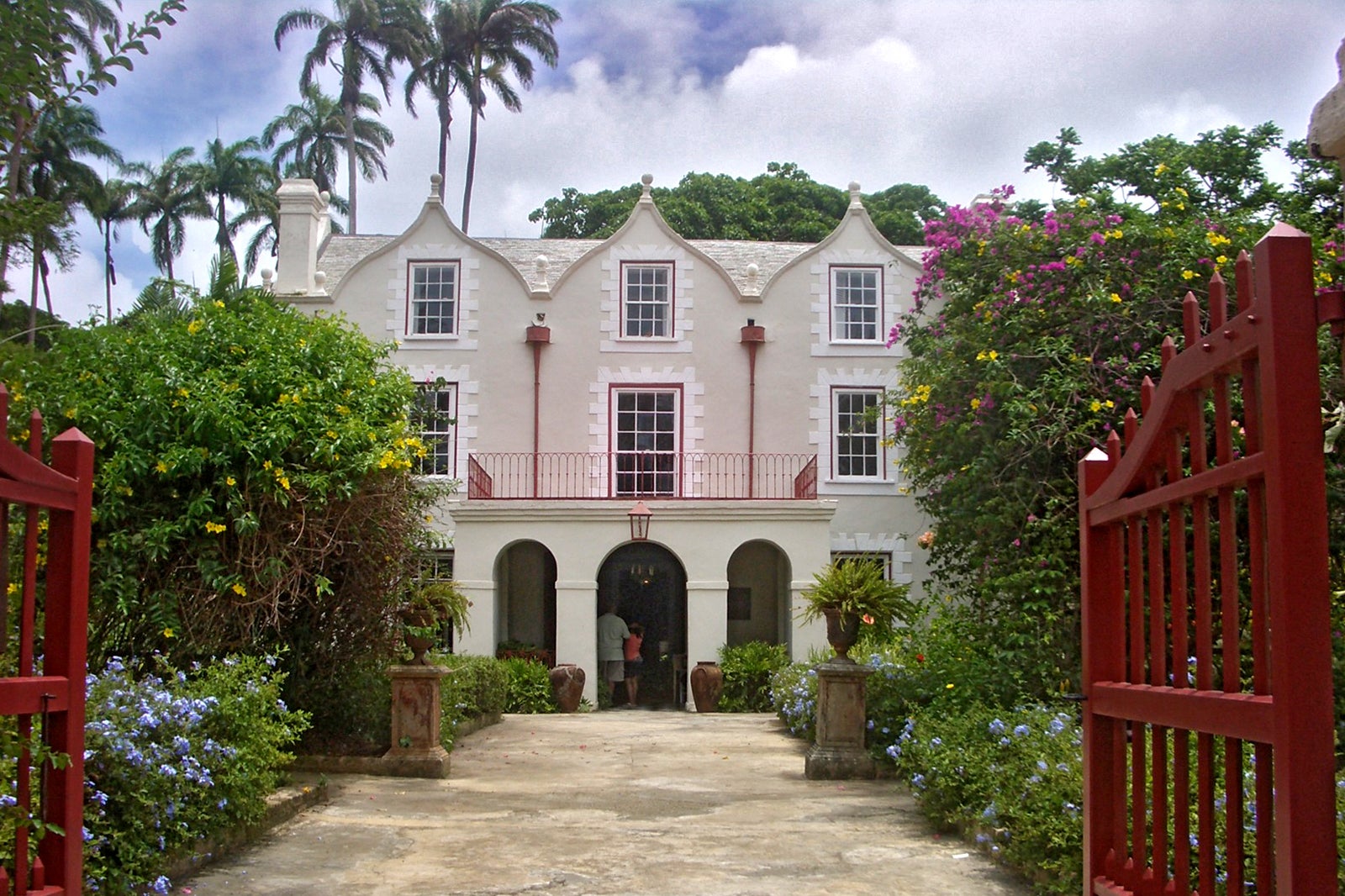 Visitors to St Nicholas Abbey, a historic plantation and distillery, can explore the grounds on a steam locomotive. This heritage railway is a relatively new addition to the estate's attractions and chugs past a lake brimming with birdlife and through a mature forest of mahogany trees. The tour finishes up at Cherry Tree Hill – from this lofty vantage point, the views over Barbados' unspoilt east coast are breathtaking.
Stay on for a tour of the plantation house as well. This imposing Jacobean mansion dates from 1658. Built by Benjamin Berringer, it was added to almost ninety years later by Sir John Gay Alleyne of rum fame. If you happen to be in Barbados between January and May, the 19th-century steam-operated syrup factory grinds sugar cane the old-fashioned way and you're most welcome to watch.
Location: Cherry Tree Hill, St Peter, Barbados
Open: Sunday-Friday from 10 am to 3.30 pm (closed on Saturdays)
Phone: +1246 422 5357
8
Tour the Morgan Lewis sugar mill
Visit the only working sugar mill in the Caribbean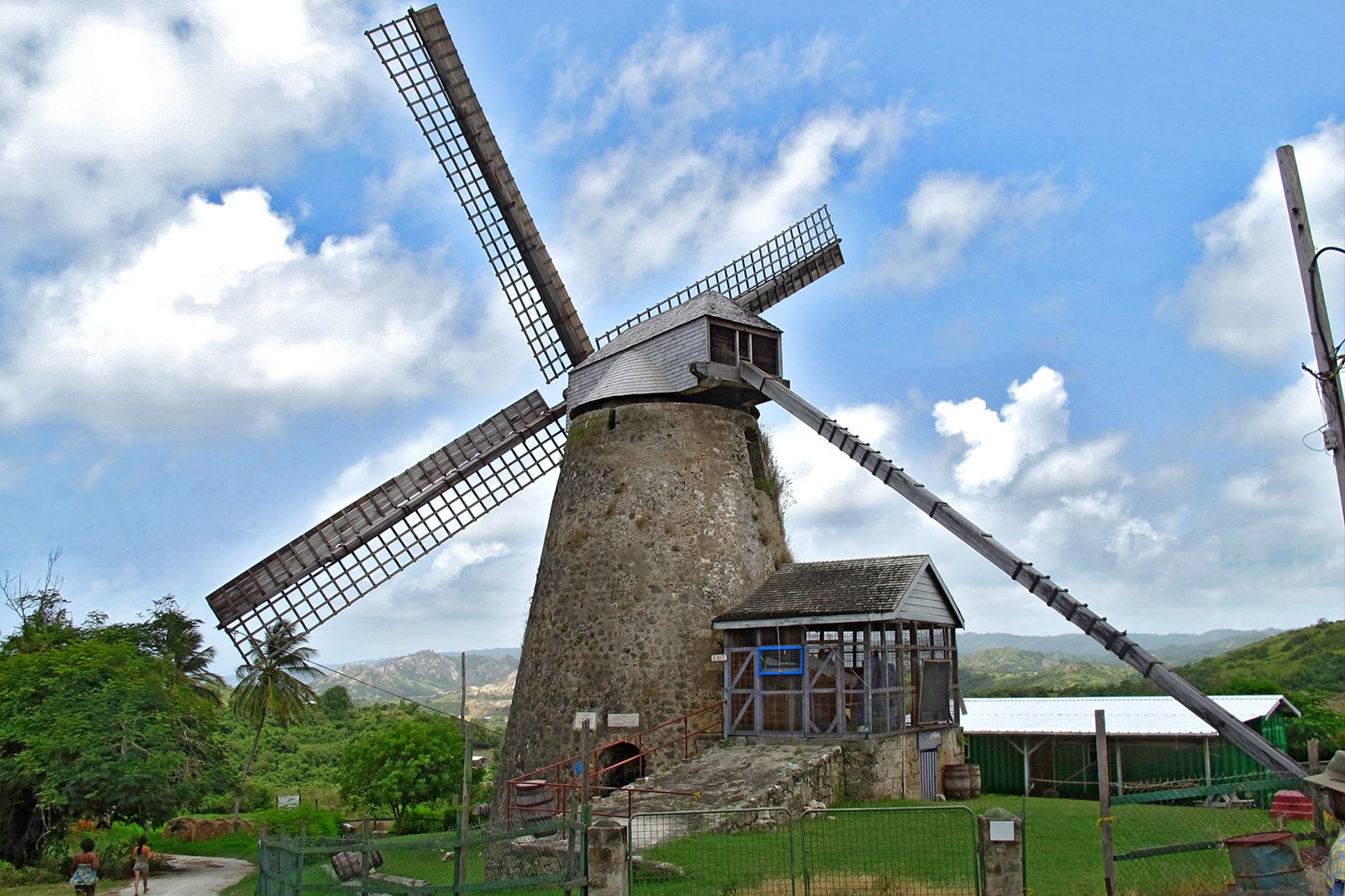 Restored by the Barbados National Trust, the Morgan Lewis sugar mill is the only surviving working wind-powered mill in the Caribbean. During its 18th and 19th-century heyday, it was used to grind cane and produce the sugar which Barbados once exported around the world. Commercial production stopped in 1947.
From December to April, the staff stage regular cane grinding demonstrations and hand round cups of sweet juice. Out of season, it's still worth a visit to look through the displays of old photographs which bring to life a bygone era. It's a scenic hike down the coast road from St Nicholas Abbey, with panoramic views of the east coast all the way.
Location: Morgan Lewis, Barbados
Open: Daily from 9 am to 5 pm
Phone: +1246 426 2421
photo by OakleyOriginals (CC BY 2.0) modified
9
Chill out on Mullins Beach
Relax on one of the island's most beautiful west coast beaches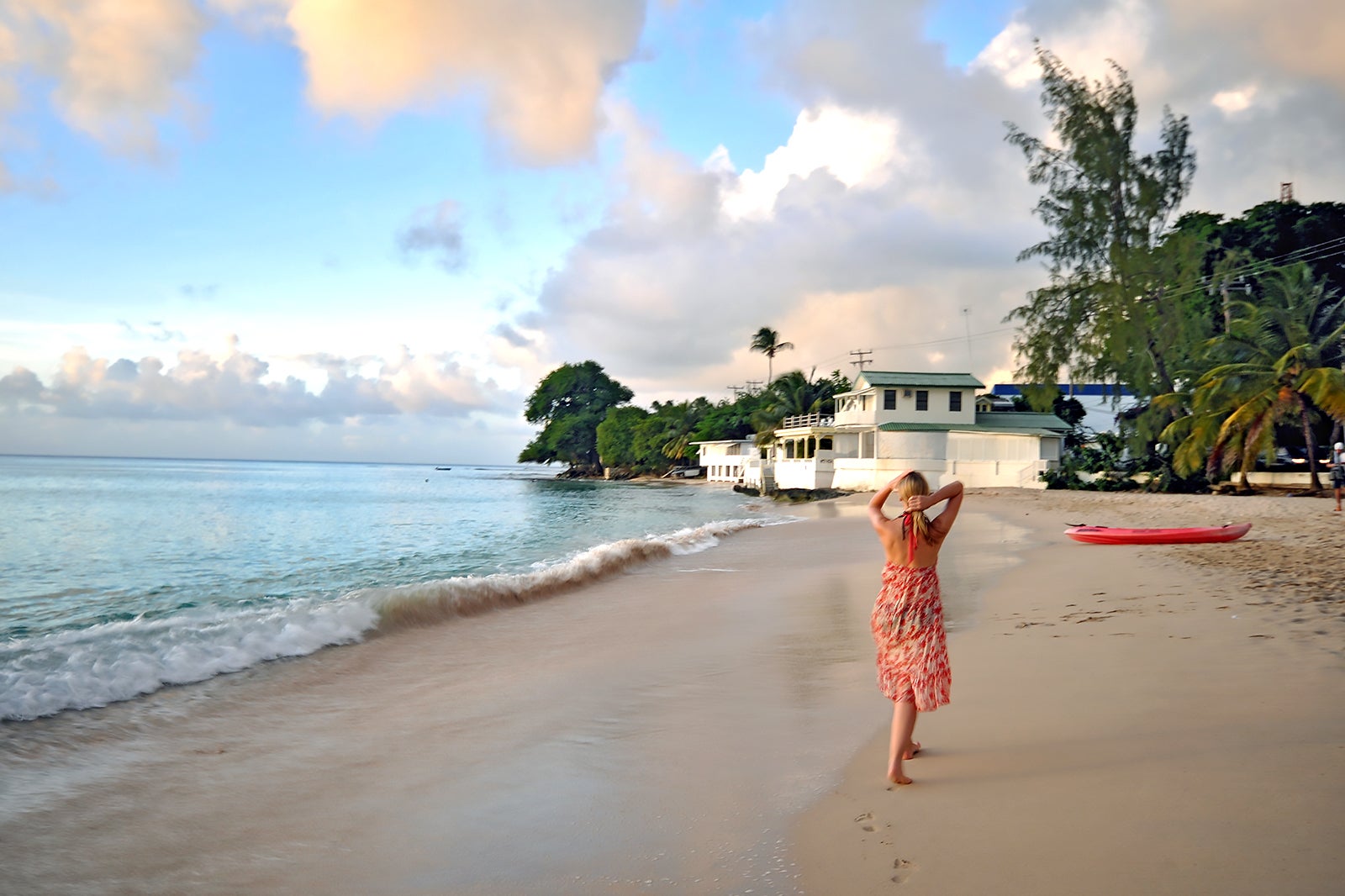 There's a reason why celebrity-magnet hotels like Sandy Lane are located on Barbados' west coast – holidaymakers frequently rate Mullins Beach and its neighbours as the best on the island. The beach is just the right balance between beauty and fun.
You can swim in the shallow turquoise water off a pristine stretch of pure white sand. Feeling adventurous? Hire a jet ski, snorkel, dive, sail or kayak. Afterwards, enjoy a drink from one of the beach bars and pull your sun lounger under the shade of a casuarina tree or gently swaying coconut palm. After all, there's no point in wasting all that effort if you can just watch everyone else do their thing, is there?
Location: Highway 18 near Gibbes, Barbados
photo by Royal Westmoreland (CC BY 2.0) modified
10
Surf the wild waves of Barbados' rugged east coast
Check out the foam that gets its name from Bathsheba's biblical bath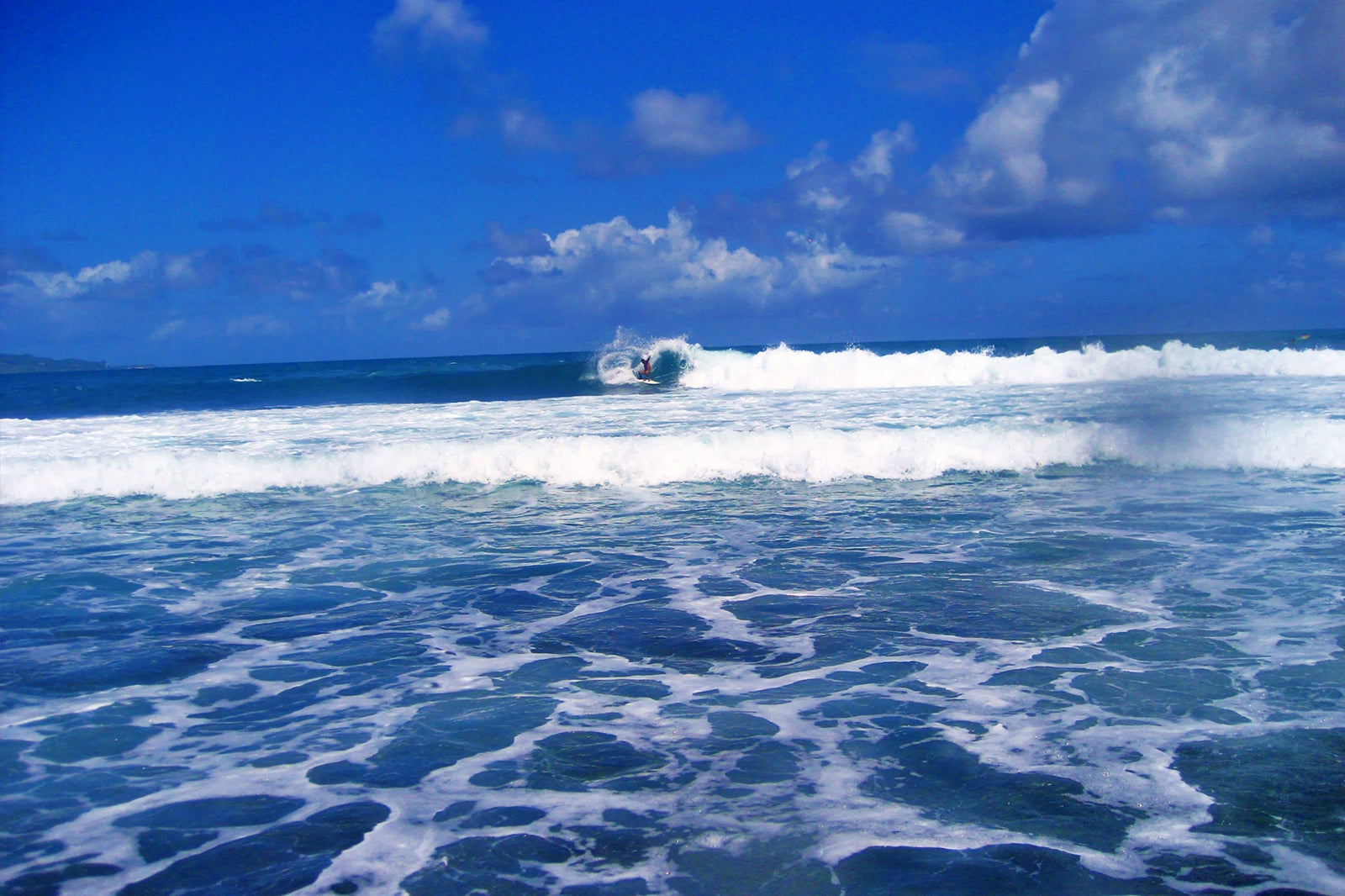 When it comes to surfing in Barbados, the action centres on Bathsheba's "Soup Bowl". From November to May, north swells whip up heavy right-hand barrels that have the pros chomping at the bit to get in the water. It's no surprise that the area hosts regular local and international surfing competitions.
Huge lumps of coral dislodged from ancient reefs litter the beach. The wild waves have carved a natural hot tub known as Bathsheba Pools out of the rock, but away from its protection, the rip tides are lethal. This is no place for swimming, but it really does deliver on drama.
Location: Bathsheba, Barbados
photo by Ben Ramirez (CC BY 2.0) modified
Back to top