10 Best Beaches in Asia
Amazing Asian Beaches for Enjoying the Tropical Sun
The list of Asia's best beaches could go on and on given the scope of the continent's natural beauty. From golden beaches bordering turquoise waters to palm-fringed sandy stretches that go on for miles, if there's any place on earth that is a beach paradise, it's Asia. In the Far East, you'll find surprising pockets of coastal beauty that could be easily coupled with historical sights. In Southeastern Asia, lounging on a beach is second nature as beautiful beaches come in no short supply.
Below, we've uncovered some of the best beach destinations in Asia for you to escape to. Time to start mapping out which tropical shores you'll be perched on.
1
Kabira Bay, Okinawa, Japan
Found in Japan's "sunshine isles"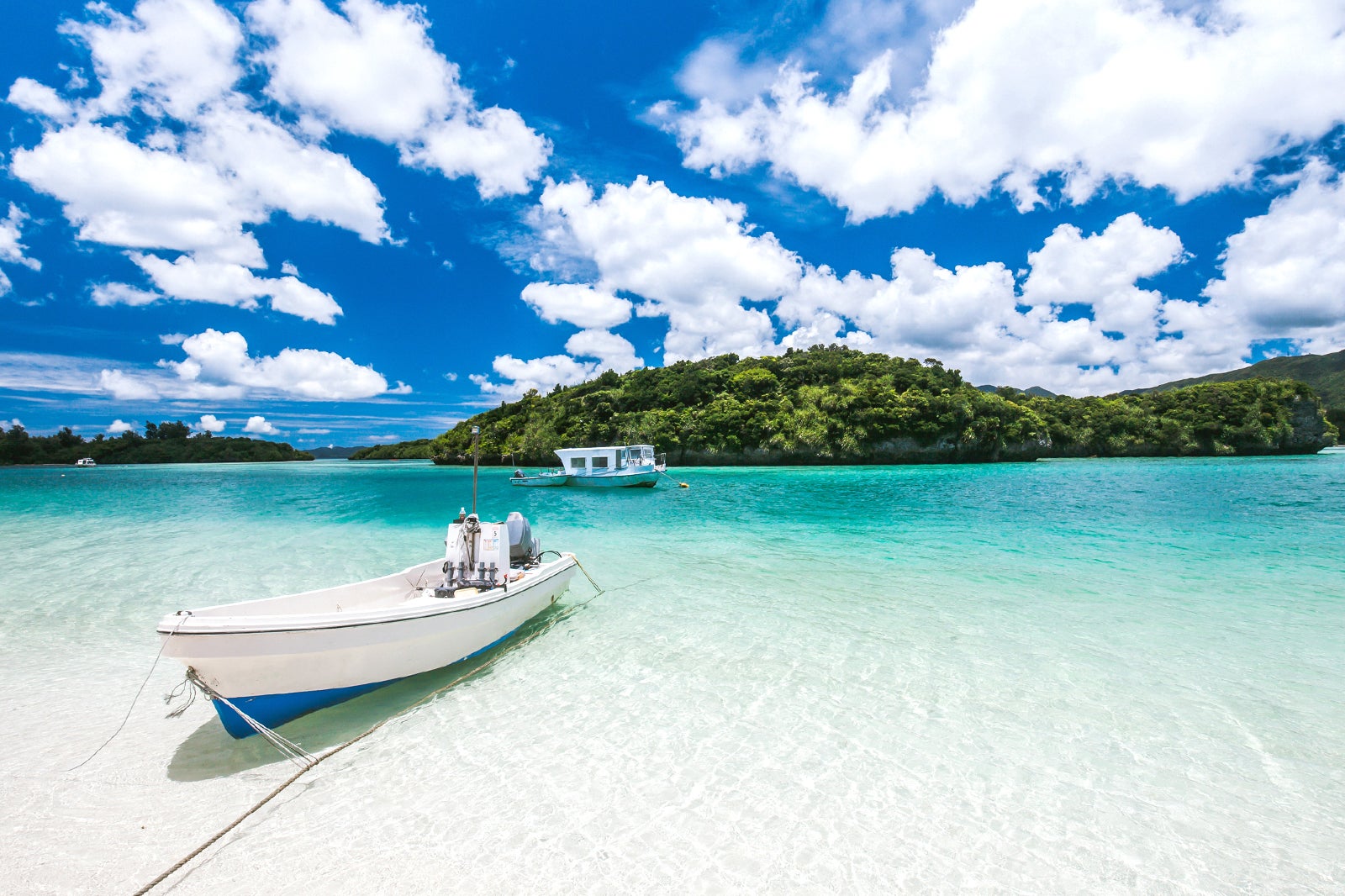 Couples
Families
Photo
Budget
Single
Group
Kabira Bay is one of Japan's natural marvels with its breathtakingly clear blue waters and pure white sand. You can find the bay on Ishigaki island in the Okinawan Yaeyama islands. It can be hard to capture the intense beauty of the bay – the colours flutter from blues to greens as the sunlight comes and goes.
The bay is also known as the place where the world's first black pearl was cultivated – make sure to indulge in some black pearl shopping. Swimming is not allowed in the bay due to strong currents, but there are many excellent glass boat tours for you to explore the thriving reefs. Best time to visit is from summer to early autumn (June to October).
Location: 1054 Kabira, Ishigaki, Okinawa 907-0453, Japan
2
North Male Atoll islands, Maldives
For guaranteed stunning beaches, diving and surfing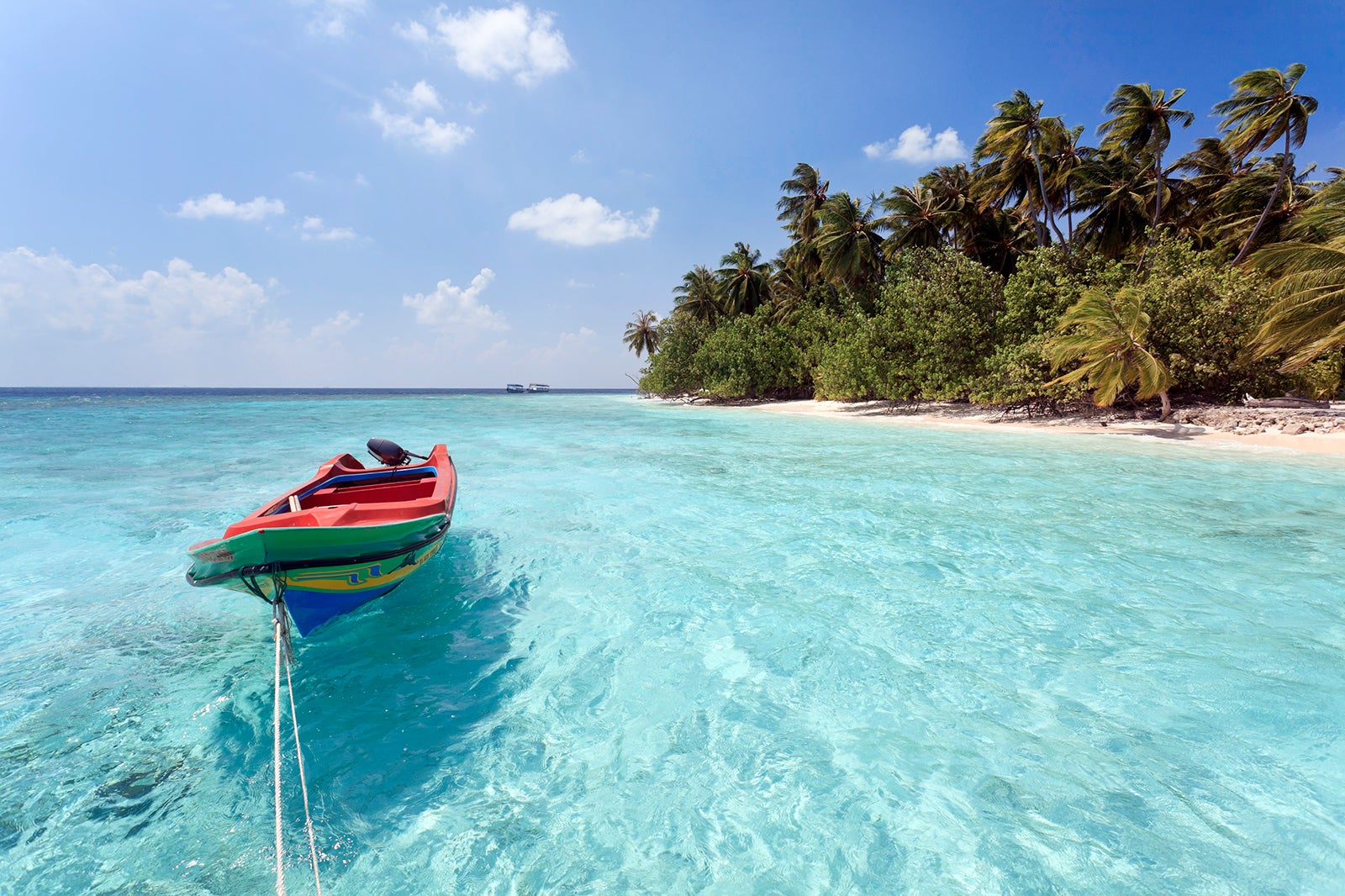 Couples
Families
Photo
Budget
Single
Group
While both the North and South Male Atolls have a wealth of natural draws, the North adds a little extra with the best surf breaks in the country. Excellent dive sites pepper either side of Vaadhoo Kandu – the channel that runs between the North and South Male Atolls – but Gaafaru Falhu Atoll (north of the North Male Atoll) has some interesting shipwrecks.
The beaches across the Maldives are otherworldly. Each island offering a little piece of magic found nowhere else in the world. Soak in some tropical rays with fresh coconut and a magnificent view wherever you go. The best time to visit is during the dry season, between December and April.
3
Pulau Sipadan, Malaysia
For untapped wildlife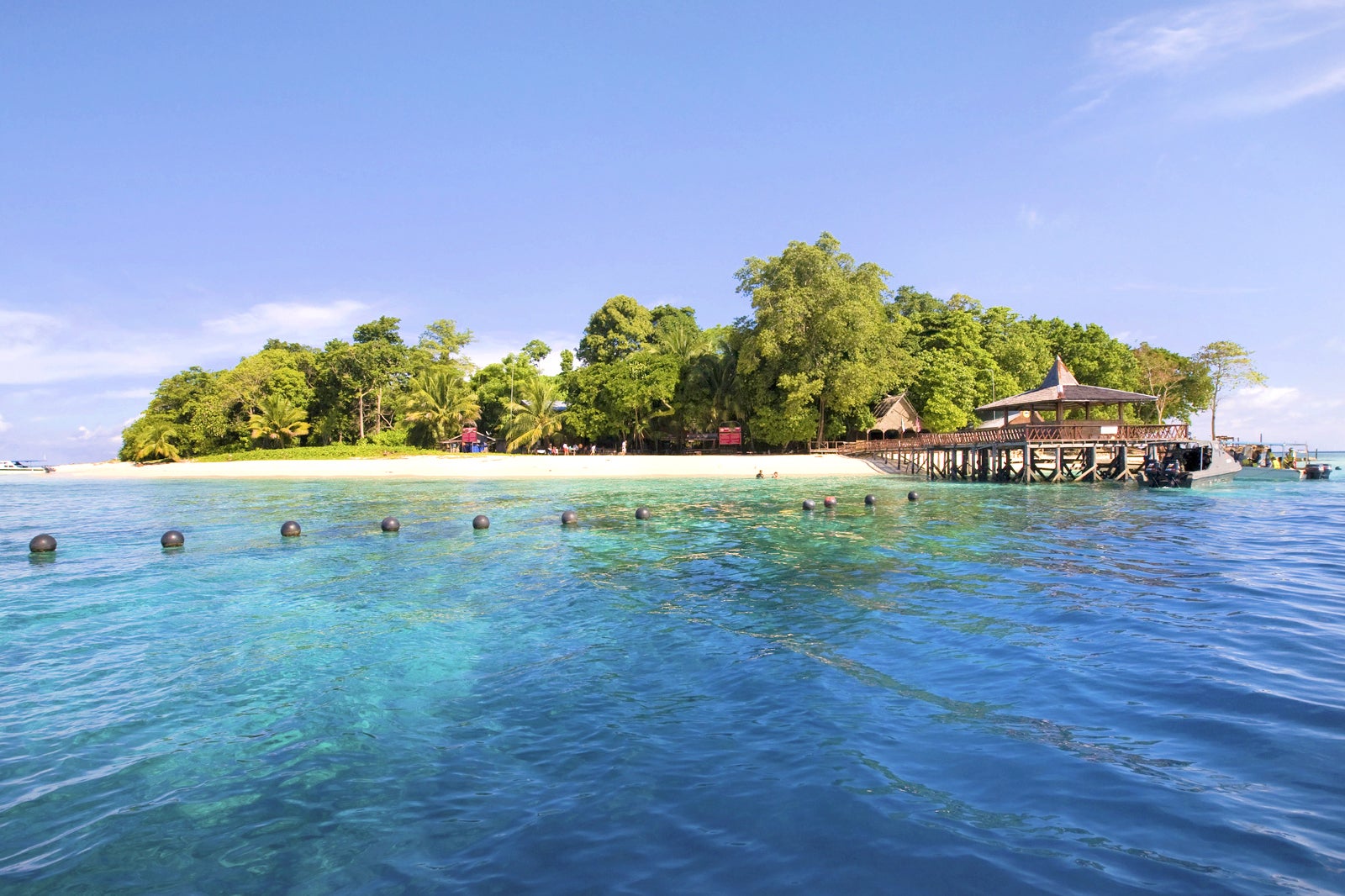 Couples
Families
Photo
Budget
Single
Group
Borneo's Pulau Sipadan is a haven for divers as the island is covered with lush corals and supports an extraordinarily healthy marine ecosystem. Among the residents of its reef are hammerhead sharks, green turtles and tornadoes of barracudas.
Conservation and protection are taken very seriously at Sipadan – only 120 diver permits are issued daily and overnight stays are prohibited. The closest islands to stay overnight are Mabul, Kapalai or Mataking, which have many boats going to Sipadan daily. Fly to Tawau from either Kuala Lumpur or Kota Kinabalu, drive for 1-2 hours to Semporna, then get an hour-long boat ride to the island itself. April to December offers pleasant weather, with July and August hosting the best visibility for diving.
4
Tai Long Wan, Hong Kong
A gorgeous reward at the end of a hike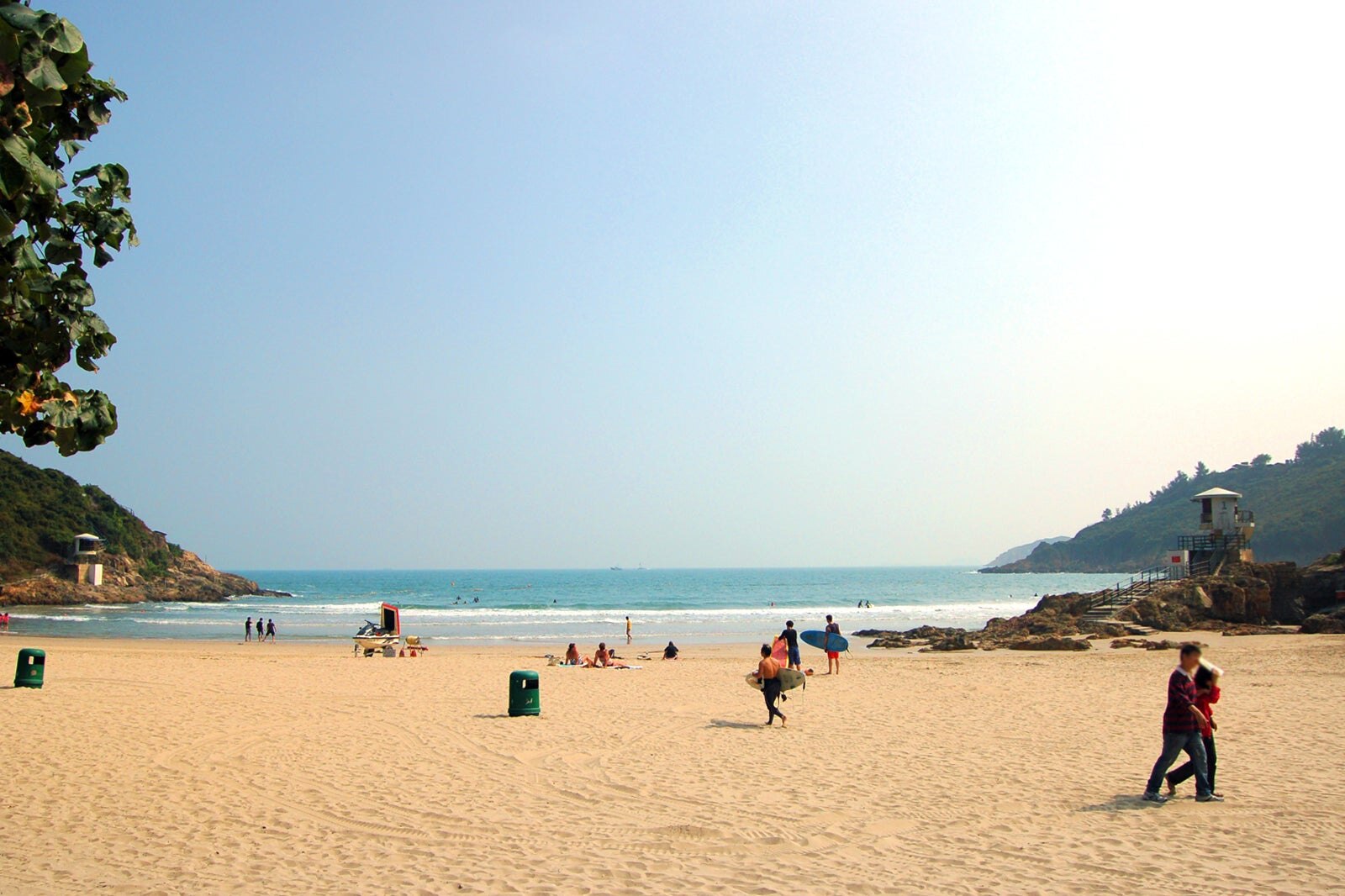 Couples
Families
Photo
Budget
Single
Group
Tai Long Wan or Big Wave Bay in Hong Kong's Sai Kung East Country Park has gorgeous sweeping beaches that offer everything from a lazy day on the beach to adventures. You can surf, explore hidden waterfalls just off the beach, or take on some hiking routes.
The bay is made up of 4 beaches: Sai Wan, Ham Tin Wan, Tai Wan and Tung Wan. To get to Tai Long Wan, you'll have to make your way to Sai Kung Town, where you can then get a minibus or taxi to Sai Wan Pavilion. Once here, you'll have to do a 40-minute hike to get to the Tai Long beaches. The bay is best in early autumn (from late September onwards).
Location: Tai Long, Hong Kong
5
Kata Beach, Phuket, Thailand
Walk along this long paradise of palm trees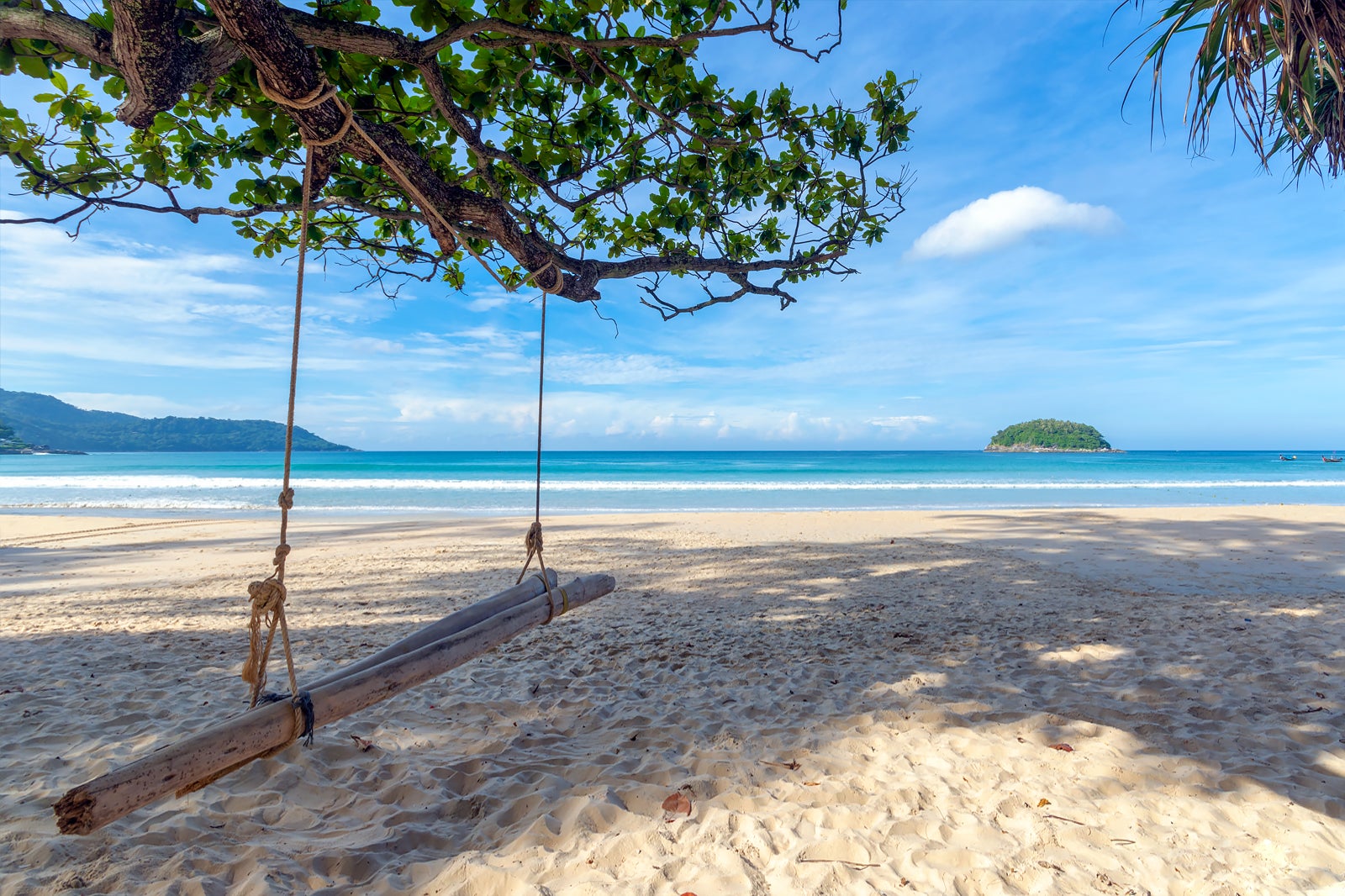 Couples
Families
Photo
Budget
Single
Group
Kata Beach on the west coast of Phuket offers a sandy bay, deep blue sea and impressive waves that draw in surfing crowds. The sandy shore stretches for 1.5 km, making it one of the longest beaches in Thailand. You can lounge to your heart's content in a hammock or chair under lofty tropical trees such as almond trees and pandanus.
Looking out at the gorgeous view, the beach's trademark Koh Pu or Crab Island sits on the horizon. If you prefer more privacy, Kata Noi on the south end of Kata Beach is a smaller stretch of sand that has tamer waves and fewer resorts and hotels. Despite being the peak season, December to March offers the best weather.
Location: Karon, Mueang Phuket District, Phuket 83100, Thailand
6
Pink Beach, Lombok, Indonesia
One of only 10 pink sand beaches in the world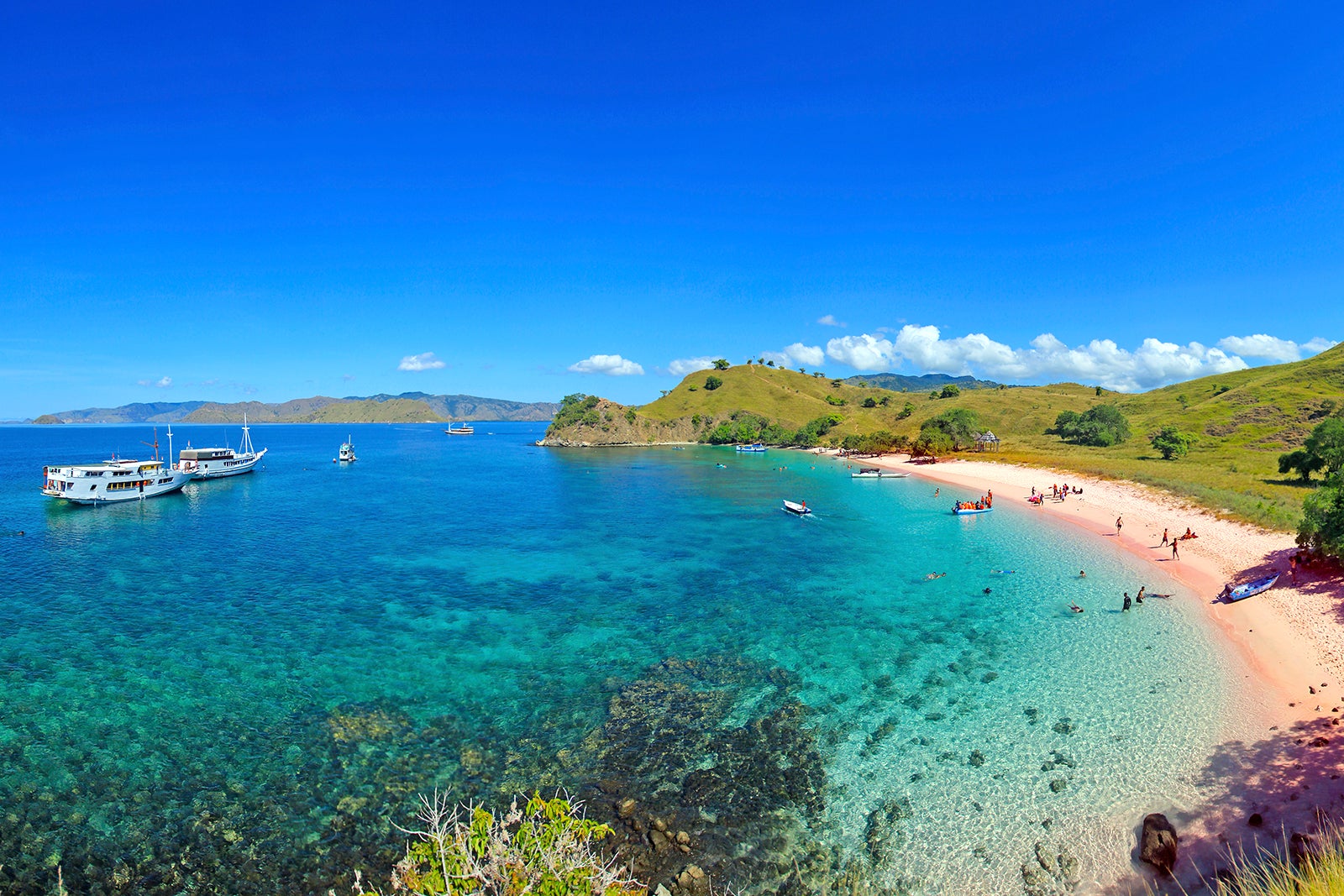 Couples
Families
Photo
Budget
Single
Group
Pink Beach on the far south-eastern shore of Lombok island is one of a few places where you can admire an enchanting natural phenomenon. Many ask: is it really pink? The answer is yes and no. Depending on the time of the day, the pink comes out to play. It's said that the mornings are the best times to catch the dazzling pinks and blues at their very best.
Stroll along the pink sand and take in the shimmering turquoise water. For breathtaking views, hike up the little hill at the end of the beach. More extraordinary panoramas of small islets dotted around tri-coloured waters await just around the hill. The months of May to October offer the best weather.
Location: Sekaroh, Jerowaru, Kabupaten Lombok Timur, Nusa Tenggara Barat 83672, Indonesia
7
Nacpan Beach, El Nido, Philippines
Find your own peaceful piece of sand
Couples
Families
Photo
Budget
Single
Group
Nacpan Beach is one of the most spectacular beaches in Palawan, set among a remote and stunning archipelago of dreamy cliffs and sandy islets. Nacpan Beach truly makes a name for itself with its endless coconut trees, soft sand and gentle, lapping water.
Along 4 km of sand and sea, you'll find rustic palm-thatched huts lined under friendly, swaying coconut trees where local restaurants serve up delicious local, fresh food. If you walk to the southern end of the beach, past the tiny fishing village, you'll find the twin beach named Calitang. Look out for a lush green hill – its viewpoint gives amazing vistas of both beaches. Visit between November and May for the best weather.
8
Fulong Beach, Taiwan
Visit this golden beach for some serious sand sculptures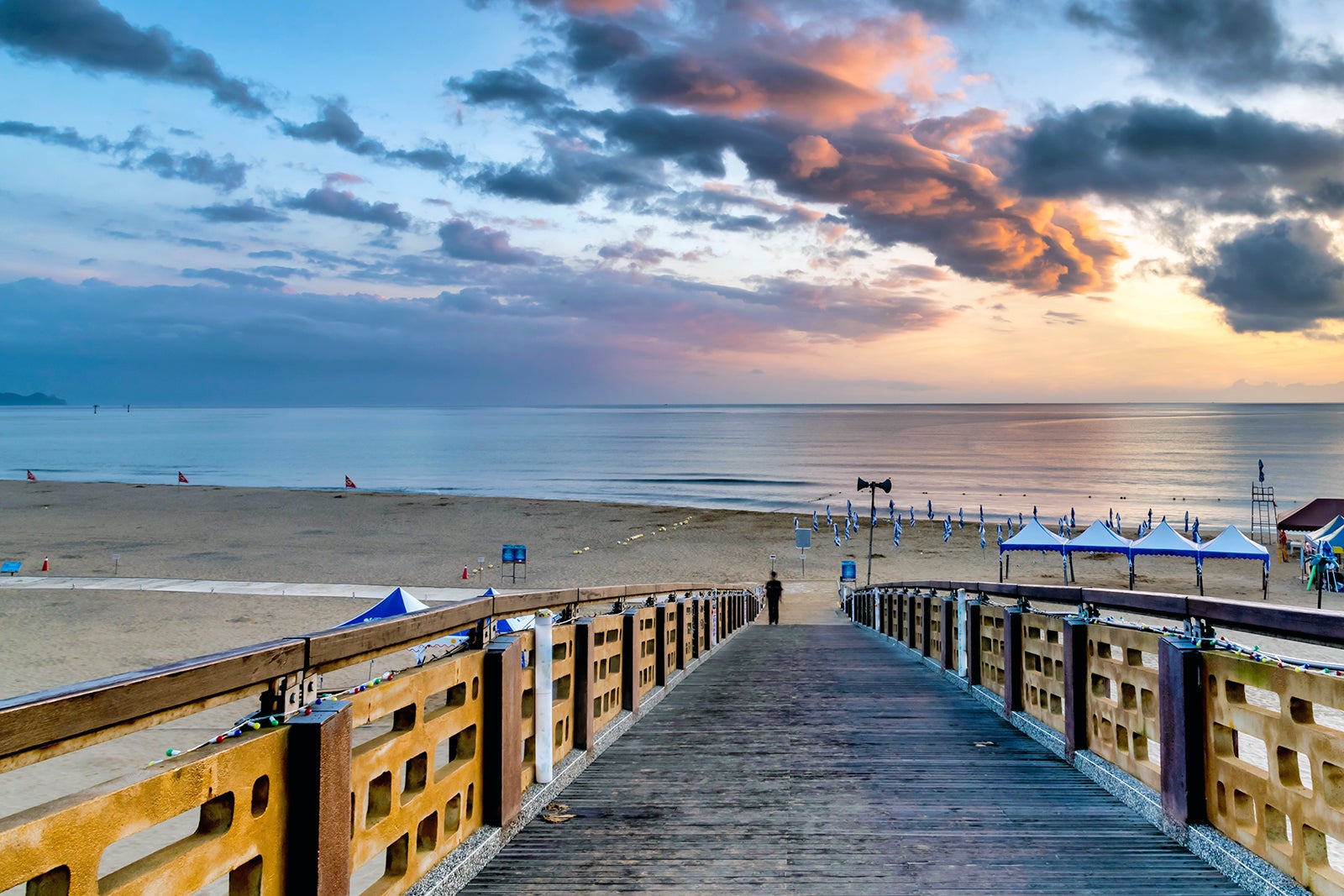 Couples
Families
Photo
Budget
Single
Group
Fulong Beach in the Gongliao district of New Taipei City has a golden sand beach, which is a rarity in Taiwan. It's easily accessible from the city and attracts many to its annual Sand Sculpture Festival (which normally runs from mid-April to mid-July).
A part of the beach is partitioned off as a private area, but you can use it for a small fee that grants you access to changing rooms and showers. The public beach is just as beautifully kept with pathways that lead to dunes and grasses. For a lovely walk in the sun, stroll down the Rainbow Bridge over the Shuang River. The best beach times to visit Fulong are the summer months of June, July and August.
Location: Gongliao District, New Taipei City, Taiwan 228
9
Radhanagar Beach, Havelock Island, India
The Andaman Islands' authentic island experience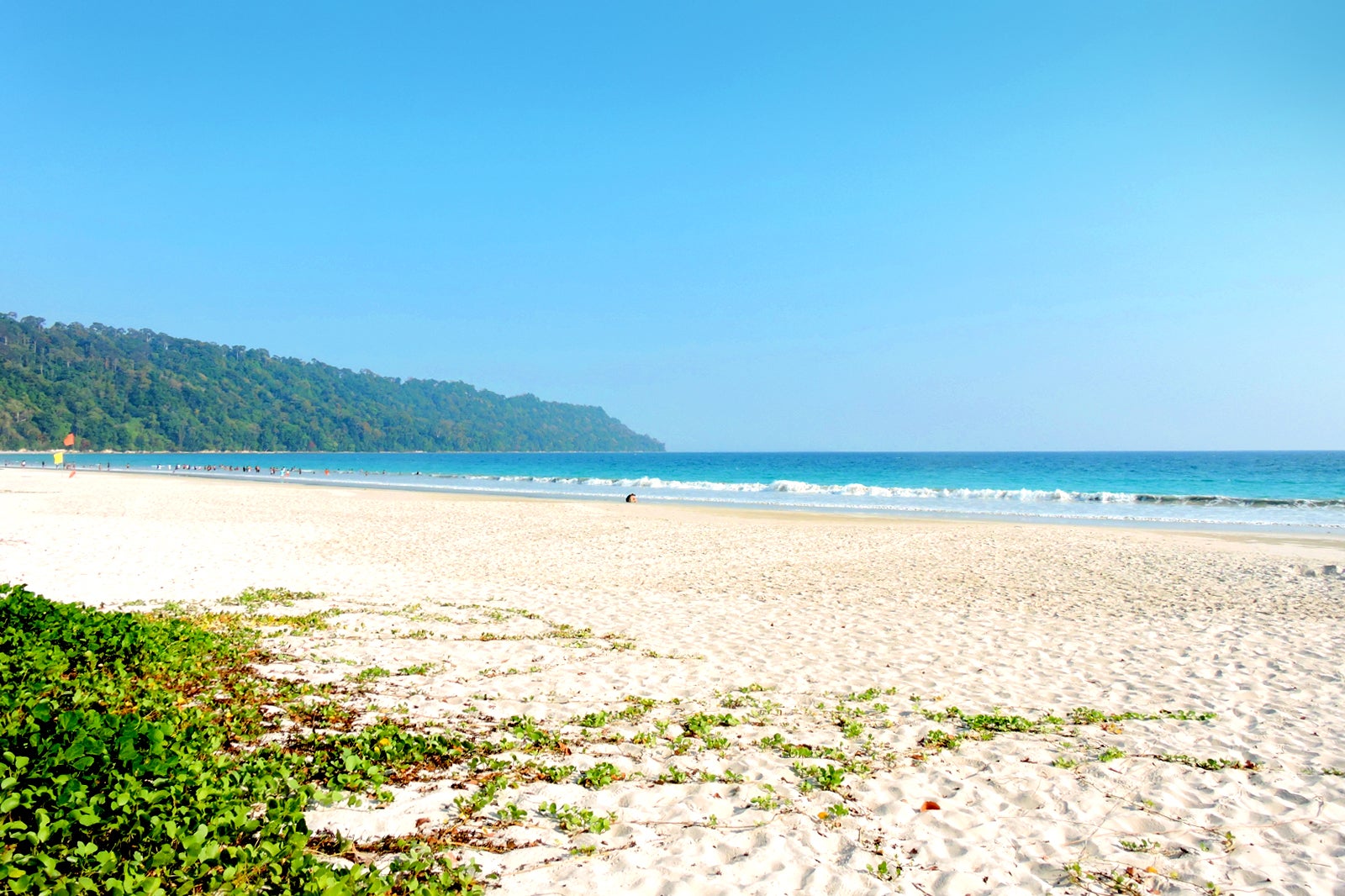 Couples
Families
Photo
Budget
Single
Group
Radhanagar Beach is beautifully nestled in the secluded Andaman Islands and draws in visitors to its mesmerising beauty. When the sun lowers into the horizon, you'll catch the beach living up to this reputation as everything around you becomes saturated in deep, comforting gold hues.
The sand and water appear as if they're glowing and the coconut trees sway in approval. Heading to the beach for sunset hour is mandatory here. During the day, enjoy the vast expanse of unspoilt sand, emerald blue waves and timid currents. This spot is popular with honeymooners for obvious reasons. For a truly 'authentic' beach day, travel by rickshaw or motorbike straight up to the beach. Visit from April to June to enjoy pleasant warm weather.
photo by Harvinder Chandigarh (CC BY-SA 4.0) modified
10
Sokcho Beach, South Korea
Relax on a soft sand beach by a pine forest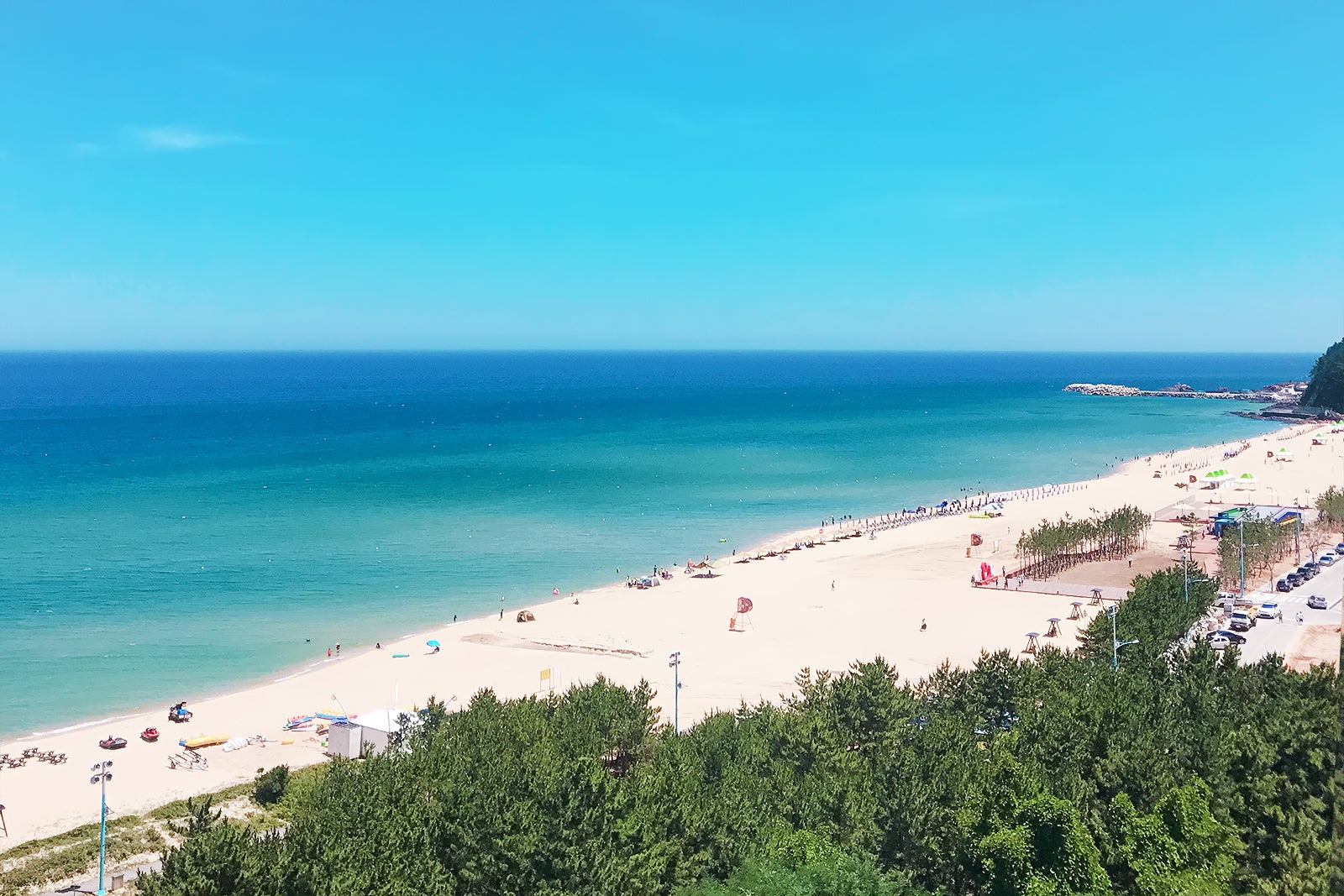 Couples
Families
Photo
Budget
Single
Group
Sokcho near South Korea's Seorak Mountain offers a great beach break for hikers exploring the green beauty of the area. The beach opens every year on the July 1st when throngs of visitors and locals lounge on the soft sands bordering the East Sea. Sokcho Beach is easily accessible on a 2-hour bus ride from Seoul.
June usually sees minimal crowds. But make sure to get a sun lounger early if you're visiting in July and August. To the left of the beach, you can enjoy hwaleo hoe (fresh sashimi) and if you're looking for a bit of solitude, you can take a boat to Jo Island for some fishing. Early risers will be pleasantly surprised by Sokcho's sunrises.
Location: 186 Haeoreum-ro, Joyang-dong, Sokcho-si, Gangwon-do, South Korea
Phone: +82 33 639 2027