Where to Stay in Key Largo - From Casual Cottages to Beach Resorts
Where to Stay in Key Largo - From Casual Cottages to Beach Resorts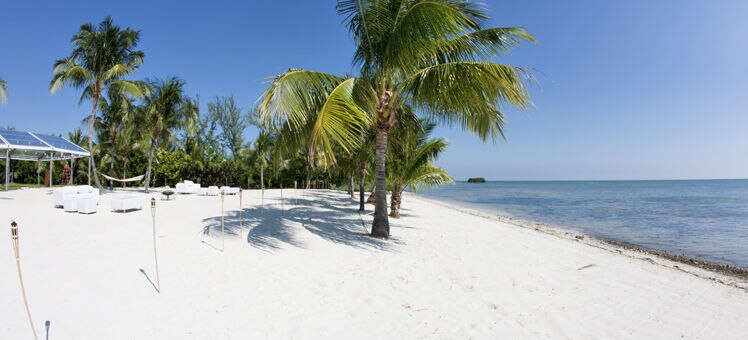 Lodging options are plentiful in Key Largo, from polished resorts and chain hotels to independently owned motels. You can also rent a cottage or condominium, or stay at a bed and breakfast, RV park, or campground. If you've come to dive or fish, you'll want to be based near your daily point of departure. For socializing, downtown Key Largo has many popular bars and eateries.
Downtown Key Largo - Marina
Home to many of the area's fishing and diving charter boats, the marina is located in the commercial heart of Key Largo. The area is an ideal location to book if you are planning to take boat tours and sunset cruises, and it's also within walking distance to restaurants and pubs. Nearby attractions include the African Queen, a restored boat featured in the 1951 Humphrey Bogart film of the same name, now used for canal and dinner cruises.
This area is characterized by comfortable, mid-range chain hotels and independent motels, most of them situated along the picturesque, palm-tree-lined marina. Amenities typically include outdoor pools, onsite dining, and fitness centers, and select properties have tiki bars and balcony rooms where you can watch boats pass by.
Bayside Sunset Cove District
Located along the scenic Florida Bay, this area is in the commercial heart of downtown Key Largo. You'll be steps from coffee shops, restaurants, and waterfront bars, as well as conveniences that include banks and drugstores. If you've come for water activities, the marina, where fishing, diving, and pleasure boats cast off, is a 10-minute walk.
This area is home to independently owned hotels and cozy cottages, many of them with private beaches where you can lounge, swim, and watch vivid sunsets. Rooms often feature basic decor and amenities, but most properties offer the convenience of onsite boat ramps, private docks, and kayaks.
Greater Key Largo
If you're visiting Key Largo to experience the outdoors, or are planning to spend most of your time snorkeling and diving at John Pennekamp Coral Reef State Park, consider staying north of downtown. Here you'll find ample grounds and can take advantage of the area's natural surroundings. Accommodation ranges from laid-back to luxurious, with a style and price point to suit a range of visitors.
Most of these properties are beach resorts, but there are also condominiums, campsites, and RV parks, some with waterfront locations. Waterfront properties often feature private sandy beaches and marinas, as well as outdoor pools and bars.
Search for Greater Key Largo hotels