A Guide to Accommodation in Santa Fe and Nearby Towns and Pueblos
A Guide to Accommodation in Santa Fe and Nearby Towns and Pueblos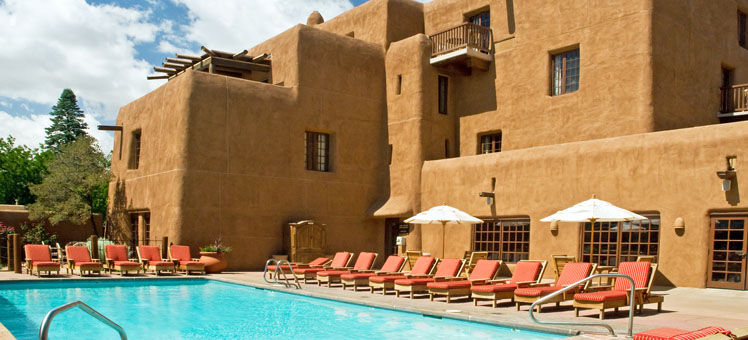 As a major visitor destination, Santa Fe has plenty of hotels, motels, and bed-and-breakfasts to offer. The higher-end places are around the Plaza and close to Canyon Road. They are within walking distance of art galleries, shopping, and restaurants. To the south, you'll find more affordable options, with good low- to medium-priced accommodation.
The downtown area of Santa Fe, including a few blocks around the Plaza and towards Canyon Road, is the heart of the town. A variety of medium to expensive lodging options in this area puts you within walking distance of most shops, restaurants, and art galleries. Hotels are in typical adobe buildings, the traditional style of New Mexico construction, and feature all modern amenities. Many have spas and restaurants in the premises. Check parking options - availability is scarce downtown, and not all hotels offer free parking.
This area has mostly higher-end hotels or "inns." Some are arranged in casitas, smaller separate units with gardens and outdoor sitting areas in between. Decor in common areas and rooms tends to be typical Southwestern. There are several B&Bs in updated quaint little houses. They offer many of the same amenities as the bigger hotels, but the service is more relaxed and personal.
The further south and southwest of the Plaza you go, the less expensive lodging you will find. Except for a few higher-end places similar to those downtown, most lodgings here are on the medium to low price range. Restaurants are less expensive. This area is a good option if you don't want to spend a lot of money on accommodation. You may need a car, bus, or taxi to get downtown, but parking in this area is not a problem.
Medium-priced and inexpensive chain hotels and motels are the main options in this area. There are a few locally owned motels, too, and some houses and rooms that can be rented for a few days or by the week.
Ohkay Owingeh is a Tewa pueblo about 30 miles north of Santa Fe. It has been designated a US Historic District and is the headquarters of the Eight Northern Indian Pueblos Council, which works to preserve the Puebloan culture and further their interests. Formerly known as San Juan Pueblo, it's a good base for exploring the pueblos scattered around the area.
There aren't many other lodging options in Ohkay Owingeh besides the casino and hotel resort typical of Indian reservations. The rooms are no-frills and very affordable. Be aware though of the cigarette smoke and noise coming from the casino.
Española is a small town 20 miles north of Santa Fe, midway to Taos on the Low Road. It serves as the business center for local pueblos of the area, and is known for its lowrider classic cars that show off through town on weekends. It has some affordable Mexican restaurants, inexpensive burger places, and motels. It's a good lodging option if you are exploring the pueblos in the area or on your way to Taos.
The main lodging options in Española are several inexpensive chain motels. They are a handy stop-off point if you want to avoid driving back and forth to Santa Fe when exploring the pueblos.
Los Alamos lies 35 miles northwest of Santa Fe. Known mostly for its nuclear research laboratory, today it is a bustling town that continues to grow. Base yourself here if you want to visit the lab's museum and the town's historical museum, or explore the Bandelier National Monument area and Valles Caldera National Preserve.
You can choose from several middle- and low-priced chain hotels and motels in different parts of the town. There are also some affordable, locally owned options on the northern side of Los Alamos.