Where to Stay in Keswick - Coaching Inns, Lakeside B&Bs, and Country Houses
Where to Stay in Keswick - Coaching Inns, Lakeside B&Bs, and Country Houses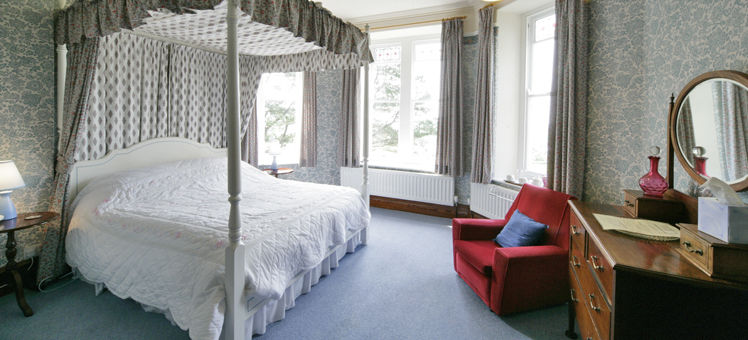 Most accommodation is an easy walk from the center, which makes Keswick a relaxing place to stay. Style tends to be simple and homey whether in a traditional inn, guesthouse, or B&B. The most popular locations are around the Market Square or near the lake or parks. Outside Keswick, the choice broadens to include country-house hotels.
Around the Market Square
The Market Square, with its distinctive Moot Hall tower, is a meeting place for both locals and visitors, so there's always a lively buzz - even more so during Saturday's market. As the Moot Hall is also the Lake District National Park information office, with free advice on what to see and do, this is a convenient area in which to base yourself if you're new to the area.
The Market Square is edged with several traditional coaching inns and family hotels. These are popular with non-guests, too, for evening meals or Sunday lunches. The surrounding streets have both large guesthouses and smaller B&Bs where there's an emphasis on the personal touch. Many have views to the fells.
Lake and parks
Lake Road, The Heads, and Station Road are only 5-10 minutes' walk from the center yet feel more open as they overlook either Derwent Water, the River Greta, or one of the town's parks. Generally quieter than town center locales, these are good locations to choose if you want a fresh-air walk from your front door.
Accommodation in this area includes smart country-house hotels, no-nonsense hostels, boutique B&Bs, and apartments with kitchens. Most places offer good views, whether of the lake, the fells, or grassy parks.
East of the center
This grid of streets, named after fells and poets - Blencathra Street, Helvellyn Street, Wordsworth Street, and so on - is a good, quiet choice. A purely residential area, here you are unlikely to be disturbed by late-night revelers. And should you lose your bearings, the nearby spire of St. John's church is a useful landmark.
These traditional, terrace houses, with thick stone walls and slate roofs, offer mainly B&B or guesthouse accommodation. Some of the smaller cottages are available to rent, allowing you more flexibility and the freedom to prepare your own meals.
Search for East of the center hotels
Outside Keswick
Within a half-hour drive, you can reach the quieter shores of Derwent Water and Bassenthwaite Lake. Portinscale, a village 2 miles west of Keswick, across the River Greta, is almost sleepy by comparison. A little further south of Derwent Water and you're in the heart of Borrowdale with its whitewashed villages and hamlets like Grange and Rosthwaite. These are the areas to choose if you prefer peace and scenic views to being in the heart of the action.
Most of the area's large hotels are found here, including country-house affairs with spas and pools. In the villages you'll find family-run pubs and traditional coaching inns, often noted for the quality of their food. Another option is farmhouse B&Bs, typically housed in traditional 18th- or 19th-century buildings with original features like creaking floorboards and beamed ceilings. There's also a selection of cottages to rent.