Where to Stay in Srinagar - Houseboats, Hotels, and Ski Resorts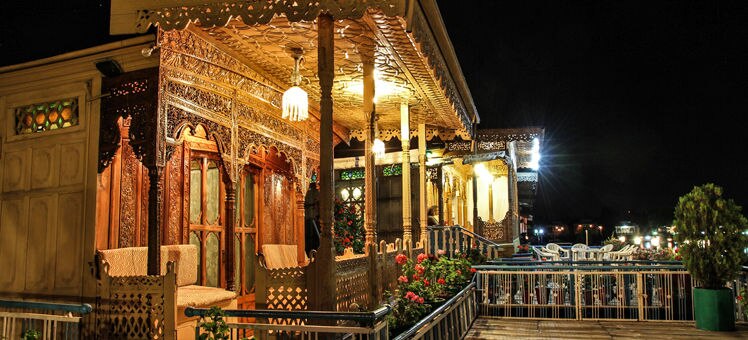 In Srinagar and the surrounding hills you can find a high-end hotel for a romantic escape or settle back at a colonial-style retreat. Many travelers make the trip to Kashmir to experience the serenity of staying on a houseboat on Dal or Nagin Lake. In wintertime, the nearby ski resort of Gulmarg is popular with visitors.
Houseboats on a lake
The majority of houseboats are moored on Dal Lake, concentrated opposite the Boulevard, and staying here gives easy access to sights on land. But if you don't mind some extra effort, the northwestern side of the lake is much quieter and more scenic. Little shikaras can row guests across to the Mughal gardens, and taxis facilitate visits to tombs and temples. Nagin Lake is smaller and even quieter - you need only see houseboat staff and the kingfishers that visit your veranda.
Top-of-the-range boats are spacious, with carved wooden interiors, antique furniture, and attractive Kashmiri fabrics. Lounges come equipped with satellite TV, board games, and a drinks cabinet, while breakfast and dinner are usually provided. Even if you're on a tight budget, it's possible to find an affordable room on a houseboat. The boats are categorized, from deluxe down to D class, with corresponding official rates.
Residency Road and Polo View
There's no better place to get a feel for everyday city life than the bustling streets of uptown Srinagar. Close to the main commercial areas, markets and stores along Polo View, this neighborhood is also convenient for restaurants specializing in multi-course Wazwan cuisine - an intrinsic part of Muslim culture here. The historic Old City is close at hand, dotted with saints' tombs and the distinctive tiered roofs and spires of Kashmiri mosques.
Residency Road has a smattering of mid-range hotels, appealing to a mix of business travelers and tourists who want to be close to Western coffee shops and well-stocked stores. There are also a few houseboats moored along the Jhelum River. Although these are often towards the lower end of the comfort spectrum, you can stroll off your deck into the commercial heart of the city.
The Boulevard and Dalgate
Stretching from Dalgate all along the southern shore of Dal Lake, the Boulevard is the holiday-heartland of Srinagar, and where the majority of domestic tourists stay. The sidewalks are buzzing day and night, and there's a diverse choice of restaurants offering regional cuisines. Dal Lake is on the doorstep, while the foothills of the Himalayas rise to the east.
There are numerous mid-range hotels on the Boulevard, catering mainly to the Indian tourist market. Here you can rely on finding a comfortable and functional room that won't break the bank and will keep you cozy in winter. The waterfront by Dalgate lock is where budget travelers head, with family-run guesthouses accessed from the boardwalk.
Search for The Boulevard and Dalgate hotels
Around Dal Lake
Some visitors opt to spend a couple of nights on a houseboat, and the remainder of their holiday in one of the upscale hotels on the slopes and valleys surrounding Dal Lake. Pure mountain air and views of the Zabarwan range are the draw cards of this more rural setting. The Mughal gardens of Shalimar Bagh and Nishat Bagh, on the eastern banks of the lake, are also a short taxi ride away.
Choosing a high-end hotel allows you to embrace in-house dining in sophisticated, multi-cuisine restaurants. These large complexes often feature swimming pools, spas, and expansive gardens. A couple of hotels retain their colonial features, and exude an old-fashioned charm. Many high-end and historic hotels also have comfortable bars, where you can sip a chota peg.
Gulmarg
Gulmarg is India's premier skiing and snowboarding resort, with snow guaranteed from the end of December to the end of March. The scenery of the Pir Panjal range is nothing short of spectacular all year round, luring summertime visitors to trek up unspoiled peaks and through emerald-green meadows. Downhill mountain biking has grown in popularity, and a ride on the "gondola" cable car up the mountainside to 4,000 meters is a must. Gulmarg is also home to 1 of the world's highest 18-hole golf courses.
There are plenty of mid-sized, affordable hotels in Gulmarg, a couple of which retain a faded colonial look. Although there's only one truly plush resort, it is high on wow-factor, with a spa and 2 restaurants. Dining in Gulmarg tends to be in hotels, but for a change and a chance to mingle with the locals, there are hospitable dhabas (street-side eateries) in town.