From Underwater Attractions and National Parks to Wildlife Safaris and Tiki Bars - Exploring Key Largo
From Underwater Attractions and National Parks to Wildlife Safaris and Tiki Bars - Exploring Key Largo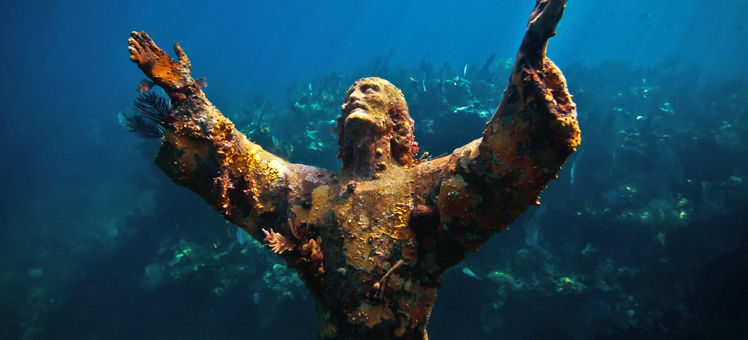 Key Largo is a 30-mile island filled with natural splendor, making it a magnet for divers, fishermen, and outdoor enthusiasts. World-class diving sites and sprawling public parks attract visitors from around the globe, particularly in winter. You can experience the area's easygoing atmosphere by visiting a waterfront tiki bar at sunset, or stopping by a local eatery to drink, dance, and enjoy live music.
Underwater attractions
Underwater explorers can head to Florida Keys National Marine Sanctuary, which spans nearly 3,000 square nautical miles, and John Pennekamp Coral Reef State Park, the nation's first underwater preserve. Together, these attractions offer scuba divers and snorkelers an underwater world teeming with coral reefs, seagrass beds, and colorful marine life. Visitors can also explore historic shipwrecks and underwater attractions, from sunken Coast Guard and Navy ships to the Statue of Christ of the Abyss, a bronze statue that reaches close to the surface of the water.
Nature parks
Don't miss a trip to Dagny Johnson Key Largo Hammock Botanical State Park, a plant and animal habitat where black-whiskered vireos sing along the mangroves and wild cotton grows along walking trails. Located 30 miles from Key Largo, Everglades National Park - spanning 1.5 million acres of trails, pinelands, mangrove swamps, and more - is a must-see. You can canoe along the nearly 100-mile Wilderness Waterway or hike along a trail with views of alligators and graceful herons. The park also offers bayside boat tours, biking trails, and world-class bird-watching.
Top fishing spots
Bordered by the Florida Bay to one side and the Atlantic Ocean to the other, Key Largo is a year-round fisherman's dream. You can hire a fishing guide to take you offshore to hook sailfish and barracuda, or head to local reefs and shipping wrecks to hunt for cobia and permit. If shallow-water angling is your choice, you can head to the flats on the Atlantic side for bonefish, or the backcountry mangrove islands on the Gulf side to cast for tarpon and goliath grouper.
Downtown Key Largo
A 1-mile hub, spanning Mile Marker 100 to 99, forms Key Largo's central commercial district. Its marina district is home to many of the area's boat charters and chain hotels, while the Bayside Sunset Cove district is characterized by dramatic sunsets and independent motels. While downtown, you can stroll along a Lake Largo boardwalk and stop at Pilot House Glass Bottom Bar for refreshment. Or dine at the dockside café of Key Largo Fisheries, where yellowtail snapper, grouper, and other locally caught fish are processed and shipped to destinations around the world.
Local parks and swimming spots
You can spend a mellow day swimming and picnicking at Harry Harris Park and Beach, a family-friendly recreational area with a playground and a sandy beachfront lagoon. From there, it's a 13-minute drive to Key Largo Community Park, where recreation areas include tennis, volleyball, and basketball courts, plus a skate park. Not to miss is a stop at Jacobs Aquatic Center, where you can swim laps in the 25-meter pool or splash around in the kids' pool, equipped with a waterfall, slides, and a big pirate ship.