New Mexico's Artistic Hub - A City Guide to Santa Fe
New Mexico's Artistic Hub - A City Guide to Santa Fe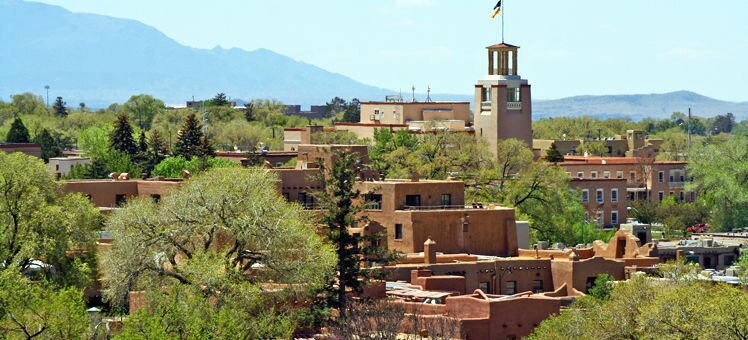 Santa Fe is one of the largest art markets in the country, and has been designated a Creative City by UNESCO. Surrounded by the spectacular Sangre de Cristo Mountains, the city rewards visitors with its stunning landscape, thriving visual arts scene, and rich history and culture. A varied dining scene and excellent shopping opportunities - including distinctive Native American handicrafts - add to its many attractions.
Art in Santa Fe
Santa Fe's art scene took off in the 20th century and continues to thrive, attracting artists and collectors from all over the world. Painting, sculpture, photography, pottery, and jewelry are all well represented. Most art galleries are concentrated in Canyon Road and the Railyard District. Art museums are in the downtown area and Museum Hill. Head to the Museum of Contemporary Native Arts to learn about and see the work of Native American artists. Jewelry designers and artisans display their wares in stores around the Plaza.
History and pueblos
Santa Fe has a long and rich history. The Plaza has been the town's center for more than 400 years. Visit the Palace of the Governors, the Cathedral, and the numerous museums around the Plaza to explore Santa Fe's Native American and colonial past. At the end of the Santa Fe Trail, the Loretto Chapel is a landmark. Its mysteriously built staircase has no nails, just wooden pegs, and no other means of support. For a closer look at Native American culture, attend one of the annual dances or feast days held at the pueblos north of Santa Fe.
Outdoor adventures
The impressive landscape of the Sangre de Cristo Mountains is a big draw for outdoor activities. Hike the Dale Ball Trails or the National Forest Scenic Byway to reach the foothills through aspen forests, with views of the mountains and city. For the more adventurous, there's mountain biking, river rafting, horseback riding, and fly fishing. Snowy slopes in winter make for great skiing and snowshoeing. There are also several golf courses, such as Marty Sanchez Links, where visitors can enjoy panoramic views of the mountains while they play.
Mind and body
Santa Fe has always been a center for Native American, non-traditional healing. It's no surprise that it shows a strong focus on other well-being practices, such as yoga, nutrition, and massage. Studios like Body of Santa Fe emphasize wellness from all angles. Day spas where you can indulge, relax, and rejuvenate abound. Some are housed in big hotels and resorts in and around Santa Fe, while others, like Absolute Nirvana, are tucked away in quiet houses off the main drags. Treatments range from traditional to exotic, some with Japanese, Balinese, or Native American influences.
Shopping and dining
Established as well as budding designers, craftspeople, and artists have made Santa Fe their home. You'll see this reflected in the many art, decor, and home accessories stores around the Plaza and in the Railyard District. But nothing compares to the quantity and variety of silver, turquoise, and inlaid jewelry - a traditional craft among local Native Americans. Some makers, like The Golden Eye, also use gold and gemstones. Santa Fe has become a center for fine cuisine. Blending traditional and innovative cooking, places like Santa Fe Bar & Grill mix local flavors and textures with contemporary touches.