Shopping in Fremantle - Market Stalls, Quirky Fashion, and Aboriginal Handicrafts
Shopping in Fremantle - Market Stalls, Quirky Fashion, and Aboriginal Handicrafts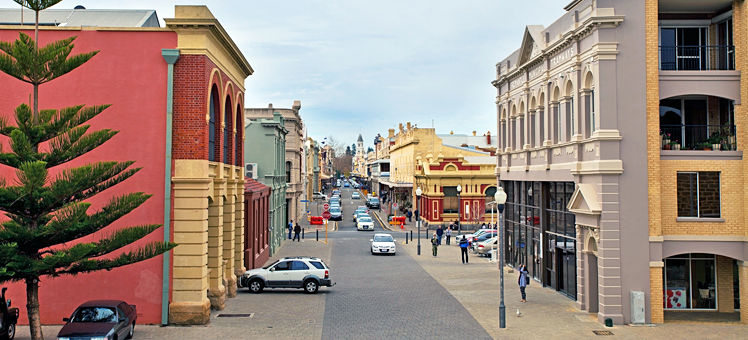 If you're looking for something out of the ordinary, you can probably buy it in Fremantle. From Mexican-inspired clothing to local Aboriginal crafts, "Freo" sells it. There are markets, shopping malls, and specialist gift shops. The city is also a fashion center, and several leading Australian designers have opened stores in town. Most shops are open every day, and stay open late on Fridays.
Shopping in central Fremantle
Central Fremantle, between the railway station and Fremantle Markets, is pedestrian-friendly, and packed with shopping opportunities. You'll find a wide range of independent and often quirky stores here. South of the Border sells colorful women's fashion items that take their inspiration from the arts of Mexico. If you're looking for something both eye-catching and fun, take a peek in Stunned Emu Designs Gallery. This is where local artist Wendy Binks creates and sells her humorous designs celebrating Australia's iconic flightless bird. You'll find emus adorning everything from original prints to coasters, mouse mats, and children's books.
South of the Border, 101 South Terrace, Fremantle, WA 6160; Tel: +61 8 9433 2225; Website: South of the Border

Stunned Emu Designs Gallery, 56 South Terrace, Fremantle, WA 6160; Tel: +61 437 068 767; Website: Stunned Emu Designs Gallery
Fremantle Markets
Fremantle Markets opened in 1902, and it remains a focal point of local shopping, with over 150 stalls. It's a great place if you want to buy fresh local produce from independent traders. Many of the fruits and vegetables sold here are organically grown. You'll also find original works created by local artisans and craftspeople. To serenade you as you shop, busking musicians provide background entertainment.
Aboriginal arts and crafts in Fremantle
Several galleries around Fremantle sell ethically sourced Aboriginal arts and crafts. Japingka Gallery has specialized in indigenous Western Australian fine art for over 30 years. Buy anything here and it'll come with notes about the work, and about the person who created it. True Blue, in Fremantle Markets, also sells authenticated pieces by local Aboriginal artists, as well as boomerangs and didgeridoos. Close to the station, Didgeridoo Breath lays claim to having the world's largest selection of didgeridoos. It also sells Aboriginal music, and other indigenous musical instruments from around the world.
Shopping malls in Fremantle
Fremantle has no giant out-of-town retail parks, but there are a few small shopping malls in the center. Close to the railway station, Woolstores Fremantle Shopping Centre is home to around 2 dozen stores, including a large supermarket, and offers free parking for your first hour. Also central is MANY 6160, a "shopping mall" with a difference. Located in a former department store, it's an urban regeneration project run by artists and designers. One floor is given over to production spaces, whilst another provides retail space for the manufacturers. Their products range from quirky fashion items to unusual artworks.
Department stores in Perth
Make the 40-minute journey by road or rail from Fremantle to central Perth, and you'll be able to explore the city's large department stores. Most are located in the pedestrian zone centered around Hay Street. Target sells fashions, toys, electronics, and beauty products. David Jones is more upmarket, and also has a food hall. You'll find Myer, another department store with a long history, a block away on nearby Murray Street, with clothing, toys, and electrical items.