What to See and Do in Sedona - From Hot Air Balloon Rides to The Grand Canyon
What to See and Do in Sedona - From Hot Air Balloon Rides to The Grand Canyon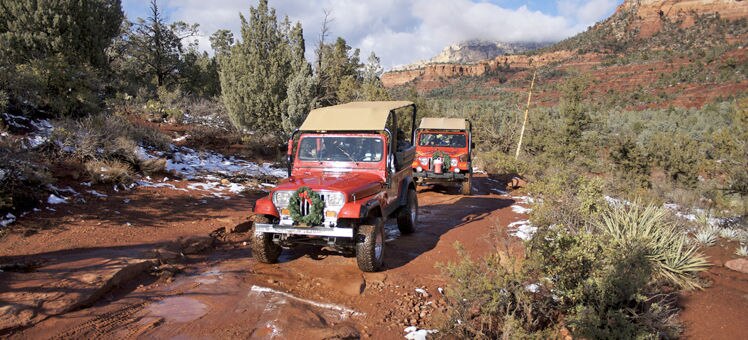 Upon arriving in Sedona, you simply can't deny the striking natural beauty that unfolds in every direction. But don't overlook the city right in front of you. Sedona is an active, vibrant place with plenty of things for travelers to do and see - from adventurous tours to spiritual pursuits, and tranquil golf courses to buzzing casinos.
Balloon rides, helicopter tours
Sedona's rugged landscape is dramatic enough from ground level. But seeing it at sunrise, as you lean out from your windswept perch in the basket of a hot air balloon, is an experience you won't soon forget. Cast by the massive red rock spires, dynamic shadows create magical images that shift constantly as you drift across the sky. It is at once completely peaceful and tremendously exhilarating. If the roar of an engine and the need for speed get your heart racing, opt for a helicopter ride over the Sedona landscape. Either way, don't forget your camera.
Red Rock Balloons, 273 N. Highway 89A, Suites M and N (Uptown Mall), Sedona, AZ 86351; Tel: +1 800 258 3754; Website: Red Rock Balloons

Red Rock Helicopter Tours, Sedona Airport, 1225 Airport Road, Sedona, AZ 86336; Tel: +1 928 282 0904; Website: Red Rock Helicopter Tours
African wildlife park
Is an African safari on your bucket list? Dream of riding into the bush and spotting zebras, elephants, and giraffes roaming free? If so, Sedona's Out of Africa Wildlife Park is a must-visit - and you don't even need a passport. Just a 30-minute drive from Sedona, the park spans over 100 acres. Exhibits and shows include Tiger Splash, Giant Snake Show, and even the Creature Feature, where you get up close and personal with a variety of animals from feathered to furry to scaly. This animal adventure is great for kids, as well as kids at heart.
Golf and casinos
There's just something about the way a golf ball soars through the desert air. Among several choices for world-class golfing in Sedona is The Sedona Golf Resort. Designed by Gary Panks, the course's 10th hole, with a green right up against the red rock, is one of the most photographed holes in the western U.S. If you prefer your gaming indoors, the Cliff Castle Casino is just a short drive away in the Verde Valley. Voted Arizona's #1 casino for 16 years straight, it offers all of your favorite slot and table games, live entertainment, and even a bowling alley.
Sedona Golf Resort, 35 Ridge Trail Drive, Sedona, AZ 86351; Tel: +1 928 284 9355; Website: Sedona Golf Resort

Cliff Castle Casino Hotel, 555 Middle Verde Road, Camp Verde, AZ 86322; Tel: +1 800 381 7568; Website: Cliff Castle Casino Hotel
Grand Canyon day trip
The Grand Canyon is guaranteed to drain your camera battery to zero. You can choose to venture there on your own (about a 2-hour drive), or book a guided tour. The journey starts with a trip through Oak Creek Canyon, considered one of the most scenic routes in the U.S. You'll then travel past a magnificent view of the San Francisco Peaks, through Flagstaff, and finally arrive at the Grand Canyon: an incredible sight to behold. Millions of years in the making, the canyon's intricate wind- and water-carved peaks and valleys stretch as far as the eye can see.