A Guide to Srinagar - Lakes and Gardens in the Valley of Kashmir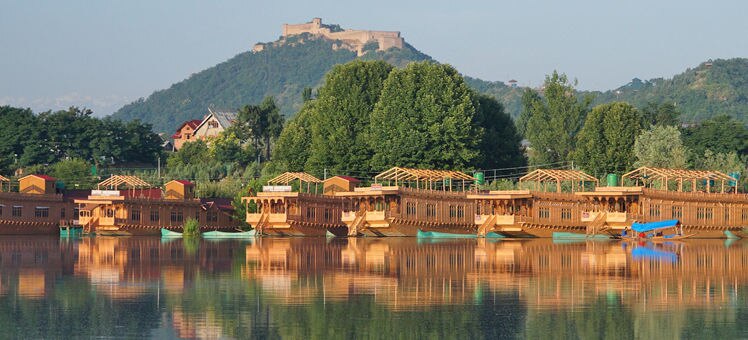 Known as the "Venice of the East," Srinagar is the summer capital of the valley of Kashmir. A water lover's paradise famous for its natural beauty, the city attracts visitors with its tranquil lakes, cozy houseboats and picturesque gardens originally created by Mughal emperors. Holy Hindu temples and distinctive wooden mosques are dotted around the city, too.
Waterways, wildlife, and mountains
Srinagar's waterways create scenic routes through the city which you can explore on shikaras, wooden water taxis found in the region. Private boat tours are one of the most relaxing ways to sightsee in comfort. Dachigam National Park has a wildlife sanctuary where you might spot leopards, Himalayan bears, and several bird species. Mountain ranges surround Srinagar, giving the city a majestic backdrop no matter where you are. It's a photographer's dream, with vibrant colors accentuated by the morning light.
Dachigam National Park, Dachigam Road, Mulanar, Jammu and Kashmir 191202; Tel: +91 956 078 8884; Website: Dachigam National Park
Ancient Mughal gardens
Lush foliage and flowers will greet you as you enter Srinagar's celebrated gardens. Mughal emperors created their idea of paradise on earth in these intricate, tiered gardens called bagh. Symbols relating to astrology, numerology, culture, and family were incorporated into the emperors' designs. Shalimar Bagh is the largest garden in the city, with a romantic history and views of Dal Lake adding to its appeal. Nishat Bagh is the second largest garden with impressive views of Dal Lake and the Zabarwan Mountains.
Shalimar Bagh, Shalimar, Rainawari, Srinagar, Jammu and Kashmir 190025; Website: Shalimar Bagh

Nishat Bagh, Nishat, Srinagar, Jammu and Kashmir; Website: Nishat Bagh
Trekking and day tours
If trekking around Himalayan glaciers is your thing, you can start your journey from Sonamarg, the "Meadow of Gold." The 78 km drive from Srinagar is scenic, with views of snow-covered mountains and azure skies. Yusmarg, "The Meadow of Jesus," is another popular destination for adventure travellers, with lakes, restaurants, and hotels along the way. Folklore says Jesus stayed in the area and its name was derived from Yusuf, giving it religious significance in addition to its natural beauty. Day tours with trusted local guides can be arranged.
Yusmarg, Forest Block, Jammu and Kashmir 191112; Website: Yusmarg

River Songs Tours and Travels, Abdul MS Zandari, GPO, Srinagar, Jammu and Kashmir; Website: River Songs Tours and Travels
Sacred temples and mosques
Srinagar is known for its religious diversity, with several places of worship worth visiting. Shankaracharya Temple, dating back to 200 BC, is a Shiva temple sitting atop a 1,000-feet-high hill sharing its name. Religious history and remarkable views await you here. Jamia Masjid Mosque sits in the center of the Old City, and is known as one of the most sacred mosques in India. Kheer Bhawani is built over a sacred spring, and is a deeply significant place of worship for Hindu devotees of the goddess Bhawani, also known as Bhavani.
Shankaracharya Temple, Shankaracharya Hill, Zabarwan Mountain, Srinagar, Jammu and Kashmir; Website: Shankaracharya Temple

Jamia Masjid Mosque, Old City, Srinagar 190019, Jammu and Kashmir ; Website: Jamia Masjid Mosque
Shopping on land and water
So much of life in Srinagar centers around the water, and shopping is no exception. Vegetable vendors collect produce mainly grown around Dal Lake, then load it into wooden boats to sell at floating markets. Some of the best quality walnut wood items, pashminas, local handicrafts, and furniture can be found at Lal Chowk. Nearby is Residency Road, where you'll find dried figs, dates, and apricots. Wide varieties of nuts and aromatic spices like cumin, fennel, and cardamom are for sale too, in addition to elaborate, handmade dongra jewelry.