Fremantle with the Family - Fun Learning, Sandy Beaches, and Boat Tours
Fremantle with the Family - Fun Learning, Sandy Beaches, and Boat Tours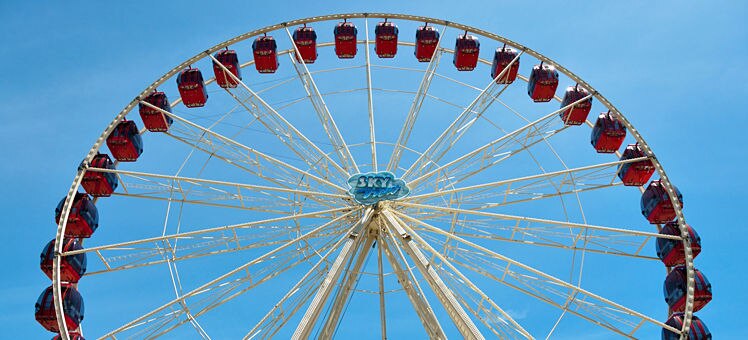 Fremantle has many attractions and distractions to keep kids of all ages occupied. There are beaches and parks, and informative hands-on museums. You can get a bird's-eye city view from a Ferris wheel, or take to the water on a cruise. When mealtime rolls around, you'll find plenty of family-friendly places to eat.
Beaches and water parks in Fremantle
Fremantle has numerous beaches where your kids can splash around in safety. The main ocean beaches Bathers, Leighton, North, and South Beach are all lifesaver-patrolled in summer so swimming is safe. River Beach is by the banks of the Swan River and ideal for small children. For watery fun without the waves, you can dip into the pools at the Fremantle Leisure Centre.
Fremantle Leisure Centre
The center has indoor and outdoor pools to suit all ages and swimming abilities.
10 Shuffrey Street, Fremantle, WA 6160Tel: +61 8 9432 9999
Fremantle Leisure Centre website
Ride Fremantle's Tourist Wheel
Fremantle has several parks where you can go to chill out, and let your children burn off some excess energy. In most parks an expanse of grass is enough, but in Esplanade Park, beside Fishing Boat Harbour, you can ride the Tourist Wheel. This large Ferris wheel affords panoramic views of coast, ocean, and city.
Tourist Wheel
The Ferris wheel has 24 gondolas that lift you 40 meters into the air.
Esplanade Park, Fremantle, WA 6160.
Tourist Wheel website
Exploring Fremantle's history with the kids
Fremantle offers plenty of opportunities for you and the kids to learn a little history. You can see the remains of ships in the Shipwreck Galleries, and find out about Fremantle's seafaring past in the Western Australian Maritime Museum. Older children will enjoy Fremantle Prison. Fremantle Tram Tours offers an easy hop-on, hop-off way to visit the sights, and runs a "Ghostly Tour" after dark.
"Duyfken" 1606 Replica
"Duyfken" 1606 is a replica of the first European ship to reach the Australian coast.
Behind Little Creatures, 40 Mews Road, Fremantle Fishing Boat Harbour, Fremantle, WA 6160. Tel: +61 427 160606
"Duyfken" 1606 Replica website
Fremantle Tram Tours
This hop-on, hop-off tram ride covers all the main sights. After dark, the "Ghostly Tour" visits Fremantle Prison by flashlight.
3 William Street, Fremantle, WA 6160. Tel: +61 8 9433 6674
Fremantle Tram Tours website
Family-friendly dining in Fremantle
Most restaurants in Fremantle have dedicated menus for small appetites. Little Creatures serves wood-fired pizzas. Come here for Sunday lunch, and a local entertainer will dazzle children with his balloon sculptures. For delicious fresh fish and chips, Kailis' Waterfront Fremantle is among the city's best.
Little Creatures
This brewpub serves pizzas from a wood-fired oven, and has a separate kids' menu.
40 Mews Road, Fremantle, WA 6160. Tel: +61 8 6215 1000
Little Creatures website
Kailis' Waterfront Fremantle
This café sells fish and chips in child-friendly portions, as well as "seaburgers."
46 Mews Road, Fishing Boat Harbour, Fremantle, WA 6160. Tel: +61 8 9335 7755
Kailis' Waterfront Fremantle website
Family boat trips from Fremantle
Fremantle offers plenty of options for family boat rides. There are sedate cruises up the Swan River, or you can make the 30-minute voyage to Rottnest Island, home of the "happiest animal on Earth," the quokka. For a brush with much larger creatures, Rottnest Express runs seasonal whale watching cruises.
Captain Cook Cruises
This tour company offers a variety of cruises on the Swan River.
B Shed, Victoria Quay, Fremantle WA 6168. Tel: +61 8 9325 3341
Captain Cook Cruises website
Rottnest Express
Rottnest Express operates daily year-round ferry services to the island.
B shed, Victoria Quay, Fremantle, WA 6168. Tel: +1300 467 688 (within Australia)
Rottnest Express website